How Does Uber Eats Work and How Much Does It Cost?
Uber Eats is an extension of the Uber platform that makes restaurant delivery no longer a luxury. It is convenient, easy to use, and widely available in the US.
As one of the most popular food delivery apps, you may wonder how Uber Eats works and how to use it.
Key Takeaways
You can create a free account on Uber Eats and order through their website or the app.
Uber Eats delivery fees typically range from $0.99 to $5.99. In addition, Uber Eats charges a service fee of 15%.
With an Uber One membership which costs $9.99 a month, you can get free delivery on eligible orders over $15.
In this article, we'll take a closer look at how Uber Eats works, how much it costs, and how to use the app to place an order.
How Does Uber Eats Work?
Uber Eats delivers any order from a partner restaurant in your area right to your door. Reviewing a menu, ordering, and paying for your order are all done through the Uber Eats app or website. Total costs and fees vary by restaurant and location.
Restaurants must opt to partner with Uber Eats to deliver their food to you.
In addition, restaurants pay a commission to Uber Eats for the provided delivery service, and customers pay delivery and service fees for convenience.
Once you enter your address in the Uber Eats app, you can view restaurants available with delivery to your location.
When your order has been placed, an Uber Eats driver will pick up your order at the restaurant and deliver it to your address.
You will be able to view the progress of your order, estimated delivery time, and even track your delivery driver.
Delivery fees are typically between $0.99-$5.99 for restaurants close to your location but can vary greatly based on the restaurant and delivery distance.
Service fees (typically 15%) are also added to your order, covering costs for the Uber platform.
If you have any issues with your order, you can request to cancel or refund the order.
You can read our article to learn more about how to get a refund from Uber Eats.
If you plan to order from Uber Eats at least twice a month, you may want to consider their subscription program to reduce delivery costs.
Uber One is the newest membership option that costs $9.99 per month or $99 per year.
Uber One recently replaced the Eats Pass program and combines benefits for all Uber services.
Uber One members get $0 delivery, 5% off orders over $15, and 5% off Uber rides.
Keep in mind that not every restaurant is eligible for the Uber One benefits depending on their arrangement with Uber Eats.
Go where you want, get what you need with #UberOne!

Introducing Uber One, a new membership for benefits on deliveries 🍔, groceries 🍏, rides 🚗, and more 🌹

Try it for free on the Uber Eats app 👉 https://t.co/3JZAd1p11r pic.twitter.com/R5v0F3tIAl

— Uber Eats (@UberEats) November 17, 2021
How to Use Uber Eats
The easiest way to order on Uber Eats is through their app. In addition, you can also place an order on the Uber Eats website.
Below are the step-by-step instructions on how to place a delivery order using the Uber Eats app:
Step 1. Download the Uber Eats app via the App Store or Google Play. Within the app, you will be prompted to enter your location or turn on location services to see available restaurants in your area.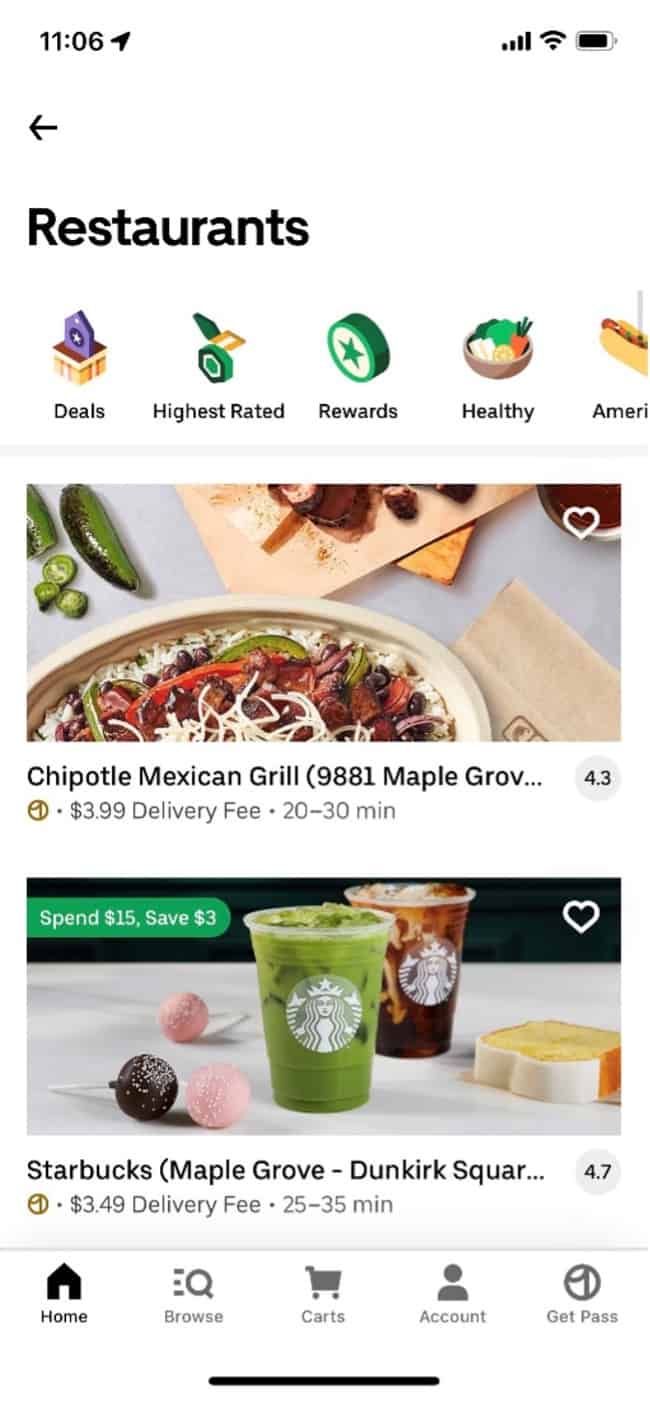 Step 2. Click on a restaurant to see their menu, pricing, and details on delivery time and cost.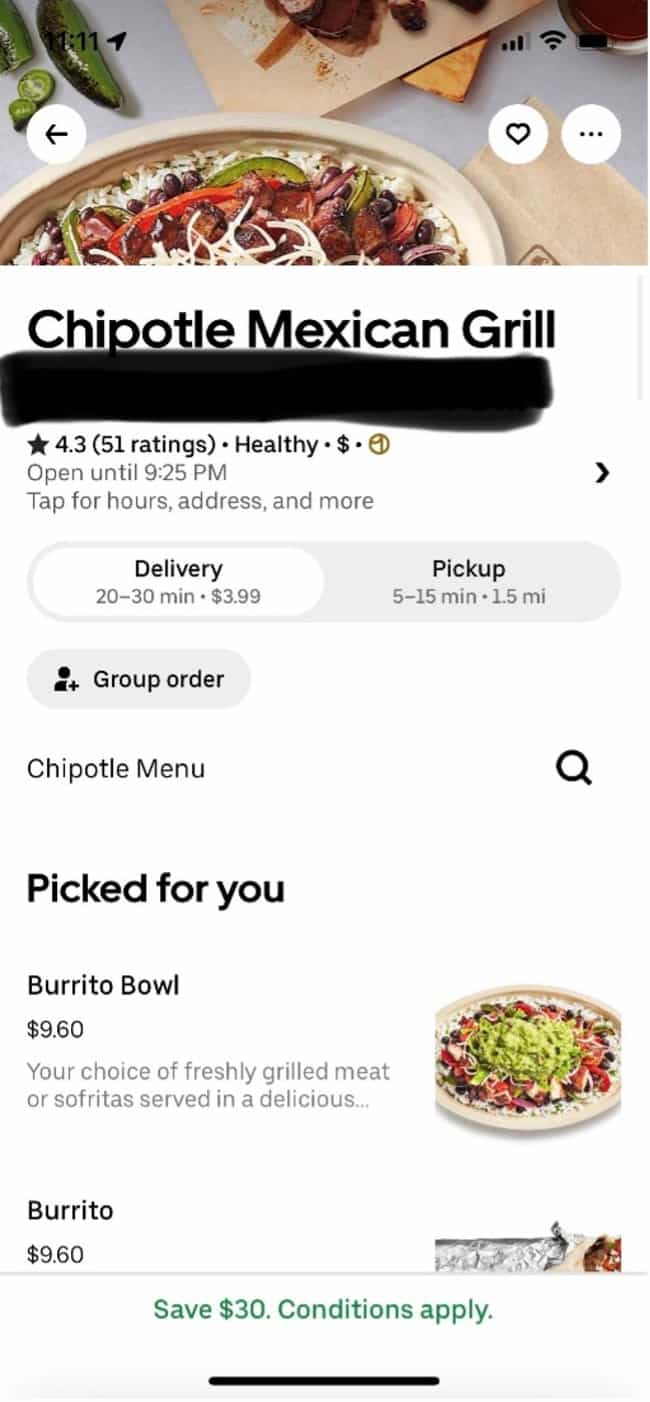 Step 3. Choose your desired menu items and click "Add to cart."
Step 4. Tap "View Cart" and "Go to Checkout" to proceed with your order.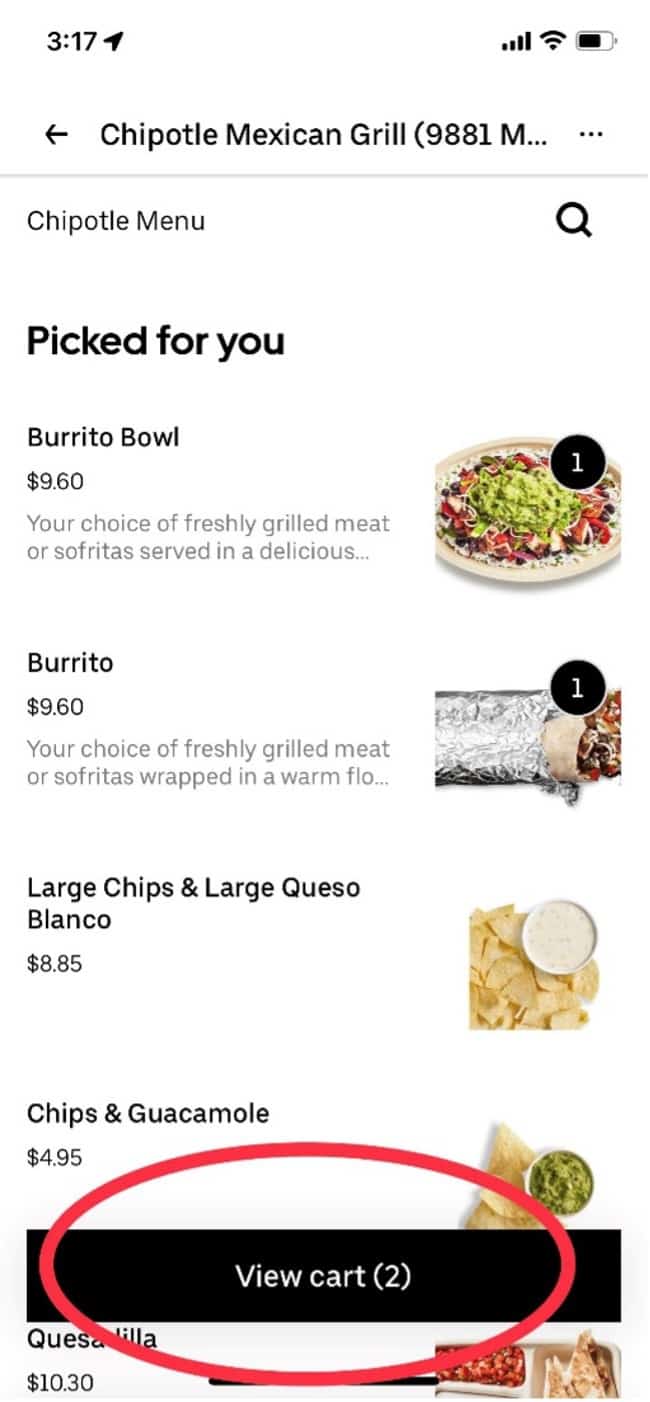 Step 5. On the Delivery details page, you can edit the delivery address, add delivery instructions, view the details on fees, and add promo codes.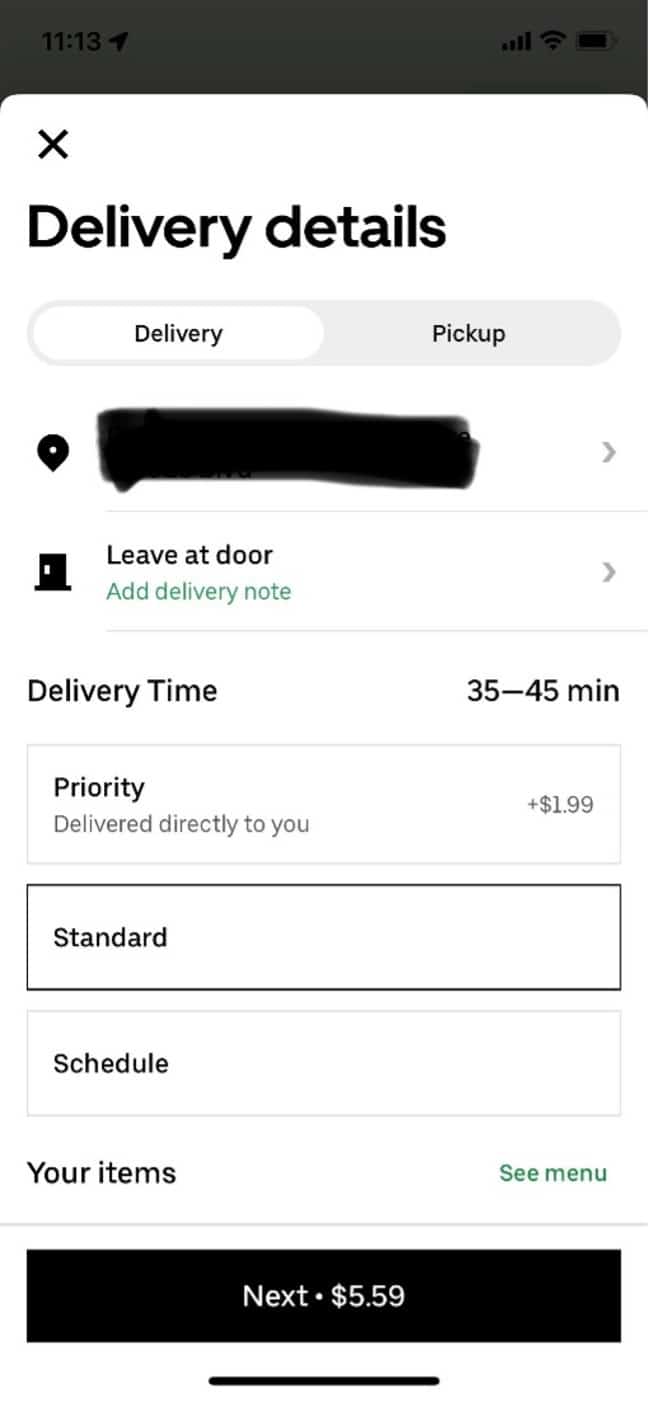 Step 6. Hit "Next," and you will be prompted to add a tip for the driver if desired.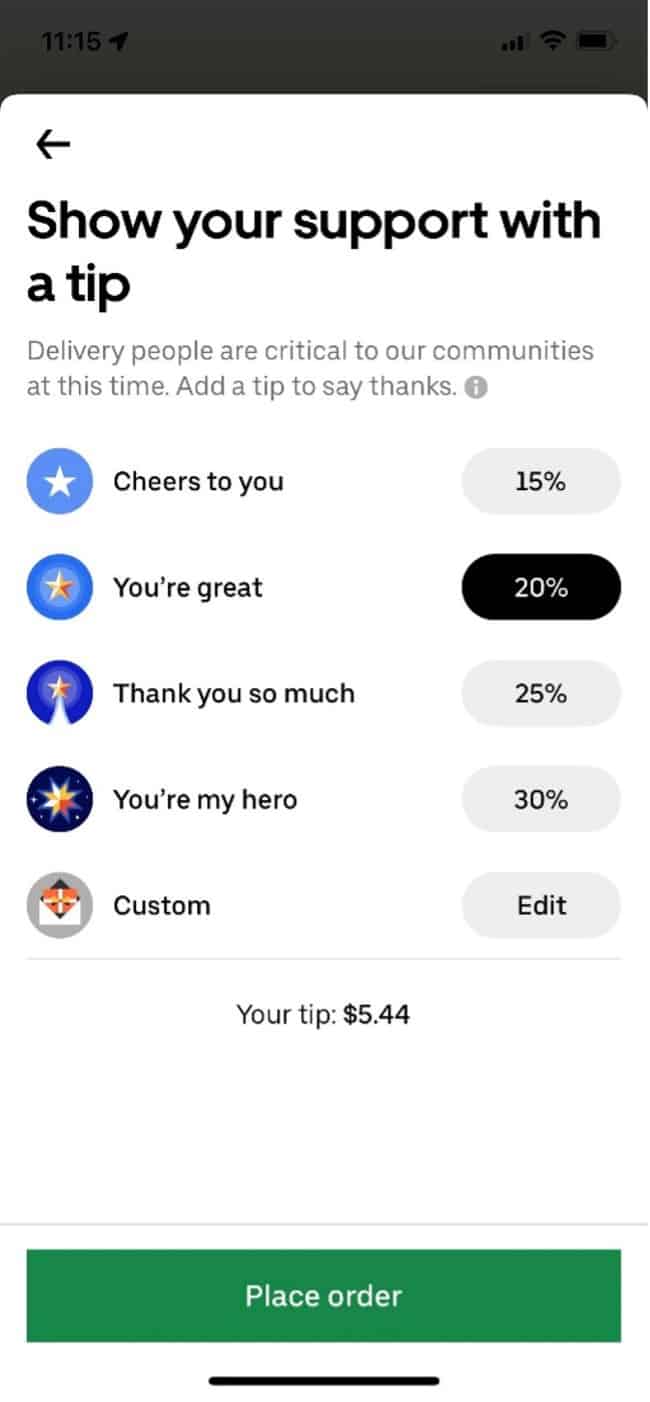 Step 7. Finally, tap the green "Place order" button to complete your order.
Step 8. After the order is placed, you can view tracking information and the progress of your order. The name of your delivery driver, contact info, and their location is also available.
How Much Does Uber Eats Cost?
Uber Eats delivery costs can vary depending on the restaurant, the availability of drivers in your area, and current demand; however, delivery fees typically range between $0.99 and $5.99. Plus, there's a 15% service charge.
You will always see the actual fees in the app for any restaurant at the time of your order.
Uber Eats has several different fees that may be included in your order:
The "delivery fee" covers the delivery cost and may be higher on different days or times from the same restaurant. Times of high demand and scarcity of drivers in your area may increase the delivery fee. However, as a rule, the delivery fee is less for nearby restaurants. A typical delivery fee is $0.99-$5.99 for restaurants within a few miles.
A "service fee" may be applied to your order, which covers the cost of the Uber platform. If applicable, the Uber Eats service fee is typically 15% of your order subtotal.
A "small order fee" may also be added to your order if you do not meet the minimum order amount.
A "delivery adjustment fee" may also be added if certain changes are made after placing an order.
If you live in California, a "California Drivers Benefit Fee" is also added based on legislation Prop 22.
Don't forget to factor in a tip as part of your order cost!
Tips can be added directly in the app when placing an order or given in cash at delivery time.
Uber Eats also offers pickup instead of delivery. In that case, no delivery or service fees are added to your order, only applicable taxes and tips.
Another point to consider is the differences in menu prices on Uber Eats.
Restaurants set their menu prices on Uber Eats, and they are typically higher than in-restaurant prices.
Uber has no restrictions against this, and it may not be obvious unless you know the typical menu price.
Therefore, besides the delivery and service fees, you may simply be paying more for the same food you would get while dining in.
Does Uber Eats Have Promo Codes for New Users?
Uber Eats usually offers promo codes for new users signing up on their platform. These promo codes can be a percentage off from the first order or free delivery on eligible orders.
Since these offers can change regularly, it's best to check Uber Eats' promo page to get access to the most current offers.
A promo code can be added at multiple points in the order process but must be applied before placing the order.
Note that only one promo code can be used per order.
If you aren't a new customer, Uber Eats has many other opportunities for coupons and promotions.
For example, if you send invitations to friends or family to join Uber Eats and they use your referral code, you may receive a promo code for your next order, typically $10.
Uber Eats also has regular promotions available.
Under your account page, you can view available promotions before placing an order.
Restaurants may also choose to offer rewards for repeat customers.
You can view restaurant reward offers under your account or filter your search by restaurants offering rewards when placing an order.
What Restaurants Are on Uber Eats?
The list of restaurants available for delivery near you will be shown on the home page of the Uber Eats app or website. You can also enable the location services or type in the delivery address to see available restaurants in your area.
Below is a list of popular restaurants available on Uber Eats:
McDonald's
White Castle
Chick-Fil-A
Chipotle
Panera Bread
Subway
Arby's
Dairy Queen
Panda Express
Buffalo Wild Wings
A restaurant may come and go from your list of available deliveries to maintain service standards.
If too many orders have been placed at the restaurant, they may be temporarily unavailable.
Either the restaurant or Uber may make this change.
You can also filter and search for restaurants within the Uber Eats app based on cuisine type, highest rated, or those offering deals.
How Late Does Uber Eats Deliver?
Uber Eats delivers 24 hours a day, 7 days a week. However, delivery times are set by each restaurant, and delivery is available if a restaurant is open and a driver is available in your area.
A restaurant that is not open will appear at the bottom of your list, with currently available restaurants appearing first.
Uber Eats also allows you to schedule an order in the future when the restaurant is open.
Simply click "Schedule order" to get started and choose a delivery time that fits your schedule.
Uber Eats Gift Cards
You can purchase an Uber Eats gift card directly through the Uber Eats app, online, or from local retailers like Target or Kroger.
A gift card purchased through Uber Eats can be sent via email or mail and purchased in any amount between $25 and $200.
There are many ways to send an Uber Eats gift card.
Electronic delivery can be scheduled for a specific time or simply ASAP when you place the order.
The recipient will then receive a gift card code in their inbox to apply to their account.
Sending a gift card directly via the app will send the funds instantly to the recipient's app.
Uber Eats also accepts prepaid Visa gift cards as a payment option.
So, purchasing a Visa gift card could also be an option if you are interested in gifting money that can be spent on Uber Eats or another service.
Uber Eats also offers the option to send a gift order at no extra cost.
At checkout, choose "Make it a gift" to add recipient details and a gift message.
In addition, make sure to correctly change the delivery address.
When you send a gift order on Uber Eats, the recipient will receive a text message that the gift is on its way.
Redeeming an Uber Eats Gift Card
If you're the recipient of an Uber eats gift card, you'll need to add the money to your "wallet."
To redeem an Uber Eats gift card in your account, follow the steps below:
Navigate to the menu icon from your Uber app and select "Wallet."
Tap "Add Funds."
Choose "Gift card."
Enter your gift code as it appears.
After redeeming the gift card, the money will be available as a credit in your account.
Keep in mind that once gift card funds are added to an account, they cannot be transferred.
Uber Eats gift cards are not refundable and do not expire.
Conclusion
Uber Eats is a great option with many available restaurants on its platform and user-friendly features to make meal delivery an accessible luxury.
Uber Eats is widely available in the US, and most likely, delivery from your favorite restaurant is within reach right now!
For more information about Uber Eats, check out the articles below.
Related Articles:
What Is Uber One and Is It Worth It?
How To Contact Uber Eats Customer Service (By Phone, Chat, and More)
Does Uber Eats Deliver Groceries? (Yes, Here's Where)
Uber Eats No Couriers Nearby: What Does It Mean? (And How to Fix It)