How To Contact Uber Eats Customer Service (By Phone, Chat, and More)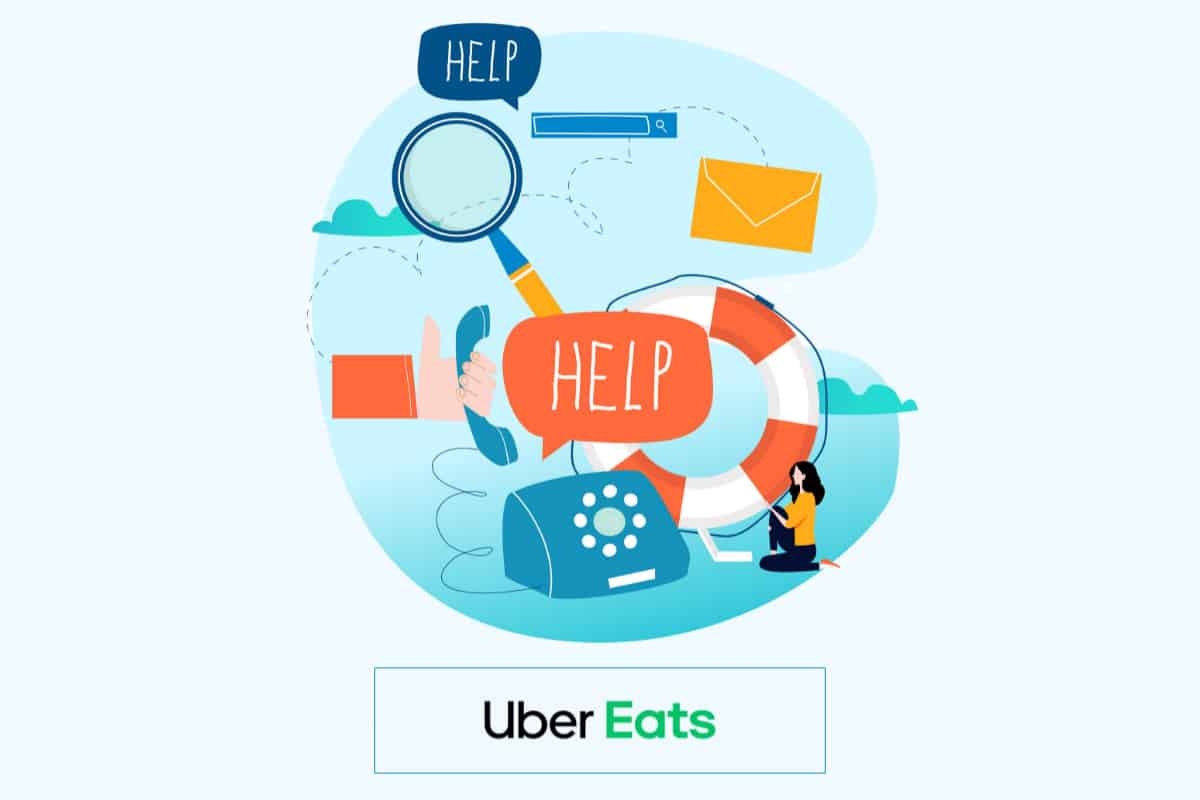 Uber Eats is changing the way customer service is handled. This year, they have taken a progressive approach to transition toward a live chat-focused customer support team rather than the traditional phone support line. Live chat isn't their only method of support available, but it's proving to be one of the best options.
You can contact Uber Eats customer service via live chat, social media, email, or navigating to their Help Page. You can also call the Uber Eats customer service number at 800-253-9377. Live chat and Twitter are the most effective ways of contacting Uber Eats customer support. 
In this article, we'll cover the multiple ways of contacting Uber Eats customer service when you have an issue with your order.
How Do I Speak to Someone at Uber Eats?
You can speak to someone at Uber Eats by calling the Uber Eats customer service number (800) 253- 9377.
A few years ago, then Uber Eats customer service representative Daniela Sawyer described the support number as the most commonly used method of contacting customer service by customers, drivers, and restaurants.
She also called it an accurate time service, not to mention it gives people the peace of hearing the voice of another human when trying to get support.
Over time, Uber Eats customer service has evolved and added other ways of contacting the support team.
According to their website, drivers can also contact customer service via the phone.
If you are a driver, you can follow these steps to speak with an Uber Eats customer service rep.:
Open the Driver App.
Tap the "Menu" icon.
Tap "Help".
Find the issue you're experiencing.
For some of these issues, there is an option for you to call the customer support line.
Hi there, please fill out the 4 boxes at the bottom of this page: https://t.co/zUe0djo9gv so our Uber Eats support team can assist you ASAP. Please choose 'Rider' as the user, you can be sure you'll be directed to the correct support team.

— Uber Support (@Uber_Support) March 27, 2020
Does Uber Eats Have Live Chat?
Whether you contact Uber Eats live chat support on their website or the mobile app, the process is generally the same. You are first directed to their Help Page. And once you navigate through the options to the category that best fits your needs, you are then directed to the proper live chat conversation for you.
You can reach the Help Page on the Uber Eats website here. Within the app, you will need to: 
Open the app
Tap the "Menu" tab
Tap the "Help" option
The app and website Help Page both have four main topics for customers to choose from:
Help With An Order
Account and Payment Options
A Guide to Delivery & Pickup
Pass Information
Depending on which option you click, you will be presented with several sub-topics. These sub-topics are all the potential questions Uber Eats has been commonly asked in the past.
As a result, Uber Eats has refined this page to answer all questions to the best of its ability.
Some issues require a conversation with a representative to complete, so the customer or driver is directed to the live chat support team. This process is the main way to reach Uber Eats live chat support. 
It should also be noted that according to Sawyer, the live chats usually start with a chatbot response that can then get transferred to a human representative if there's a need for it.
She also mentioned that the transition is so seamless that the other party often doesn't notice it.
Can You Contact Uber Eats on Social Media?
Uber Eats is on social media, and you can contact them via Instagram, Facebook, and Twitter. If you want the best chance of getting a response, contact them via their Twitter page (@Uber_Support). You might have to contact them a few times, but it is still an effective way to contact their support team.
Uber Eats gets mentioned in tweets all day, every day. So, don't get discouraged if they don't respond to your first tweet.
Try mentioning them again before giving up on their social media support team. When you do get a response, they are efficient in answering questions and offering guidance.
You have to have an account to contact Uber Eats customer service via phone or live chat, but social media is a bit different. They have their Twitter handle publicly displayed on their Help Page (@Uber_Support).
Because of this, you might run into slowed response times because literally, anyone can contact them via Twitter.
Whether you are a customer, driver, or restaurant, social media can be a quick and effective way to get a question answered.
However, if the response time seems delayed, you are encouraged to try their phone number or live chat support.
What Is Uber Eats Customer Service Email?
The Uber Eats customer service email is [email protected]. Customers, drivers, and restaurants can contact customer support via email whenever they want. It may take them a day to answer, but email support is private and ensures you have a written copy of how to solve your problem if it happens again. 
Drivers can also use the [email protected] email, but the email address for restaurant support is [email protected]. 
Los Angeles resident and former Uber Eats representative Daniela Sawyer stated that customers often use email support to escalate a problem they feel is unresolved. It is usually a last resort method of support when the customer has nowhere left to turn.
It may be the last resort, but it gets the job done when nothing else will!
Thanks for reaching out, Conor.

For help with your Delivery Partner account please reach out to our help and support on this link [https://t.co/mY6Tbx4d0Q].

— Uber Support (@Uber_Support) November 7, 2020
How to Use Uber Eats Help Page
Using the Uber Eats Help Page is user-friendly and efficient. You first have four options to choose from. From there, you navigate through the sub-topics until you find one that categorizes your issue the best. The page will then give you a direct answer to your question or open a live chat for you.
The four main topics on the Help Page are:
Help With an Order
Account and Payment Options
A Guide to Delivery & Pickup
Pass Information
As for Uber Eats drivers and merchants, the main help page has a few more options tailored to help drivers and merchants as efficiently as they do their customers.
All customers, drivers, and restaurants/merchants can contact the Help Page directly on their Uber Eats app as well. The page is conveniently located under the "Menu" tab for all parties.
Sawyer finds the Help Page beneficial because of the search option. It allows customers, drivers, and restaurants to find precise and personalized results for their questions to better help them.
In addition, it is a great tool for answering most of the questions that pop up on a daily basis.
What Is the Best Way to Contact Uber Eats?
The best way to contact Uber Eats is through their live chat. The second best method is calling customer service.
When using the app, live chat is fast, responsive, and effective.
It's clear Uber Eats puts a lot of emphasis on this type of customer support. More people seem to prefer live chat customer support in general anyway.
Uber Eats is taking the initiative to be one of the first companies to make this type of support their main method, and so far, it seems to be working.
However, if you prefer to speak to a live agent, calling customer service is always a good option.
Conclusion
Customers, drivers, and merchants all require a little assistance from time to time. Uber Eats is committed to its customer service, and they make sure customer issues get resolved in a reasonable time and with minimal effort.
Their Help Page and live chat are so efficient, and the phone support response times are reasonable.
If you're interested in learning more about Uber Eats, check out the articles below.
Related Articles:
What Is Uber One and Is It Worth It?
How Does Uber Eats Refund Work?
Uber Eats Gift Cards: Where to Buy and How to Use Them
Does Uber Eats Have Pickup? (Yes, Here's How It Works)
Uber Eats No Couriers Nearby: What Does It Mean? (And How to Fix It)