Does Uber Eats Deliver Groceries? (Yes, Here's Where)
The demand for grocery delivery increased significantly over the past few years. Instacart has the first mover's advantage in this space, but it was a matter of time before Uber Eats started delivering groceries, given its existing infrastructure and experience in the delivery industry.
So, does Uber Eats deliver groceries?
Yes, Uber Eats delivers groceries in Miami, FL, and Dallas, TX, with plans to expand to other locations in the U.S. Uber Eats partners with Cornershop, so when you place a grocery order through Uber Eats, it's fulfilled and delivered by a Cornershop team member.
Uber announced the new grocery delivery service and its partnership with Cornershop on the website. This partnership allowed Uber Eats to expand its capabilities and reach more customers by delivering essential goods like groceries.
In this article, we'll explore how Uber Eats grocery delivery works and answer the most common questions.
Just keep reading to find out more!
How Does Uber Eats Grocery Delivery Work?
You can order groceries through Uber Eats on the website or using the app. Both the website and the app are easy to navigate, and the checkout process is straightforward.
If grocery delivery is available in your area, it will show up in the list of options to order after entering your address.
If you don't have an existing Uber account, you need to create an account to start using Uber Eats. The signup takes just a few minutes. You need to enter your e-mail, password, and address to confirm service availability in your area.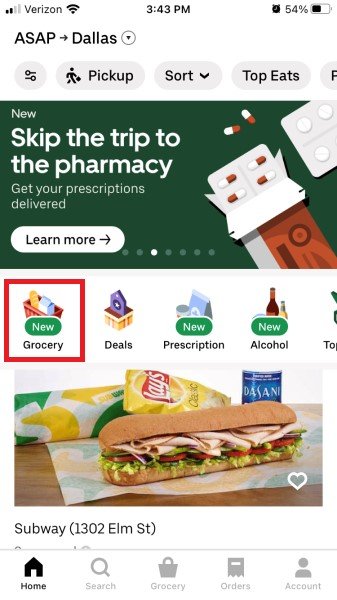 You can follow the step-by-step instructions below to order groceries through Uber Eats:
Go to the Uber Eats website or download the app
Create your account and enter the delivery address
Tap the "Grocery" icon (If the grocery service is available in your area, it will show up as an option)
Choose the grocery store you want to order from
Select your items and tap "Add to Cart"
Adjust item quantities as needed
To place your order, go to the shopping cart and tap "Go to checkout"
Select the delivery time and tap "Place Order"
The prices you see on Uber Eats are what you'll pay for the products. In-store promotions may not apply to grocery orders through Uber Eats. And unlike Instacart, you can't add your store loyalty cards and continue to receive benefits associated with your card, such as rewards points.
After placing your order, a Cornershop team member will shop for groceries and deliver them to your address within the selected timeframe. Uber Eats allows you to track your order every step of the way through the app. You also have the option to request a no-contact delivery.
The shopper may contact you through the app if any of your items are out of stock or if they're having difficulty finding your delivery address. They may suggest replacements for out-of-stock items, and you can either approve or cancel the item. You're not charged if you choose to cancel an item.  
Does Uber Eats Deliver Groceries in Your Area?
You can find out if Uber Eats delivers groceries in your area by entering your address on the website or the app. If grocery delivery is available in your area, you will see a grocery icon in the list of options to order. If the grocery icon is not listed, it means grocery delivery is not available.
Uber Eats started pilot grocery deliveries in Miami, FL, and Dallas, TX. However, the company is planning to roll out grocery delivery at other locations in the U.S.
The acquisition of Postmates will most likely speed up the broader roll-out, so I'd recommend checking the website often to confirm availability in your area.
What Are the Fees for Uber Eats Grocery Delivery?
Uber Eats grocery orders are fulfilled and delivered by Cornershop. Cornershop service fees vary by store, but you can expect to pay an additional 10% of your subtotal as a service fee on average.
Uber Eats app shows you the service fee for each store at the top right corner of the store's landing page. You can see the store's pricing policy and the service fee before you start shopping.
If you have an Eats Pass membership, you get free delivery for grocery orders over $30. Neither Uber Eats nor Cornershop has clarity on the website about delivery fees for orders under $30.
Eats Pass membership costs $9.99 monthly. Based on the average delivery fees of other grocery delivery services, it would be safe to assume that if you're ordering groceries more than three times a month, you could save on delivery fees by signing up for the Eats Pass membership.
To purchase an Eats Pass membership on the app, tap the "Account" icon on the bottom menu bar and tap "Eats Pass" – You must have the latest version of the app installed to purchase it.
One additional benefit of having an Eats Pass membership is that it can be used for meal delivery orders. Customers who have Eats Pass receive a 5% discount and get free delivery for meal orders over $15. So, the membership has benefits for both grocery and meal delivery orders.
You can cancel your Eats Pass membership anytime since it's a monthly subscription. Make sure to cancel it 24 hours before your next scheduled payment to avoid future charges.
To cancel your Eats Pass subscription on the app, tap the "Account" icon on the bottom menu bar and tap "Eats Pass". Turn off the "Auto-Renew" toggle, and you're all set. You'll continue to have access to membership benefits until the end of your billing cycle.
Should You Tip Your Uber Eats Grocery Driver?
Yes, you should tip your Uber Eats grocery driver to show your appreciation for their hard work. The recommended tip is a minimum of 10%, and the full amount goes to drivers. You can tip your driver through the app or give cash at the time of delivery.
Summary
In this article, we covered how Uber Eats grocery delivery works and answered the most common questions. Uber Eats' partnership with Cornershop enabled the company to reach more customers and help them get essential items like groceries when they need them.
Uber also acquired Postmates to expand its capabilities further. Postmates is one of the pioneers in the delivery industry and compliments Uber's growing efforts to deliver groceries and other essential goods to its customers.
Uber Eats' pilot grocery delivery in Miami and Dallas is the beginning of the broader roll-out. Uber is testing in these markets to ensure a successful launch across the U.S.
Acquiring Postmates and buying the majority stake in Cornershop shows Uber's intentions to become more than a meal delivery service.
From a customer's perspective, I'm happy to see more players coming into the grocery delivery space. It will increase competition and improve service quality. Companies may also reduce delivery and service fees to attract more customers to their platforms.
If you're interested in finding out more about online food shopping, check out the related articles below:
Related Articles:
Misfits Market: I Tried the Ugly Produce and Here's My Honest Review
Can You Use Uber Eats to Deliver to Someone Else? (Yes, Here's How)
Uber Eats No Couriers Nearby: What Does It Mean? (And How to Fix It)
Postmates vs. Uber Eats: Which Is Better?