Do Uber Eats Drivers See Your Tip? (Before or After Delivery)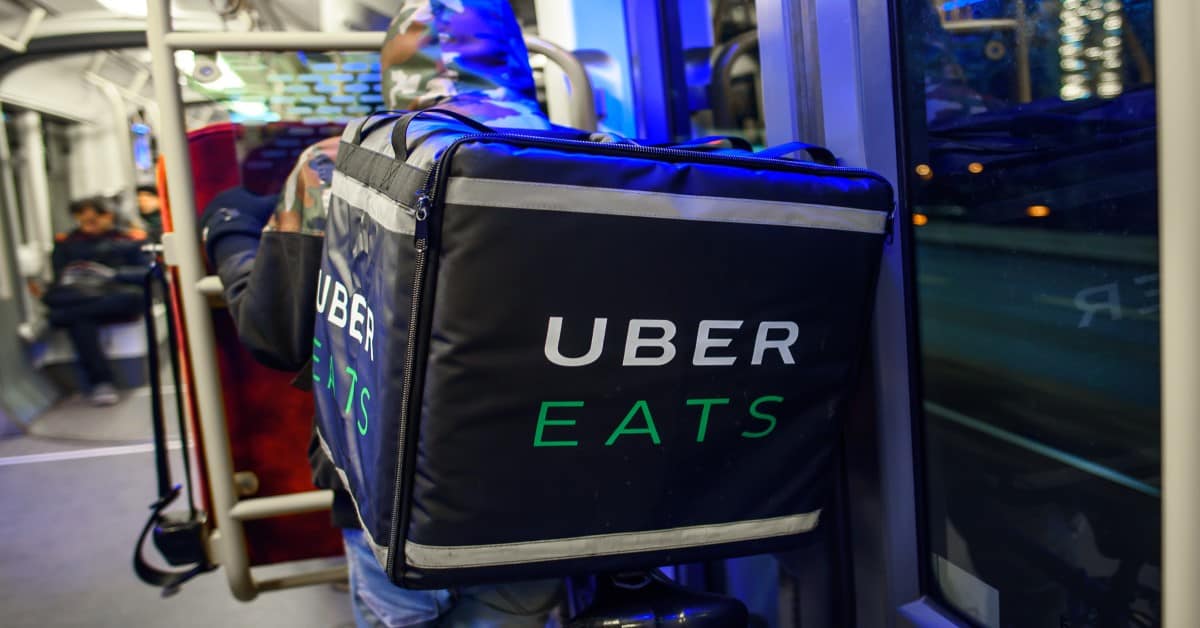 The closure of restaurants during the pandemic and stay-at-home orders around the country has led to an increase in services like Uber Eats. But, even before that, getting delivery through Uber Eats was a big part of life. It is easy and saves you time.
Driving to a restaurant is something you might not want to deal with. Part of ordering delivery is the tip. When you're thinking about that, you have to wonder – do Uber Eats drivers see your tip?
Yes, Uber Eats drivers see your tip before accepting delivery if you choose to tip them using the app. You can also tip your driver in cash when they deliver the order.  Either way, Uber Eats drivers will know if a customer includes a tip for the delivery.
Let's dive in further to explore how tipping works on Uber Eats.
When Do Uber Eats Drivers See Your Tip?
Uber Eats drivers see the tip before they deliver your order. If you choose to leave a tip, the driver gets a notification that shows the tip amount once they confirm delivery on the app.
Next, we'll explain how the process works for Uber Eats drivers. Basically, the way Uber works is similar whether you are an Uber Eats driver or a regular Uber rideshare driver:
An Uber Eats notification will pop up and ask you if you want to drive X amount of miles and make X amount of money.
If you accept, it will tell you the restaurant and the time placed in that order.
Once you pick up the order and have confirmed it in the app, it will give you directions to the address where you are supposed to deliver the order, along with any specific instructions, such as gate codes or entry directions. 
After you have delivered the order, you confirm the app and then leave.
Within a few minutes, the driver will receive a pop-up notification with the money that you have earned for the ride. This earned money does not include any tip amount.
A few seconds later, the tip amount gets shown, if there is any.
Should You Tip Uber Eats Drivers?
Yes, you should tip Uber Eats drivers to show your appreciation for their effort. Like many others in the service industry, Uber Eats drivers are not employees of Uber, and the majority of their pay comes from tips.
When Uber was first born, the app was advertised under the pretense of not needing to tip. Things have changed since then, including the addition of Uber Eats. It joined the ranks of services such as Postmates for food delivery.
Ordering out can cost more than going to a restaurant – there are delivery and service fees involved, and in some states, such as California, if your order is too small, they charge you an additional fee.
Some people feel that with all of those fees they are paying, a tip is another one they don't want to add on. These are all fees that the driver does not see, however.
Uber Eats drivers are independent contractors taking part in the gig economy. Being an independent contractor means that unless you have another job, you don't have any benefits, such as health insurance or reimbursement for gas.
All of these costs come out of the driver's pocket. Plus, the other fees you are paying don't go to the driver. They go to the restaurant or Uber itself, which takes up to 25% of the cut. Uber Eats drivers aren't making much and still have to pay taxes on what they make.
They are part of the service industry, just as waiters and waitresses are. They get paid less with the assumption that tips will supplement their pay. Uber Eats drivers make between $1 – $3 a trip, and they still have to pay for their own gas, so that amount is less at the end of the day. That isn't much for food delivery, especially if Uber Eats is your main source of income.
The most common reason people don't tip Uber Eats drivers is when they are upset with their food delivery. The same survey by US Foods showed that customers have suspected drivers eating some of their food, a deliverer didn't bring the food all the way to the door, delivery was late, or a driver dropped the food outside and left.
All of these negative factors make people hesitant to tip before the order is delivered. When surveyed, 60% of Uber Eats drivers say they are either not being tipped at all or not being tipped enough.
If there is nothing wrong with your delivery, you should tip the driver. They are providing you with a service, and thanks to them, you don't have to get in your own car to pick up food. 
How Much Should You Tip Uber Eats Drivers?
Uber Eats suggests an 18% tip when you are paying for your total. You can adjust that amount, but the recommended tip is 15-20%, which is the standard in the restaurant industry.
If you don't want to go by that marker because you are not in a restaurant, there are other ways you can decide. A survey done by US Foods discovered that delivery drivers and customers agree that a $4 tip is a reasonable minimum for delivery drivers.
If you have a large order, $4 is probably not enough for a tip. But, if your order is more of an average meal cost, that $4 can work as a minimum on which to base your tip amount.
Considering the other fees you do have to pay, $4 seems reasonable to many customers, and the drivers are then getting something. 
In just over 2 years, drivers on @Uber & delivery partners on @UberEats have made nearly $2 billion in tips — on top of their earnings. 100% of tips go directly to them because they've earned every dollar. Learn more how tipping works on Uber. https://t.co/fHkzEgAh3E

— Daniel Danker (@mrdanieldanker) July 23, 2019
Do Uber Eats Drivers Get 100% of the Tip?
Yes, Uber Eats drivers get 100% of tips. Like many in the service industry, Uber Eats drivers get to keep their tips whether customers add it to the order total on the app or give cash at the time of delivery.
Daniel Danker, head of driver product at Uber, has said, "100% tips go directly to your driver or delivery partner with Uber or Uber Eats because they've earned every dollar."
If Uber Eats or the restaurant takes a cut of something, it goes under as a fee. The delivery fee, for instance, is not money that the delivery driver fully sees.
Uber Eats drivers across various platforms have confirmed this. If you are worried, you can always tip your Uber Eats driver in cash. That way, you'll know for sure that it is going directly into their pocket.
Hi Karen! You'll be given the option to add a tip in app. To tip on a past order from the app select the order from your history, and click 'Rate order'. After an order is completed, you have 30 days to add a tip in the app and Uber does not take service fees on tips.

— Uber Support (@Uber_Support) February 5, 2019
How to Tip Uber Eats Drivers
If you don't want to hand your Uber Eats driver a cash tip, you can tip them through the app. This can be done in a few easy-to-follow steps.
There are three ways to tip your Uber Eats driver through the app – before delivery, after delivery, and in your order history. We'll dive into all three options.
Before placing your order
Open the app and put your food items in your cart.
Once you have finished, continue following the prompts to place your order.
When you get to the "Review & pay" screen, find the section that says "Add a tip."
Select the tip percentage or dollar amount. If you want to add a custom amount, tap "Other."
Finish placing your order.
This is the only scenario out of all three in that you can change this tip amount. After your order is delivered, you have up to 1 hour to adjust the amount.
After your order has been delivered
After your order gets delivered, the Uber Eats app gives you the option to rate your experience. When that happens, you can also add a tip.
If you choose to add a tip after the delivery, an updated receipt gets emailed to you. If you tip after the delivery, you cannot change your tip amount.
However, keep in mind that if you choose to tip after the delivery, you may need to wait longer for your order to be delivered. This is because Uber Eats drivers prioritize orders with higher tip amounts and earnings potential, and your order may get bounced around.
Tipping an order in your order history
For up to 90 days after your Uber Eats delivery, you have the ability to add a tip to your order.
In the Uber Eats app, go to the bottom menu bar and tap on Orders.
Choose the order that you want to adjust and add the tip to.
Tap "Add tip" next to the tip amount on the order.
Add the tip amount.
It is important to note that you cannot change this tip amount after you've added it.
Summary
In this article, we learned about Uber Eats drivers and the etiquette of tipping. We discovered that Uber Eats drivers receive all of their tips, how tipping works, and how much, at a minimum, you should tip Uber Eats delivery drivers.
Uber Eats makes life easier for a lot of us, so treat your service people with kindness, and if your delivery went well, let them know with a good tip!
If you are interested in learning more about food delivery services, check out the related articles below.
Related Articles:
What Food Delivery Services Accept Cash? (And How It Works)
Uber Eats No Couriers Nearby: What Does It Mean? (And How to Fix It)
Can DoorDash Drivers See Tips? (Before or After Delivery)
Do GrubHub Drivers See Your Tip? (Before or After Delivery)