Does Starbucks Deliver? (Yes, Here's How It Works)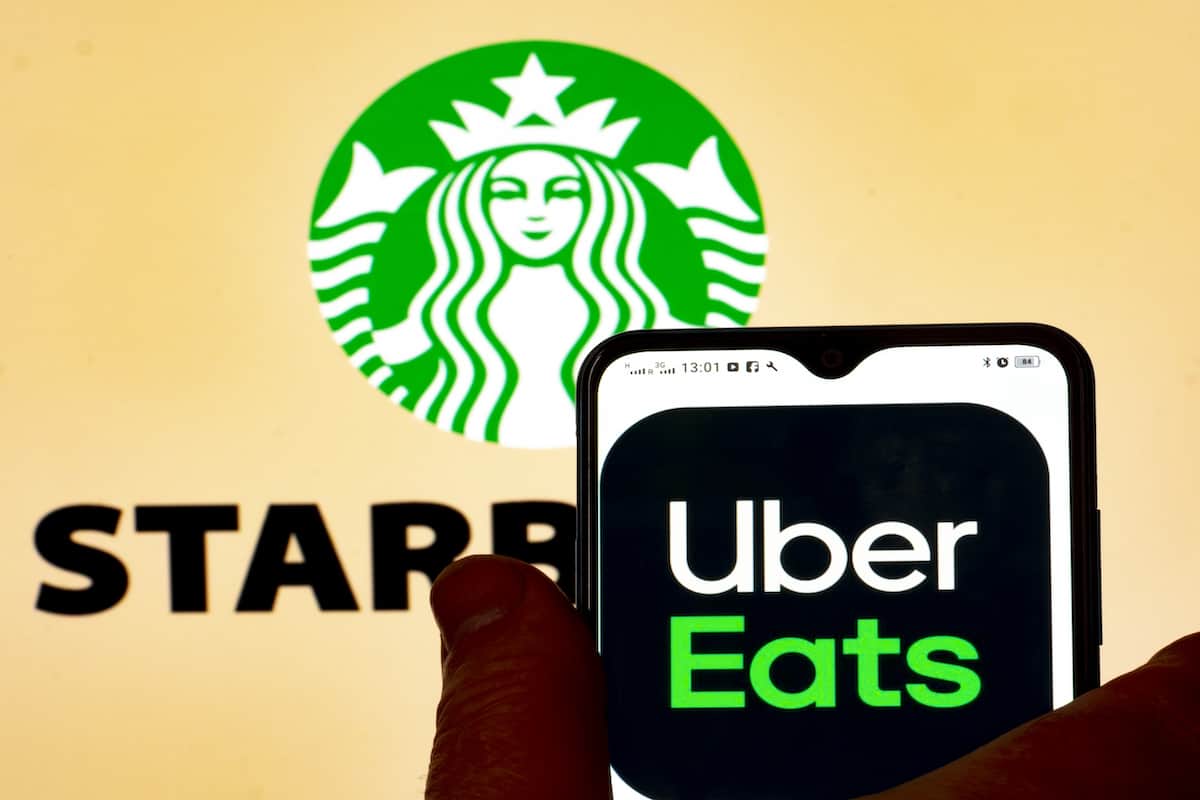 Any true caffeine addict knows that sometimes when you need your coffee fix, you need it fast and with as little effort as possible. Thanks to Starbucks delivery, you can get your favorite beverages and treats delivered right to your door — no grinding or brewing necessary, at least not on your part!
Key Takeaways
Starbucks offers delivery through Uber Eats, and you can order directly on the Uber Eats app or website.
Starbucks delivery fees typically range from $0.99 to $5.99, plus a 15% service charge.
You cannot use a Starbucks gift card when ordering delivery through Uber Eats and will not earn Starbucks Rewards for delivery orders.
For more information on Starbucks delivery, including how it works and how to place an order, keep reading!
How Does Starbucks Delivery Work?
Starbucks offers delivery through Uber Eats. You can order Starbucks delivery through their website or directly through Uber Eats.
Be aware that there are service charges and delivery fees associated with Uber Eats.
In addition, menu prices may be higher than in-store prices when ordering from Starbucks online.
Starbucks delivery is not currently available through the Starbucks app, which means you won't earn Starbucks Rewards on your delivery purchases.
However, you can still order Starbucks for in-store pickup on the app or Starbucks website and collect rewards on those purchases.
When you order Starbucks delivery, you'll be able to track your order and see the estimated delivery time.
If you're sending the order to a friend or family member, you can also share the tracking link and send a special message.
If you have an issue with your Starbucks delivery order, you should contact Uber Eats customer service directly.
Delivery to the rescue! Starbucks Delivers is now available in all 50 states in the U.S. To see if Starbucks Delivers is available near you visit: https://t.co/8TzwEl1eav

— Starbucks Coffee (@Starbucks) February 3, 2021
What Is the Starbucks Delivery Menu?
Starbucks items that are generally available for delivery include:
Hot Coffees (including cappuccinos, lattes, and mochas)
Hot Teas (including chai and matcha lattes)
Hot Drinks (including hot chocolate, caramel apple spice, and crèmes)
Cold Coffees (including cold brew and iced lattes)
Cold Drinks (including Refreshers, lemonade, and bottled drinks)
Breakfast Items (including breakfast sandwiches and egg bites)
Bakery Items (including pastries, bagels, and cake pops)
Lunch (including sandwiches and protein boxes)
Snacks and Sweets (including chips, bars, and candies)
Oatmeal and Yogurt
Whole Bean Coffee
VIA Instant Coffee
Cold Cups (reusable cold beverage cups)
Tumblers (reusable warm beverage cups)
Mugs
Reusable Water Bottles
Keep in mind that not everything on the full Starbucks menu is available for delivery, and availability may vary depending on your location.
Check your Uber Eats app or contact your local Starbucks location for a complete list of menu items available for delivery.
In addition, if you're ordering through a delivery service other than Uber Eats, menus and pricing may not be entirely up to date.
Starbucks often offers seasonal items that aren't available year-round, and individual stores will occasionally run out of certain menu items.
Can You Order Starbucks Delivery on DoorDash?
Although Uber Eats is Starbucks' official delivery partner, you can still order Starbucks delivery on DoorDash or Postmates in select locations.
However, be aware that unaffiliated apps such as these may not have accurate menu information.
Because Uber Eats is Starbucks' official delivery partner, you can feel confident that your order will be sent directly to your local Starbucks when you order delivery online or through your Uber Eats app.
Placing an order through an unaffiliated app may mean that the delivery driver actually places your order in person when they pick it up.
Unaffiliated apps are also not guaranteed to have updated menus or show out-of-stock items at a particular store.
That means you may risk placing an order for a menu item that is unavailable, and you won't know until your driver arrives at the store.
How Much Does Starbucks Delivery Cost?
Starbucks delivery through Uber Eats typically costs between $0.99 and $5.99 in delivery fees, plus a service charge of 15%.
Uber Eats charges both delivery and service fees.
Delivery fees typically range from $0.99 to $5.99 per order, but they can be higher depending on the restaurant and your location.
Service fees are generally equal to 15% of your order.
Additional fees apply for orders under $10 or when there are fewer delivery drivers available.
If there aren't a lot of delivery drivers nearby to deliver your order, Uber Eats will tack on an additional "busy area" fee that can be as much as $20.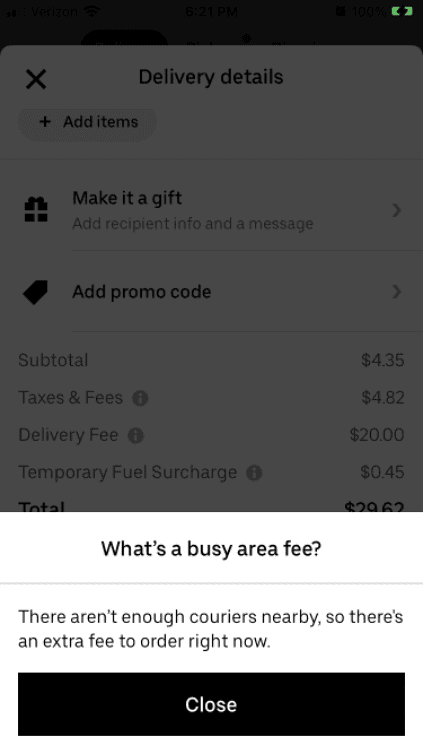 Uber Eats also sometimes subsidizes drivers' fuel costs with their "temporary fuel surcharge," an additional fee that covers increased gas prices for drivers.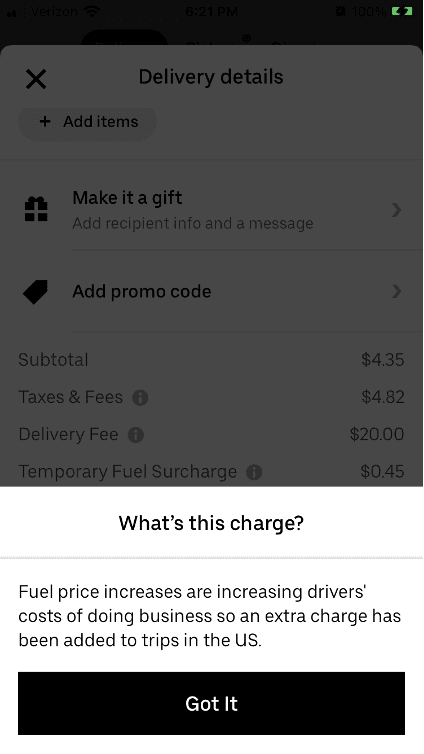 Finally, it's worth noting that restaurants set their prices in delivery apps such as Uber Eats, and they often set them higher than what you would pay in stores.
That means individual menu items may be more expensive on Uber Eats and other apps than they would typically be in-store.
This can be hard to notice if you haven't memorized the prices at your local Starbucks.
Estimates show that delivery items can be as much as 15% more expensive, depending on the restaurant.
We split the fees for Uber delivery orders into a Delivery Fee and a Service Fee. Consumers will pay a Service Fee that is coupled to their order size before any promotion or discount is applied to their order. Consumers still pay a Delivery Fee, which ranges from $0.99 to $5.99.

— Uber Eats (@UberEats) May 28, 2021
Can You Use a Starbucks Gift Card on Uber Eats?
Unfortunately, you cannot use a Starbucks gift card when ordering delivery through Uber Eats since Uber Eats is a third party with a separate platform.
However, you can still use a gift card when placing a Starbucks order online for pickup through their website or app.
There is also currently no way to earn Starbucks rewards through Uber Eats.
You can, however, still acquire and use rewards on pickup orders placed through the Starbucks app or website.
Uber Eats accepts debit and credit cards, PayPal, Apple Pay, Google Pay, Venmo, and Uber Eats gift certificates.
All of these payment methods can be used to pay for your Starbucks delivery order.
How to Order Starbucks Delivery
You can order Starbucks delivery online through the Uber Eats website or app.
Starbucks also has a link on its website that will take you directly to the Starbucks Uber Eats page.
Once you're on the app or site, simply create an account, enter your location, and select the Starbucks menu items you'd like to have delivered to you.
Follow the steps below to place an order for Starbucks delivery:
Step 1. Download the Uber Eats app.
Step 2. Share your location or enter your address to see if there is a Starbucks that delivers to you.
Step 3. Select the nearest Starbucks location. Delivery fees will vary depending on your distance from the location and driver availability.
Step 4. Select your desired menu items.
Step 5. Choose your desired size, select any modifications, and click "Save."
Step 6. Click "Add to order."
Step 7. To check out, click "View Order" to see a summary of your order and click "Go to checkout."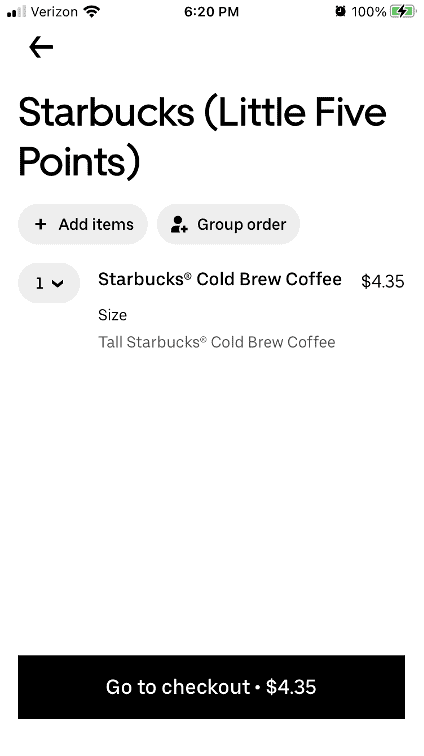 Step 8. On the next page, you can see your estimated delivery time, add delivery instructions, edit your delivery address, and see a list of any taxes and fees associated with your order and the total cost of your Starbucks delivery order.
Step 9. Once you click "Next," you'll be prompted to show your support for your delivery driver with a tip.
Step 10. Click the green "place order" button at the bottom of the page to complete your order.
Placing a Starbucks order online on Uber Eats's website is similar to ordering on the app.
Step 1. Go to Uber Eats website and enter your location.
Step 2. Select the local Starbucks that you'd like to order from. Note that delivery fees will vary depending on driver availability and your distance from the Starbucks location.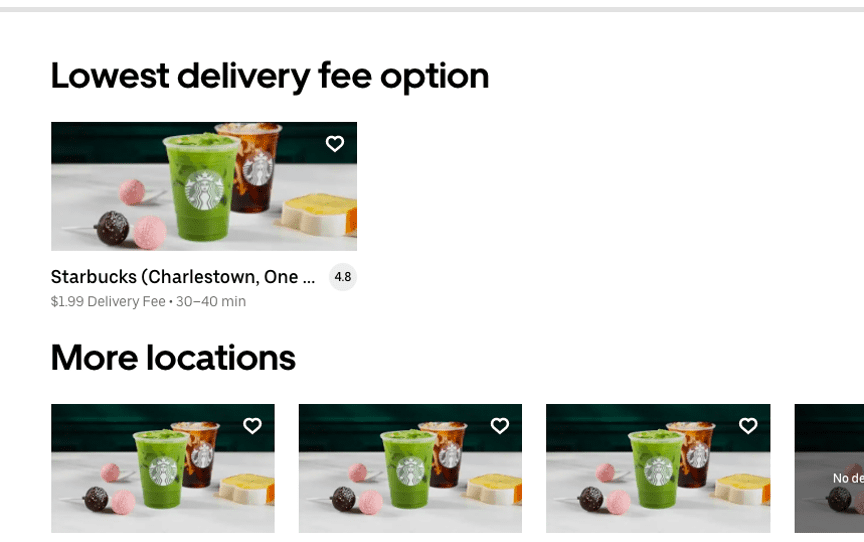 Step 3. Select your menu items, customize them, and add them to your cart.
Step 4. Enter your payment information, review your order, and click "Place Order" to check out.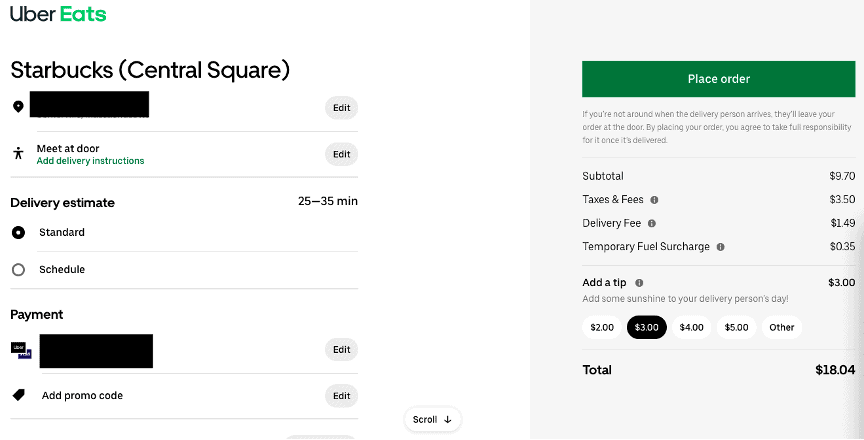 How to Get Free Delivery From Starbucks
There are several ways to get free delivery from Starbucks. Uber Eats offers regular promo codes, some of which can be used for free delivery.
In addition, if you order delivery at least twice a month, consider signing up for an Uber One membership, which will also help you score free Starbucks delivery.
Uber Eats offers regular promo codes for free delivery or discounts on orders.
They will be listed on your Uber Eats account page or pages for individual restaurants offering promotions.
Keep in mind that only one promo code can be used per order, and it must be added before placing the order.
To add an Uber Eats promo code, click "Promotions" under your Uber Eats Profile.
Then, tap "Enter Promo Code," enter the code, and tap "Apply."
Uber One membership (formerly Uber Eats Pass) costs $9.99 a month and gets you free delivery on all eligible orders over $15.
Members can also receive 5% off on eligible orders from participating restaurants.
If you order Uber Eats delivery more than twice a month, it is worth considering an Uber One membership.
Lastly, Starbucks delivery orders are not currently eligible for Starbucks Rewards, so save those points when you order Starbucks for pickup!
Do You Tip Starbucks Delivery?
While it's not required, it is recommended that you tip 15-20% of your order total on your Starbucks delivery.
Unlike delivery and service fees, 100% of tips go directly to delivery drivers.
Uber Eats drivers (and other delivery drivers) often rely heavily on tips as a big portion of their income.
In addition, Uber Eats drivers can see tips before accepting orders.
That means tipping a decent amount when placing your order will help to get your order faster.
You can tip your Uber Eats delivery driver directly through the app or website or with cash when they arrive with your order.
Other delivery platforms, such as DoorDash, also allow tipping within the app.
Conclusion
Starbucks offers delivery through its official partner, Uber Eats. You may also get Starbucks delivery through other third-party delivery services, but prices and menus may not be up to date.
Keep in mind that there are fees associated with ordering Starbucks delivery, and menu prices may be higher than in-store prices.
If you're looking for more information about Starbucks, check out the articles below.
Related Articles:
13 Best Starbucks Summer Drinks to Order on a Hot Day
6 Things You Can Do With the Starbucks App
What Are Starbucks Cup Sizes? (And What Each Size Means)
You Can Get a Free Starbucks Drink on Your Birthday, and Here's How It Works