18 Most Popular Fried Chicken Restaurants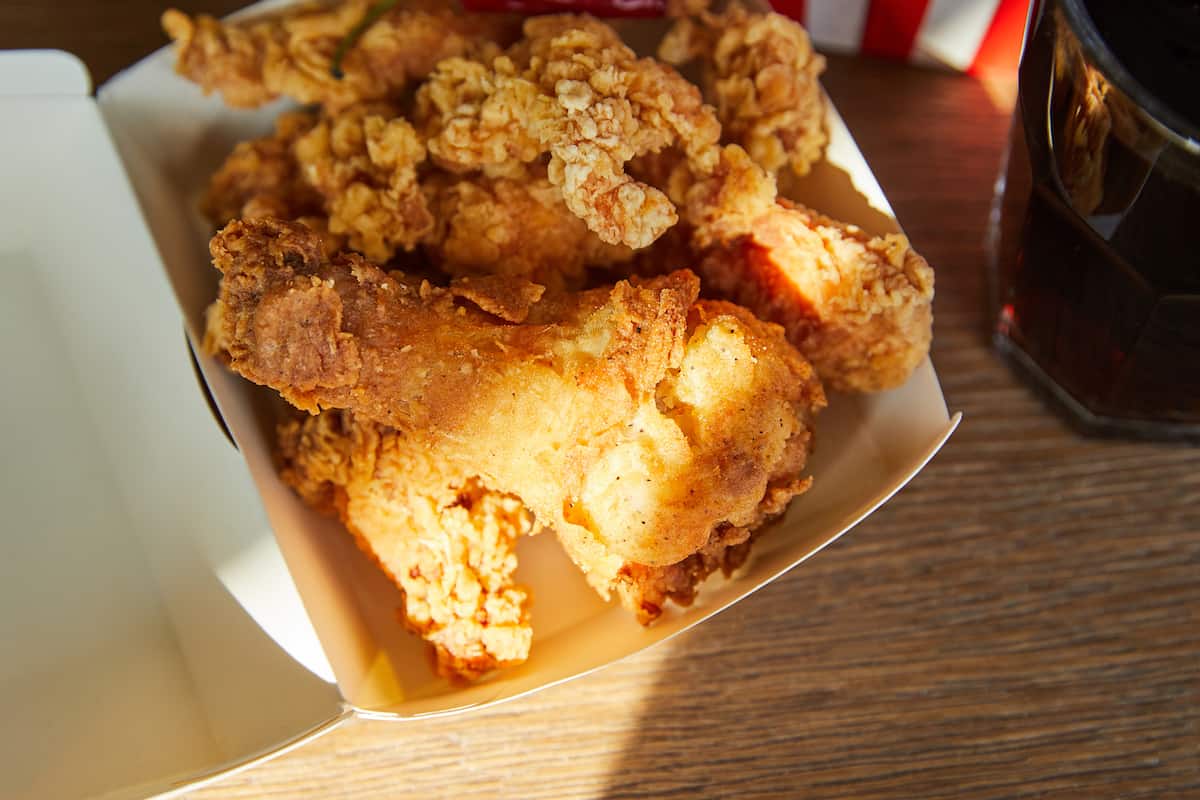 Fried chicken is a true American classic. It makes a delicious lunch, dinner, late-night snack, or even a special breakfast treat with waffles.
There are many ways to make fried chicken, and no matter how or when you like to enjoy it, we have the restaurant for you!
We've compiled a list of the best fried chicken restaurant chains, from old nostalgic classics to new spots that provide their unique spin.
18. Popeyes
Popeyes is one of the largest and most beloved fried chicken restaurants, with nearly 3,500 locations in 46 states, plus Washington D.C. and Puerto Rico.
Popeyes was founded in 1972 by Al Copeland, Sr., in New Orleans, Louisiana.
Contrary to popular belief, Popeyes was not named after Popeye the Sailor but after Detective Jimmy "Popeye" Doyle, a character from the movie The French Connection, played by Gene Hackman.
If you're a longtime Popeyes fan, you might remember that Popeye the Sailor has been occasionally featured in the restaurant's marketing for about 35 years.
However, in 2012, the restaurant chain terminated its relationship with Popeye the Sailor, claiming that "As the brand shifted its focus to more of its Louisiana heritage, there just wasn't any alignment with the cartoon character."
Popeyes' most iconic menu item is its Signature Chicken, which comes in sizes ranging from a two-piece meal to a sixteen-piece family meal.
You can customize your Signature Chicken to be spicy or mild and have white meat (breast and wing) or dark meat (leg and thigh).
You can also choose between delicious Popeyes sides, including Cajun fries, red beans and rice, mashed potatoes with Cajun gravy, coleslaw, and homestyle mac and cheese.
Another popular menu item is the chicken sandwich, which went viral for its generous size, affordable price, and, arguably, the best-tasting fast-food fried chicken sandwich.
The Popeyes chicken sandwich also comes in a mild and spicy version, which is served sandwiched in a soft pillowy bun, spread with a spicy mayo sauce, and layered with pickles.
17. Chick-fil-A
Chick-fil-A is one of the largest American fast-food chains specializing in chicken, operating almost 3,000 locations in 47 states, Washington D.C., and Puerto Rico.
The first Chick-fil-A was opened in 1946 in Hapeville, Georgia, by S. Truett Cathy.
Ever since it was first opened, Chick-fil-A has been closed on Sundays.
Chick-fil-A's hours are consistent across the board—most locations are open Monday through Saturday, from 6 am to 10 pm.
Chick-fil-A's iconic cow-painted "EAT MOR CHIKIN" billboards have been around since 1995, when the first billboard was erected in Texas.
Chick-fil-A's most popular menu item is its iconic chicken sandwich.
It's made with a boneless chicken breast, seasoned, battered, and fried in 100% peanut oil, and served with dill pickle chips on a white buttered bun.
You can also get a spicy version of the chicken sandwich or a deluxe version with lettuce, tomato, and American cheese.
Another iconic Chick-fil-A menu item is the chicken nuggets, which are chunks of boneless chicken breast seasoned, battered, and fried in 100% peanut oil.
Chick-fil-A's dipping sauces are also wildly popular, especially the eponymous Chick-fil-A Sauce, which is like half honey mustard and half barbecue sauce.
In 2017, more than 500 million packets of Chick-fil-A Sauce were served in Chick-fil-A restaurants.
The other two most popular sauces at Chick-fil-A are the Polynesian Sauce, a tangy take on the sweet and sour sauce, and the classic Barbecue Sauce, seasoned with spices onion and garlic.
16. Church's Chicken
Church's chicken is another beloved fried chicken restaurant chain, with almost 900 locations in 26 states and Washington D.C.
The first Church's Chicken was opened in 1952 by George W. Church in San Antonio, Texas, right across the street from The Alamo.
This first restaurant was so small that it didn't even offer in-restaurant seating, just a walk-up window.
The kitchen was also designed with deep fryers located within view of the window, so customers could watch their chicken getting fried.
In the beginning, Church's Chicken charged only $0.49 for two pieces of fried chicken and a roll.
Three years later, they began selling fries and fried jalapenos in addition to fried chicken.
Nowadays, the Church's Chicken menu specializes in fried chicken combos, the most generous of which is the Texas-sized meal.
The Texas-sized meal comes with three-piece legs and thighs, a honey-butter biscuit, a jalapeno pepper, and your choice of two of the following sides:
Mashed potatoes
Coleslaw
Fries
Jalapeno cheese bombers
Corn
Fried okra
Baked mac and cheese
Another delicious Church's Chicken option is the chicken sandwich, which comes in a mild and spicy version.
It's made with hand-battered fried chicken, mayo, and pickles served in a honey-butter-brushed brioche bun.
15. Bojangles
Bojangles is a Southern, Cajun-inspired fried chicken restaurant chain with almost 800 locations in 14 states.
The first Bojangles was opened in 1977 by Jack Fulk, Sr., in Charlotte, North Carolina.
It was intended to bring the distinctive flavors of Cajun fried chicken to the masses.
To this day, North Carolina remains the state with the most Bojangles restaurants by far, with over 340 locations.
In 1989, Bojangles made headlines for being one of the very few restaurants to remain open after Hurricane Hugo devastated huge swaths of the southeastern U.S. between South Carolina and Virginia.
One of Bojangles' most beloved menu items is the Cajun Chicken Filet Biscuit, which consists of a fried chicken breast marinated in a unique combination of Cajun seasonings, served in a buttermilk biscuit made from scratch.
Another Bojangles must-try is the Signature Bone-In Chicken meal, which comes in two-piece leg and thigh, three-piece leg and two thighs, two-piece breast and wing, and three-wing permutations.
With each chicken meal, you'll also get a made-from-scratch buttermilk biscuit and your choice of two of the following sides:
Seasoned fries
Bo-Tato rounds (like a mini hash brown)
Dirty rice
Macaroni and cheese
Mashed potatoes and gravy
Cajun pintos
Coleslaw
Green beans
14. Raising Cane's
Raising Cane's is a fried chicken restaurant specializing in chicken fingers, operating over 550 locations in 31 states.
Raising Cane's was founded by Todd Graves in Baton Rouge, Louisiana, in 1996.
Graves raised the money to open the first restaurant himself, working as a boilermaker in a Louisiana oil refinery and a salmon fisher in Alaska before obtaining an SBA loan.
Graves' yellow Labrador, Raising Cane, is the namesake of Raising Cane's and its first official mascot.
Since Raising Cane I passed away in 1998, two other yellow Labradors, Raising Cane II and III, have taken his place as the restaurant's official mascot.
From the beginning, Raising Cane's has always had a limited menu, serving only chicken fingers, chicken sandwiches, fries, Texas toast, coleslaw, and drinks, allowing the restaurant to focus on serving the highest quality recipes and ingredients.
One of the most popular orders at Raising Cane's is the Three Finger Combo, which comes with three hand-breaded chicken fingers, crinkle-cut fries, one serving of Cane's Sauce, one slice of Texas toast, and a fountain drink or sweet tea.
Another popular item is the Sandwich Combo, which comes with three chicken fingers, Cane's Sauce, and lettuce, served in a toasted bun alongside crinkle-cut fries and a fountain drink or sweet tea.
Raising Cane's signature sauce, Cane's Sauce is a huge part of what makes their chicken fingers and sandwiches so delicious.
However, the recipe is a closely guarded secret—only Raising Cane's general managers know the recipe, and they're sworn to secrecy when they start the job.
13. Wingstop
Wingstop is an aviation-themed chicken restaurant specializing in chicken wings.
They operate over 1,200 locations in the U.S., plus hundreds more internationally.
The first Wingstop was opened by Antonio Swad in Garland, Texas, in 1994.
By 2002, Wingstop had sold a whopping one billion wings!
Wingstop's menu serves chicken wings, chicken tenders, and thigh bites, which are boneless chunks of chicken thigh, breaded and deep-fried.
Wingstop's wings come in a variety of flavors, most of which are permanent, and some are rotating or limited edition.
One of the most popular items on Wingstop's menu is the Wing Combo, which comes in six-piece, eight-piece, and ten-piece sizes.
You can choose between classic wings, boneless wings, or a combination of both.
With each combo, you'll get to choose up to two flavors of wings, a side of either fries or veggie sticks, a dip (ranch, blue cheese, or honey mustard), and a drink.
If you prefer chicken tenders, Wingstop has those, too!
You can order anything from a three-piece combo to a twenty-four-piece pack, which can feed up to eight people.
12. Zaxby's
Zaxby's is a Southern fried chicken restaurant specializing in chicken wings, chicken tenders, and chicken sandwiches.
They operate over 900 locations, all located in the Southeastern United States.
The first Zaxby's was founded by Zach McLeroy and Tony Townley in Statesboro, Georgia, in 1990.
The cornerstones of Zaxby's brand have been their fried chicken and Zax Sauce from the start.
One of the most popular items on Zaxby's menu is the Signature Sandwich, made with a double hand-breaded white meat chicken breast fillet, pickle chips, and Zax Sauce on a potato bun.
You can also order a Spicy Signature Sandwich made with Spicy Zax Sauce, or a Signature Club Sandwich, which comes with American cheese and bacon inside the sandwich.
Zaxby's Zax Sauce is what put them on the map, and it was designed specifically to pair with their Chicken Fingerz.
There's also the Spicy version, which has the same creamy, tangy, zesty flavor as the original Zax Sauce, just spicier.
Zaxby's offers two different types of Chicken Fingerz: classic and buffalo.
The classic chicken Fingerz are hand-breaded and served with the Zax Sauce.
The Buffalo Chicken Fingerz can be tossed in your choice of the following sauces:
Wimpy
Tongue Torch
Nuclear
Insane
Hot Honey Mustard
Sweet and Spicy
Teriyaki
Barbecue
Buffalo Garlic Blaze
Then, they're served with ranch dipping sauce.
11. Jollibee
Jollibee is a Filipino fast-food chain specializing in fried chicken, operating in over 60 locations in 13 states.
The first Jollibee was opened by Tony Tan Caktiong in Quezon City, Philippines, in 1975.
Originally, the restaurant was an ice cream parlor, but it soon began offering hot meals to attract more customers.
By 1978, hot meals became more popular than ice cream, and the Jollibee we know was born.
In the U.S., the most popular item on the Jollibee menu is their fried chicken, also known as Chickenjoy.
Jollibee offers juicy, bone-in legs and thighs, regular or spicy, served with a side of gravy for dipping.
There are many different Chickenjoy combos that you can order, but if you're looking to try something new, we recommend trying the combo with Jolly Spaghetti or Palabok Fiesta.
Jolly Spaghetti is a Filipino-style spaghetti topped with Jollibee's signature sweet-savory meat sauce, ham, hot dog, and grated cheese.
Palabok Fiesta is a traditional Filipino noodle dish with garlic sauce, sauteed pork, shrimp, and egg.
Jollibee's other sides include French fries, mashed potatoes and gravy, steamed white rice, and adobo rice.
10. KFC
KFC, also known as Kentucky Fried Chicken, is the second-largest fast-food restaurant globally, with nearly 4,000 locations in all 50 states.
The first KFC was opened in 1930 by Harland Sanders in Corbin, Kentucky.
Sanders spent nine years perfecting his fried chicken recipe, using a modified pressure fryer for cooking the chicken and refining his "Original Recipe" of eleven herbs and spices.
In 1950, Sanders was given the honorary title of Kentucky Colonel.
He went by "Colonel Sanders" from then on out, always dressing in his signature white suit and string tie.
A fictionalized version of Colonel Sanders is one of the cornerstones of KFC's branding. It has been played by everyone, from Rob Lowe to Ray Liotta to Reba McEntire to Mario Lopez.
One of the most popular items on KFC's menu is the Bucket, which is exactly what it sounds like—a bucket full of anywhere from eight to sixteen pieces of fried chicken, along with sides.
Every piece of fried chicken is inspected, rolled seven times in KFC's Eleven Herbs and Spices, and pressure cooked at a low temperature.
KFC's Eleven Herbs and Spices are one of the most closely-guarded secrets in the fast-food industry.
The original recipe, signed by Colonel Sanders, is kept in a 770-pound safe in KFC's headquarters in Louisville, Kentucky.
In addition to these perfectly seasoned pieces of fried chicken, you can choose from various sides, including fries, mashed potatoes and gravy, mac and cheese, biscuits, coleslaw, and corn.
KFC also serves its own take on a chicken sandwich, which can be ordered as classic or spicy.
Each KFC sandwich is made of an extra crispy filet, pickles, and mayonnaise, sandwiched in a brioche-style bun.
9. PDQ
PDQ, which stands for "People Dedicated to Quality," is a chain restaurant that specializes in chicken tenders, operating 65 locations in Florida, North Carolina, New Jersey, New York, and South Carolina.
PDQ was founded in Tampa, Florida, in 2011 by Bob Basham and Nick Reader.
The signature item on PDQ's menu is the Chicken Tender, which is never made from frozen chicken and is free of added hormones and steroids. It can be ordered crispy, grilled, or spicy.
The Chicken Tender Meal comes with anywhere between three and ten chicken tenders, fries, and your choice of the following PDQ sauces:
PDQ Sauce
Sweet Sriracha
Ranch
Honey Mustard
Honey BBQ
Buffalo Blue
Creamy Garlic
Blue Cheese
Buffalo Sauce
Ketchup
PDQ also serves delicious chicken sandwiches. Their classic Crispy Chicken Sandwich comes with crispy chicken, Duke's mayo, lettuce, tomato, and dill pickles served on a toasted potato bun.
If you're feeling a little more adventurous, try the Honey Butter Sandwich, which has crispy chicken dipped in homemade honey butter, bread and butter pickles, and a toasted potato bun.
You could also try the Buffy Blue Sandwich, which has two crispy chicken tenders drenched in Buffalo Blue Sauce, layered over lettuce, and served on a toasted potato bun.
8. Shake Shack
Shake Shack might be best known for its burgers and milkshakes, but it also serves delicious fried chicken in its 250+ locations in 32 states and Washington DC.
The first Shake Shack was opened in 2000 in Madison Square Park in New York City by restaurateur Danny Meyer.
Originally, Shake Shack was just a hot dog cart, but it soon expanded to offer burgers, fries, milkshakes, frozen custard, and of course, chicken.
Shake Shack's signature chicken item is the Chicken Shack, which is a crispy chicken breast over lettuce, pickles, and buttermilk herb mayo on a bun.
They also offer Chicken Bites, which are kind of like chicken nuggets.
You can get either a six-piece or ten-piece box, served with either buffalo sauce, honey mustard, or BBQ sauce.
Shake Shack's menu also rotates through limited edition or seasonal offerings.
7. Buffalo Wild Wings
Buffalo Wild Wings is a sports bar chain specializing in buffalo wings, operating over 1,200 locations in all 50 states, plus Washington DC.
Buffalo Wild Wings was founded by Jim Disbrow and Scott Lowery in Columbus, Ohio, in 1982.
Disbrow and Lowery had recently moved to Columbus from Buffalo, New York, and were craving buffalo wings.
Although they searched high and low, they could not find a restaurant that served buffalo wings, so they decided to start their own. The rest is history!
The signature item on the Buffalo Wild Wings menu is buffalo wings.
They offer boneless and traditional wings and a wide variety of sauces, ranging from mild to wild.
Buffalo Wild Wings' buffalo wings come with celery and carrot sticks, plus sides of ranch or blue cheese dressing.
Buffalo Wild Wings also serves a variety of chicken sandwiches, including the Buffalo Ranch, the Southern Chicken sandwich, the Nashville Hot Chicken, and the Classic Chicken sandwich.
6. Bonchon
Bonchon is a South Korean fried chicken restaurant with over 100 locations in 22 states and Washington DC.
The first Bonchon was opened by Jinduk Seo in Busan, South Korea, in 2002, who worked tirelessly to perfect Bonchon's fried chicken and sauce recipes.
Bonchon is a Korean word that translates to "my hometown" or "my roots."
Bonchon prides itself on serving crispy, hand-battered, double-fried, and hand-brushed fried chicken that reminds South Koreans of home.
Bonchon's signature recipe became so famous in Korea that local police had to be dispatched to manage traffic and crowds outside the new restaurant whenever they opened a new location.
Bonchon's menu serves three different kinds of fried chicken: wings, drumsticks, and strips, all boneless.
You'll also be able to choose between two kinds of signature sauce: soy garlic and spicy.
Even if you think you can handle your spice, South Korean spicy sauce is on another level, so proceed with caution!
Each order of fried chicken is fried to order and served with a complimentary side of pickled radishes or coleslaw.
5. Guthrie's
Guthrie's is a southern fried chicken chain specializing in chicken fingers, fries, and Texas toast.
They operate 40 locations in Alabama, Florida, Georgia, Kentucky, Ohio, and Tennessee.
Guthrie's was founded by Hal Guthrie in Haleyville, Alabama, in 1965.
However, they didn't start serving chicken fingers until 1978. So for the first 13 years, Guthrie's served traditional Southern fare.
Then, Guthrie challenged each of his four children to mix up their own recipe for chicken finger dipping sauce, and the winning formula, invented by Guthrie's son Hud, is still served in Guthrie's restaurants today.
One of the most popular items on Guthrie's menu is the Gut Box, which comes with chicken fingers, fries, coleslaw, Texas toast, and Guthrie's Signature Sauce.
If you're feeling extra hungry, you can order the Bucket, a giant bucket filled to the brim with chicken fingers served with six servings of Signature Sauce.
Guthrie's also serves its own chicken sandwich, which is made by sandwiching chicken fingers, Signature Sauce, and lettuce in a toasted bun.
4. Harold's Chicken Shack
Harold's Chicken Shack is a Chicago classic, operating 40 locations in Arizona, California, Georgia, Indiana, Missouri, and Nevada.
The first Harold's Chicken Shack was opened by Harold Pierce in Chicago, Illinois, in 1950.
At the time, major fast-food restaurants tended to avoid opening locations in Chicago's South Side, so Harold's was the first restaurant to cater specifically to the Black community who lived in South Side neighborhoods.
For over 70 years, Harold's has been a beloved part of the South Side culture and has been mentioned by Chicago rappers, including Kanye West, Common, Chance the Rapper, and Lupe Fiasco.
Harold's fried chicken is made to order and fried in a unique combination of half beef tallow and half vegetable oil, approximating the taste of Southern home-cooked fried chicken.
Harold's menu serves traditional fried chicken, wings, chicken tenders, fried chicken livers, and gizzards.
They also offer combos that allow you to combine chicken with fried fish, shrimp, and even pizza puffs.
Harold's Southern-inspired sides include fries, okra, mushrooms, coleslaw, fried green tomatoes, and mac and cheese bites.
3. Wing Zone
Wing Zone is a restaurant chain specializing in buffalo wings, with over 60 locations in 15 states.
The first Wing Zone was opened by fraternity brothers Matt Friedman and Adam Scott in Gainesville, Florida, in 1991.
Wing Zone's wings, boneless wings, and chicken tenders are baked and then twice-fried, giving them a crispy exterior and juicy interior.
Wing Zone's menu serves bone-in wings, boneless wings, and chicken tenders in a variety of flavors.
Their flavors have even won awards at the National Buffalo Wing Festival, which happens every Labor Day Weekend in Orchard Park, New York.
Wing Zone's wing and tender combos are served with celery and carrot sticks, ranch or blue cheese dipping sauce, and fries.
2. Bush's Chicken
Bush's chicken is a Texas-based fried chicken restaurant with nearly 80 locations in Texas.
Bush's chicken was founded by Keith and Charlene Bush in Waco, Texas, in 1996.
Bush's Chicken restaurants innovated a new strategy for managing faster drive-thru wait times, opening multiple lanes, and sending their employees outside to take orders from each car.
Bush's menu serves classic Southern-style fried chicken, offering tenders, legs, thighs, wings, breasts, livers, and gizzards.
Their famous combos allow you to combine your choice of chicken with nostalgic Southern sides like corn nuggets, coleslaw, gravy, fries, green beans, jalapenos, mac and cheese, mashed potatoes, okra, pepper poppers, and dinner rolls.
Bush's also serves its own famous, freshly brewed iced tea, which you can buy by the gallon.
1. Golden Chick
Golden Chick is another Texas-based fried chicken restaurant specializing in chicken strips. They operate over 30 locations in 4 states.
The first Golden Chick was opened by Howard and Jacque Walker in San Marcos, Texas, in 1967.
Golden Chick's original menu charged only $0.49 for two pieces of Golden Fried Chicken and a biscuit.
In 1985, Golden Chick introduced their marinated, hand-battered Original Golden Tenders, which have since become their signature menu item.
Golden Chick's Golden Combos allow you to get Golden Tenders, Golden Fried Chicken, Golden Roast Chicken, or Southern Fried Catfish, plus your choice of a side, yeast roll, and a drink.
In addition, you can choose a sauce from Golden Chick's signature Homemade Lotta Zing Sauce, BBQ, Homemade Honey Mustard, or Buttermilk Ranch.
Golden Chick's delicious, Southern-inspired sides include mashed potatoes, fries, green beans, dirty rice, mac and cheese, coleslaw, fried okra, and lettuce salad.
Conclusion
No matter how you enjoy your fried chicken or where in the country you are, there are many fried chicken restaurants to try, including some hidden gems that you may not have heard of before.
Whether you're craving chicken tenders, buffalo wings, Southern-style fried chicken, or even an Asian twist on fried chicken, there's a fried chicken restaurant that has exactly what you're looking for.
Related Articles: