21 Popular KFC Menu Items to Try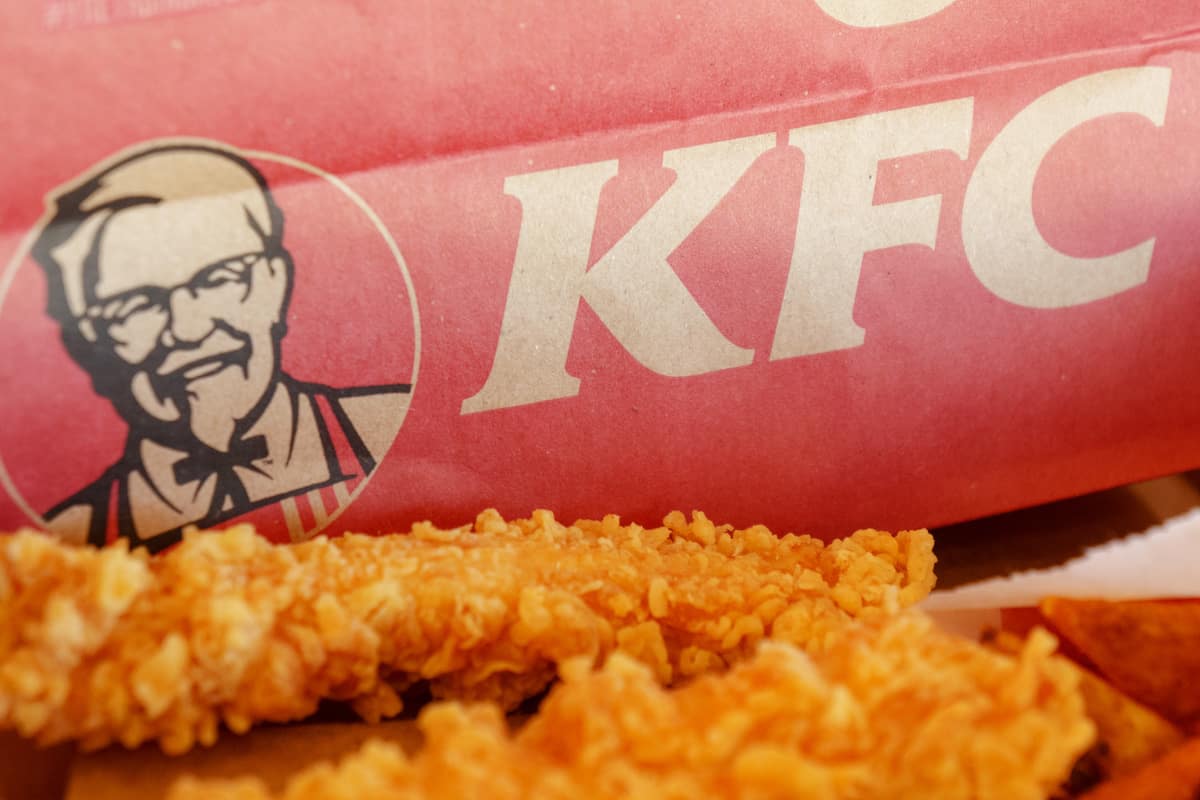 It's no secret that when you think of fried chicken, KFC is one of the top fast-food chains that come to mind. There is a plethora of chicken options available on the KFC menu.
From fried wings to chicken tenders to chicken sandwiches, there is something for everyone at KFC. In addition, there are many popular side dishes you can add to your order.
However, with so many items on the KFC menu, it can be challenging to decide what to eat. This is where we come in!
We've created a list of the best KFC menu items to help you decide what to try next time you order.
21. Chicken Bucket Meal
The KFC Chicken Bucket Meal is a favorite by many and, depending on the size, will have you filled up quickly.
With the option of choosing spicy, extra crispy, grilled, or original chicken and any two sides from a list of 7, the meal is customizable to your preferences.
The Chicken Bucket Meal also comes with 8, 12, or 16 pieces of chicken, meaning you can choose to feed just yourself or your whole family.
Ranging from 2300 to 9960 calories, it will power you throughout the day.
20. Chicken Tender Combo
For those who aren't fond of chicken thighs or legs, the Chicken Tender Combo is a great option to avoid boney chicken in exchange for a piece of fried chicken breast.
The Chicken Tender Combo is also served extra crispy – adding a nice crunch to a normally smooth meal.
The 3 Piece Combo also allows you to choose your dipping sauce to mix and match your own twist.
19. Chicken Pot Pie Fill Up
A little different from the other menu items, the Chicken Pot Pie Fill Up is an often overlooked but delicious item on the KFC menu.
Filled with chicken, peas, carrots, and a delicious filling like cream of chicken soup, it will fill you up with 840-1120 calories.
Another benefit of the Chicken Pot Pie Fill Up is that it comes with a chocolate chip cookie!
18. KFC Sauce
While not as big as a Chicken Pot Pie or a piece of a Chicken Tender, the KFC Sauce is a menu item exclusive to the KFC menu – you can't get it anywhere else.
While it might not be enough to fill you like a whole meal, it deserves special recognition.
The KFC Sauce's ingredients aren't well known (the recipe is a company secret), but the flavor suggests a combination of barbeque sauce, mustard, and more.
It isn't easy to describe the flavor, but the smokiness of it makes whatever you dip in it taste like it's actually from your smoker at home.
17. Strawberry (Pink) Lemonade
When you think of old-fashioned Kentucky, you probably think of people sitting on their porches, smiling and waving as you drive past while drinking a tall glass of lemonade.
Of course, KFC wants to continue with the traditional Kentucky lifestyle, despite being outside Kentucky. That makes having lemonade a must.
While their regular lemonade is delicious, the Strawberry (Pink) Lemonade is even better.
A little sweeter than the original lemonade with a strawberry flavor, the Strawberry Lemonade will eliminate any mid-afternoon grogginess.
16. Nashville Hot Chicken Little Sandwich
Sometimes, a plain old chicken sandwich is delicious, but it isn't always flavor-wise.
To spice it up (quite literally), the Nashville Hot Chicken Little Sandwich is the way to go.
The Nashville Hot is HOT, so if you don't like your food super spicy, stay away from these sandwiches.
Another plus to the Nashville Hot Chicken Little Sandwich is that it's smaller than the regular chicken sandwich (about 300-540 calories).
This makes it perfect for eating as a little snack or a pick-me-up before or after your next meal.
15. Famous Bowl Fill Up
As you'll see later on our list, KFC's Mashed Potatoes are what makes every KFC meal.
The Famous Bowl Fill Up gives a twist to the normally loaded mashed potatoes by adding gravy, corn, cheese, and pieces of popcorn chicken to the fray.
The popcorn chicken is a throwback to the older days of KFC, where you could order it right off the menu.
While Popcorn Chicken meals are no longer around, the Famous Bowl Fill Up is a great alternative.
14. KFC Specials
It's hard to describe KFC Specials precisely because they change over the years, but most of them are a combo meal worth trying, no matter what the current special is.
These specials typically contain some sort of chicken tender or sandwich, two sides, and a beverage for a price cheaper than other combo meals on the menu.
KFC specials are also customizable, so you can generally add whatever you like best.
13. Chocolate Chip Cake
If you're a big chocolate lover, the KFC Chocolate Chip Cake may be moved even higher on your list of favorites!
Similar to a chocolate lava cake, the Chocolate Chip Cake is a delicious cake topped with icing and filled with chocolate chips.
Another plus to the Chocolate Chip Cake is that it's surprisingly a low-calorie dessert.
The cake will serve about 6 people (5 if you're really hungry), and each serving is only 300 calories.
If you decide to eat the cake, get water to help wash down the chocolate.
12. 3 Piece Chicken Combo
For true chicken lovers, the 3 Piece Chicken Combo has the greatest variety on the KFC menu regarding what you can get.
The combo comes with one fried chicken breast, one fried chicken thigh, and one fried chicken wing.
If you don't know exactly what you like, try it to help you decide.
It's worth noting that if you decide to mix up the chicken recipe, all three will come that way.
That means you can't do one extra crispy, one hot, and one plain. So your options are all or nothing.
11. Mac and Cheese
The luxury of KFC's Mac and Cheese is that it can go with any meal on the menu or can be served by itself.
As a staple of "comfort food," KFC's Mac and Cheese is small enough to be eaten as a snack with the "Individual" size or large enough to be eaten as a meal with the "Large" size.
The KFC Mac and Cheese is not simply a box of Kraft's Mac and Cheese put into a different container like many other restaurants.
KFC makes its own Mac and Cheese, and it's delicious!
10. Kentucky Fried Wings
Chicken wings are easily the most versatile food item at any event.
Fried Chicken Wings are delicious and adaptable whether you're at a party, watching a game, or want a quick meal for lunch or dinner.
For that reason, KFC's Fried Wings come high on our list of favorites.
Ranging from 6, 12, 24, or 48 wings, KFC's yummy recipe makes the wings even better.
Their Buffalo wings add a perfect level of spice that doesn't burn your tongue off but gives a nice flavor.
9. Fried Honey BBQ Wings
Like the regular Kentucky Fried Wings, KFC's Fried Honey BBQ Wings are a great choice for those with less palate for spicy food.
Similar to brown sugar or honey bourbon marinade you might use at home, this Honey BBQ combo is sweet enough to mask the bitterness of the BBQ sauce.
The Honey BBQ Wings sauce makes them drippier and messier to eat than the regular fried wings, but arguably more delicious.
8. Chocolate Chip Cookie
For those who have a sweet tooth, you're already partial to a yummy chocolate chip cookie.
KFC's Chocolate Chip Cookie has the crunchiness you want in a cookie, but you always get nice melted chocolate.
The Chocolate Chip Cookie is also fun because it automatically comes with two KFC meals and can be added to any meal for less than $1.
7. Sweet Tea
Like Lemonade, Sweet Tea adds the classic Kentucky tradition to KFC's menu.
KFC's Sweet Tea is sweet enough to know there's plenty of sugar in it, but not too sweet that it won't quench your thirst.
If you're feeling very adventurous, you can combine Sweet Tea and Lemonade to make a delicious half-and-half drink.
6. Coleslaw
It seems like at every function you go to, especially in the summer, there is a healthy portion of coleslaw available.
While homemade coleslaws are usually the best, KFC's Coleslaw seems to be something everyone enjoys.
KFC's Coleslaw is decently sweet and has enough cabbage to get a large serving of vegetables with your meal.
5. ½ Gallon Beverage
You may be thinking, "I can get a ½ gallon drink of anything at the store, and besides, who needs a whole half gallon!"
However, the ½ Gallon Beverage is designed, so you don't need to go to the store!
KFC makes plenty of big meals for the whole family to eat. And by adding a ½ gallon beverage, you can cut out an extra trip to get the drinks everyone wants.
4. KFC Chicken Sandwich
It's hard to make a list of the best KFC menu items without including a chicken dish in the top 5.
The KFC Chicken Sandwich is the best entree you can get!
Served on a brioche-style bun with pickles and mayo, this chicken sandwich is perfectly crunchy and flavorful.
Another great thing about KFC's Chicken Sandwich is that it only has 620-650 calories.
Most of the other entrees at KFC are calorie-heavy, so getting a great sandwich for relatively few calories makes it a perfect lunchtime go-to.
3. Secret Recipe Fries
You may not be surprised that we don't know exactly what's in the KFC Secret Recipe Fries.
However, we know that a combination of herbs, oil, and salt gives a delicious flavor kick to these fries.
This combination makes KFC fries so good, with a firm crunch when you bite them.
2. Biscuits
If you love the old-fashioned biscuits your Grandma made, KFC biscuits may instantly be your favorite menu item!
Also, if you're willing to wait to eat your biscuit, you can bring it home and add butter to make it extra delicious.
1. Mashed Potatoes With Gravy
Mashed Potatoes with Gravy are the best KFC menu item on our list!
Perfectly whipped with a delicious and surprisingly spicy gravy added to the top, these potatoes are the best in fast food.
You can get mashed potatoes with any KFC meal or order an individual or large portion to bring home for others.
Do not sleep on these mashed potatoes!
Conclusion
KFC has many delicious menu items, ranging from classic to more unique and innovative options.
Whether it's the Chicken Pot Pie, the Mac and Cheese, or the Chicken Sandwich, you will certainly find something you love on the KFC menu.
For more information about KFC, check out the articles below.