What Sauces Does PDQ Have?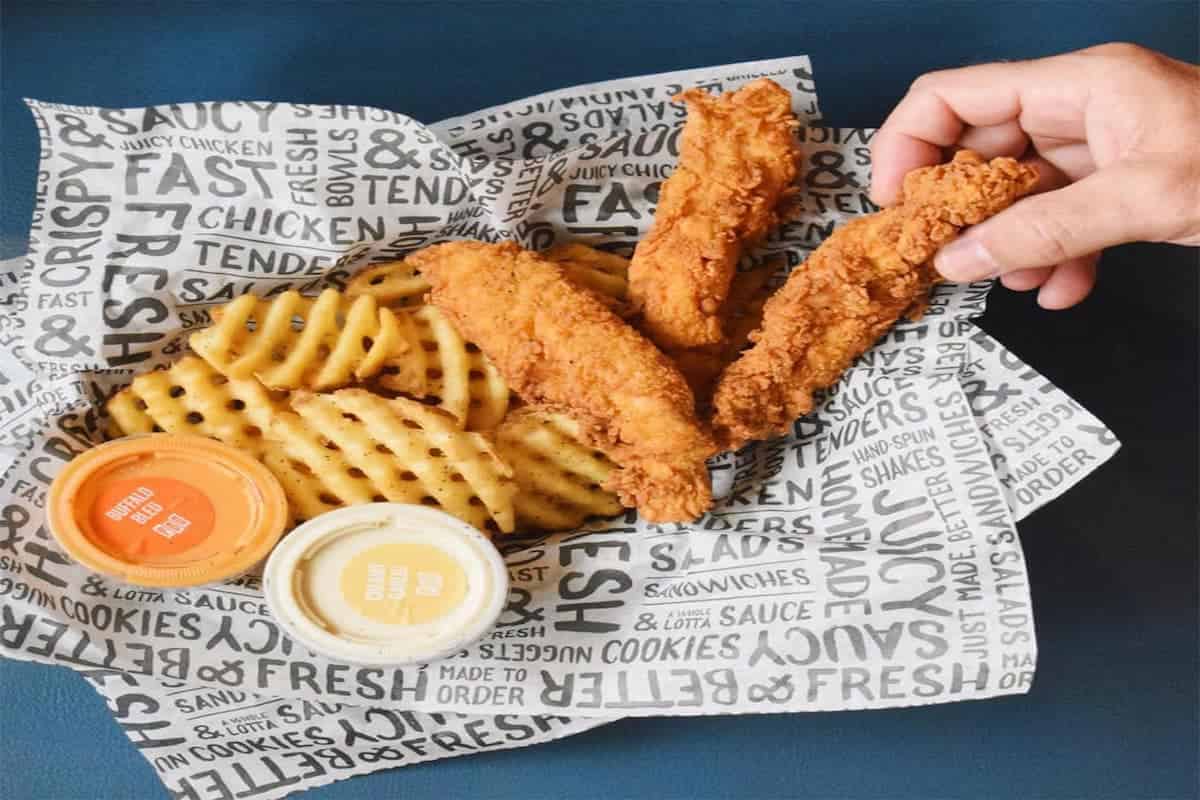 When it comes to fast-food sauces, it's a battlefield out there, and only the strong survive. PDQ is best known for its made-from-scratch food, but they've also gained notoriety in the dipping sauces world.
As one of the best chicken chains, PDQ stands for "People Dedicated to Quality." And quality is exactly what you'll find on PDQ's menu, trust me.
The chain opened its first location in Tampa, Florida, in 2011. Since then, they grew over 50 restaurants nationwide.
PDQ has some serious games when it comes to its menu items. From the crispy chicken tenders to mouthwatering chicken sandwiches, these guys are giving some big guns a run for their money.
But if you think PDQ's chicken is good, wait until you try them with their sauces!
PDQ offers a variety of sauces, including flavors like Ranch, Buffalo Bleu, Creamy Garlic, Sweet Sriracha, Honey Mustard, Honey BBQ, and the signature PDQ sauce.
You can get all the sauces in one go for a glorious experiment, or read my ranked list of the 7 best PDQ sauces below!
7. Ranch Sauce
PDQ's Ranch is a game-changer. It's creamy, tangy, and not overpowering like some other fast food sauces.
The ingredients include buttermilk, mayonnaise, sour cream, onion, garlic, dill, parsley, and a blend of spices.
You can taste the freshness in every bite with garlic and onion notes, and it's the perfect complement to any dish.
You can dip your crispy chicken tenders and nuggets, sandwiches, waffle fries, and even the parmesan broccoli bites.
Nutritional Information: (Per serving)
120 calories, 12g fat, 2g carbohydrates, 1g protein
6. Buffalo Bleu Sauce
I have to admit that I have reservations about buffalo sauces in general.
The taste can be inconsistent and sometimes resemble a mixture of ketchup, Tabasco sauce, and vinegar.
But I was pleasantly surprised with PDQ's Buffalo Bleu sauce.
The combination of creamy bleu cheese and spicy buffalo sauce makes for an unforgettable taste experience.
It has all the tangy and creamy flavors you would expect from a bleu cheese dressing and the zesty, spicy flavor of buffalo wings.
This sauce is best paired with crispy chicken tenders, sandwiches, and nuggets.
Nutritional Information: (Per serving)
90 calories, 8g fat, 2g carbohydrates, 1g protein
5. Creamy Garlic Sauce
PDQ's Creamy Garlic Sauce is a thick, rich, and creamy dip that will elevate any dish to the next level.
The sauce is a garlic lover's paradise. It has a strong garlic finish that beautifully pairs with the creamy base.
The creaminess of the sauce makes it easy to spread on anything, and it's not overwhelming.
It's the perfect balance of flavors that will leave you craving more.
Personally, I love using this sauce as a salad dressing.
Nutritional Information: (Per serving)
240 calories, 31g fat, 4g carbohydrates, 1g protein
4. Sweet Sriracha Sauce
If you are a fan of the sriracha hot sauce, you will love PDQ's Sweet Sriracha Sauce.
It combines the spicy kick of sriracha with a hint of sweetness for a contrasting flavor experience.
This hot and sweet combo is perfect for those who appreciate bold flavors without too much heat.
I recommend using this sauce on PDQ's sandwiches and chicken tenders.
I also love saving some of the sauce to put on my breakfast eggs for an extra kick!
Nutritional Information: (Per serving)
160 calories, 16g fat, 4g carbohydrates, 0g protein
3. Honey Mustard Sauce
I'm always a big fan of honey mustard sauce, and PDQ's version did not disappoint.
With honey, mustard, vinegar, and a happy balance of spices, it's the perfect blend of flavors and is genuinely addictive.
The sweetness from the honey hits your taste buds first, followed by the tanginess of the mustard.
As you savor each bite, you'll notice just a little kick of spice, but not enough to blow your taste buds off.
This sauce is a match made in heaven with PDQ's crispy chicken tenders and nuggets.
Nutritional Information: (Per serving)
150 calories, 15g fat, 8g carbohydrates, 0g protein
2. Honey BBQ Sauce
PDQ's Honey BBQ Sauce is an elixir that turns your food into a flavor-packed carnival.
It will make you want to lick your fingers clean and not even pretend to be classy about it!
The sauce starts with a sweet, warm hug from the honey, followed by a smoky and tangy kick from the BBQ flavor.
The spices come in next, lending a zesty edge to the whole affair.
And when you think it's all over, a slight garlicky finish lingers on your tongue.
It's creamy, tangy, sweet, and downright delectable.
This sauce is best paired with chicken tenders and sandwiches, but it can be used with any food on PDQ's menu to add extra oomph.
Nutritional Information: (Per serving)
80 calories, 0g fat, 21g carbohydrates, 0g protein
1. PDQ Sauce
Put on your bibs and sharpen your taste buds because we're about to take a deep dive into PDQ's signature sauce!
This zesty and bold creation is a feast for the tongue, featuring a creamy base that packs a punch of flavor.
The PDQ sauce includes paprika, garlic, oregano, onion, a kick of black pepper, and a mystery blend of other spices.
I wish I could tell you more, but the recipe is locked away under tight security. That's why it tastes so good, right?
The sauce provides a sharp tang with the first bite that is perfectly complemented by the smokiness of the paprika.
The garlic and oregano blend beautifully, while the black pepper rounds out the flavor profile with a spicy kick.
The result? A sauce that is rich, creamy, and flavor-packed.
This is by far my favorite sauce at PDQ. You can pretty much pair it with any item on the menu!
Nutritional Information:
150 calories, 15g fat, 2g carbohydrates, 1g protein
Conclusion
PDQ offers a variety of sauces that is sure to please any palate.
From Honey BBQ to Sweet Sriracha to their signature PDQ sauce, there are plenty of options to dip your chicken in for an extra kick.
The flavors are bold, balanced, and unique, with just enough spice to keep things interesting.
Remember to grab some of these amazing dipping sauces next time you're at PDQ!
For more information about PDQ, check out the articles below.