14 Best Things to Order at Church's Chicken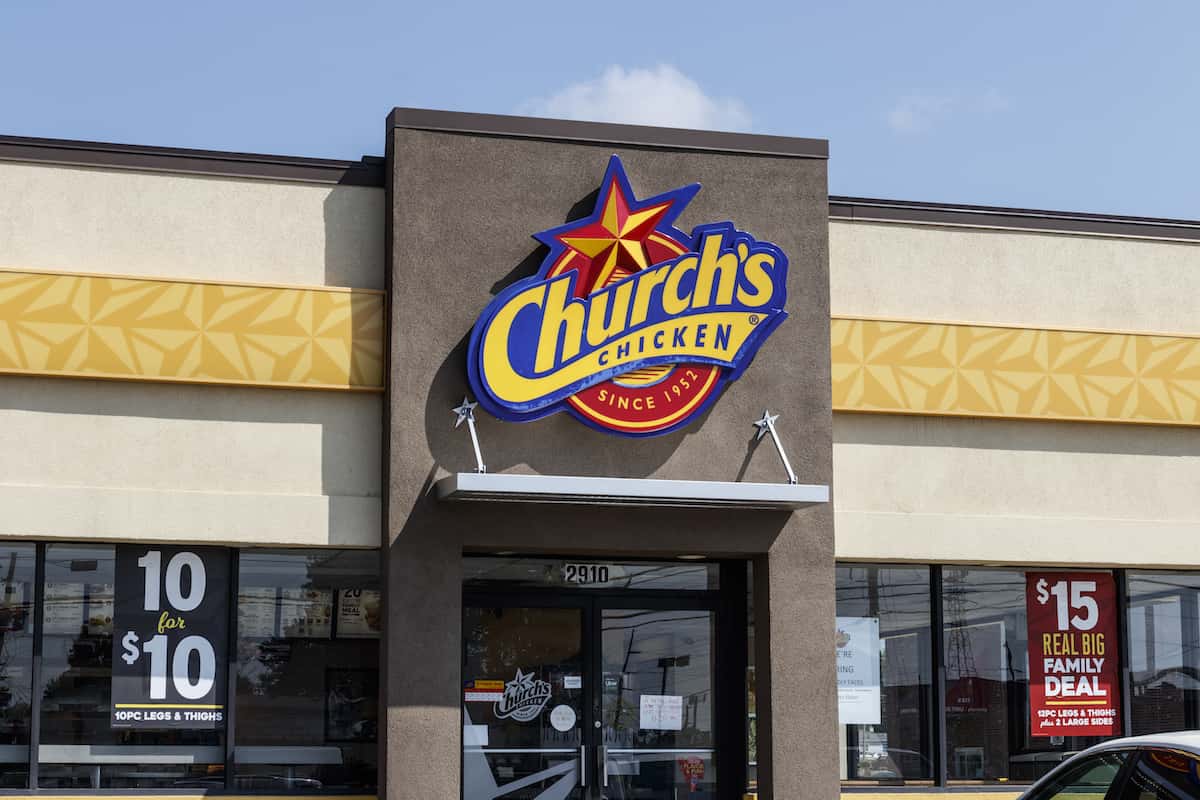 Church's Chicken is one of the most popular fried chicken chains in the United States, with over 800 locations nationwide.
It has a long and rich history dating back to 1952 when founder George W. Church opened his first restaurant in San Antonio, Texas.
Since then, the beloved fast-food joint has become known for its delicious fried chicken recipes.
From their original and spicy chicken to Honey-Butter Biscuits and Jalapeño Cheese Bombers, there's something for everyone on the Church's Chicken menu.
Their unique combination of spices and fresh ingredients gives their chicken the irresistible crunch we can't get enough of!
Plus, Church's Chicken offers five delicious dipping sauces, including BBQ, Creamy Jalapeno, Honey Mustard, Ranch, and Sweet & Sour.
The BBQ and Ranch sauces are excellent choices if you are into the traditional fried chicken taste.
But if you're feeling adventurous, the Creamy Jalapeno and Sweet & Sour sauces will surely tantalize your taste buds!
To help you decide what to order on your next visit, here's my list of the 15 best Church's Chicken menu items you should try!
14. Mashed Potatoes
Mashed Potatoes are a classic side dish to pair with Church's chicken items.
These creamy potatoes are cooked in rich chicken broth and a pinch of black pepper, making them incredibly flavorful.
The Mashed Potatoes come in regular and large sizes.
You can add some gravy or your favorite sauce for extra texture and flavor.
13. Spicy Chicken Sandwich
The Spicy Chicken Sandwich is Church's classic chicken sandwich with a spicy twist.
It features a crunchy chicken breast filet, pickles, and mayo, all seasoned with their signature spicy blend.
The combination of flavors and the extra kick from the spices make this sandwich a must-have for any spice lover.
If you find it too spicy, adding some honey or ranch sauce can help balance out the taste.
Having an icy soda or tea is also a great way of cooling down after taking on this spicy sandwich.
12. Chicken Tenders Combo
Unlike some places where chicken tenders are made from ground chicken, Church's makes them from 100% all-white chicken breast.
So you can trust that every bite will be juicy and flavorful.
The tenders are hand-breaded with a mix of herbs and spices, deep-fried to perfection, and served with dipping sauce.
The Chicken Tenders Combo includes a honey-butter biscuit, a regular drink, and a regular-size side.
You can choose fries, coleslaw, mashed potatoes, macaroni salad, wild west rice, or gravy as your side dish.
11. Coleslaw
If you're craving some vegetables, consider adding coleslaw to your order.
Church's Coleslaw is made with freshly shredded cabbage and carrots marinated in a creamy mayonnaise dressing.
Their dressing is slightly more on the tarty side but still offers a ton of flavor.
Personally, I think Church's fried chicken is not complete without a side of Coleslaw.
The tarty and sweet taste and the lovely crisp bring a pleasurable cleanse to the palate between each bite of the savory chicken.
10. Frosted Honey-Butter Biscuit
The Frosted Honey-Butter Biscuit is their classic Honey-Butter Biscuit drizzled with sweet frosting, creating a sugary treat that'll make your taste buds dance.
The image that comes to mind may sound weird.
But once you take a bite out of these biscuits, you'll quickly change your mind.
The buttery biscuit and the light sweetness of the frosting make a perfect combination that you can eat with your breakfast or as a snack.
It's crispy on the outside, soft on the inside, and utterly addictive!
9. Corn
The Corn on the Church's Chicken menu is a classic side item that never goes out of style.
It features freshly cooked, sweet corn on the cob that is smothered in real butter and seasoned with their signature blend of herbs & spices.
This combination makes for a crunchy yet succulent corn cob that will make your mouth water.
The added bonus? This side dish is also gluten-free.
8. Lemon Cheesecake Fried Pie
Church's Lemon Cheesecake Fried Pie is a unique dessert that offers a satisfying combination of flavors and textures.
This crispy and golden-fried pie is made with creamy lemon cheesecake filling and crushed graham crackers.
The filling is tangy and sweet, perfectly balanced by the saltiness of the pie crust.
The fried texture adds an unexpected and delightful crunch to the creamy cheesecake filling.
The sweet white icing drizzled on top complements the tartness of the lemon, creating an unforgettable dessert experience.
This dessert at Church's pairs well with a hot cup of coffee or tea, which helps to cut through the richness of the filling.
7. Jalapeno Cheese Bombers
The Jalapeno Cheese Bombers are truly a one-of-a-kind appetizer at Church's Chicken.
Crispy on the outside, tender and smooth in the center, loaded with jalapeno bits and velvety cheddar cheese.
They go exceptionally well with the fried chicken, offering extra zesty heat.
As a spicy food lover, I always swing by Church's to grab some of these tasty morsels as my go-to snack.
The tingly heat of the jalapenos combined with the creamy cheese and crunchy coating is an absolute delight.
These are one of my favorite menu items at Church's Chicken!
6. Apple Pie
Nothing quite completes a Southern meal like an apple pie.
Church's Apple Pie is a delicious combination of tart apples, cinnamon, and sugar, all wrapped in a flaky pastry.
The portion size is perfect for one person, so you can get your own without sharing it with anyone else.
If you plan to share, you'll have to make multiple orders.
I usually order at least two, so I can have one at the restaurant and one later at home.
5. Honey-Butter Biscuit
Church's Honey-Butter Biscuit is a classic and always a crowd favorite.
The biscuit is soft, fluffy, and buttery, and the honey butter glaze is just the right amount of sweetness.
It's definitely a must-have side dish with your Church's Chicken meal.
I recommend getting two biscuits to enjoy one while it's still hot and save the other for later.
These are also perfect for breakfast or a snack, so don't hesitate to order extra when you visit.
4. Baked Mac & Cheese
For those craving a hearty and delicious side dish, Church's Baked Mac & Cheese is an excellent choice.
This classic comfort food is made with macaroni pasta and is topped with shredded cheddar cheese before being baked to golden perfection.
The macaroni pasta is perfectly cooked and blends well with the smooth, creamy cheese sauce.
The cheddar cheese on top adds a sharp and tangy flavor to the dish, creating a perfectly balanced taste.
3. Fried Okra
Church's Fried Okra is a beloved Southern side dish that has become a fan favorite across the country.
It is made with fresh okra, cut into bite-sized pieces, and coated in a crispy batter before getting fried.
The result is a mouth-watering dish that is crispy on the outside and tender on the inside.
If you're not a vegetable person, this dish may give you a reason to start eating your greens!
2. Original Chicken Sandwich
Church's Chicken breast filet is delicious by itself, but the Classic Chicken Sandwich takes it to the next level.
To add flavor and moisture to the sandwich, the juicy chicken filet is topped with shredded lettuce and mayo.
If you need more vegetables, consider adding some coleslaw into the mix.
I also love to order some poutine to create the ultimate chicken sandwich experience.
The cheesy fries topped with the chicken filet are just too awesome for words!
1. Meal Combo
Church's Chicken offers one of the most affordable meal combos in fast food.
Whether you love spicy food or not, you can choose your meal combo between the original recipe and the spicy chicken.
You can choose between 2-piece, 3-piece, and 5-piece combo meals.
All Church's Chicken combos come with a drink, a biscuit, and a side of your choice.
The side options include fries, coleslaw, or mashed potatoes.
Although the chicken comes with a side of dipping sauce, I always order mashed potatoes or gravy to complement my meal.
Conclusion
If you are looking for the best fried chicken experience, Church's Chicken is one of the places to visit.
Their menu offers a wide variety of delicious items that can cater to everyone's tastes and preferences.
From the original and spicy fried chicken to side dishes like Corn, Fried Okra, and Mac & Cheese, there's something for everyone on the Church's Chicken menu.
If you cannot make it to the restaurant, remember that you can always order online and get it delivered to your home!