The 22 Best Breakfast Restaurants in America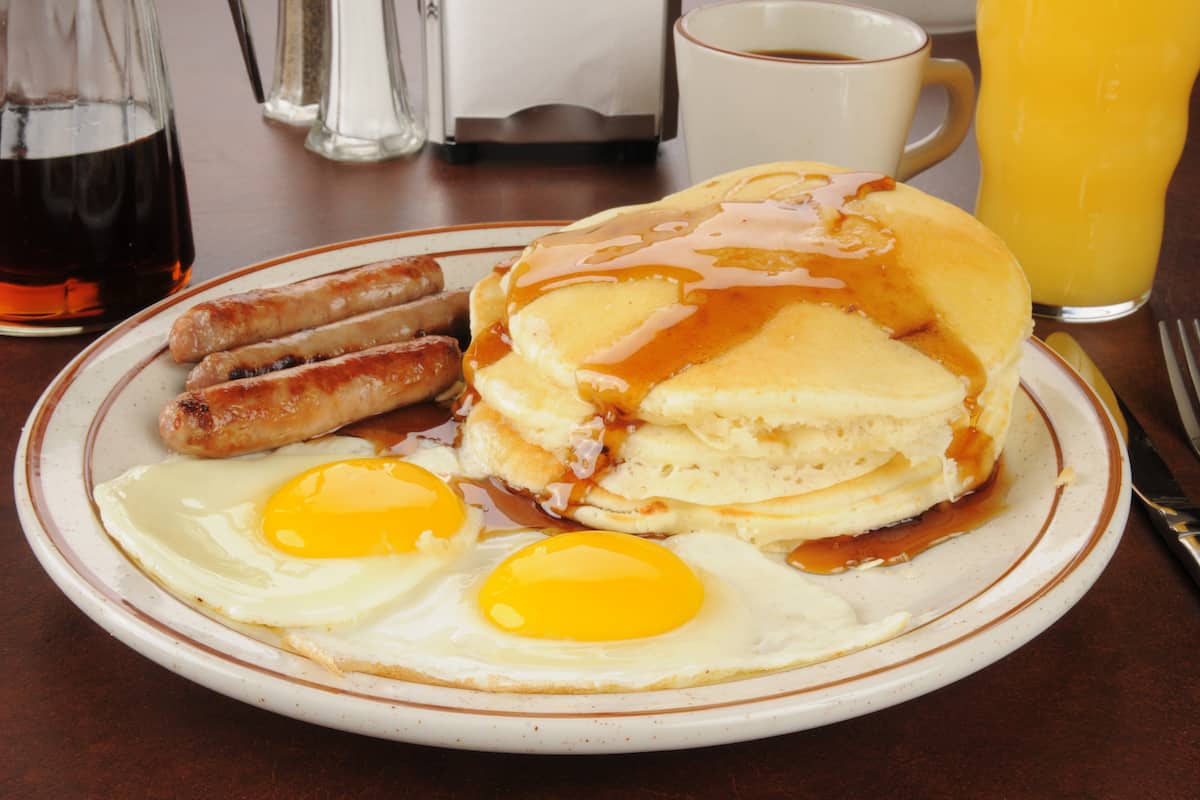 You know what they say, breakfast is the most important meal of the day! Sometimes you need to grab a quick bite to start your day off on the right foot.
Sometimes you're traveling to a new place and just want a comforting meal, or it's late at night, but you're still craving breakfast.
No matter the situation, if you're craving pancakes, scrambled eggs, or a breakfast sandwich, we've got you covered!
We've compiled a list of the best breakfast restaurant chains in America, where you can enjoy all your favorite breakfast foods.
22. Snooze
Snooze A.M. Eatery has its unique spin on breakfast favorites, operating over 50 locations in Arizona, California, Colorado, Georgia, Kansas, Missouri, North Carolina, Tennessee, and Texas.
Snooze was founded by two brothers in 2006, and it quickly became famous for its environmental consciousness and truly delicious breakfast foods.
Snooze's expansive breakfast menu offers options for everyone, from a Tofu Scramble for vegans to an extravagant Habanero Pork Belly Benedict for the more adventurous palate.
Order their Signature Pancake Flight for a sweet treat, which comes with their Pineapple Upside Down pancake, their Blueberry Danish pancake, and their Sweet Potato pancake.
Their drinks menu also features four kinds of Bloody Marys, seven different mimosas, and two different spiked coffees.
21. The Broken Yolk Cafe
The Broken Yolk Cafe is a Southern California-style breakfast favorite, operating in over 30 locations in California, Arizona, Florida, Texas, Nevada, and Idaho.
The first Broken Yolk Cafe was opened in 1979 in Pacific Beach, California, where it quickly became famous for its signature benedicts and 12-ounce mimosas.
Their breakfast menu serves a wide variety of delectable dishes, from avocado toast to acai bowls to potato-and-egg skillets.
Eggs benedicts are some of the most popular items on Broken Yolk Cafe's menu, and they serve a ton of unique variations on the brunch classic.
Eggs benedict lovers should try the Caprese Benedict, topped with arugula, mozzarella, tomato, poached eggs, Hollandaise sauce, and a pesto basil drizzle.
Their Sopa Benedict is made with corn tortillas, shredded beef, poached eggs, ranchero sauce, sliced avocado, fresh salsa, cotija cheese, and sour cream.
You may also want to treat yourself to the Mimosa Flight.
Each mimosa is made with Wycliff Brut champagne combined with fresh orange juice, pomegranate juice, grapefruit juice, or lemonade.
20. Egg Harbor Cafe
The Egg Harbor Cafe is a gourmet breakfast, lunch, and brunch cafe chain specializing in delicious egg dishes. They operate over 20 locations in Illinois, Wisconsin, and Georgia.
The first Egg Harbor Cafe was opened by Aimee and Mike Farrell and Jack Wright in Hinsdale, Illinois, in 1985.
From the beginning, they introduced their customers to unique new egg dishes, including frittatas, skillets, and crepes.
They pride themselves on serving certified-humane eggs, premium fair trade coffee, and no high fructose corn syrup.
Their all-day breakfast menu specializes in delicious egg dishes, including skillets, scramblers, omelets, and benedicts.
One of the Egg Harbor fan favorites is the Ultimate Skillet, which comes with Harbor potatoes, ham, mushrooms, green peppers, onions, tomatoes, and Jack and Cheddar cheeses, topped with two eggs and served with a buttered English muffin and jam.
Another favorite is the Bacado Omelette, filled with bacon and avocado and topped with Jack cheese, sour cream, green onion, and salsa served with Harbor potatoes, a buttered English muffin, and jam.
19. Eggs Up Grill
The Eggs Up Grill is a homey, classic breakfast chain restaurant with over 60 locations in Alabama, Georgia, North Carolina, South Carolina, Tennessee, and Virginia.
The Eggs Up Grill was founded in 1997 by Chris Skodras in Pawleys Island, South Carolina.
They became well-known for their expansive and delicious breakfast menu, full of sweet and savory dishes to suit any palate.
One of their most classic breakfast dishes is Founder's Hash and Eggs.
It comes with Chris Skodras' original corned beef hash recipe, potatoes, onions, special spices, two eggs, toast, and your choice of home fries or grits.
For those looking to enjoy something sweet, Eggs Up Grill also serves Baked Peaches and Cream Pancakes, consisting of two buttermilk pancakes layered with caramelized peaches, cream cheese frosting, and dusted with powdered sugar on top.
For lunch, Eggs Up Grill also serves a variety of delicious burgers, sandwiches, and salads.
18. Coco's
Coco's Bakery Restaurant is a California-based restaurant chain serving delicious breakfasts and delectable pies. They operate 29 locations in California and Arizona.
When Coco's Bakery originally opened in 1948, it was called The Snack Shop, and the first restaurant was located along the Pacific Coast Highway in Corona del Mar, California.
They've always specialized in fresh, delicious, and healthy California-inspired cuisine, including a fan-favorite breakfast menu.
One of Cocos' signature dishes is Cinnamon Roll French Toast, made with slices of Coco's Fresh Baked Cinnamon Rolls, dipped in egg custard and grilled, dusted with powdered sugar, and served with butter and syrup.
Another signature breakfast dish is the Breakfast Burrito, which comes with creamy scrambled eggs, crispy hash browns, fresh pico de gallo, cheddar cheese, spicy Santa Fe sauce, and your choice of bacon, sausage, or Impossible Sausage, all wrapped in a warm flour tortilla.
Finally, Coco's Bakery Cafe serves incredible pies with delicious, seasonally rotating flavors like apple, cherry, banana cream, coconut cream, pecan, cheese, chocolate cream, Dutch apple, and strawberry cheese.
17. The Flying Biscuit
The Flying Biscuit Cafe is a Southern-inspired chain restaurant that serves breakfast all day.
They operate over 20 locations in Alabama, Florida, Georgia, North Carolina, South Carolina, and Texas.
The first Flying Biscuit Cafe opened in Atlanta, Georgia, in 1993. They sold out of their signature biscuits within hours, and the rest was history.
The Flying Biscuit Cafe specializes in biscuits, so when you visit, you will want to try their Flying Biscuit Breakfast, which comes with two eggs, chicken sage sausage patties, creamy grits, and a fluffy flying biscuit.
Another must-try Southern classic from their breakfast menu is the Chicken & Waffle, which you can also order spicy or "dirty style," with over medium eggs and chicken sausage gravy.
The Flying Biscuit Cafe also offers vegetarian options, including a Beyond Sausage version of their gravy, so you can enjoy their signature dish even if you don't eat meat!
16. Hash House
Hash House serves generous breakfast portions in its 10 locations scattered through California, Connecticut, Florida, Nevada, New Jersey, and Utah.
Hash House has served twisted farm food and handcrafted cocktails since it was founded by Andy Beardslee and Johnny Rivera in San Diego, California, in 2000.
One of the signature breakfast items at Hash House is the Big O' Pancake, which is famously the size of a tractor's steering wheel.
The classic pancake comes topped with bananas, brown sugar, butter, and maple syrup, but you can also order exciting flavors like blueberry, apple cinnamon, Snickers, blackberry granola, chocolate chip, butterscotch almond, and bacon.
Another Hash House fan favorite is Andy's Famous Sage Fried Chicken, made from free-range chicken, fresh sage, cornflakes, and a secret blend of house spices.
You can order the Sage Fried Chicken served with waffles, on an eggs benedict, in a sandwich, with eggs, in a salad, or even as chicken strips.
Lastly, you may also want to try Johnny's Famous B.L.T. Mary.
This is an extravagant riff on the classic Bloody Mary brunch cocktail made with vodka, house Bloody Mary mix, Louisiana hot sauce, fresh horseradish, Worcestershire sauce, tomato, and a strip of hardwood-smoked bacon.
15. Denny's
Denny's is one of the most popular diner-style breakfast restaurants in the United States, with almost 1,500 locations in 49 states and Washington D.C. (Sadly, the only state with no Denny's is Delaware.)
Denny's signature menu item is the Grand Slam, a classic, customizable breakfast plate that consists of four to six items, which you get to choose yourself.
You can enjoy your Grand Slam with any combination of eggs, pancakes, bacon, sausage, potatoes, toast, English muffins, grilled ham, or seasonal fruit.
This signature menu item was introduced in 1977 in an Atlanta location and was named after legendary baseball player Hank Aaron.
One of the unique breakfast items at Denny's is the Grand Slamwich.
It's a breakfast sandwich that consists of scrambled eggs, sausage, bacon, ham, and American cheese, sandwiched between two slices of potato bread and grilled with a maple spice spread, served with hash browns.
If neither of those dishes is to your taste, Denny's menu has many different items, including omelets, pancakes, breakfast sandwiches, burgers, and even dinner specials.
The very first Denny's was called Danny's Donuts. It was opened in Lakewood, California, in 1953 by Harold Butler and Richard Jezak.
In 1956, Butler changed the name to Danny's Coffee Shop and changed the restaurant's hours to be open 24/7.
In 1961, the restaurant's name was changed to Denny's, and the rest is history.
Denny's is famously open 365 days a year, 24 hours a day, except when local laws require individual restaurants to be closed.
This means that no matter what time of day you're craving breakfast, Denny's is open and waiting for you!
14. Waffle House
Waffle House is a Southern icon, with over 2,500 locations in 25 states, mostly in the southern United States.
Its iconic yellow logo signals affordable, delicious breakfasts that are available 24 hours a day, 7 days a week.
Waffle House specializes in waffles, offering four delicious varieties: plain, pecan, chocolate chip, and peanut butter chip.
Waffle House serves a whopping 300,000 waffles per day, and in 2015, they had the honor of serving their billionth waffle!
Another classic Waffle House menu item is hash browns. Waffle House has its special lingo to describe all the different ways that its hashbrowns can be served.
You can order hashbrowns smothered (with onions), covered (with cheese), chunked (with ham), diced (with grilled tomatoes), peppered (with jalapenos), capped (with mushrooms), topped (with chili), or country (with sausage gravy).
One of Waffle House's cult favorites is the All-Star Special.
It's a massive breakfast special that includes your choice of waffle, bacon, sausage or ham, eggs, toast, grits, hash browns, or sliced tomatoes.
The first Waffle House was opened in 1955 by Joe Rogers Sr. and Tom Forkner in Avondale Estates, Georgia.
This first Waffle House location is now home to the Waffle House Museum, immersing visitors in the classic '50s vibe of the first Waffle House and full of Waffle House memorabilia from the past seven decades.
Waffle House is open so reliably that F.E.M.A. uses Waffle House as an index to measure how severely storms have impacted communities, known as the "Waffle House Effect."
The principle of the Waffle House Effect is quite simple: if the storm was really bad, Waffle House would have closed its doors.
If the storm was moderately severe, Waffle House would still be open but only serve a limited menu.
And if the storm did not cause considerable damage, Waffle House will be open for business as usual!
13. IHOP
IHOP, which stands for "International House of Pancakes," is another popular chain breakfast restaurant with over 1,600 locations in the United States.
As the name suggests, IHOP's cornerstone menu item is the buttermilk pancake, which comes in a full-stack (five pancakes) or short-stack (three pancakes) option.
IHOP also offers a wide variety of other pancake flavors, including Mexican tres leches, cupcakes, New York cheesecake, double blueberry, strawberry banana, chocolate chip, and lemon ricotta blueberry.
IHOP's pancakes are so good because their cooks use specific techniques to ensure that they have a uniform size and quality.
They chill their pancake batter in the refrigerator until the moment it's ready to cook, heat their griddles to exactly 350°F, and do not butter or oil their griddles to ensure the pancakes' surface turns out uniformly golden.
If you love IHOP pancakes, you can also join their rewards program.
You'll earn one PanCoin for every $5 you spend at IHOP (one PanCoin is redeemable for a short stack of three pancakes).
In addition, IHOP gives free pancakes on your birthday!
Other than pancakes, IHOP also serves many other menu items, including omelets, crepes, burritos, French toast, waffles, burgers, melts, salads, and a handful of dinner options.
The first IHOP was opened in 1958 by Al Lapin, Jerry Lapin, Al Kallis, and Trudy Kallis in Toluca Lake, California.
Between 1958 and 1979, IHOP restaurants were custom-made with distinctive blue A-frame roofs, giving the restaurant its iconic look.
Although IHOPs are no longer constructed with these roofs, several original IHOPs are still standing.
Many IHOPs are open 24 hours a day, but at the bare minimum, all stores must be open from 7 am to 10 pm, so you can get your pancake fix almost any time.
12. The Original Pancake House
The Original Pancake House is another classic American chain breakfast restaurant specializing in pancakes, with over 120 locations in 29 states.
The first Original Pancake House was opened in 1953 by Les Highet and Erma Hueneke in Portland, Oregon.
Both founders already had years of experience in the culinary industry and compiled The Original Pancake House's iconic menu by collecting housewives' pancake recipes worldwide.
The Original Pancake House specializes in serving several unique and delicious pancakes.
One fan favorite is the Apple Pancake, a massive oven-baked treat made with fresh Granny Smith apples and pure Sinkiang cinnamon glaze.
Another Original Pancake House specialty is the Dutch Baby, a fluffy, oven-baked popover-style pancake served with whipped butter, lemon, and powdered sugar.
The Original Pancake House is also well-known for its Danish Kijafa Cherry Crepes, filled and topped with Montmorency cherries, covered in Kijafa sauce, and dusted with powdered sugar.
If you'd rather enjoy a more savory breakfast, The Original Pancake House also serves delicious omelets and egg specials.
In 1999, The Original Pancake House won a prestigious James Beard Foundation Award, which honors locally-owned restaurants that offer timeless appeal, quality food, and an atmosphere that reflects the character of their communities.
Interestingly, not all Original Pancake House restaurants operate under "The Original Pancake House."
If you're from the Chicago area, you might be familiar with Walker Brothers Pancake House, a beloved local breakfast restaurant chain.
Walker Brothers is owned by The Original Pancake House and serves many of the same beloved menu items, including the Apple Pancake, the Dutch Baby, and the Danish Kijafa Cherry Crepes.
11. Le Peep
Le Peep is a breakfast and brunch restaurant with over 40 locations in 14 states.
The first Le Peep was founded in Aspen, Colorado, about 45 years ago.
First, they expanded to the Denver, Colorado area before opening locations in Florida, Idaho, Illinois, Indiana, Kansas, Missouri, North Carolina, Nebraska, New Jersey, Ohio, South Carolina, Tennessee, and Texas.
The name "Le Peep" refers to the restaurant's valued customers and friends, or "peeps."
They serve "Le Breakfast," "Le Brunch," and "Le Lunch."
Hours vary from location to location, but generally, you can expect Le Peep to be open from 7 am to 2 pm.
One of the best things about Le Peep is its massive menu, serving a vast array of sweet and savory breakfast foods.
For a sweet treat, indulge yourself in a Stuffed French Toast filled with vanilla ricotta and cream cheese, tinged with citrus zest, and topped with fresh strawberries and a dusting of powdered sugar.
If you'd prefer a more savory breakfast, try the Hobo Skillet.
It comes with their specialty Peasant Potatoes, onions, and cheese, topped with two basted eggs, and served with a buttered English muffin.
On top of all that, Le Peep's menu also offers lunch-style options, like sandwiches, burgers, and salads.
If you're a big Le Peep fan, you might want to look into their catering menu available at select locations for your next event.
The catering menu contains many fan favorites from their regular menu, including egg scramblers, Peasant Potatoes, crepes, and breakfast burritos.
10. Bob Evans
Bob Evans is a country-themed, family-style restaurant that serves gigantic breakfast, lunch, and dinner portions.
Bob Evans operates nearly 500 locations in 18 states throughout the mid-Atlantic, Midwest, and Southeast United States.
It was founded by sausage industry entrepreneur Bob Evans in 1962.
The first Bob Evans restaurant was called "The Sausage Shop," and it's still operating today in Rio Grande, Ohio, although its name has changed to "Bob Evans."
One of the most iconic Bob Evans breakfast menu items is The Whole Hog.
It's a massive meal that consists of two strips of bacon, two sausage patties, two sausage links, one slice of hickory-smoked ham, two eggs, one pancake, one slice of brioche French toast, and home fries or hash browns.
If you're not hungry enough to eat The Whole Hog or looking for a lighter option, try the Rise and Shine.
Rise and Shine comes with two eggs, your choice of premium breakfast meat (sausage, turkey sausage, ham, or bacon), a breakfast side (hash browns, home fries, or fruit), and bread.
If you come to Bob Evans later in the day, they also offer lunch and dinner menu items, including fried chicken, country-fried steak, hickory-smoked ham steaks, and slow-roasted turkey and dressing.
9. Cracker Barrel
Cracker Barrel is another beloved country-themed restaurant that serves breakfast, lunch, and dinner, with over 600 locations in 45 states.
The first Cracker Barrel was opened in 1953 by Dan Evins on Highway 109 in Lebanon, Tennessee.
Dan Evins was a sales representative for Shell Oil and opened the first Cracker Barrel as a restaurant and gift store that might improve gasoline sales along highway interstates.
Cracker Barrel was named after literal barrels full of soda crackers, commonly sold in country stores in the American South.
Visitors at these stores would often sit around cracker barrels, chatting, gossiping, and sharing news.
Although Cracker Barrel also serves lunch and dinner, its breakfast menu is available all day long.
One of the most popular Cracker Barrel breakfast menu items is the Old Timer's Breakfast, which comes with two eggs, grits, bacon, sausage, fried apples or hash browns, biscuits, gravy, butter, and jam.
Another Cracker Barrel breakfast favorite is Grandpa's Country Fried Breakfast, which comes with either country-fried steak or fried chicken tenders, biscuits and gravy, two eggs, grits, and fried apples or hash browns.
Every Cracker Barrel restaurant is designed to resemble an old-fashioned general store, complete with rocking chairs, a fireplace, and a peg solitaire game at every table.
Each Cracker Barrel also contains a gift shop, where you can buy cookbooks, baking mixes, kitchen decor, candy and snacks, and vintage-style toys and games.
8. Tim Hortons
Tim Hortons is a beloved Canadian breakfast chain serving coffee, donuts, and other breakfast items.
They have over 600 locations in the United States, mostly clustered in the northeastern part of the country.
Tim Hortons was founded by Canadian hockey player Tim Horton and bears his name.
Interestingly, the first restaurant that Tim Horton ever opened was not a coffee and donut shop but rather a burger restaurant named "Tim Horton Hamburgers."
The Tim Hortons donut shop that we all know and love was founded in Hamilton, Ontario, in 1964.
Back then, a donut and a cup of coffee from Tim Hortons only cost twenty cents!
The most beloved breakfast item at Tim Hortons is their donuts.
The exact selection varies from location to location, but Tim Hortons sells over twenty types of donuts.
Tim Hortons is also famous for its Timbits, or donut holes.
These tasty treats also come in various flavors, including apple fritter, honey dip, old-fashioned plain, chocolate glazed, sour cream glazed, blueberry, and more.
Another fan-favorite menu item at Tim Hortons is the Iced Capp.
It's a blended iced coffee that can also be upgraded to the Iced Capp Supreme, which comes topped with whipped cream and chocolate drizzle.
Tim Hortons is one of the reasons that Canada is the number one donut-consuming country in the world.
Each year, Canadians eat about a billion donuts!
If you're looking for something more substantial than just a donut, Tim Hortons also sells breakfast sandwiches, bagel B.E.L.T.s (bacon, egg, lettuce, and tomato), and grilled breakfast wraps.
7. Biscuitville
If you're in Virginia or South Carolina, you'll have the opportunity to eat at Biscuitville, a Southern breakfast restaurant chain that operates over 65 locations in these two states.
Biscuitville was founded in 1966 by Maurice Jennings but was initially called "Mountainbrook Fresh Bread & Milk."
Jennings then changed the restaurant's name to "Pizzaville" and started serving pizzas.
However, he would also bake batches of his family's biscuit recipe every morning to serve with jam and jelly, and more people started to come to the restaurant for the biscuits than a pizza.
The very first restaurant to be named "Biscuitville" opened in Danville, Virginia, in 1975.
Each Biscuitville bakes fresh new biscuits every 15 minutes, and each restaurant has its own "biscuit window," where you can peer into the kitchen and watch the biscuits get made!
Biscuitville's eponymous biscuit recipe was passed down from Maurice Jennings' grandmother and consisted of only three simple ingredients: flour, buttermilk, and shortening.
Some of the most popular breakfast menu items include the bacon, egg, and cheese biscuit, the spicy chicken and honey biscuit, the sausage and egg biscuit, and the fried chicken biscuit.
If you go to Biscuitville, you need to try one of their famous biscuits.
In addition, they also serve a handful of other menu items, including buttermilk pancakes and a variety of English muffin breakfast sandwiches.
6. Another Broken Egg Cafe
Another Broken Egg Cafe is a cozy, classy brunch restaurant chain with over 80 locations in 15 states, including Alabama, Arizona, California, Florida, Georgia, Indiana, Kansas, Louisiana, Ohio, Mississippi, North Carolina, South Carolina, Tennessee, Texas, and Virginia.
Their first location was opened in a century-old cottage in Old Mandeville, Louisiana, in 1996.
Another Broken Egg Cafe's menu offers a wide array of sweet and savory breakfast and brunch favorites, many of which are inspired by Louisianan cuisine.
Their "Indulgences" section is full of sweet treats, like their Bourbon Street Waffle, a Belgian waffle topped with bananas, pecans, rum butter sauce, and whipped cream.
Their Lemon Blueberry Goat Cheese Pancakes are made with fresh blueberries and goat cheese and served with lemon zest and whipped cream.
For a more savory breakfast, try their Big Easy Scrambler, which comes with Louisiana crawfish tails, andouille sausage, red peppers, country potatoes, and Jack cheese.
Another fan-favorite is their Shrimp' N Grits, which is made with Gulf shrimp, andouille sausage, red peppers, and onions and served over creamy cheese grits.
They also offer an extensive drinks menu, perfect for a boozy brunch.
Lastly, Another Broken Egg Cafe offers a rotating seasonal menu that changes multiple times per year and many options that are gluten-friendly or vegetarian.
5. First Watch
First Watch is a trendy breakfast and brunch chain with over 420 locations in 28 states.
The restaurant was founded in 1983 by Ken Pendery and John Sullivan in Pacific Grove, California.
The name "First Watch" refers to a nautical term, the first shift of the day aboard a ship.
This makes sense, as First Watch restaurants are only open from 7 am to 2:30 pm.
First Watch's food ethos means that they were founded on a commitment to serving delicious meals made from fresh, seasonal, and high-quality ingredients.
Whether you're hungry for a classic breakfast or an Instagrammable superfood bowl, there's something for everyone on the First Watch menu.
Breakfast traditionalists will love the Tri-Fecta, which comes with two eggs, a Belgian waffle or multigrain pancake, and your choice of bacon, sausage, chicken, or turkey sausage.
Trendier diners might enjoy the A.M. Superfoods Bowl.
It's made from coconut milk chia seed pudding, fresh bananas and berries, mixed berry compote, housemade granola, and whole-grain artisan toast spread with almond butter and Maldon sea salt.
First Watch also serves delicious fresh-squeezed juices, including the Morning Meditation Fresh Juice, the Kale Tonic Fresh Juice, and the Purple Haze.
4. Village Inn
Village Inn is a diner-style restaurant chain with over 200 locations in 18 states, including Alaska, Arizona, Arkansas, Colorado, Florida, Illinois, Iowa, Kansas, Minnesota, Missouri, Nebraska, New Mexico, Oklahoma, Texas, Utah, Virginia, Washington, and Wyoming.
The first Village Inn was founded by Merton Anderson and Jim Mola in Denver, Colorado, in 1958.
Although Village Inn also serves lunch and dinner, they're particularly famous for their breakfast menu, and they've been that way from the beginning.
The original Village Inn was called "Village Inn Pancake House," serving pancakes, eggs, bacon, and coffee to vacationers in Denver.
One of Village Inn's signature breakfast menu items is the INN-Credible V.I.B. or Village Inn Breakfast.
This mega-sized offering allows you to choose up to seven items to put on a giant breakfast plate.
Try the buttermilk pancake combo for a less extravagant breakfast option, which comes with one egg, three buttermilk pancakes, and two cherrywood-smoked bacon strips or two sausage links.
Village Inn also claims to make "The Best Pie in America," serving many different pie flavors.
3. Huddle House
Huddle House is a diner-style chain restaurant serving breakfast, lunch, and dinner.
They operate over 270 locations in 20 states, including Alabama, Arkansas, Florida, Georgia, Illinois, Indiana, Kansas, Kentucky, Louisiana, Mississippi, Missouri, Nebraska, North Carolina, Oklahoma, Pennsylvania, South Carolina, Tennessee, Texas, Virginia, and West Virginia.
The first Huddle House was opened by John Sparks in 1964 in Decatur, Georgia.
Since the beginning, they've served homey diner-style classics, including delicious breakfast.
The Huddle House breakfast menu serves nostalgic classics like Country Fried Steak, Western Omelets, and Waffles.
One of their most extravagant breakfasts is the M.V.P. (Most Valuable Platter).
It comes with applewood smoked bacon, country sausage or turkey sausage, two eggs, hashbrowns or fresh fruit, waffles or pancakes, toast or biscuits, and sausage gravy.
In addition to these classic breakfasts, Huddle House also serves diner-style meals, including burgers, patty melts, and Philly cheesesteaks.
Many Huddle House locations are also open late at night, so it's a great option if you're craving a classic diner breakfast in the evening.
2. Perkins
Perkins is a bakery and restaurant chain that serves breakfast all day long, operating over 275 locations in 32 states.
The first Perkins was opened by Matt and Ivan Perkins in Cincinnati, Ohio, in 1958.
From the beginning, they served over two dozen different flavors of pancakes.
In 1986, Perkins began opening in-store bakeries, where they still sell their famous pies and other desserts and pastries to delighted customers.
Perkins' breakfast menu serves generously portioned sweet and savory breakfasts, all with a classic American diner style.
For the hungriest diner, we recommend the Tremendous Twelve.
It comes with three eggs, four buttermilk pancakes, hash browns or breakfast potatoes, and four applewood smoked bacon strips or sausage links.
For something sweet, try the Blueberry Buttermilk Pancake Platter, which comes with three buttermilk pancakes studded with fresh blueberries.
If you'd rather enjoy lunch or dinner, Perkins also serves diner-style meals like Homemade Meatloaf, Pot Roast Stroganoff, and Butterball Turkey.
Before you head home, be sure to pop into the Perkins in-store bakery to take home a slice of their famous pies!
Their pie flavors include banana cream, caramel apple, cherry, chocolate French silk, coconut cream, apple, lemon meringue, peanut butter silk, and wildberry.
1. Mimi's Bistro and Bakery
Mimi's Bistro and Bakery is a neighborhood bistro-style restaurant chain serving brunch classics all day long since 1976.
They operate over 75 locations in 16 states, including Arizona, California, Colorado, Florida, Missouri, Nevada, New Mexico, North Carolina, Ohio, Tennessee, Texas, and Utah.
Mimi's breakfast menu combines French-inspired dishes and classic American breakfasts, so there's something for everyone!
If you've got a sweet tooth, indulge in their Pain Perdu with Mixed Berries, which is brioche French toast stuffed with orange marmalade and cream cheese blend, topped with fresh berries and strawberry puree.
Another fan favorite is their Cinnamon Roll French Toast, dusted with cinnamon, nutmeg, and powdered sugar.
For a more savory option, you can try their Eggs Benedict.
It's hickory-smoked ham and poached eggs topped with Hollandaise sauce, sitting on an English muffin and served with roasted potatoes.
You can also enjoy a slice of the French classic Quiche Lorraine, filled with hickory-smoked ham, bacon, aged Parmesan, and Swiss cheese.
Conclusion
No matter what time of day or what part of the country you're in, there's an incredible breakfast restaurant waiting for you!
Use our list to find the best breakfast near you, offering anything from avocado toast to buttermilk pancakes.