The Top 25 Ice Cream Brands, Ranked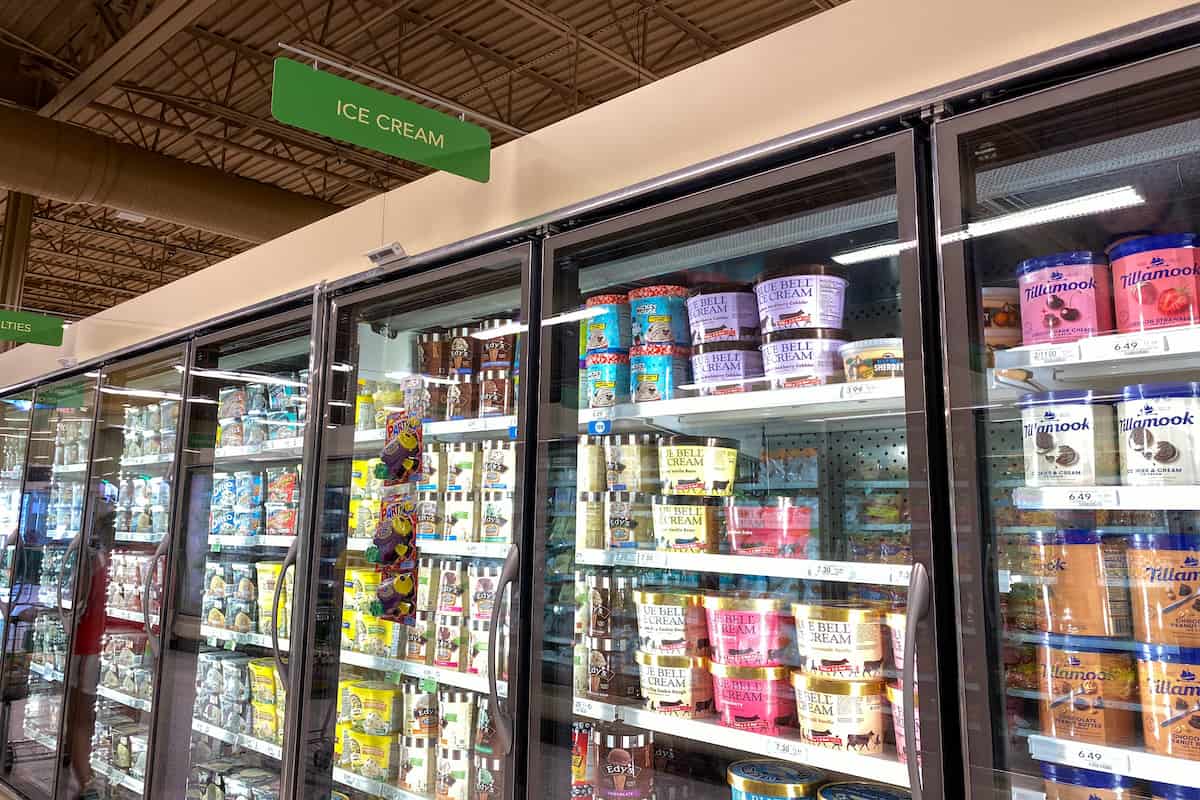 I scream, you scream – you get it, we've all heard the phrase, but everyone loves ice cream, and there are many ice cream brands you can buy at the supermarket.
With such a popular product, of course, come hundreds of companies vying for a top spot on the shelves.
Today, we'll go over 25 of those popular ice cream brands, and I'll rank them from my least favorite to all-time favorite.
Whether you like the whimsical, fun shape of Dippin' Dots or prefer a super rich, traditional ice cream like Tillamook, there's an option on this list for everyone.
Alright, no more stalling, let's get straight to the pint!
25. Blue Bunny
The Blue Bunny brand was born in 1935, and since then, they've launched a handful of winning products like their Bunny Tracks ice cream and the Strawberry Shortcake Mini Swirl cones (my personal favorite).
My main gripe with Blue Bunny is that their ice cream technically isn't ice cream – it's "frozen dairy dessert."
The US Department of Agriculture states that ice cream must "contain at least 1.6 pounds of total solids to the gallon, weigh not less than 4.5 pounds to the gallon, and contain not less than 20 percent total milk solids, constituted of not less than 10 percent milkfat."
I'm not sure exactly what all that means, but Blue Bunny's frozen dairy mix didn't make the cut, so they're not allowed to call themselves ice cream.
24. So Delicious
Unlike Blue Bunny, So Delicious is loud and proud about the fact that they're not technically ice cream.
Their frozen desserts are made with milk alternatives, like coconut, cashew, almond, and soy.
So Delicious' frozen desserts range from classic pints to double-dipped ice cream bars and ice cream sandwiches.
They are also certified vegan and come with many flavors to choose from.
Just because you don't eat dairy doesn't mean you don't want to have options when it comes to dessert!
Some of their best flavors are peanut butter brownie with cashew milk, bananas foster with cashew milk and oatmeal coffee chip with oat milk.
23. Friendly's
Friendly's is an East Coast restaurant chain that's been around since 1935. It's a diner-style restaurant but focuses heavily on ice cream.
Nowadays, Friendly's are harder to find in person, but their ice cream can always be found at your local grocery store.
Friendly's offers a few different product categories, from regular ice cream cartons to premade ice cream cakes.
I especially like their single-serve sundaes, which are similar to a sundae you'd get at one of their restaurants. They're fully loaded with toppings.
For example, the ice cream cake sundae features vanilla ice cream, chocolate crunchies, chocolate ice cream, whipped topping, and confetti sprinkles.
It's as close as it gets to a full-on sundae that you can pull straight from your freezer.
22. Halo Top
Back to the whole ice-cream-but-not-technically-ice-cream thing – Halo Top.
A whole pint of any flavor will be 360 calories at the very most, but most are even lower in the mid-300s or high-200s range.
An entire pint of ice cream for only a couple hundred calories – sounds too good to be true, right? Well, there's a catch.
Halo Top doesn't have the exact taste and texture of real ice cream, but it's pretty darn close.
It's more processed than most regular ice creams and doesn't have that same super creamy texture.
However, Halo Top is still a delicious frozen treat, especially if you're looking for a dessert lower in fat, sugar, and calories that still tastes good.
Halo Top was named one of Time Magazine's top inventions of the year in 2017, and it has carved out an entirely new genre of ice cream that wasn't even a thing until the company's founding in 2012.
Nowadays, Halo Top carries other products like sorbet, fruit pops, and keto pints.
21. Baskin-Robbins
Baskin-Robbins is an ice cream chain and a brand that can be bought at your local grocery store.
It was founded in 1945 by Burt Baskin and Irv Robbins, who decided that they should have exactly 31 flavors so that someone could theoretically come into the store every day of the month and get a different flavor of ice cream.
You can find almost all of Baskin-Robbins' popular flavors at a Baskin-Robbins location and your local grocery store.
A few of their beloved flavors include Wild n' Reckless Sherbet, Cotton Candy, and Mint Chocolate Chip.
20. Blue Bell
Blue Bell isn't widely available like most other ice cream brands on our list, but it's worth picking up if you come across it.
The brand was founded in 1907, but Blue Bell ice cream wasn't available outside of Texas until about 70 years later.
Their product lineup includes classic ice cream, no-sugar-added ice cream, sherbet, and frozen snacks.
Although it's not easy to track down, Blue Bell has a loyal following and is one of the best-selling ice cream brands in the US.
Some of my favorite Blue Bells flavors are Banana Pudding, Monster Cookie Dough, and Dr. Pepper Float.
19. Edy's/Dreyers
If you call this brand Edy's, you're probably from the east of the Rocky Mountains. And if you call it Dreyers, you're from the west side of them.
It's the same brand, but the name differs depending on where you live. Both Edy and Dreyer were founders of the brand, so I'd say it's a fair compromise.
The duo got together in 1928 with a goal in mind – to make ice cream.
One of their lasting legacies is the invention of the rocky road flavor, which is a mix of chocolate ice cream, nuts, and marshmallows.
Nowadays, Edy's and Dreyers have an entire ice cream line inspired by rocky road and dozens of other classic and more out-there flavors.
Cookie Cobblestone and Espresso Chip are two of my favorites.
18. Breyers
Not to be confused with the very similarly named Dreyers, Breyers ice cream has one of the richest histories on our list.
William A. Breyer's first gallon of ice cream was hand-cranked in 1866, and the rest is history.
I associate Breyers with its ice cream flavors that are jam-packed with cookies and candies, like Snickers, Reese's, and HEATH toffee.
Breyers stands out from the competition because of its commitment to high-quality flavors and ingredients.
They have an ingredient pledge to only use 100% Grade A milk and cream, naturally sourced colors and flavors, and sustainably sourced fruit and vanilla.
So, at least you can feel good about what you're eating!
Plus, I really can taste the difference in ice cream when high-quality, natural ingredients are used.
17. Turkey Hill
Turkey Hill had its big break in the ice cream industry in 1981. Before that, they were a plain ol' dairy company.
It's only been about 40 years since Turkey Hill tossed its hat in the ring, but its popularity has exploded.
Some of Turkey Hill's most popular products include the Layered Sundae, ice cream cookie sandwiches, and of course, their classic ice cream cartons.
Their flavors range from basic options like French Vanilla and Neapolitan to more out-there picks like S'mores Trio-politan, which is a Neapolitan-style ice cream with toasted marshmallow, chocolate, and graham crackers.
16. Magnum
Magnum was originally created by Belgian chocolatiers in 1987.
They were inspired by the possibility of enjoying ice cream while also getting the satisfaction of biting into a chocolate bar.
Lo and behold, their first product was born – the Magnum classic ice cream.
This is an ice cream bar that features vanilla ice cream covered in a thick layer of milk chocolate.
Nowadays, the ice cream brand has dozens of other products, but most have one thing in common – they all feature a thick chocolate coating that freezes over the ice cream, whether in a tub or wrapped around a stick.
15. Yasso
Yasso is one of the newer brands on our list, founded in 2009 by lifelong friends Amanda Klane and Drew Harrington.
With the froyo revolution on the horizon, their timing couldn't have been better.
In fact, Yasso was a huge part of making frozen yogurt the cultural food phenomenon it is today.
Nowadays, Yasso has an impressive roster of frozen treats – eleven different flavors of Greek yogurt bars, dipped chocolate bars, frozen yogurt sandwiches, and even mochi.
Even better, each of their bars contains 100 calories or less and at least 4g of protein.
Sea Salt Caramel and Chocolate Chip Cookie Dough are my personal favorites, but they also have really good limited-edition flavors in the holiday season.
I don't know how they do it, but Yasso manages to make Greek yogurt taste just as good as ice cream, which is why I gave them a higher ranking, even though they're not technically ice cream.
14. Talenti
Talenti is an American artisanal gelato and sorbetto brand that was founded in 2003.
The brand is known for its high-quality gelato, made with simple and natural ingredients.
Some of Talenti's most popular flavors include Caramel Cookie Crunch and Tahitian Vanilla Bean.
There's a lot more to Talenti than just gelato, though.
They now have lines of layered gelatos, mini gelato bars, and "pairings," which are gelato tubs split in half with two different flavors to eat separately or together.
I can tell you that the Bourbon Fudge flavor is the "chef's kiss!"
13. Bubbies
Bubbies was founded in 1985 and is most famous for its mochi ice cream, which is basically a small ball of ice cream wrapped in soft mochi dough.
Mochi dough is made with rice flour, sugar, and water, creating a chewy and slightly sticky texture.
Mochi is subtly sweet, so the ice cream provides the main flavor here.
Bubbies mochi flavors include fun picks like Green Tea, Cookies and Cream, and Purple Yam.
They even have a plant-based line that uses oat milk instead of dairy.
Bubbies knows what they're good at and sticks with it – they're my go-to mochi brand and have perfectly portioned pieces (at around 90 calories a piece.)
12. Cold Stone
Cold Stone Creamery was co-founded in 1988 by Donald and Susan Sutherland.
The schtick of the ice cream chain is that they mix in any toppings you choose right in front of your eyes, on top of a frozen granite stone.
While you can't buy Cold Stone ice cream at the grocery store, you can buy pre-packaged cartons at your local Cold Stone.
Their ice cream is so good that I just had to include it on the list.
It's always fresh and one of the creamiest options out there, probably because everything is churned and created on-premises.
There are four pre-packaged flavors available: Founder's Favorite, Peanut Butter Cup Perfection, Oreo Overload, and Cake Batter Batter Batter (I recommend the last one).
11. Carvel
You can't convince me that any other company has a better ice cream cake than Carvel.
Carvel's ice cream cake is the OG – often imitated but never duplicated.
While Carvel wasn't "technically" the first to make an ice cream cake, they perfected the craft over the years.
Their ice cream cake is made with vanilla ice cream, chocolate ice cream, crunchy chocolate bits, and smooth, fluffy frosting.
Of course, Carvel has dozens of ice cream flavors and other treats at their brick-and-mortar locations, but you can only find their ice cream cakes at grocery stores.
Hopefully, that changes soon, but until then, I'm happy to keep picking up their cakes when I pass them in the frozen foods aisle.
10. Dippin' Dots
Dippin' Dots is the company that put liquid nitrogen ice cream on the map. This "ice cream of the future" is made up of tiny cryogenically frozen beads of ice cream.
Dippin' Dots explains that liquid nitrogen ice cream contains the same ingredients as regular ice cream, but it's quickly frozen at a temperature of -320ºF to form little spheres, which melt in your mouth and taste like regular ice cream.
If you've ever been to the zoo, a baseball game, or a park, you might have seen a Dippin' Dots vendor or vending machine.
Since Dippin' Dots must be kept at such a cold temperature to maintain their shape, most grocery stores won't have freezers cold enough to store them, but select convenience stores do have special freezers for them.
Dippin' Dots are by far the most whimsical way to eat your ice cream and the most exciting brand on our list.
Their Cotton Candy flavor is the most nostalgic, but other popular flavors include Banana Split, Birthday Cake, and Cookies and Cream.
9. Good Humor
Believe it or not, Good Humor didn't always have a fleet of ice cream trucks playing their music all around the country.
In 1920, confectioner Harry Burt created a chocolate coating for ice cream and stuck that ice cream on a stick to keep it from getting all over your hands as you ate.
He then sent out 12 vending trucks to sell his new creation. Thus, the ice cream on a stick (and Good Humor) was born.
Nowadays, Good Humor is responsible for some of the most iconic ice cream products of all time.
My favorites include the Strawberry Shortcake Bar, Cookies & Cream Bar, and of course, the Original Ice Cream Bar.
Most of these flavors can be found in grocery stores nationwide.
8. Klondike
Klondike has been "making squares cool" since the early 1900s.
Klondike's most popular product is, of course, the Klondike bar.
Klondike bars start with a hunk of creamy, rich ice cream (originally vanilla, but variations include chocolate, mint, and Reese's peanut butter).
The ice cream is covered in a crunchy shell of chocolate, and sometimes, that chocolate has cookie bits or rice krispies mixed in.
Klondike has expanded its product line to include ice cream sandwiches, cones, and even milkshakes in a pouch.
Their bars will always be #1 to me, though.
7. Haagen-Dazs
Haagen-Dazs is an American ice cream brand that was established in New York in 1960 by Polish immigrants.
The company only sold three flavors at first (chocolate, vanilla, and coffee), but now offers dozens of flavors and is sold worldwide.
Haagen-Dazs uses fine, simple ingredients to make their ice cream.
Look at the ingredient list of one of their basic flavors like vanilla, chocolate, or dulce de leche, and you'll see that all the ingredients are surprisingly easy to pronounce, especially compared to some other ice cream brands.
Haagen-Dazs ice cream is loved for its quiet sophistication and super rich, creamy texture.
6. Hershey's Ice Cream
Hershey Creamery Company, also known as Hershey's Ice Cream, was founded in 1894 in Lancaster, Pennsylvania.
Despite having the same name and both companies being founded in the same year, Hershey Creamery Company is not affiliated with the candy giant, The Hershey Company.
Hershey's Ice Cream was actually one of the first brands to offer pre-packaged ice cream pints.
The popular flavors you can find at grocery stores include Birthday Cake, Brownie Batter, and Mint Moose Tracks.
In addition to dozens of ice cream flavors, Hershey Creamery offers ice cream sandwiches, ice pops, and premade cones.
5. Trader Joe's
It wouldn't be a "best store-bought ice creams" list without mentioning Trader Joe's.
TJ is known for its frozen foods, and its ice cream selection is pretty extensive.
One of my all-time favorite Trader Joe's ice creams is the Speculoos Cookie Butter flavor, which has chunks of cookie and swirls of cookie butter in its base.
Their ube and horchata ice cream flavors are particularly popular for their unique flavor profiles.
They also have plenty of dairy-free frozen dessert options, like the ever-popular Cold Brew Coffee & Boba flavor.
Trader Joe's tends to be less expensive than most branded ice creams, which is a welcome bonus.
4. Tillamook
Tillamook claims that their ice cream tastes better because it's made better.
The dairy company produces a lot more than just ice cream, including yogurt, cheese, sour cream, butter, and more.
The high-quality ingredients Tillamook uses definitely pay off, making for some of the creamiest, richest ice cream you can find at your local grocery store.
Tillamook offers fun, artisanal ice cream flavors like Mountain Huckleberry and Waffle Cone Swirl.
The secret to their super creamy, indulgent texture comes from using more butterfat and whipping less air into the ice cream, according to Daily Meal.
Tillamook is absolutely one of the best store-bought ice cream brands out there.
3. Van Leeuwen
Van Leeuwen started in an ice cream truck on the streets of New York City in 2008.
Now, there are over three dozen scoop shops throughout the country, and you can find a pint of Van Leeuwen ice cream at pretty much any grocery store (if they're not sold out).
Van Leeuwen has about two dozen ice cream flavors, including their vegan line.
Of all those flavors, I'd consider only a select handful as "classic" flavors like vanilla or strawberry.
Van Leeuwen sets itself apart with its quirky, inventive flavors like Buttermilk Berry Cornbread, Lemon Poppy Seed Muffin, and Malted Cookie Dough Shake.
Van Leeuwen ice cream tastes old-timey to me, in the best way possible.
Like it's been carefully and lovingly crafted from the cow-milking process until the very last step of being scooped into the carton that you pick up at the grocery store.
Van Leeuwen's is the perfect example of an ice cream brand that mixes fun, inventive flavors with classic, simple, high-quality ingredients to make something truly delicious.
2. Ben & Jerry's
Perhaps the most well-known ice cream brand in the US today, Ben & Jerry's, had a humble start in 1978, with its first store being a renovated gas station.
Nowadays, Ben & Jerry's is responsible for some of the world's most iconic ice cream flavors, like Phish Food, Cherry Garcia, and Half Baked.
Ben & Jerry's is also known for jam-packing their pints with mix-ins like chocolate, nuts, salty snacks, and indulgent swirls.
If you're like me, you must think mix-ins are just as good as the ice cream itself, so the more, the merrier.
1. Jeni's Splendid Ice Cream
On their website, Jeni's makes a bold claim that they sell flavors you can't find anywhere else. Well, I'm pleased to report that this is 100% accurate.
The company's founder, Jeni Britton, is a James Beard Award winner, so you know she's doing something right.
Her ice cream is incredibly smooth and rich with bold, bright flavors. I've never tried a Jeni's flavor that I didn't like!
Jeni's is the best ice cream brand for a few reasons.
First and foremost, I've never seen more creative, exciting flavors that legitimately make my heart pump faster when I see them in the ice cream aisle at the grocery store.
Gooey Butter Cake will always be my favorite flavor, but there are plenty of zany yet delicious options, like Wildberry Lavender, Goat Cheese with Red Cherries, and Everything Bagel.
I've been trying to get my hands on the Everything Bagel flavor for months, but it's always sold out!
When it comes to good ice cream, I truly think spending a few extra dollars is worth the splurge, especially when it tastes this good.
Just do yourself a favor and buy a pint of Jeni's!
Conclusion
Well, there you have it – 25 of the best ice cream brands available in grocery stores.
These days, most ice cream brands offer classic and unique flavors, as well as a range of other ice cream-related products.
It can be overwhelming when you step into the ice cream aisle and see shelves upon shelves of different brands, but now that you're armed with a trusty list of the best, you should have a good idea of where to begin.
Happy scooping!