20 Edy's and Dreyer's Ice Cream Flavors Worth Trying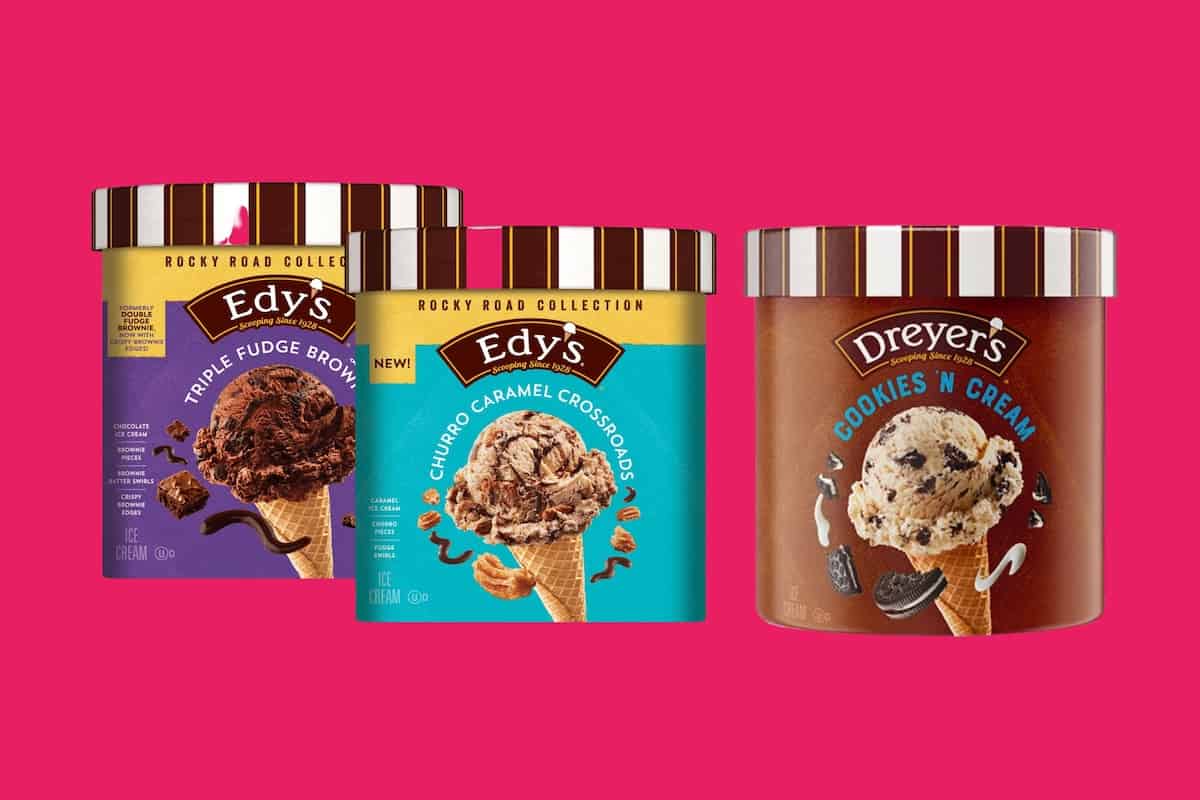 If you live on the east side of the Rocky Mountains, you've probably heard of the ice cream brand Edy's. If you're from the west side of the Rockies, then you've probably heard of an ice cream brand called Dreyer's.
Despite the two different names, Edy's and Dreyer's are actually the same ice cream brand with the exact same products. The reason for this dual-named company is to honor both of their founders, William Dreyer and Joseph Edy.

The two men teamed up in 1928 and have been creating high-quality, inventive ice cream ever since. Many decades later, Edy's and Dreyer's have an extensive catalog of ice cream flavors, including a handful inspired by Rocky Road (which Edy and Dreyer invented in 1929).
I'll take you on a journey through the 20 best ice cream flavors that Edy's and Dreyer's have to offer. Grab a pint and a spoon, and let's get started!
20. Coffee
I'm not particularly a fan of coffee-flavored ice cream, so including one in my list means that it was really good.
This Edy's ice cream flavor has a fairly simple ingredient list – primarily coffee, skim milk, cream, sugar, and no artificial flavors.
This makes for a coffee ice cream with that earthy, bitter note that comes with a real cup of joe and has the sweet, creamy flavor that most of us want when ordering a latte.
Even without any additional chunks or swirls, Edy's coffee ice cream has enough intrigue to keep you coming back for another scoop.
19. Butter Pecan
Like coffee, butter pecan is never my first choice when picking out which ice cream flavor I want.
This Dreyer's ice cream flavor made the cut, though, because there's just something that makes it different from other butter pecan ice creams I've tried.
The ice cream base has a rich, buttery vanilla with pieces of roasted pecans throughout.
The pecans have a thin, sweet sugar coating outside, providing a crunch to contrast the otherwise perfectly smooth ice cream base.
Dreyer's take on butter pecan has that homemade, old-timey feel to it. When you taste it, you'll know exactly what I mean.
18. Caramel Delight
Caramel is a consistently delicious ice cream flavor that tends to be overshadowed by the ever-popular vanilla and chocolate options.
Well, caramel lovers, Edy's and Dreyer's didn't forget about you. The brand's Caramel Delight is dedicated entirely to the flavor.
This pint starts with a caramel ice cream base with generous swirls of actual caramel throughout.
The swirls are the star here – they're made with a simple mixture of condensed milk and sugar, giving it a sweet and incredibly rich dulce de leche-like flavor.
17. Strawberry
Fruit-flavored ice creams can be hit or miss. Some tend to end up as more of a sorbet than ice cream, while others end up so sweet that any actual fruit flavor is drowned out.
But in this case, Edy's and Dreyer's nailed it. Their Strawberry ice cream is fresh and fruity yet incredibly rich and creamy at the same time.
Just like most other Edy's ice cream flavors, their strawberry flavor is made without artificial colors and flavors, so the strawberry taste you get from this pint is the real deal.
Plus, you'll likely get a handful of real frozen strawberry chunks with every scoop.
16. Chocolate
It may not be the most exciting choice on today's list, but chocolate is a flavor we all love.
More importantly, it's easy to tell a good chocolate ice cream from a bad one. Luckily for Dreyer's, they nail this flavor.
Their Chocolate ice cream is made with real cocoa beans, cream, and sugar, making for a flavor that tastes like a chocolate bar.
It also has all the richness and creaminess of a candy bar. It's one of my favorite chocolate ice creams because of its flavor balance.
It's made with Dutch cocoa, so it's on the sweeter side, but it still has a bitter note to balance the sugar.
15. Neapolitan
Neapolitan ice cream is the ultimate 3-for-1 deal. You get three classic ice cream flavors all in one bite.
Pretty much everyone on the face of the earth enjoys chocolate, vanilla, and strawberry ice cream, so it's kind of genius to mix all three together into one pint!
You've already heard about Dreyer's chocolate and strawberry ice cream flavors (and you'll hear very soon about vanilla), so it's no surprise that their Neapolitan ice cream is a hit.
14. Churro Caramel Crossroads
The next Edy's ice cream flavor on our list is Churro Caramel Crossroads, which is part of the brand's Rocky Road Collection.
All ice cream flavors in this collection have a road-themed name and contain tons of mix-ins, just like the classic Rocky Road flavor.
 The base of this flavor is a rich, creamy caramel filled with swirls of gooey chocolate fudge.
Inside the ice cream are pieces of cinnamon churro, which remain crisp and crunchy despite being enveloped in ice cream for however long they're there.
Cinnamon, caramel, and chocolate are a flavor trio that isn't super common to see in ice cream, and once you try this flavor, you'll wonder why it's not used more often.
The warm cinnamon, rich chocolate, and sweet caramel flavors all play off each other and mix well for a bite that has some serious depth.
13. Mint Chocolate Chip
There's no disappointment quite like an ice cream that doesn't live up to its name.
For example, I've cracked open many pints of mint chocolate chip ice cream in my day that may have been marketed as mint ice cream because there was no chocolate chip to be found.
But Edy's and Dreyer's? They would never break your heart like that.
Instead, they jam-pack their Mint Chocolate Chip ice cream with chocolate chips, ranging in size from mini chips to hearty chunks.
The mint flavor here is the perfect balance between sweet vanilla and fresh, cool peppermint.
The chocolate chunks have just the right amount of semi-sweet flavor to them. As far as mint ice creams go, this is one of my favorites.
Note that this is one of the only Dreyer's ice cream flavors that does contain artificial flavors.
This might not matter to you, but it's worth mentioning since the company makes an effort not to include anything artificial in their ice creams.
12. Vanilla
This may be the most straightforward, plain flavor on my list.
Dreyer's Vanilla ice cream may be basic, but there's no denying it's delicious.
It has just the right amount of sweetness so the vanilla flavor can shine through.
The texture of this pint is smooth, creamy, and rich. This is the perfect companion for a slice of pie or cake or to use as a milkshake base.
It's not particularly thrilling, but it has the perfect amount of sweetness and vanilla flavor to complement and boost whatever other flavors you may be eating.
11. Birthday Cake
Dreyer's hits it out of the park with their Birthday Cake ice cream. It was one of my favorites growing up, and I still love it today.
This flavor starts with a yellow cake base and has swirls of rich blue frosting throughout.
There are also rainbow sprinkles, which have more of a flat square shape than your typical cylindrical sprinkle.
This pint has that artificial birthday cake flavor you loved as a kid. It's a sugary, nostalgic flavor that tastes identical to a grocery store birthday cake.
The swirls of icing and sprinkles add some fun color, and the sprinkles also have more of a crunch to them than you'd expect, making them the perfect contrast to the smooth texture of the rest of the pint.
10. French Vanilla
While I like Dreyer's regular vanilla flavor for its simplicity, I like their French Vanilla flavor even more.
It's rich and surprisingly complex for a flavor that looks basic at first glance.
This has a creamy custard base and is easily the thickest in terms of texture among all Dreyer's ice cream flavors on this list.
That dense, rich texture is thanks to the addition of egg yolks. This ice cream also has an in-your-face true vanilla bean flavor thanks to the ground vanilla beans.
Dreyer's regular vanilla ice cream is perfect for pairing with another dessert, but their French Vanilla flavor is another story.
In my opinion, this flavor is best served by itself, so you can truly taste the simple, high-quality ingredients.
9. Cookies N' Cream
What can I say about this ice cream flavor that hasn't already been said?
Cookies n' Cream is one of the most popular ice cream flavors because of its ability to combine two iconic flavors and textures into one pint.
Dreyer's take on this ice cream flavor is classic, starting with a creamy vanilla base and finishing off with crunchy chocolate sandwich cookies.
The vanilla ice cream has a light, creamy texture, which contrasts perfectly with the crunchy crushed sandwich cookies.
I've usually had good luck with the cookie-to-ice cream ratio in this pint.
8. Cookie Dough
Cookie Dough is another ice cream flavor that everyone seems to love, so it's not a surprise that this Edy's flavor is a fan favorite.
It's made with a creamy vanilla base filled with chunks of chocolate chip cookie dough and some stand-alone chocolate chips.
The chocolate chips in the ice cream are fairly large, and you will get a chunk or two in each bite. They add some satisfying crunch to the otherwise soft and creamy pint.
The cookie dough chunks have a nice brown sugar flavor to them. I've always had a fair amount in my pint when I picked up this flavor.
But just like Cookies N' Cream, it seems that this Dreyer's ice cream flavor suffers from inconsistency because some people say they didn't have any cookie dough chunks in their pint.
7. Double Fudge Brownie
This Dreyer's ice cream flavor is incredibly chocolatey without being overwhelming. It's made up of chocolate ice cream, fudge swirls, and brownie chunks.
The smooth chocolate ice cream has a generous amount of fudge swirl inside, which adds an extra hit of darker chocolate flavor.
The fudge swirl also has a bittersweet note to it, keeping all the different elements from becoming too sugary once combined.
The brownie chunks in this flavor are super chewy and fudgy. It's very similar to the center of a gooey, just-baked brownie.
This is one of the first Dreyer's ice cream flavors I have ever tried, and it's an option that is consistent in its flavors, textures, and chunk-to-ice cream ratio.
6. Nestle Drumstick Sundae
If you've ever had a Nestle Drumstick cone before, you know what you're in for with this Edy's ice cream flavor.
It starts with a vanilla ice cream base, just like the Drumstick. It also contains chunks of chocolate-covered peanuts, fudge swirls, and bits of waffle cones.
This pint has all the flavor and texture of a Drumstick and then some.
The chocolate-covered peanuts are the perfect size for a little crunch, but my favorite part of this pint is the crispy waffle cone pieces.
The fudge swirl also adds a nice extra element of flavor.
I just wish they had put bits of chocolate from the bottom of a Drumstick cone into the pint. After all, that's undeniably the best part of a Drumstick!
5. Chocolate Peanut Butter Park
If you're a peanut butter ice cream lover, the Chocolate Peanut Butter Park is one of your best (and only) options if you're buying from Edy's or Dreyer's.
Besides Nestle Drumstick Sundae, this is the only Edy's ice cream flavor that contains peanuts.
But the brand makes up for that fact by jam-packing the pint with all the chocolate PB goodness you could ever wish for.
This flavor starts with a creamy chocolate base filled with swirls of peanut butter and mini peanut butter cups.
The peanut butter swirl is super creamy and has just the right amount of salt.
The mini peanut butter cups have a nice crunch at first bite and then quickly melt in your mouth.
I love peanut butter ice cream, and this pint has just the right amount.
Even though the ice cream base is chocolate, peanut butter is the main flavor here, which earns it extra points in my book.
4. Cookie Cobblestone
Cookie Cobblestone begins with Dreyer's beloved chocolate base.
The pint is filled with gobs of chocolate chip cookie dough, crushed sandwich cookie pieces, and a sweet, fluffy marshmallow swirl.
This flavor is like a mix between Ben & Jerry's Phish Food and Half Baked.
Marshmallow swirl isn't a common mix-in for ice creams, but when it's done well (like it is here), it can steal the show.
The marshmallow here is gooey in some areas and fluffy in others, so each bite will vary.
There's a generous helping of cookie dough and crushed chocolate cookie, so you'll get at least a little bit of both in every bite.
3. Salted Caramel Pretzel Path
Salted Caramel Pretzel Path is a sweet and salty combo lover's fantasy.
It starts with a salted caramel ice cream with swirls of fudge, which is then mixed with chocolate-covered toffee and chocolate-covered salted pretzels.
As far as texture goes, this flavor is as good as it gets.
The snappy toffee and crunchy pretzels manage to remain super crisp, and the fudge in this pint is gooey and rich.
The salt in the ice cream and on the pretzels brings just enough savory flavor to balance out the super sweet caramel and toffee flavors.
This is one of those flavor combos that's difficult to find elsewhere.
There are plenty of salted caramel ice creams out there, but very few brands have released a caramel-pretzel-toffee combination.
This is one of the most unique ice cream flavors of all time from Edy's.
2. Triple Fudge Brownie Boulevard
Triple Fudge Brownie Boulevard is another Rocky Road-inspired Edy's ice cream flavor.
The base is their classic chocolate ice cream (which we've already established is delicious), and it's jam-packed with chocolate flavor from multiple sources.
First, we've got a rich brownie batter swirl throughout the pint. Then, there are chunks of regular brownie and crispy brownie edges inside.
There's that age-old debate about whether the middle or edge brownies are best, so it seems that Edy's got ahead of the issue and just put both in.
This flavor promises triple brownie, and that's exactly what you get.
The brownie elements are all incredibly fudgy and rich, and the brownies have a delightful chew.
When Double Fudge Brownie simply won't do, Triple Fudge is the only way to go!
1. Rocky Road
My number one pick for the best Edy's and Dreyer's ice cream flavor had to be the Rocky Road. After all, these are the brands to thank for the invention of the flavor.
In 1929, Edy and Dreyer created the combination as a way to cheer people up during the Great Depression despite the "rocky road" up ahead.
When he first created the ice cream flavor, Dreyer hand-cut each marshmallow chunk with his wife's sewing shears and used walnuts instead of almonds.
Decades later, the marshmallows are cut by a state-of-the-art machine, and almonds are used in the mixture rather than walnuts.
Rocky Road starts with Edy's classic chocolate ice cream base, which is filled with pieces of almond and chunks of marshmallow.
The almonds are toasted, giving them that extra cozy flavor note, and the marshmallow pieces are perfectly sweet and fluffy.
This ice cream flavor has creaminess, crunch, fluff, and a variety of flavors, so each bite will be just a little different from the last.
As they say, you can't beat the original, and this definitely applies to Edy's and Dreyer's Rocky Road ice cream!
Conclusion
There's no shortage of delicious ice cream flavors from Edy's and Dreyer's.
If you've never tried these brands before, I recommend starting with a pint from their Rocky Road collection and expanding from there.
No matter which side of the Rockies you live on, I think we can all agree that the brands' dedication to natural, simple ingredients and inventive flavor combinations keeps us coming back for more.