20 Best Halo Top Flavors to Try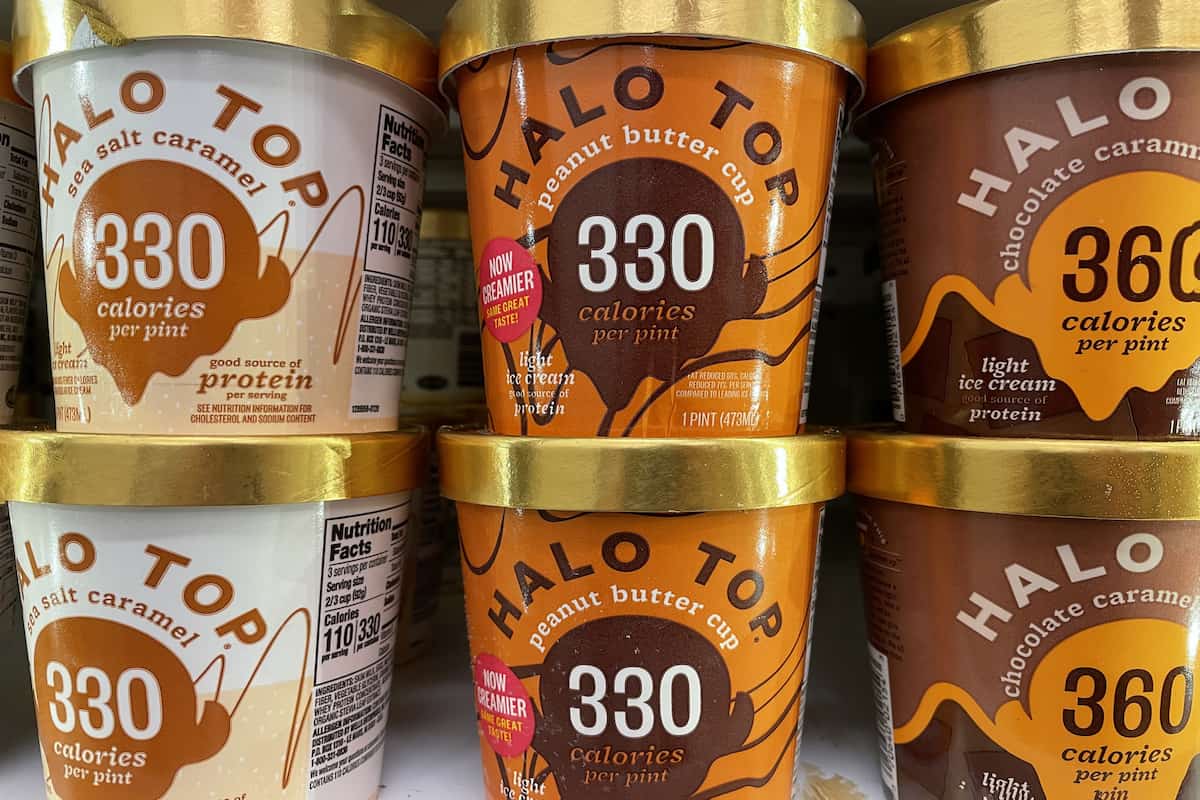 Halo Top ice cream is a great option if you're looking for a dessert with less sugar and fat but the same satisfying flavors we all love and crave.
When Halo Top hit shelves in 2012, its mission was to create delicious and creamy light ice cream with 280-380 calories per pint. Fast forward to today, and it has become one of the best ice cream brands.
Halo Top's success is mainly because it tastes like regular ice cream. That being said, some flavors are definitely better than others.
To help you decide what to pick up on your next grocery run, I've put together the 20 best Halo Top ice cream flavors.
This list doesn't include any products in their Keto, Fruit, or Yogurt series, so we're strictly sticking with the OGs.
Grab your spoon (no need for a bowl with Halo Top, right?), and let's get into it.
20. Chocolate
Chocolate was one of the first four flavors Halo Top released in 2012, along with vanilla, strawberry, and lemon cake.
It was a popular flavor for its simplicity, smoothness, and decadent texture for many years.
That all changed in mid-2022, though, when Halo Top changed the recipes of some of its ice creams, and its chocolate ice cream hasn't been the same since.
Ever since Halo Top reformulated their chocolate ice cream, it's had a chalky, crumbly consistency that I am just not into.
I don't think it tastes like Play-Doh or sawdust, as multiple online reviews said, but it has an off-putting fake chocolate taste.
Some people think this flavor is still good, though, so maybe I need to let go of my memories of the old chocolate Halo Top and get on with my life.
But there are so many other great options that I recommend passing on this Halo Top flavor.
19. Chocolate Cake Batter
I'm fairly certain that Chocolate Cake Batter is exactly the same as Halo Top's Chocolate flavor but with rainbow sprinkles thrown in.
It adds some whimsy, sure, but nothing about this ice cream tastes like cake batter to me.
Just like its non-sprinkle counterpart we already discussed, the texture here is a little crumbly and chalky, but not quite as much as regular Chocolate.
I think adding a buttercream swirl or cake chunks of some sort would have sold the whole "cake" element more.
Then again, that might defeat the whole low-calorie thing that Halo Top is known for.
Whatever the case, this pint is fine, but it's not something I'd reach for again.
18. Pistachio
Full disclosure: I'm not a fan of pistachio-flavored ice cream, so this Halo Top flavor is at an unfair disadvantage from the start.
However, this is a solid option for people who enjoy pistachio ice cream.
The texture in this pint is really nice – it's light yet creamy, with a Cool Whip-esque feel to it.
I also appreciate that the pistachio flavor is fairly natural-tasting and doesn't have that artificial taste that sometimes leans towards almond extract.
17. Chocolate Mocha Chip
Chocolate and coffee are always a classic combo.
Halo Top's take on this flavor comes in the form of their Chocolate Mocha Chip pint, which features chocolate coffee ice cream and mocha chips.
There's a generous amount of chips in here, which I appreciate because there's nothing more disappointing than an ice cream that promises mix-ins but doesn't deliver.
I find the coffee flavor isn't as strong as the chocolate flavor in this pint, but it's not bad.
Just don't expect something that will slap you with espresso flavor – it's more of a whisper.
Even the mocha chips tasted like regular chocolate chips to me.
This Halo Top flavor is good overall and doesn't suffer from that crumbly texture the other ice creams so far have.
But it doesn't blow my mind, and I haven't bought it since I first tried it.
16. Cookies & Cream
Cookies & Cream is one of the best ice cream flavors of all time.
It's got some texture, some chocolate, and some vanilla, making for a satisfying treat that's slightly different with each bite.
That's why I was a bit surprised when Halo Top's take on the flavor landed pretty low on my list.
The vanilla ice cream is sweet, its texture is light and fluffy, and the cookies are nice and crunchy. The issue here is the lack of said cookies.
Cookies & cream ice cream should have at least a few bites of cookie in each scoopful, but the more, the better.
With Halo Top's Cookies & Cream flavor, though, I only got one or two pieces in most spoonfuls, and some only had a small crumb.
This pint has a great taste, but it needs about double the amount of cookies inside to compete with other cookies & cream options on the market.
15. Caramel Macchiato
Okay, we've made it to the point in our list where every Halo Top flavor from here on out is really good, and I'd buy any of these again.
The Caramel Macchiato is a mix of rich caramel ribbons and robust coffee flavor.
This pint nails it on the caramel-to-macchiato ratio.
I don't particularly love coffee ice cream, but the sweet caramel ripples in this dessert cancel out most of the bitterness that comes with coffee.
I just wish there was something else in this flavor to add a textural component – some of those mocha chips, perhaps?
But even without them, it's a good Halo Top flavor and will surely be a hit with coffee ice cream lovers.
14. Chocolate Ice Cream Cake
Another chocolate cake ice cream flavor? I don't see why there's a need for more than one, but this is definitely the better of the two options (sorry, Chocolate Cake Batter!).
Halo Top's Chocolate Ice Cream Cake flavor is made with a chocolate ice cream base, white icing, and chocolate cookie crumbles.
This pint has a smoother, richer chocolate base than the other chocolate flavors we've talked about thus far.
The pieces of icing have a bit of a waxy texture, but the taste is rich and reminds me of white chocolate.
The chocolate cookie crumbles are the same crunchies you'll find in an ice cream cake, and they add a nice crunch to the dessert and are the perfect contrast to the smooth, fluffy chocolate ice cream.
13. Chocolate Caramel Brownie
Next up on our list of the best Halo Top ice cream flavors is Chocolate Caramel Brownie.
It's made with chocolate ice cream and features generous swirls of caramel and chunks of brownie throughout.
Only containing 360 calories, this pint is impressively indulgent.
There are plenty of brownie chunks, which have a fudgy, super-chocolatey consistency and flavor.
There's a fair amount of caramel inside, too, with just a hint of salt. This tiny bit of salt does wonders for the flavor of the ice cream overall.
While the other chocolate flavors from Halo Top tend to be a bit chalky or artificial tasting, I found Chocolate Caramel Brownie to be fudgy and rich.
12. Strawberry
Strawberry is a classic flavor every ice cream brand needs to have in their lineup.
It was one of Halo Top's first flavors to be released and has remained popular ever since.
Unlike many strawberry ice creams on the market, Halo Top's version contains real strawberries, and you can taste the difference.
The strawberry flavor here reminds me of an old-fashioned strawberry milkshake.
It's super sweet but has some brightness from that real fruit flavor.
It doesn't have any full chunks of strawberry, but it has some tiny crumbs of frozen strawberry speckled throughout.
This ice cream is refreshing and light but still tastes like actual ice cream rather than a sorbet.
11. Vanilla Bean
Vanilla is another classic flavor that pretty much everyone loves. Halo Top's version is simple and well-executed.
It features real ground vanilla beans, which give the ice cream a genuine vanilla flavor rather than imitation vanilla.
Halo Top includes egg yolks in its Vanilla Bean Ice Cream recipe, and this ingredient is to thank for the creamy, custardy texture of the ice cream.
It's fluffier and lighter than a full-calorie vanilla ice cream but definitely has a richness to it, thanks to the egg yolks.
If you're looking for a basic, no-frills, light ice cream, Vanilla Bean flavor is the way to go.
10. Vanilla Caramel Milkshake
The Vanilla Caramel Milkshake is essentially the same flavor as Halo Top's Vanilla Bean, but this one has swirls of caramel throughout and doesn't contain any real vanilla beans.
Although I love flecks of vanilla bean in an ice cream (it just makes it feel fancier), the ribbons of caramel make up for the lack of it.
The vanilla ice cream base contains egg yolks (just like Vanilla Bean did), so you're in for a smooth, velvety texture that feels more luxurious than you'd expect from a light ice cream.
The swirls of caramel are sweet and gooey but a bit sparse. However, when you do get some, it's a delicious bite.
9. Birthday Cake
Halo Top nails it with their Birthday Cake flavor!
You know how I was saying that the Vanilla Bean flavor tastes like real vanilla? Well, Birthday Cake tastes like imitation vanilla, but in the best way possible.
I think there's a time and a place for fake-tasting super sugary ice cream. And that place is in a birthday cake-flavored pint.
Besides the super sweet cake-flavored base, this pint is also speckled with rainbow sprinkles.
They don't add to the flavor, but they provide a bit of a crunch to contrast with the ice cream.
Texture-wise, this is a typical light ice cream with its fluffy texture.
However, I've gotten this flavor in the past and been disappointed by its slightly icy texture, so be warned that batches aren't always 100% consistent.
8. Candy Bar
Halo Top's Candy Bar flavor is their take on a Snickers bar (that's what I think they're going for, at least).
The ice cream is chocolate and nougat flavored with bits of peanuts and a caramel swirl throughout.
Despite only having small pieces of peanuts throughout, the flavor is quite prominent in this pint.
The chocolate and nougat ice cream is super sweet and reminiscent of a Milky Way or Snickers.
Caramel-wise, you get a pretty good amount here – definitely more than in the Vanilla Caramel Milkshake flavor.
The tiny bits of peanut get a little bit soggy at times, which is why I couldn't rank this flavor any higher.
7. Chocolate Chip Cookie Dough
With a vanilla base and a generous amount of cookie dough chunks, this Halo Top flavor is pretty darn close to the real thing.
The Chocolate Chip Cookie Dough has a sweet and incredibly thick base.
I would probably not know that this was a light ice cream if I was doing a blind taste test.
The cookie dough chunks are the perfect size – enough to taste the sugary dough but not so big that you're getting a gritty mouthful when you have a scoop.
The soft cookie dough and crunchy chocolate chip pieces play well with the vanilla ice cream in this pint.
This was the first Halo Top flavor I ever tasted, and it remains one of my favorites because it's almost identical to regular ice cream.
6. Red Velvet
As far as aesthetics go, I think Red Velvet is the prettiest Halo Top flavor by far. It's also up there taste-wise.
The ice cream has a red velvet flavor, which is technically chocolate but deeper and more intense.
It contains little chunks of brownie, which amplify the fudgy flavor.
Red velvet-flavored food can taste different depending on how much cocoa is used and what kind of dessert you make.
In this case, Halo Top finds a great balance between sweet and slightly bitter chocolate.
I just wish this pint had a cream cheese frosting element, which would easily bring Red Velvet to my top 3 Halo Top flavors.
5. Sea Salt Caramel
Sea Salt Caramel has been one of my favorite Halo Top flavors for a while now.
The ice cream base tastes like caramel with just a hint of vanilla, and the swirl of caramel has a good bit of salt, bringing out the ice cream's sweet, buttery caramel flavor even more.
Just like the Chocolate Chip Cookie Dough flavor, I doubt I would know this was a light ice cream if I did a blind taste test.
Many salted caramel ice creams on the market tend to be overly sweet, but this version isn't.
The salt perfectly balances out the sweetness, and the gooey caramel adds a unique texture to the fluffy ice cream.
4. Mint Chip
With a light, fluffy mint base and bits of chocolate chips sprinkled throughout, Halo Top's Mint Chip flavor is good enough to even convert the mint ice cream haters out there.
The ice cream has a nice mix of cool, refreshing peppermint flavor and sweet vanilla flavor, making the mint more of a companion rather than the star of the show.
There's just the right amount of chocolate chips here to add deeper flavor, but not so much that the mint is overshadowed.
This flavor manages to stay refreshing and light yet creamy and indulgent at the same time.
3. Blueberry Crumble
If you happen to love blueberries, today's your lucky day!
With a blueberry ice cream base, swirls of blueberry pie filling, and chunks of pie crust, you need to be a pretty big blueberry fan to love this flavor.
Halo Top's Blueberry Crumble flavor has a milkshake-like feel to it, just like their Strawberry pint.
It's sweet with a hint of real fruit.
The blueberry pie filling contains real blueberries and blueberry juice, which brighten the entire pint and make it taste like an authentic blueberry crumble.
The pie crust is one of my favorite mix-ins from any Halo Top flavor.
It's buttery with just a hint of salt, which brings out the blueberry and vanilla flavors and balances out the sweetness.
This is one of Halo Top's newer flavors, and I hope they continue to come out with exciting, fresh ideas like this one.
2. Peanut Butter Cup
If you're like me and love peanut butter cups but enjoy the peanut butter more than the chocolate part, let me introduce you to one of the best Halo Top flavors – Peanut Butter Cup.
This pint is made with chocolate peanut butter ice cream and features a swirl of frozen peanut butter throughout.
The peanut butter here is a generous portion and gives the ice cream a rich consistency that feels much more decadent than a light ice cream should.
While there are no chunks of chocolate, the chocolate flavor from the ice cream is prominent, and it's complemented and enhanced by the salty peanut butter flavor.
Despite Halo Top's Peanut Butter Cup has a rich, indulgent flavor, the texture is fluffy and light, so you won't feel sick or weighed down after eating it.
I love the contrast between the soft ice cream and frozen peanut butter in this pint.
This is a Halo Top flavor I pick up at least once a month when I go grocery shopping.
1. Oatmeal Cookie
My number one pick for the best Halo Top flavor may come as a bit of a shocker.
Well, it was for me because I'm not even a huge fan of oatmeal cookies.
But let me tell you, there's something about this flavor that keeps me coming back to the ice cream aisle for more.
This pint has an oatmeal cookie-flavored base with notes of vanilla and warm cinnamon.
It has bits of oat throughout that taste toasty and cozy.
That's the main appeal of this Halo Top flavor for me – it has a warm, spiced cookie feel that makes me feel like I'm curled up under a blanket next to a fireplace.
It's probably the cinnamon, but it just tastes like the holidays to me.
The main flavor in this ice cream is vanilla and oats, but the cinnamon adds just enough spice to keep things interesting.
If you're on the fence about trying an ice cream that contains oatmeal, take this as your sign to give it a shot.
I've seen some reviews online saying that their Oatmeal Cookie pint had a weird aftertaste, but I haven't found that to be the case.
Just a word of caution if you consider trying this flavor (and I think you definitely should)!
Conclusion
Light ice cream is a good alternative for those looking for a dessert with less sugar and fat. For the most part, Halo Top is a solid brand that offers great-tasting, light ice cream.
Oatmeal Cookie and Peanut Butter Cups are my favorite flavors, but I know people who are fond of every Halo Top flavor on this list.
It all comes down to personal preference, and there's only one way to find out what your go-to flavor will be!