20 Best Van Leeuwen Flavors to Try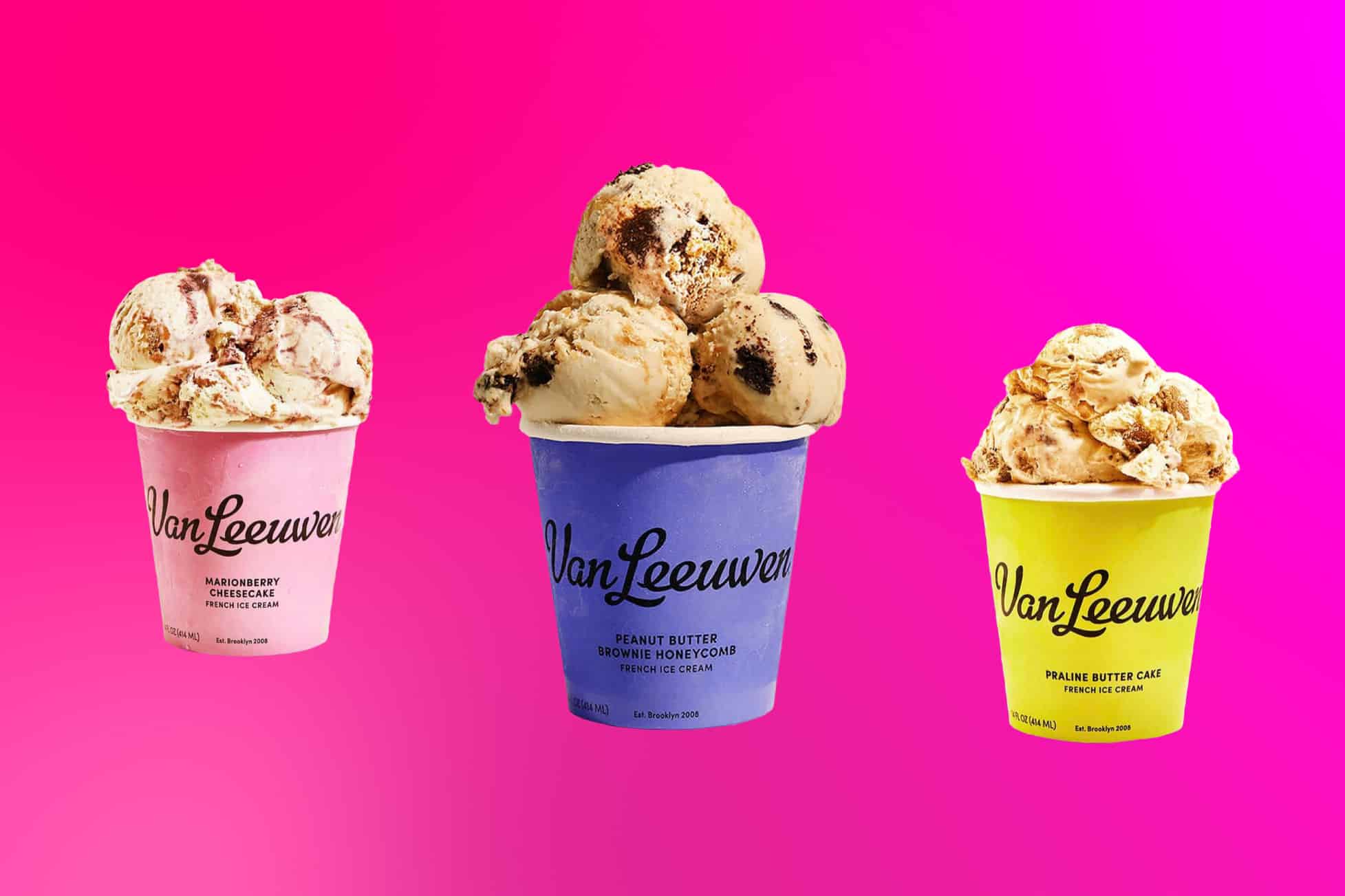 Van Leeuwen Ice Cream started in a yellow truck that first took the streets of New York City in 2008. Fast forward to today, the brand has tens of locations nationwide, and their ice cream is sold in pretty much any major grocery store you can think of.
Van Leeuwen has become one of the best ice cream brands thanks to its simple, high-quality ingredients and an assortment of unique (and sometimes unhinged) flavors.
Here are my top 20 picks for the best Van Leeuwen ice cream flavors. Let's jump right in!
20. Black Cherry Chip
Van Leeuwen's Black Cherry Chip ice cream is made with – you guessed it – cherry ice cream and dark chocolate chips. It also has pieces of black cherry swirled throughout.
Just like all the other non-vegan ice creams on this list, the base of this ice cream is made with egg yolks, hence why it's considered French ice cream. Egg yolks make ice cream smoother, creamier, and far more scoopable.
Full disclosure: I hate almost anything that's cherry flavored. You know how some people have that gene that makes cilantro taste like soap to them? I think I have a gene that makes cherry taste like the most vile, gag-inducing cold medicine, even if everyone around me thinks it tastes great.
Anyway, all that being said, I had to include it in my list since I know a lot of people who love this flavor, but for moral reasons, I couldn't give it any spot higher than #20.
19. Vegan Strawberry Shortcake
Let me start by saying that Van Leeuwen's vegan ice creams are some of the best dairy-free ice creams around.
They make sure the texture doesn't suffer from a lack of dairy by using alternatives like oat milk, cashew milk, and coconut cream. In this Strawberry Shortcake flavor, all three are used.
The Vegan Strawberry Shortcake ice cream starts with a vanilla dairy-free base, which is swirled with Oregon-grown strawberry jam and pieces of vanilla shortcake.
A scoop of this ice cream contains just the right amount of sweetness from the vanilla ice cream and shortcake, while the strawberry jam brings some brightness and tang into the picture.
It's not as rich as regular ice creams from Van Leeuwen, but it's a great option for anyone who's dairy-free.
18. Vegan Churros & Fudge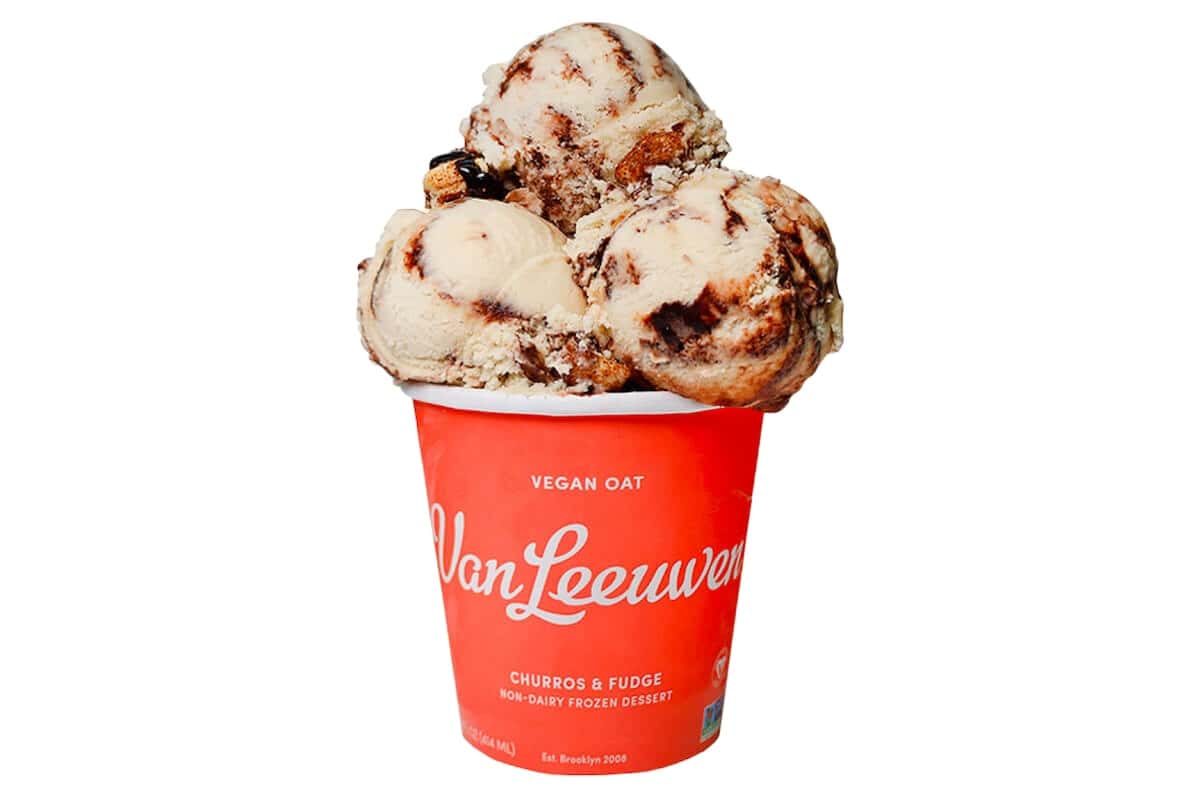 Up next is another vegan ice cream flavor, the Churros & Fudge. The base is a dark brown sugar and cinnamon dairy-free ice cream. Bits of churro and chocolate fudge (both vegan, of course) are added to the mix, and voilà!
The bits of churro in here have a nice chew to them, and the fudge ripple is super rich despite being dairy-free. Instead of regular dairy, this ice cream features oat milk, coconut cream, and coconut oil to achieve its desired texture.
This flavor was originally a limited edition but became so popular that it joined the permanent lineup of Van Leeuwen's vegan flavors.
17. Vegan Chocolate Cookie Dough Honeycomb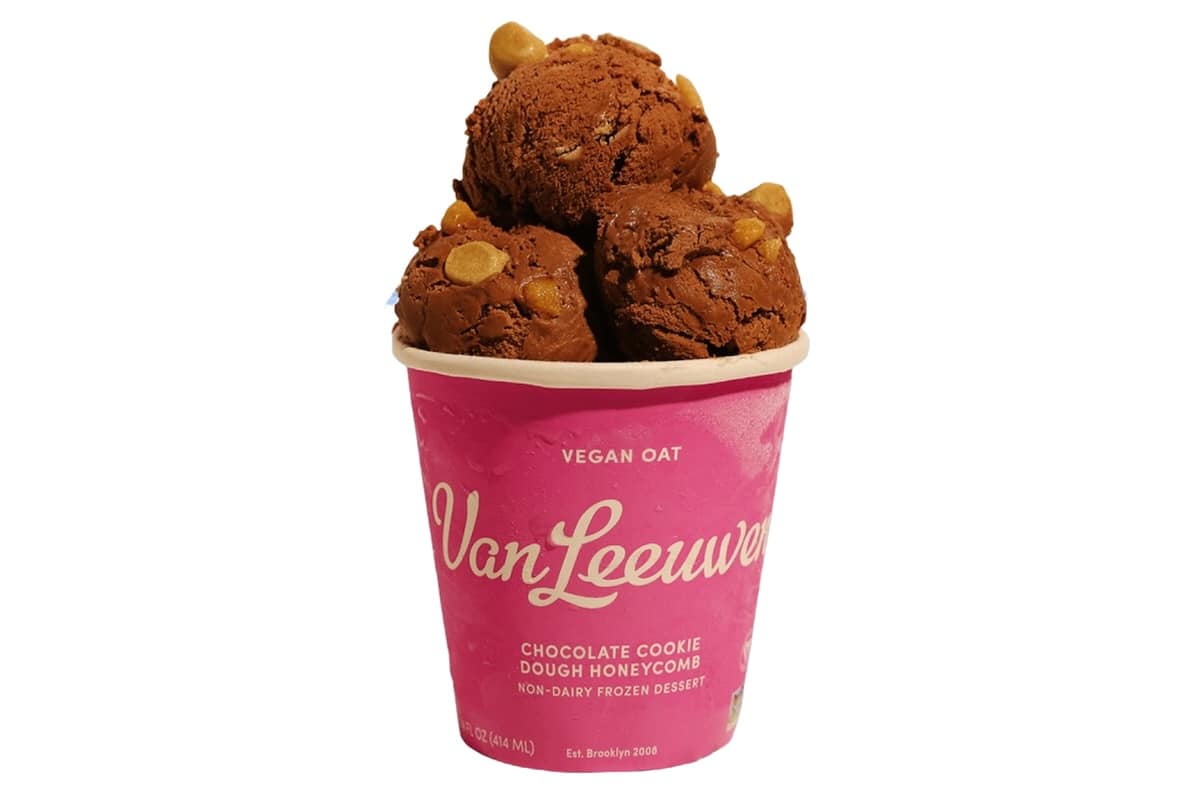 As you'll see as we go down the list, honeycomb is an iconic flavor of Van Leeuwen.
Their vegan version is the Chocolate Cookie Dough Honeycomb flavor, which starts with a creamy chocolate oat milk base. Then, chunks of cookie dough and honeycomb candy are studded throughout.
The mix-ins are oh-so-chewy and gooey, which makes for a fun (yet somewhat laborsome) bite.
Coconut cream and oat milk are what give the ice cream its creamy texture.
This is my favorite vegan ice cream from Van Leeuwen because of the texture and the flavors going on. It's chocolatey and rich with notes of sweet toffee throughout.
16. Sicilian Pistachio
Just like cherry, I'm not the biggest fan of pistachio-flavored things. However, this ice cream is the exception because it tastes like actual pistachios, not fake stuff.
The ingredient list for this flavor is incredibly simple: cream, milk, sugar, egg yolks, Sicilian pistachios, and salt.
I love ice cream with lots of chunks and swirls inside, but this simple and smooth pistachio flavor just hits the spot.
There's a dash of salt, which keeps the flavor tasting like an actual roasted pistachios rather than a fake, super-sweet syrupy pistachio flavor.
Plus, Van Leeuwen only uses pistachios found on Mount Etna (they're known as "green gold" there), so you know this pint's the real deal.
15. Hazelnut Fudge Cookie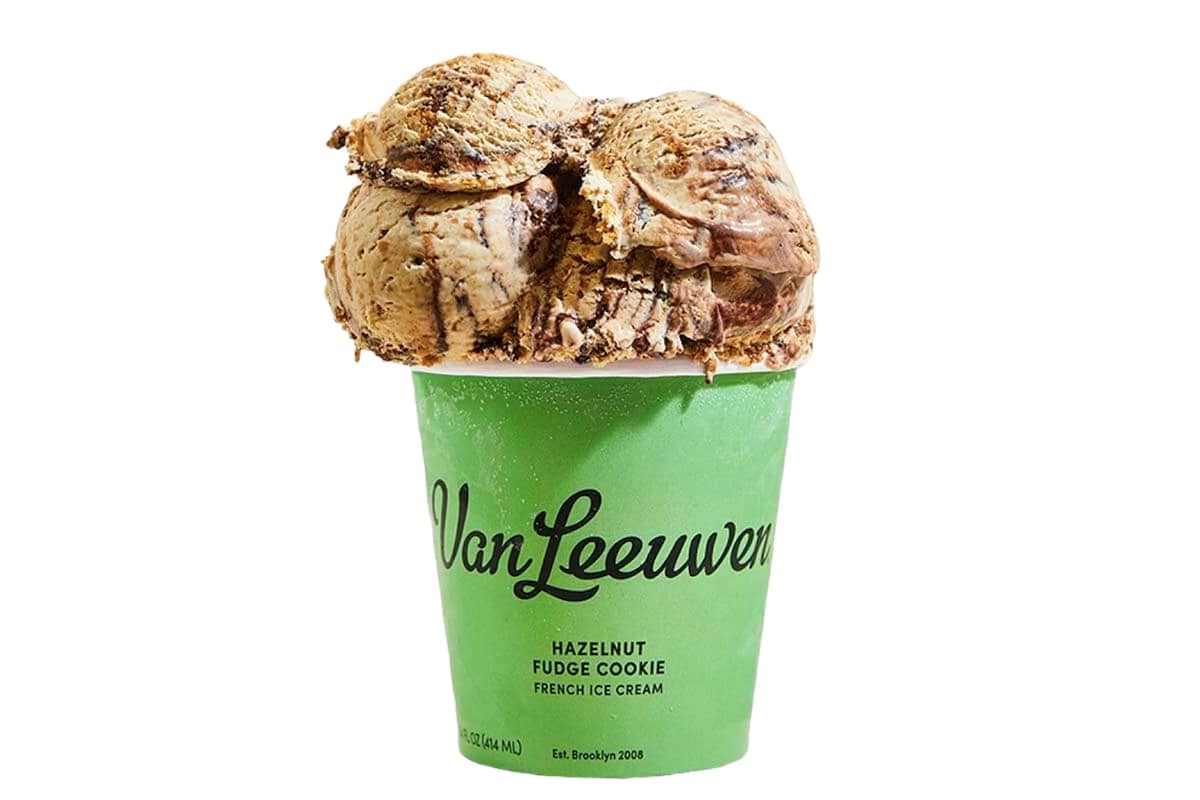 Next up on my list of the best Van Leeuwen ice cream flavors is the sweet, sophisticated Hazelnut Fudge Cookie.
This ice cream is made with crushed Italian hazelnuts, crumbles of spiced speculoos cookies (the stuff used to make cookie butter), and swirls of rich dark chocolate.
There's a lot going on in the flavor department here, which makes it a favorite among Van Leeuwen fans.
The speculoos cookie pieces bring some warm spices (think nutmeg and cinnamon), and the dark chocolate swirls add some bitterness to the equation.
If you like the flavor of Nutella, you'll like this ice cream. It tastes like a more sophisticated version of a Nutella or Ferrero Rocher candy bar.
14. Vanilla Bean
Vanilla is synonymous with being boring, plain, and basic. But Van Leeuwen's tale on the classic flavor is something special.
They use Tahitian vanilla beans, which are a bit more floral and fruity than regular vanilla beans, so there's extra flavor depth in this pint that you won't find in other store-bought vanilla ice creams.
The ingredient list is as simple as it gets: milk, cream, cane sugar, egg yolks, vanilla extract, salt, and vanilla bean.
With no extra chunks or swirls to be seen, you can taste the quality of this ice cream, and the vanilla bean flavor is front and center.
13. Mint Chip
Mint Chip is a divisive flavor. Some find it to be a sweet, refreshing treat, while others compare it to eating toothpaste. I'm in the former camp, so I love Van Leeuwen's take on the flavor.
This ice cream features a sweet base with peppermint extract for a cool, refreshing taste and has dark chocolate chips throughout.
My only complaint (and it's not really a complaint) is that Van Leeuwen doesn't dye their ice cream green for this flavor, but that's because they want to keep things as natural as possible, so I'll let it slide.
This flavor is successful because just the right amount of mint extract is used. It's just as sweet as it is minty. Plus, the crunchy dark chocolate bits add extra depth of flavor and texture to keep things interesting.
12. Earl Grey Tea
Earl Grey tea's main flavor is bergamot, which is a citrus fruit similar to the Meyer lemon. The tea is floral with bright, lemony citrus notes.
This may not sound like an ideal flavor to match with creamy, rich ice cream, but it works surprisingly well. This is one of those Van Leeuwen flavors that I was shocked at how much I actually enjoyed it.
Van Leeuwen uses hand-harvested Rishi Tea leaves from the tea tree forests in the Yunnan province of China, so just like the pistachio flavor I told you about before, this is the real deal.
The tea is steeped in whole milk first before the rest of the ingredients are added. The rest of the ingredients are simple and pure: cream, sugar, egg yolks, and salt.
11. Cookies & Cream
I love cookies and cream ice cream when it's well done. And Van Leeuwen's version? It's very well done.
They go all in and don't skimp with the sandwich cookie chunks. There are giant pieces, tiny crumbles, and medium crumbs throughout, so each bite will be slightly different.
The ice cream base is a creamy vanilla with a thick, dense texture (dense in a good way – not so dense that it's hard to eat).
There are little pieces of cookie cream throughout, too, which adds even more creaminess to the equation.
The combination of chocolate and vanilla simply never gets old, and this is a tried-and-true ice cream flavor in Van Leeuwen's lineup.
10. Malted Cookie Dough Shake
If you're looking for an ice cream flavor with that old-timey feel, the Malted Cookie Dough Shake is it. Malted ice cream contains malted milk powder, which gives ice cream a slightly toasted, earthy flavor.
The base here is malted vanilla, and there are generous chunks of cookie dough and dark chocolate chips scattered throughout.
Texture-wise, there are many chewy, sweet chunks of cookie dough and crunchy bits of chocolate, making each bite interesting and slightly different from the last.
The addition of molasses to the ice cream mixture adds the tiniest bit of gingerbread flavor (in my opinion), which gives the pint a cozy feel.
9. Chocolate Caramel Cheesecake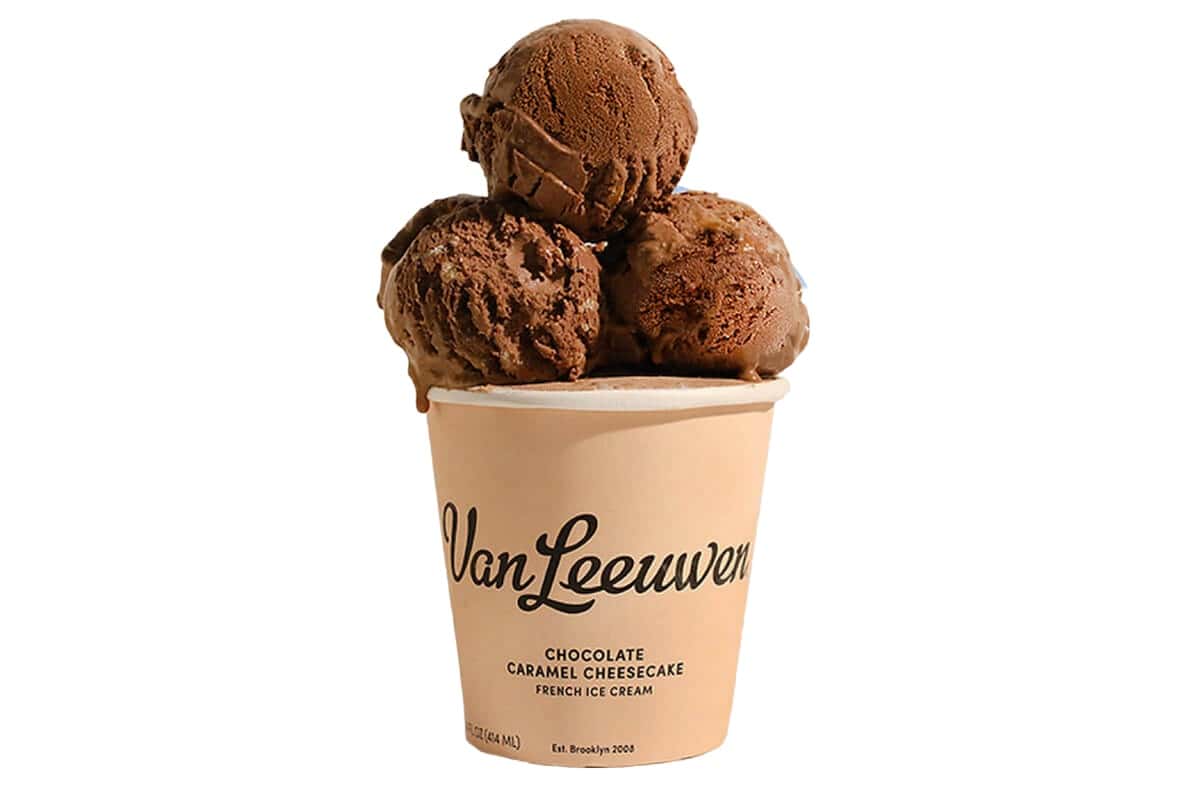 Any dessert with cream cheese in it is already one of my favorites. This Van Leeuwen flavor starts with a chocolate cream cheese ice cream base. It features swirls of gooey caramel and chunks of housemade graham cracker crust.
Thanks to the cream cheese, there's a tiny bit of tang to this ice cream, which plays well with the sweetness from the caramel and bitterness from the chocolate.
This is one of the richer flavors offered by Van Leeuwen. It's so rich, in fact, that you might start to feel sick after a bit. But I promise, it's worth it!
8. Honeycomb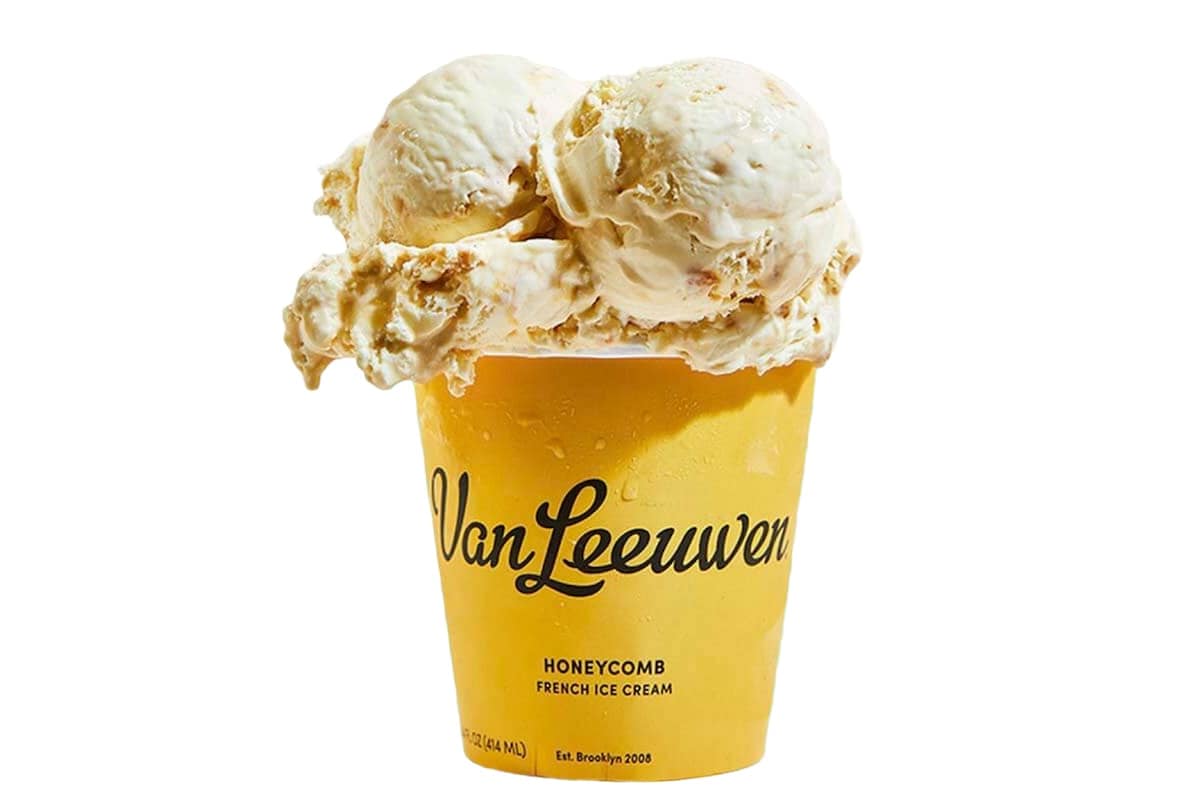 I know a handful of people who consider the Honeycomb Van Leeuwen's best flavor. While I think it's a really good one, I still have a couple that I prefer.
Before we get any further into it, let me clarify that this honeycomb flavor isn't referring to the stuff that comes from bees, but to a caramel candy hailing from Australia, that's called honeycomb.
This honeycomb is a sugary toffee with a light, crunchy, spongy texture.
The ice cream base here tastes like a mix of that classic vanilla flavor I ranked earlier with notes of butterscotchy, toasted toffee.
There are little bits of honeycomb candy inside, which manage to be equally chewy and crunchy at the same time.
7. Coffee Affogato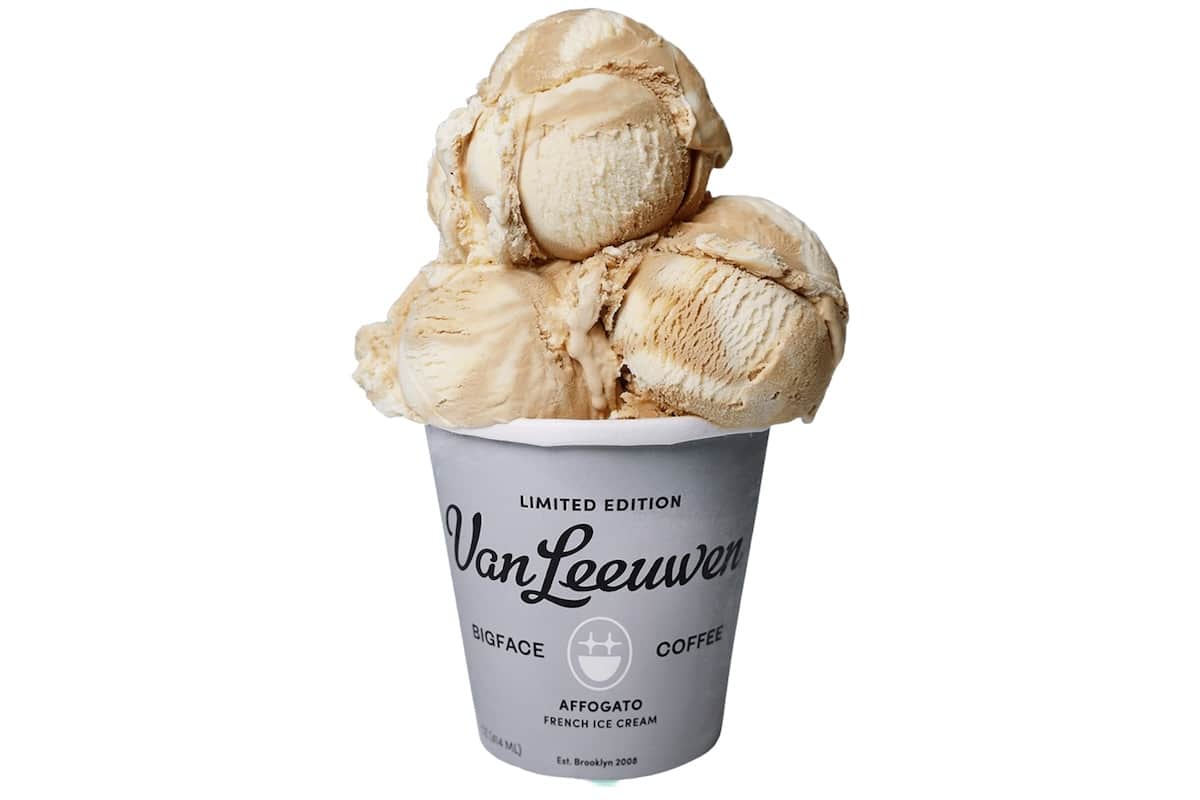 Coffee Affogato is a limited edition flavor from Van Leeuwen, so grab it while you can, folks!
Affogato is an Italian dessert that consists of a scoop of milk or vanilla-flavored gelato with a shot of hot espresso poured on top.
This ice cream is inspired by the Italian dessert, and the brand truly nails that espresso flavor.
The pint is aesthetically pleasing with its light brown and white swirls of flavor, and the espresso has enough bitterness to taste like actual espresso rather than a sugary, overly sweet ice cream flavor.
The swirls here are made with sweet cream and cold brew-flavored ice cream. If you're a fan of coffee ice cream, you need to run out and try this before it's gone!
6. Lemon Poppy Seed Muffin
I'll admit that when I first heard of Van Leeuwen's Lemon Poppy Seed Muffin flavor, I wasn't sure exactly how to feel.
I like a good lemon muffin every once in a while, but I wasn't sure if it would translate into an ice cream flavor. Well, I'm happy to report that it does, and very successfully so.
This ice cream starts with a lemon base and swirls of poppy seeds, lemon curd, and honey cornbread muffin.
I don't know exactly what it is about this flavor, but it just works. The lemon ice cream is fairly sweet and vanilla-forward, so you won't pucker from the citrus here.
The poppy seeds are a little weird to get used to when paired with creamy ice cream, but I've come to enjoy their satisfying little crunch.
5. Brown Sugar Cookie Dough Chunk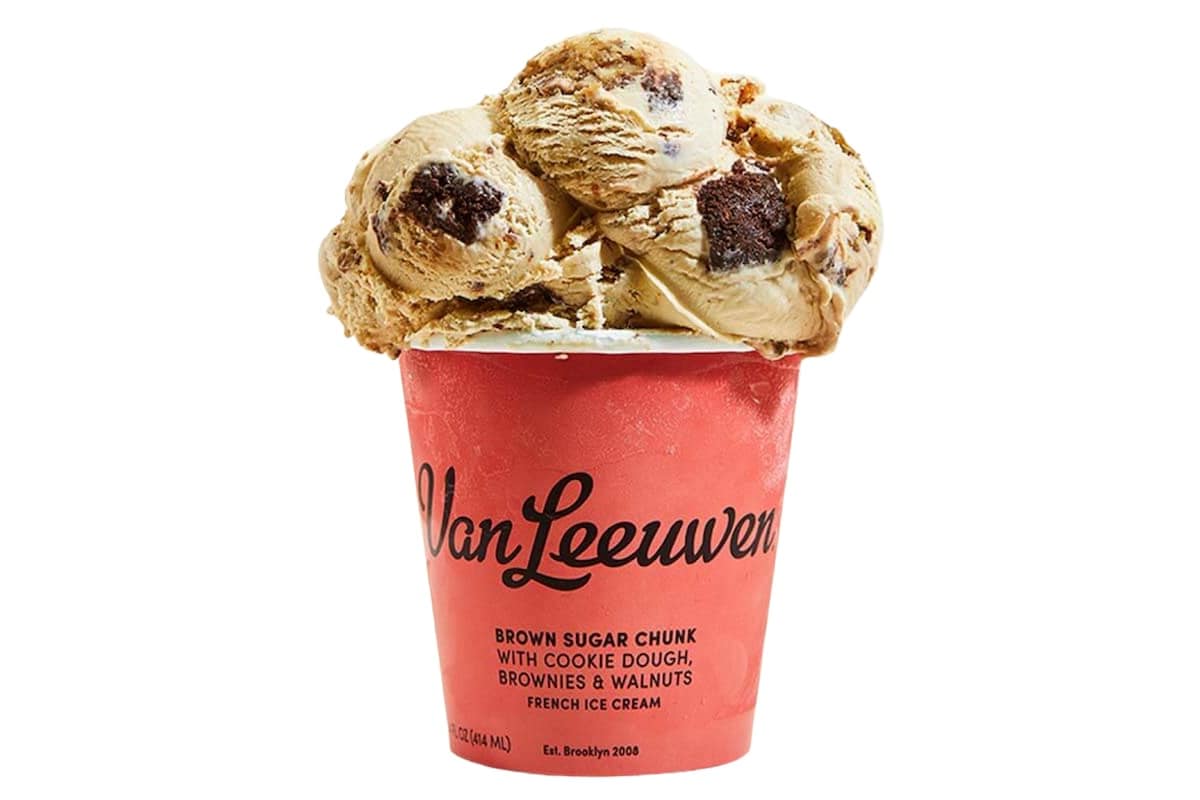 I mentioned earlier that the more chunks and swirls in an ice cream, the better. This flavor bolsters my point.
With chunks of cookie dough, candied walnuts, and brownie dough throughout, the Brown Sugar Cookie Dough Chunk flavor has a lot going on.
The ice cream base here is dark brown sugar, which, despite all the swirls of cookie dough and nuts throughout, remains the star of the pint.
It has a caramelized, molasses-like, sophisticated flavor, which is only bolstered by the addition of mix-ins. The brownie and cookie bits are chewy in the best way possible, while the candied walnuts are snappy, sweet, and crunchy.
This flavor reminds me of a more upscale version of Ben & Jerry's Half Baked. No shade to that flavor because it's one of my favorites, but Van Leeuwen's version just takes everything to the next level.
4. Buttermilk Berry Cornbread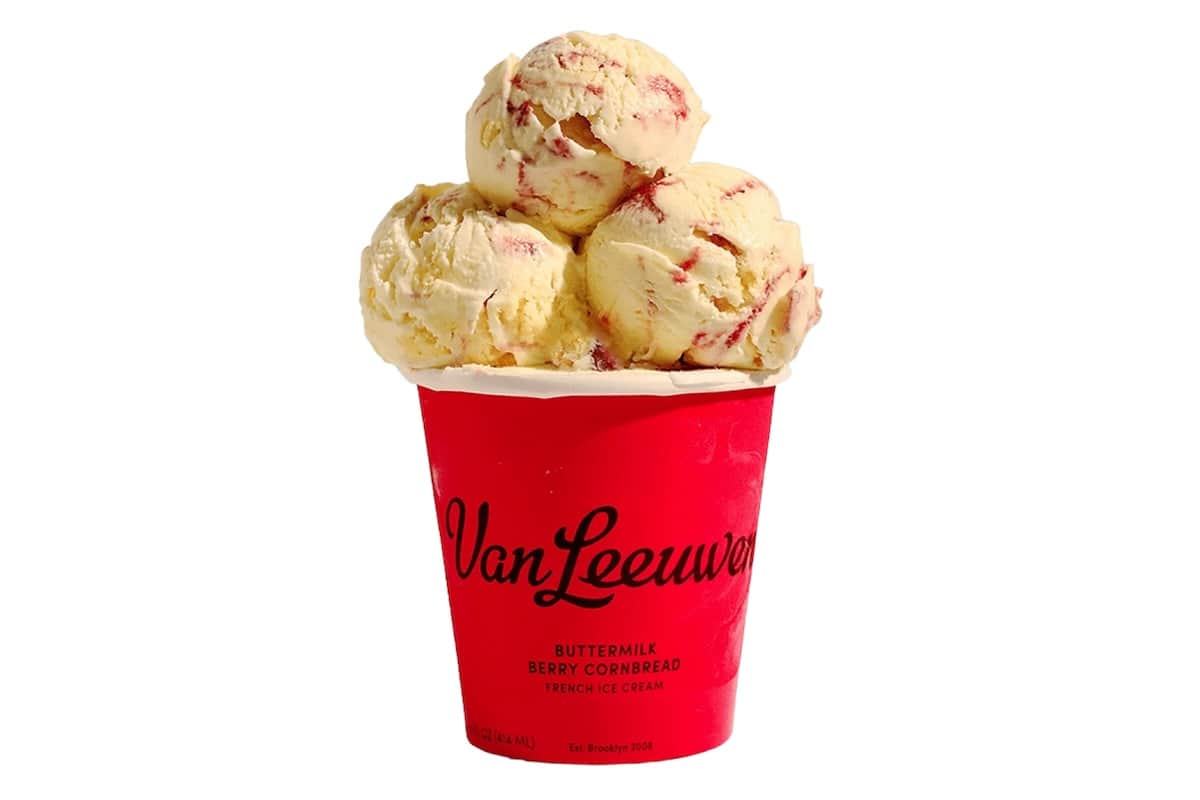 Like the Lemon Poppyseed Muffin flavor I ranked above, I wasn't sure how to feel about this one when I first heard about it, but you can bet I was highly intrigued. When I finally got my hands on it, I was pleasantly surprised once again with what I tasted.
The ice cream base here is buttermilk, which is subtly sweet and super creamy. It includes swirls of raspberry jam and pieces of honey cornbread.
This flavor isn't as sweet as most of my other picks on the list, and that's why I like it so much. It proves that you don't need a dessert to be uber-sweet for it to taste good.
In fact, the less sugar there is, the more other unique flavors can shine, like the tart, tangy raspberry jam, or the slightly savory pieces of cornbread. It's still plenty sweet, though, but the buttermilk base allows all the other flavors to shine through.
3. Praline Butter Cake
We've made it to the top three Van Leeuwen ice cream flavors, and the #3 spot goes to the Praline Butter Cake.
This pint starts with a sweet cream ice cream base, which is then mixed with pieces of praline and brown butter cake.
If you've never had one, pralines are a creamy, fudgy confection usually made with pecans, sugar, and cream. It's an especially popular treat in the southern United States.
The brown butter cake and praline combine for a caramelized, butterscotch-esque flavor boosted by the simple yet rich sweet cream base.
The texture of the praline in this ice cream is something between brittle and dough, so you don't have to worry about cracking a tooth.
This ice cream is full of rich, buttery notes, only bolstered by the butter cake chunks throughout.
2. Marionberry Cheesecake
Remember how I said any dessert made with cream cheese is automatically a good dessert? This is Exhibit B: Van Leeuwen's Marionberry Cheesecake ice cream.
The base here is cheesecake flavored, so it starts off sweet and ends with a tangy finish that's just a tad sour. There's a swirl throughout this pint made with marionberry jam.
If you've never heard of marionberry before, it's a type of blackberry that is sweeter and juicier than its regular counterparts and is only grown in Oregon.
The other mix-in is the graham cracker crust crumble, which has notes of nutmeg, cinnamon, and brown sugar. The crumbles are mostly small, but there are a few good chunks of larger crust throughout.
I think marionberry jam tastes slightly different from a regular blackberry, but that could very well be the placebo effect.
Either way, it's a tangy, fresh element that cuts through the super creamy cheesecake base, and the opposing flavors in this ice cream complement each other flawlessly.
1. Peanut Butter Brownie Honeycomb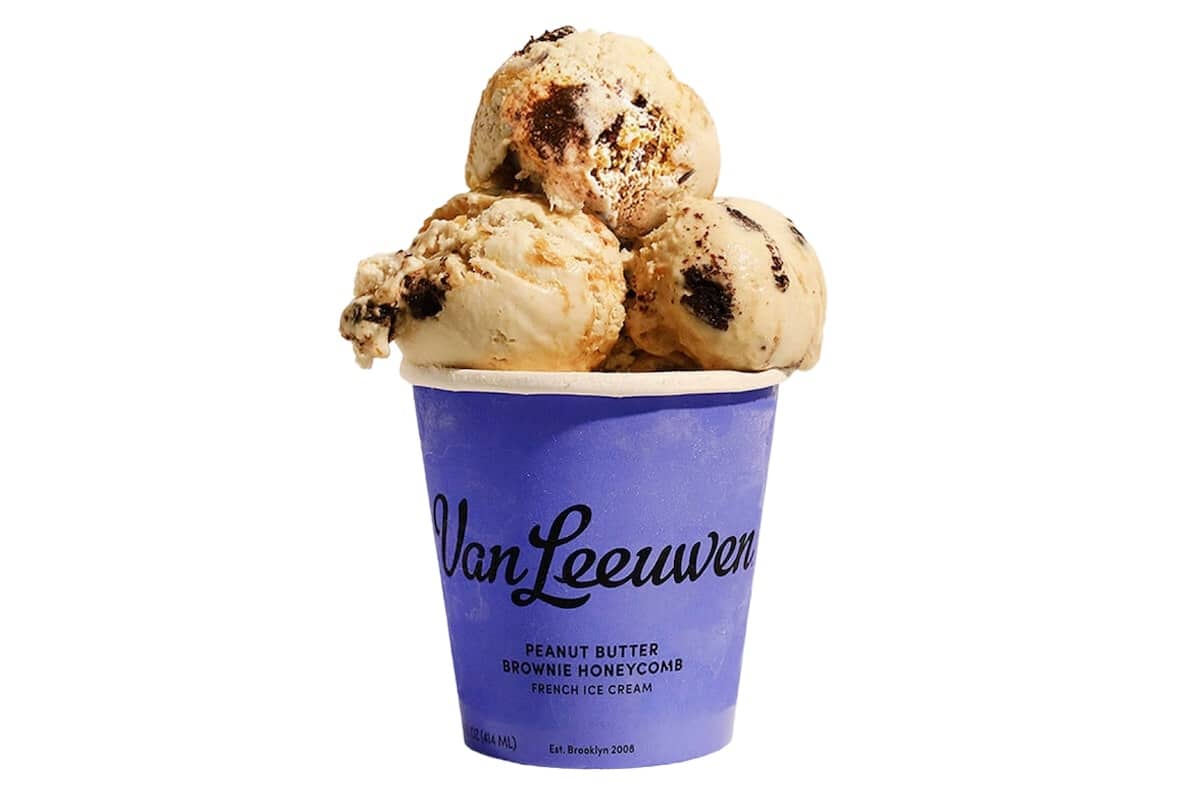 We arrived at my number one pick for the best Van Leeuwen ice cream flavor. After much consideration, I had to go with the Peanut Butter Brownie Honeycomb. I'll tell you why.
For starters, the base is peanut butter, and Van Leeuwen knows how to make peanut butter ice cream. It has just the right amount of salt to taste like actual peanut butter and isn't covered with sugar or vanilla flavoring. It's true, in-your-face peanut butter flavor.
Swirls of creamy peanut butter are also featured in this pint, which is slightly frozen and provides the most satisfying crunch.
There are also chunks of chewy, chocolatey brownie and pieces of gooey honeycomb (again, the Australian toffee candy, not actual honeycomb).
There's something about the mix between peanut butter, chocolate, and toffee that just works.Peanut butter is the main flavor here, but the other two flavors play an important supporting role.
As a person who loves chunky ice cream, I appreciate the three separate mix-ins in this pint, each with a different texture.
Conclusion
If the Van Leeuwen brand has taught me anything, it's that thinking outside the box when it comes to ice cream flavors is pretty much always a good idea.
Their Buttermilk Cornbread and Earl Grey Tea flavors may seem a bit out there, but they've become a cult favorite among ice cream junkies nationwide and for good reason.
If you're just getting started with the brand, I recommend trying the Marionberry Cheesecake or Peanut Butter Brownie Honeycomb flavors.
For those feeling extra brave, wait until their next wacky collaboration to pick up a pint. I'm crossing my fingers for a Cool Ranch flavor in the future. What, just me?