What Is the Best Klondike Bar Flavor?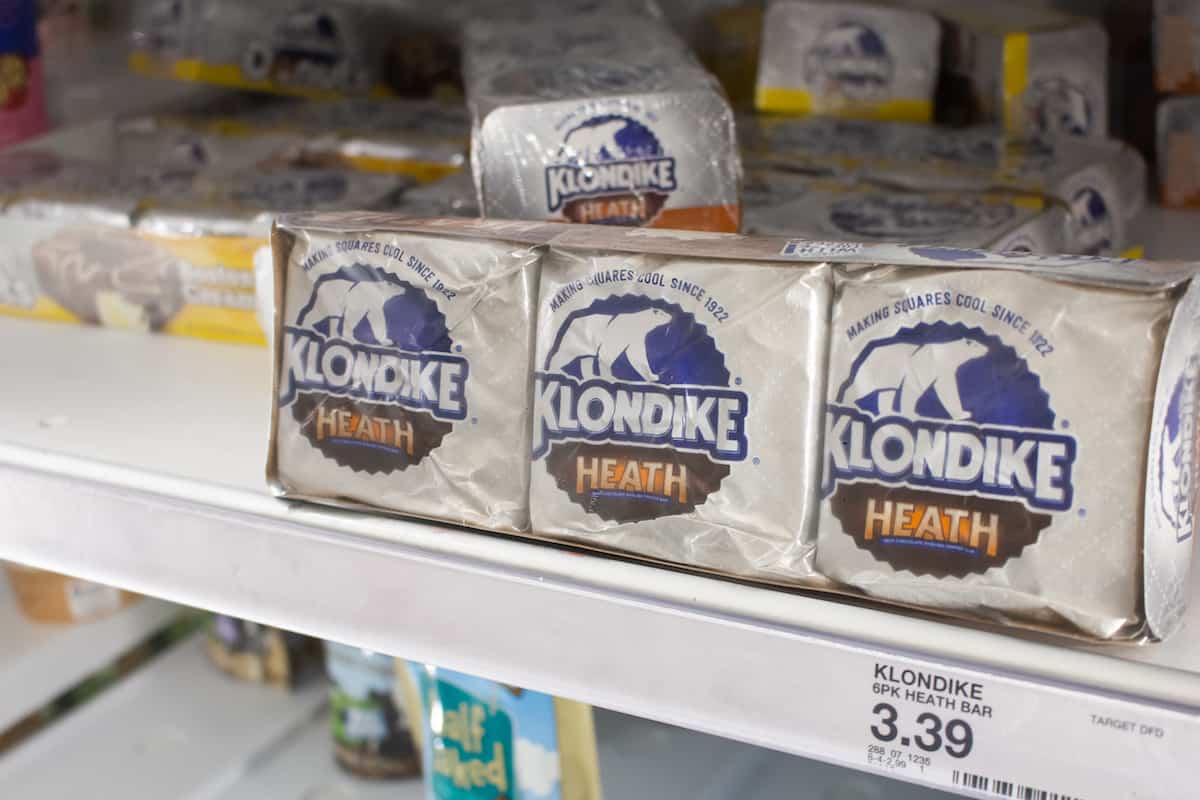 Klondike bars have been around for over a century now, with a variety of flavors added over the past few decades.
What started as handmade squares of vanilla ice cream, individually dipped in pans of Swiss milk chocolate, have become a worldwide phenomenon and one of the best ice cream brands on the market.
Some Klondike bar flavors come and go depending on how well they're received, but others have stood the test of time and are part of their permanent lineup.
Today, I'll go over ten popular Klondike bar flavors and rank them from worst to best. It wasn't an easy task because most Klondike bars are actually pretty solid.
Now, let's get to exploring these tasty little squares, shall we?
10. No Sugar Added Krunch Bar
Klondike's description of their No Sugar Added Krunch Bar states, "There's no need to compromise on your favorite flavors when searching for a frozen dessert treat with less sugar."
While I appreciate the positivity, I have to admit that I don't fully agree with them here.
I'm not saying it's the worst thing I've ever tasted, but the No Sugar Added Krunch Bar is far from the best Klondike bar flavor.
This bar is made with no-sugar-added vanilla ice cream and is covered in a chocolatey coating with bits of crunchy puffed rice.
The problem for me isn't the chocolate or the puffed rice – both elements actually add a nice crunch to the bar.
The issue is with the no-sugar-added vanilla ice cream, which contains sucralose.
If you dislike the taste of artificial sweeteners, you'll probably agree that most things labeled as "sugar-free" have a weird aftertaste, and unfortunately, this bar is not an exception.
But don't throw it out just yet. To be fair, there are plenty of rave reviews for this bar on the internet.
Some people even swear it's better than the OG bar. So, to each their own, right?
Nutrition Info:
Serving Size: 1 bar
Servings per container: 6
Calories: 190
9. No Sugar Added Vanilla Bar
The No Sugar Added Vanilla Bar falls into the same traps as the Krunch bar we just discussed.
The milk chocolate coating is thick and delicious.
But the ice cream itself is made with sucralose, aspartame, and maltitol – all sugar substitutes that can have a not-so-pleasant aftertaste.
Though I'm not a huge fan of said aftertaste, I will admit that the texture of the ice cream is pretty good.
Honestly, it's really close to being a good bar, and if you don't mind the taste of sugar-free sweeteners, you'll enjoy this bar.
I'd take any of the full-sugar Klondike bars over this one, but it's not bad for what it is.
Nutrition Info:
Serving Size: 1 bar
Servings per container: 6
Calories: 180
8. Krunch Bar
If you've ever had a Crunch bar, you'll know the combination of puffed rice and rich milk chocolate is shockingly good.
Add some vanilla ice cream in the middle, and you've got Klondike's Krunch Bar.
This bar is essentially a classic Klondike bar, but with rice crispies added.
They don't add much flavor but definitely add a nice crunch (or, should I say, krunch) to each bite.
This Klondike bar flavor isn't anything to write home about, but it's perfect if you're looking for a mostly classic flavor but also has something different going on.
Nutrition Info:
Serving Size: 1 bar
Servings per container: 6
Calories: 250
7. Double Chocolate Bar
Klondike made the Double Chocolate Bar for all the true chocolate lovers out there.
When that chocolatey coating on the outside just isn't enough, reach for this bar.
It's made with a creamy, rich chocolate ice cream on the inside and that same iconic chocolate coating found on all Klondike bars.
The Double Chocolate Bar keeps things simple, knows what you're here for, and delivers on that.
Klondike makes a really good chocolate ice cream – it's velvety, smooth, and has just the right balance between sweet and bitter cocoa flavor.
Nutrition Info:
Serving Size: 1 bar
Servings per container: 6
Calories: 240
6. Mint Chocolate Chip Bar
Mint desserts can be a bit divisive, but I enjoy a nice mint chocolate chip treat now and then.
Klondike's take on the flavor is classic and non-offensive, even for those who may not be huge mint fans.
This Klondike bar starts with a mint-flavored ice cream that has a nice balance between sweet vanilla and cool, refreshing peppermint.
It's just enough mint to feel that fresh kick when you take a bite, but you'll not feel like you're eating frozen toothpaste.
The ice cream itself is dotted with mini chocolate chips, and each square of ice cream is enrobed in a dark chocolate coating.
The dark chocolate coating is very similar in texture to Klondike's regular milk chocolate shell, but it's a bit less sweet and has more flavor depth, which pairs perfectly with the fresh taste of the mint ice cream in this bar.
Nutrition Info:
Serving Size: 1 bar
Servings per container: 6
Calories: 230
5. HEATH Bar
We're officially in the top 5, so we're getting down to the very best of the Klondike bar flavors now!
Taking spot number 5 is the HEATH Bar.
For those who have never had a HEATH candy bar, it's made of toffee with bits of almonds inside, all covered in a layer of milk chocolate.
HEATH bars were never my first (or second or third) choice for candy bars growing up.
They were probably one of the first candies I traded on Halloween (I had to get the most Reese's cups humanely possible, okay?!).
But now that I've grown up and like to think my tastes have matured, I've come to realize HEATH bars are actually one of the best candies out there.
Mix that with chocolate and ice cream, and you have an absurdly delicious dessert.
The ice cream here is HEATH-flavored, so it has a buttery, creamy toffee taste.
The outside of the bar is a milk chocolate shell with tiny bits of HEATH candy bar crunchies.
Toffee is an undeniably sweet ingredient, so this is probably the sweetest Klondike bar on our list.
But if you're okay with a little extra sugar, this flavor is going to be a hit!
Nutrition Info:
Serving Size: 1 bar
Servings per container: 6
Calories: 230
4. Original Vanilla Bar
These last four bars were extremely hard to rank.
It almost felt sinful not to give the Original Vanilla Bar the first or second spot on my list of the best Klondike bar flavors.
After all, there is quite literally nothing wrong with this bar.
From inside to outside, every element of this bar is technically perfect.
For me, it came down to which bar was the most fun to eat, so I had to put vanilla in #4.
Enough exposition, though. Let me give you the scoop on the OG Klondike bar.
If you've never had one, it starts with a simple vanilla ice cream square that tastes like real vanilla bean. The ice cream is smooth and super creamy.
The ice cream is covered in that milk chocolate shell I keep talking about.
The combination is timeless – sweet vanilla, slightly less sweet chocolate, smooth ice cream, and crunchy shell.
There's absolutely nothing not to love here!
Nutrition Info:
Serving Size: 1 bar
Servings per container: 6
Calories: 250
3. Dark Chocolate Bar
Beating out the original by just a hair is the Dark Chocolate Bar.
It's exactly like the original but with a dark chocolate shell instead of milk chocolate. Otherwise, these bars are identical.
Klondike's dark chocolate shell beats the milk chocolate shell because it brings out even more authentic vanilla flavor from the ice cream and keeps things balanced in the sugar department.
The ever-so-slight bitterness in the dark chocolate shell amplifies the creamy vanilla ice cream inside and makes this Klondike bar taste more sophisticated.
Nutrition Info:
Serving Size: 1 bar
Servings per container: 6
Calories: 240
2. Reese's Bar
Reese's is the second-best Klondike bar flavor, without a question.
If you've ever had a frozen Reese's cup or any flavor of peanut butter ice cream, then you've experienced the joy of cold peanut butter.
I always felt like the colder peanut butter gets, the creamier and more delicious it becomes.
Making a Reese's Klondike Bar was one of the greatest inventions of the 21st century.
It just makes so much sense – rich, salty, and smooth peanut butter ice cream wrapped in a thick chocolate shell.
It's the next best thing to biting into a giant frozen peanut butter cup. Actually, it may be even better because of the ice cream factor!
Nutrition Info:
Serving Size: 1 bar
Servings per container: 6
Calories: 250
1. Cookies & Creme Bar
I didn't want to have to give the title of the best Klondike bar flavor to Cookies & Creme – it's too predictable, right?
Everyone loves cookies and cream flavor. But I had to listen to my heart and tell people the truth.
No matter how predictable it might be, this is truly the best Klondike bar out there. It just can't be topped!
Here's why – the ice cream base is a sweet, creamy vanilla flavor stuffed with dark chocolate cookie pieces.
The chocolate covering the ice cream is milk chocolate, but it also has bits of dark chocolate cookie inside, so rest assured you'll get some solid crunch with every bite of this bad boy.
Not only is the texture of this bar the most interesting of all Klondike bars on our list, but the flavor is also pretty versatile.
Sure, it's just a mix of vanilla and chocolate, but there are two types of chocolate happening here – the dark chocolate cookies and the milk chocolate shell.
Both of these flavors, mixed with the classic vanilla base, make for a decadent treat that's perfectly sweet, crunchy, and satisfying.
Nutrition Info:
Serving Size: 1 bar
Servings per container: 6
Calories: 240
Conclusion
There are many Klondike bar flavors, but all of them are made with the same two basic elements – ice cream and a chocolate coating.
If you've never had one before, I recommend starting with the Original Vanilla Bar, quickly followed by the Cookies and Creme Bar.
Even Klondike's no-sugar-added bars, which I was a bit harsh on, have plenty of ride-or-die fans out there.
So, suffice to say; there's a Klondike bar flavor for every person and a person for every flavor.
But the question remains: What would you do for a Klondike bar?