20 Jeni's Ice Cream Flavors Worth Trying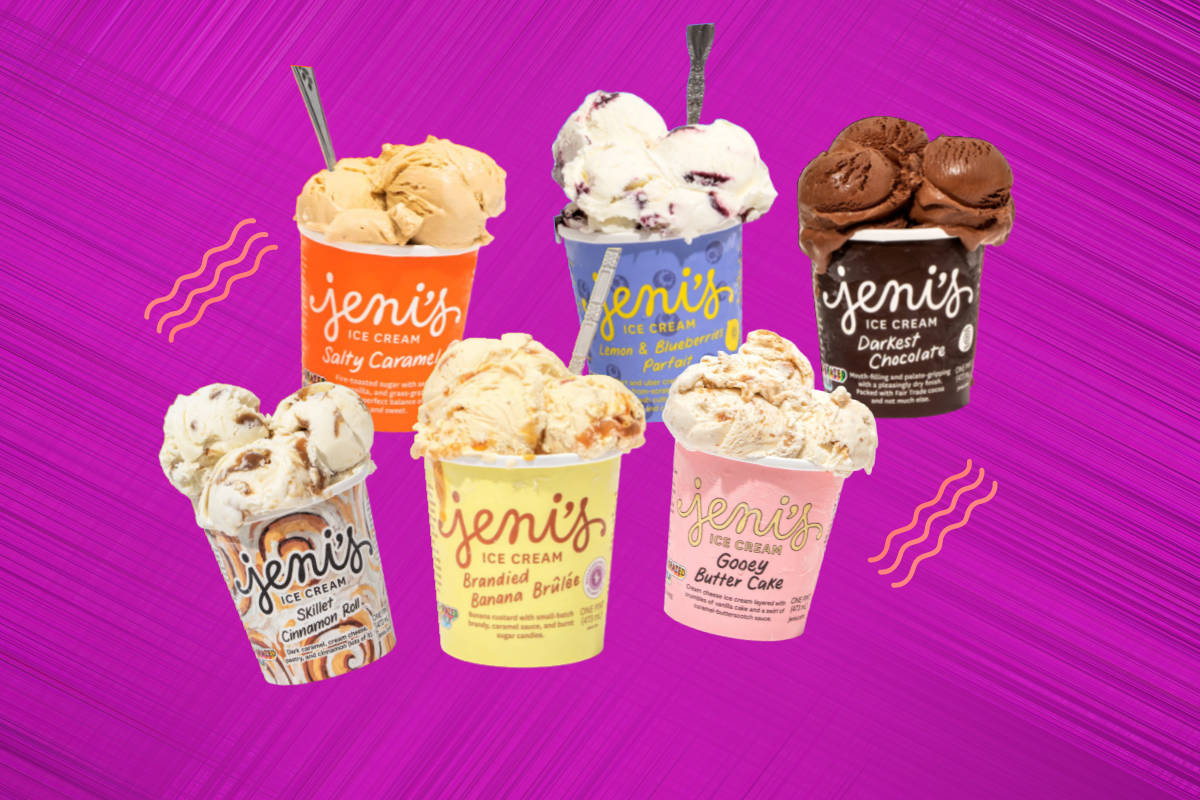 Pretty much all types of ice cream are delicious, but some brands churn out more delicious flavors than others, and this fact brings us to today's topic: Jeni's Splendid Ice Creams.
The founder of Jeni's, Jeni Britton, has been making delectable and creative ice cream for over twenty years. What started as a small scoop shop in Ohio is now one of the best ice cream brands that can be found in most grocery stores nationwide.
Jeni's is my favorite ice cream brand of all time, so it wasn't easy to narrow down this list. But after plenty of taste testing and soul searching, I've decided I'm up for the challenge. So, I'll take you on a tour of what I consider to be the 20 best ice cream flavors from Jeni's.
20. Everything Bagel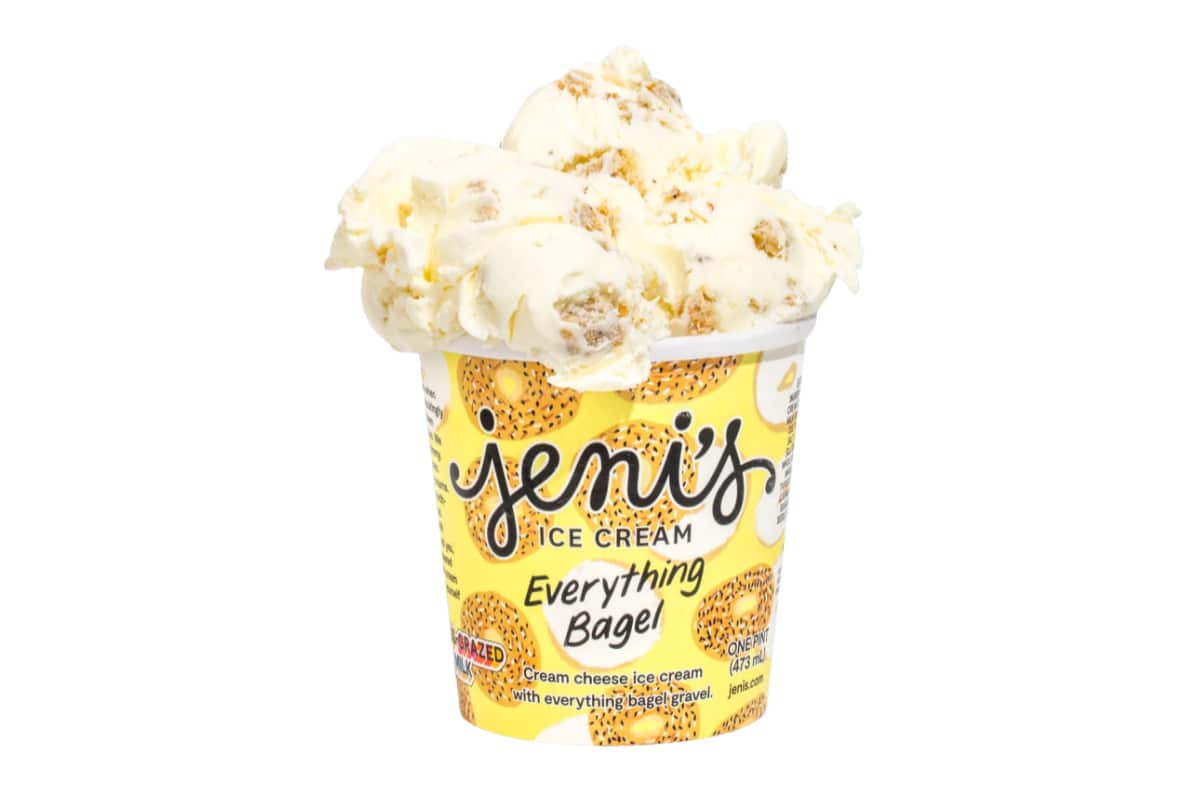 As weird as it may sound, many people love this inventive ice cream flavor. It has a subtly sweet cream cheese ice cream base with a mix-in of buttery streusel that features sesame seeds, poppy seeds, dried onion, and dried garlic.
The mildly tangy and sweet ice cream base allows the natural sweetness of onion and garlic to shine through. It has a bold twist on the salty-sweet flavor combination we all know and love.
My only gripe with this Jeni's flavor is that it's usually sold out, and when it's available, it's only on the shelves for a limited time.
19. Savannah Buttermint
Interestingly, the founder of Jeni's Ice Cream doesn't actually like mint ice cream, so the Savannah Buttermint flavor was born out of her desire to create one she could enjoy.
This flavor is inspired by the buttery, sweet, and slightly minty candies they sometimes give out at restaurants.
The base of the ice cream has a nice peppermint flavor, but even more so, a pronounced buttery note. There are flecks of white chocolate throughout, amping up the creamy feel that melts in your mouth, just like the after-dinner mints.
18. Lemon Bar
As you'll find out on this list, Jeni's offers plenty of dairy-free ice creams. One of the brand's best options is the Lemon Bar, which is made with a coconut cream base. Inside is a bright, punchy lemon curd and buttery, soft shortbread crumbles.
Despite the coconut cream base, this ice cream has a distinctly tart, lemony flavor, so don't fret if you're not a huge fan of coconut. The rich, buttery shortbread contrasts super nicely with the bright lemon flavor.
17. Texas Sheet Cake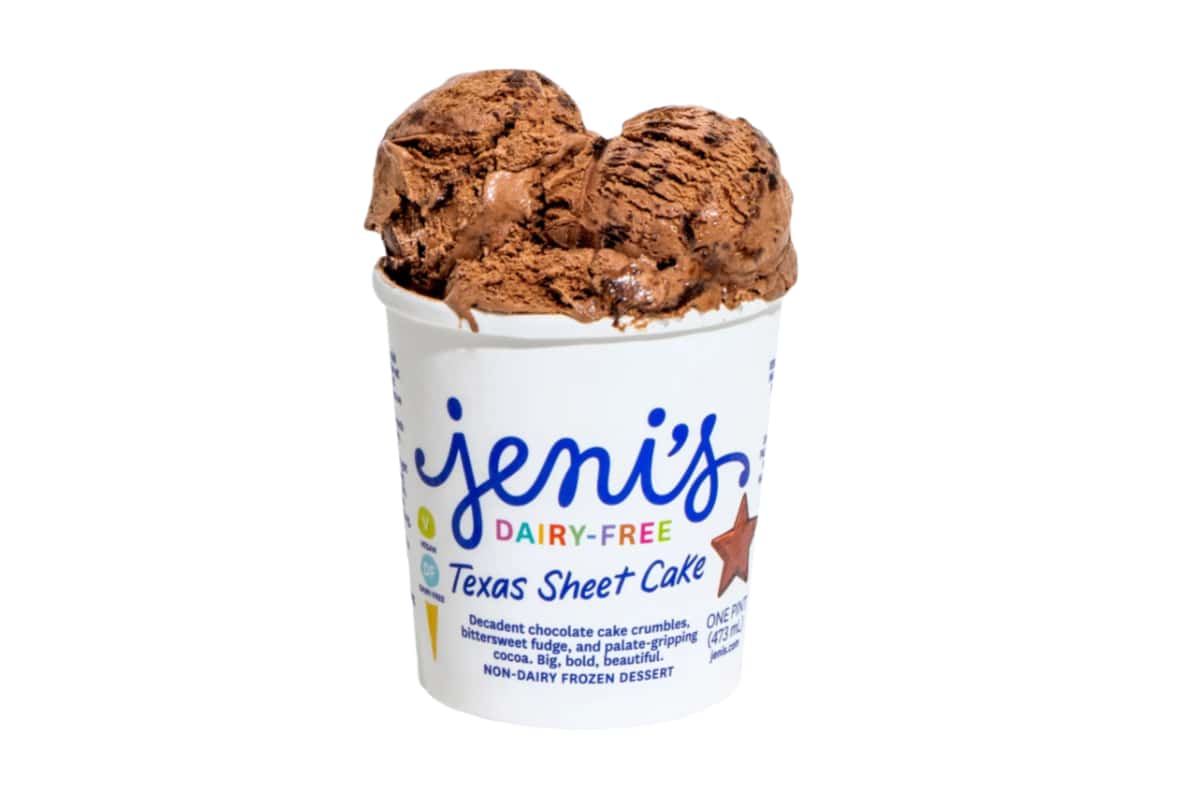 Texas Sheet Cake is a thin chocolate cake baked in a sheet pan and topped with chocolate icing. Jeni's take on the classic midwestern dessert is dairy-free, but you can never tell from the taste alone.
This is the ultimate rich and intensely chocolatey pint. It has three forms of chocolate inside: a Fair Trade cocoa base, crumbled chocolate cake pieces, and bittersweet chocolate fudge swirls.
The chocolate flavor is in-your-face but not super sweet. If you love dark or semisweet chocolate rather than sweet milk chocolate, this is the perfect ice cream for you.
16. Blackout Chocolate Cake
I think of the Blackout Chocolate Cake as the dairy-full version of Texas Sheet Cake. The biggest difference, besides the dairy, is the addition of a fourth chocolate element.
Chocolate ice cream, chocolate cake crumbles, bittersweet fudge, and that fourth element, which is semisweet chocolate chips.
Again, just like the Texas Sheet Cake, this ice cream flavor isn't super sweet, instead focusing on the dark, rich flavor that naturally comes with chocolate.
The bitter, fudgy chunks throughout bring in many fun textures, and all the different chocolates come in varying levels of sweetness and bitterness, making for a slightly different flavor with each bite.
15. Lemon & Blueberries Parfait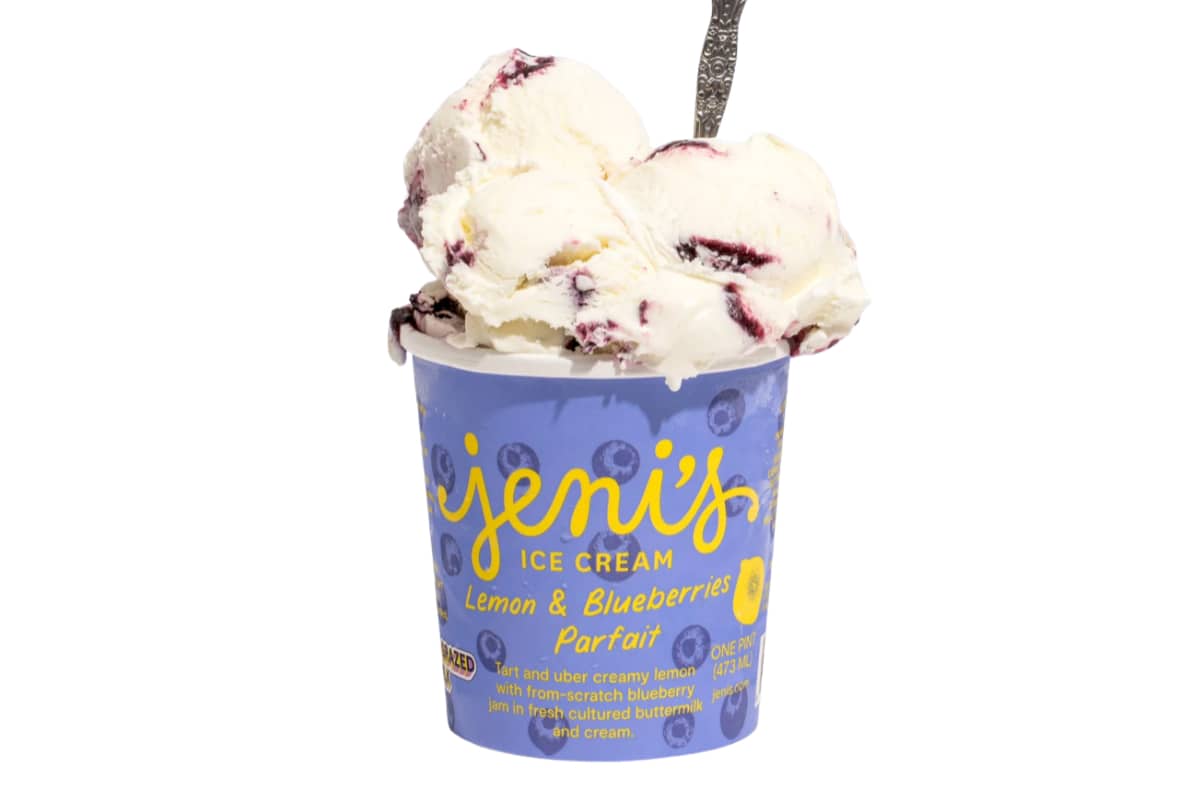 Jeni's Lemon & Blueberries Parfait has a frozen yogurt base with a chewy, rich texture and a tart flavor. The yogurt is lemon-flavored, which is super tart without being overly sour.
The flavor swirled throughout is a blueberry jam that's sweet and fruity, which contrasts nicely with the not-as-sweet base.
This is a surprisingly fresh and light pint, and just like the two chocolate flavors we discussed above, it has just a bit of sweetness to it, but you'll mostly get that bright, zesty lemon.
14. Powdered Jelly Donut
The Powdered Jelly Donut flavor has a vanilla nutmeg custard base. It's essentially a vanilla base with some slightly nutty, woody notes. This really tastes like a frozen version of the custard you find in stuffed donuts.
Then, there's the brown sugar-nutmeg donut crumble that adds some slightly chewy, soft pieces to the mix. There's also a raspberry jam swirl that tastes just as sweet and bright as the jelly inside a donut.
13. Salted Peanut Butter With Chocolate Flecks
Inspired by Buckeye candies, which are balls of peanut butter covered in chocolate, this Jeni's ice cream flavor nails both the salty-to-sweet and the peanut butter-to-chocolate ratios.
The peanut butter ice cream used here is something to behold. It has a true peanut flavor that I haven't found in other peanut butter ice creams. It's saltier than your typical ice cream, which only amplifies that chocolate and peanut flavor even more.
There are also flecks of chocolate throughout in varying sizes, which provide a satisfying crunch and bring in rich Belgian chocolate flavor.
12. Sweet Cream Biscuits & Peach Jam
As you may have noticed by now, Jeni's truly shines when it comes to making a sweet ice cream that includes some savory elements. Case in point: the Sweet Cream Biscuits & Peach Jam flavor.
The base of this perfectly sweet ice cream is made with fresh buttermilk, which adds a unique, slightly tangy taste to the pint.
Then, there's a generous helping of fresh peach jam throughout the ice cream. The bits of sweet cream biscuits bring some crumbly texture and a flavor reminiscent of pie crust.
These slightly salty biscuit bits, mixed with the tangy buttermilk ice cream and fresh, fruity peach jam, make for one of the most unique, interesting bites of ice cream out there.
11. Banana Cream Pudding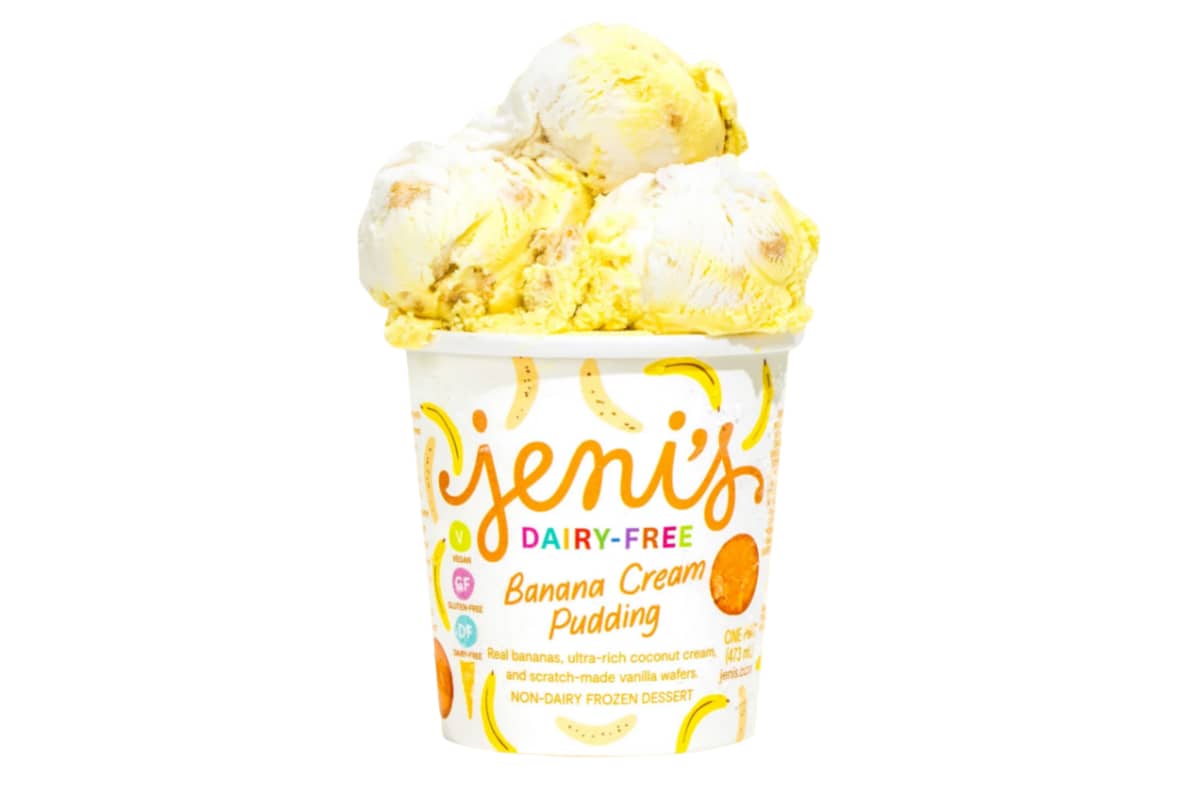 Is it possible for a dairy-free ice cream to be creamier than a dairy-based ice cream? It sounds counterintuitive, but Jeni's Banana Cream Pudding flavor will have you asking the same question.
This dairy-free ice cream has a banana pudding flavor, so despite being made with coconut cream, you just taste vanilla and banana. It also features scratch-made vanilla wafers that taste fresh and have a simple, authentic vanilla flavor.
I love real banana pudding, and I think Jeni's nailed the light, airy, yet rich mouthfeel of the dessert with their ice cream. The recipe uses real bananas, too, so there's no fake fruity flavor here.
10. Pineapple Upside Down Cake
I'm of the strong (and somewhat controversial) belief that cherries don't belong anywhere in or around ice cream 99% of the time. But this Jeni's ice cream flavor is an exception to that rule.
The Pineapple Upside Down Cake is made with a pineapple buttermilk cream base that's tart, fruity, and incredibly lush. There are chunks of golden cake throughout, which have a spongy texture and that classic yellow cake flavor.
There are two sauces going on in this pint. The first is a dark, complex caramel sauce (my personal favorite), and the other is a bright, tart Michigan red cherry sauce.
The red cherry sauce ties all the flavors together in a neat little bow and has that tart cherry flavor without tasting medicinal.
9. Brambleberry Crisp
Jeni's website puts it best when it comes to this flavor: "Brambleberry Crisp is like a slice of fresh berry pie mixed with a scoop of vanilla ice cream in every bite."
The base is a simple, sweet vanilla ice cream made with Madagascan vanilla. The star here is the jam made with blackberries and blackcurrants swirled throughout the vanilla base.
It has a sweet-tart flavor that truly tastes like it's freshly homemade. What puts this flavor over the top, though, is the brown sugar oat streusel.
This crumble has just a hint of cinnamon and a nice crunch, completing that whole fresh berry pie trifecta I mentioned earlier.
8. Brown Butter Almond Brittle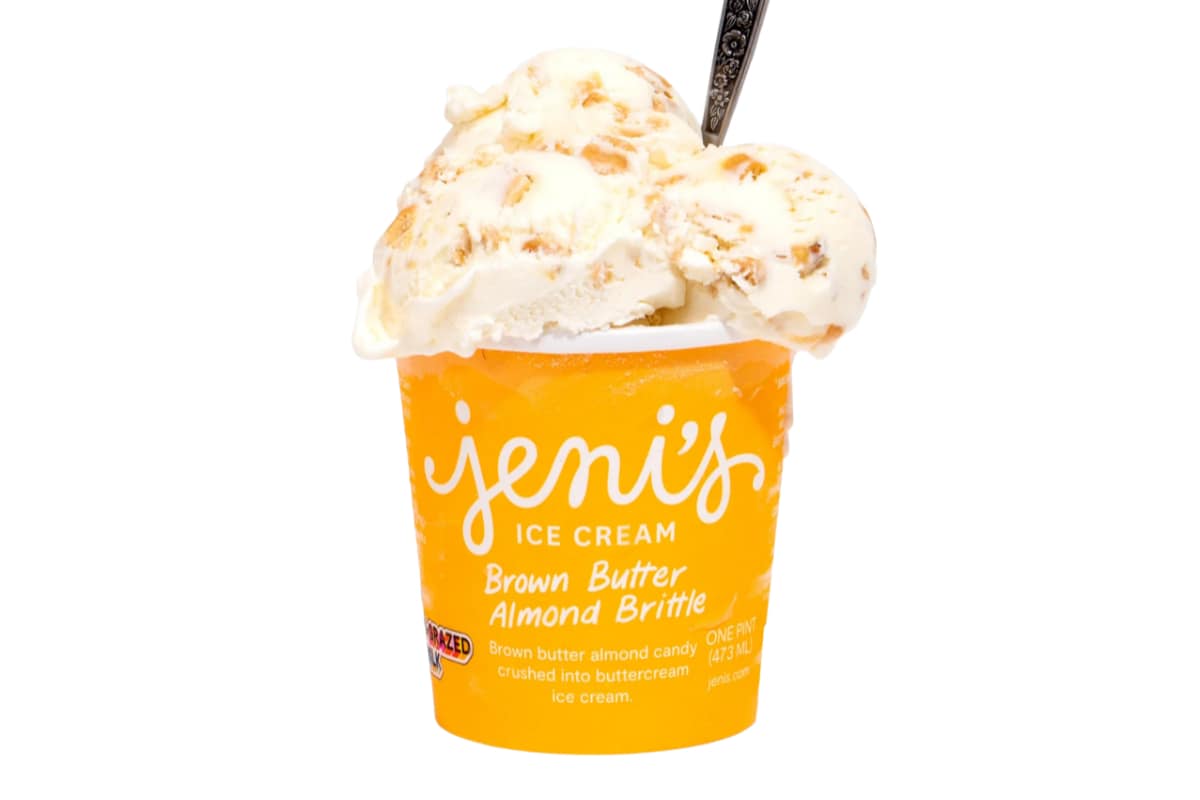 The Brown Butter Almond Brittle is an ice cream flavor inspired by a Scandinavian dessert called "krokan." This is a toffee-esque candy made with butter, almonds, and caramelized sugar.
The ice cream base here is a rich, smooth buttercream flavor with chunks of buttery, sweet almond brittle. The brittle is incredibly crispy and crunchy, making this one of the most satisfying Jeni's flavors to eat.
The buttercream ice cream, in contrast, is incredibly smooth and velvety. This pint strikes a delightful balance between sweet, salty, and buttery.
7. Darkest Chocolate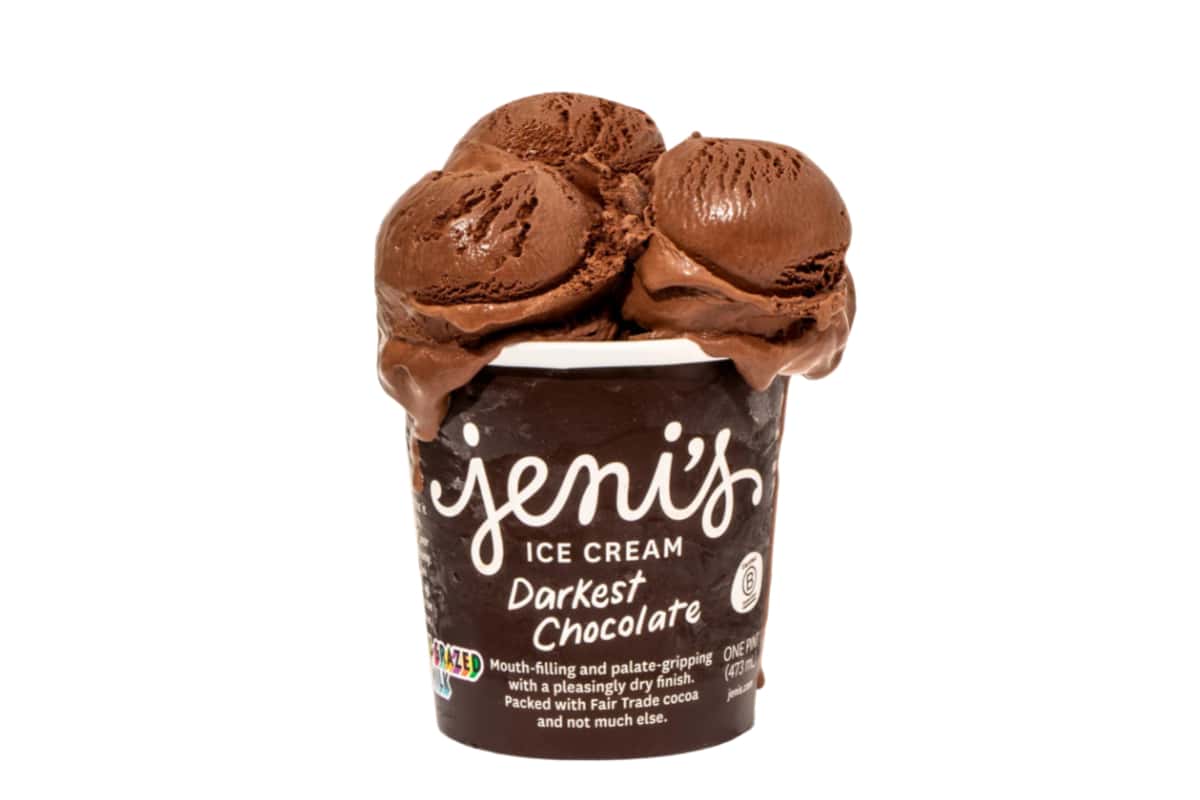 Most chocolate ice creams are milk chocolate flavored and super sweet. I'm not complaining because I love sweet chocolate ice cream. But Jeni's Darkest Chocolate flavor is not that. It's a bitter, semisweet, complex take on chocolate ice cream.
There's so much chocolate packed into this ice cream. In fact, Jeni's claims that it's made with the most chocolate possible that would still allow them to legally call the mixture ice cream.
So, yeah, once you try it, no regular chocolate ice cream will taste the same. The texture is incredibly rich and dense. Overall, the Darkest Chocolate flavor is one of the best chocolate ice creams I've tried.
6. High Five Candy Bar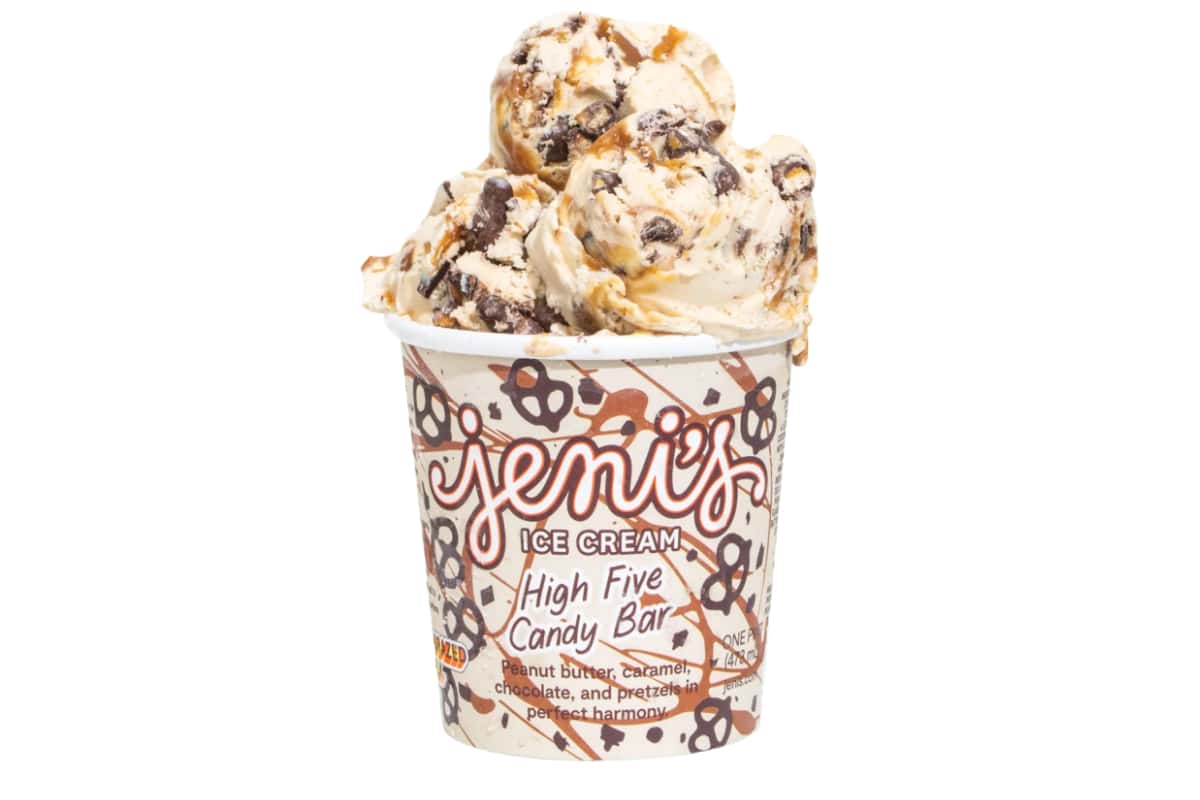 The High Five Candy Bar ice cream features the four ingredients that make up a perfect candy bar: peanut butter, caramel, chocolate, and pretzels.
This flavor has a peanut butter ice cream base, which is infused with honey, bringing in some sweet nougaty notes and amping up the candy bar vibes even more.
To me, there's nothing better than a super chunky ice cream, and each bite of this ice cream will give you at least two delicious chunks.
My favorite is the chocolate-covered pretzels, which are super crispy with just enough salt. The gooey caramel swirl adds more sweetness and buttery goodness to the mix.
5. Brandied Banana Brulée
Jeni's describes their Brandied Banana Brulée flavor as a "cross between Bananas Foster and crème brulée ", and I can confirm this is spot-on.
This flavor has a banana custard base made with real bananas for that true fruity flavor. It's super rich and creamy, thanks to the addition of egg yolks to the recipe.
There are also tiny pieces of torched sugar candies throughout the ice cream, reminiscent of a cracked creme brulée top. Each tiny piece adds some crunch and caramelized sweetness.
The finishing touch is a splash of apple brandy, which brings a true air of sophistication to this pint. It brings in a fresh, fruity flavor that brightens up the entire pint and highlights the caramel and banana notes all the more. 
4. Cream Puff
The base of this super sweet, rich Jeni's ice cream flavor is vanilla custard. There's a sprinkle of sea salt inside as well to bring out that intense vanilla cream flavor and Bavarian-style cream vibes into the mix.
There are also flakes of soft pastry scattered throughout the pint, giving it that fluffy texture you get from a cream puff.
My favorite part of the Cream Puff flavor has always been the cream, and it makes me feel like I'm eating a pint of Bavarian cream. It's rich and dense yet fluffy and light at the same time.
I'm not sure how Jeni's manages to do that, but it's a mix of flavors and textures that I keep coming back for. My only gripe with this flavor is that it's tricky to find, so be sure to stock up when you come across it.
3. Salty Caramel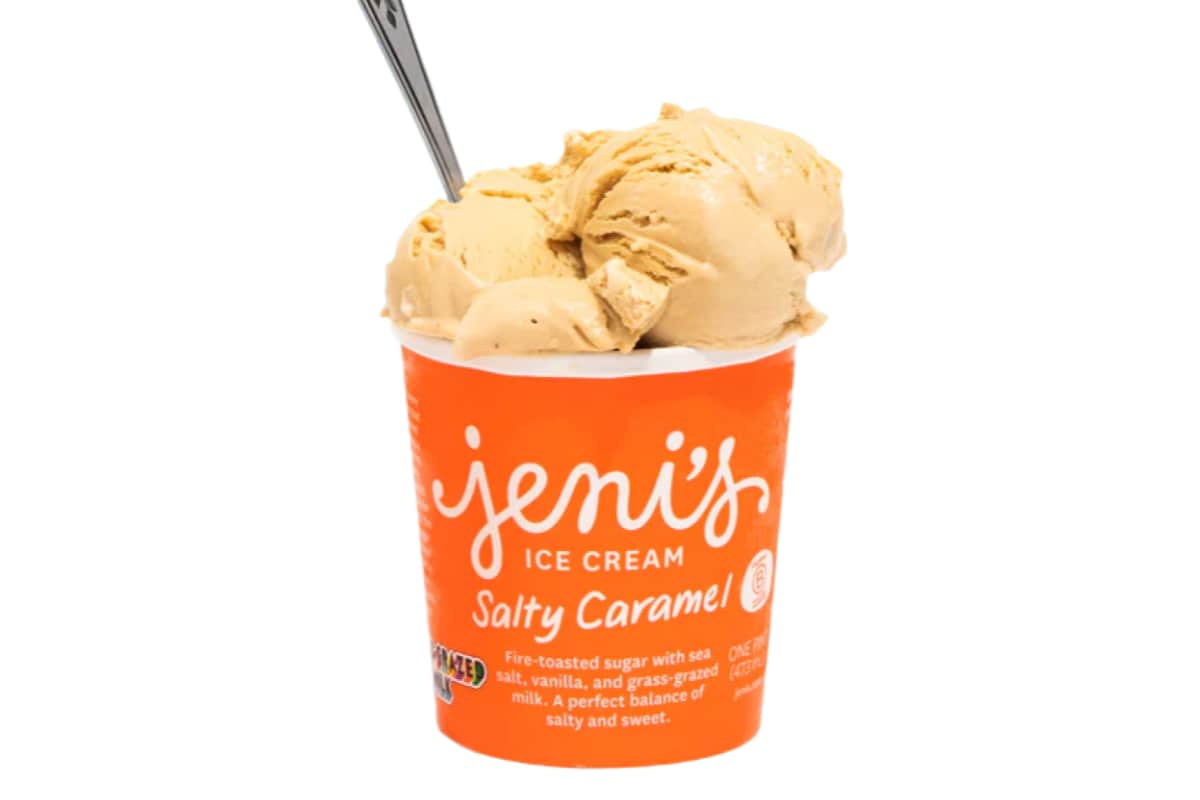 Unsurprisingly, the Salty Caramel flavor is one of Jeni's best sellers. Everyone loves the combination of buttery caramel with sea salt, but Jeni's take on the flavor is truly special.
The base here is a burnt sugar ice cream with vanilla, which gives it a sweet, nutty, and beautifully caramelized flavor. It has more salt than your average salted caramel ice cream, which amplifies those buttery, nutty notes from the burnt sugar base.
There are no chunks or fancy mix-ins in this pint, so the salt and caramel flavors are front and center, ready to shine.
2. Skillet Cinnamon Roll
We all love a good cream cheese frosting, so unsurprisingly, turning that sweet, tangy combination into an ice cream makes for an unforgettable base. The Skillet Cinnamon Roll doesn't stop there, though.
Jeni's laced a super gooey cinnamon brown sugar caramel sauce throughout the pint to make this flavor even more similar to a just-baked cinnamon roll.
There are also soft, flaky pieces of pastry, adding that pie crust or biscuit taste to keep things from getting too sweet. And don't forget, there's cinnamon – lots of cinnamon!
I don't know which element of this flavor is my favorite – the tangy, creamy cream cheese ice cream or the brown sugar caramel pockets. This truly is the center of a freshly baked cinnamon roll in ice cream form, folks.
1. Gooey Butter Cake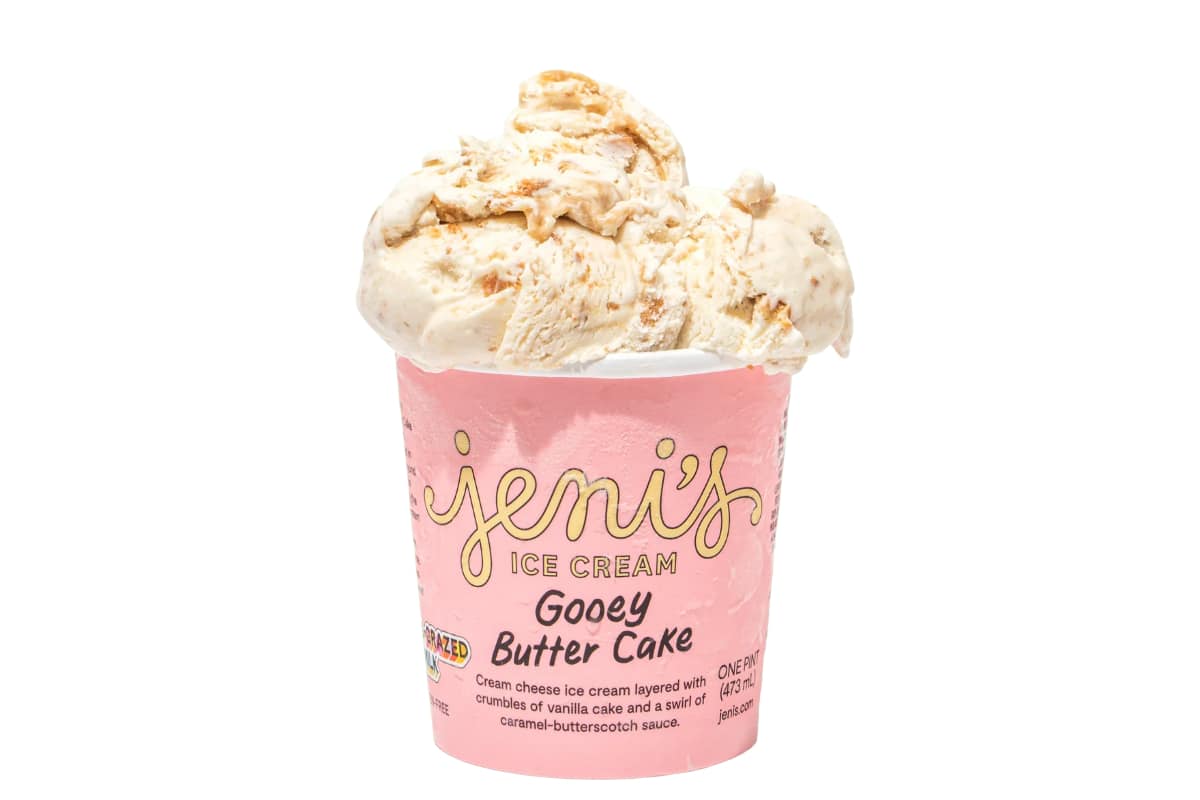 The Gooey Butter Cake was the first Jeni's ice cream flavor I ever tried, and I have yet to find a flavor that tops it. In my opinion, this is one of the best ice creams of all time.
This special dessert starts with that same cream cheese base we just discussed. There are generous crumbles of rich vanilla cake packed into the base, along with a buttery, sweet-salty caramel butterscotch sauce swirled throughout.
The vanilla cake crumbles are just as gooey and chewy as real gooey butter cake. This ice cream is buttery, caramelly, creamy, and salty. It's everything you could possibly want in a dessert, and there is nothing I would change about it.
If you'll only try one Jeni's ice cream flavor, let it be the Gooey Butter Cake!