25 Delicious Ice Cream Topping Ideas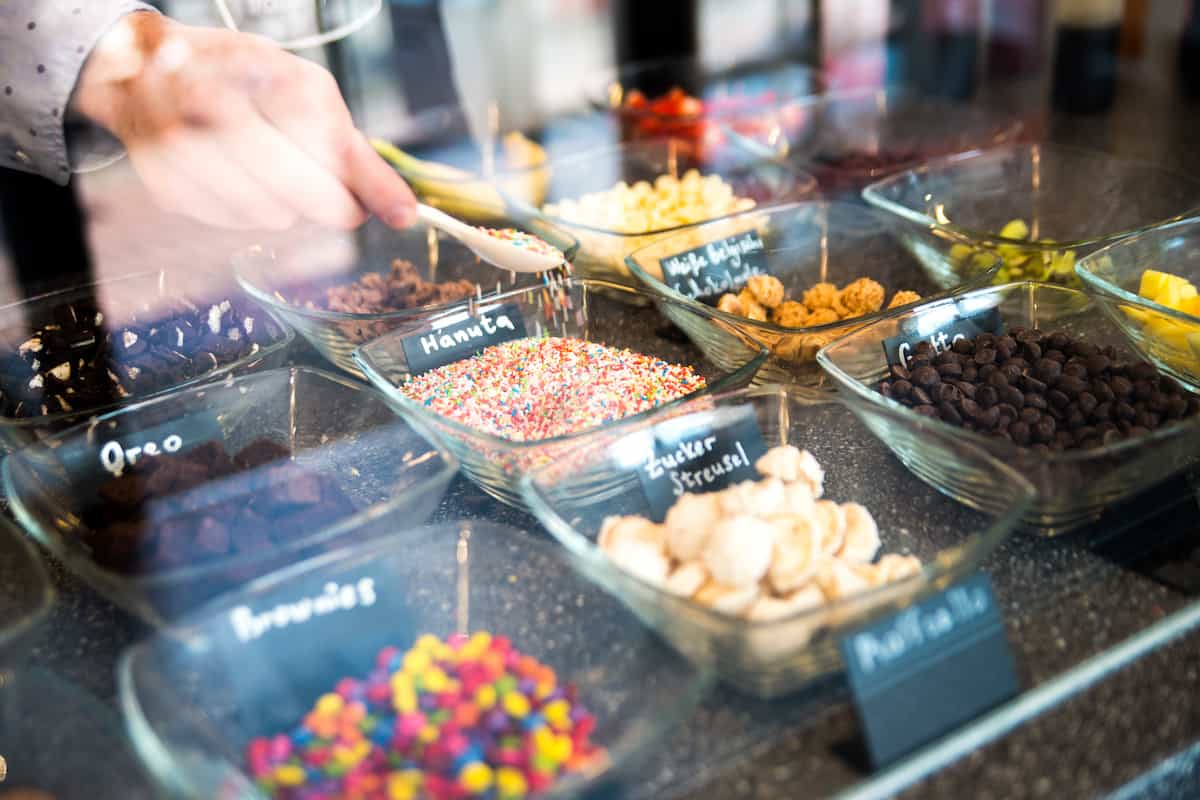 Ice cream is one the most customizable desserts, and getting to choose your own toppings is the cherry on top (sorry, I had to!)
Whether you crave a classic combination like hot fudge and sprinkles or more exotic options like olive oil or potato chips, ice cream toppings can completely transform your dessert experience.
Today, we'll go over 25 of the most popular ice cream toppings. Read on to get the full scoop and find out if your favorite topping made the list!
1. Hot Fudge
Hot fudge is the king of all ice cream toppings. Stop by any ice cream shop in the US, and they're pretty much guaranteed to have hot fudge.
So what makes it popular to top your ice cream?
Besides the fact that everyone loves chocolate, hot fudge provides that temperature contrast that we all love in a dessert.
Just think of all the warm desserts we add a scoop of ice cream to – brownies, pies, cookie skillets, you name it.
There's something about a mix of hot and cold sweets that most of us just can't get enough of.
It's no wonder the mix of hot, melty fudge topping and chilled, creamy ice cream has been a favorite combination for a long time.
2. Sprinkles
Sprinkles are one of the most popular ice cream toppings of all time.
Their appeal is primarily aesthetic, sure. After all, sprinkles are only made with a couple of ingredients, most of which don't have too much going on in the flavor department.
Sprinkles are made with corn syrup, sugar, cornstarch, wax, and plenty of artificial coloring.
Chocolate sprinkles have slightly more flavor thanks to the addition of cocoa.
Besides aesthetics, they add a nice little crunch to your ice cream.
3. Peanut Butter
For those who love peanut butter, it's only made better when added on top of creamy, sweet ice cream.
The mix of sweet and salty is a combination that will never get old.
When it comes to the peanut butter itself, there are a couple of ways you can use it as an ice cream topping.
You can put it directly on top of your sundae or whip up a peanut butter sauce (typically a mix of condensed milk, water, vanilla extract, and peanut butter).
You can even mix a bit of coconut oil with the peanut butter to make a magic shell that coats the ice cream and provides a satisfying crunch when cracked open. (More on that later!)
4. Chocolate Chips
I like chocolate chips as much as the next person. They add the perfect crunch to any ice cream, no matter the mini or regular size.
They also provide a burst of chocolatey taste that goes well with almost any ice cream flavor you can think of, from strawberry to peanut butter.
5. Caramel
Despite its complex flavor profile, caramel's ingredient list is simple: sugar, butter, and milk or cream.
All three of these ingredients are good enough on their own, but when you mix them and add a little heat, you get a gooey, creamy sauce that's sweet and buttery.
Caramel is a popular ice cream topping and an ice cream mix-in.
Just like chocolate chips, it goes well with pretty much any ice cream flavor under the sun.
6. Marshmallow Sauce
This one might not be the most common ice cream topping out there, but it sure is delicious.
As a kid visiting my grandparents' house, marshmallow sauce was a must-add when making our own sundaes.
Unlike marshmallow fluff (which is delicious in its own right), marshmallow sauce is runny and the perfect consistency for drizzling.
My family always bought the premade Smuckers sauce, but there are plenty of recipes online if you want to go the homemade route.
Sure, ice cream is sweet enough on its own, but that nostalgic marshmallow sweetness will take your ice cream from really good to "chef's kiss."
7. Peanut Butter Cups
When using peanut butter cups as an ice cream topping, you can take two different routes: use regular-sized cups and crush them up or top your ice cream with whole mini cups.
I prefer the former simply because you get more peanut butter this way.
With either method, you'll get a little bit of salt in each bite, a little chocolate flavor, and a satisfying crunch when the chocolate hardens on top of the chilly ice cream surface.
8. Pretzels
Ever since salted caramel's entrance to the mainstream, public interest in sweet and salty flavor combos has only increased.
Pretzels are the perfect contrast to sweet, smooth ice cream.
You can use crushed pretzels, mini pretzel sticks, or classic twists – the choice is yours, and each shape will lend its unique texture to your sundae.
The thicker the pretzel piece, the longer it'll take to get soggy while sitting on your ice cream.
Be sure to add pretzels at the very end of your sundae-making process to avoid that dreaded fogginess!
9. Oreos
Cookies and Cream is one of the most popular ice cream flavors in the US, so it's no surprise that Oreos are one of the most beloved ice cream toppings.
Oreo cookies provide the perfect amount of crunch in contrast to creamy, soft ice cream, and the flecks of cream bring some extra richness.
You get two textures in one when you top your ice cream with Oreos.
You can crush full-sized Oreos atop your sundae or use whole mini cookies.
10. Nutella
Nutella is undoubtedly one of the most popular dessert spreads in the world.
Of course, it didn't take long for people to figure out a sweet treat that tastes so good will taste even better when paired with ice cream!
A scoop of Nutella can easily be plopped onto your sundae and taste delicious, but I recommend putting it in the microwave for a few seconds to get it warm and easier to drizzle.
11. Olive Oil
A little out there? Sure. Delicious? Definitely. Olive oil isn't a common ice cream topping here in the US, but it's fairly common in Italy.
What makes this odd combo work so well is that olive oil has a rich, smooth texture, which compliments the texture of ice cream.
Plus, everyone loves a sweet and savory combo, and the savory notes from olive oil only bring out the sweetness of ice cream.
For the best results, use high-quality extra-virgin olive oil that has a floral, fruity taste.
12. Espresso
One of Italy's most popular desserts, affogato, consists of a scoop of gelato topped with a shot of hot espresso.
Besides the delightful combination of chilly ice cream and steamy espresso, this dessert is also loved for the contrasting bitter coffee flavor and sweetness from the gelato.
Think of it as a dessert and a pick-me-up, all wrapped into a few delightful bites!
13. Bananas
The iconic banana split has been around since the early 1900s, so it only makes sense that bananas are one of the most popular fruits to pair with ice cream.
Topping your ice cream with bananas brings the dessert a fresh, fruity element.
Slice them up thin, or use dried banana slices for some crunch.
If you're feeling fancy and have a little extra time on your hands, add bananas, butter, and brown sugar to a skillet to make a gooey, warm bananas foster topping for your ice cream.
14. Brownies
Brownie sundaes are an American classic, so using brownie bits as an ice cream topping is a no-brainer.
Besides adding richness and extra chocolate flavor to sundaes, brownies add a soft, fluffy texture to your ice cream.
Crumble premade brownies, use a mix, or start completely from scratch – either way, you'll end up with the perfect finishing touch to your dessert.
15. Wet Walnuts
To be honest, I'm not a big fan of wet walnuts on my ice cream, but plenty of people love them, and they're a popular ice cream topping at parlors around the country.
Wet walnuts are essentially a mixture of shelled walnuts and maple syrup.
They lend a nutty, sweet, caramelized flavor to ice cream, and the walnuts have a delicate crunch to them.
16. Toasted Almonds
When almonds are toasted, two things happen – they get crunchier, and their taste becomes nuttier and somehow cozier (sounds weird, but you know what I mean if you've had roasted almonds).
When used as an ice cream topping, toasted almonds are usually sliced into slivers, diced into small crunchy bits, or ground until they're almost as fine as a powder.
It all depends on which texture you prefer, but either way, you'll get that toasty, smokey taste.
17. Whipped Cream
Whipped cream is an overall perfect ice cream topping – it's aesthetically pleasing, the texture is smooth and fluffy, and it adds flavor to any ice cream without overpowering it.
If you have an automatic mixer (or a strong arm), you can easily whip this stuff up in your kitchen (no pun intended).
All you need is some heavy cream, powdered sugar, and vanilla extract.
18. Strawberries
Strawberry is undoubtedly one of the most popular ice cream flavors, and it's also up there when it comes to topping your ice cream.
Sliced strawberries are often added as-is to the top of a sundae for some freshness.
You can also buy (or make) strawberries that have been warmed and mixed with sugar, cornstarch, and lemon juice for a sweeter, more candy-like ice cream topping.
19. Pineapple Sauce
It might seem like an unexpected pairing, but the tangy, bright flavors of pineapple go quite well with ice cream.
Banana splits famously contain pineapple sauce, but plenty of people also top their regular ice cream with it.
Smucker's has a premade pineapple sauce that's quite popular, but there are dozens of recipes online if you prefer to make your own.
20. Strawberry Sauce
When you think of sauces to use as an ice cream topping, chocolate syrup is probably the first that comes to mind.
But strawberry sauce is also a popular, lesser-known option.
Brands like Smuckers sell strawberry sauce by the bottle, but you can also make it home.
Strawberry sauce is bright, sweet, and fruity. It's thicker than syrup but not as thick as jam, making it perfect for drizzling over your sundae.
21. Magic Shell (Chocolate Dip)
Chocolate dip, sometimes called by its most popular brand's name, Magic Shell, is a smooth liquid mixture that quickly hardens into a crispy shell when it's on a cold surface.
This seemingly magic reaction comes from sunflower and/or coconut oil.
Chocolate dip perfectly covers your ice cream and provides the most satisfying crunch when it's bitten.
Chocolate is by far the most popular iteration of this ice cream topping, but there are plenty of other flavors to try, like cherry, caramel, and even Reese's peanut butter cup!
22. Potato Chips
I've said it before, and I'll say it again – salty and sweet is the ultimate flavor combination!
That's why the recent-ish phenomenon of potato chips-topped ice cream is a welcome invention in my book.
Potato chips add a delicate crunch to ice cream, and any excess greasiness is washed away by the dessert's sweet creaminess.
Salt enhances the sweetness and amplifies other flavors, so potato chips will complement any ice cream as a topping.
23. Gummies
Using gummies with ice cream is a bit controversial because they harden fast once they're cold.
But if you're topping your ice cream with gummies rather than mixing them inside, you can eat them before freezing up.
When it comes to gummy flavors, the sky's the limit.
Gummy bears and worms are the two most popular picks, but cola bottles, sour watermelons, and peach rings will add fun, unexpected flavor to your ice cream.
24. Cookie Dough
Since edible cookie dough is widely available at any grocery store now, of course, it's become a very popular ice cream topping.
Cookie dough is made edible when the raw eggs are taken away, and the flour is heat treated.
This can be done by popping the flour in the microwave until it reaches about 165 degrees.
You can make your own edible cookie dough or buy it at the grocery store from Ben & Jerry's, Favorite Day, or Nestle.
25. Cake Crumbles
Crumbled cake is one of the easiest and most delicious ice cream toppings out there.
You can simply buy a premade cake from the grocery store (most sell half cakes, quarter cakes, or even singular slices) and crumble it.
Cake crumbles add a fun textural element to your ice cream and lend a whole new flavor to your frozen dessert.
Conclusion
Ice cream is one of the best desserts – it's refreshing, creamy, nostalgic, and can be easily customized with a variety of flavor and topping combinations.
A plain bowl of vanilla ice cream can be transformed into a tropical island treat or a sweet & salty lover's dream with just a couple of toppings.
The best part is you can combine and experiment with different ice cream toppings to find your ultimate combo!