20 Tillamook Ice Cream Flavors to Try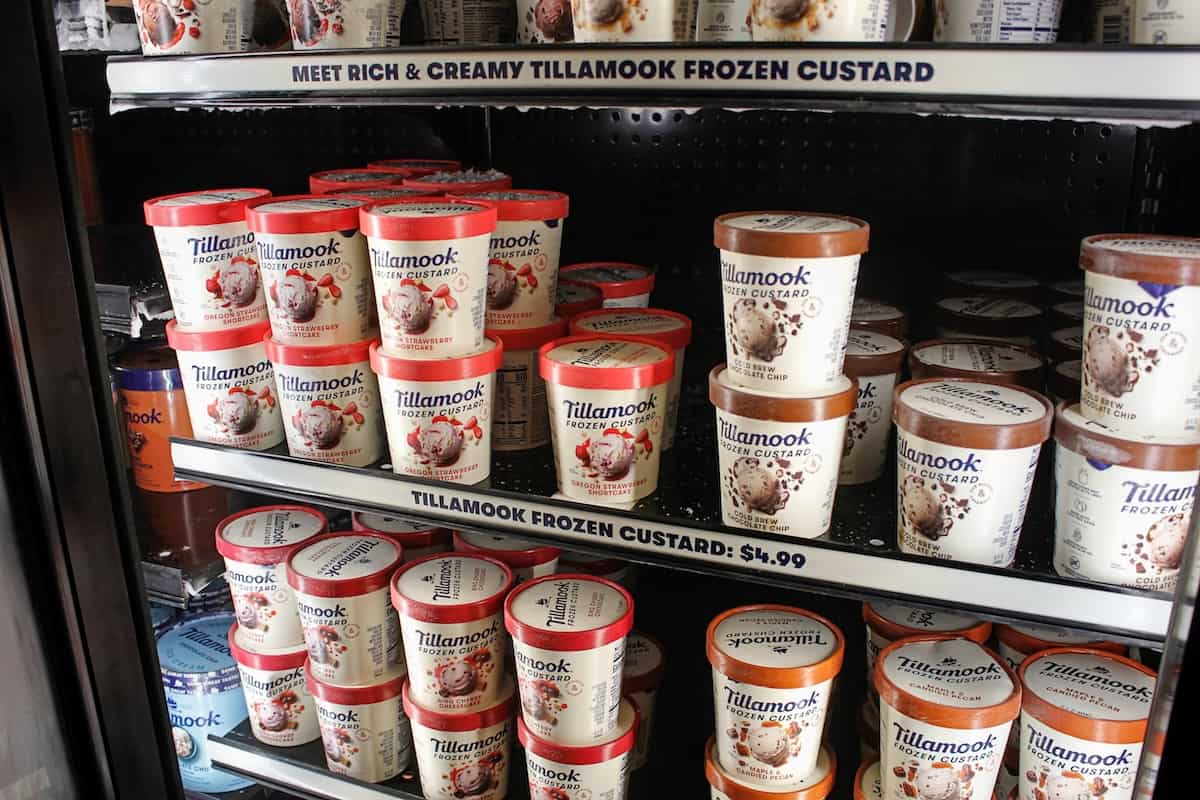 Tillamook is a dairy company with products varying from cheese to yogurt to butter to, you guessed it, ice cream.
Tillamook's ice cream has earned a top spot in the frozen dessert aisle of many grocery stores because of its high-quality ingredients and ultra-creamy, rich texture.
The other reason Tillamook is one of the popular ice cream brands is its fun, artisanal flavors.
With options ranging from the classics like Mint Chocolate Chip to never-before-tasted flavors like Marionberry Pie, their ice cream lineup has some seriously good pints.
I'll take you on a tour of all my favorite Tillamook ice cream flavors. Read on and take some mental notes to bring on your next grocery run!
20. Chocolate
Tillamook's Chocolate ice cream is a smooth, creamy classic.
Made with cocoa, egg yolks, cream, milk, and sugar, this flavor has all the decadence of a high-quality pint and none of the fillers you sometimes find in store-bought chocolate ice creams.
It has that natural cocoa flavor to it, so it's not overly sweet or fake-tasting, either.
It's not the most exciting, but this is a great option for those looking for a simple, classic flavor.
19. Banana Split
The Banana Split starts with three ice cream flavors – rich vanilla, strawberry, and banana. Mix-ins include walnuts, cherries, and a rich fudge swirl.
The strawberry and banana ice cream flavors in Tillamook's version contain real fruit and natural flavoring, so they have a fresh, fruity taste.
I'm not a huge fan of cherry flavoring, but since the chunks here are real cherries, they're a nice tangy touch.
18. Peaches & Cream
This Tillamook ice cream flavor takes everything you love about peaches, multiplies it by 3, and throws it into a pint with some cream and sugar.
The Peaches & Cream features a sweet peach ice cream, pieces of ripe peach dotted throughout, and a peach swirl.
Clearly, if you love peaches, this is the pint for you!
There's plenty of real peach inside, which brings that light, floral, and fruity flavor that only comes from the real deal.
The peach swirl has a jammy texture, and the chunks of peach are plentiful and juicy.
17. Rocky Road
Tillamook's version of Rocky Road flavor is just like the classic but with a little extra in the creaminess department.
Since Tillamook makes their ice cream with extra cream, their chocolate ice cream is denser and richer than your average grocery store brand.
This makes all the difference in a flavor like Rocky Road.
Mini marshmallows and pieces of crunchy almond dot the chocolate ice cream, bringing in a fluffy element along with a crunchy one.
The almonds bring a toasty, nutty flavor to the rich ice cream, and there's a fair amount of mix-ins here, so I have no complaints.
16. Waffle Cone Swirl
With a mix of chocolate and vanilla ice cream, a caramel ripple, and chunks of chocolate-covered waffle cone, the Waffle Cone Swirl has a little bit of everything.
Despite its numerous elements, this pint has a fairly simple flavor profile. It's primarily chocolate and vanilla with a hint of caramel.
The pieces of waffle cone remain crispy and have a nice crunch when you bite into them, and the chocolate-covered pieces ensure that chocolate is the star of the show here.
The caramel swirl is sweet, rich, and exactly what's needed to tie everything together.
15. Mint Chocolate Chip
Tillamook's Mint Chocolate Chip ice cream mixes cool, refreshing peppermint flavor with rich, sweet chocolate for a perfectly balanced dessert.
Mint-flavored desserts can be hit or miss a lot of the time. It's hard to find that balance where you can taste the mint and chocolate equally because both flavors tend to fight for the spotlight.
Tillamook's mint ice cream is sweet, creamy, and has just the right peppermint kick to it.
The chocolate chips are crunchy and sweet, providing just enough chocolate without taking away from that minty freshness.
14. Oregon Strawberry
Next on my list of the best Tillamook ice cream flavors is the Oregon Strawberry.
It's a straightforward, classic flavor that has the taste of true strawberries.
It's a little sweet, but the sweetness is natural. It's probably the most fruity, refreshing choice from Tillamook.
This ice cream has bits of Oregon strawberries inside. Admittedly, these are not my favorite mix-in, but I don't mind them because they taste fresh and juicy and aren't super hard to chew, even when frozen.
13. Coffee Almond Fudge
The Coffee Almond Fudge is the ultimate Tillamook ice cream flavor for coffee lovers.
The ice cream's base flavor is a rich coffee featuring a fudge ripple and bits of almond.
The coffee ice cream has an authentic, strong flavor thanks to the real coffee used in the recipe.
The almonds add a bit of toasty flavor to the already roasted flavor of the ice cream.
The fudge swirl brings a rich, chocolatey note that rounds out the mocha vibe of this flavor.
12. Udderly Chocolate
Tillamook's Udderly Chocolate ice cream is like the cool older sister of chocolate ice creams.
Instead of regular chocolate ice cream, there are two different kinds featured here – milk and white. It's also filled with bits of creamy chocolate throughout.
The milk chocolate ice cream has that dense, rich flavor we know and love from Tillamook's regular chocolate ice cream.
The white chocolate ice cream is just as smooth and rich but with a buttery, sweeter flavor than the milk chocolate.
This, in addition to the chocolate bits scattered throughout, makes for the ultimate chocolate pint, especially if you prefer a sweeter chocolate to something more semisweet.
11. Malted Moo Shake
The Malted Moo Shake is like a classic vanilla chocolate chip ice cream but with the nostalgia factor kicked up.
Thanks to the addition of malt, which was popular in 1900s America, malted milk powder brings a nutty, milky flavor to whatever it's added in.
The chocolate chips have a rich, fudgy texture and bring a depth of flavor to the otherwise vanilla-heavy pint. They also add some crunch to this incredibly creamy dessert.
The Malted Moo Shake is a great bet if you love vanilla but want something with extra toasty notes that will only enhance the cream and sugar elements.
10. French Vanilla
This Tillamook ice cream flavor is anything but boring. Their French Vanilla ice cream uses pasteurized egg yolks to ensure the smoothest, richest experience possible.
With a short ingredient list that includes only the essentials, the vanilla flavor is front and center.
Thanks to the egg yolks, the texture is thick and dense, reminiscent of a custard. Despite its simplicity, this is one of the silkiest and most luxurious flavors in Tillamook's ice cream lineup.
9. Chocolate Peanut Butter
The Chocolate Peanut Butter begins with a rich chocolate ice cream. It's swirled with a salted peanut butter ripple.
Salt brings out whatever flavor it's paired with, so the chocolate ice cream's richness is only amped up by the peanut butter swirl.
Tillamook's chocolate ice cream (and all their flavors, for that matter) is creamy and smooth, which is contrasted by the crunchy frozen peanut butter.
The frozen peanut butter quickly melts in your mouth and mixes with the rich chocolate flavor.
8. Chocolate Chip Cookie Dough
I've never heard a negative word about chocolate chip cookie dough ice cream. It's ice cream with chunks of chocolate chips and cookie dough – what's there to complain about, right?
It's impressive that Tillamook has one of the best iterations of the flavor of all time.
Instead of the usual vanilla base, Tillamook uses cookie dough-flavored ice cream, which has a more buttery, brown sugary taste.
It has bits of chocolate mixed in, as well as chunks of cookie dough.
There's a solid amount of mix-ins, ensuring a few satisfying crunches per bite. The rich, creamy base really brings this classic flavor to the next level.
7. Mountain Huckleberry
Tillamook's Mountain Huckleberry flavor is a prime example of sweet and tart working together in harmony.
This ice cream starts with a sweet, rich vanilla base. Throughout the base are ripples of a tart huckleberry swirl.
Huckleberries vary in flavor depending on their color, but they have a sweet and slightly sour taste in this jam.
The sour, fresh berries provide a satisfying contrast to the sweet vanilla ice cream, and they successfully cut through the rich, dense texture.
6. Holiday Sugar Cookie
Bring on the holiday cheer! Tillamook's Holiday Sugar Cookie ice cream has a sugar cookie dough flavored base, which is super creamy, indulgent, and sweet.
You'll find chunks of sugar cookie dough inside the ice cream, amping up the cozy, sweet flavor even more.
If you enjoy the rich vanilla flavor, this one will be right up your alley.
The chunks of cookie dough are fluffy and chewy at the same time, creating a perfect contrast to the creamy ice cream surrounding it.
This is one of Tillamook's newer ice cream flavors, and it's a limited edition, so be sure to try it before it disappears after the holiday season!
5. Tillamook Mudslide
If regular chocolate ice cream doesn't do it for you, the Tillamook Mudslide probably will.
It has a chocolate base filled with chocolate chips and ripples of fudge for the ultimate rich, dark chocolate experience.
The chocolate chips have a great crunch to them, and the fudge is gooey and thick.
Tillamook Mudslide is perfect if you're a fan of less sweet ice creams. All that cocoa makes for an indulgent, rich ice cream with semisweet, slightly bitter notes.
In a world full of super-sweet ice cream flavors, this one's a breath of fresh air.
4. White Chocolate Raspberry
The base of Tillamook's White Chocolate Raspberry flavor is white chocolate, so it has that caramelized, buttery, and rich flavor you expect from white chocolate.
The star of this pint is the raspberry ripple, which is made with real raspberry puree.
The raspberry swirl is bright and zesty, perfect for cutting through the sweet white chocolate base.
3. Caramel Toffee Crunch
Next up on my list is the Caramel Toffee Crunch. This flavor starts with caramel ice cream, which has a caramel ripple, bits of chocolate toffee, pecans, and almonds throughout.
As you can tell from the description alone, Tillamook made this ice cream flavor for texture lovers.
From the gooey caramel to the super crunchy nut and toffee pieces, there's no shortage of interesting elements here.
The nuts and toffee bring a salty element, balancing out the super sweet caramel and chocolate flavors for a perfect collision of sweet and salty.
2. Marionberry Pie
The Marionberry Pie is one of the most unique Tillamook ice cream flavors and is easily one of my favorites of all time.
It's made with a rich vanilla ice cream base, pie crust pieces, and ripe Oregon marionberries.
What exactly is a marionberry, you ask? It's a variety of blackberry that, while it looks pretty much identical to the common blackberry, has a couple of differences in taste.
Marionberries are super rich in flavor when it comes to both sweetness and sourness, so each little berry packs quite a punch.
Their flavor is more complex and aromatic than your average blackberry, too.
The marionberries add some tang to play off the rich, sweet vanilla base. The pie crust is my favorite part, though. It's buttery and sugary and adds a subtle crunch.
I don't love fruit chunks inside my ice cream, but Marionberry Pie is definitely an exception.
1. Monster Cookie
I love all types of cookies. Whether it's oatmeal raisin, chocolate chip, or something a Girl Scout sold me, I'm always down for a cookie!
So, for obvious reasons, I truly believe Monster Cookie is not only the best Tillamook ice cream flavor but one of the best ice cream flavors of all time.
This beauty begins with a cookie dough-flavored base, similar to vanilla but with a more buttery, brown sugary flavor.
It's then filled with a peanut butter swirl, crispy oats, chocolate flakes, and colorful chocolate candies.
There's so much going on in this ice cream flavor, and each element compliments the next.
There's a brown sugary, molasses-y flavor we all know and love from oatmeal cookies.
At the same time, it has that sweet and salty peanut butter and the chocolate flavor coming from the candies and chocolate flakes.
The base of the dough works well with each element of this pint. And when all mixed together, they taste like a really good cookie!