20 Breyers Ice Cream Flavors to Try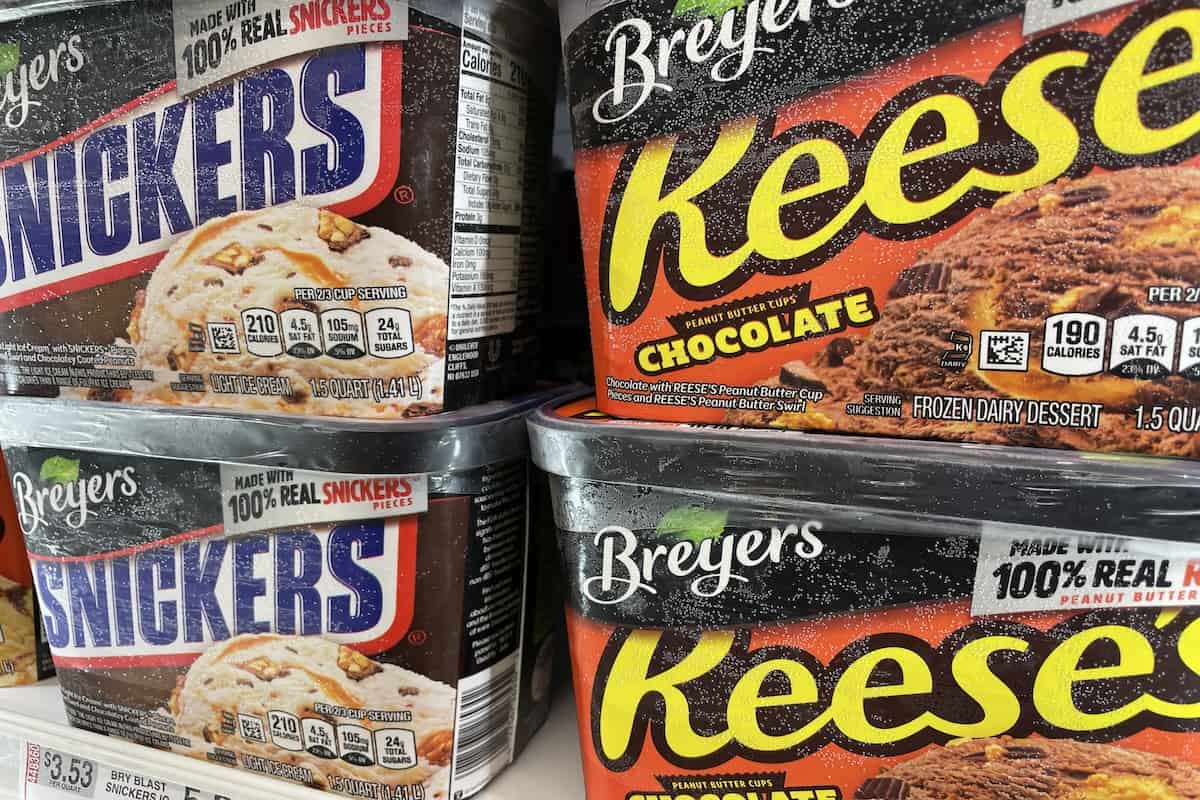 Breyers is undoubtedly one of the most popular ice cream brands in the United States. It all started with William A. Breyer hand-cranking his first gallon of ice cream in Philadelphia in 1866.
Nowadays, Breyers has dozens of ice cream flavors, from non-dairy options to their "Carb Smart" line to pints bursting with cookie and candy mix-ins.
I'll take you through the world of Breyers ice cream and the 20 flavors I love the most. Read on to see if your favorite flavor made the list!
20. Vanilla Chocolate Strawberry
As you may have gleaned from the name, the Vanilla Chocolate Strawberry flavor is Breyers' version of Neapolitan ice cream.
This combination is made with natural vanilla, strawberry, and chocolate ice creams.
We'll get into the nitty-gritty of each individual flavor later, but for this pint, all you need to know is that it's made of three of the most popular Breyers ice cream flavors on the market.
The chocolate is creamy, the vanilla is smooth and sweet, and the strawberry ice cream contains real sun-ripened California strawberries for a fresh note.
19. Chocolate
Breyers has plenty of chocolate-based ice creams, but its classic chocolate flavor is simplicity at its finest.
It has the perfect balance between sweetness and cocoa flavor.
The cocoa used here is Dutch cocoa, which is a less acidic cocoa powder that makes for a less bitter, sweeter chocolate ice cream flavor.
With a simple ingredient list of cocoa, milk, cream, and sugar, you can really taste how fresh and high-quality each ingredient is.
18. Natural Strawberry
I don't love having chunks of fruit in my ice cream, but I make an exception for Breyers' Natural Strawberry flavor.
That's because these strawberries are real and juicy, and their taste makes me think they've been frozen at the peak of ripeness.
The ice cream base is fruity and sweet, reminiscent of Nesquik strawberry milk, but a smidge less artificial tasting.
The frozen strawberries have just a bit of tang to them, keeping the ice cream from becoming overly sweet.
This is one of my favorite strawberry ice creams, chunks and all!
17. Banana Split
The Banana Split is an iconic American dessert – it's right up there with apple pie, as far as I'm concerned.
So, of course, Breyers had to come up with an ice cream flavor based on the dessert.
This one starts with a banana ice cream, which is filled with strawberry chunks and finished with a chocolate fudge swirl.
Banana-flavored ice cream can be tricky. Some have that intense artificial banana flavor that tastes like eating a bowl of banana Laffy Taffys.
Luckily, Breyers uses banana puree in their ice cream base, ensuring you'll only taste the true, mildly sweet, and super creamy flavor of an actual banana.
The strawberry chunks are sweet and tart at the same time, and the fudge swirl brings some cocoa flavor into the mix.
I actually prefer this Breyers ice cream flavor to an actual banana split since I've always been a little weirded out by the addition of pineapple.
16. Extra Creamy Vanilla
Up next on my list of the best Breyers ice cream flavors is Extra Creamy Vanilla.
It's exactly what it sounds like – a rich, extra-creamy vanilla ice cream.
The flavor here is your typical vanilla. There are no fancy vanilla bean flecks or anything, but it's a nice, straightforward flavor.
The texture is where this pint shines. It's a velvety, extra-thick consistency perfect for pairing with a slice of pie.
If you're looking for an ice cream that feels more luxurious than usual, the Extra Creamy Vanilla flavor is the way to go.
15. Vanilla Fudge Twirl
Breyers' Vanilla Fudge Twirl ice cream has a vanilla base and a swirl of chocolate fudge throughout.
It's that classic mix of chocolate and vanilla. What's not to love?
The vanilla ice cream has an authentic vanilla bean flavor, thanks to the addition of real vanilla beans.
The fudge swirl is just enough to bring some deep, rich flavor to an otherwise sweet, simple ice cream.
The fudge swirl isn't overly sweet, either, providing a nice contrast to the main vanilla flavor.
14. Mango
I was actually surprised at how much I liked Breyers' Mango ice cream flavor.
I was expecting something closer to a sorbet, but this ice cream is just as creamy and decadent as the others on our list.
This flavor is made with real mangos, giving it the perfect sweetness that only comes with fresh fruit.
The authentic mango flavor brings major tropical vibes (I top mine with some shredded coconut for the full summertime, beachy experience), and the texture is perfectly smooth.
13. Black Raspberry Chocolate
Chocolate and strawberry are a common combination like chocolate and banana. But chocolate and raspberry, while not quite as common of a combo, are just as delicious.
Case in point: Breyers' Black Raspberry Chocolate ice cream.
This flavor starts with a black raspberry ice cream base, which contains black raspberry jam swirls and chocolate chunks.
The black raspberry has a touch of sourness to it, which may sound odd for a cream-based dessert but works really well with the darker, deep chocolate flavor.
The amount of chocolate chunks here is just right, meaning there'll be at least two or three in every spoonful.
12. Chocolate Chip Cookie Dough
This Breyers ice cream flavor is plagued with many bad reviews online. Its crime? Inconsistency.
If you name a flavor "Chocolate Chip Cookie Dough," it simply must have said cookie dough inside. It's only fair.
However, I can only speak from experience, and I've always had a fair amount of dough in mine.
Breyers' Chocolate Chip Cookie Dough flavor starts with a classic vanilla base, which is then, in theory, filled with chocolate chunks and pieces of chocolate chip cookie dough.
The chunks of chocolate add the most satisfying crunch to this flavor, so there's a lot more going on than just cookie dough.
This classic ice cream flavor from Breyers hasn't let me down yet. (Knock on wood!)
11. Double Chocolate Brownie Batter
That same perfectly balanced chocolate ice cream we discussed at the beginning of our list is used as the base for this next flavor.
The Double Chocolate Brownie Batter ice cream has chocolate in three different forms – the base, swirls of brownie batter, and chunks of brownie dough.
If you love a chewy, fudgy brownie, you'll love the bits featured in this ice cream.
The brownie batter swirl is thick and super chocolatey. Since the chocolate ice cream isn't overly rich, the mix-ins stand out in this pint without becoming sickeningly sweet.
In fact, the chocolate flavor has just a bit of bitterness to it, which masterfully keeps it from tipping over on the sugar scale.
10. Snickers
The next Breyers ice cream flavor is bursting with one of the most popular candy bars – Snickers!
This pint starts with smooth vanilla ice cream, jam-packed with caramel ribbons, chocolate-covered peanuts, and Snickers bar pieces.
Needless to say, if you love Snickers bars, this is going to be a hit.
It's full of Snickers ingredients and actual Snickers chunks, so every bite has some caramel, nougat, peanuts, and chocolate.
9. Dulce de Leche
Dulce de leche is a confection made from caramelized milk. It's like caramel but even richer and creamier.
Breyers' take on the flavor is decadent and sweet, with strong, complex caramel notes.
There are swirls of real caramel throughout, which have a slightly gooier texture than the ice cream itself.
This ice cream may look simple from the outside, but there's a lot of flavor going on inside.
This is another pint perfect to pair with a slice of pie or scoop on top of a brownie.
8. Heath Toffee
Just like the Snickers ice cream, Breyers' Heath Toffee ice cream is jam-packed with pieces of Heath bar.
This flavor starts with a toffee-flavored ice cream that tastes like caramel but has more buttery, nutty notes.
Inside are pieces of Heath bar, which are made with English toffee and are covered in chocolate.
The pieces of Heath are super crunchy, contrasting nicely with the smooth ice cream.
While there is a good amount of small Heath pieces, this flavor would be even better with some larger candy chunks added to the mix.
7. Chocolate Peanut Butter
Chocolate Peanut Butter is one of the best Breyers ice cream flavors out there. It's simple and classic but far from boring.
It starts with Breyers' classic chocolate base, which is super creamy and chocolatey.
The swirl of real peanut butter has just a hint of salt, bringing out that rich chocolate base even more.
The frozen peanut butter has a satisfying snap when you bite into it, but otherwise, this pint is perfectly rich, creamy, and velvety.
6. Cheesecake
In my opinion, cheesecake is one of the best ice cream flavors of all time.
Breyers' take on the flavor is their New York Style Cheesecake, which starts strong with cheesecake-flavored ice cream.
Amping up the tart cream cheese flavor are chunks of graham cracker crust-covered cheesecake pieces.
There's also a bright, fruity strawberry sauce swirled throughout the ice cream, giving a fresh touch to the pint.
This is one of the best Breyers flavors because it has just the right amount of sweetness, thanks to the tartness from the cream cheese and strawberries.
The chunks of cheesecake are plentiful, too, so you won't have to dig too hard to get to them.
5. Mint Fudge Cookie
The Mint Fudge Cookie flavor is for those who love a classic mint chocolate chip ice cream but want just a bit more chocolate than what's usually provided.
The base of this flavor is a sweet, mild mint. Inside the ice cream is a rich fudge swirl and chocolatey cookie pieces.
The Oreo-like cookie pieces remain crunchy inside the ice cream and bring some darker chocolate flavor.
The fudge swirl adds a lot of flavor to this pint and ensures the distribution of mint to chocolate ratio is even.
This flavor is reminiscent of a Girl Scout Thin Mint cookie, so how could it not be one of my top Breyers ice cream flavors?
4. M&M's Minis Caramel Fudge
Caramel ice cream, ribbons of gooey, smooth fudge, and plenty of mini M&Ms are what make up this next Breyers ice cream flavor.
If you've ever had a McDonald's McFluffy, this is that treat in pint form.
Everyone knows mini M&Ms are a thousand times better than regular M&Ms, and they bring such a satisfying, chocolatey crunch to this pint.
The caramel ice cream is super sweet (but not cloying) and has rich, brown, sugary undertones.
The amount of chocolate fudge swirl is pretty generous here, which makes chocolate just as much of a main flavor as the caramel.
3. Chocolate Truffle
The Chocolate Truffle might just be Breyers' most indulgent ice cream flavor.
It starts with a dark chocolate ice cream base, which boasts an impressively complex cocoa flavor and a creamy, velvety base.
Then, pieces of dark chocolate truffle, made with real cocoa and Grade A milk and cream, are added to the mix.
The truffle pieces have a snappy shell but are melt-in-your-mouth soft inside with a buttery texture.
This ice cream flavor isn't nearly as sweet as you'd expect, so it's a refreshing switch from the usual.
2. Reese's Peanut Butter
Peanut butter ice cream, swirls of peanut butter, and chunks of peanut butter cups. This Breyers ice cream flavor has peanut butter coming from ALL angles!
The peanut butter ice cream base is light and fluffy while still maintaining the classic creaminess that comes with anything peanut butter flavored.
The swirls of peanut butter only bolster the velvety texture and add a nice salty touch throughout this pint.
There are plenty of peanut butter cup chunks, too, which add some chocolate and crunch to the equation.
This is one of the best Breyers ice cream flavors of all time, with plenty of mix-ins and the right amount of peanut butter flavor.
1. Very Berry Cobbler
Choosing the best Breyers ice cream flavor was a no-brainer for me.
I usually gravitate towards richer flavors like peanut butter or cheesecake when it comes to ice cream, and fruit flavors tend to fall by the wayside.
However, Breyers' Very Berry Cobbler is a different story.
This flavor begins with a sweet strawberry ice cream base. It has a sweet and tart black raspberry swirl and chunks of cobbler crumble.
The cobbler crumble is basically pieces of crushed-up pie crust with some notes of brown sugar, and it's the highlight of this pint.
They have such a delicate yet chewy texture, and the brown sugar flavor only amplifies the fresh berry ice cream and jam swirl.
This flavor succeeds in bringing that nostalgic, classic berry taste to life.
It's mostly sweet strawberry with just a hint of tartness from the black raspberry, and the use of real fruit only makes it taste fresher.
The crumble has oaty, molasses notes to it, which adds to the whole homemade feel of this pint.
Conclusion
Breyers truly has an ice cream flavor for everyone, from the fresh and fruity Mango to the deep, decadent Chocolate Truffle.
My first recommendation is their Very Berry Cobbler ice cream. I've yet to meet someone who doesn't enjoy it.
You can't really go wrong with any Breyers flavor on this list, so you'll just have to sample your way through to find out which is your number one pick!