25 Best Talenti Gelato Flavors, Ranked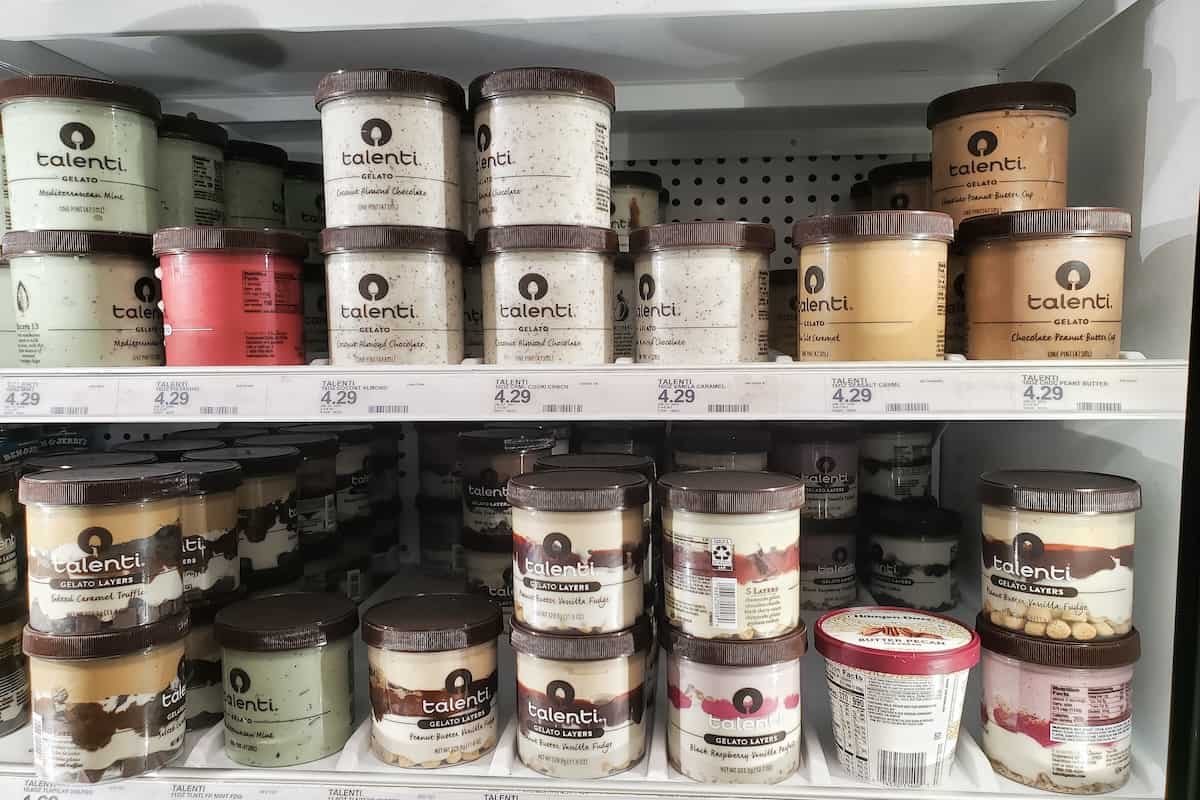 Talenti is an artisanal gelato and sorbetto brand beloved for its high-quality frozen desserts made with simple, natural ingredients.
The brand has grown its gelato lineup from just a few flavors to a whole arsenal of options, from dairy and egg-free gelatos to gelato pairings to my personal favorite, gelato layers.
Today, I'll take you through my top 25 picks for the best Talenti gelato flavors. The list will include flavors in their classic gelato line and those from their "Layers" line.
Talenti Layers feature layers of gelato along with layers of other ingredients like sauces, cookies, or chocolate. It's like regular ice cream, but instead of mixing in the extras, they're layered on top or underneath the gelato.
Without further ado, let's get into Talenti's popular gelato flavors!
25. Dark Chocolate Cherry
I'm kicking off my list with the Dark Chocolate Cherry flavor. I'm not a big cherry person, but this one is actually really good. It would probably rank even higher on your list if you enjoy cherries.
This flavor from Talenti's Layers line has all the makings of a cherry cordial. It features a double dark chocolate gelato with notes of vermouth inside.
Above that, you'll find chocolate flakes, a black cherry sauce, another layer of gelato, and a final layer of fudge truffles.
Chocolate and cherry are a timeless combination, and the dark, rich flavor of the chocolate is complemented beautifully by the tart, fresh cherry flavor in this gelato.
24. Caribbean Coconut
The Caribbean Coconut gelato is perfectly smooth, velvety, and coconutty.
Talenti mixes milk, cream, sugar, and vanilla with tender, fresh coconut to create a gelato flavor that transports you to a tropical getaway on the first bite.
Well, maybe not quite that far, but it does have a beachy taste to it. There are flakes of coconut in every bite, and the flavor tastes natural and isn't overly sweet.
23. Southern Butter Pecan
The Southern Butter Pecan flavor has a buttery, sweet gelato base swirled with a dulce de leche ribbon and dotted with roasted pecans.
The base of this pint is thick and creamy and packs a big buttery flavor.
The pecans are candied and have a nice toasty flavor to them. There's a generous amount inside, and they're perfectly crunchy.
The dulce de leche swirl is a bonus, adding some extra sweetness and caramelization.
22. Coffee Chocolate Chip
Real coffee is used in this Talenti gelato flavor, and you can tell right away.
The Coffee Chocolate Chip has a genuine, toasty coffee bean flavor with the right balance between bitter and sweet.
The pint also features chocolate chips of various sizes, which bring some crunch to the otherwise perfectly smooth gelato.
Coffee and chocolate are a foolproof combo, and each flavor has a chance to shine in this dessert.
21. Mint Cookie Crunch
To create the genuine, natural mint flavor found in this gelato, Talenti steeps real mint leaves in fresh milk and cream. The result is a gelato with just the right amount of refreshing peppermint flavor.
The Mint Cookie Crunch also has pieces of chocolate wafer cookie inside, which bring a crunch and a deep chocolate flavor to the mix.
Between this and a classic mint chocolate chip ice cream, the Mint Cookie Crunch wins by a hair because of the crunch factor and genuine mint flavor.
Once you taste it, you'll understand why it makes such a difference.
20. Chocolate Cherry Cheesecake
With two layers of cheesecake gelato, a layer of chocolate flakes, black cherry sauce, and graham cookie pieces, this Talenti flavor is as close as it gets to actual cheesecake.
The ice cream is my favorite part of this dessert. It's super smooth and rich, with just a bit of tang to it, thanks to the real cream cheese in the recipe.
The black cherry sauce has a bright, fruity flavor, which pairs beautifully with the chocolate and cream cheese flavors.
The graham cookie pieces are buttery and somehow stay crunchy and crisp under all those layers.
19. Key Lime Pie
If you love a citrusy dessert, you'll be thrilled with Talenti's Key Lime Pie flavor. It's made with actual key lime puree and tastes impressively similar to the base of a real key lime pie.
The pint is also filled with swirls of graham and chunks of graham cracker crust.
The key lime gelato has some real vanilla bean flavor, so every element of the pie is covered in one bite.
The graham swirl brings some sweetness in and tames down the sourness of the lime, and the chunks of crust serve as the ideal contrast to the gelato's smooth texture.
18. Peppermint Bark
I have conflicted feelings about peppermint bark. I only enjoy it during the holiday season, but I would never dream of eating it at any other time of the year.
That being said, I could be convinced to eat Talenti's Peppermint Bark gelato in the middle of the summer.
It's a white chocolate peppermint gelato base with semi-sweet chocolate flakes mixed inside.
The white chocolate is buttery and sweet, and the peppermint flavor brings in a cool, refreshing note.
This flavor is more or less a mint chocolate chip gelato dressed up in a Santa hat for that extra bit of holiday cheer.
17. Black Raspberry Chocolate Chip
Talenti seems to love making sweet-tart gelato flavors, and I'm glad they do. This one's another hit.
The Black Raspberry Chocolate Chip uses real black raspberries in its recipe, which lends a fresh, fruity taste to the pint.
The bits of chocolate vary in size and have a nice crunch and rich, chocolatey flavor.
Raspberry and chocolate isn't a common pairing like strawberry and chocolate or banana and chocolate, but it is just as good (especially in gelato form!).
16. Madagascan Vanilla Bean
It might look plain, but this Talenti gelato flavor is surprisingly complex. The Madagascan Vanilla Bean gelato has flecks of real vanilla bean throughout, and the vanilla used to make this ice cream has subtly fruity, floral notes.
So, it doesn't taste like regular vanilla gelato, but it has a certain depth of flavor that you'll understand as soon as you taste it.
The texture of this gelato is incredibly silky and smooth – so much so that you can feel the vanilla bean flecks as you eat.
15. Vanilla Blueberry Crumble
In my opinion, no fruit pie is truly complete without a scoop of vanilla ice cream. Fruit and vanilla are a flavor combination that I don't see going out of style any time soon.
That's why I think the Vanilla Blueberry Crumble is one of the best Talenti flavors. It begins with a vanilla gelato base and is filled with crunchy rolled oat clusters and blueberry sauce.
The sweet, tart blueberry sauce contains real blueberries, which freshens up the pint as a whole.
The oat clusters have bits of brown sugar in them, bringing that fresh-baked taste to each bite, along with a satisfying crunch.
14. Cookies and Cream
Cookies and Cream is one of my favorite ice cream flavors of all time, so I was pumped to try this gelato from Talenti. Their version is one of the best.
There are five layers, each with a unique texture and flavor: chocolate cookie crumbs on the bottom, vanilla gelato, dulce de leche sauce, chocolate cookies, and a top layer of cookies and cream gelato.
I don't think there's a way for this dessert to jam in any more cookies or cream!
The vanilla and chocolate flavors are evenly matched, and the dulce de leche adds a unique, caramelized touch you don't normally see in a cookies and cream dessert.
The bottom cookie layer is nice and crunchy, while the top layer is softer and more like a freshly baked cookie.
13. Caramel Apple Pie
The Caramel Apple Pie is a warm hug in a gelato carton. This flavor starts with cinnamon gelato, made by steeping cinnamon sticks in milk and cream.
It has a fairly strong cinnamon flavor, but it also has plenty of vanilla in it. In other words, this flavor is still worth trying, even if you don't love cinnamon.
Blended inside the gelato are bits of pie crust, pieces of apple, and a caramel swirl.
Cinnamon, apple, and caramel are three of my favorite autumnal flavors, and each gets to shine in this gelato from Talenti.
The apples inside are dried but still maintain a fresh, tart flavor that's complemented by the caramel and buttery pie crust.
12. Caramel Gingerbread
By far, I consider the Caramel Gingerbread to be Talenti's most creative gelato flavor to date.
It starts with a salted gingerbread gelato base, which has notes of cinnamon, ginger, and clove. There's a dash of salt, too, which amps up those warm spices even more.
There are also cinnamon cookie pieces and ribbons of dulce de leche throughout.
The cinnamon cookie pieces are crunchy and the tiniest bit spicy but mostly sweet.
The dulce de leche is smooth and gooey and has a caramelized buttery taste to it.
This flavor has only been around for a little over a year, but I can't get enough of it!
11. Banana Caramel Crunch
In my opinion, banana pudding is one of the best desserts of all time. Put it into ice cream form, and you've got the Banana Caramel Crunchy by Talenti.
This layered dessert features two layers of banana pudding gelato, two layers of pie crust, and a layer of dulce de leche.
The real banana in this recipe ensures that the natural, mildly sweet taste of bananas is showcased, rather than the fake banana flavoring you taste in some baked goods and candies.
The chunks of pie crust are buttery and perfectly flaky when you bite into them.
Talenti's dulce de leche swirl always enhances the other flavors it's paired with, and this gelato is no exception.
10. Sea Salt Caramel
The Sea Salt Caramel is, by far, the most iconic Talenti gelato flavor out there. Ask anyone about Talenti, and this is probably the first to pop into their head.
It begins with a salted dulce de leche base and features chocolate caramel truffles inside.
The base contains just enough salt to amp up that buttery caramelized flavor from the dulce de leche.
I love a good salty-sweet combination, so I appreciate that Talenti doesn't shy away from the salt with this flavor.
The chocolate caramel truffles are crunchy on the outside and gooey on the inside, and the chocolate flavor is also amped up by that salt.
This was one of the first gelatos released by Talenti, and I've yet to meet someone who doesn't love it.
9. Vanilla Chai
If you've never had it, chai tea has a complex flavor profile. It's sweet, a little spicy, earthy, and warming all at once.
I never thought I'd enjoy a tea-flavored ice cream, especially because I don't like the taste of matcha. But Talenti's Vanilla Chai gelato has shocked me, and it might impress you, too.
This flavor is made by mixing chai spices and freshly brewed black tea with vanilla gelato.
The spices featured here include cinnamon, allspice, ginger, black pepper, and cloves.
There's a spicy, herbal undertone to this flavor, but it's kept tame thanks to the sweet, simple vanilla gelato.
If you're thinking of traveling into the world of tea-flavored desserts, this is a tasty place to start.
8. Mint Fudge Cookie
The Mint Fudge Cookie flavor is a cross between mint chocolate chip and cookies and cream ice cream. It's part of Talenti's Layers collection, so it has five distinct layers.
There are two layers of Mediterranean Mint flavored gelato, two layers of chocolate cookie pieces, and one layer of fudge sauce.
The rich fudge sauce and the crunchy cookies are my favorite part of this pint.
They work super well with the subtle, refreshing mint gelato. If you're a fan of Thin Mints (who isn't?), give this bad boy a try!
7. Chocolate Chip Cookie Dough
Talenti's take on Chocolate Chip Cookie Dough is straightforward and classic.
It begins with a vanilla gelato base with chocolate chip cookie dough pieces and swirls of fudge throughout the pint.
This flavor would be even higher on my list if Talenti added a few more chunks of cookie dough to each pint. They're so buttery and sweet, and I'm always left wishing there was more.
The fudge swirl makes up for it, though, and brings a rich chocolate element to an ice cream flavor that's usually very vanilla-focused.
6. Chocolate Peanut Butter Cup
Talenti's Chocolate Peanut Butter Cup gelato is chock full of high-quality, real ingredients.
It begins with a chocolate gelato base that features real Belgian chocolate, with swirls of real peanut butter throughout.
Then, mini peanut butter cups are added to bring in that extra crunch and even more peanut butter.
I love anything chocolate peanut butter flavored, but so many desserts end up being heavier on the chocolate than the peanut butter.
This flavor is successful because it has two different sources of peanut butter, so the flavors are pretty evenly matched.
Plus, just like with the Salted Caramel flavor, Talenti brings the perfect pinch of salt to this pint.
5. Pumpkin Pie
Without shame, I can admit that I'm a pumpkin spice girl through and through.
It may be an overdone flavor, but I think there's something timeless about the combination of warm spices with sweet, comforting pumpkin.
So, of course, Talenti's Pumpkin Pie layered gelato is one of my favorites.
This dessert has two layers of pumpkin pie gelato, accompanied by two layers of pie crust pieces and a layer of brown sugar sauce.
The brown sugar sauce is incredibly rich and buttery. I would buy jars of it if I could (are you listening, Talenti?).
It might be blasphemous, but I would choose this pint over a slice of actual pumpkin pie any day.
4. Confetti Cookie
The Confetti Cookie flavor is Talenti's version of a cake batter or birthday cake ice cream.
This treat has two layers of creamy gelato, vanilla cookie pieces, a layer of pink cream cheese frosting, and an entire layer dedicated to rainbow sprinkles.
Anything with cream cheese frosting is automatically a win in my book! The tangy pink frosting keeps this dessert from veering into the too-sweet category.
Talenti's plain vanilla gelato is great, so mixing it with cookies, sprinkles, and frosting only makes it better.
The cookies have a nice, rich vanilla flavor and a great chew to them. The sprinkles are mostly there for aesthetic purposes but add a fun little crunch to the mix.
3. Chocolate Caramel Blondie
The base of the Chocolate Caramel Blondie gelato is a mix of Belgian chocolate and dulce de leche, which makes for an ultra-smooth, velvety experience.
This flavor would be great on its own, but it's boosted to a new level thanks to the salted caramel swirl and mini blondie pieces dotted throughout the pint.
The blondie pieces are super chewy and buttery, and they're the star of the show, without a doubt.
There's a lot going on in the flavor department here, including caramel, vanilla, chocolate, and even some salt.
There's also a good amount of textures. The caramel is gooey, the blondies are chewy, and the gelato itself is thick and rich.
Even though there's a lot to focus on in this pint, all the flavors and textures meld together seamlessly, making it one of Talenti's best gelato flavors.
2. Caramel Cookie Crunch
The Caramel Cookie Crunch has a sweet cream gelato base, which is like vanilla but with a fresh, sweet note that makes it just a smidge different.
This pint features a blend of chocolate cookies and Talenti's famous dulce de leche.
The chocolate sandwich cookies have a nice crunch, making this flavor a bit like elevated cookies and cream. The dulce de leche swirl adds some buttery caramelization to the flavor.
Each element (the cookie, the caramel, and the gelato) seems basic enough on its own, but when combined, one of Talenti's most delectable gelatos is created.
If you love classic gelato flavors and have never tried Talenti before, the Caramel Cookie Crunch is the way to go.
1. Salted Caramel Truffle
In case I didn't make it clear earlier, the Sea Salt Caramel is one of the best Talenti gelato flavors, and I'm far from the only person to hold this opinion.
Of course, the only way to top this flavor is to add more layers of goodies. Enter: the Salted Caramel Truffle layered gelato.
This dessert features a layer of Sea Salt Caramel gelato, followed by a layer of chocolate cookies.
Then, there's a layer of that classic dulce de leche, another layer of gelato (this time, vanilla flavored), and finally, a fifth layer of chocolate-covered caramel truffles.
The cookies in this pint are super crunchy and contrast perfectly with the creamy gelato layers.
The dulce de leche here has that same caramelized flavor I've mentioned before, and those chocolate-covered truffles are the same ones found inside the Sea Salt Caramel gelato.
With so many popular elements inside this pint, I think of Salted Caramel Truffle as a compilation of Talenti's greatest flavors, all stuffed into one delicious gelato!