What Food Delivery Services Accept Cash? (And How It Works)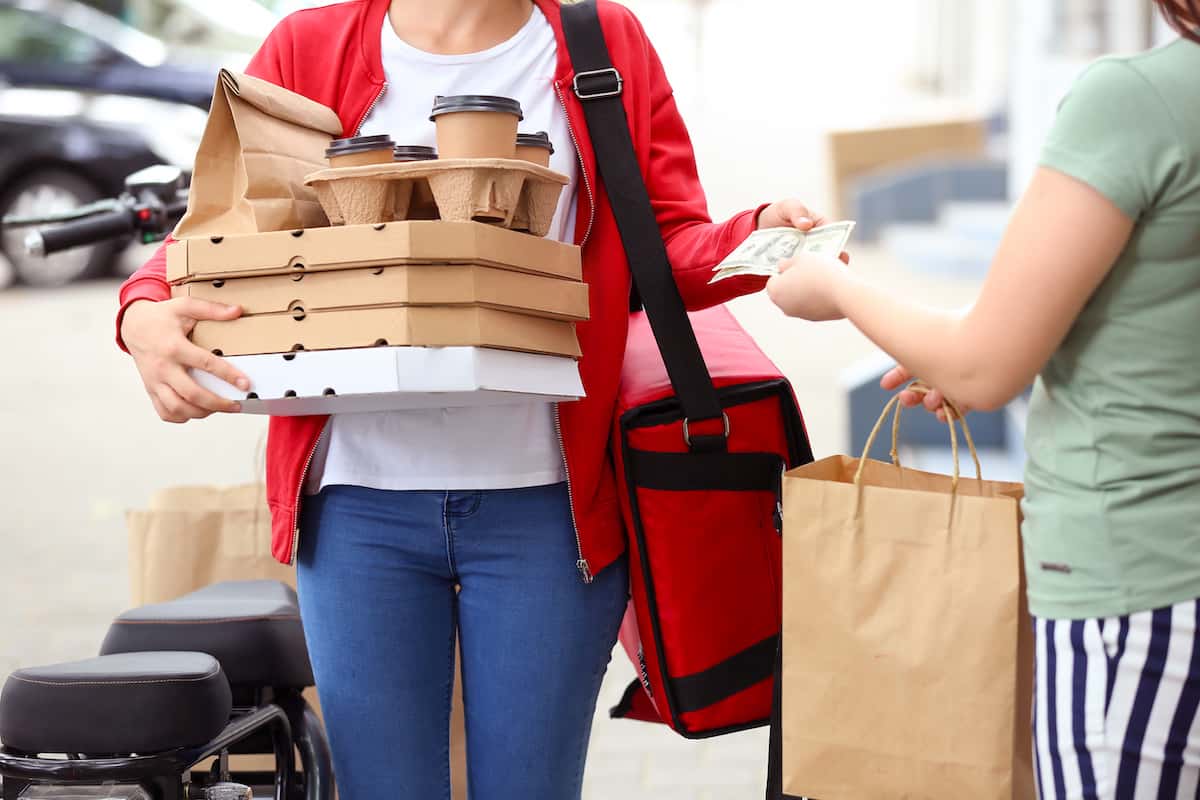 Ordering food delivery has become a routine task for many people nowadays. Although there are different delivery apps and payment methods available, some customers still prefer to pay with good old-fashioned cash.
Luckily, paying cash on delivery can be a viable option for your next order, depending on which food delivery service you use.
The food delivery services that accept cash include DoorDash, GrubHub, Uber Eats, Delivery.com, Seamless, and EatStreet. In addition, you can tip all food delivery drivers in cash regardless of whether the delivery service accepts cash or not.
In this article, we'll take a deep dive into food delivery services that accept cash and what you need to know before ordering your next meal.
| | |
| --- | --- |
| Food Delivery Service | Accepts Cash |
| Amazon Fresh | No |
| Bite Squad | No |
| Caviar | No |
| Delivery.com | Yes |
| DoorDash | Yes |
| EatStreet | Yes |
| Favor | No |
| GrubHub | Yes |
| Instacart | No |
| Postmates | No |
| Seamless | Yes |
| Shipt | No |
| Uber Eats | Yes |
| Waitr | No |
As you can see in the table above, other popular food or grocery delivery services like Instacart, Shipt, Postmates, Amazon Fresh, Favor, Caviar, and Bite Squad do not accept cash.
Food Delivery Services That Accept Cash
Let's take a look at each food delivery service and how paying cash works on their platform.
We do! Cash on Delivery will only be available if a Merchant has requested it on our platform. If you need more information regarding this, send us a DM! -Netta

— DoorDash Help (@DoorDash_Help) December 10, 2019
1. DoorDash
DoorDash accepts cash payments in addition to credit and debit cards and DoorDash gift cards; however, the delivery must meet the minimum order amount of $7.00.
In addition, DoorDash only takes cash if the restaurant or merchant allows cash payments on its platform.
When paying cash for a DoorDash order, make sure to have small bills so the drivers can give your change.
If Dashers do not have enough cash on hand for the change, they may not accept your cash payment.
If you do not need change, then paying cash should not be a problem at all. In addition, you can always tip your DoorDash driver in cash.
Cash orders are only accepted if the restaurant accepts cash orders. If cash orders are acceptable, you should see cash as an option at check out. We hope this helps, your GrubHUb Customer Care Team.

— Grubhub Care (@Grubhub_Care) October 7, 2018
2. GrubHub
GrubHub accepts cash in addition to credit and debit cards, PayPal, Apple Pay, Google Pay, and GrubHub gift cards.
Accepting cash, in addition to a wide variety of other payment methods, makes GrubHub very appealing when it comes to ordering food delivery.
However, one caveat is that GrubHub only accepts cash if the restaurant accepts cash orders.
While GrubHub is very flexible regarding payment options, it's ultimately the restaurant's decision to accept cash.
If a restaurant on GrubHub accepts cash, you'll see the "Pay with cash" option available on the checkout screen.
To select cash as your payment method, first place the order. When you arrive to the checkout screen, you can swap between your available payment methods and choose cash. [2/2]

— Uber Eats (@UberEats) February 8, 2020
3. Uber Eats
While ridesharing service Uber does not take cash, Uber Eats, the food delivery business of Uber, accepts cash.
Cash payments on Uber Eats will depend on the restaurant and the delivery driver.
Uber Eats encourages its drivers to carry cash on hand to have change for customers when needed.
Similar to DoorDash and GrubHub, you can also tip Uber Eats drivers in cash.
It's worth mentioning that, in addition to delivering food, Uber Eats delivers groceries in some locations.
4. Delivery.com
Delivery.com is another service that accepts cash and has been on the rise as they deliver food, groceries, and alcohol in many locations across the US.
In addition to cash payments, Delivery.com accepts credit cards, PayPal, Apple Pay, and Delivery.com gift cards.
5. Seamless
Seamless delivers food in New York City and other metropolitan areas and accepts cash on delivery.
Seamless is part of GrubHub, so they both run on the same platform. In addition to cash, Seamless also accepts credit and debit cards.
Ordering on the Seamless website or the app will be a similar experience to ordering on GrubHub, and similar requirements apply when it comes to cash payments.
Not all restaurants on EatStreet accept cash payment for orders–it sounds like the ones you chose have opted out. Sorry for the trouble!

— EatStreet (@EatStreet) April 16, 2018
6. EatStreet
While many people may not be familiar with EatStreet, it's one of the oldest food delivery services in the US and serves over 250 cities.
EatStreet accepts cash if the restaurant allows cash payments on the platform.
If the restaurant allows cash payments, it will be displayed on the checkout screen when ordering on the EatStreet website or the app.
In addition to cash payments, EatStreet accepts credit cards, Apple Pay, and Google Pay.
Why Don't All Food Delivery Services Accept Cash?
The main reason for some food delivery services not accepting cash is that most restaurants do not allow it.
Accepting cash payments complicates the process both for drivers and restaurants. The drivers need to carry cash for change, and it increases the risk of unpaid orders for restaurants.
The risk of unpaid orders is why most restaurants do not allow cash payments on services like GrubHub.
Accepting a credit card payment upfront reduces the risk of unpaid orders and simplifies the overall process.
In some cases, there are also multiple trips required for drivers to pick up the order from the restaurant, deliver it to the customer, and go back to the restaurant to drop off the cash.
Although DoorDash allows Dashers to keep the cash received from customers and deduct it from their next scheduled deposit, that's an additional reconciliation that needs to be made and doesn't always go smoothly.
Another reason is the increased safety concern. Some delivery drivers may not feel comfortable carrying cash from multiple deliveries and may reject orders, especially at night.
In summary, paying with cash creates logistical challenges for the ordering and delivery process both for the drivers and restaurants.
Are There Any Downsides to Paying With Cash?
The main downside of paying with cash is that your order may take longer to be delivered.
First, you'll need a delivery driver willing to accept cash on delivery orders which can take time.
In addition, if you decide to tip your driver in cash, your order may get bounced around as they will not know whether you intend to tip at all.
DoorDash, GrubHub, and Uber Eats drivers can see tips before accepting orders, and if you do not tip on the app when placing an order, you'll most likely wait for a long time for delivery.
Another potential issue could arise if they don't have the exact change when you pay them with cash. In that case, they may not be able to give the order to you.
To avoid issues with cash payments, make sure to have small bills available, do not ask for exact change, and let drivers keep it if anything.
If you want to pay with cash only because you're not comfortable sharing your credit card information, you should know that there are other ways to pay for your food delivery order.
Most food delivery services will allow you to order food with PayPal or pay with Cash App, and some even allow you to use Venmo.
In addition, you can use Apple Pay and Google Pay on most food delivery apps.
Can You Tip Food Delivery Drivers in Cash?
You can always tip your delivery driver in cash, even if the food delivery service you use does not accept cash.
From the viewpoint of the driver being tipped, cash is typically preferred, as it makes the earnings available right away.
Most food delivery drivers make less than the minimum wage, and the majority of their income comes from tips.
They heavily rely on tips and keep 100% of the tip amount. Therefore, tipping is a great way to show your appreciation, especially if you received good service.
We recommend tipping food delivery drivers at least 15-20%, which is the standard in the service industry.
Conclusion
Paying cash for your food delivery order is a convenience, and it appeals to a larger audience since everyone doesn't have credit cards. However, not all food delivery services accept cash, and most restaurants do not allow cash payments on their platforms.
Although it has limitations, it's still possible to pay cash for your next meal if you do your due diligence before placing the order.
If you're interested in learning more tips about food delivery services, check out the related articles below.
Related Articles:
DoorDash Delivery: How It Works and How to Order Using the DoorDash App
6 Ways to Contact DoorDash Customer Service
GrubHub Delivery: How It Works and How to Order Using the App
Uber Eats Gift Cards: Where to Buy and How to Use Them
How To Contact Uber Eats Customer Service (By Phone, Chat, and More)