How Does GrubHub Work and How Much Does It Cost?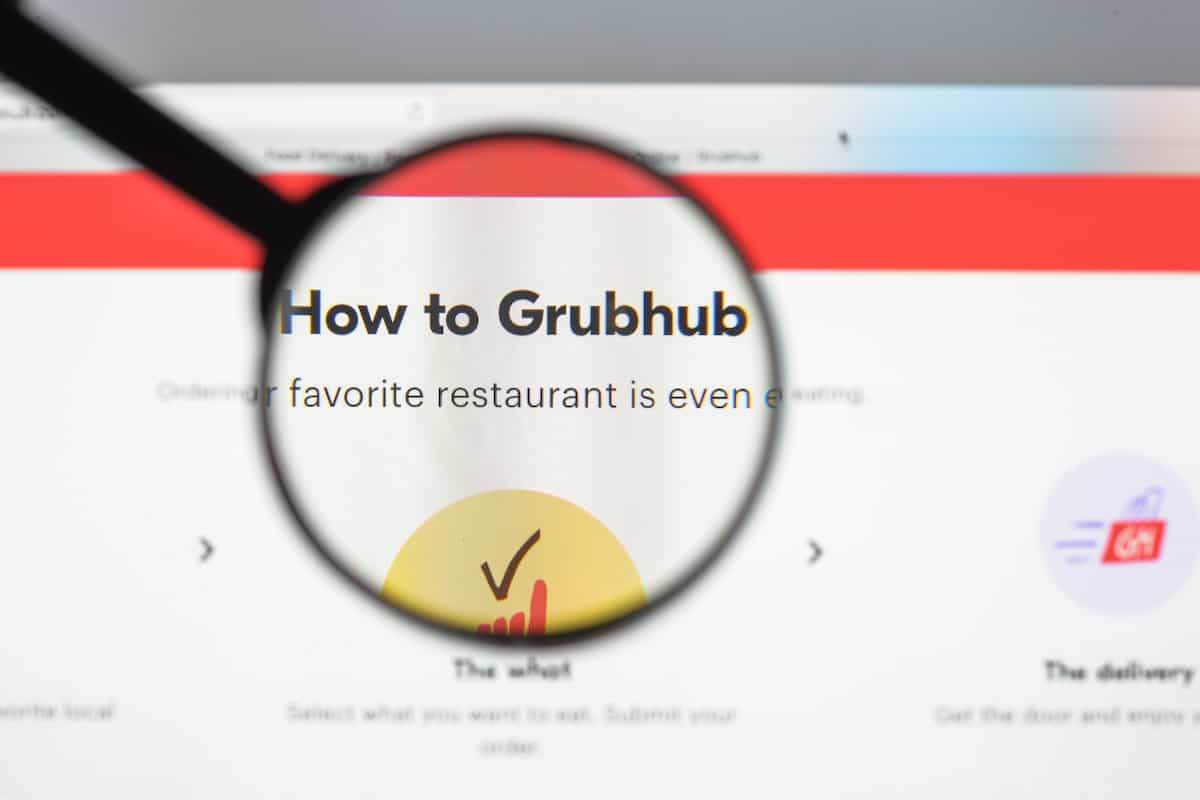 GrubHub delivery is easy to use, fast, on-time, and sometimes even free with the GrubHub app or online. GrubHub has always offered perks and discounts, but now they are even easier to find with the in-app Perks tab, making delivery even cheaper.
Key Takeaways
You can create a free account on GrubHub and order using their app or the website.
GrubHub delivery fees typically range from $1.99 to $7.99. In addition, there is a service fee of 5-10% of your order total.
With GrubHub Plus membership that costs $9.99 a month, you can get free delivery on eligible orders over $12.
You can order late and trust GrubHub delivery will have your back with on-time delivery even after midnight. If you have any issues, questions, or concerns with your order, you can contact GrubHub customer service with one easy phone call.
How Does GrubHub Work?
GrubHub lets you order delivery or pickup through their website or with the GrubHub app. You will create a free account and choose your desired delivery address. Then, you can choose from a long list of restaurants in that area. You can even track the delivery all within the GrubHub app.
There is even a contactless GrubHub delivery option available now with a place to type in specific drop-off instructions.
On GrubHub, you can order from two restaurants at a time. So if you would like to order from more than two restaurants, you will have to place multiple orders.
GrubHub Plus is also available for $9.99 a month to those who sign-up. GrubHub Plus members get special perks, including free delivery on orders $12 or more, a free meal each month, and access to exclusive member GrubHub Perks.
GrubHub offers a free trial to those who want to sign up for the GrubHub+ membership.
How To Use GrubHub
To use the GrubHub app or the website, first, you'll need to create an account. Then, type in your delivery address, and GrubHub will list all restaurants in your area. Click on the restaurant you want to see their menu and place your order. To submit the order, click on your bag and complete the checkout steps.
You can use the GrubHub app to place an order regardless of the time or whether the restaurant is currently open. GrubHub will give you delivery times to choose from on the restaurant's next business day.
This is just their way of making the GrubHub experience as seamless as possible.
Below are step-by-step instructions on how to place an order via the GrubHub app:
1. First, sign in to your account and type in your desired delivery address.
2. Then, choose a restaurant you want to order from.
3. Pick out your order and add each desired item to your bag.
4. When you are finished adding items, click "View Order" at the bottom of the screen.
5. Review your order, add an optional driver tip, and press "Continue to Checkout" at the bottom of the screen.
6. Fill out the desired payment information and click "Review Order" at the bottom of the screen.
7. Here, you can add a gift card or GrubHub promo code before pressing "Place Your Deliver Order" at the bottom of the screen.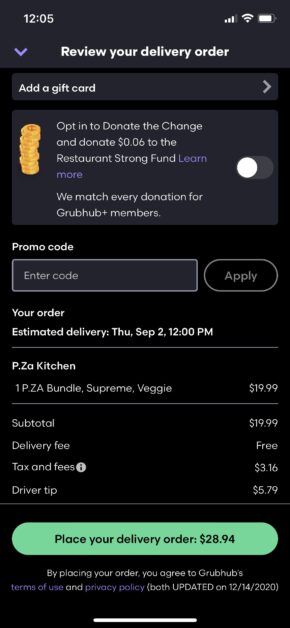 How Much Does GrubHub Cost?
While signing up for GrubHub with an email address is free, there are delivery and service fees for each order, typically ranging from $1-$10. However, if you have a GrubHub Plus membership, you can get unlimited free delivery on eligible orders over $12.
GrubHub sometimes offers promo codes for free delivery and discounted meals in the app or on their website.
When you use the GrubHub app, you'll find the GrubHub Perks tab located on the home screen. This is where you can find all your discounts and promo codes you can redeem for your current or future orders.
One additional cost on GrubHub is tipping. While tipping your delivery driver is optional, it's recommended to tip GrubHub drivers at least 15-20%, which is the standard in the service industry.
If you have a GrubHub Plus membership, you can get unlimited free delivery on eligible orders over $12. The GrubHub Plus membership costs $9.99 a month, but it will make sense to sign up if you are ordering from GrubHub more than two or three times a month.
Some restaurants opt to have higher menu prices to help offset the price differences for delivery, such as the cost of packaging.

— Grubhub Care (@Grubhub_Care) July 25, 2021
What Restaurants Are On GrubHub?
Nearly every fast food restaurant can be found on GrubHub. GrubHub features more than 300,000 restaurants in approximately 4,000 cities across the U.S. Even local restaurants are easy to find with the GrubHub app. To search the restaurants in a given area, simply type in a delivery address.
Some of the restaurants that GrubHub delivers from include:
Big Boy
Bob Evans
Burger King
Carl's Jr.
Church's Chicken
Cold Stone Creamery
Del Taco
Denny's
Dunkin' Donuts
Firehouse Subs
Jack in the Box
Jersey Mikes
KFC
Little Caesars
McDonald's
Olive Garden
Panera Bread
Papa John's
Popeyes Louisiana Kitchen
Potbelly Sandwich Shop
Starbucks
Subway
Taco Bell
Whataburger
White Castle
According to the previous employee, Jada Riley, in Long Beach, CA, it is relatively easy for any restaurant, including local restaurants, to work with and be offered on GrubHub.
@JL11_NJ11 24 hours a day and 7 days a week. Let us know if you need any help with anything.

— Grubhub (@Grubhub) January 4, 2013
How Late Does GrubHub Deliver?
GrubHub delivers 24/7. If the restaurants in your area are open and there are drivers available, GrubHub will deliver your food. The delivery fee isn't affected by the time either.
Jada Riley also stated that sometimes only one or two restaurants are open after midnight in a specific area, and there might not be a driver available for delivery. In this case, you can still order GrubHub pickup for those restaurants.
This gives you a chance to still use your GrubHub perks even if delivery isn't an option.
You can even place an order when a restaurant is closed and schedule the delivery for the next business day at a specific time.
Does GrubHub Have Promo Codes?
GrubHub has promo codes, and they appear on the GrubHub app and their website. If you sign-up for the email list, you will receive unique GrubHub promo codes. All promo codes appear for GrubHub Plus members and non-members. The Plus members get access to exclusive promos, like unlimited free delivery on qualifying orders.
When you go to the GrubHub website, you will immediately notice a pop-up to receive a GrubHub first order $10 discount. All you have to do is sign up for the email list and place an order of $15 or more.
From there, you will notice that you can type in your address to find the best deals currently offered by the restaurants in that area.
This is a convenient tool GrubHub offers to help you find the most GrubHub promos possible in the least amount of time.
Whether you are using the GrubHub website or the GrubHub app to place an order, you will follow these steps to redeem a GrubHub promo code:
1. When you are finished placing your order, go to your bag and press the "Proceed to Checkout" button.
2. From there, you will fill out all delivery instructions.
3. Then, you'll see a button to pay with a gift card or to add a promo code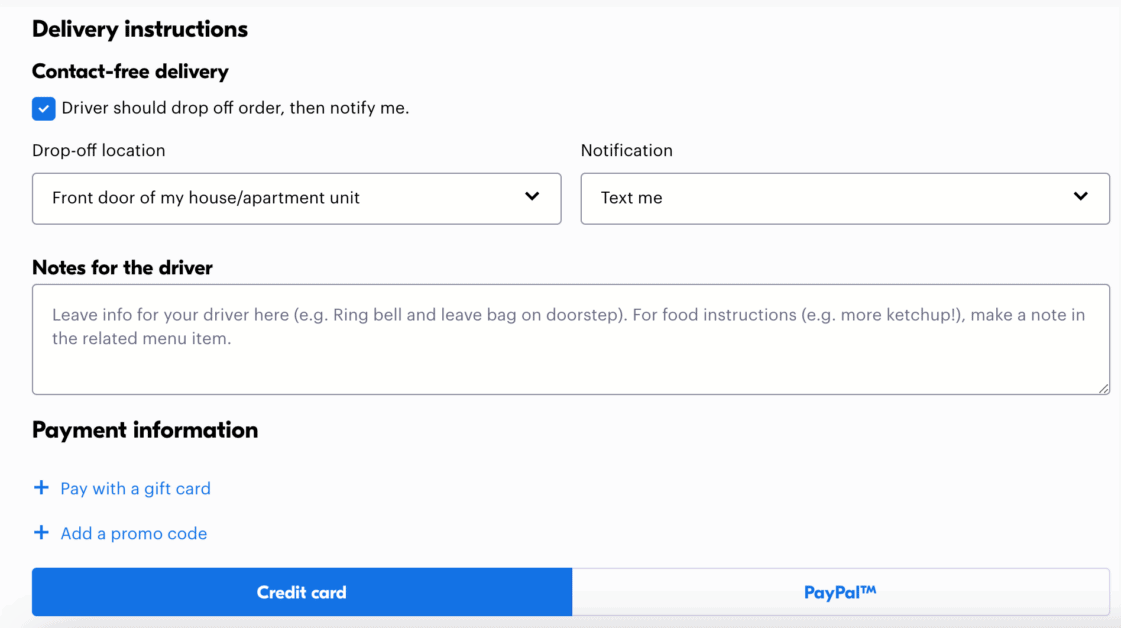 4. Click the "Add a Promo Code" button and type in the code


5. Note: You must pay with a credit/debit card or via PayPal to use a promo code
6. Finally, you'll fill out the payment info and click "Place Your Delivery Order" to purchase.
Thank you for reaching out to us. To use your Grubhub perks simply login to your Grubhub app then go to Perks Tab and from there just select the perk that you want to use and it will automatically apply to the order.

— Grubhub Care (@Grubhub_Care) March 25, 2021
What Are GrubHub Perks?
GrubHub Perks is an in-app program available to anyone with a GrubHub account. It gives you exclusive GrubHub offers and ways to earn loyalty rewards for certain restaurants. You can conveniently see all your GrubHub deals and loyalty rewards in one tab on the home screen of the GrubHub app.
GrubHub Perks isn't something you have to sign-up for separately. Everyone is automatically enrolled in the program when they use the GrubHub app.
The GrubHub Perks button is located at the bottom of the home screen within the GrubHub app. You can click this button to be taken to your personal GrubHub deals based on previous purchases and potential rewards for future purchases.
The current GrubHub Perks are located within the "Perks" tabs under the "Redeem" button, while the potential loyalty rewards show up under the "Earn" button.
Potential GrubHub Perks include:
Friend referral discounts
Discounted or free food specific to restaurants
Free delivery
Discounts on your next order
How To Contact GrubHub Customer Service
You can contact GrubHub customer service by calling the customer service number 877 585-7878. The GrubHub customer service number is the fastest way to have a problem resolved. You can also reach the support team via Twitter (@GrubHub_Care) or check out their FAQs page.
GrubHub customer service is happy to go over order issues, cancel an order, or issue a refund to ensure every customer has the best experience possible.
GrubHub restaurants and drivers can contact the GrubHub customer service team by calling 877 805-5081. GrubHub's customer service number for corporate accounts is 844 478 2249. GrubHub also has an FAQ page for drivers to answer the most common questions.
Avid Chicago GrubHub customer Nikki Webster suggests that everyone uses the GrubHub customer service phone number (877) 585-7878 for all questions and concerns regarding their orders. She states that a phone call is the quickest way to get a problem solved; that it is done nearly instantly.
Conclusion
Using GrubHub is extremely easy and acquiring GrubHub Perks is even easier with the new tab featured on the GrubHub app. You can place orders for delivery or pickup in a matter of seconds. All the while saving money with loyalty rewards and potentially GrubHub free delivery!
If you're interested in finding out more about GrubHub, check out the related articles below.
Related Articles:
How to Get a Refund on GrubHub (And Cancel an Order)
Does GrubHub Take Cash? (Yes, Here's How to Pay)
GrubHub Gift Cards: Where to Buy and How to Use Them
Do GrubHub Drivers See Your Tip? (Before or After Delivery)