Does DoorDash Take Cash? (Yes, but Not Always)
One of the biggest upsides to using DoorDash is the ability to pay cash on delivery. This is a convenient option for those who do not have a viable online payment method and makes the DoorDash platform more accessible.
Key Takeaways
DoorDash takes cash if the restaurant or merchant accepts cash payments.
DoorDash delivery drivers can accept or reject cash orders without any penalties.
In addition to cash on delivery, DoorDash accepts Apple Pay, Google Pay, PayPal, Venmo, DoorDash gift cards, and credit or debit cards.
In this article, we'll explain how cash payments work on DoorDash and what you can do to make your cash transaction go smoothly.
How Do Cash Payments Work on DoorDash?
Cash on delivery option is available on DoorDash in select regions and when restaurants or merchants allow cash payments on the DoorDash platform.
DoorDash is not new to accepting cash payments. The food delivery service accepted cash payments a while ago and paused due to contactless deliveries during the pandemic. However, as life normalized, paying cash on delivery became a viable option again.
While paying with cash may be a great convenience for some, not all restaurants or merchants accept cash on DoorDash.
In addition, it's up to the Dashers whether or not to accept cash on delivery orders.
After DoorDash announced that it would start accepting cash payments again, most Dashers were not fond of the idea.
Understandably, cash on delivery orders require additional steps for Dashers and may also create a potential safety risk for drivers, especially at night.
Therefore, DoorDash allows Dashers to reject cash orders without impacting their acceptance rate.
In addition, DoorDash wants to make the process as easy as possible for customers and Dashers. Thus, they allow Dashers to keep the cash received from customers and deduct the amount from their next scheduled payment.
If you prefer to pay with cash on DoorDash, the good news is that it's possible.
You will need to do a little bit of work to see if your favorite restaurant allows cash payments, and there are Dashers in the area who are willing to deliver cash orders.
We do! Cash on Delivery will only be available if a Merchant has requested it on our platform. If you need more information regarding this, send us a DM! -Netta

— DoorDash Help (@DoorDash_Help) December 10, 2019
How to Pay With Cash on DoorDash
To pay with cash on DoorDash, you'll follow the same ordering process as other payment methods, and if cash is accepted for your order, you'll be able to select it on the payment screen.
As mentioned previously, the cash option is not available for all orders, so you'll need to double-check before assuming your order will be eligible for a cash payment.
Here's how you can pay with cash on DoorDash:
Step 1. Login to your DoorDash account and enter your address.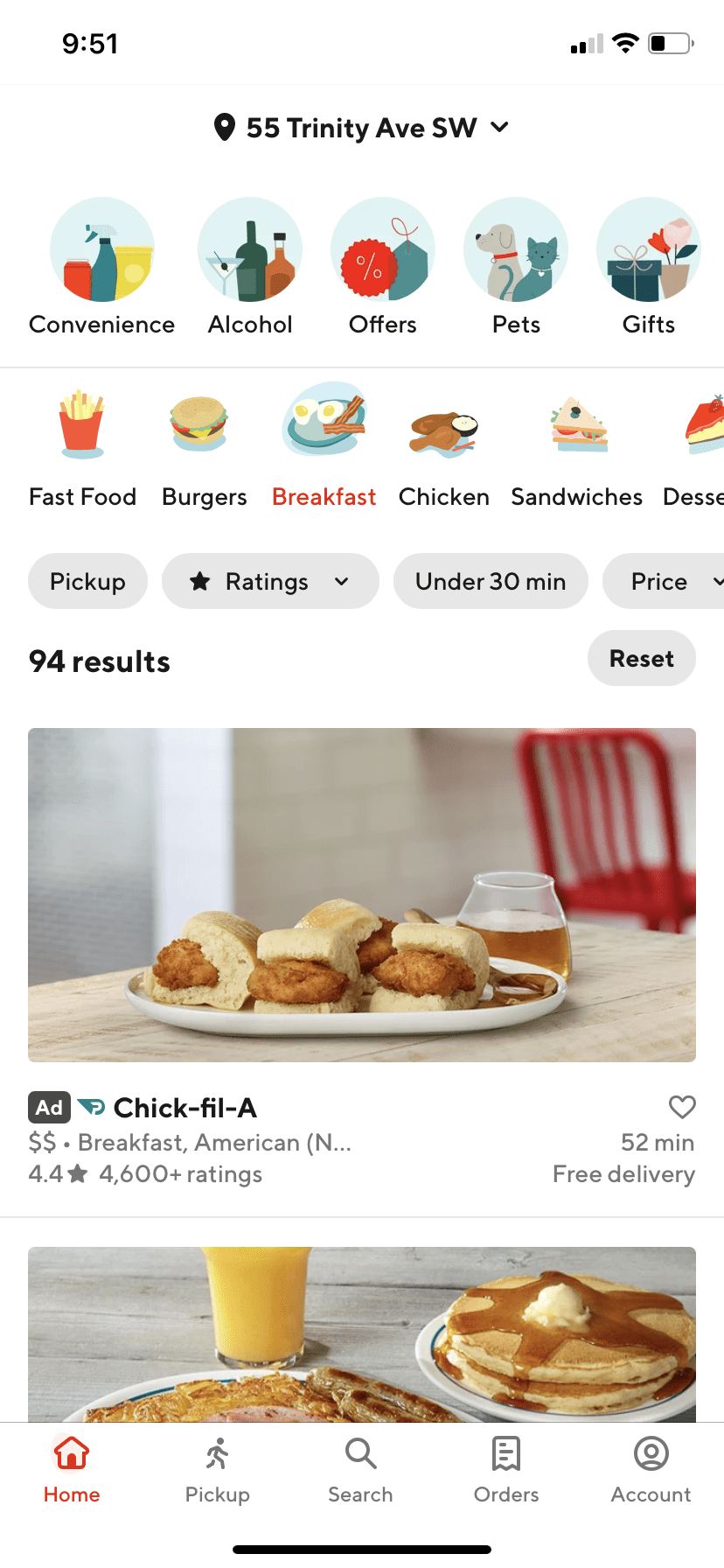 Step 2. Choose the restaurant you want to order from in your location.
Step 3. Select desired menu items, adjust quantities and click "Add to order" to add them to your cart.
Step 4. Once you're done adding items to your cart, click "Continue" to proceed to checkout.
Step 5. On the next screen, you'll be shown the available payment methods for your order. If cash payment is available for your order, it will be listed here for you to select.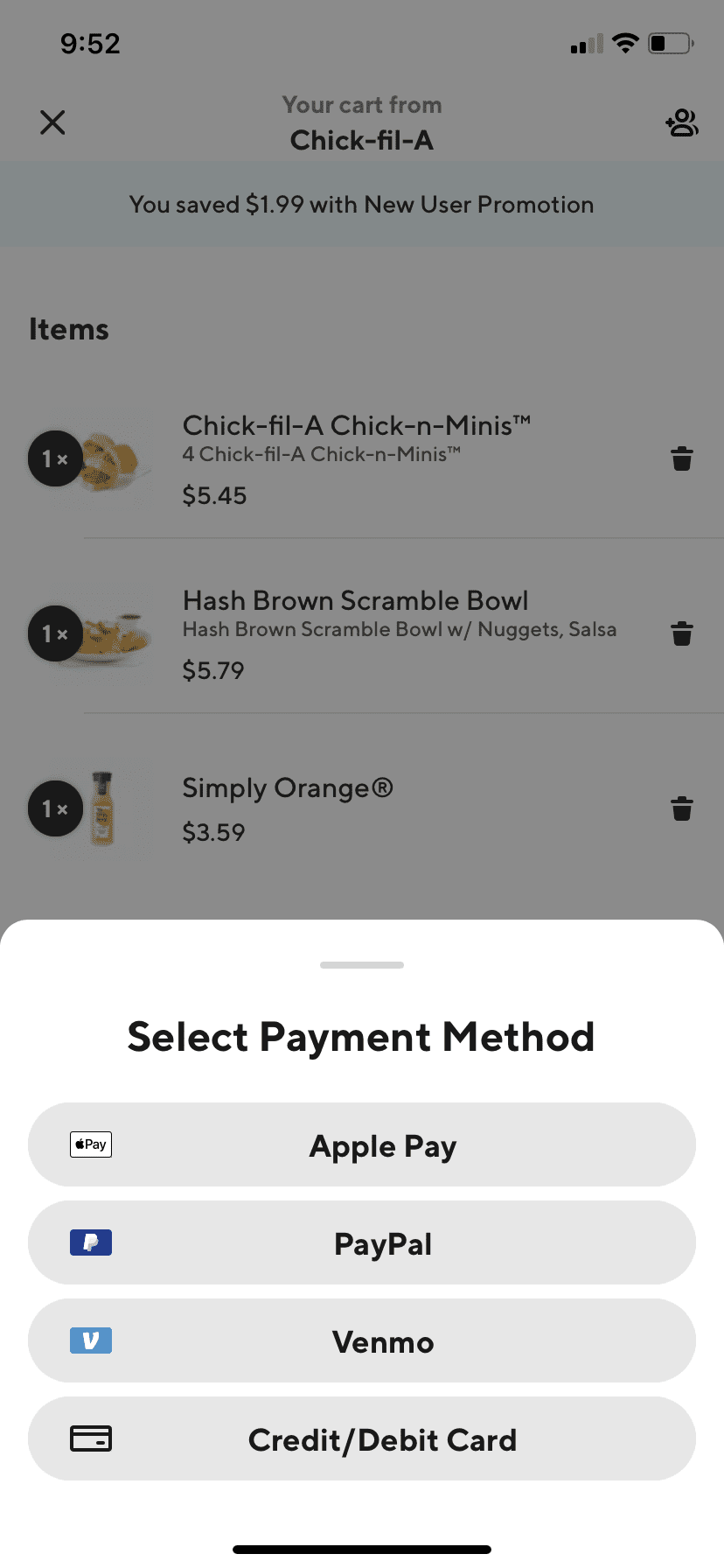 If you do not see the cash payment option on your checkout screen, it means that your order is not eligible. It may be because the restaurant you're ordering from is not accepting cash payments.
In this case, you'll either have to pay with a different method or start a new order.
Tips for Paying Cash on DoorDash
While cash on delivery can be a convenient way to pay for your order, it may also cause problems if you're not well-prepared during the delivery.
You can follow the tips below to ensure the transaction goes smoothly and make the delivery process easy for yourself and your Dasher.
1. Give Exact Change
Giving exact change for your order makes the whole process easier for you and your Dasher.
Most Dashers do not drive around with a pile of cash, so they may not have the change for you.
If you don't have the exact amount, make sure to have small bills available so the drivers can give your change.
If Dashers do not have enough cash on hand for the change, they may not be able to deliver your order.
2. Tip Generously
As mentioned previously, Dashers have the option to reject cash on delivery orders. So if your Dasher delivered your order, it means they are going the extra mile to complete your order, and that deserves appreciation.
Your cash order likely got bounced around before your Dasher picked it up and delivered it to you. In addition, cash orders are always a risk when it comes to tips.
We recommend tipping Dashers at least 15%, and you can increase it to 20%, especially if you received excellent customer service.
3. Have a Backup Payment Method Ready
When issues arise regarding cash payments, such as not having exact change, you may need another payment method to pay for your order.
In some cases, Dashers may still give the order to you even if they can't provide change. If that happens, they will mark the order "Issue collecting cash payment" in the Dasher app.
It's always a good idea to have a backup option ready in case you need to pay directly to DoorDash with a different method.
Are There Any Downsides to Paying With Cash on DoorDash?
The main downside of paying with cash on DoorDash is that your options are limited when it comes to restaurants. In addition, even if your order is eligible for cash on delivery, it may take longer to be delivered.
First, you'll need a Dasher willing to accept cash on delivery orders which can take time.
In addition, since you're tipping your driver in cash, your order may get bounced around as they will not know whether you intend to tip at all.
DoorDash, GrubHub, and Uber Eats all take cash, but drivers can see tips before accepting orders, so if you do not tip on the app when placing an order, you'll most likely wait for a long time for delivery.
If you want to pay with cash on DoorDash only because you're not comfortable using your credit card online, you should know that there are other ways to pay for your order without sharing your credit card information.
What Payment Methods Does Doordash Accept?
In addition to cash, DoorDash accepts a variety of payment methods. In fact, cash is the least used payment method on most delivery apps.
While most customers will use a traditional credit or debit card, other digital payments are also available on DoorDash.
The accepted payment methods on DoorDash include:
Being able to use your digital wallet to pay for your DoorDash order is a great convenience.
If you already have Apple Pay or Google Pay set up on your mobile device, you can select them as your default payment option on the checkout screen.
Similarly, DoorDash also accepts PayPal and Venmo as payment methods and allows you to use them for all orders.
One helpful feature DoorDash has is selecting a default payment option. To do so, sign into your DoorDash account and go to "Account" settings.
Here, click on "Payment" to see all available options. Then, select your preferred payment method and click on "Set default."
Setting a default payment option will allow you to use this method to pay for all DoorDash orders placed in the future.
Can You Tip DoorDash Drivers in Cash?
You can always tip your Dasher in cash, even if your order is not eligible for cash on delivery.
From drivers' viewpoint, cash is typically preferred, as it makes the earnings available right away.
Most Dashers and other food delivery drivers make less than the minimum wage, and most of their income comes from tips.
They heavily rely on tips and keep 100% of the tip amount. Therefore, tipping generously in cash is always a great way to show your appreciation for their service.
Conclusion
Paying cash on DoorDash is a great convenience, and it makes the platform accessible to those who do not have viable online payment methods. However, not all orders on DoorDash are eligible for cash on delivery, and there are some drawbacks.
Although it has limitations, it's still possible to pay cash for your next order on DoorDash if you do your due diligence beforehand.
If you're interested in learning more tips about DoorDash, check out the related articles below.
Related Articles:
DoorDash Delivery: How It Works and How to Order Using the DoorDash App
6 Ways to Contact DoorDash Customer Service
DoorDash Pickup: Here's How It Works and How to Order
How Late Does DoorDash Deliver? (Plus the Average Delivery Time)