6 Ways to Contact DoorDash Customer Service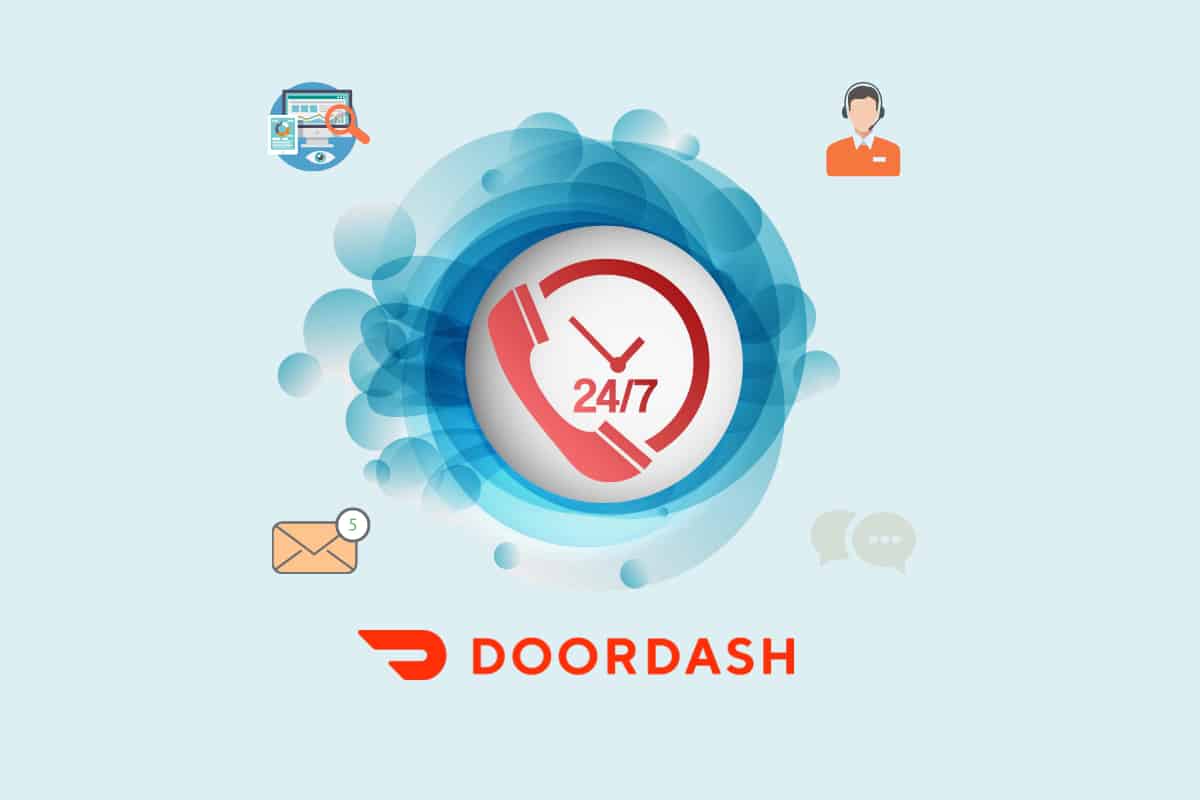 The attention to detail DoorDash places on their six support methods shows they care about customer service. They want to make it easy for anyone to resolve an issue they might have, with a goal to have the problem resolved before even contacting the DoorDash customer service team directly.
Customers, Dashers, and restaurants can all contact DoorDash support in whichever way they are most comfortable. Some methods are quicker, easier, or more popular than other methods, but they all are viable options!
1. Use DoorDash App
If you are a customer trying to contact DoorDash customer service via the app, chances are, you need to contact them about a problem with a particular order. In this circumstance, the app makes it incredibly quick and easy to do so.
You don't even have to explain your story before submitting the ticket. The app lays everything out for you, almost like a multiple-choice scenario.
Here are a few screenshots to showcase the steps of contacting DoorDash customer service via the app: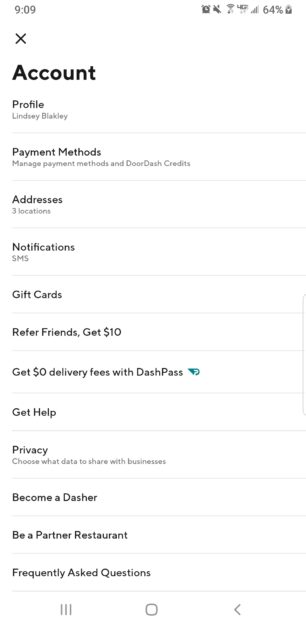 To report an issue with your DoorDash order using the app, follow the steps below:
Click on the "Account" button located in the toolbar on the app
Then, you will click "Get Help"
It will bring up your orders, and you will click which order you are having trouble with
Then, you will choose between several options to explain what went wrong with the order
If you were missing an item, it asks you further questions like which item and what part was messed up or missing.
When you are finished, press "Submit," and you be contacted by DoorDash as quickly as possible.
Contacting support via the website follows the same process!
If you have a problem that isn't directly related to an order you placed, the app will not be your best option to reach customer service.
Say you are having trouble with your payment method or logging into your account. In this case, you will want to contact customer service directly via phone, email, or chat. 
Dashers can conveniently contact live customer support via the app by clicking the "Help" button in the top right corner of the screen at any time during their delivery.
It will pull up a few options for you to choose from. If the help you need doesn't have to do with a live delivery, your only option is to visit the help center or contact DoorDash customer service via phone, email, or live chat on the website.
Here is an overview of the Dasher app if you need any more clarification! 
2. Call DoorDash Support
The DoorDash customer service phone number is 855-431-0459. All customers, Dashers, and restaurants can call this number if they have any questions or issues that aren't directly related to an order.
During the call, you will be asked to press one for customers, two for Dashers, and three for restaurants.
All customers are directed to first check out the help center FAQs page before proceeding with the phone call. If you wish to speak with an agent, the automated voice quickly connects you to an agent after mentioning the help center. 
Dashers are given two options to choose from, but if your issues don't fall under those two options, the third option is to talk with an agent. This line usually has longer wait times, though, so be prepared for that.
As a merchant/restaurant, you are given six options to choose from on the phone. You won't be given the option to speak with an agent until you choose from one of the six categories.
This helps the customer service department to direct your phone call to the right agent properly.
3. Chat With DoorDash Support
Anyone can use the DoorDash chat system to contact their customer support team. This is possibly the quickest way to have any problem resolved, and you don't even have to physically speak to anyone to resolve the issue.
When you click the chat icon at the bottom right corner of the website, it will open a text box with blank fields for you to enter your personal information.
This information will help them send you records of the issue, whether or not it was resolved, and give them your phone number if the issue needs to be discussed over the phone to fully resolve.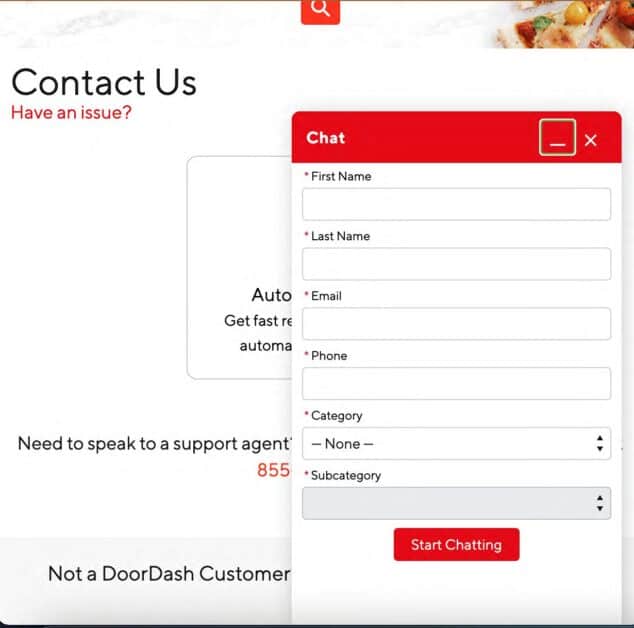 Keep in mind that the chatbox categories and subcategories are tailored more for customers trying to reach DoorDash customer service, but Dashers and merchants can also use this method.
You will have to clarify with the person that you are a Dasher or merchant once you click the "Start Chatting" button.
Not only is this method of reaching DoorDash support quick, but it's also highly convenient for those at work who can't necessarily talk to someone on the phone but still want to get their issue resolved. 
4. Email DoorDash Support
For those that would prefer to send an email to DoorDash customer service, their support team email is [email protected]. It works for customers, Dashers, and restaurants but is the slowest way to resolve a problem with customer service. 
Jesse Martin, a former DoorDash customer service rep from Indianapolis, IN, says that email used to be the safest way for everyone to contact the support team because it left a paper trail of the entire conversation.
Now, customers, Dashers, and restaurants are all emailed what is essentially a receipt of the resolved problem once they finish speaking with the support team via phone or chat, deeming email support a bit outdated.
However, there are still people that prefer this method. While it might be slower than other methods, it is still an available option.
He goes on to state some tips to make email support go as quickly as possible. Basically, you will want to have as much information in your initial email as possible. Some things to include are:
Your full name
The email associated with your account
Whether you are a customer, Dasher, or restaurant
Your phone number (if you wish you provide it)
A detailed explanation of your problem, what you have done to resolve it on your own, and any other concerns you might have.
Hey @k3llybaugh78! Wrong orders are not the business! We're sorry you received the wrong order and also the wrong customer service experience. Please DM us with your email and well take a look -Jordan

— DoorDash Help (@DoorDash_Help) April 29, 2021
5. Use Social Media
DoorDash is one of the top companies responding to customer, Dasher, and restaurant concerns via social media. They are most active on Twitter and can be reached at @DoorDash_Help.
The DoorDash Twitter support team is usually quick about responding to customer concern tweets and will most likely get back to you within a day.
However, they aren't likely to resolve an issue via Twitter. Instead, they will most likely navigate you to their Help Center or recommend you call their customer service phone number directly.
They also have Instagram support available but won't necessarily answer direct messages on this platform. In this case, all customers, Dashers, and restaurants are encouraged to fill out their Instagram Support Case Form located here. 
6. Use DoorDash Help Center
It might be last on this list, but it contains answers to the most common customer service questions! The DoorDash Help Center is a highly beneficial support tool offered to the public.
The Help Center is divided into three categories: a customer, Dasher, or a merchant/restaurant. 
Under each category, you will find an extensive list of FAQs. DoorDash recommends everyone read through these questions before trying to contact the DoorDash customer service team directly.
The DoorDash Help Center does a great job of resolving most problems without the need to investigate further via phone call or live chat.
Here is where you will also find direct links to their Customer Chat, Dasher Chat, and Merchant Portal to quickly get any questions answered that you don't see on the list. You are also more than welcome to call their customer service line as well.
So like…I actually really feel for the humans behind @DoorDash right now 🥺

Be nice to ppl in customer service pic.twitter.com/dayvbF96lA

— 𝔈𝔯𝔢𝔷𝔢𝔟𝔢𝔱𝔞 (@erezebeta) July 27, 2021
Conclusion
Regardless of the method you choose, DoorDash is known to have good customer service with quick response times. One important thing to remember is that you are always conversing with a human on the other end in each of the six ways you contact their support team.
Therefore, all customers, Dashers, and restaurants are encouraged to remain patient and provide as much information as possible so the customer service employees can work to get the problem resolved quickly!
If you're interested in finding out more about DoorDash, check out the related articles below.
Related Articles:
DoorDash Delivery: How It Works and How to Order Using the DoorDash App
How Late Does DoorDash Deliver?
DoorDash Pickup: Here's What You Need to Know
DoorDash Refund: Everything You Need to Know