DoorDash vs. GrubHub: Which Food Delivery Service Is Better?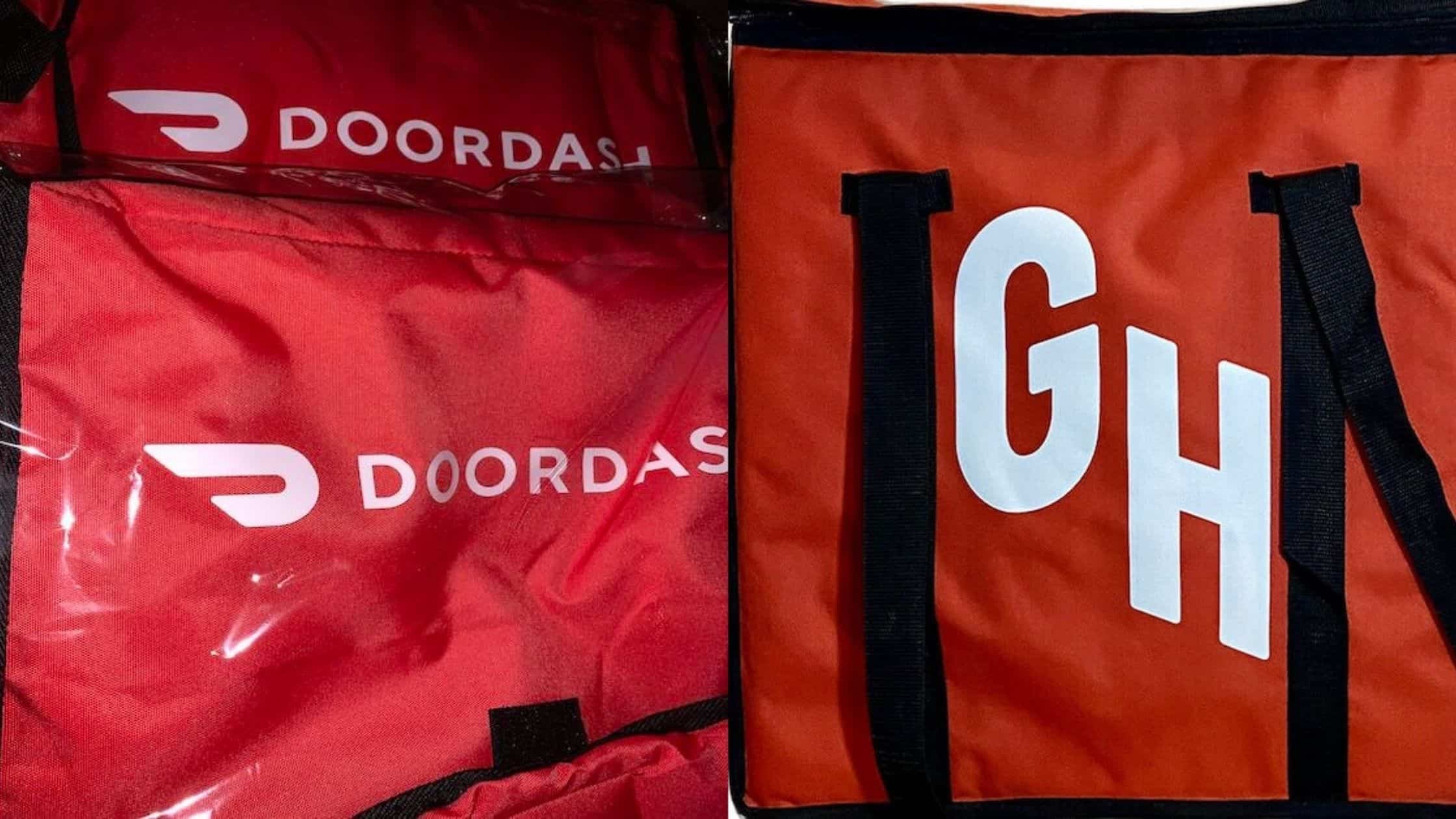 If you are fiending for some food and don't want to get it yourself, you have options. There are many delivery services out there that can bring whatever meal you order to your front door. DoorDash and GrubHub are two major ones, and you might be wondering which one is better.
DoorDash is likely the better app for you. Based on cost, membership perks, delivery options, the app, and general customer reviews, DoorDash has a better reputation among consumers. However, DoorDash is still expanding with regard to locations. If you live in a small town, GrubHub might be the only option available. 
In this article, we'll compare DoorDash and GrubHub services in terms of the app itself, availability, delivery fees, and any additional perks so that you can decide which is best for you.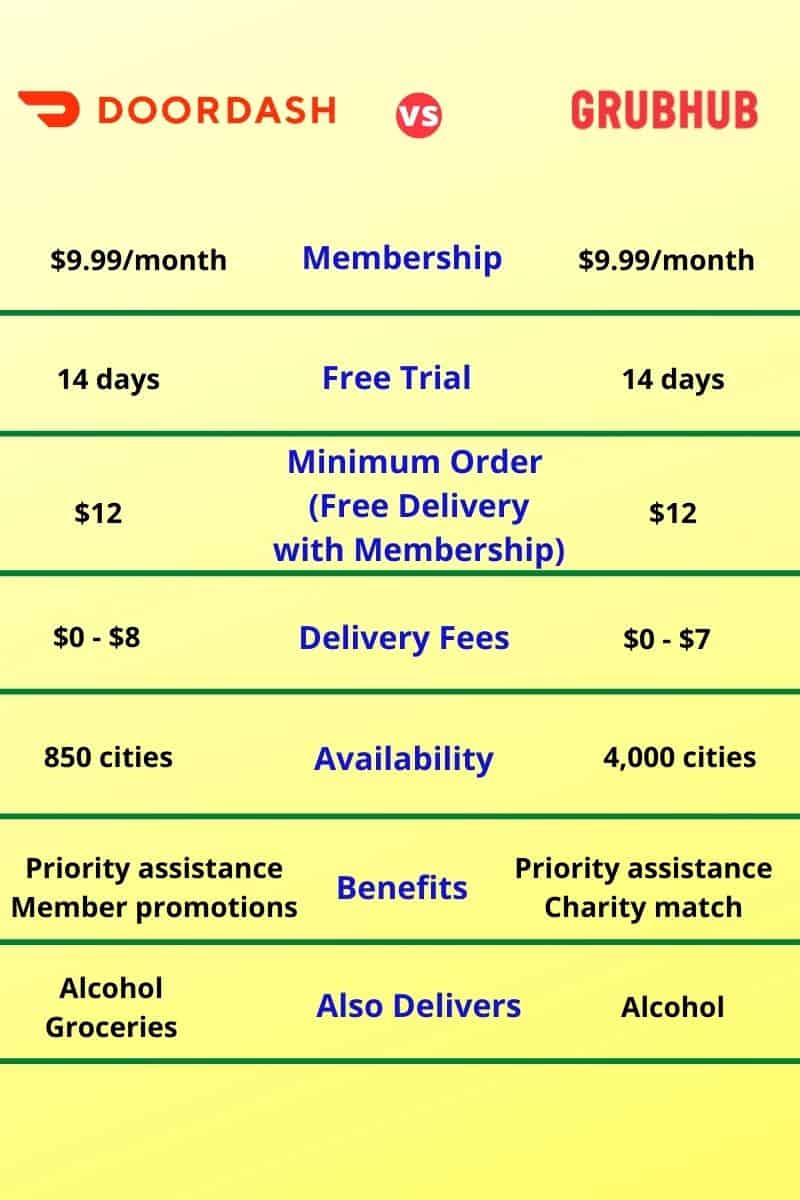 DoorDash vs. GrubHub: The History
When it comes to age, GrubHub beats DoorDash out. The company was founded back in 2004 when there were fewer options out there for food delivery.
Founded in Chicago, Illinois, GrubHub has since made its way around the country, connecting diners with local restaurants.
DoorDash came almost a decade later from another coast. Founded in 2013 in Palo Alto, California, the app made up for the lost time by rising in popularity.
It won the title of the top on-demand food delivery service in 2019. As of January 2020, DoorDash had the largest food delivery market share in the United States.
DoorDash vs. GrubHub: Ease of Use
Based on consumer reviews, the DoorDash app is rated higher. It has cleaner features and easier scrolling, contributing to its high rating as a food delivery service.
However, most people don't have any issues with the GrubHub app either, though you may need to scroll more to find the information you're looking for, and it takes a little bit more time. Overall, both apps are easy to use and intuitive.
You can order your food either through your phone on the app or through your web browser. Both DoorDash and GrubHub are available for both iOS and Android devices. The apps are free to download and use.
If your phone is just too far away to reach, you can also access both platforms through your laptop or computer. Placing an order is just as easy – you can sign in online, type in your zip code, and get food hunting.
Both apps allow customers to track their orders and provide an estimated time for delivery. The checkout process is also easy with accepted payment methods like credit or debit cards or digital wallets.
The DoorDash app also allows group orders, which is a useful feature when it comes to placing an order for a group of people.
You can basically share delivery, and everyone can participate in the ordering process if they have the app downloaded on their device. 
DoorDash vs. GrubHub: Availability
GrubHub is more widely available than DoorDash, although DoorDash is quickly expanding. If you are in a major U.S. city, you should have no problem getting your order through either platform. Smaller towns are usually where there may be an issue.
As a result of GrubHub being around a little longer, it has a broader reach than DoorDash. GrubHub services over 4,000 cities in the United States, as well as London.
DoorDash has had exponential growth. In 2018, they were servicing over 850 cities. In 2019, they were delivering in all 50 states and could reach 80% of Americans. They reach roughly the same number of cities as GrubHub, but their reach is in the United States, Australia, and Canada combined.
If you live in a smaller town, you might have better luck with GrubHub. If you are outside of the United States, DoorDash may be a better bet where you are.
The type of food available to you through DoorDash or GrubHub is specific to where you live and the restaurants around you. Overall, both DoorDash and GrubHub have about 300,000 restaurants featured.
DoorDash vs. GrubHub: Best For
GrubHub is best for deals, and DoorDash is best for its reputation.
While each platform provides the same service – food delivery – they have different reputations among customers. GrubHub is known for its deals when it comes to ordering food.
If you are looking to get more for less, especially with a large order, checking GrubHub could be the way to go.
DoorDash has a better reputation. As we mentioned before, it is the highest food delivery app in consumer spending market share.
Plus, DoorDash was rated the top on-demand food delivery service. This is based on a lot of different factors – many of which are discussed here.
Lastly, both platforms have delivery options outside of meals from your favorite restaurants. GrubHub also delivers alcohol, requiring proof of age upon delivery.
DoorDash delivers not only alcohol but groceries as well.
DoorDash vs. GrubHub: Delivery Fees
Both DoorDash and GrubHub have delivery and service fees associated with your order. This number ranges depending on where you order from and where you are located.
Typically, DoorDash fees are between $0-$8. If you have a larger order, you may automatically qualify for free delivery. For GrubHub, the delivery fees are generally $0-$7.
There may be other fees in addition to delivery fees with your order. For example, DoorDash has a small order fee. If your order is under $15, they will charge you a fee – usually around $2.
Other fees, such as taxes and tips, are not part of the delivery fee either. If you are ever unsure of what to tip, you can refer to our other articles tipping on GrubHub and DoorDash tipping etiquette as a guide!
To save on delivery and service fees, both GrubHub and DoorDash offer membership programs.
With a GrubHub Plus membership that costs $9.99 a month, you can enjoy $0 delivery fees on orders over $12 from restaurants enrolled in the program.
Similarly, DoorDash has the DashPass membership, which also costs $9.99 and offers $0 delivery fees on eligible orders over $12.  
DoorDash vs. GrubHub: Membership Benefits
Both DoorDash and GrubHub have membership programs. For a monthly membership, both platforms cost $9.99.
DoorDash has the DashPass. When you first sign up, you get a 14-day trial before getting billed.
GrubHub has GrubHub+, which gives you a free two-week trial before the $9.99 kicks in.
Both platforms' monthly membership perks are directly correlated to their delivery fees.
For the DashPass, your monthly membership gets you $0 delivery fees on orders from select restaurants. For the restaurants that are not part of the select, if your order is over $12, your service fees are lowered.
In addition, DashPass offers free delivery for any order over $12, whether the restaurant is "select" or not.
For GrubHub+, the monthly membership gets you unlimited free delivery from eligible restaurants for orders over $12.
At times, GrubHub+ also has a cashback initiative for every $100 that you spend on the app, you get 10% cashback.
DoorDash vs. GrubHub: Customer Service
When it comes to customer service, GrubHub has quicker response times.
GrubHub customer service can be contacted by phone, chat, and social media, and representatives are available 24/7.
While DoorDash customer service can also be contacted in similar ways, GrubHub provides better customer service overall, especially when it comes to resolving order issues, including refunds. 
Overall, DoorDash Is Better
Generally, DoorDash is coming out on top amongst consumers. For an app born almost a decade later, it makes its way as a leader in the food delivery universe.
However, the service that works better for you depends on a lot of factors. There are advantages to both, and factors such as your location if you want to order groceries or the membership perks you want all play a part.
While we always hope that a food delivery runs smoothly, sometimes there is an issue with your order. The customer service for these two platforms differs, which may have a deciding factor in which you choose.
If you have any issues with your order, GrubHub customer service is more accessible. They have a live chat and phone line to call that is available 24/7 with quicker response times.
This is one place where DoorDash is still catching up. If you have an issue with your DoorDash order, you may have to wait longer to get it resolved.
If you're interested in finding out more about food delivery services, check out the related articles below.
Related Articles:
Does GrubHub Take Cash? (Yes, Here's What to Know)
Can You Order GrubHub for Someone Else? (Yes, Here's How)
Can You Use Restaurant Gift Cards on DoorDash?
Can DoorDash Drivers See Your Rating?
---