Does DoorDash Deliver Groceries? (Yes, Here's How It Works)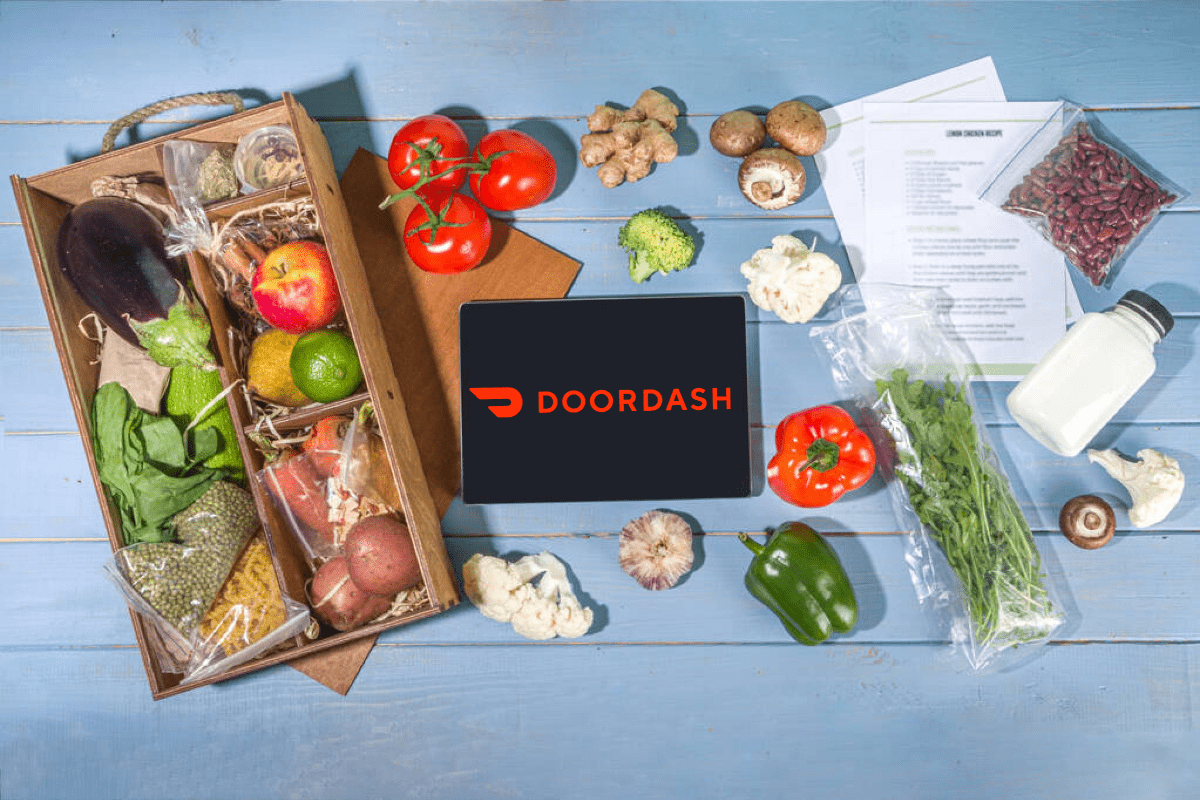 Getting groceries delivered to your doorstep is a great way to save time running errands. Although DoorDash is more known as a restaurant delivery service, it also offers grocery delivery.
Key Takeaways
You can get groceries and convenience items delivered through DoorDash with delivery fees typically starting at $3.99.
To see available grocery stores in your location, you can click the Grocery tab on the DoorDash app or website.
DoorDash does not take EBT, and a 15-20% tip is recommended.
In this article, we'll explore DoorDash grocery delivery in-depth, including how it works, what stores you can get delivery from, how much it costs, and more.
How Does DoorDash Grocery Delivery Work?
On DoorDash, you can find convenience and grocery stores where you can place orders for items they have in stock. Once you place your grocery order, a DoorDash driver will go to the store to get your groceries and deliver them to your door.
You pay for the items when you order them on DoorDash, and you can't ask your driver to add extra items after you've placed your order.
If you don't receive certain items because the store was out of stock or didn't have enough for the quantity you wanted, DoorDash will refund you for the missing items.
You may also add items on your order that you approve to be used as substitutes.
When you add these, your DoorDash driver can substitute an item if the original one you wanted is out of stock.
In addition, your DoorDash driver may contact you if an item is out of stock to ask about substitutions or if you'd like a refund.
DoorDash grocery delivery is available in areas where grocery stores have decided to partner with DoorDash.
You'll see if grocery delivery is available in your area on the DoorDash app or website if you have the Convenience or Grocery icons.
Need groceries? We've got you covered 🛒 Excited to announce that grocery delivery is now available through DoorDash! https://t.co/Tk8fbqCf8m

— DoorDash (@DoorDash) August 20, 2020
What Grocery Stores Does DoorDash Deliver From?
DoorDash has partnered with many well-known grocery and convenience stores to provide its grocery delivery service.
Below is a list of grocery stores that DoorDash delivers from:
CVS Pharmacy
Walgreens
Target
7-Eleven
Circle K
Wawa
Meijer
Fresh Thyme
Smart & Final
Hy-Vee
Walmart
Food City
Village Supermarkets
You can check the DoorDash app or website to see which grocery stores work with DoorDash in your location.
There are many more stores DoorDash partners with for grocery delivery, so check the app or website to see the stores in your location.
How Much Does DoorDash Grocery Delivery Cost?
Typically, the DoorDash delivery fee for grocery orders starts at $3.99. Also added to your order will be taxes, a service fee, and your tip for the DoorDash driver.
In addition, there may also be more fees if you have a small order or the current demand for DoorDash is high.
You can also sign up for a DashPass subscription if you plan to use the service regularly and want to reduce costs.
For $9.99 a month, you can get free deliveries and reduced service fees on orders over $12.
This can greatly reduce the price of orders, especially if you use DoorDash often.
How to Order Grocery Delivery on DoorDash
You can order grocery delivery directly through the DoorDash app or website.
Below are the step-by-step instructions on how to order grocery delivery on the DoorDash app:
Step 1. Open your DoorDash app and find the "Grocery" tab at the top left corner.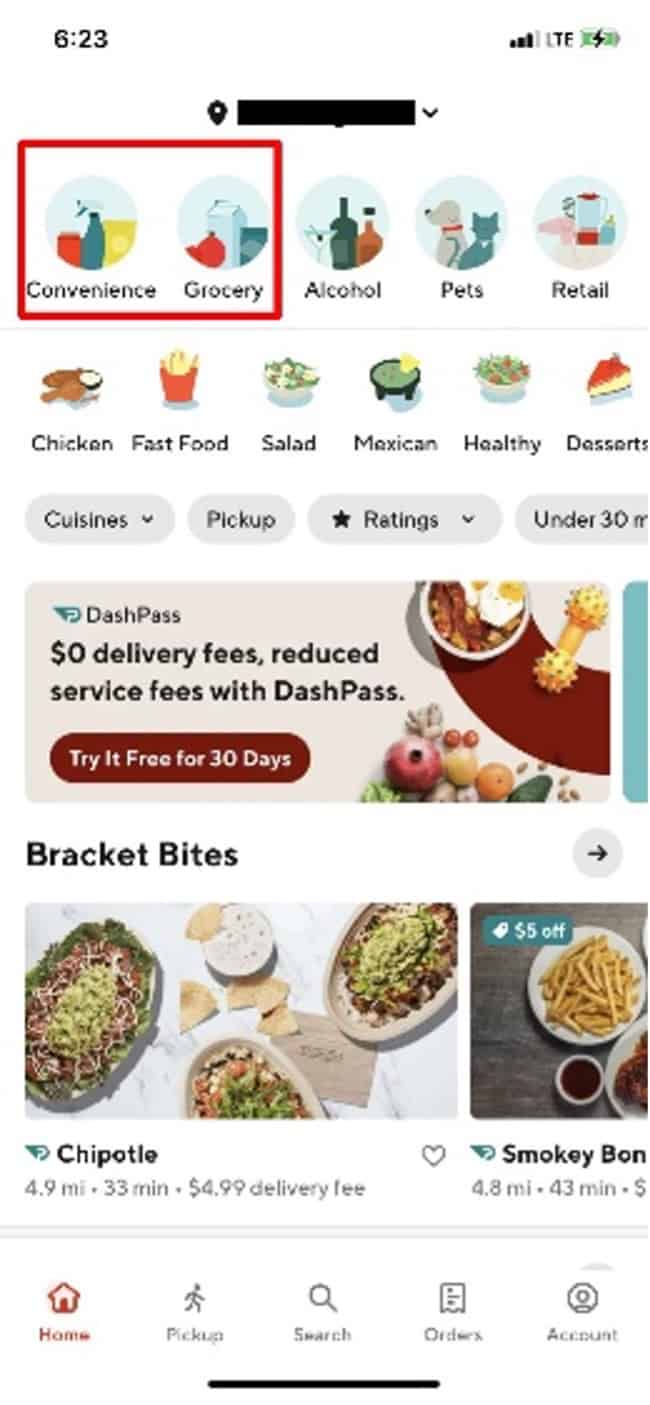 Step 2. You'll see all the grocery stores available to order from DoorDash in your area. Tap on the store you want to shop at.
Step 3. Select the items you want to order on the store's page by clicking on the plus sign on the item or tapping on it and selecting "Add to Cart." You can search for specific items at the top of the search bar or look through categories.
Step 4. When you've chosen all your items, tap on "View Cart" at the bottom of your screen. Then select "Continue" to move to the payment screen.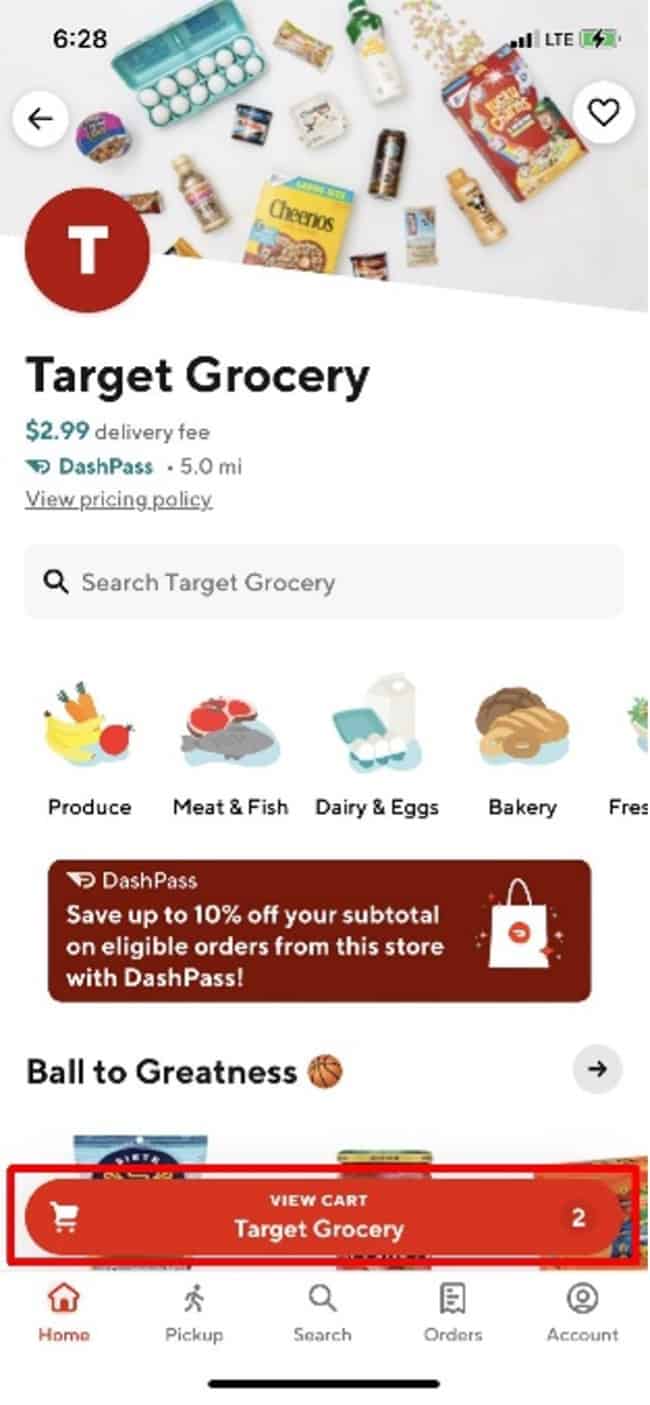 Step 5. From here, you can choose to order with the standard delivery time or schedule your order for a later time. You can also leave delivery instructions and then leave your Dasher a tip. Make sure you also add your payment method.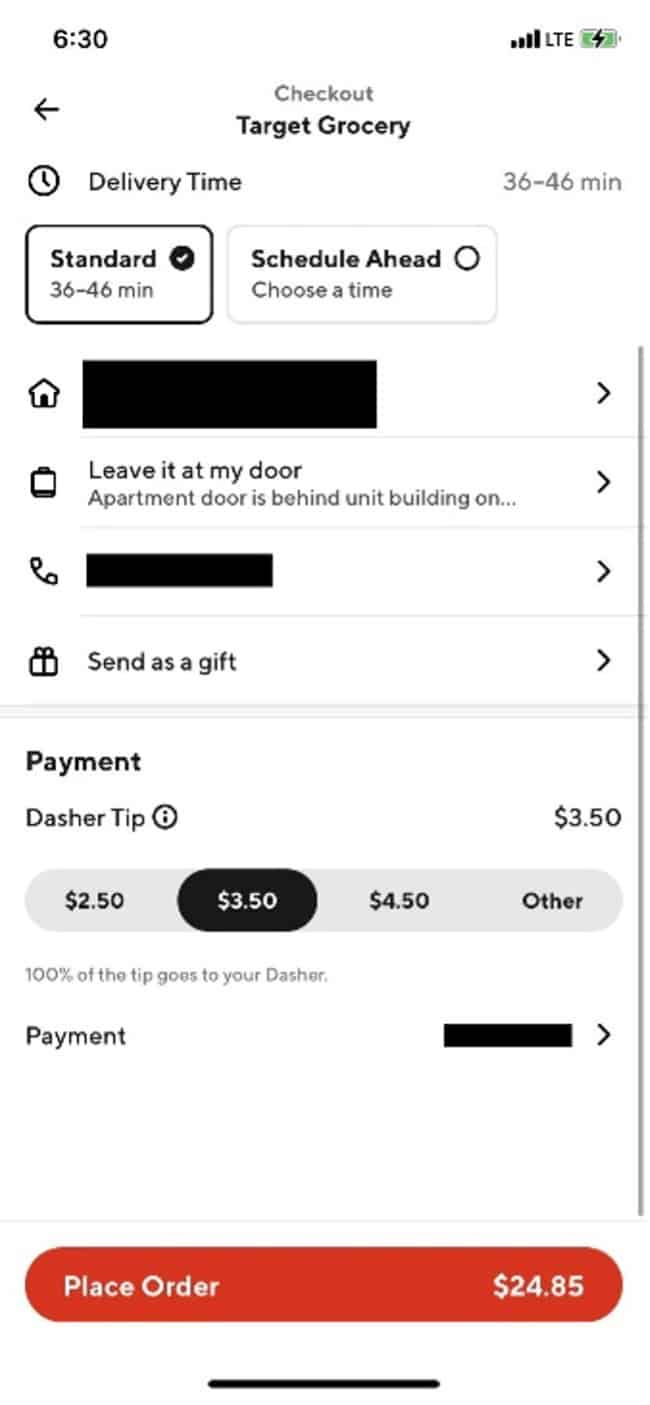 Step 6. If everything looks good, tap on "Place Order" to send it to DoorDash and have it delivered.
After checkout, all you need to do is wait for your order, and your Dasher will contact you if substitutions need to be made or if there are any issues.
Does DoorDash Take EBT?
Unfortunately, DoorDash does not take EBT for grocery delivery or any other type of delivery made on the platform.
This is similar to many other restaurant delivery apps, as their products mainly consist of meals and prepared food products, which aren't covered under EBT.
DoorDash has not applied for approval to accept EBT, even for specific grocery items.
Other apps that are more grocery delivery-oriented do accept EBT.
For example, Instacart accepts EBT in select states at participating stores.
However, since DoorDash's main focus is to deliver prepared restaurant foods, it doesn't seem like they have plans to accept EBT soon, even for grocery items that would normally be eligible for EBT in stores.
Do You Tip DoorDash Grocery Delivery?
You should tip your DoorDash delivery driver, including grocery delivery orders, and the recommended tip amount is 15-20% of the order total.
DoorDash will suggest tip amounts within these ranges on the payment screen for your order.
You should especially tip your Dasher if you had a great experience with them, and these tips can go a long way.
DoorDash drivers work as independent contractors, so the tips they receive are a huge part of their income.
Tipping them well ensures that Dashers will want to stay with DoorDash and continue to provide their service.
It's worth noting that Dashers will receive 100% of the tips you give to them.
What If You Have an Issue With Your DoorDash Grocery Order?
If a problem arises during your DoorDash grocery order delivery, you can contact your Dasher by calling or messaging them on the app. To report any issues after your delivery is completed, you can call DoorDash customer service at 1- 855-431-0459.
Unfortunately, sometimes issues arise with deliveries, and you may need customer support.
If your delivery is still in progress and you encounter an issue, contacting your Dasher is the best way to deal with it.
You can find your Dasher's contact information near their name once they are assigned to your order.
It's also possible that your Dasher may contact you first if there are any issues with the items you ordered or for substitutions.
In addition, you contact DoorDash customer service right in the app by tapping on the Get Help button.
From there, you can select the issue you're facing and get a customer service representative to help you.
DoorDash has a customer service number that you can call to quickly reach a representative at 855-431-0459.
There are also other ways to contact DoorDash customer service.
You can chat with a representative in the app, email them at [email protected], or post on their social media accounts.
Conclusion
DoorDash grocery delivery is a great option for getting daily essentials delivered without stepping foot outside your home. Depending on where you live, you can get groceries delivered from various stores on DoorDash, with tons of items available.
If you're interested in learning more tips about DoorDash, check out the articles below.
Related Articles:
How Late Does DoorDash Deliver? (Plus the Average Delivery Time)
How Far Does DoorDash Deliver?
How Does DoorDash Work and How to Order?
Does DoorDash Take Cash? (Yes, but Not Always)