Do GrubHub Drivers See Your Tip? (Before or After Delivery)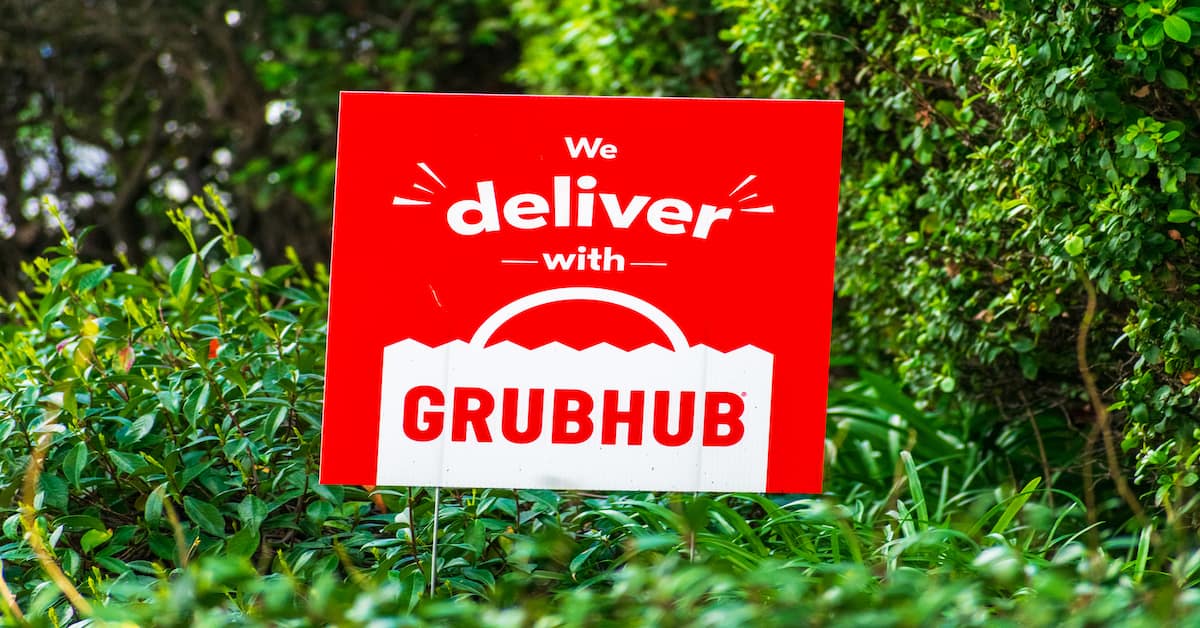 In today's day and age, we have a few different food delivery services we can choose up, and food delivery has nearly doubled since the pandemic began. When you place your order on GrubHub, the question many times comes to mind is if the driver sees your tip before or after delivery.
GrubHub drivers can see the tip amount before they accept the delivery. Seeing the tip amount allows them to decide if they want to accept or reject the order based on how much was tipped. If you choose to tip after the delivery, the driver will not see it beforehand. 
Tipping etiquette across the service industry can leave some people unsure about what to do when ordering food. This article will discuss how tipping works with GrubHub drivers and provide a helpful guide on what to tip next time you place an order.
When Do GrubHub Drivers See Tips?
GrubHub drivers can see your tips before delivery. They can see the tip amount, which affects whether or not they want to accept your order. For example, if you are tipping only 10 cents, a driver does not want to take that order because the small tip amount is not worth taking the ride.
Tipping beforehand is not the only option. You can tip in cash as well as a tip after the delivery. If you tip in cash, the driver will see your tip when you hand it over to them.
You can always tip on the app after your delivery. The app allows you to adjust your tip. In this case, the GrubHub delivery driver would not see your tip until after the delivery is completed.
Tips are not already included in an order, so we highly recommend leaving a tip to the hard working delivery heroes!

— Grubhub (@Grubhub) June 13, 2017
Should You Tip GrubHub Drivers?
Yes, you should tip your GrubHub driver. They are providing a service, and tipping is standard in the service industry. GrubHub drivers are not employees of GrubHub. They are independent contractors, and the majority of their pay comes from tips. Tipping helps supplement the money that they get from GrubHub, which is minimal.
Some people, with the addition of delivery fees, feel that tipping is too much. But delivery fees don't go into the driver's pockets. Plus, full-time employment benefits, such as healthcare, are not given to independent contractors.
Each driver's situation is different. Some may do GrubHub on the side, while others drive full-time. For those that do it full-time, expenses such as healthcare come out of their pocket.
GrubHub drivers also have to pay for other costs, such as gas money and car maintenance, out of pocket. Tipping helps with these added expenses. 
In California, Proposition 22 was recently passed. The proposition meant that if the order placed is below a minimum, an extra fee is added. That fee does not go to delivery drivers, which many customers don't realize.
How Much Should You Tip GrubHub Drivers?
The standard tip amount in the service industry is 20%. If you want a range to go by, GrubHub has some suggestions. If everything goes well with the delivery, the weather is nice, and the services are business as usual, then you should tip $5 if you have a smaller order or 20%, whichever amount is higher.
GrubHub suggests adding an extra 3-5% to your tip if you have a large order. Examples of situations like this are if you order 35 pizzas for an office party. This is a large order, and one driver is handling it by themselves.
When the weather is bad, people tend to order in because they do not want to go out. Who can blame them? At times like these, delivery drivers come to the rescue. They are braving the elements to get you your food!
GrubHub suggests adding a 3-5% tip if the weather is gruesome as an appreciation and recognition of the efforts made by your driver.
The final situation that GrubHub suggests adding a little extra is when you live in an area, such as a big city, on a fifth-floor walkup. A few more dollars, or an extra percent, is suggested for the exercise.
I can confirm Grubhub drivers get actual tips. No need to tip twice. But cash is ok too (but prefer pre-tip in these circumstances).

— Shawn Haynes (@knot2afrayed) April 17, 2020
Do GrubHub Drivers Get 100% of Tips?
Yes, GrubHub drivers get 100% of the tips. GrubHub reminds customers that the delivery fee, which people may sometimes confuse for a driver trip, does not go to the driver. The delivery fee is a separate charge, and the driver does not get to see any of that money.
GrubHub asks customers not to deduct the delivery fee amount from their tip amount since that only hurts the drivers' income.
If you're worried that your driver may not get the tip, you can always tip in cash. This way, you will know for sure that it goes directly into their pocket.
Tipping assures your order will get picked up. If there is no tip or very low tip grubhub drivers wont accept the pickup. As independent contractors drivers use their own vehicle, gas, insurance and time. Grubhub only pays a small base and it doesnt cover the expense.

— Clint Strunk (@CSlurppy) March 9, 2020
What Happens If You Don't Tip GrubHub?
Technically, nothing happens if you don't tip on GrubHub, but it can have an effect on your delivery. Since GrubHub drivers can see if you tip, no tip means they will not want to accept your order. Your order can get bounced around waiting to get picked up.
If a driver does not think it's worth their time, they will not accept the ride. This means it could take longer for you to get your food.
There is no rating system or ban from future deliveries if you don't tip. But not tipping also just isn't nice. Tipping your drivers is the polite and right thing to do.
How to Tip on GrubHub
When you place your GrubHub order, you have a few tipping options through the app. You can tip through the app before or after your order, or you can tip in cash upon delivery.
To tip in cash, you can choose the "tip in cash" option when you place your order. When your driver appears, hand them the tip. To tip on the app, you can put your tip amount beforehand.
GrubHub has a suggested 20% tip. In California, they recently switched that due to Proposition 22. GrubHub now says to "leave an optional tip on top of driver benefits."
If you want to tip after the delivery, you can do that as well. GrubHub allows you to adjust your order afterward. You can add a tip after your delivery or adjust the tip amount if you want to increase it.
Conclusion
With the pandemic, online orders have increased exponentially. With the inability to dine across the country, getting food delivered is the only way to have a treat from your favorite restaurant and avoid cooking. Getting GrubHub lets you avoid getting in the car and driving to the restaurant yourself.
When you place an order on GrubHub, you have the ability to tip before, after, or during the delivery with cash. If you tip beforehand, GrubHub drivers can see your tip. This can affect whether the drivers want to take your order.
In general, you should tip your GrubHub driver. Not only is tipping standard in the service industry, but GrubHub drivers are independent contractors. They are not afforded the regular benefits of being a full-time employee.
GrubHub drivers need to cover expenses such as gas and car maintenance, and tipping helps cover that. You should tip at least $5, or 20%, and this can adjust based on factors such as your order size and the weather conditions.
If you're interested in finding out more about GrubHub, check out the related articles below.
Related Articles:
GrubHub Delivery: How It Works and How to Order Using the App
GrubHub Refund: How Does It Work?
Does GrubHub Take Cash? (Yes, Here's What to Know)