How to Contact GrubHub Customer Service (By Phone, Chat, and More)
GrubHub is one of the most reliable food delivery services, but sometimes issues can happen, and you may need to contact GrubHub customer service.
GrubHub customer service can be contacted by phone, chat, and social media. GrubHub's customer service phone number is 1-877-585-7878, and representatives are available 24/7. In addition, GrubHub offers a help center that answers the most asked questions. The best way to contact GrubHub customer service is by phone or live chat.
Read on to learn more about how you can easily contact GrubHub customer service in multiple ways.
How Can I Talk to Someone at GrubHub?
You can talk to someone at GrubHub by calling the GrubHub customer service number 1 (877) 585-7878. A representative should answer the phone within a few minutes, and GrubHub customer service is available by phone 24 hours, seven days a week.
If you want to speak directly with a representative at GrubHub, you will need to call the customer service phone number. This phone number is toll-free, so you don't need to worry about paying for the call.
Once you dial the number, you will hear an automatic voice prompt asking you to select a number based on your role.
For example, press "1" if you are a diner or press "3" if you are from a restaurant. GrubHub delivery drivers can also call this number for help.
After pressing one of the listed numbers, you will be connected with a customer service representative.
Usually, the wait time is just a few minutes; however, you may have to wait longer if you call during a busy time.
If you wait too long and no one picks up the phone, you can hang up and try getting help online.
You can either use the GrubHub app or the website to ask questions or report an issue regarding one of your orders.
Make sure you reach out to customer service within a reasonable time after realizing something is wrong with your order, especially for refund requests.
Each refund request is reviewed carefully, so you need to communicate what happened as soon as possible; otherwise, your case may be dismissed.
You can talk with someone at GrubHub at any time of day since the GrubHub customer service hours are 24/7.
These hours do not change on holidays, though you may experience a longer wait time.
@coldestwinters Our customer service is available 24/7. For a list of restaurants available in your area please search our website.

— Grubhub (@Grubhub) March 31, 2016
Does GrubHub Customer Service Have Chat?
GrubHub customer service has a live chat function on their app and the website. You can message a customer service representative who can help you with any questions or issues about an order. For example, you can use GrubHub's live chat to request a refund, report missing items in an order, cancel an order, and more.
There are many different reasons you may need to contact GrubHub customer service via live chat. Luckily, the process is relatively simple.
Here are step-by-step instructions on how to use GrubHub's live chat:
1. Navigate to the Help page of the GrubHub website or app. On the website, scroll down until you see the blue background on the page. Then, click on "Help" under "Useful Links."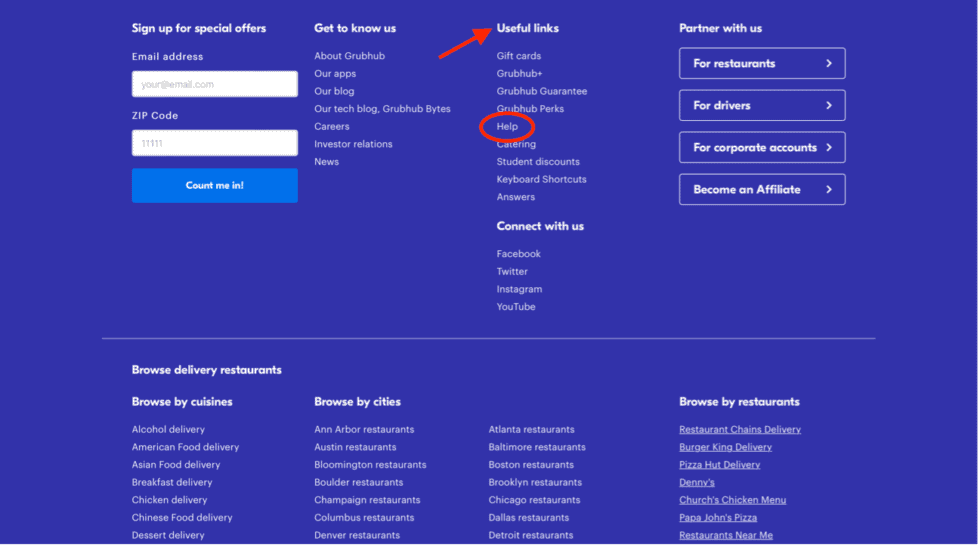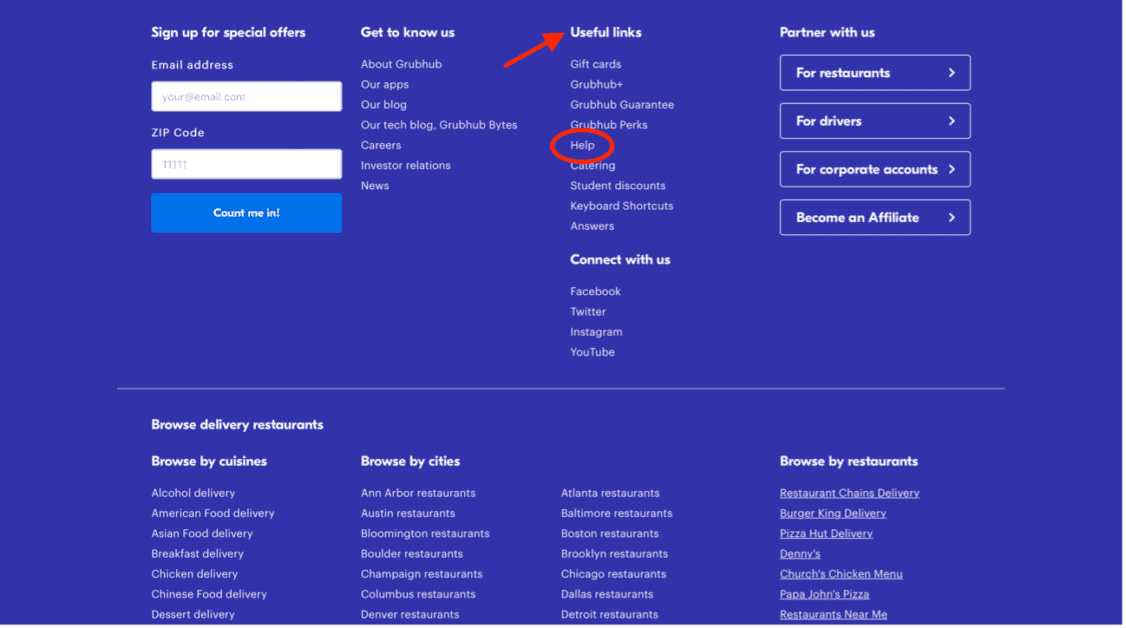 2. If you have an order you need help with, sign in to see your order history. Otherwise, click on "How to use GrubHub." You will then see a list of FAQs.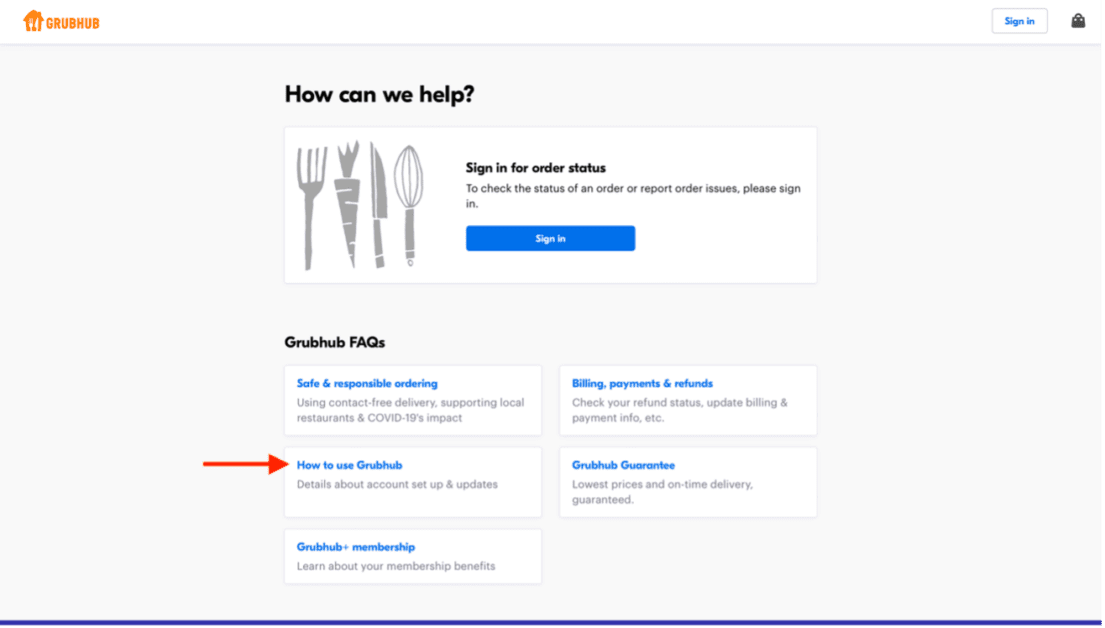 3. Click on "Need more help?" from the list of FAQs. This will take you to the page to start a live chat.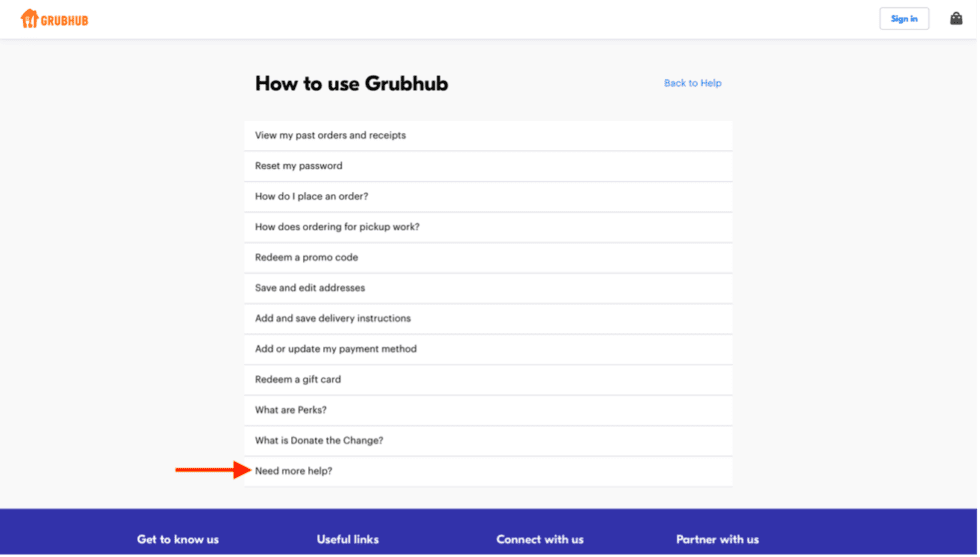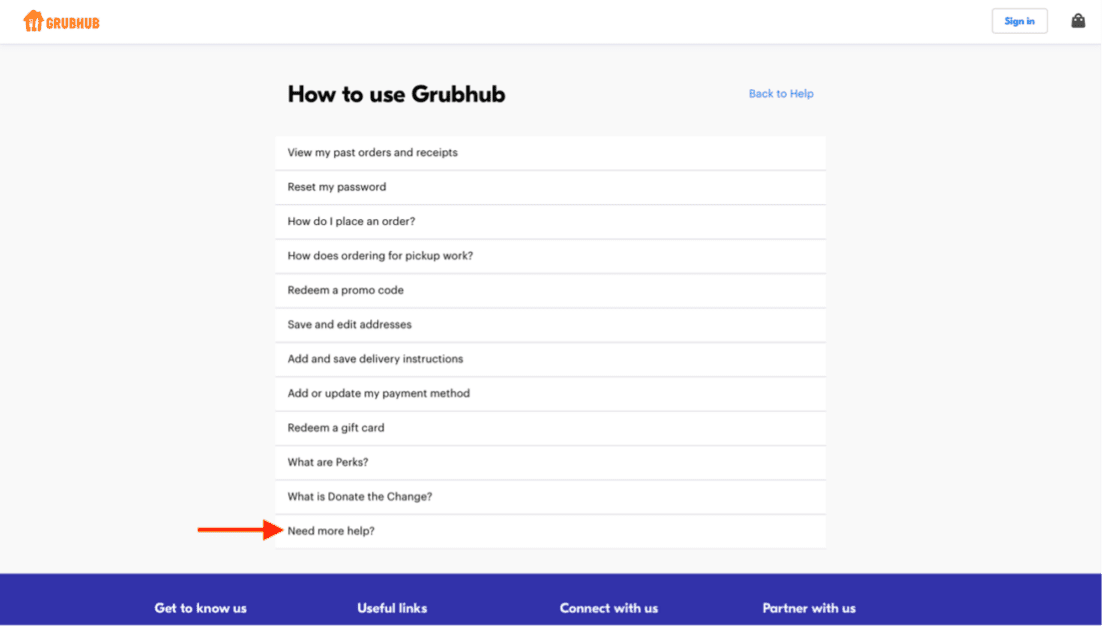 4. Click the "Chat with us" button to open the chat box. You will then be prompted to enter your name and email. You can also include your phone number and a message, which will allow the customer service representative to help you better.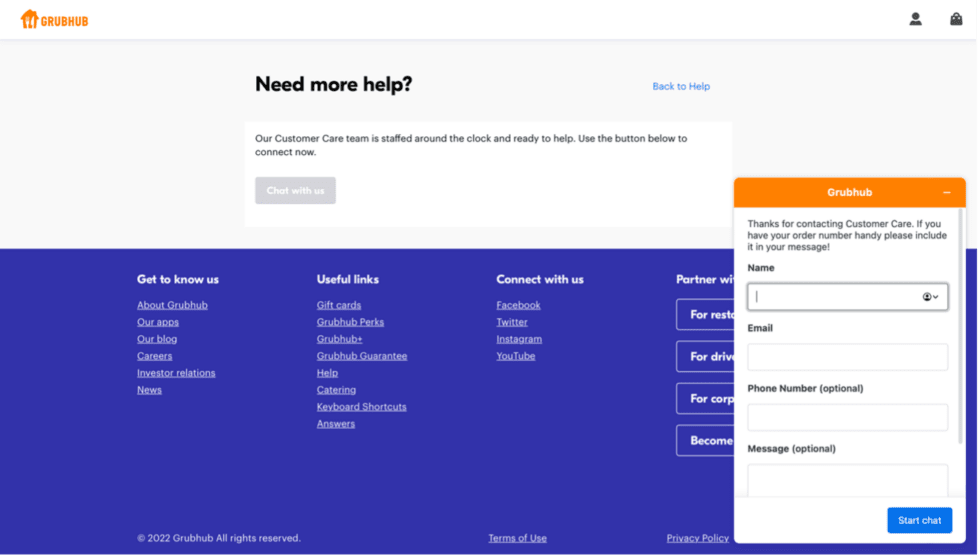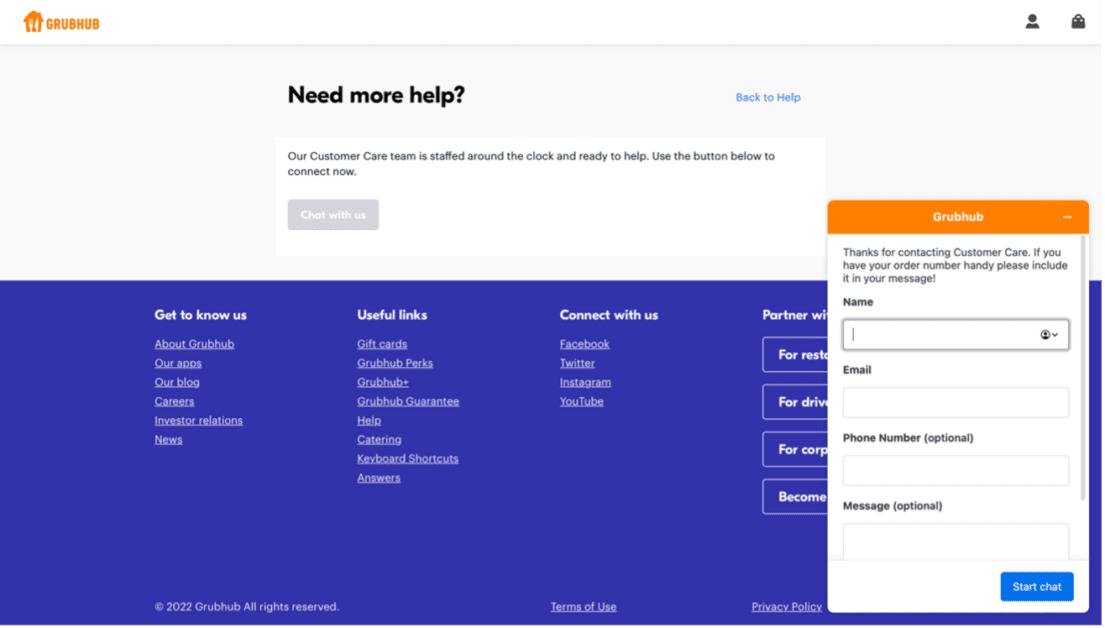 5. Click "Start chat" to connect with a GrubHub representative. You can start the conversation by typing a brief message about what you need help with. The customer service representative will take it from here!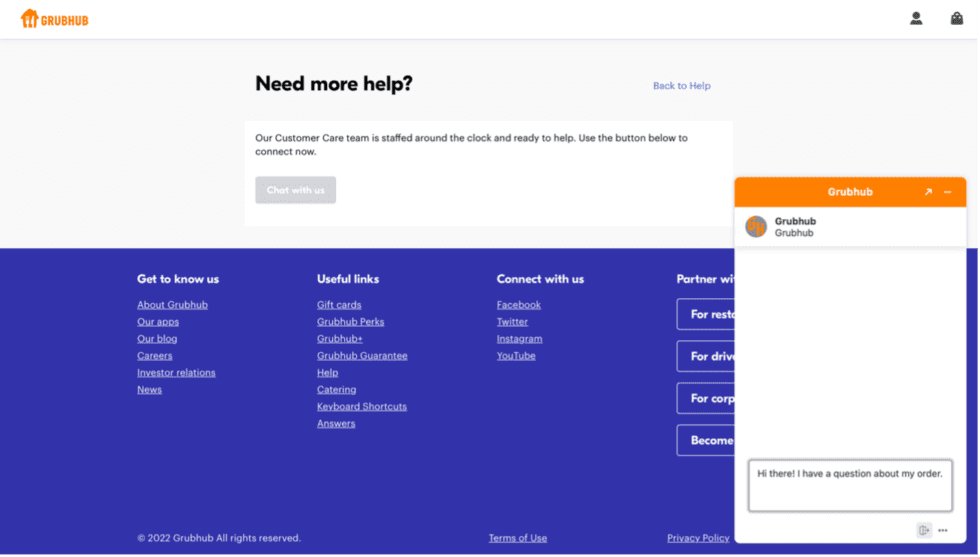 There are a few ways you can access the live chat on GrubHub. Anyone can start a conversation by navigating through the FAQ page.
If you search for "GrubHub online chat" on Google, you should find a link to the live chat web page.
If you have an existing order, you can start a conversation from your order information page as well. This works well for requesting a refund.
If you're contacting GrubHub on their live chat to ask a question about where your order is, they can help. However, you can also track your order through the app or website, which we'll describe later.
Occasionally, customers cannot get in touch with their delivery driver. This is another situation in which messaging GrubHub via live chat may help get quick answers about your order status.
If you have a wrong item or missing food on your order, you can also utilize GrubHub's live chat to get assistance, and a representative can help to figure out the next step.
@MasterJHears Hello, we take these matters seriously. Please chat with us at https://t.co/RUvgXkO6ty so we can get all the information to investigate and get this resolved.

— Grubhub Care (@Grubhub_Care) February 3, 2022
Can I Contact GrubHub on Social Media?
You can contact GrubHub on multiple social media platforms. GrubHub is very active on Twitter, and they also post frequently on Facebook and Instagram. You can send a direct message to GrubHub on Twitter and Instagram or write a message on Facebook Messenger.
GrubHub is the most active on Twitter. At the time of writing this article, Twitter's main account has just under 100,000 tweets.
So if you tag @GrubHub in one of your tweets, they will likely respond to your message in just a few hours.
GrubHub's Care page on Twitter is another great resource for all your GrubHub questions and concerns. This page is run by GrubHub customer service and is dedicated to helping improve customers' experiences.
If you tag @Grubhub_Care in one of your tweets with your question, they will likely instruct you to DM them for further help.
Follow up by sending them a direct message including your name and email address, and a customer service representative will use this information to look up your account.
You can also contact GrubHub customer service through their Facebook page. GrubHub is good about responding to comments on Facebook posts, and you can also use Facebook Messenger to send a message.
GrubHub is also active on Instagram, posting pictures of food and other things you can order with their service. They may respond to your comment on one of their posts, and sometimes, the response even includes a helpful link.
Like the other social media platforms, Instagram allows you to send direct messages to GrubHub. This can be helpful if you need some more thorough help than what you can get in a single comment.
Finally, GrubHub is active on YouTube. While this is not useful for getting assistance with orders, it can be a great resource for GrubHub fans.
GrubHub frequently posts videos that explain the company's services. Their YouTube channel also has a playlist of videos featuring restaurants that GrubHub delivers from.
GrubHub has a significant online presence, so you can use any of these platforms to get in touch with their customer service team for assistance.
What Is GrubHub Customer Service Email?
GrubHub does not have a direct email for the customer service department. Therefore, you can only contact GrubHub customer service via phone or live chat. However, if you want to contact GrubHub's corporate offices, you can email them at [email protected].
You cannot email GrubHub's customer service for individual order inquiries. Instead, you will need to call customer service or start a live chat.
These methods are more suitable anyway for questions and concerns that a customer might have, like figuring out what to do about missing food.
There are a few more communication options when it comes to corporate accounts. For example, many businesses have an account with GrubHub Corporate to provide food for their employees.
If you have a GrubHub corporate account and encounter issues with an order, you can email their corporate offices.
The email address for GrubHub corporate customer care is [email protected]. In addition, you can also call them at (844) 478-2249.
Those in charge of their company's GrubHub account should use a different email for general account inquiries. The email for account inquiries is [email protected].
Finally, you may have a question about GrubHub's social media. Perhaps they posted a great deal on Instagram, but you aren't sure how to use it.
In that case, you can email [email protected] to ask about anything related to social media.
How to Use GrubHub Help Center
The GrubHub Help Center is a useful resource that includes answers to the most frequently asked questions in 5 categories. You can navigate to the Help Center using the GrubHub app or website and browse through FAQs to get help on GrubHub services.
You can access the GrubHub help center through the website or app. On the website, scroll down toward the bottom of the main page until you see a section labeled "Useful links." Then, click on the "Help" link to reach the main GrubHub Help Center page.
To use the GrubHub app, start by opening the app on your phone to see the Home page. Next, click on the far-right tab called Account. Then, select the link that says "Need help?" in the upper right-hand corner of the screen.
Once you are on the main page of the GrubHub Help Center, you will see an option to get help with a recent order.
As long as you are signed in, you will be able to check the status of your order or report any problems with the order.
Under the order area, you will see a section titled "GrubHub FAQs." There are five main categories of frequently asked questions, and these are:
Safe & responsible ordering
Billing, payments & refunds
How to use GrubHub
GrubHub Guarantee
GrubHub+ membership
Select which category is most relevant to reveal the frequently asked questions in that section.
Each question listed links to a page with the answer, so click on different questions to browse through the answers.
Some of the answers even include additional links that can take you to the web page you need.
Safe & responsible ordering is the section to go to if you have any questions about GrubHub's contact-free delivery.
There is also great information to know about when your food has been dropped off and what to do if your delivery driver doesn't follow your instructions.
The Billing, payments & refunds section is self-explanatory. This section includes answers to FAQs about questionable charges, payment methods, and refunds.
For example, it helps explain why an order charge may be different than what you were expecting to pay.
The next section is How to use GrubHub, which includes great information on common issues that may come up as you place an order.
You can read all about redeeming promo codes, adding new addresses or delivery instructions, and updating payment methods.
The fourth section of the FAQs is GrubHub Guarantee, which explains what the GrubHub Guarantee is.
GrubHub guarantees that you will get the lowest total price on a meal delivery compared to other competitors. They also guarantee that if your order is not delivered on time, you will be compensated for the trouble that it causes.
If you think your order is eligible for the GrubHub Guarantee, you can submit a request via the app or the Help Center on the website.
Finally, the FAQs include a section about the GrubHub+ membership.
GrubHub+ is a monthly membership program that offers free delivery on an unlimited number of eligible orders of $12 or more. It also gives members exclusive access to perks and rewards.
If you're interested in getting GrubHub+ membership, they have a free trial offer on their website.
Can I Contact My GrubHub Driver?
You can call or text your GrubHub driver to get order updates using their contact information provided on the GrubHub app or website. In addition, you can also track your order on the GrubHub app and get notifications on order status.
It can be frustrating when you are hungry and waiting for your food, but you have no idea when it will arrive.
Luckily, GrubHub provides your driver's contact information so you can ask them questions. The driver may also contact you if they have a question about your order.
In addition to communicating with your driver, you can also track your GrubHub order.
GrubHub periodically sends notifications to your phone as your order is processed and sent out for delivery. You will also get notified when your order has arrived.
You can also track your delivery driver once they have picked up your food.
The GrubHub app will display your driver's location on a map, so you will know almost exactly when your food will arrive.
If these options still don't work, you can always contact GrubHub customer service to get assistance since they are available 24/7.
What Is the Best Way to Contact GrubHub?
The best way to contact GrubHub is by calling the customer service phone number 1 (877) 585-7878. Since customer service is available 24/7, you can quickly get in touch with a GrubHub representative. You can also reach a representative using GrubHub's live chat through their website or the app, which some may prefer.
We prefer calling the customer service phone number to contact GrubHub. You can speak with a representative over the phone, allowing you to get help quickly and directly.
However, GrubHub's live chat service is also quite effective. You can access the live chat through the GrubHub website or app.
To connect with a representative, open the chat box and enter your name, email, phone number (optional), and your message (optional).
At a minimum, you will need to enter your name and email so the representative can look up your GrubHub account.
They also request that you include your order number in the message to reference a specific order.
Soon after entering your information, you will be able to message a GrubHub representative to help solve any problems.
Many people prefer to use a live chat function if they are not able to carry out a phone conversation.
Although we prefer calling customer service, you can use either option that works best for you.
We're really sorry for the bad experience! We checked your order and found that a full refund has already been issued, depending on your bank, it can take up to 5 business days to reflect in your account. You'll either see a credit for the amount or the charge will d…

— Grubhub Care (@Grubhub_Care) December 26, 2021
Does GrubHub Give Refunds?
GrubHub gives refunds on a case-by-case basis. You can cancel your order on the GrubHub app or website if it has not yet been delivered. You will also need to call customer service to request a refund, and a representative will need to approve the request. GrubHub refunds can take up to 5 business days to show up in your account.
To start the GrubHub refund process, you will need to cancel your order. Then, you can call the customer service phone number.
If you already received your order, but it was incorrect, simply call customer service.
All refund requests must be reviewed by a customer service representative. This process ensures that refunds are not given to customers who receive their food without issues.
If you do not want to go through with an order, you can cancel it through the GrubHub app or website. Simply open your order from the "Orders" section and select "Cancel order."
If you have already received an incorrect order, then you should call GrubHub customer service right away.
You may also get in touch with the restaurant to replace missing items, though they will not be able to give you a refund. All refunds are processed through GrubHub.
The refund does not always show up as a separate transaction in your bank account. If you have a pending charge when the refund is processed, it will disappear as though you were never charged.
Conclusion
GrubHub is a reliable food delivery service, but it still has hiccups. You may run into a situation where you need help with reporting an issue, canceling an order, or getting a refund. Luckily, GrubHub offers multiple ways to contact their customer service to resolve any problems.
If you're interested in learning more tips about GrubHub, check out the related articles below.
Related Articles:
GrubHub Delivery: How It Works and How to Order Using the App
GrubHub Pickup: Here's Everything You Need to Know
GrubHub Gift Cards: Where to Buy and How to Use Them
Can You Order GrubHub for Someone Else? (Yes, Here's How)