The 14 Best Buffet Restaurants in America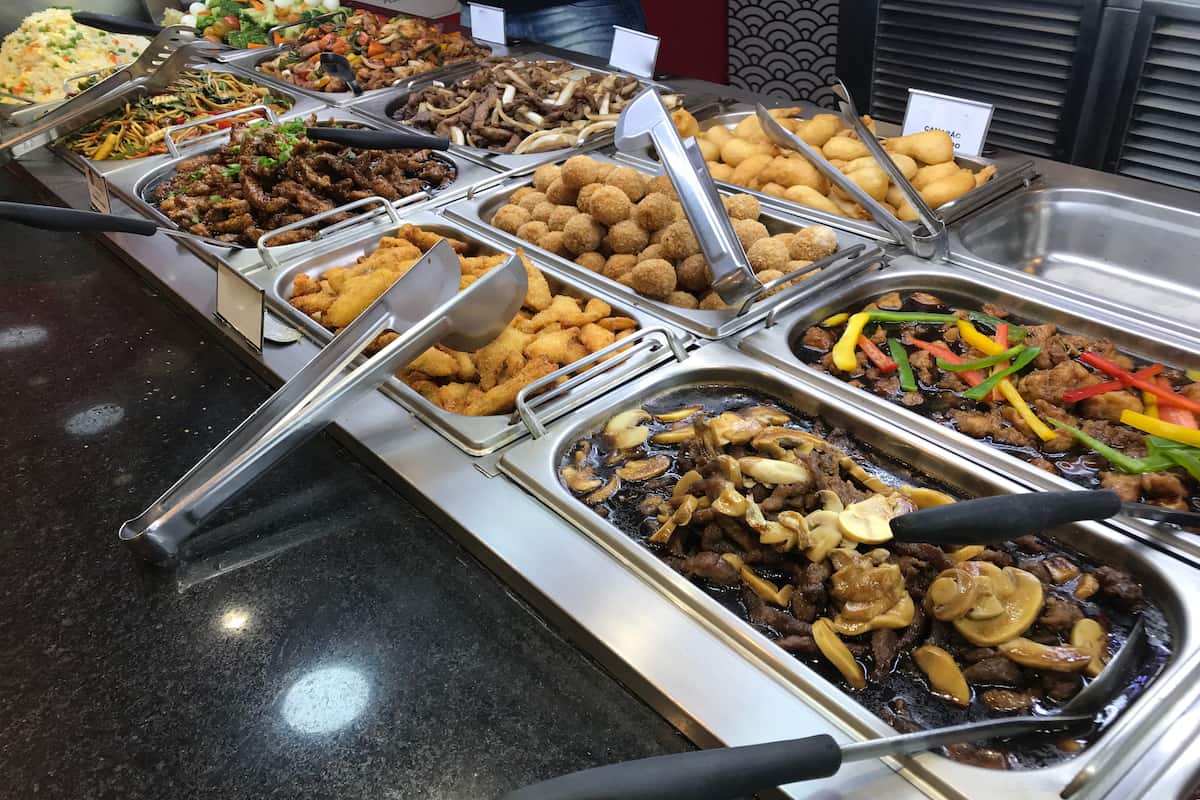 If you're hungry for different kinds of food all at once, there's nothing to satisfy your cravings like a buffet restaurant.
Once you pay the set price, you can return to the buffet as many times as your heart desires, filling your plate with starters, entrees, and desserts.
Buffet restaurants are fast, convenient, and affordably priced. Plus, they offer startling kinds of food, giving you nearly unlimited options to choose from.
This makes buffet chains an excellent venue for a family dinner, vacation, or just one of those days when you're feeling super hungry.
In this article, I've compiled a list of the best buffet restaurant chains in the U.S., with options to satisfy everyone!
14. Golden Corral
Golden Corral is one of the largest and most popular buffet restaurant chains in the U.S., operating over 350 locations in 40 states and Puerto Rico.
Like many buffet chains, Golden Corral's operations have changed in the past few years.
If you're planning on visiting Golden Corral, check their locations page first to find out if your local restaurant is open and how they're operating.
The first Golden Corral was opened by James Maynard and William F. Carl in Fayetteville, North Carolina, in 1973.
In its heyday, Golden Corral had over 500 locations throughout the United States.
However, that number has since dropped due to changing restaurant preferences over the decades.
Nowadays, Golden Corral's menu offers some individual meals and all-you-can-eat breakfast, lunch, and dinner.
Golden Corral's breakfast buffet menu includes scrambled eggs, bacon, sausage, ham, hash browns, pancakes, French toast, waffles, cinnamon rolls, biscuits, fruit, donuts, and a make-your-own Omelet Station.
Golden Corral's lunch menu is served each day until 4 pm and includes pot roast, meatloaf, fried chicken, pot pie, pizza, vegetables, stuffing, mashed potatoes, macaroni and cheese, yeast rolls, soup, and a make-your-own Steakburger Bar.
Finally, their dinner menu includes shrimp, steak, turkey, pot roast, meatloaf, fried chicken, pot pie, pizza, vegetables, macaroni and cheese, rice, and mashed potatoes.
You can visit Golden Corral's dessert buffet at lunch and dinner and enjoy carrot cake, cupcakes, cookies, pie, cobbler, brownies, banana pudding, bread pudding, cotton candy, and soft serve with a variety of toppings.
13. Sizzler
Sizzler is a steak, seafood, and salad buffet restaurant chain with over 80 locations in Arizona, California, Idaho, Nevada, New Mexico, Oregon, Utah, Washington, and Puerto Rico.
The first Sizzler was opened by Del and Helen Johnson in Culver City, California, in 1958 under the name "Sizzler Family Steak House."
At the time, they charged only $0.99 for an entire steak dinner!
Sizzler is famous for its Craft Salad Bar and even claims it was the first restaurant to open a salad bar.
Sizzler's Craft Salad Bar is a buffet-style salad bar that offers fresh, locally sourced, and non-GMO produce.
They also offer a variety of seasonal signature salads, including the Fruit Quinoa Salad, the Strawberry, Blueberry, and Spinach Salad, the Spinach and Cranberry Salad, the Rainbow Slaw Salad, and the Sweet Potato and Pomegranate Salad.
The exact Sizzler menu varies by location but includes hand-cut steaks, shrimp, chicken, and burgers.
12. Souper Salad
Souper Salad is a Southwestern buffet restaurant chain specializing in soup, salad, and bread.
They operate four locations throughout Texas.
Souper Salad charges one low price for access to their all-you-can-eat buffet menu, featuring salad, soup, bread, a baked potato bar, flatbread pizzas, fruits, and desserts.
Souper Salad's salad bar has over thirty kinds of fresh vegetables and salad toppings, as well as pre-made pasta and potato salads.
Souper Salad's soup bar offers a rotating variety of made-from-scratch soups, including Vegetable Beef, Broccoli Cheese, and Mama Mia Chicken.
Finally, their fresh-baked bread bar includes cornbread, blueberry bread, garlic breadsticks, and spice rack gingerbread.
11. Western Sizzlin
Western Sizzlin is a buffet restaurant chain specializing in steaks, with over 40 locations in Alabama, Arkansas, Georgia, Maryland, Mississippi, North Carolina, Ohio, Oklahoma, South Carolina, Tennessee, Texas, Virginia, and West Virginia.
The first Western Sizzlin was opened by Nick Pascarella in Augusta, Georgia, in 1962.
The company innovated a special kind of steak seasoning called Gold Dust and a unique steak grilling technique called FlameKist steak, where the top and bottom of the steak are grilled simultaneously.
The Western Sizzlin company owns various restaurants, including Western Sizzlin Restaurant, Western Sizzlin Express, Wood Grill Buffet, Great American Buffet, and Quincy's Family Steakhouse.
Western Sizzlin, Western Sizzlin Express, and Quincy's Family Steakhouse are traditional sit-down restaurants, but Wood Grill Buffet and Great American Buffet are buffet restaurants.
Although the buffet menus at Wood Grill Buffets and Great American Buffets vary by location, you can expect dishes like steak, ribs, meatloaf, chicken, fish, pot roast, vegetables, baked potatoes, spaghetti, macaroni and cheese, and meatballs with gravy.
Western Sizzlin's buffets also have dessert bars, where you can enjoy a variety of cookies, pies, cakes, brownies, chocolate fountains, and soft serve machines.
10. Cicis
Cicis is an Italian American buffet restaurant chain with over 300 locations in 24 states.
The first Cicis was opened by Joe Croce and Mike Cole in Plano, Texas, in 1985.
From the start, Cicis specialized in offering all-you-can-eat pizza, pasta, salad, and dessert.
Cicis' pizza menu offers multiple types of pizza, including pizza poppers, specialty pizzas, deep-dish pizzas, flatbread pizzas, and stuffed crust pizzas.
Pizza flavors include Zesty Ham & Cheddar, Zesty Veggie, Zesty Pepperoni, Macaroni and Cheese, Alfredo, BBQ Pork, Meat Eater Deep Dish, Supreme Deep Dish, Chicken Bacon Club, and Spinach Alfredo.
Cicis' salad bar and sides menu offers sides like cheesy bread, pasta with marinara or white sauce, and pasta salad.
They also offer a build-your-own salad bar full of fresh vegetables and other salad toppings.
Cicis also serves wings with flavors including BBQ, garlic parmesan, mild buffalo, and hot buffalo.
Finally, Cicis' dessert menu offers sweet treats like brownies, Bavarian Dessert Pizza, Apple Dessert Pizza, and cinnamon rolls.
9. Sirloin Stockade
Sirloin Stockade is an all-you-can-eat buffet steakhouse chain with nine locations in Kentucky, Missouri, Oklahoma, and Texas.
The first Sirloin Stockade was opened in Oklahoma City, Oklahoma, in 1966.
The first restaurant was famous for having a massive, 1,800-pound plastic cow out front.
Individual buffet menus vary by location, but each Sirloin Stockade offers a wide variety of beef, pork, chicken, seafood, vegetable, pasta, casserole, soup, salad, and dessert dishes.
At your local restaurant, you might find dishes like meatloaf, fried chicken, ham, baked salmon, creamed spinach, beef stroganoff, lasagna, broccoli soup, garlic breadsticks, chicken salad, apple turnovers, banana cream pie, and chocolate soft-serve ice cream.
8. HuHot Mongolian Grill
HuHot Mongolian Grill is a buffet-style Mongolian restaurant where you can build your own stir-fry bowl.
They operate nearly 60 locations in Arizona, Colorado, Idaho, Indiana, Iowa, Kansas, Minnesota, Missouri, Montana, Nebraska, North Dakota, Oklahoma, South Dakota, Texas, Utah, Washington, and Wisconsin.
The first HuHot Mongolian Grill was opened in Missoula, Montana, in 1999 under the name Mongo's.
They later changed their name to HuHot, in reference to Hohhot, the capital of Inner Mongolia.
At HuHot Mongolian Grill, you'll be able to load up a make-your-own stir fry bowl with your choice of proteins, noodles and rice, veggies, and sauces. Then, chefs will cook your stir fry for you!
Individual items at the stir fry bar will vary slightly from location to location.
HuHot's stir-fry proteins include chicken, beef, pork, mild sausage, and imitation crab.
Their noodles and rice include white rice, classic Chinese, pad thai, and yakisoba noodles.
The veggies include bamboo shoots, carrots, cilantro, jalapenos, mushrooms, baby corn, bean sprouts, broccoli, cabbage, celery, green peppers, onions, pineapple, tofu, water chestnuts, and zucchini.
Finally, their sauces include Five Village Fire Szechuan, Kung Pao Yow, Mongol Mustard, Not-So-Sweet and Sour, Black Thai Peanut, Feed the Hordes Hoisin, Nomad's Green Curry, and Samurai Teriyaki.
7. Shakey's Pizza
Shakey's Pizza is a pizza chain offering all-you-can-eat lunch buffets at participating locations.
They operate 50 locations in California and Washington.
The first Shakey's Pizza was opened by Sherwood "Shakey" Johnson in Sacramento, California, in 1954.
This makes Shakey's the oldest pizza chain in the United States!
From the beginning, the chain specialized in serving pizza, beer, fried chicken, and Mojo Potatoes.
They also became famous for performing live ragtime music in their original Sacramento restaurant.
Shakey's lunch buffet, Bunch of Lunch, is also a longstanding tradition.
From 11 am until 2 pm every day, participating Shakey's locations open their all-you-can-eat lunch buffet, which offers unlimited pizza, fried chicken, Mojo potatoes, pasta, salad, and sides.
6. Pizza Ranch
Pizza Ranch is a pizza and buffet restaurant chain with over 200 locations in Colorado, Illinois, Iowa, Kansas, Michigan, Minnesota, Missouri, Montana, Nebraska, North Dakota, South Dakota, Tennessee, Wisconsin, and Wyoming.
The first Pizza Ranch was opened by Adrie Groeneweg in Hull, Iowa, in 1981, when he was only 19 years old.
Pizza Ranch's buffet menu offers all-you-can-eat pizza, chicken, salads, sides, drinks, and desserts.
Pizza Ranch prides itself on its Buffet Your Way policy.
If you want to eat a certain kind of pizza from the Pizza Ranch buffet, but it's not available, they'll make one just for you and deliver the first slice right to your table.
Pizza Ranch's pizzas include Texan Taco, Buffalo Chicken, Chicken Bacon Ranch, Tuscan Roma, Chicken Broccoli Alfredo, BBQ Chicken, and Bacon Cheeseburger.
They also specialize in the Country's Best Chicken, hand-breaded daily and cooked to perfection.
Their sides include breadsticks, Cheesy Ranch Stix, biscuits, Ranch Potato Wedges, mashed potatoes and gravy, green beans, corn, coleslaw, potato salad, macaroni salad, and macaroni and cheese.
Finally, Pizza Ranch's signature dessert is the Cactus Bread, their skillet dough topped with cinnamon streusel and icing.
Other items on their dessert bar include chocolate chip cookies and apple, blueberry, cherry, and peach dessert pizza.
5. Shoney's
Shoney's is an American casual restaurant chain with 75 locations in Alabama, Florida, Georgia, Indiana, Kentucky, Louisiana, Missouri, North Carolina, Ohio, Oklahoma, Pennsylvania, South Carolina, Tennessee, Virginia, and West Virginia.
Select Shoney's locations offer fresh, all-you-care-to-eat buffets.
To see if your local Shoney's has a buffet, look for the phrase "food bar" on the locations page, or call the restaurant.
The first Shoney's was opened in Charleston, West Virginia, in 1947 as a franchisee of the Big Boy Restaurant Group.
In 1977, Shoney's left the Big Boy Restaurant franchise and became its own company.
Nowadays, Shoney's buffet and regular dining menus offer breakfast, lunch, and dinner.
Offerings may vary by location, but you can expect classic Southern-inspired American dishes at all locations.
Breakfast items at Shoney's Legendary Breakfast Bar include pancakes, omelets, bacon, eggs, and biscuits and gravy.
Lunch and dinner items at Shoney's Fresh Food Bar include meatloaf, mashed potatoes and gravy, carrots, peas, shrimp, roasted vegetables, coleslaw, fried chicken, corn, and ham.
4. Ponderosa Steakhouse/Bonanza Steakhouse
Ponderosa Steakhouse and Bonanza Steakhouse are both buffet restaurant chains specializing in steak.
They operate over 20 locations in Florida, Illinois, Indiana, Ohio, Michigan, Minnesota, Pennsylvania, Wisconsin, and Virginia.
Dan Blocker, who played Eric "Hoss" Cartwright on the television show Bonanza, founded the Bonanza Steakhouse chain in 1963.
The Ponderosa Steakhouse chain was founded by Dan Lasater, Norm Wiese, and Charles Kleptz in Kokomo, Indiana, in 1965.
The two chains were completely unrelated until 1989, when they were both acquired by the now-defunct Metromedia Restaurant Group.
They've operated together ever since.
Ponderosa and Bonanza each offer all-you-can-eat buffets serving classic American cuisine.
Buffet items include fried chicken, baked chicken, chicken wings, meatloaf with gravy, beef tacos, chicken biscuit pie, fried fish, spaghetti, pizza, various sides, build-your-own garden salad, fresh fruit, and bread.
3. America's Incredible Pizza Company
America's Incredible Pizza Company is a pizza buffet and entertainment center with seven locations in Kansas, Missouri, Oklahoma, Tennessee, and Texas.
It was founded by Rick and Cheryl Barsness in Springfield, Missouri.
Each America's Incredible Pizza Company location has its own '50s-themed entertainment areas, where families can play laser tag, ride bumper carts, and play arcade games.
Each location also has its own buffet, serving all-you-can-eat pizza, pasta, dessert, and more.
America's Incredible Pizza Company's buffet menu includes over 30 varieties of pizza, an extensive fresh salad bar, hot dogs, pasta, soup, a make-your-own taco bar, and a dessert bar.
The dessert bar offers treats, including soft serve, cookies, cinnamon rolls, cobblers, and bread pudding.
2. Chuck-A-Rama
Chuck-A-Rama is a buffet chain restaurant specializing in American comfort food, with over 10 locations in Idaho and Utah.
The first Chuck-A-Rama was founded in 1966.
The name Chuck-A-Rama is a portmanteau combining the words "chuckwagon" and "Scout-O-Rama."
A chuckwagon is a covered wagon that doubles as a portable kitchen invented by Charles Goodnight in 1866.
Scout-O-Rama is an annual scouting convention held by the Boy Scouts of America.
Chuck-A-Rama has a daily buffet menu, offering dishes like fried chicken, roast beef, ham, turkey, make-your-own salad, soup, fresh fruits, bread pudding, peach cobbler, and soft serve.
They also have a special menu for each day of the week.
Sunday is Family Dinner Day, Monday is Chuckwagon Day, Tuesday is Italian Day, Wednesday is Barbeque Day, Thursday is Mexican Day, Friday is Seafood Day, and Saturday is Italian Day again!
1. Mr. Gatti's Pizza
Mr. Gatti's Pizza is a pizza buffet and arcade chain with over 60 locations in Indiana, Kentucky, Louisiana, Ohio, Tennessee, and Texas.
Not all of Mr. Gatti's locations offer a buffet and a game room, though, so check your local restaurant on their website before visiting.
The first Mr. Gatti's was opened by James Eure in 1969 in Austin, Texas.
At first, the restaurant's name was just "The Pizza Place," but Eure soon renamed it "Mr. Gatti's" in honor of his wife, whose maiden name was Gatti.
Mr. Gatti's menu varies by location, but their specialty is pizza at all locations.
Their dough is always hand-rolled, and they only use 100% real provolone cheese in all their pizzas.
Mr. Gatti's pizza flavors include the Meat Market, the Gatti's Deluxe, the Veggie Sampler, the Bacon Double Cheeseburger, the Spinach Alfredo, the BBQ Chicken, and the Buffalo Chicken.
In addition to pizza, Mr. Gatti's buffets also serve pasta, make-your-own salads, and desserts.
Conclusion
Although the heyday of buffet restaurants may have ended, there are still excellent buffet chains scattered throughout the U.S.
Whether you're hungry for pizza, classic American comfort food, or even Mongolian stir fry, there's a buffet restaurant that will serve whatever cuisine you're craving, all for an affordable price.
Related Articles: