The Best Items to Order on the IHOP Menu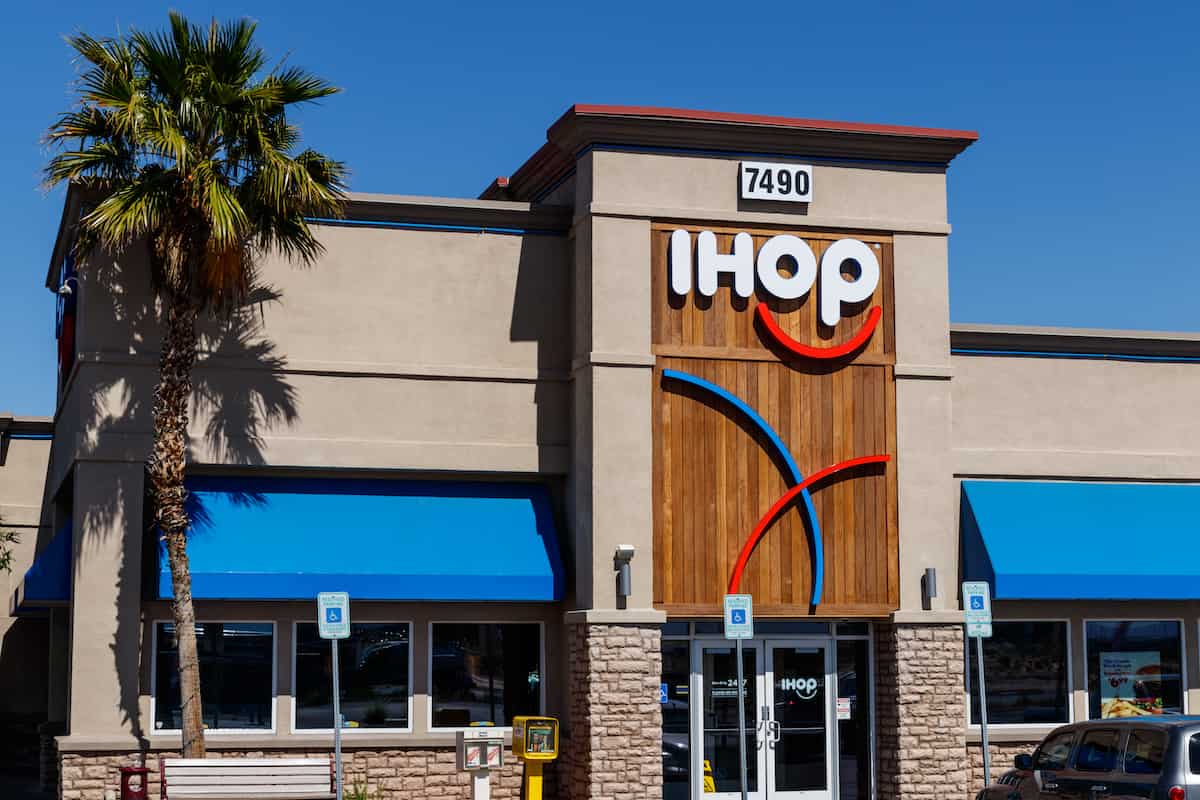 IHOP, also known as the "International House of Pancakes," is an American breakfast chain that serves every meal, specializing in breakfast (specifically pancakes, of course).
While breakfast is served all day at IHOP, their lunch and dinner specials are also pretty popular. IHOP even has a few special menus in addition to the regular menu.
IHOPPY Hour is IHOP's take on happy hour. You can choose from specials like a BLT sandwich and jalapeno cheese bites for a limited time.
The IHOPPY Hour menu also has favorites like Chicken and Pancakes for a discounted price. The deal is only available on weekdays from 3 pm to 8 pm at participating locations.
IHOP's Gluten-Friendly menu features dishes that are made without gluten-containing ingredients. Menu items include pancakes, waffles, and breakfast meats.
However, because gluten is used in other dishes prepped in the same area, IHOP can't guarantee that these meals are completely gluten-free, hence the "gluten-friendly" label.
Yet another specialty section on the IHOP menu is the 55+ menu. This is their senior discount menu, which includes favorites like the Breakfast Sampler, Original Buttermilk Pancakes, and the 2 x 2 x 2 combo.
With dozens upon dozens of options on IHOP's menu, where is one supposed to begin?
Well, you can start with the list below. I've ranked the 25 best IHOP menu items from good to fantastic.
Use it to help decipher their extensive menu and decide what dishes are worth your cash!
25. Oreo Milkshake
All diners need to have at least one milkshake on the menu, right?
Well, don't worry – IHOP has four! Choose between vanilla, chocolate, strawberry, and Oreo.
While you can't go wrong with any of the above (after all, each milkshake is made with real milk and premium ice cream), the best milkshake at IHOP is definitely the Oreo shake.
It's made with a vanilla ice cream base and is chock-full of Oreo pieces.
This milkshake is super thick, rich, and creamy, while the Oreo bits provide just the right amount of crunch.
It's topped with whipped cream and served in an old-timey milkshake glass.
The Oreo Cookie Milkshake contains 760 calories.
24. Thick N' Fluffy Classic French Toast
The name of this dish pretty much says it all – IHOP's French toast truly is as thick and fluffy as breakfast dishes come.
The restaurant achieves this by soaking thick slices of toast in their cinnamon-vanilla batter and grilling the toast until golden brown.
Each piece of toast is covered in butter and powdered sugar for an extra kick of sweetness.
IHOP seems to have mastered the art of French toast. The crust is crunchy and slightly caramelized, while the inside is moist and fluffy.
Plus, you can order yours with strawberries and bananas or lemon ricotta and blueberries if you're in the mood for something fruity.
One order of Thick n' Fluffy Classic French Toast contains 900 calories.
23. Big Brunch Burger
The Big Brunch Burger is, well, brunch on a burger.
This sandwich contains your choice of patty (beef, crispy chicken, or grilled chicken), hickory-smoked bacon, a fried egg, American cheese, and IHOP sauce.
While it was a missed opportunity to serve the burger on a regular bun instead of between two pancakes (sigh), the Big Brunch Burger is nonetheless delicious.

I recommend ordering it with a beef patty. They're super juicy and flavorful, which pairs well with crispy bacon and melty cheese.
The fried egg is the main brunch-y element of the dish, and the IHOP sauce (made with mustard, ketchup, and mayo) adds a little tang to each bite.
Your burger also comes with one side, and you can add avocado for an upcharge.
One Big Brunch Burger with a beef patty contains 920 calories.
22. Classic Burrito
When you order an IHOP burrito, you can choose how it's served – in a bowl or a tortilla.
Both are popular options, but I prefer the tortilla.
IHOP's Classic Burrito is pretty much everything you could ever want in a breakfast burrito.
It contains scrambled eggs, your choice of hickory-smoked bacon or diced sausage, shredded cheddar and Jack cheese, and hash browns.
The hash browns are super crunchy, while the eggs are fluffy and soft.
The bacon and sausage add a smokey flavor to the burrito, and the cheese rounds everything out by adding a creamy, melty element.
It's served with salsa and your choice of side.
The Classic Burrito has plenty of each ingredient stuffed inside, so you'll need two hands to tackle this bad boy.
The only critique I could come up with for this burrito is that it would be even better if the salsa was already inside it.
The Classic Burrito contains 980 calories, and the Classic Burrito Bowl contains 680 calories.
21. Chocolate Chocolate Chip Pancakes
IHOP's Chocolate Chocolate Chip Pancakes contain three (count 'em, three) different chocolate elements.
Veering from the classic buttermilk base that most of its flapjacks are known for, these pancakes are made with a rich chocolate batter.
You'll also find a generous portion of chocolate chips inside the batter.
Your pancakes are then topped with chocolate syrup and even more chocolate chips. Each bite of this dish is rich, sweet, and dense.
Sure, it can be too much for some people after a few bites, but if you just can't get enough milk chocolate in your everyday life, this is the breakfast for you.
Plus, you can opt for a classic buttermilk base for your pancakes if the chocolate batter sounds too much.
Four Chocolate Chip Pancakes contain 770 calories.
20. Hash Browns
Pancakes are the most iconic dish at IHOP, but the hash browns are also beloved by diners, and for good reason.
Each hash brown is about the same size and shape as a typical pancake (though I'm sure this can vary by location) and is made with shredded potato.
Choose to have yours cooked regular or crispy, which means it's cooked slightly longer to make the hash brown as crunchy as possible.
IHOP's hash browns make the perfect accompaniment to your breakfast entree because they're crispy on the outside, fluffy on the inside, and have the perfect amount of salt to balance out those sweet pancakes.
One hash brown contains 220 calories.
19. Ham & Egg Melt
IHOP's Ham & Egg Melt is a hybrid between grilled cheese and a breakfast sandwich.
It's made with thick-cut toasted bread, a fried egg, black forest ham, and American cheese.
The sandwich is classic and comforting. The black forest ham is pretty salty and smokey, but not in a bad way. It adds to the depth of flavor in an otherwise simple sandwich.
The crunchy toast also adds a nice crispy texture to each bite. This is a great option for picky eaters and is available all day!
The Ham & Egg Melt contains 780 calories.
18. Plant-Based Sausage Power Combo
I'll be the first to admit that the phrase "power combo" makes it seem like this dish will be healthy yet boring and flavorless.
But I'm glad I gave this combo a chance because it's actually quite good!
This combo comes with two plant-based sausages, a side of scrambled egg whites, a bowl of seasonal fresh fruit, and your choice of multigrain toast or protein pancakes.
The plant-based sausage tastes surprisingly similar to the real thing.
Of course, you'll be able to tell you're not eating real sausage, but it has a great texture and smokey, salty flavor.
The scrambled egg whites are easily jazzed up with a little hot sauce, and the protein pancakes, while not as good as the classic buttermilk version, are still pretty darn good (especially with syrup and butter on them).
Overall, the Plant-Based Sausage Power Combo is a great option for those looking for a healthy meal but not wanting to sacrifice flavor.
This dish contains 560 calories if you order the multigrain toast and 770 calories for protein pancakes.
17. Southwest Chicken Burrito
Like the Classic Burrito, the Southwest Chicken Burrito can be served in a bowl or a tortilla.
It's packed with grilled chicken, scrambled eggs, hickory-smoked bacon, green peppers, onions, tomatoes, queso sauce, shredded Jack and cheddar cheese, avocado, and hash browns.
As you can tell, this burrito has a lot going on. Luckily, all the ingredients work well together.
I especially enjoyed the mix of egg and hash brown with the queso sauce and avocado.
It's similar to a classic breakfast burrito but has some southwest-inspired ingredients that make things more interesting.
In addition, you can customize your burrito by requesting that any of the fillings be removed.
The Southwest Chicken Burrito comes with your choice of side. It contains 1370 calories with a tortilla and 1080 calories when served in a bowl.
16. 2 x 2 x 2 Combo
You don't have to choose between sweet and salty when you order the 2 x 2 x 2 Combo on IHOP's menu.
As its name suggests, you get two eggs cooked in any style, two pieces of breakfast meat, and two pancakes.
This breakfast allows you to sample three of IHOP's most popular items (eggs, pancakes, and breakfast meat), so it's a great way to find out what you like on the menu.
Plus, you can substitute your two buttermilk pancakes for two flavored pancakes, so this dish has endless combos!
The calories in this dish range from 540 to 750, depending on which meat and egg style you choose.
15. Chicken & Waffles
The combination of chicken and waffles isn't new, but IHOP's version of the classic breakfast dish is notable thanks to its fluffy waffles and super crispy buttermilk chicken tenders.
The dish comes with four Belgian waffle slices and four buttermilk fried chicken tenders.
The waffles are soft and sweet, making them the perfect contrast to the salty, super-crunchy chicken.
Your Chicken and Waffles will be served with a side of ranch or honey mustard, but I recommend just using maple syrup to go all in on the sweet-salty breakfast combo.
The Chicken & Waffles contain 1200 calories.
14. Breakfast Sampler
The Breakfast Sampler comes with all the makings of a classic American breakfast. Think of it as a compilation of IHOP's greatest hits.
It features two eggs in any style, two hickory-smoked bacon strips, two sausage links, two pieces of ham, one large hash brown, and two buttermilk pancakes.
Yes, it's a lot of breakfast meat, but if you're into pork, it's just the right amount!
The pancakes add the perfect amount of sweetness to an otherwise savory dish.
The hash browns are my favorite part of the dish because they add a satisfying and crunchy textural element to a plate of otherwise soft food.
Bonus: With two of almost every item, this dish is perfect for sharing with someone!
The Breakfast Sampler contains 1030-1130 calories.
13. Belgian Waffle
Though IHOP waffles will probably never reach the level of fame that their pancakes have, they're still pretty darn good.
What makes IHOP waffles so great? For starters, they're fluffy on the inside and crispy on the outside, just as any good waffle should be.
The waffle pockets are the perfect size to ensure you'll get a little bit of melted butter and syrup in every bite.
The Belgian Waffles are just sweet enough that you don't need any extra sugar to enjoy them but aren't so sweet that you can't add a few sugary toppings.
The Belgian Waffle contains 570 calories.
12. Strawberry Banana Pancakes
IHOP's Strawberry Banana Pancakes are made with a classic buttermilk base and have fresh banana slices baked in.
The pancakes are then topped with more banana slices, glazed strawberries, and whipped topping.
The glaze from the strawberries acts as a strawberry-flavored syrup, soaking into each pancake and making them extra moist and fruity.
You can tell by taste alone that IHOP's bananas are fresh and not frozen.
In addition, they don't taste artificial, making for a perfectly sweet (but not too sweet) stack.
Four Strawberry Banana Pancakes contain 680 calories.
11. Funny Face Pancake Combo
Hands down, the Funny Face Pancakes are the cutest and most nostalgic option on the IHOP breakfast menu.
The main appeal of the dish is that adorable smiley-face pancake, but the rest is pretty yummy, too!
The pancake base is chocolate chip, topped with whipped cream, chocolate chips, and maraschino cherries in the shape of a smiley face.
With your pancake, you'll also get a scrambled egg, a piece of bacon, and a sausage link.
You can replace the breakfast meat with two pieces of turkey bacon.
While this item is technically on the Kids Menu, I think most servers will make an exception if you really want one!
The Funny Face Pancake and eggs contain 550 calories. The breakfast meat adds another 160 calories.
10. Fresh Berry Crepes
IHOP's Fresh Berry Crepes are sweet and simple. The dish comes with four crepes folded and topped with fresh blueberries and strawberries.
If you love IHOP pancakes, there's a good chance you'll enjoy their crepes, too. After all, a crepe is basically a super thin pancake.
The fresh berries add the perfect sweetness to the dish, while the crepes are delicate and subtly sweet.
The only thing that would make these crepes better is a sprinkling of powdered sugar and a side of whipped cream, which you can ask your server for.
The Fresh Berry Crepes contain 540 calories.
9. Double Blueberry Pancakes
IHOP's Double Blueberry Pancakes contain the berry in not one but two different forms.
Fresh blueberries are baked inside the buttermilk batter and made into a syrupy compote on top of the pancakes.
The blueberry compote acts as syrup and soaks into the pancakes, making them extra fruity.
The compote is quite sweet but fits in well because the fresh blueberries and buttermilk batter aren't that sweet.
Just like the other buttermilk pancakes, these are super thick and fluffy.
The stack is also topped with a dollop of whipped topping – what more can you ask for in a pancake?
The Double Blueberry Pancakes contain 620 calories.
8. Sirloin Steak Tips and Eggs
While IHOP isn't particularly known for its steaks, they serve a great version of steak and eggs.
In fact, the Sirloin Steak Tips and Eggs are among the best breakfast dishes on the entire IHOP menu.
The sirloin steak tips are marinated and then grilled to perfection.
Mushrooms and onions are also grilled until caramelized and served with tender, crispy steak tips.
Your steak comes with two eggs in any style, hash browns, and two buttermilk pancakes.
This dish is super customizable – you can choose how your steak is cooked, your eggs are done, and what kind of pancakes you want on the side.
If you're not a fan of mushrooms or onions, you can request to have them removed, but if you're on the fence, I recommend keeping them on- they're perfectly caramelized and delicious!
This dish is perfect for someone who wants to try a little bit of everything.
The Sirloin Steak Tips and Eggs contain 1230 calories.
7. Chicken and Pancakes
If you think chicken and waffles are a good combo, wait until you try the Chicken and Pancakes on the IHOP menu!
The dish is made up of three fluffy buttermilk pancakes and four buttermilk fried chicken tenders.
It works so well because of the different textures found throughout.
The pancakes are the fluffy, soft buttermilk flapjacks you've come to know and love.
The chicken tenders, on the other hand, are juicy and super crispy.
Plus, you can't go wrong with a sweet-and-salty breakfast combo.
The dish comes with a side of honey mustard, buttermilk ranch, or IHOP sauce. However, I recommend sticking to a side of maple syrup instead.
One order of Chicken and Pancakes contains 1070 calories.
6. New York Cheesecake Pancakes
IHOP's New York Cheesecake Pancakes start with a classic buttermilk base and are adorned with little bites of cheesecake throughout.
The dish is then topped with glazed strawberries and whipped topping.
The cheesecake bites literally melt in your mouth and add a fun tang to an otherwise super-sweet dish.
The pieces of cheesecake are perfectly sized and pair well with the tang from the buttermilk batter.
The glazed strawberries on top are super sweet and act as syrup, so there's no reason to add any extra syrup to these.
These pancakes are perfect for those who like a decadent, dessert-inspired breakfast.
Four New York Cheesecake Pancakes contain 890 calories.
5. Breakfast Crepes
IHOP's Breakfast Crepes contain all the makings of a classic American breakfast – scrambled eggs, hickory-smoked bacon, crispy hash browns, and lots of cheese.
All that is tucked inside two thin, subtly sweet crepes. Cheese-wise, the dish features white cheddar sauce, cheddar, and Jack cheese.
The Breakfast Crepes remind me of a lighter, more sophisticated version of IHOP's Classic Burrito.
You can customize your dish by requesting to remove the bacon or cheeses.
I always order this dish without the extra white cheddar sauce.
The Breakfast Crepes contain 1210 calories.
4. Spinach & Mushroom Omelette
The Spinach & Mushroom Omelette is jam-packed with sauteed spinach, mushrooms, onions, diced tomato, hollandaise sauce, and a cheddar-Jack cheese blend.
The omelette has a splash of buttermilk pancake mix inside, which is how IHOP achieves its super fluffy texture.
Add all those fresh veggies, and you have a hearty, fresh, and super-flavorful breakfast option.
The hollandaise and cheese in this omelette lend a creamy, melty texture that pairs nicely with the fluffy omelette base.
The omelette comes with your choice of toast, hash brown, pancakes, or fresh fruit.
You also have the option to swap out your regular egg batter for egg white batter if you want a lighter meal.
The Spinach & Mushroom Omelette contains 910 calories.
3. Cupcake Pancakes
By far the prettiest item on the IHOP menu, the Cupcake Pancakes are as flavorful as they are colorful.
The base of the pancake is a classic buttermilk, and the batter has a generous helping of rainbow sprinkles throughout.
The pancakes are topped with sweet vanilla icing, similar to the glaze you'd find on a cinnamon roll.
Even though a cupcake pancake sounds like it might be cloyingly sweet, this dish has the perfect amount of sugar.
Since the buttermilk pancakes are a little tangy and sweet, the icing is a welcome addition to the equation. It essentially just takes the place of maple syrup on top.
While the sprinkles themselves don't have too much of a distinct flavor, they bring bright color to the dish and add a fun crunch to some bites.
So whether you're a kid or a kid at heart, Cupcake Pancakes will surely delight!
Four Cupcake Pancakes contain 820 calories.
2. Original Buttermilk Pancakes
Ah, the dish that started it all – the Original Buttermilk Pancake.
IHOP's pancakes are known for their fluffy, thick texture. The buttermilk lends a slight tang to the subtly sweet pancakes.
A bit of butter and syrup adds just enough sweet richness to make these pancakes tasty to any palate.
These pancakes are the base of so many iconic pancakes at IHOP, so I had to give them the number two spot on the list of the best IHOP menu items.
They're simple and pair perfectly with breakfast meat, eggs, cheesecake bites, and even chicken tenders.
Sometimes, you just can't beat the original!
Five Buttermilk Pancakes contain 690 calories, and a short stack of three pancakes contains 450 calories.
1. Tres Leches Pancakes
If you've read any of my other articles, you won't be surprised by my number one pick for the best IHOP menu item. Without a doubt, it has to be the Mexican Tres Leches Pancakes!
What makes this stack so special? For starters, IHOP uses its famous buttermilk pancake base.
These pancakes are always incredibly fluffy with a slight sweetness and tang.
Then, three different forms of milk (or "leche") are added to the pancakes – a thick dulce de leche caramel sauce, a rich vanilla bean sauce, and a dollop of fluffy whipped topping.
The vanilla bean and caramel sauces saturate the pancakes, making them a similar texture to actual tres leches cake.
This means the stack will be super moist and creamy throughout, so there's no need for syrup.
Some vanilla and caramel sauces tend to taste artificial or overly sweet, but these don't.
Plus, there are real flakes of vanilla bean in the vanilla sauce. Yum!
These pancakes are my number one menu item at IHOP because they're sweet and indulgent, but you won't feel sick after eating them.
They're just as much a breakfast as a dessert, and despite all the sauces, you can still taste that famous buttermilk tang in each bite.
Four Mexican Tres Leches Pancakes contain 690 calories.
Conclusion
IHOP offers an extensive menu, including a variety of breakfast, lunch, and dinner options.
While IHOP's specialty is breakfast, which is served all day, their lunch and dinner dishes are also popular among many customers.
From buttermilk pancakes to crepes to sirloin steak & eggs, there are plenty of items on IHOP's menu to satisfy any palate.
So, now that you've seen my top picks, which IHOP menu item will you try next?
For more information about IHOP, check out the articles below.