The Best Meals at Denny's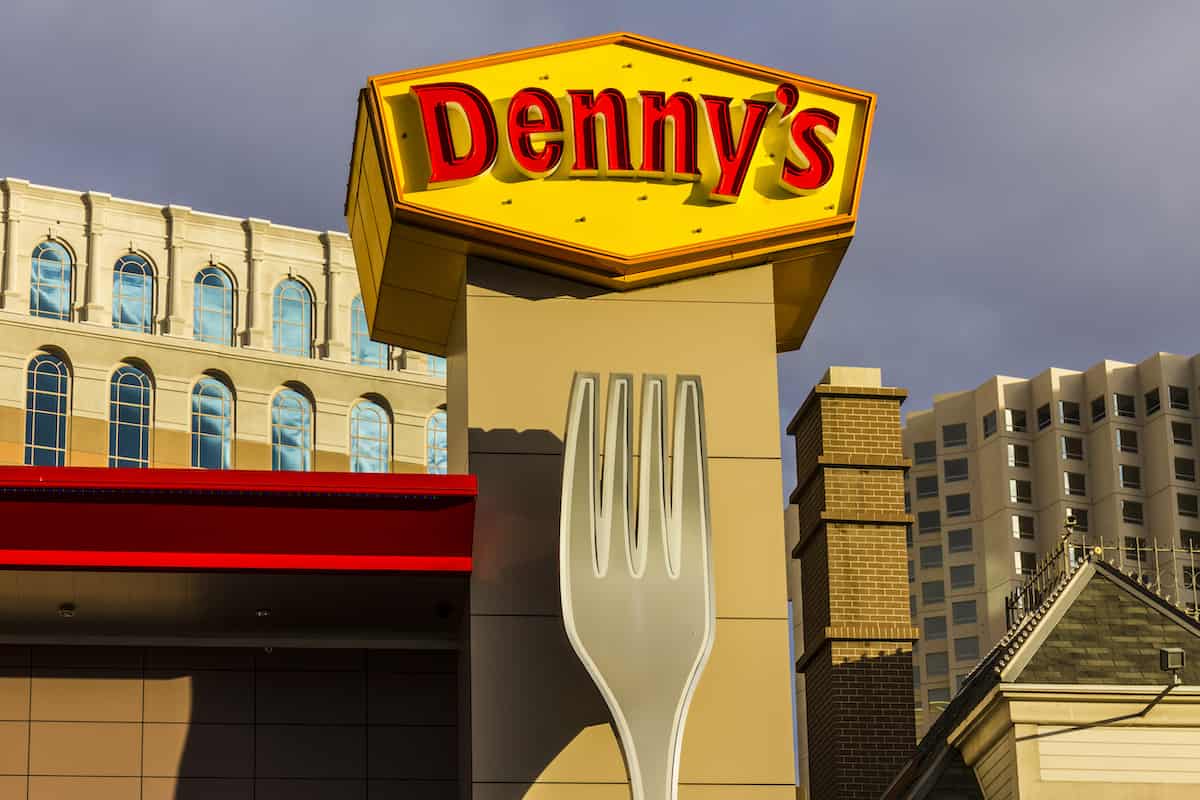 Whether or not you've been to Denny's, there's a good chance that you know it's famous for its breakfast, which is served all day.
Also known as "America's Diner," Denny's is equally famous for having most of its locations open 24 hours a day, seven days a week.
Although many Denny's restaurants are open 24/7, some locations have more limited hours. So be sure to do a quick search to confirm your local Denny's hours!
The Denny's menu is jam-packed with iconic dishes, from their 'Slams' to decadent pancakes to the famous 'Moons over My Hammy' breakfast sandwich.
The menu contains well over seventy items, which can be intimidating at first glance.
To narrow down your choices, here is a list of the best Denny's menu items so you can decide what to order next time!
25. Bourbon Chicken Bowl
While it's best known for breakfast, Denny's also serves some delicious dinner options.
The Bourbon Chicken Bowl is a simple, healthy dinner on Denny's menu.
The dish starts with two seasoned grilled chicken breasts with a bourbon glaze.
The chicken sits atop red-skinned potatoes, mushrooms, broccoli, fire-roasted bell peppers, and onions.
The bourbon-glazed chicken is just a little sweet and is complimented by the medley of fresh roasted vegetables.
This bowl is great because it isn't overcomplicated and will appeal to almost anyone.
The Bourbon Chicken Bowl contains 910 calories.
24. Strawberry Shake
Denny's only has two shakes on its menu, and both hit the nail on the head.
They're thick, creamy, and rich, just like a classic American milkshake should be.
The Strawberry Shake is made with premium strawberry ice cream and whipped cream.
The strawberry flavor is fresh and fruity instead of tasting artificial, a downfall of many other milkshakes at chain restaurants.
The Strawberry Shake contains 760 calories.
23. Hashbrown
Denny's name is synonymous with their crispy, golden hash browns.
Every restaurant makes their hash browns a little bit differently. At Denny's, they make them with long, thin strips of potato formed into the shape of a pancake.
The hash browns are cooked until golden brown on both sides, ensuring that each bite is crispy, salty perfection.
One side of hash browns contains 180 calories.
22. Seasoned Fries
The Seasoned Fries are one of the most beloved potato items on Denny's menu.
These fries are thinner and crispier than regular fries.
The seasoning is a blend of secret spices, but don't worry – they're not spicy and will appeal to most diners.
While the spices are kept secret, I guess there's some garlic salt, onion powder, and maybe a little smoked paprika in there.
The Seasoned Fries are far more popular than their non-seasoned counterparts, which are sometimes said to be a little soggy and flavorless.
One side of Seasoned Fries contains 490 calories.
21. Biscuit and Gravy
One of the heartier side dishes on Denny's breakfast menu is their Biscuit and Gravy.
It's simple and delicious – an open-faced biscuit covered in savory sausage gravy.
Denny's is known for having great biscuits. They're rich and fluffy, the perfect vessel to soak up the gravy.
The sausage crumbles in the gravy give it a meaty, smokey flavor. Overall, it's a great side that won't completely fill you up before the rest of your meal.
The Biscuit and Gravy contains 330 calories.
20. Nashville Hot Chicken Melt
The Nashville Hot Chicken Melt is one of the spicier items you'll find on Denny's menu.
That being said, it's not too spicy, so those who can't handle too much heat will be fine if they order it.
This melt features a golden fried chicken breast tossed in Nashville hot sauce.
It's then topped with pickles, tomato, mayo, and Swiss cheese.
The Nashville hot sauce has a kick but is kept from being too spicy, thanks to the mayo and Swiss.
Ask for additional hot sauce on the side if you want your melt to be extra spicy!
Your meal comes with a side of wavy-cut fries, which can be substituted for another side.
The Nashville Hot Chicken Melt contains 1,350-1,740 calories.
19. Big Dipper Melt
The Big Dipper Melt is the ultimate comfort food sandwich. It begins with a tender pot roast, sweet caramelized onion, and creamy mayo on grilled artisan bread.
The real pièce de résistance of the meal is the French onion au jus on the side, ready for dipping.
The rich and beefy dipping sauce adds complexity to the classic sandwich, making for one of the coziest sandwiches you'll ever eat.
It's served with wavy-cut fries, but you can substitute for a different side.
The Big Dipper Melt contains 1,180-1,570 calories.
18. Brisk-B-Q Melt
Calling all brisket lovers – this melt is for you!
Denny's packs slow-smoked brisket, melted white cheddar, pickles, and Diner Q sauce between two pieces of artisan bread.
This melt is smokey, tangy, and creamy. It's super rich, but the pickles' vinegary notes keep it from becoming too heavy.
It comes with wavy-cut fries, which can be replaced with a different side.
The Brisk-B-Q Melt contains 1,240-1,620 calories.
17. Chicken Biscuit & Gravy Bowl
The Chicken Biscuit & Gravy Bowl features two open-faced biscuits topped with golden-fried chicken tenders, country gravy, cheddar cheese, and two eggs.
The chicken is perfectly fried and crispy, while the gravy is creamy and peppery.
This bowl is similar to KFC's famous chicken bowls, but the addition of eggs makes it more like a breakfast item.
Denny's biscuits are fluffy yet dense, making them the perfect vessel to soak up all that rich gravy.
All in all, it makes for a cozy, comforting dish that keeps you full until your next meal.
The Chicken Biscuit & Gravy Bowl contains 1,120-1,340 calories.
16. Caramel Apple Pie Crisp
The Caramel Apple Pie Crisp is one of the most decadent desserts you can find at any chain restaurant.
Denny's starts with a big bowl and fills it with a baked apple pie crisp with cinnamon sugar crumbles.
A generous scoop of vanilla ice cream is placed on top, along with salted caramel sauce and powdered sugar.
It is gooey and crispy at the same time, so each bite is a little different.
Despite having the makings of a cozy fall treat, this Denny's dessert can be enjoyed any time of year.
The Caramel Apple Pie Crisp contains 830 calories.
15. Diner Classic Patty Melt
As you can probably tell by now, melts are a staple of Denny's menu. One of their most popular melts is the Diner Classic Patty.
The 100% beef patty is served on grilled potato bread with caramelized onions, Diner Q sauce, Swiss cheese, and American cheese.
Think of this patty melt as a stripped-down version of a cheeseburger.
The caramelized onions and creamy, tangy Diner Q sauce make for a rich yet simple sandwich.
It is served with wavy-cut fries but can be subbed for another side.
The Diner Classic Patty Melt contains 1,200-1,590 calories.
14. The Grand Slamwich
You may have had many breakfast sandwiches, but you've never had one like Denny's Grand Slamwich.
This sandwich fits all the breakfast icons between two pieces of toasted potato bread.
It features fluffy scrambled eggs, crumbled sausage, smoked bacon, ham, American cheese, and a maple spice spread.
It's also served with hash browns, in case you're still hungry.
There are many different textures in this sandwich, from crunchy to gooey to crispy.
It is also a breakfast meat lover's dream, boasting three different types of pork.
The maple spread adds a much-needed sweet element to an otherwise savory sandwich.
You can customize your Grand Slamwich by adding avocado, more bacon, or more cheese for an upcharge.
The Grand Slamwich contains 1,240-1,630 calories, depending on the toppings you add.
13. Philly Cheesesteak Omelette
The Philly Cheesesteak Omelette is made with grilled prime rib, fire-roasted bell peppers, onions, sautéed mushrooms, and Swiss cheese.
This is the best omelette on the entire Denny's menu.
It's got so many delicious elements going on, from the perfectly charred peppers and mushrooms to the caramelized onions and melted Swiss.
The grilled prime rib is high quality and well-seasoned.
If you love Philly cheesesteaks, this dish is a no-brainer to order.
The Philly Cheesesteak Omelette comes with hash browns and your choice of bread.
Each dish contains 760-2,230 calories, depending on your options.
12. It's Bananas Salted Caramel Pancake Breakfast
These pancakes are breakfast and dessert wrapped into one delicious dish.
Denny's starts with its classic fluffy buttermilk pancakes and tops the flapjacks with buttery shortbread, fresh banana slices, rich vanilla cream, and salted caramel sauce.
It is a super sweet dish but is kept from being pushed over the edge of sweetness by the salted caramel.
The banana slices also add a fresh, fruity flavor to each bite.
These pancakes are served with eggs, hash browns, and your choice of bacon strips or sausage.
This dish contains 1,180-1,880 calories.
11. Southwestern Benny Breakfast
If you like eggs benedict, you'll definitely love the Southwestern Benny Breakfast from Denny's.
This dish starts with a toasted English muffin. The muffin is topped with smoky chorizo, over-medium eggs, Hollandaise sauce, five-pepper sauce, and pico de gallo.
Denny's does a great job with their over-medium eggs.
The egg whites are solid, but once you cut into them, the yolk is perfectly runny and rich.
The chorizo is smokey and has a little kick to it, which is offset by fresh pico de gallo.
For even more Tex-Mex flavor, add avocado for an upcharge.
The Southwestern Benny Breakfast is served with hash browns, containing 760-1,370 calories.
10. Oreo Shake
Denny's take on the classic cookies 'n cream milkshake is made with vanilla ice cream, Oreos, and rich whipped cream.
It's hard to mess up an Oreo milkshake since all ingredients are delicious on their own and only get better when combined.
This shake is creamy, indulgent, and packed with Oreos.
When tasting this classic shake, you'll understand why Denny's was given the nickname "America's Diner."
The Oreo Shake contains 1,050 calories.
9. Choconana Pancake Breakfast
Choconana Pancakes are exactly what their name suggests: Pancakes with chocolate chips and fresh bananas.
Ghirardelli chocolate chips are mixed into Denny's classic buttermilk batter.
Once they're cooked to a perfect golden brown, the pancakes are topped with fresh banana slices and even more chocolate chips.
Bananas and chocolate chips are two of the most popular pancake additions of all time, so it only makes sense to combine them.
This dish is served with eggs, hash browns, plus bacon strips or sausage links.
The Choconana Pancake Breakfast contains 1,120-1,820 calories.
8. All-American Slam
Slams are a staple of Denny's menu. Each Slam is slightly different but contains a variety of breakfast basics.
The All-American Slam features three scrambled eggs with cheddar cheese, bacon strips, sausage links, hash browns, and your choice of bread.
This Slam is unique because it offers a little bit of everything you'd find in a classic American breakfast.
Plus, you can upgrade your toast option for a side of specialty pancakes, meaning you'll get a little sweet and savory throughout your plate.
The sharp cheddar scrambled into the eggs gives an extra edge over the eggs offered in other Slams.
The All-American Slam contains 730-1,310 calories.
7. Double Chocolate Pancake Puppies
Made with Ghirardelli cocoa and chocolate chips, these pancake puppies are basically super chocolatey donut holes.
These little bites of heaven are also tossed in powdered sugar and served with a cream cheese frosting.
It might sound like too much sugar, but the cream cheese frosting and slight bitterness from the cocoa keep the pancake puppies from being cloying.
An order of 6 pancake puppies contains 690 calories, and an order of 10 contains 1,050 calories.
6. Bacon Avocado Cheeseburger
Adding avocado and bacon will simply make anything taste better!
The Bacon Avocado Cheeseburger features crispy bacon, fresh avocado, aged white cheddar, creamy mayo, lettuce, tomato, red onions, and pickles on a brioche bun.
Fresh avocado, lettuce, tomato, and onion ensure that this burger feels refreshing and not too heavy.
The combination of avocado, bacon, and mayo makes this sandwich reminiscent of a California club.
If you want to try a unique cheeseburger, this is one of the best Denny's burgers on the menu.
The Bacon Avocado Cheeseburger contains 1,020 calories.
5. Lava Cookie Skillet
The Lava Cookie Skillet is everything you want it to be and more.
For starters, the cookie is thick and warm. It's more like a piece of super dense cake than a cookie and is filled with molten chocolate.
The cookie is topped with rich vanilla ice cream and salted caramel sauce.
The sauce keeps the dessert from being too sweet, and the melted chocolate inside provides the right amount of bitterness to offset any excess sugar.
This skillet is filled with super-rich ingredients, so it can be shared with someone else.
The Lava Cookie Skillet contains 820 calories.
4. Moons Over My Hammy
The Moons Over My Hammy is grilled cheese, a breakfast sandwich, and one of the best items on Denny's menu.
It features scrambled eggs, melty Swiss and American cheese, and smoked ham between two pieces of crispy grilled sourdough.
This sandwich is simple and well-executed, which is why it's been on Denny's menu for over 30 years.
Pro tip: It is served with a side of hash browns, so add them to your sandwich if you want an extra crunch.
The Moons Over My Hammy contains 1,150-1,540 calories.
3. Berry Vanilla Crepe Breakfast
Pancakes get all the glory at Denny's, but one of the best sweet items on the menu isn't a pancake.
The Berry Vanilla Crepe is truly a hidden gem. The crepe itself is super thin and golden brown.
It's topped with fresh seasonal berries, powdered sugar, and strawberry sauce. Folded inside the crepe is a sweet vanilla cream.
Crepes are much thinner and a little crispier than pancakes, which makes them the perfect vessel for fresh fruit.
This breakfast is decadent and light at the same time. Plus, it's served with two eggs your way, hash browns, and your choice of bacon or sausage.
The Berry Vanilla Crepe Breakfast ranges from 520 to 1,480 calories.
2. Slamburger
Denny's is best known for its breakfast items, so it only makes sense that their best burger is breakfast-themed.
The Slamburger has all the makings of a classic American breakfast: eggs your way, hash browns, crispy bacon, and American cheese.
Your egg comes whichever way you like it, but I recommend ordering it overeasy for that perfectly runny yolk.
This burger has so many different textures going on, from its soft brioche to its crispy hash brown and juicy patty.
I highly recommend adding some hot sauce to the burger to cut through all those rich ingredients.
The Slamburger contains 840 calories.
1. Cinnamon Roll Pancake Breakfast
The Cinnamon Roll Pancakes are the best item on Denny's menu!
This honor was given to the dish for many reasons. First, the buttermilk base makes for pancakes that are fluffy and moist.
All that goodness is elevated by crunchy cinnamon sugar crumbs and a creamy cheese frosting.
This dish is sweet and cinnamon-y with just a little tang from the frosting.
Plus, the meal comes with hash browns, eggs, and bacon or sausage, so you don't have to choose between a sweet or savory breakfast!
The Cinnamon Roll Pancake Breakfast contains 1,280-1,980 calories.
Conclusion
Denny's has no shortage of unique and exciting meals. So whether you're stopping in for breakfast, lunch, dinner, or a midnight snack, you'll have plenty of sweet and savory dishes to choose from.
Pro tip: If you're age 55 or older, Denny's has a special menu of discounted meals you can order from. Menu items are varied and include an Alaskan salmon platter, country-fried steak, omelets, and more.
Denny's menu is versatile because it allows for almost any customization you can think of, and the restaurant can modify any order if you have food allergies.
The menu can seem overwhelming at first, but once you look at the main categories, you will have no problem finding something that excites your tastebuds.
When in doubt, remember that a hash brown and Oreo shake are always great options!
For more information about Denny's, check out the articles below.