10 Best Timbits Flavors at Tim Hortons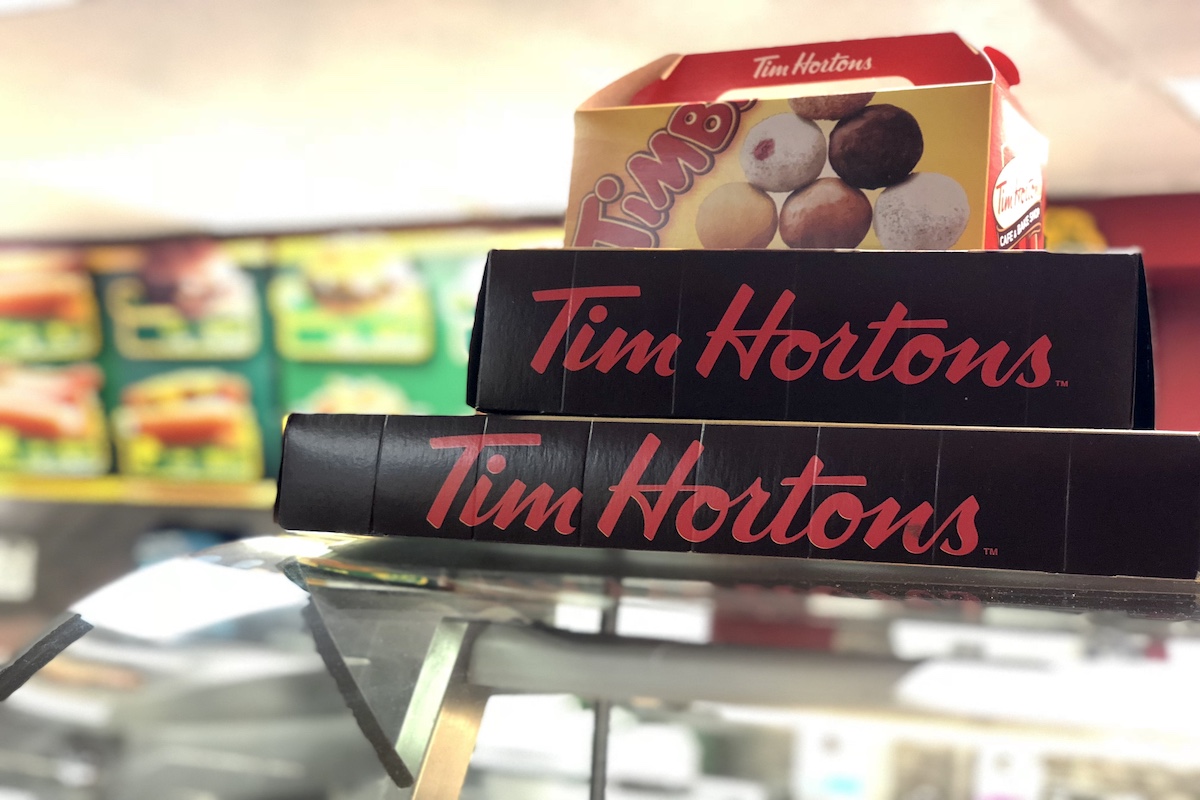 Tim Hortons' Timbits are iconic. It is hard to say no to a poppable, snack-sized donut, especially one covered in sweet glaze or rainbow sprinkles!
Timbits are bite-sized donut hole versions of some of the most popular Tim Hortons donut flavors.
You can purchase Timbits flavors individually or pick up a mixed box to share with friends or serve at a party.
They cost around $0.40-$0.50 each, depending on where you're located, and there are discounts when you buy boxes of 10, 20, or 40.
There are a few Timbits flavors that you're likely to find in most stores, but each store determines which flavors it will sell, so it's worth calling ahead if you're looking for a particular one.
In addition, some flavors are only sold seasonally, and some are more common in Canada or other countries outside the United States.
While popular flavors tend to sell out quickly, most stores will allow you to preorder a box in advance.
In this article, we've rounded up the best Timbits flavors (including some seasonal favorites) and ranked them based on their taste and overall experience.
Read on to discover your next favorite Timbit!
10. Honey Dip Timbit
The Honey Dip Timbit has the lowest ranking on the list because while it is soft and sweet, it lacks any interesting flavor or texture.
It somehow feels dry and sticky in your mouth, and while I certainly won't let them go to waste, they're probably the last Timbit flavor I will reach for.
The Honey Dip Timbit is a soft yeast donut hole covered in a sweet donut glaze.
Despite the name, there's no honey or honey flavor in this Timbit at all.
Its one redeeming quality is that it's one of the lowest-calorie Timbits, with 60 calories, 7g of sugar, and 1g of fat per serving.
9. Old Fashioned Glazed Timbit
At first glance, the Old Fashioned Glazed Timbit may not seem that different from the Honey Dip Timbit, but if you've ever tried them side-by-side, you know they're worlds apart.
They may both be simple glazed donut holes, but the Old Fashioned Glazed Timbit is made from a vanilla cake donut base that's more flavorful and tender than the yeast donut the Honey Dip is made from.
At 81 calories, 9g of sugar, and 3g of fat per serving, the Old Fashioned Timbits are slightly less healthy than the Honey Dip, but when it comes to bite-sized donuts, are we really going to be that picky?
Trust me on this one; it's worth the 20 extra calories for a Timbit that's better tasting and more pleasantly textured.
8. Old Fashioned Plain Timbit
The Old Fashioned Plain Timbit may seem simple to some, but that's exactly why I love it.
It's a slightly sweet, crispy on the outside, soft on the inside morsel of white cake donut that can be enjoyed guilt-free any time of day.
It only contains 54 calories, 2g of sugar, and 3g of fat per serving, almost half the calories of some other Timbits (I'm looking at you, Sour Cream Blueberry Glazed!)
If you still need convincing, bite it in half and dunk the other half in your favorite Tim Hortons coffee drink. Thank me later.
7. Gingerbread Timbit (Seasonal)
The Gingerbread Timbit is a seasonal flavor only available in select locations around the holidays.
It has a similar texture to the Sour Cream Glazed Timbit, with a dense, moist center and slightly crispy crust, but it's laced with plenty of festive ginger and spice flavors.
In years past, this Timbit was coated in sweet donut glaze, but more recently, they've been spotted tossed in a crunchy crystal sugar coating.
The biggest problem with Gingerbread Timbits is finding them! They're only available for a limited time, and not every store carries them.
However, if you can get your hands on some, they're a great way to celebrate the season – especially alongside a warm drink!
6. Jelly Filled Timbits
There are two flavors of Jelly-Filled Timbits, and both are equally delicious, so I'm lumping them together.
The Strawberry Fill Timbit and Raspberry Fill Timbit are yeast donut holes filled with jam-like fruit-flavored filling.
They're covered in powdered sugar, so they can be pretty messy, but they have the perfect donut-to-filling ratio, so they're worth the mess.
They can be hard to find, especially in the US, so if you see them at your local Timmies, know that they might not be there for long.
However, if you are lucky enough to snag some, you'll be treated to a sweet, fruity explosion wrapped in soft, fluffy donut goodness.
5. Pumpkin Spice Timbit (Seasonal)
One of the most popular seasonal Timbits flavors, Pumpkin Spice, is only available at select locations in the fall.
These Timbits are made from a pumpkin and baking spice-flavored cake donut dough that's cakey and sweet but could use a little more pumpkin and spice flavors.
That being said, they're still extremely delicious.
In the past, these Timbits were covered in a sweet, sugary donut glaze, but more recently, they've been spotted tossed in a blend of cinnamon and brown sugar.
Either way, they're a delicious harbinger of fall.
4. Birthday Cake Timbit
Without a doubt, the Birthday Cake flavor is the cutest Timbit.
It's a sweet, bite-sized confection dotted with cheerful rainbow-colored sprinkles – adorable!
The Birthday Cake Timbit is made from a vanilla cake donut hole base coated in a sweet donut glaze.
It's sweet and soft, with a faint vanilla flavor and a hint of crunch from the sprinkles.
It contains 78 calories, 8g of sugar, and 3g of fat per serving.
3. Sour Cream Blueberry Glazed Timbit
The strong, jammy blueberry flavor is the first thing you'll notice when biting into a Sour Cream Blueberry Glazed Timbit.
These sweet and fruity donut holes are essentially the Sour Cream Glazed Timbits with tiny pieces of blueberry folded into the batter.
They're sweet, soft, and a beautiful bluish-purple color!
The Sour Cream Blueberry Glazed Timbit contains 93 calories, 7g of sugar, and 5g of fat per serving, making it the highest calorie-dense Timbit on this list.
They aren't made with whole blueberries that burst and stud the pastry like blueberry muffins.
Instead, they're made with tiny pieces of blueberry interspersed throughout the batter.
This gives you more of a "blueberry cake" flavor rather than a "cake with blueberries in it" flavor.
2. Chocolate Glazed Timbit
The Chocolate Glazed Donut was further down on our list of the best Tim Hortons donuts, but the Chocolate Glazed Timbit is near the top.
There's a reason why this is one of the most popular Timbit flavors.
The donut is made from a rich chocolate cake donut hole base coated in sweet donut glaze.
However, the Chocolate Glazed Timbit doesn't suffer from the same dryness and inconsistency as the donut version.
It's decadent, moist, and the perfect two-bite snack for a chocolate lover.
These are always among the first flavors to disappear from a mixed box of Timbits!
The Chocolate Glazed Timbit contains 87 calories, 9g of sugar, and 3g of fat per serving.
1. Sour Cream Glazed Timbit
The Sour Cream Glazed is the best Timbit flavor, and luckily, most stores seem to carry them (whether or not they will sell out before you get there is another story.)
If you haven't tried these because the name made you wary, don't worry – they don't taste like sour cream.
Sour cream is mixed into the batter, giving this Timbit its luscious, tender texture.
The inside of the Timbit is soft and dense, while the outside is crispy, making the whole thing melt in your mouth.
The Sour Cream Glazed Timbit contains 82 calories, 9g of sugar, and 3g of fat per serving.
Conclusion
It's true I've never met a Timbit I don't like, but that doesn't mean they're all created equal.
They're all good, but some flavors and textures are better than others.
Luckily, they're available individually for around $0.40 to $0.50 each, so it's easy to grab a handful of your favorites – as long as they don't sell out!
Use this list to find your next favorite Timbit flavor, but if you're feeling ambitious, grab a mixed box and taste them all!
For more information about Tim Hortons, check out the articles below.