20 Best Bob Evans Breakfast Items to Order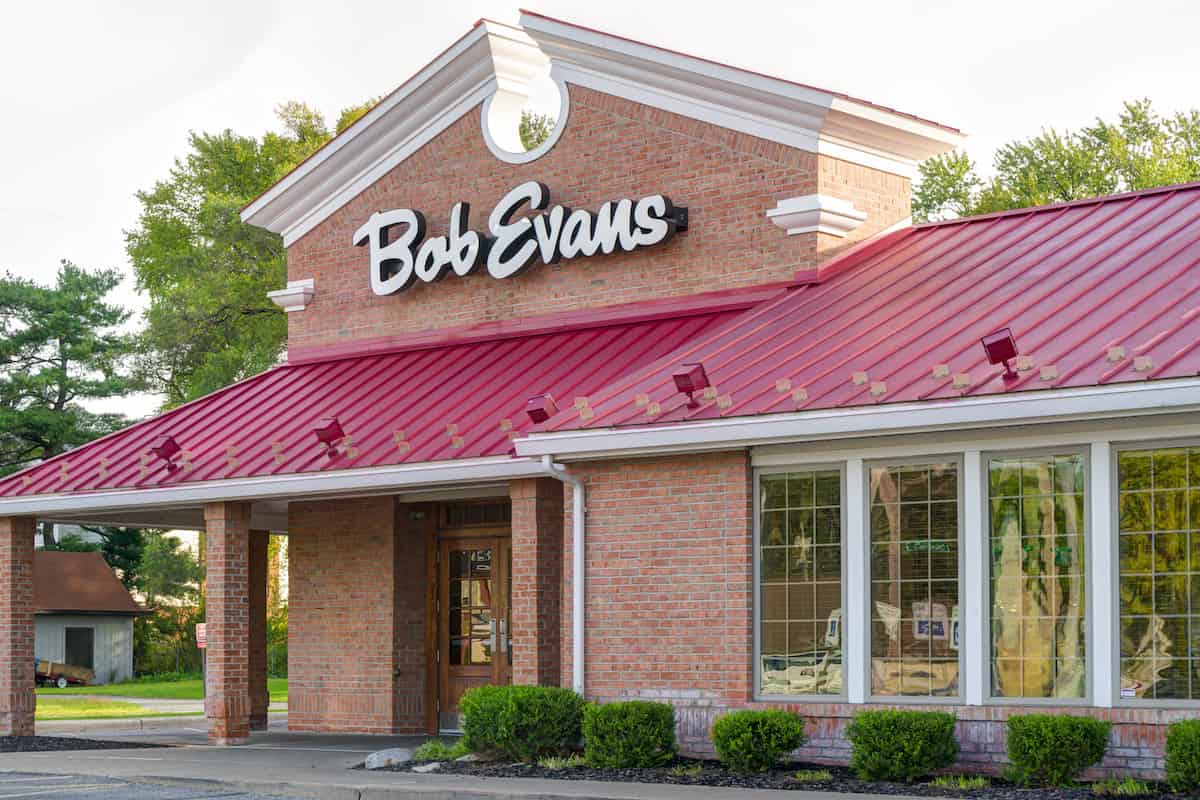 Bob Evans (yes, he was a real person) opened his first restaurant in 1946. What started as a humble 12-stool diner in Ohio has become an iconic chain of almost 500 locations across the United States.
The restaurant chain is best known for its breakfast foods, so you won't be surprised to find out that Bob Evans serves breakfast all day.
Most locations are open from 7 a.m. to 9 p.m., so you can stop by at 6 p.m. and get a plate of hot cakes, bacon, and eggs!
Bob Evans serves more than just breakfast, though. Their soups and "dinner bell" plates are also popular with diners.
When it comes to breakfast options, Bob Evans goes all out, offering everything from fried biscuit dough to their famous sausage gravy and loaded omelets.
To narrow down your choices for the most important meal of the day, I've chosen the 20 best breakfast dishes at Bob Evans and ranked them from good to fantastic!
20. Brioche French Toast
Admittedly, I'm not a huge French toast fan, so the Brioche French Toast from Bob Evans would probably be higher on most peoples' lists.
That being said, this dish is pretty darn good. It's made with two thick slices of Brioche dipped in a vanilla-cinnamon egg batter.
After being cooked on the griddle until golden brown, the French toast is topped with butter, syrup, and powdered sugar.
While it's not a groundbreaking dish, it has all the elements a French toast lover would look for.
The outer edges are crispy, while the rest of the French toast is spongy and soft.
The syrup and powdered sugar provide just the right amount of sweetness, while the melted butter adds richness without making you sick after eating the whole thing.
The Brioche French Toast is served with a side of breakfast meat or fresh fruit and contains 900 – 1130 calories, depending on which side you pick.
19. Little Piggy Pancakes
Are the Little Piggy Pancakes on the Bob Evans breakfast menu specifically for little kids? Probably. But should you still order them? Definitely!
These pancakes are adorable but also pack a punch in the flavor department.
The dish is made with hotcakes (another name for pancakes, FYI) shaped like a pig head.
Slices of banana are used for the pig snout, while little dots of chocolate sauce are used for the eyes.
It's interesting that they pair this adorable cartoon pig with a sausage link or bacon strip on the side but try not to look into your hotcake's chocolate eyes as you chow down!
Bob Evans hotcakes are soft, fluffy, and perfectly sweet, making for a delicious dish overall, with a little salty meat on the side to balance it all out.
The Little Piggy Pancakes contain 430 – 750 calories, depending on which side and drink you choose with them.
18. Rise & Shine Burger
Brunch burgers seem to have a hold on the general population as they're offered at most breakfast restaurant chains.
It's not hard to see why since they combine two things that almost everyone enjoys.
Bob Evans' Rise & Shine Burger ups the ante of a normal burger by adding crispy bacon, seasoned hash browns, melted American cheese, and a fried egg, all with an Angus beef patty and a warm brioche bun.
The bacon and hashbrowns on the burger are super crispy, adding a satisfying textural element to the burger.
Plus, the kitchen is quite generous with that American cheese!
My favorite part of the burger is the maple honey, which adds a little bit of spice and sweetness.
The Rise & Shine Burger contains 1330-1960 calories, depending on which sides you order with your burger.
17. Blue Ribbon Bacon
Speaking of sweet and salty breakfast combos, one of the best sides on the entire Bob Evans menu is the Blue Ribbon Bacon.
Five strips of hardwood-smoked bacon are glazed in black pepper maple honey and fried until crispy and caramelized.
Bacon that is "hardwood-smoked" means that it's been in an actual smoker rather than simply having liquid smoke pumped into it. This makes for a truly smokey and savory bite.
The black pepper maple honey glaze strikes the perfect balance between sweet and salty.
The bacon itself is just crispy enough that there are no soggy bits but not so crispy that it's burnt.
The Blue Ribbon Bacon contains 390 calories.
16. The Everything Breakfast
The name says it all – the Everything Breakfast includes a little bit of every breakfast staple.
On top of a bed of hash browns sits crumbled sausage, hickory-smoked ham, hardwood-smoked bacon, three scrambled eggs, diced tomato, cheddar cheese, and hollandaise sauce.
The mix of crispy hashbrowns, scrambled eggs, and sausage is an undeniably delicious trio.
The addition of diced tomato brings some freshness to the dish, and the creamy hollandaise pulls everything together.
Plus, the dish is served with a biscuit.
If you don't know what to order at Bob Evans but love a classic American breakfast, the Everything Breakfast will be right up your alley.
The Everything Breakfast contains 1130 calories.
15. Double Chocolate Hotcakes
The Double Chocolate Hotcakes dish comes with four hotcakes chock full of chocolate chips.
They're topped with chocolate sauce, whipped cream, powdered sugar, and even more chocolate chips.
The pancakes themselves are sweet but not too sweet, so the addition of chocolate isn't over the top.
The chocolate chips that top the hotcakes add a fun crunch, while the chocolate chips baked inside are gooey and melted.
They're also served with your choice of breakfast meat or fresh fruit.
The Double Chocolate Hotcakes contain 1210-1440 calories, depending on which side you choose.
14. Sausage Gravy & Biscuits
Bob Evans is known for its sausage. It's smokey, salty, and just a little sweet.
Their sausage gravy, of course, features said sausage and serves as a creamy, rich dip for the biscuits in this dish.
The biscuits are the star of the dish, in my opinion – they're tender, warm, and soft.
However, the gravy itself isn't the most photogenic item on the Bob Evans breakfast menu, but don't let looks deter you.
The mix of salty, creamy gravy and freshly baked soft biscuits are a match made in heaven.
You can choose between a cup of sausage gravy with biscuits (770 calories) or a family-size portion (2100 calories).
13. Country-Fried Steak & Farm-Fresh Eggs
Country-fried steak (sometimes called chicken-fried steak) is a divisive breakfast dish.
While it's not the first thing I'd order when trying a new restaurant, plenty of Bob Evans regulars sing the praises of the dish.
In their version, the steak is lightly breaded before being fried and then smothered with peppery, smokey country gravy.
The steak is served with two eggs cooked your way, fresh biscuits, and your choice of hash browns or home fries.
Steak and eggs is a combination as old as time, and that's for good reason.
Steak usually isn't crispy, but it works well in this case because the breading is so thin, allowing the actual steak flavor to shine through.
This dish contains 1310 – 1510 calories.
12. Shredded Hash Browns
Hash browns are a quintessential breakfast side dish. Many of us will happily eat it as a breakfast entree if we're being honest with ourselves (or maybe it's just me?).
Bob Evans' version is made with finely shredded russet potatoes, which are cooked to order.
This means they're fresh and hot when they reach your table, and you can specify how crispy you want them to be.
They're salty and greasy enough to give you that classic diner feel but not so much that you'll feel sick before getting to your main dish.
One order of hash browns contains 220 calories and is included as a side dish for many items on this list.
11. Homestead Farmer
Bob Evans understands that variety is the spice of life. Sometimes, you just want to try a little bit of everything, and that's where the Homestead Farmer comes in.
This breakfast dish comes with freshly-baked biscuits, a side of gravy, two eggs cooked however you like, your choice of meat, and hash browns or home fries.
Every element of this plate is well done and makes for the perfect sampler dish.
The hash browns and biscuits are my favorite items on the plate, but they all mesh well for a filling, classic American breakfast.
The Homestead Farmer contains 930 – 1190 calories, depending on which sides you order.
10. The Original Farmer's Choice
Like the Homestead Farmer, the Original Farmer's Choice is basically a plate of Bob Evans' greatest breakfast hits.
It includes your choice of breakfast meat, two eggs cooked your way, hash browns or home fries, and hotcakes or Brioche French toast.
If you love savory breakfast but also want something sweet on the side, the Farmer's Choice is perfect for you.
My go-to option is home fries, hot cakes, chicken sausage, and over-easy eggs.
The Original Farmer's Choice contains 1070 – 1460 calories, depending on which sides you order.
9. Buttermilk Breakfast Sandwich
The Buttermilk Breakfast Sandwich starts with Bob Evans' classic biscuit, which is cut open and filled with a fried egg, American cheese, and your choice of bacon or sausage.
It's also served with hash browns, home fries, or fresh-cut fruit.
This sandwich is simple and delicious. The buttermilk biscuit is tender but not too soft, making it the perfect vessel for a breakfast sandwich.
My only suggestion is to add some hot sauce or ketchup to yours since the sandwich can get a little dry without it.
The Buttermilk Breakfast Sandwich contains 530-560 calories, depending on the meat you choose.
8. Farmhand Biscuit Sandwich Platter
What's better than a biscuit sandwich? Two biscuit sandwiches!
The Farmhand Biscuit Sandwich Platter means you don't have to choose between sausage or bacon on your sandwich because you'll get one of each.
You'll also get some sausage gravy for dipping purposes and your choice of hash browns, home fries, or fresh-cut fruit.
The Farmhand Biscuit Sandwich Platter contains 1290 calories.
7. Buttermilk Hotcakes
Bob Evans' Hotcakes are simple, fluffy, and delicious.
The inclusion of buttermilk in their hotcake recipe ensures tender, bouncy hotcakes with the tiniest bit of tang.
They're perfectly golden brown and served with butter and syrup.
These hotcakes aren't anything you haven't had before and won't blow your mind, but they're exactly what you're looking for if you want a good old-fashioned hotcake.
Your order comes with four hotcakes and your choice of breakfast meat or fresh fruit.
The Buttermilk Hotcake meal contains 1240 – 1470 calories, depending on which side you choose.
6. Home Fries
Home fries aren't a particularly new or exciting breakfast item, but they can easily outshine any dish when they're done well.
Bob Evans' home fries are done very well. They're not overly fried or greasy, which so many potatoes fall victim to.
Instead, they're cut into small chunks, lightly seasoned, and thrown on the griddle until golden brown.
You can actually taste the potato in these home fries, which is why they're so successful.
The outside is nice and crispy, while the inside is fluffy and soft.
As much as it pains me to admit as a hashbrown lover, I'd choose these home fries over them any day!
A side of Home Fries contains 250 calories.
5. Southwest Avocado Omelet
One of the best items on the Bob Evans breakfast menu is the Southwest Avocado Omelet.
It's made with three eggs, sausage crumbles, fire-roasted corn, black beans, and cheddar cheese.
It's then topped with avocado, diced tomatoes, and a cilantro lime cream sauce.
I love this dish because it's like a hybrid of an omelet and huevos rancheros.
The corn, avocado, and tomato make the dish feel fresh and light, while the egg and sausage give it that classic breakfast feel.
The cilantro lime cream sauce isn't too heavy on the cilantro, which I appreciated since cilantro is a controversial flavor.
Your omelet is served with your choice of hashbrowns, home fries, or fresh-cut fruit and biscuits.
The Southwest Avocado Omelet contains 750 calories.
4. Cinna-Biscuits
Cinna-Biscuits are made with Bob Evans' iconic biscuit dough.
Eight pieces of dough are deep fried, then dusted with cinnamon sugar, and served with cream cheese icing for dipping.
These little pockets of heaven are sweet, warm, and fluffy. They're similar to a donut or beignet.
The cinnamon sugar adds a crunch to the biscuit pieces and turns the savory-leaning dough into a sweet breakfast appetizer.
Cinna-Biscuits are delicious on their own, but if you love cream cheese frosting, the dip served on the side is a must-try!
One order of Cinna-Biscuit contains 700 calories.
3. Sirloin Steak & Farm-Fresh Eggs
One of the best items on the Bob Evans breakfast menu is their steak and eggs.
It's an elevated version of your typical sausage or bacon with eggs.
The steak is a sirloin cut, which is marinated for optimal tenderness and then cooked to your liking.
The sirloin is served with two eggs cooked your way.
I recommend ordering them over easy so you can dip your steak in the runny yolk.
This dish works because the steak is well-marinated and tender, perfect for whatever style of eggs you choose.
Your order is also served with hash browns or home fries and a side of biscuits.
The Sirloin Steak & Eggs contains 1160-1360 calories.
2. Sunshine Skillet
The Sunshine Skillet is technically an open-faced omelet, but I think the menu's description is selling itself short.
It's so much more than an omelet in the best way possible!
The blanket of the egg at the bottom of the skillet is piled high with sausage, gravy, cheddar cheese, and home fries.
Each element is delicious on its own, but all mixed together, this breakfast dish is creamy, cheesy, and smokey all at the same time.
Plus, it's served with a biscuit, which is perfect for sopping up any extra gravy.
The Sunshine Skillet Contains 1180 calories.
1. Country Biscuit
The Country Biscuit is similar to the Sunshine Skillet and contains all of Bob Evans' greatest breakfast hits.
It includes an egg in any style, a fresh buttermilk biscuit, crumbled sausage, country gravy, cheddar cheese, and your choice of hash browns or home fries.
The Country Biscuit is my number one pick on the Bob Evans breakfast menu because it features all the best breakfast items and stacks them together in a unique way.
The biscuits sit on the bottom of the dish and soak up all that goodness from the gravy.
The cheese and gravy are the first things that hit your mouth, making for a comforting, body-warming bite each time.
Bob Evans' buttermilk biscuits are some of the best around, and they're kept from getting that infamous "dry biscuit" texture because of all the toppings on the dish.
Plus, your biscuit comes with home fries or hash browns. You really can't go wrong with either, as the potatoes add a nice crunch to the dish overall.
If you're trying to decide what breakfast to order at Bob Evans, look no further than the Country Biscuit!
The Country Biscuit contains 690 – 900 calories.
Conclusion
Omelets, hotcakes, glazed bacon – the Bob Evans breakfast menu has something for all of us!
Bob Evans is known for its biscuits, eggs, and breakfast meats, so it's not surprising that its best breakfast dishes contain one or all of these elements.
My favorite breakfast item is the Country Biscuit, but the Sunshine Skillet and the Steak & Eggs are also pretty tasty.
So next time you crave breakfast at 7 p.m., head over to Bob Evans and order one of their breakfast menu items available all day!
For more information about Bob Evans, check out the articles below.