25 Best Pastries on the Starbucks Bakery Menu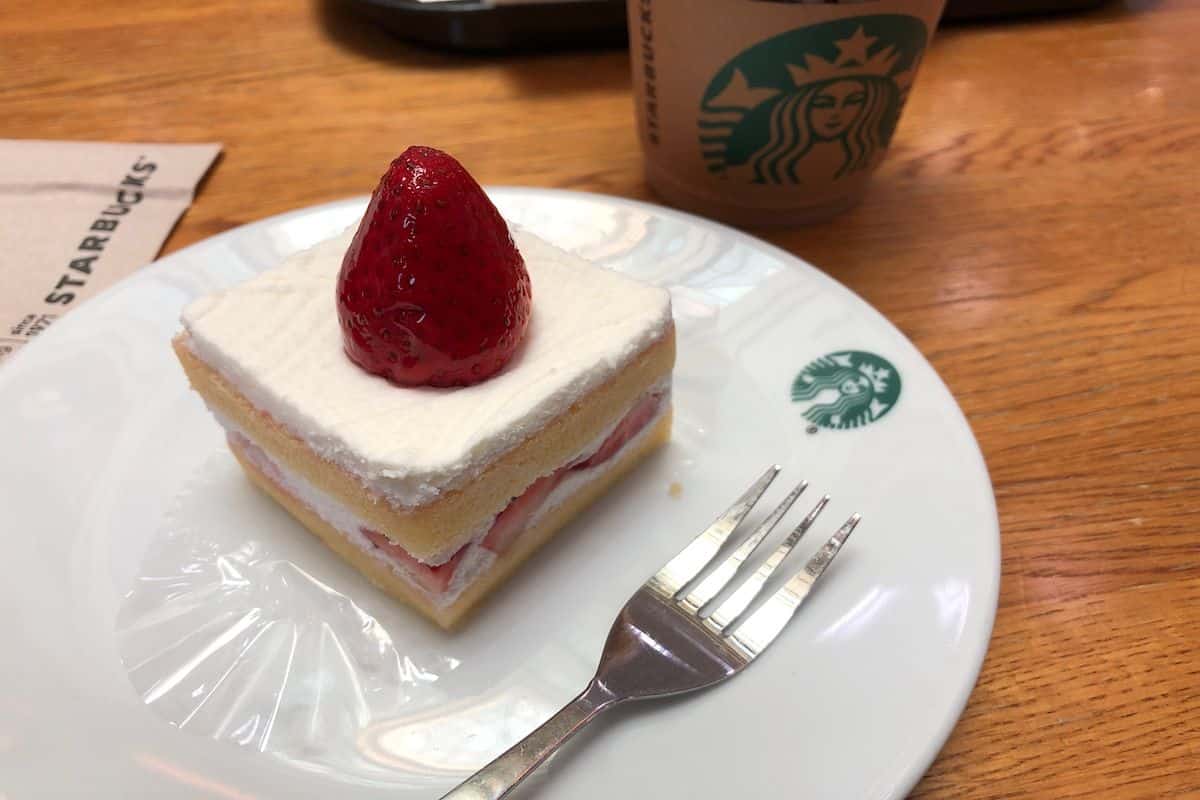 When the first Starbucks location opened its doors in 1971, the coffee game was forever changed. Though the coffee chain is still best known for its drinks, Starbucks has also made a name for itself in the pastry world.
Starbucks pastries range from cookies to muffins, cake pops, loaves, croissants, scones, brownies, cakes, and more sophisticated seasonal items.
While most of these options are fine to grab in a pinch when you're running late for work, not all pastries are created equal.
In this article, we're digging into the best pastries sold at Starbucks and ranking them from our least favorite to all-time favorite.
Note that the Starbucks bakery menu tends to change with the season, so always keep an eye on the menu for limited-time pastries.
Grab your favorite Starbucks drink, get comfortable, and let's get into it!
25. Birthday Cake Pop
Starbucks pretty much invented the cake pop, and their most well-known flavor is certainly the Birthday Cake Pop.
This pop is made with vanilla cake and buttercream, then covered in white chocolate pink icing and white sprinkles.
These little bite-sized spheres of cake certainly are cute and iconic.
If this list was made back in 2011, the Birthday Cake Pop would definitely be in our Top 5.
But now that the trend has died down, it leaves us with the question: Are cake pops actually good? Or are they just cute?
The mix of cloyingly sweet cake, buttercream, and white chocolate icing on top ends up making this pop a sugar bomb on a stick.
These will always be popular with kids, but you shouldn't go out of your way to get one.
The Birthday Cake Pop contains 160 calories, 16g of sugar, and 8g of fat.
24. Owl Cake Pop
There's no denying that the Owl Cake Pop is adorable. Its base is made with vanilla cake and buttercream and is dipped in purple-chocolaty icing, then finished with two eyes and a beak.
Like the Birthday Cake Pop, this is a snack you buy for aesthetics rather than flavor.
It tastes like an overly sweet, super-dense bite of cake.
This one wins over the birthday pop because its eyes are staring into our souls, so we felt guilty rating it last.
This pop contains 160 calories, 17g of sugar, and 8g of fat.
23. Unicorn Cake Pop
What's even cuter than a regular cake pop? A cake pop filled with confetti sprinkles and topped with a horn.
The Unicorn Cake Pop is made with creamy vanilla cake and confetti sprinkles.
It's dipped in white chocolate icing and topped with a design that will melt even the coldest of hearts.
You'll find its taste almost identical to the other vanilla-based cake pops.
This pop contains 150 calories, 14g of sugar, and 7g of fat.
22. Bullseye Cookie
The Bullseye Cookie is exclusive to Starbucks locations within a Target store, but similar sugar cookies are offered at all locations seasonally (a snowman cookie in the winter, a heart-shaped cookie in February, and so on.)
This sugar cookie is thick, buttery, and adorable- everything a frosted sugar cookie should be.
It's topped with vanilla icing that's reminiscent of royal icing.
The Bullseye Cookie contains 240 calories, 14g of sugar, and 14g of fat.
21. Chocolate Cake Pop
Starbucks' Chocolate Cake Pop is made with chocolate cake and chocolate buttercream. It's dipped in chocolate icing and covered in white sprinkles.
This pop is rich and indulgent- more reminiscent of a brownie than cake.
That said, the pop keeps from being overly sweet thanks to the chocolate's slight bitterness.
This is the type of cake pop that will have you ordering another.
This pop contains 150 calories, 16g of sugar, and 8g of fat.
20. Cookies & Cream Cake Pop
If you're going to buy a cake pop at Starbucks, it should be the Cookies & Cream Cake Pop.
This treat is made with chocolate cake, sandwich cookie buttercream, and cookie bits.
It's then dipped in white chocolate and finished with a chocolate cookie crumb.
Just like the classic Chocolate Cake Pop, the cookies & cream pop isn't overly sweet.
The crunchy cookie bits also add an exciting textural element that sets it apart from the other cake pops. This cake pop contains 140 calories, 15g of sugar, and 7g of fat.
19. Banana Walnut & Pecan Loaf
The Banana Walnut & Pecan Loaf is made with a classic banana bread base and is filled with real bananas, walnuts, and pecans.
Each slice is moist, and every bite features warm spices and crunchy nuts.
Some guests complain about inconsistent slice sizes and the bread itself not having a strong banana flavor, which is why it's not higher on our list.
This loaf contains 410 calories, 28g of sugar, and 20g of fat.
18. Marshmallow Dream Bar
The Marshmallow Dream Bar is basically an elevated Rice Krispies Treat. It contains crispy rice cereal, mini marshmallows, and of course, plenty of sugar.
It strikes the perfect balance between crispy and chewy, and the mini marshmallows add a surprising but welcome gooey texture.
Bonus Tip: The Marshmallow Dream Bar is the only gluten-free option available at all Starbucks locations.
For anyone who doesn't eat gluten, this is a solid and reliable option for your sweet tooth.
The Marshmallow Dream Bar contains 230 calories, 24g of sugar, and 5g of fat.
17. Pumpkin & Pepita Loaf
This pumpkin bread features warm spices and is topped with crunchy pepitas (also known as pumpkin seeds).
The Pumpkin & Pepita Loaf is moist and has a gentle pumpkin flavor, making it perfect for those who want a fall treat without feeling like they've been slapped in the face by pumpkin spice.
The pepitas add a nice crunch to the otherwise pillowy-soft loaf.
This loaf contains 390 calories, 38g of sugar, and 14g of fat.
16. Almond Croissant
The Almond Croissant has a bit of a cult following, and for a good reason. It's filled with a sweet almond flan and topped with sliced almonds.
The croissant itself is flaky and buttery, as any good croissant should be.
The flan is rich and pudding-like, while the sliced almonds provide the perfect crunch with every bite.
This croissant is periodically taken off the Starbucks menu, so grab one while you can!
The Almond Croissant contains 420 calories, 14g of sugar, and 25g of fat.
15. Blueberry Muffin
Blueberry muffins are a staple at any bakery, and Starbucks is no exception.
Their take on this classic muffin contains real juicy blueberries and a hint of lemon zest.
It's then covered with a crunchy coat of coarse sugar.
Starbucks' blueberry muffin also contains yogurt, which keeps them moist and adds calcium and protein to this bakery staple.
Order this muffin warmed up, or dip it in your coffee for an extra-cozy bite of nostalgia.
Each Blueberry Muffin contains 330 calories, 29g of sugar, and 14g of fat.
14. Blueberry Scone
The Blueberry Scone is a slight step up from the blueberry muffin. With a buttermilk base, real blueberries, crème fraîche, and lemon zest, this scone is bright and sweet.
It could definitely pass as a freshly baked pastry from a specialty shop.
Just like its muffin counterpart, the scone can be warmed up.
Each Blueberry Scone contains 380 calories, 22g of sugar, and 17g of fat.
13. Double Chocolate Brownie
When it comes to a classic treat like brownies, simpler is usually better. After all, if it isn't broken, don't fix it.
Starbucks' Double Chocolate Brownie is exactly what a good brownie should be – it starts with a rich, fudgy batter and features generous chunks of semisweet chocolate.
Thanks to the semisweet chocolate, the brownie has a great balance of sweetness and bitterness.
Order your brownie warmed up for that straight-out-the-oven feel.
The Double Chocolate Brownie contains 480 calories, 37g of sugar, and 28g of fat.
12. Chocolate Chip Cookie
Just like their brownie, Starbucks kept things simple with their Chocolate Chip Cookie, which worked out well for them.
This cookie is made with semisweet chocolate chips and buttery dough, making for a cookie that's crunchy on the outside but soft and chewy on the inside.
If you like dipping your cookies in milk, try dipping it in your coffee next time you visit Starbucks.
Starbucks' Chocolate Chip Cookie contains 360 calories, 31g of sugar, and 18g of fat.
11. Lime-Frosted Coconut Bar
The Lime-Frosted Coconut Bar is one of Starbucks' new pastries, joining the menu in the summer of 2022.
Although it hasn't been around for long, this bar has quickly cemented its place in many customers' hearts.
This bar's base is made with coconut, rolled oats, and mini white chocolate chips.
The texture and taste are reminiscent of a thick sugar cookie.
It's topped with a tangy lime cream cheese frosting and is drizzled with white chocolate and coconut.
The tropical, citrusy pastry is a favorite among those who want something a little different on their Starbucks run.
Some guests do complain that the bar is fairly small for its price.
It's closer to the size of their mini vanilla scone than a brownie, so keep that in mind when gauging how hungry you are!
This bar has 240 calories, 21g of sugar, and 14g of fat.
10. Pumpkin Scone
We've made it to the top 10 Starbucks pastries, and it's only going to get more delicious from here. Let's kick things off with the Pumpkin Scone.
The Pumpkin Scone's base features all the classic fall spices- ginger, clove, nutmeg, and cinnamon. It's topped with sweet icing.
The scone is chewy and has the perfect amount of crumble while also managing to stay moist.
The icing on top is similar to the royal icing you'd find on a frosted sugar cookie.
The Pumpkin Scone is 500 calories and contains 46g of sugar and 23g of fat.
9. Glazed Doughnut
When it comes to doughnuts, the varieties are endless. There's the frosted, jelly-filled yeast and cake, to name a few.
We want to give major props to whoever decided that Starbucks' signature doughnut should be an old-fashioned cake doughnut topped with a sweet glaze.
What exactly makes these doughnuts' old fashioned'? They're made with sour cream, which lends itself to the moistness and richness of the pastry.
The glaze covering the doughnut provides a light crunch with every bite. Timeless and delicious!
Each Glazed Doughnut contains 480 calories, 30g of sugar, and 27g of fat.
8. Ham & Swiss Croissant
Can't decide between a Starbucks breakfast sandwich and a pastry while you're waiting in line? Good news – you don't have to!
The croissant itself is buttery, flaky, and warm. Inside, you'll find melty Swiss cheese and warm hickory-smoked ham.
With a delicate golden exterior and a gooey, warm interior, there's nothing not to love about this treat.
The Ham & Swiss croissant contains 320 calories, 5g of sugar, and 17g of fat.
7. Butter Croissant
The Butter Croissant from Starbucks is simple at its finest. It's soft, buttery, golden, and oh-so-flaky.
Its many layers are even more indulgent when you order it warmed up – trust us on this one!
The Butter Croissant is 250 calories, 4g of sugar, and 14g of fat.
6. Cheese Danish
Looking for a pastry that's indulgent but not overly sweet? Try the Starbucks Cheese Danish.
It's made with the same flaky dough we know and love from the Starbucks croissant, but it's rectangular and filled with a pocket of warm Neufchâtel cheese.
What exactly is Neufchâtel cheese, you ask? It's basically a fancier version of cream cheese.
In fact, when cream cheese was first invented, it was made with a Neufchâtel base.
Cheese history lesson aside, the Cheese Danish is perfect for anyone looking to add a little sophistication to their morning.
Each Cheese Danish contains 290 calories, 11g of sugar, and 14g of fat.
5. Cinnamon Coffee Cake
Coffee cake was literally invented to be eaten along with a cup of coffee! So, it's no surprise that Starbucks seemed to put extra effort into making their Cinnamon Coffee Cake extra-indulgent.
This classic vanilla coffee cake is swirled with a cinnamon sugar blend and topped with a crunchy brown sugar streusel topping.
It's undeniable that the selling point of this coffee cake is that streusel topping – Starbucks should be selling it by the jar at this point (we'd buy it)!
Order it warmed-up or as-is. You can't go wrong with this one.
Each piece of Cinnamon Coffee Cake contains 330 calories, 21g of sugar, and 15g of fat.
4. Petite Vanilla Bean Scone
These little guys are the real deal. They're made with vanilla beans and real vanilla extract, then covered in a vanilla bean glaze.
Needless to say, this scone is a vanilla lover's dream.
Each scone is dainty, simple, and perfect for consumption on the go.
One scone is 120 calories and contains 8g of sugar and 4.5g of fat.
3. Iced Lemon Loaf
By far, the best loaf option at Starbucks is the Iced Lemon Loaf.
The pound cake is made with lemon, buttermilk, and plenty of butter. It's then topped with sweet icing.
The fresh, citrusy cake is uber-moist, and the icing strikes the perfect balance of tang and sweetness.
The Iced Lemon Loaf has been a breakfast staple for many years, so you can see why it caused a bit of a stir when they briefly removed it from the menu back in 2014.
It's safe to say that this loaf is here to stay!
This Iced Lemon Loaf contains 450 calories, 40g of sugar, and 19g of fat.
2. Pumpkin Cream Cheese Muffin
Coming in at number 2 on our list is the Pumpkin Cream Cheese Muffin.
Considering this muffin has dozens (if not HUNDREDS) of copycat recipes across the internet, it's no surprise that this Starbucks pastry is at the top of our list.
The muffin is made with pumpkins, pepitas, cream cheese, and warming spices. It's moist, fluffy, and has a subtle spiced pumpkin flavor.
This muffin is sure to please pumpkin spice fanatics and those who are on the fence about pumpkin-flavored baked goods.
The pepitas on top are chopped, slightly spiced, and give the perfect crunch to every bite.
Neither the filling nor the actual muffin is overly sweet, so you feel like you're eating a muffin instead of a full-on cupcake.
The Pumpkin Cream Cheese Muffin contains 350 calories, 34g of sugar, and 14g of fat.
1. Chocolate Croissant
It simply doesn't get any better than the Starbucks Chocolate Croissant, making it the best pastry on the Starbucks bakery menu!
If we want to get technical, this pastry is similar to the famous French pain au chocolat.
Either way, the pastry is made with the same buttery, flaky laminated dough as the rest of the Starbucks croissants.
Underneath all those layers lie two generous bars of semisweet chocolate.
When warmed up, the crispy golden-brown crust gives way to delicate layers and melty chocolate, making for a bite that's a little bitter, a little sweet, a little nostalgic, and absolutely unforgettable!
Conclusion
Starbucks pastries are as varied as they are delicious. Whether you're looking for something simple, savory, decadent, or nostalgic, you're bound to find it on the Starbucks bakery menu.
Keep in mind the Starbucks bakery menu changes with the season, so be on the lookout for the limited-time and seasonal pastries.
Whenever you're in the mood for a delicious pastry at Starbucks, use our list to find your new favorite treat!
For more information about Starbucks, check out the articles below.