Wegmans Delivery: How It Works and How to Order Using the Wegmans App
Committed to providing families with the best of groceries, Wegmans has made grocery shopping a lot more convenient with their delivery service. Powered through Instacart, Wegmans Delivery allows shoppers to get all the groceries they need without having to leave their homes.
Wegmans Delivery is powered by Instacart and can be ordered on the Wegmans app or website. There is a $35 minimum for Wegmans delivery orders, and the delivery fees start at $3.99. Wegmans only accepts digital coupons online with Shopper's Club account, and EBT is not accepted. Tips are optional, but 15-20% is recommended.
Keep reading to find out how Wegmans Delivery works, how to create your delivery order, and which discounts and coupons are available to help save some money.
How Does Wegmans Delivery Work?
Wegmans has partnered with Instacart to provide delivery services through its app and website. Customers can place orders up to 6 days in advance and have their order delivered to their home within as little as 1 to 2 hours. Wegmans Delivery hours are typically 9 am to 10 pm but may vary based on shoppers' availability.
Customers can access Wegmans Delivery on their app or the website. You can have orders delivered in as little as one hour, depending on the availability of Instacart's Personal Shoppers.
Wegmans also offers Wegmans Instacart Express Delivery, a membership that offers $0 delivery fees and reduced service fees on orders $35 or more.
You must have an account with Wegmans before you begin placing your order online. After you sign in, you can search for your items on the app or website.
Because Wegmans Delivery is powered by Instacart, an Instacart Personal Shopper will gather the items of your order at your selected store and deliver them once the order is ready.
Wegmans Delivery hours are between 9 am to 10 pm but are subject to change depending on the personal shopper's availability.
You can place your order up to 6 days before delivery. Also, you will be able to see the available delivery times online when choosing delivery as your preferred shopping method.
However, some items are not available to order online through Wegmans, including:
Alcohol, in some instances
Prescriptions, which are only available on the Instacart app or website
Over-the-counter drugs or products where you need ID
Catering
Subs, pizza, hot and cold food bars
Special order products (like cake)
Stamps
Gift Cards
Alcohol products are only available at select Wegmans stores for delivery, and you must be 21 or over.
You will be asked online to provide proof of age when ordering alcohol, and the delivery driver will also ask you to provide proof. You must have a valid federal or government-issued ID to prove that you are 21 and over.
Coupons and rebates are currently not available when purchasing alcohol from Wegmans for delivery.
Wegmans subs delivery and other Meal2Go items are not available through their delivery powered by Instacart; however, you can order delivery through their Meal2Go website or with other apps, like GrubHub, Postmates, and DoorDash.
On the other hand, Wegmans flower delivery is available through their delivery service powered by Instacart.
If you see that an item "May not be available", it means that that particular item may not be available in-store.
You can still add these items to your shopping list, but you will not be able to add these items to your cart.
Instacart shoppers can deliver to homes that are within a 60-minute range from the store. However, delivery orders that are 30 minutes or more will typically be charged a $5 fee.
We appreciate all the helpful feedback on our updated app & website. Here are some tips & FAQs as you navigate the new features. https://t.co/oqmUICxBYH pic.twitter.com/1aox3l2j42

— Wegmans Food Markets (@Wegmans) January 22, 2020
How Much Does Wegmans Delivery Cost?
Wegmans Delivery fees start at $3.99, and the item prices are not the same as in-store. Online prices are approximately 15% more than in-store prices, which include the cost of shopping for your order. Online delivery orders must be $35 or more, and other fees like service fees, bag fees, heavy orders, and long-distance service fees may apply.
While Wegmans Delivery prices are higher than those in-store (around 15% more), these prices also include their cost for shopping for your delivery order.
There is a $35 minimum for orders placed online at Wegmans for delivery.
In addition, Instacart also charges a service fee set at 7.0%. Other fees like bag fees, heavy order fees, and long-distance service fees may also apply.
Heavy order fees cover the cost of heavy items, like beverages, pet food, or ice, that give a combined weight above 50lbs. This fee ranges from $2 to $10.
The long-distance service fee applies to both Wegmans Instacart Express members and non-members when an order is placed 30 to 60 minutes away from the store, based on the registered address.
This $5 fee is charged by Instacart and will be added to your order total to help cover the shoppers' cost of extra mileage.
If you choose to subscribe to Wegmans Instacart Express membership, you can pay for it annually or monthly. An annual subscription costs $99/year, and a monthly subscription costs $9.99/year.
How to Order Wegmans Online
Wegmans Delivery orders can be placed online through their app or the website. You need an online account to start your order, and you must be a member of Wegmans Shoppers Club to create a delivery order. Then, add your address to locate the nearest store that offers delivery and go through the app to complete your order.
Below is a step-by-step guide on how to order Wegmans Delivery on their app:
1. Before you begin your order, you must first create your account or sign in if you have one already. Click on the home button in the upper left-hand corner and then scroll to the bottom to create your account or sign in.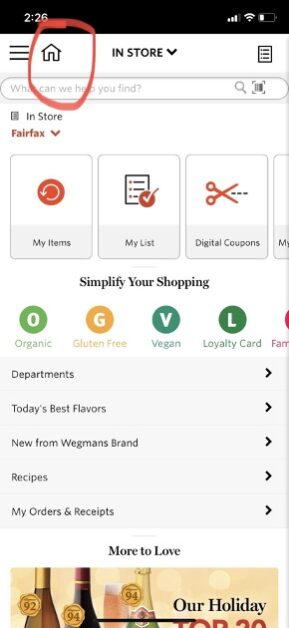 1. Once signed in, tap "In Store" at the top of the app to see your name, indicating you are signed in, and then tap to change "In Store" to "Delivery" with the car icon.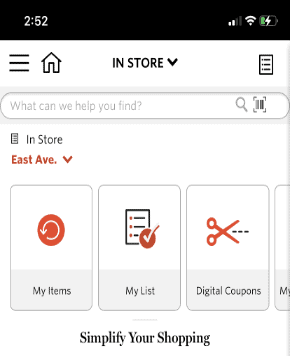 3. Next, add your delivery address and any special instructions for the Instacart Personal Shopper. You will then be prompted to add your contact information, including your cell phone number. You can also add your address during checkout.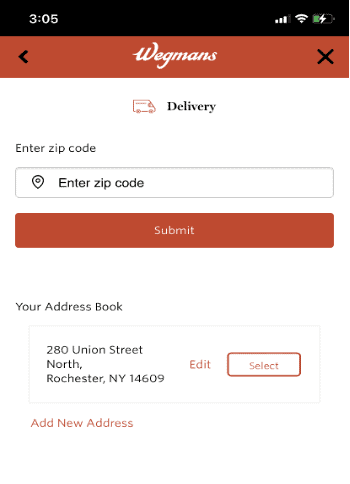 4. Time to start shopping! Enter your items within the search bar at the top of the app or tap on "Departments" to search for the items you want.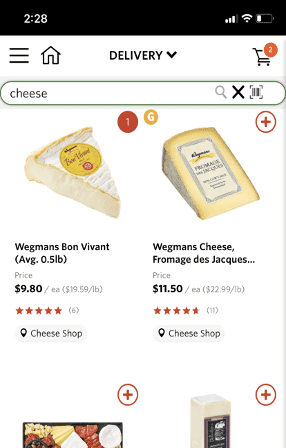 5. Once you find your item, add them to your cart with the plus sign.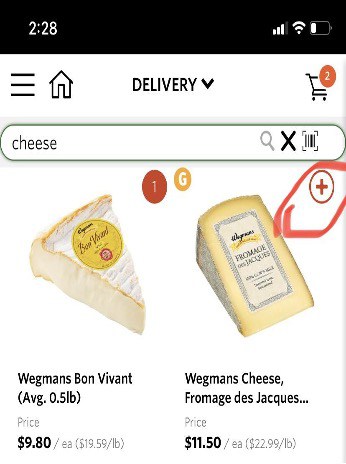 6. When you are ready to check out, review your order by going to your cart. You can add any special instructions to your items at the time by clicking "Add Note" below a particular item. You can also remove items or change quantities when needed. Once ready, click "Go to Checkout".
7. You will then be prompted to select a day and time for your order. Remember, you can place orders up to 6 days before delivery. If the delivery time you want is unavailable, you can check back later. For those who prefer deliveries left at their doorstep, click "Leave at My Door" before saving your order.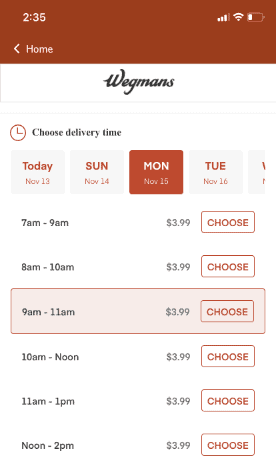 8. Add your cell phone information if you have one. By adding your number, your shopper will be able to notify you if there are any items unavailable and if there are any substitutions for the items.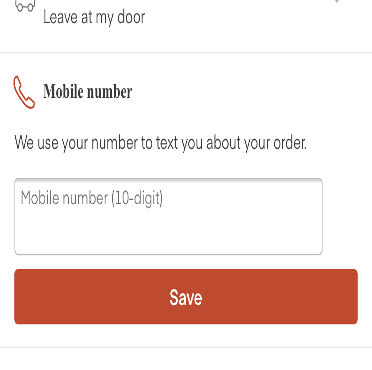 9. Then, enter your payment information. If you want your card information saved for future orders, click on "Save in Profile". Once all the information is added, click "Add Card" and "Choose this Payment Method" to confirm your card.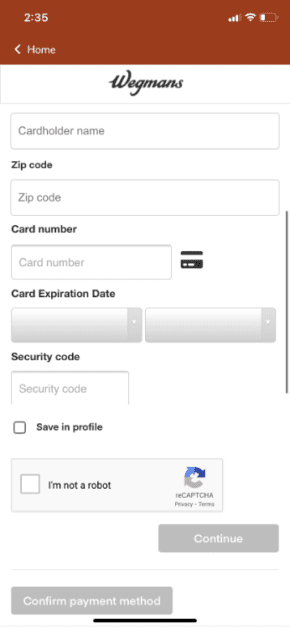 10. Once your payment information is added, you can click "Place Order".
After checkout, you can approve any replacement options for items unavailable in the store.
When your order is placed, you will receive a confirmation email. If you have provided your cell phone information, you will also receive text updates regarding your order.
If you choose to place your delivery order on the Wegmans website, the experience closely resembles the app.
You would still have to sign in to your account and add your Shopper's Club before creating your order. And any recommendations and replacements available for your cart will be offered to you after checkout.
Can You Use Coupons for Wegmans Delivery?
You can use digital coupons for your Wegmans Delivery order, but paper coupons are not accepted. If your Shoppers Club is added to your online account, you will have access to all digital coupons available for your order.
Wegmans Delivery does accept digital coupons for delivery orders, but they do not accept paper coupons. Once your Shoppers Club account is added to your app, you will see the digital coupons available.
To view coupons that have already been redeemed, you can go to "My Orders and Receipts" on the app. You can find this section by clicking on your name and then selecting this option in the menu.
Wegmans' Shoppers Club is a valuable tool for those who often shop at Wegmans grocery stores.
You can sign up to join the Shoppers Club in person at the service desk or online. Once you sign up, you will have access to several different digital coupons that can be added to your delivery order.
You can find the available digital coupons by going to your profile on the app.
All you need to do is make sure your Shoppers Club account is connected to your Wegmans online account by adding your Shoppers Club account number or the phone number associated with your account.
Does Wegmans Take EBT Online?
Wegmans does not take EBT for online orders. The only payment methods Wegmans accepts online are credit and debit cards, such as Visa, Mastercard, Discover, and American Express. Gift cards, international credit cards, prepaid debit cards, and HSA/FSA cards are also not accepted at Wegmans online.
Currently, Wegmans Delivery does not accept EBT for online orders, as well as gift cards, international credit cards, prepaid debit cards, and HSA/FSA cards.
The only payment methods accepted for Wegmans delivery orders are credit and debit cards, including Visa, Mastercard, Discover, and American Express.
Wegmans was one of the first grocery stores to accept Apple Pay at its stores, but digital payment methods like Apple Pay, Google Pay, Samsung Pay, and PayPal are not accepted for online orders.
However, you can use Google Pay, Apple Pay, and PayPal as payment methods on your Instacart account if ordering through them.
Hello, when placing an order for curbside pickup or delivery, you can only pay by credit card at this time. Thank you.

— Wegmans Food Markets (@Wegmans) March 17, 2020
Do You Tip Wegmans Delivery?
You can tip Wegmans Delivery drivers because Wegmans Delivery is powered by Instacart, and you can add a tip for your driver. We recommend tipping 15-20% of your order total.
You can give an optional tip to your Wegmans Deliver driver because it is powered by Instacart.
If you plan to tip your driver, we recommend 15-20% of your order total. Note that 100% of your tip goes directly to the Instacart personal shopper.
You can add your tip while placing your order or modify it on Instacart up to 24 hours after receiving it.
How to Cancel a Wegmans Delivery Order
You can cancel a Wegmans delivery order any time before the Instacart Shopper begins shopping for your items, which is 1-2 hours before the delivery time. If you cancel before the Instacart Shopper starts shopping, there are no fees. However, if your Instacart Shopper has already started your order, there is a $15 cancellation fee.
Canceling a Wegmans delivery order is a simple process. If you need to cancel your order, just log into your Wegmans app or website to find the order you would like to cancel.
You will be able to cancel your order online at any time until your shopper begins your order at the store. This would typically be 1 to 2 hours before your delivery time.
If you cancel your order before the shopper begins gathering your items, a fee will not be applied to your account.
However, if your Instacart Personal Shopper begins your order before you cancel it, you will be charged a $15 cancellation fee.
Currently, Wegmans Delivery does not issue refunds for items bought online due to quality assurance.
But, if you are unsatisfied with any item on your order, you may be given credit for that item to use on a future order.
Can You Order Wegmans Delivery on Instacart?
Those who prefer to use Instacart can order Wegmans Delivery on the Instacart platform directly instead of using the Wegmans app or the website. However, if you are a member of Shoppers Club, you can connect your account with Instacart to receive the same coupons.
If you do not want to use the Wegmans Delivery app to place an order, you can use your Instacart account to buy your groceries from Wegmans.
To use Instacart for your Wegmans Delivery, just choose Wegmans as your preferred store.
Like ordering on the Wegmans app, you can schedule your order to be delivered in as little as 1-hour, and a personal shopper will handpick the items by the designated time.
In addition, certain items from the Wegmans pharmacy are only available for delivery through the Instacart app or the website, as you cannot order prescriptions through Wegmans online.
You can also link your Shoppers Club account to your Instacart account to get any available coupons on Instacart, as well as select benefits.
However, Instacart will not offer any sale or promotional prices through your Shoppers Club account due to its pricing policy.
If you are an existing member of Instacart Express, you do not need a Wegmans Instacart Express Delivery account.
You can link your Instacart Express account to your Wegmans account to get reduced service fees, $0 delivery fees, and other discounts and promotions.
Conclusion
With Wegmans Delivery, shoppers have access to the same quality groceries they could find at the store without even having to leave their doorstep. If you frequently shop at Wegmans, create your account and link your Shoppers Club information to start your first delivery order!
If you're interested in finding out more grocery shopping tips, check out the related articles below.
Related Articles:
How Wegmans Curbside Pickup Works and How to Order on the Wegmans App
Your Guide to Ordering Cakes From Wegmans Bakery
Whole Foods Delivery: How to Order Online With Amazon Prime
Does Trader Joe's Have Delivery? (No, but This Option Works)
Publix Delivery: How to Get Publix Grocery Delivery With Instacart