How Wegmans Curbside Pickup Works and How to Order on the Wegmans App
If you don't have time on your busy day to go grocery shopping, let Wegmans shop for you! Wegmans offers Curbside Pickup in over 100 stores throughout seven states and has been the favorite grocery store for many customers since 1913.
You can order Wegmans Curbside Pickup using the Wegmans app or the website.  Wegmans offers free Curbside Pickup at every location except in Brooklyn, NY, with a minimum order of $10. Wegmans Pickup hours are between 9 am and 9 pm. Tipping is discouraged for Wegmans Curbside Pickup, and EBT is not accepted.
With Wegmans' simple and seamless Curbside Pickup, you can save time and money with digital coupons and through their Shoppers Club. Continue reading to learn more about Grocery Pickup and how to make your next trip to Wegman's even easier.
How Does Wegmans Curbside Pickup Work?
Wegmans Curbside Pickup lets you order groceries online using the Wegmans app or the website. Once you place your pickup order, a Wegmans employee or an Instacart shopper will prepare your items. Then, you simply go to your local store at the designated pickup time, and a Wegmans employee will bring the groceries to your car.
There's a $10 minimum order for Wegmans Curbside Pickup and the pickup hours are typically from 9 am to 9 pm.
However, pickup hours may change on holidays based on the store's holiday hours.
You can schedule a Wegmans pickup order up to 6 days in advance, and the pickup times are allocated as 1-hour timeslots.
You will be able to see the available pickup times when you choose your local store.
If Wegmans store is running low on inventory for any of the items you ordered, you will be notified at checkout and can request substitutions.
You can either approve suggested replacements or click "Other Options" to select a different item.
If any of the items on your order becomes unavailable after you've placed the order, your shopper will choose a comparable replacement if you allow substitutions.
When you arrive at the store, call the customer service desk number listed on the signs in the designated pickup area. This way, the store associates will know that you've arrived.
Keep in mind that some items are not available for Wegmans Curbside Pickup. These items include:
Alcohol (only available for pickup in NJ, MA, VA, and NC)
OTC (over-the-counter) drugs
Catering orders
Market Cafe subs and sandwiches, pizza, hot & cold bar foods
Special orders like custom cakes from the bakery
Ordering Wegmans Curbside Pickup online is pretty simple. But to make the shopping process easier, make sure you are logged into your Shoppers Club account.
This provides the option to view previously purchased items and digital coupons.
Hi Andy, our online prices are higher than instore to cover the cost of Instacart shopping your order. There is a $10.00 order minimum and no additional delivery fee, service charge or tip with curbside pickup. Enjoy your day 🙂

— Wegmans Food Markets (@Wegmans) February 19, 2020
How Much Does Wegmans Curbside Pickup Cost?
Wegmans Curbside Pickup is free with a minimum order of $10. However, Wegmans' online prices are approximately 15% higher than in-store prices to cover the cost of shopping for online orders.
Unlike some other big grocery chains, Wegmans does not honor in-store prices for online orders.
The 15% price increase is implemented to cover the cost of online shopping, including personal shoppers. However, there are no additional fees or service charges.
In addition, keep in mind that the order total shown at checkout may not match the order total on your final receipt.
When you place an order, you're shown an "estimated total" at checkout. However, the order total may change based on any substitutions or refunds applied.
The price of the weighted items like produce and meat will also be adjusted depending on the final weight.
How to Order Wegmans Curbside Pickup
You can order Wegmans Curbside Pickup using the Wegmans app or the website. To place an order, select "Curbside Pickup" and choose your local store. Then, add groceries to your cart and select the pickup day and time. Finally, enter your payment information at checkout and place your order.
Below are the steps to ordering Wegmans Curbside Pickup on the Wegmans app:
1. Download the Wegmans app. Open it up and click on "Curbside Pickup" as your method of shopping.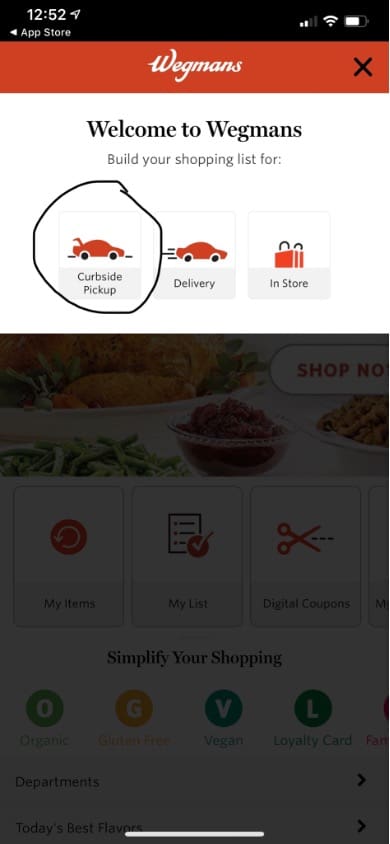 2. Choose which location to pick up your groceries from. Type in the zip code or enter your city and then select the store you want.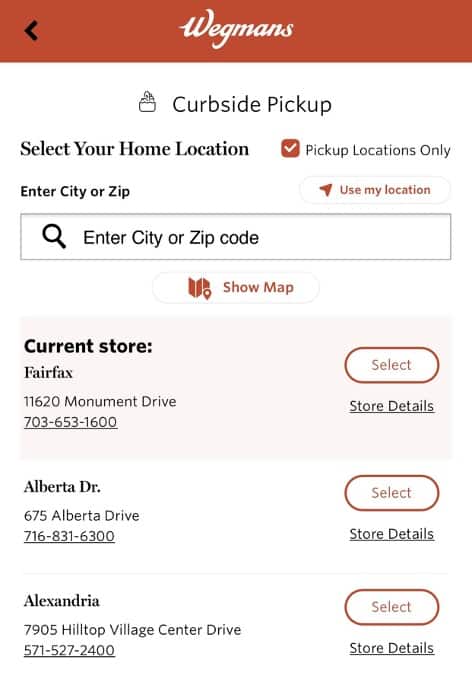 3. Click on the department to start shopping.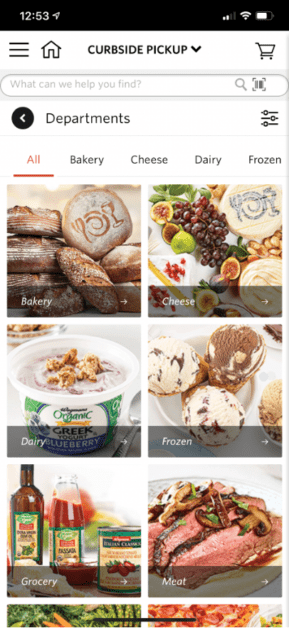 4. Add an item to your cart by clicking the plus (+) button to the right of each item. You can add multiple of the same item by clicking it again, as well as removing it.
5. When you are finished adding items to your cart, click "Go to Checkout" at the bottom of the screen.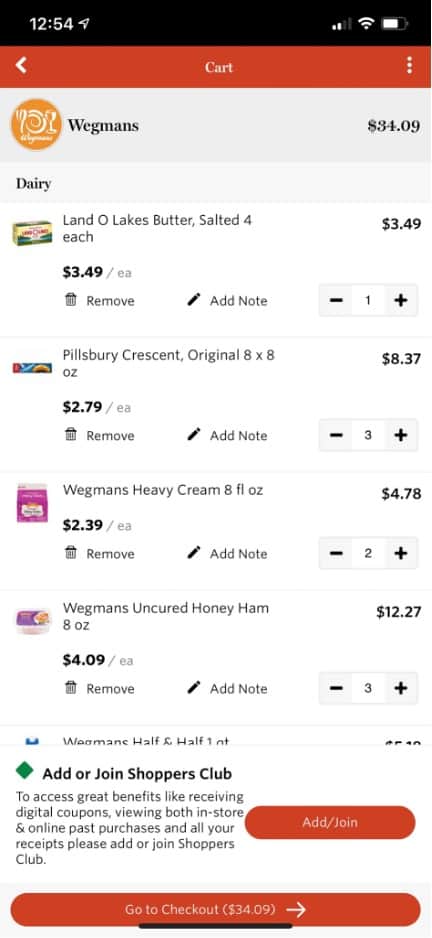 6. The next screen will ask you to sign in to your Shoppers Account. If you don't have one, this is where you can create an account.
7. The last step is to double-check that your location is correct, choose your pickup day and time, and put in your payment info. Then, click "Place Order," and you will receive a confirmation email. You will also receive a text and email when your groceries are ready to pick up.
The process of ordering Curbside Pickup is essentially the same when using the Wegmans website.
Good news! If you have an online account with us, you receive digital coupons that you can access and clip them to your Shoppers Club Card! 🙂

— Wegmans Food Markets (@Wegmans) March 3, 2018
Can You Use Coupons for Wegmans Curbside Pickup?
You can use digital coupons for Wegmans Curbside Pickup; however, paper coupons are not accepted. In addition, to use digital coupons for Wegmans online orders, you'll need to sign up for Shoppers Club and add it to your Wegmans Online account.
Once you sign up for Shoppers Club, you'll have access to digital coupons available for your pickup order.
You can sign up for a Shoppers Club account in two different ways:
Visit the Service Desk at a Wegmans store and talk to a customer service team member.
Go to the Wegmans website and click on "Sign Up Now." You'll be prompted to create a Username and Password and enter your contact information.
You can also see all previously redeemed digital coupons on the "My Orders and Receipts" screen under your account.
Hello, when placing an order for curbside pickup or delivery, you can only pay by credit card at this time. Thank you.

— Wegmans Food Markets (@Wegmans) March 17, 2020
Can You Use EBT for Wegmans Curbside Pickup?
Unfortunately, EBT is not accepted for Wegmans Curbside Pickup. In addition, other payment methods like international credit cards, prepaid debit cards, and HSA/FSA cards are also not accepted.
In addition, Wegmans does not accept mobile payments like Apple Pay, Google Pay, Samsung Pay, and PayPal for online orders.
The payment methods accepted for Wegmans online orders are credit and debit cards, including Visa, Mastercard, Discover, and American Express.
Do You Tip Wegmans Curbside Pickup?
Tipping Wegmans Curbside Pickup is not necessary or encouraged. Wegmans Curbside Pickup orders are prepared by an Instacart shopper or a Wegmans employee; however, orders will be brought out to you by a Wegmans employee, and they are not allowed to accept tips.
While tipping is discouraged for Wegmans Curbside Pickup, tipping is always encouraged if you choose Wegmans Delivery as your method of shopping online.
Wegmans delivery orders are prepared and delivered by Instacart shoppers, and they are allowed to accept tips.
How to Cancel a Wegmans Curbside Pickup Order
You can cancel a Wegmans Curbside Pickup order free until your personal shopper starts shopping for the order. However, if you cancel after they have started shopping, you will be charged a $15 cancellation fee.
Follow the steps below to cancel your order Wegmans Curbside Pickup order through the app:
First, log onto Wegmans App and click "My Orders & Receipts."
Next, click on the order you want to cancel.
Finally, click "Manage Order" from the dropdown and select "Cancel."
If you can't make your pickup time, or you will be late, you can still pick up your order at Wegmans any time before 9 pm that day.
The employees at Wegmans will keep your items safe and fresh in designated refrigerators and freezers.
However, if you don't pick up your order on the pickup day, the order will be closed out, and Wegmans will not issue a refund.
Wegmans does not accept returns for online orders; however, you can report an issue if you're not satisfied with your order and get credit on your next order.
To report an issue or receive a refund for items that are damaged, incorrect, or missing, you can request a refund from Wegmans by following these steps:
Once your order is completed, access your order details page on the Wegmans app or the website.
Navigate to "My Orders & Receipts".
Click on the order you would like to have refunded or report an issue on.
Tap the "Report an Issue" button at the top of the screen and select the reason for the refund. Then, select the item and click "Submit Issues."
You will receive an email letting you know the amount that will be refunded to your account, which may take up to 10 days, depending on your bank.
Conclusion
Shopping online at Wegmans is easy and convenient. Wegmans Grocery Pickup saves you time and is perfect for anyone on the go.
Next time you need groceries from Wegmans, place an online order, set a pickup time, and just show up to grab your groceries!
If you're interested in finding out more grocery shopping tips, check out the related articles below.
Related Articles:
Wegmans Delivery: How It Works and How to Order Using the Wegmans App
Your Guide to Ordering Cakes From Wegmans Bakery
Whole Foods Pickup: Everything You Need to Know Before Ordering
Does Trader Joe's Have Delivery? (No, but This Option Works)
Hy-Vee Pickup: How It Works and How to Order With Hy-Vee Aisles Online