DoorDash Delivers From Target and Here's How It Works
DoorDash users may have noticed that Target delivery is now available on DoorDash as part of their grocery delivery options. However, it's not quite what it seems.
Key Takeaways
In some markets, you can use DoorDash to get delivery from Target; however, Target and DoorDash do not have an official partnership.
Target offers delivery exclusively through Shipt, but DoorDash is stealthily working to grab a larger share of the grocery delivery market.
Target does not set prices on the DoorDash app, and prices will be higher than in-store or on the Target app.
Read on to learn more about how delivery from Target on DoorDash works and how much it costs.
How Does Target Delivery With DoorDash Work?
In some markets, you can use DoorDash to get delivery from Target, just like any other DoorDash delivery.
You can search for Target on the DoorDash app, make your selections from the available items, and a Dasher will shop at your local Target store and deliver your order.
Target and DoorDash do not have an official partnership, and Target is not an affiliated merchant on DoorDash.
This means DoorDash uses information from the Target website to create its listings on their site.
You will notice the familiar Target bullseye logo is missing from DoorDash and is simply a red circled "T" instead.
A Dasher can enter the Target store to shop just like any other customer and complete the order without issues.
In fact, all of this is likely done without consent or approval from Target.
It is a practice called ninja shopping and is a competitive measure from DoorDash to gain some share of the delivery market.
Target owns Shipt, so all official Target deliveries are exclusively fulfilled on the Shipt or Target app.
Thus, if you are ordering Target delivery from any other service than Shipt, you are likely using a ninja shopper!
DoorDash is not the only competitor to try this tactic. Instacart has also employed a similar method and has Target listed on its app in some markets.
Currently, Target isn't taking any concerted actions against this practice as it still supports their overall sales.
Time will tell if it becomes a practice that Target cooperation will oppose.
What Can You Get Delivered From Target With DoorDash?
The selection of available items from Target on the DoorDash app can vary based on the location or market, but we've found many items, including groceries and household items, can be delivered from Target using DoorDash.
Target is officially listed as "Target Grocery" on the DoorDash app. Therefore, grocery items are the largest selection of what you can get delivered from Target.
However, there are other household items often available too.
The DoorDash app lists the following categories available for delivery from Target:
Produce
Meat & Fish
Dairy & Eggs
Bakery
Pantry
Frozen
Beverages
Snacks
Candy
Fresh Food (includes deli items, premade meals, etc.)
Baby Products
Household
Personal Care
Alcohol
Vitamins
It can be a bit random and limited in some categories, but even Target's house brand Good & Gather, can be found on the list.
Be aware that the variety and number of options are not the same as the Target or Shipt app, and delivery availability may vary.
The connectivity between Shipt and Target means that the inventory and availability are much more accurate.
You may run into more issues with an item not being available at the store when the Dasher fulfills the order.
Are Target's Prices Higher on DoorDash?
Prices from Target are higher on DoorDash, and the pricing policy on the DoorDash website is transparent that prices are not the same as in Target stores.
Since Target is not affiliated with DoorDash, Target does not set the prices on the DoorDash app, and prices will be higher than in-store or on the Target app.
Additionally, it's important to note that in-store sales and promotions will likely not apply when you order through DoorDash.
We compared the exact same Target order on DoorDash vs. Shipt, and the total (including delivery and service fees) was about 15% higher on DoorDash.
This difference was largely due to the disparity in the base price of the items in the order.
Some items on Shipt were also eligible for Target sale prices, which were unavailable on DoorDash.
That might be enough to think carefully about using DoorDash as an option for Target delivery.
How Much Does Target Delivery With DoorDash Cost?
In addition to the upcharge on items, delivery fees, services fees, or other applicable fees will be added to your Target delivery order on DoorDash. DoorDash delivery fees can range from $1.99 to $5.99.
DoorDash delivery fees can vary based on factors such as your approximate location relative to the store, peak delivery times, etc.
DoorDash grocery delivery typically starts at a $3.99 delivery fee.
On top of delivery fees, service fees and other applicable fees (such as bag fees, bottle fees, etc.) will be added to your order.
Service fees on DoorDash are typically 10-11% of your order.
So, unless you have the advantage of DashPass to get free delivery, there may not be a lot of benefits to ordering Target on DoorDash.
Can You Use DashPass for Target Delivery Orders?
According to the DoorDash website, Target orders are eligible for DashPass, and with DashPass, you can get free delivery.
DashPass is a membership program for DoorDash that costs $9.99 per month.
Members will receive free delivery from eligible merchants or reduced delivery fees for places DashPass doesn't cover.
With DashPass, you typically save 10% off your delivery order through reduced service fees.
In addition, DashPass offers 5% DoorDash credits on pickup orders and member-exclusive offers.
If you use DoorDash for restaurant delivery, it could make sense to consolidate grocery and restaurant deliveries with DashPass.
On average, DashPass membership pays for itself after two deliveries per month.
DoorDash offers a free trial for DashPass, so you can test it before committing to a membership.
You can also cancel it anytime if you're unsatisfied with the service.
How to Order Target Delivery on DoorDash
You can place a Target delivery order on the DoorDash app, just like any other restaurant delivery.
Fill your cart, pay on the app, and a Dasher will start shopping and deliver your order ASAP or at a scheduled time.
To place a Target order on the DoorDash app, follow these steps:
Step 1. Once logged into your DoorDash account, use the search feature to search for "Target."
Step 2. You can do quick shopping by using the "+" button next to an item and adding it to your cart. Alternatively, tap on the item to view more details and click "Add to cart" when you are ready.
Step 3. Once you've completed filling out your cart, click the "View cart" button at the bottom of the shopping screen.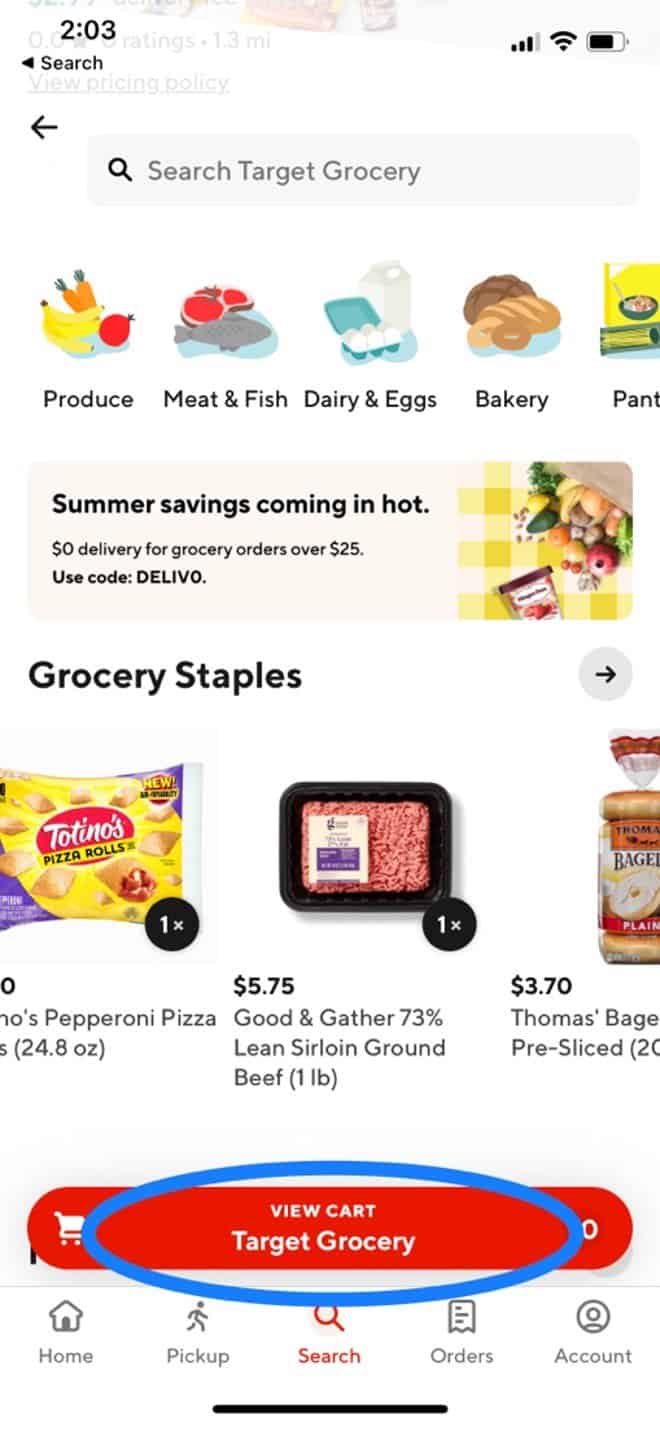 Step 4. You can view your selections and the estimated order total with delivery fees, taxes, and service fees. Click "Continue" to pay and submit your order.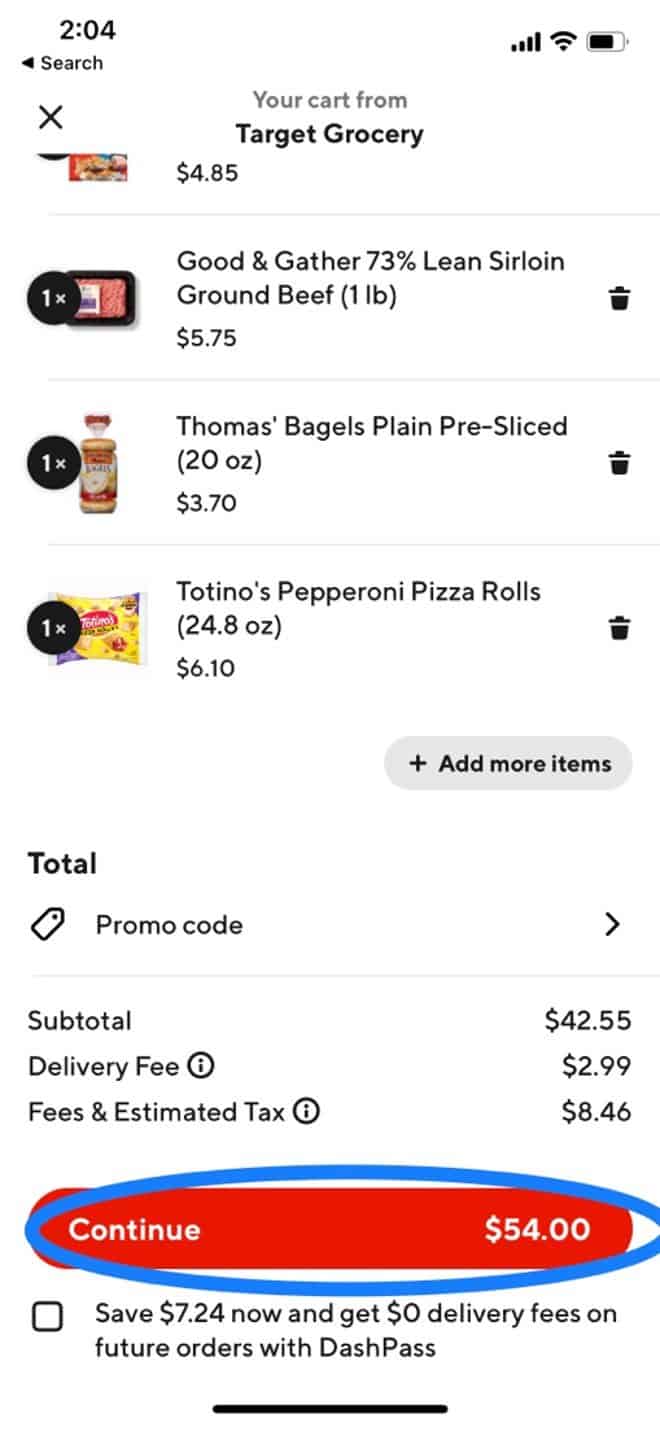 Step 5. On the checkout screen, choose your delivery time, add a tip, and any special instructions for your Dasher.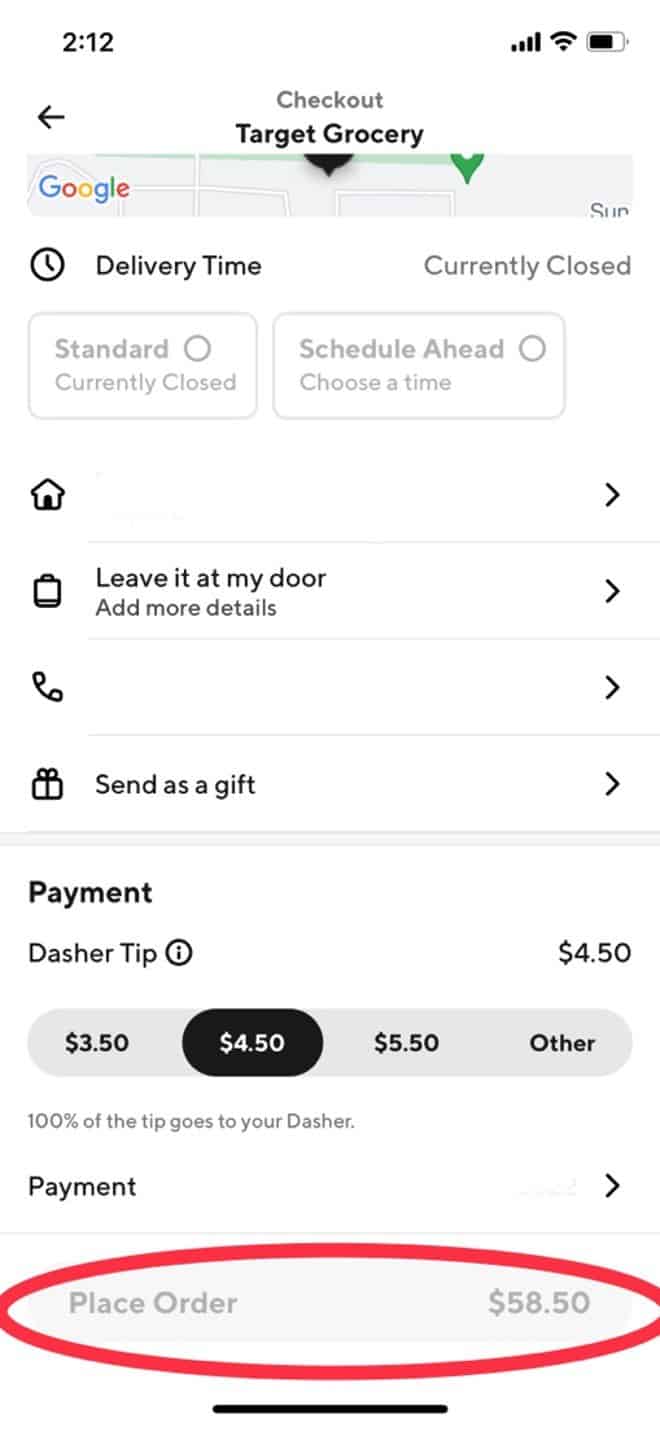 Step 6. Click "Place Order" to complete the process.
Once you've submitted your order, you will get updates in the DoorDash app regarding the progress of your order.
Do You Tip Target Delivery Orders With DoorDash?
You should tip all your delivery orders on DoorDash, including those from Target. We recommend tipping 15-20% of your order total, especially if you received good service.
Tipping is customary in the service industry and delivery services, including DoorDash.
DoorDash drivers rely heavily on tips as part of their total compensation, and 100% of your tip goes to the driver.
Dashers can see their total earnings before accepting the delivery but cannot see the exact tip amount when they claim the order.
However, they will receive the breakdown of their base pay and additional tip when the order is complete.
If you want your order to be accepted and delivered quickly, tipping your Dasher is the key.
You do have the option to add a tip during checkout or can add it after the order is completed.
Keep in mind that if you don't tip during checkout, your order may get bounced around before someone accepts it.
Conclusion
Target delivery is a competitive push by DoorDash to gain more market share, which the retailer doesn't officially endorse.
However, it's an option that could make sense for some people. If you don't have a Shipt membership to get free deliveries from Target but already have DashPass, Target delivery may be a new benefit of your membership.
Keep in mind that you will pay higher than in-store prices when you order Target delivery on DoorDash.
Related Articles: