DoorDash Delivers for Walmart, but You Wouldn't Know Until Dashers Arrive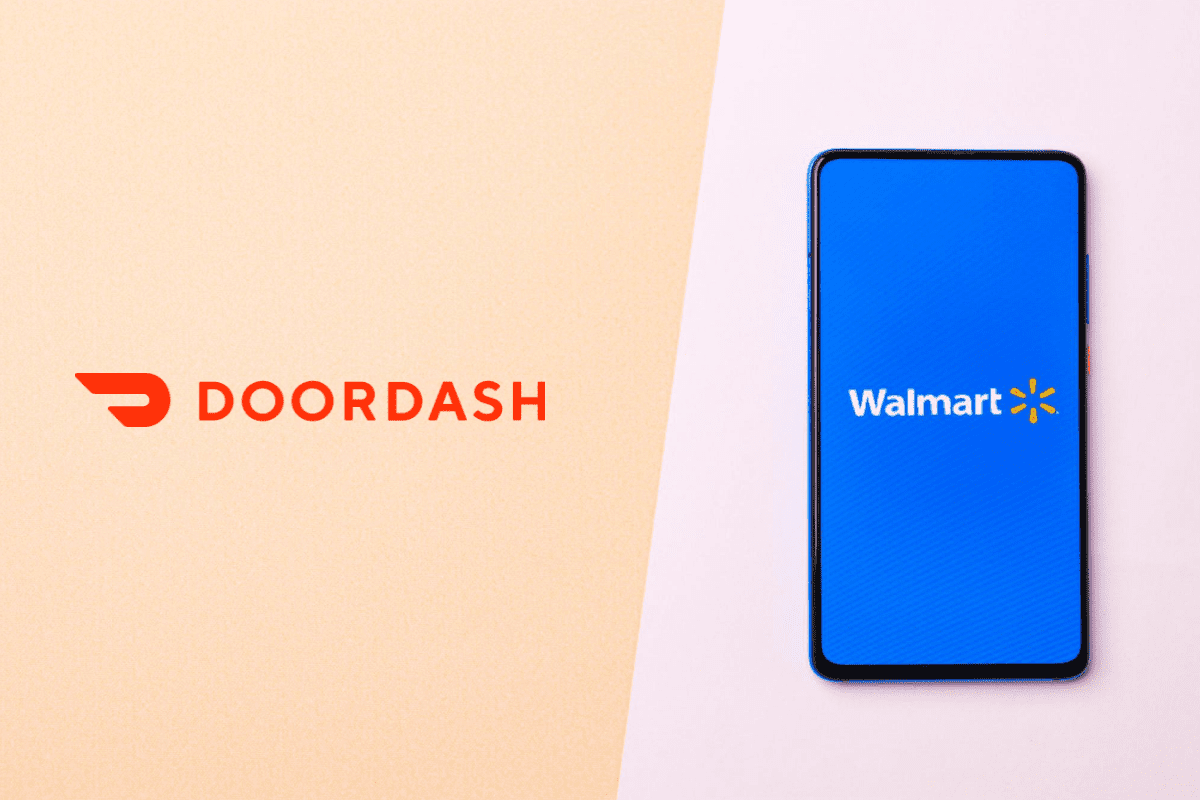 In 2018, Walmart and DoorDash announced a partnership to expand Walmart delivery across the U.S. While delivery is a key growth area for Walmart, the partnership also marked an expansion for DoorDash beyond restaurant delivery.
Key Takeaways
Walmart delivery orders are often fulfilled by DoorDash, but customers can only order using the Walmart app or the website.
Walmart's same-day delivery fee is typically from $7.95 to $9.95, even when delivered through DoorDash.
DoorDash drivers get 100% of tips added to Walmart delivery orders.
The expansion of Walmart's grocery delivery brings convenience to your door, but it may still cause angst for some customers and drivers.
Keep on reading to learn more about how Walmart delivery through DoorDash works!
How Does Walmart Delivery With DoorDash Work?
When a customer orders delivery using the Walmart app or the website, the order request shows up on the Dashers' app just like any other delivery order.
The accepting DoorDash driver will then pick up the order at the store and deliver it to the customer.
Since customers place delivery orders through the Walmart website or the app, the third-party system connection between Walmart and DoorDash happens behind the scenes.
Other third-party services also deliver Walmart orders.
Either way, the customer does not know if DoorDash or another service delivers their order until the delivery arrives.
Even orders placed on Walmart.com with 2-day shipping may be delivered by a DoorDash driver from a local store.
A Dasher must first accept the delivery request from Walmart.
Then, when the Dasher arrives at the Walmart store, they go to the orange order pickup area just like other customers.
A Walmart associate will load the order into the Dasher's car, and they will be off to make the delivery.
Walmart is particular about the condition of a Dasher's car and will not complete the hand-off if the vehicle is not clean and free of animals or young kids who cannot be left unattended.
Walmart offers the option for customers to sign for the order at the time of delivery.
If they are not home or available by phone, the order is returned to the Walmart store by the Dasher.
If you prefer, the groceries can be left at the door.
In that case, though, the order is your responsibility if any perishables are left outside for too long.
The delivery fee is set by Walmart and is typically from $7.95 to $9.95 for same-day delivery.
Walmart honors in-store prices for delivery orders, even when delivered through DoorDash.
We couldn't be more excited to partner with @Walmart to power their online grocery delivery. 🛒 https://t.co/KttFTGE1IA

— DoorDash (@DoorDash) April 26, 2018
Can You Order Walmart Delivery on DoorDash?
Ordering Walmart delivery is not an option on the DoorDash app. Walmart delivery orders can only be placed on the Walmart app or the website.
For this reason, many customers are surprised when a DoorDash driver delivers their order.
There is no mention of DoorDash in the checkout process on the Walmart platform.
Many are expecting a Walmart employee to deliver the order, which seems to cause a lot of confusion.
Some drivers have reported customers who have refused delivery or are unhappy with the unclear system.
Sometimes, Dashers even need to explain the process to customers who are unfamiliar with DoorDash.
According to DoorDash, a driver should have a thank you card from Walmart to personally give the customer.
This is likely to give peace of mind to customers expecting delivery by a Walmart associate!
How to Order Walmart Delivery
The Walmart app is the easiest way to place a delivery order. You will fill up your cart as you would for any online order and select delivery at checkout.
If you're looking for same-day delivery, just make sure the items in your order are eligible for same-day delivery.
Follow the steps below to order Walmart delivery using the app:
Step 1. Open the Walmart app and use the search feature or browse by category to select items for your order.
Step 2. Look for items with a "Today" tag. You may also see tags that say "Delivery" to indicate an item is eligible for same-day delivery.
Step 3. Click "+ Add" for quick shopping or "Add to cart" from the item details screen.
Step 4. When you're ready to check out, you must click "Reserve a time" first.
Step 5. Choose your desired time, click "Reserve," and "Continue to checkout."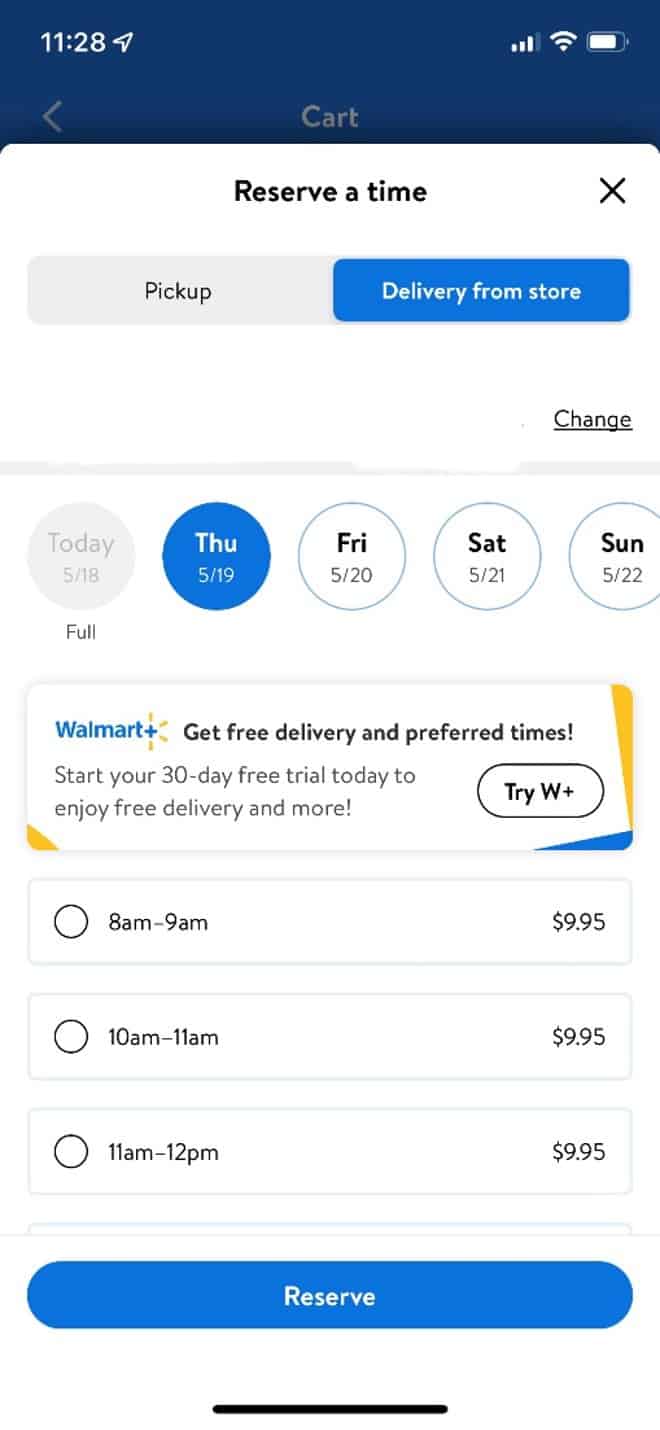 Step 6. On the review order screen, you can add delivery instructions, choose substitution preferences, add a payment method, and choose a tip for your driver if desired.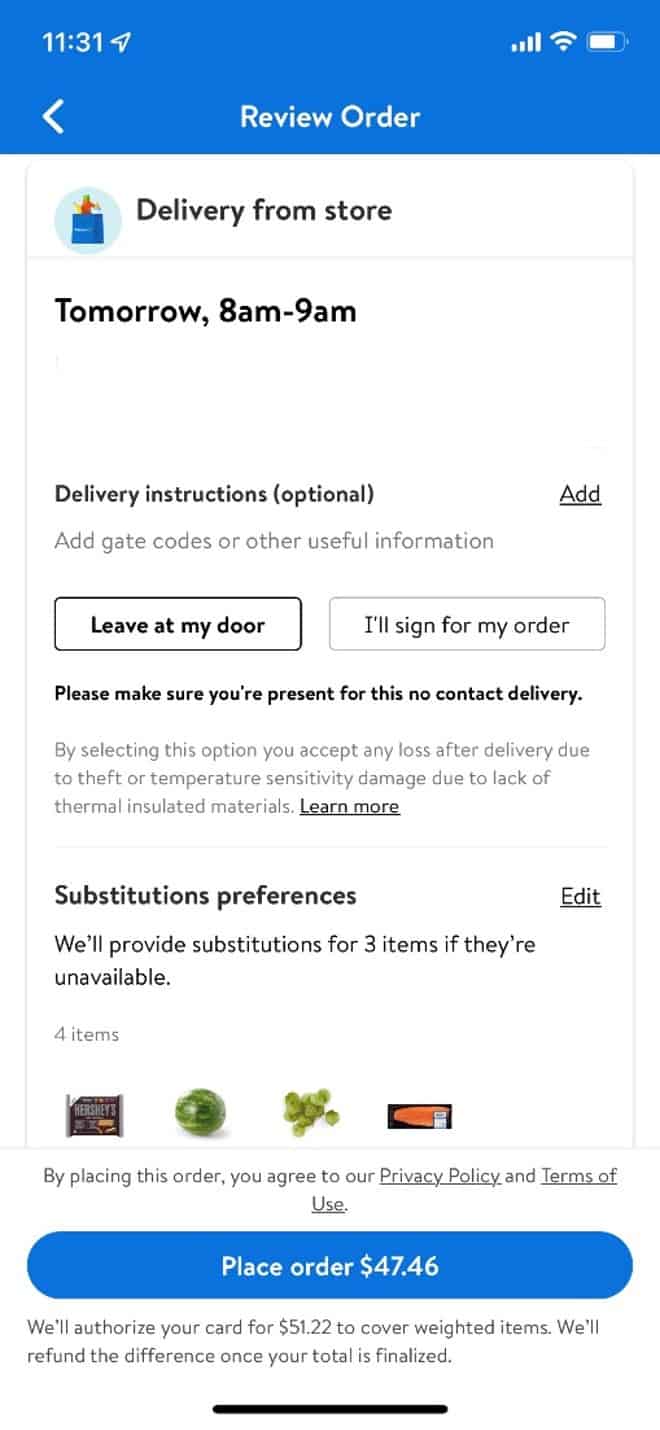 Step 7. Click "Place order" to complete the process.
Once you place your order, you will receive order updates through the Walmart app as it is processed at the store.
How to Get Free Delivery From Walmart
Walmart Plus is a membership program that includes free unlimited deliveries on orders over $35 and other benefits.
Walmart Plus costs $98 per year or $12.95 per month after a 30-day free trial.
You can sign up for Walmart Plus on their website and enjoy the following benefits in addition to free delivery from your local store:
Fuel discounts of as much as 10 cents per gallon at Exxon, Mobil, Walmart, and Murphy fuel centers
Access to Sam's Club fuel station prices if you do not have Sam's Club membership
Access to reserve members-only preferred pickup or delivery times for online orders
Free shipping on items shipped from Walmart.com with no minimum order (does not include Walmart marketplace items)
Mobile Scan and Go while shopping in-store means no waiting at the register lines
Early or exclusive access to special deals and events
Unlimited free delivery may not be available in all locations, so check the Walmart website to confirm eligibility before signing up.
If an order does not meet the $35 minimum, Walmart Plus members pay a $5.99 delivery fee.
Express delivery in under two hours is also available at some Walmart locations for an additional $10 fee.
Walmart Plus members do not receive any discounts for express deliveries and pay $10 total for express delivery orders.
Do DoorDash Drivers Get the Tips for Walmart Orders?
According to Walmart, DoorDash drivers receive 100% of tips added to delivery orders.
You can add a tip during the order checkout or up to 14 days after your order has been delivered.
If you forgot to tip, you should get a push notification from the Walmart app after your order has been delivered, asking for feedback and offering the option to add a tip.
If you added a tip when placing your order, you have up to 24 hours to change the tip amount.
The tip will be a separate charge on your account that will appear 24 hours after the Dasher has completed the delivery.
To add a tip for an order that has been delivered, follow these steps:
Go to your Account on the Walmart app or website and select "Purchase History."
Select the applicable order on your purchase history.
Select "Add tip."
If you do not see the option to select "Add tip," your order is ineligible to add a tip at that time.
We recommend tipping Walmart delivery orders at least 10% but consider 15-20%, especially if you received good service.
Drivers for third-party delivery services like DoorDash are independent contractors and heavily rely on tips to make a livable wage.
What Do DoorDash Drivers Think About Walmart Orders?
The partnership between DoorDash and Walmart has been the subject of complaints within the DoorDash driver community.
While some drivers have reported good experiences, there is variability in opinion regarding Walmart orders.
Dashers' top complaints when it comes to Walmart orders can be summarized in a few main points:
Low Base Pay
Many Dashers have complained in forums about the low base pay on Walmart orders (as low as $3).
A grocery order can be large in volume and include heavy items like cases of water bottles, which require more work.
That is a big difference compared to the takeout bag from a restaurant many drivers typically handle.
Combine that with a trek up several flights of stairs to an apartment or other obstacles of normal delivery, and many drivers feel a Walmart order is not worth the pay.
Minimal Tips
Initially, Walmart did not have the option to add a tip when placing an order.
This resulted in many customers forgetting or not making an effort to go back to their order and add a tip.
There was also confusion regarding the need for tipping when it is not clear that third-party services like DoorDash are completing the deliveries.
Walmart updated the app in October 2020 to make tipping during the checkout process an option.
It has been reported this enhancement improved tips for drivers, and about 75% of orders now include a tip at checkout.
Bundling of Orders
Dashers have also reported that Walmart delivery orders are frequently combined into several stops within a relative area.
This again means more work and time without relative compensation in base pay.
Long Wait Times at the Store
Waiting times at Walmart stores to pick up orders have also been a sticking point for many DoorDash drivers.
A long wait to pick up an order eats into profits for a driver. The more orders they can fulfill quickly, the greater the overall pay.
This is another reason many Dashers do not choose to accept Walmart orders.
While these complaints are prevalent throughout DoorDash driver forums, some Dashers feel that Walmart orders can be profitable and a positive experience.
Conclusion
Walmart's using DoorDash or other third-party services to deliver orders is not well known. In some cases, it even causes confusion among customers.
As retailers like Walmart continue to expand their delivery services, there will likely be more creative delivery partnerships that customers should expect.
For more information about Walmart, check out the articles below.
Related Articles: