What Are GrubHub Perks and How to Use Them?
GrubHub is one of the top choices when ordering food delivery. What makes it even better is that GrubHub offers Perks from various restaurants that give customers exclusive discounts.
Key Takeaways
GrubHub Perks are deals some restaurants offer exclusively for GrubHub customers.
Restaurants decide what Perks to offer, including discounts, free menu items, and free delivery.
You cannot use GrubHub Perks when dining in a restaurant as Perks are only available on the GrubHub app or the website.
Read on to learn more about how GrubHub Perks work, what types of Perks GrubHub has and how to use them.
What Are GrubHub Perks?
GrubHub Perks are deals and coupons that can be used on GrubHub orders. Restaurants that deliver through GrubHub offer these Perks exclusively on the GrubHub app and website.
GrubHub Perks cannot be used when dining in a restaurant, and there are different types of Perks that restaurants offer.
You can find excellent perks by browsing through local restaurants on GrubHub. The GrubHub app even has a tab dedicated to restaurants offering Perks.
GrubHub Perks can vary in the type of discount or deal they offer. Sometimes the Perk is simply a few dollars off your order.
Other times, you can get a certain percentage off your order total. We'll cover the different types of Perks in greater detail later.
Keep in mind that GrubHub Perks are exclusive to GrubHub. Restaurants get to decide what types of Perks they will offer, but those deals are only applicable to orders placed on GrubHub.
In addition, some Perks are only valid for delivery orders, while others can be used for both delivery and pickup orders.
Topic: Perks that make you boogie pic.twitter.com/jG2kTucxKz

— Grubhub (@Grubhub) March 25, 2021
How Do GrubHub Perks Work?
Restaurants decide which deals they want to offer as Perks on GrubHub. You can check the "Perks" tab on the GrubHub app to view all available offers.
When ordering from a restaurant that offers a Perk, you will need to meet the requirements for the deal, such as an order minimum.
GrubHub generally does not determine which Perks are offered, but there is an exception for new customers.
You can earn a $10 Perk on your first GrubHub order of $15 or more, valid at any restaurant.
Other than this exception, restaurants choose which types of Perks they offer. For example, many local restaurants will offer their customers $5-$10 off their order.
Other restaurants, especially chains, will offer free menu items like a free side.
To use a GrubHub Perk, you need to order from the restaurant offering the deal.
However, you should check the Perk details to make sure you meet the requirements.
Sometimes it's as simple as placing an order of any size. However, there may be an order minimum to meet, or you may have to be a repeat customer.
When reviewing your order, you will see the discount along with the other items.
You're not wrong, Talha. Check out the "Perks" tab on your app! Within the "Earn" section, you can see your restaurant loyalty programs and track your rewards 😍

— Grubhub (@Grubhub) March 2, 2020
What Kind of Perks Does GrubHub Have?
GrubHub Perks include discounts, free menu items, free delivery, and more. Discounts can be a few dollars or a percentage of your order total. You may also earn credit that can be used on a subsequent order.
You can view which Perks are available in your area on the GrubHub app.
Since restaurants choose what to offer as a Perk, there are different deals; however, the most common Perk is a discount off your order total.
Here is a list of Perks that GrubHub has:
Dollars off your order
Percentage off your order
Free menu items
Free delivery
Credit towards your next purchase
Menu hacks (special items)
Some restaurants may have multiple Perks offered at one time. You can usually use only one Perk per order but double-check the Terms and Conditions to be sure.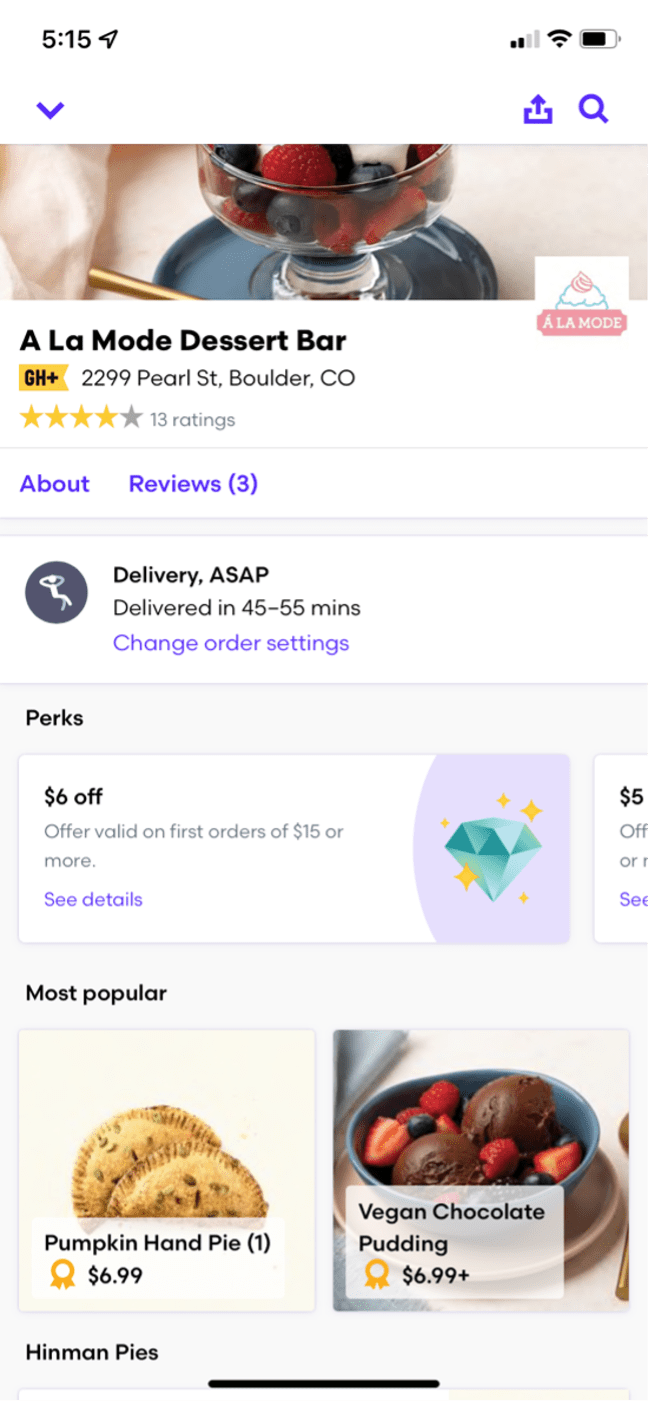 A few restaurants reward repeat customers. To do this, the restaurant will offer a Perk that is earned after multiple orders are placed.
In the example below, Subway has offered its loyal customers a $5 credit after ordering three times.
Another type of Perk is called a "menu hack." McDonald's is one of the restaurants that has offered a menu hack promo.
While it may seem there is no monetary reward or discount provided with this promo, the menu hack advertises special menu items that you won't want to miss out on.
It's also possible that you discover another kind of Perk as you browse through the GrubHub app.
You should check the app often, as Perks are updated every day.
How to Use Perks on GrubHub
You can use Perks on the GrubHub app or website. The app has a "Perks" tab that shows all deals available in your area. Once you choose a restaurant with a Perk, you can place your order, and the Perk will be automatically applied if you meet the requirements.
The discount will show up just above your order total at checkout.
GrubHub is user-friendly, and using Perks is simple, but we've created instructions below to make it even easier.
Here's how to use Perks on GrubHub:
Step 1. Find the restaurant you want to order from on the GrubHub app or website. Make sure there is a valid Perk that you want to use.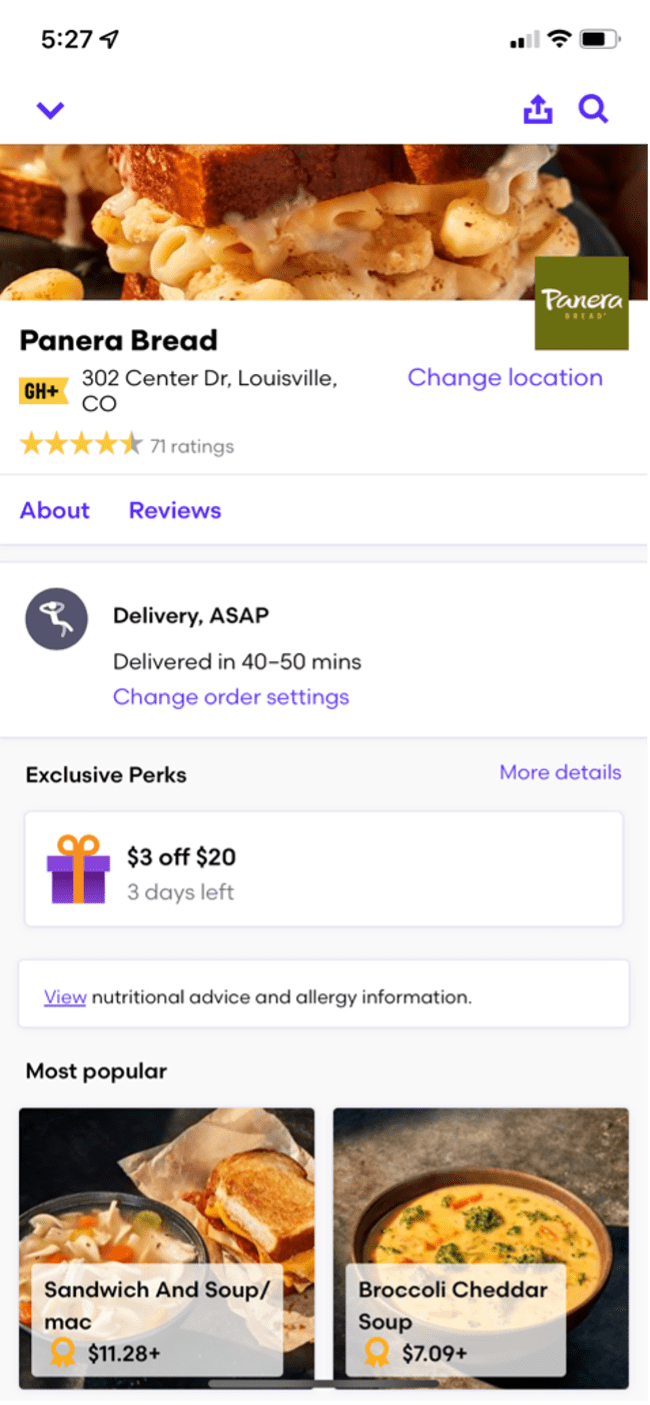 Step 2. Click on the Perk that you want to redeem to review its details or Terms and Conditions.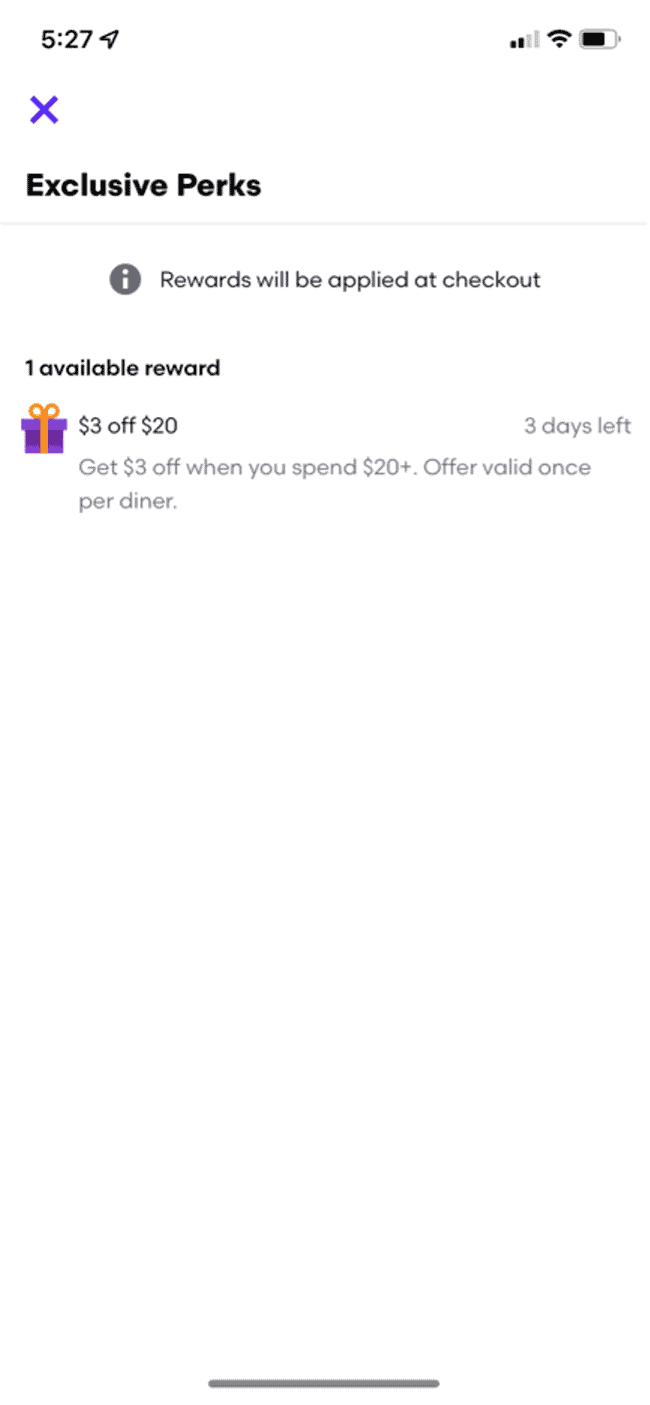 Step 3. Add items to your order to meet the requirements for the Perk.
Step 4. Click "View Order" to review the order and confirm that the Perk rewards have been applied.
Step 5. Enter any additional information needed and complete the checkout process. The GrubHub Perk will be applied at checkout.
You will need a GrubHub account to use Perks. You can create a GrubHub account online for free.
To create an account, you only need to provide your name and email and choose a password.
The easiest way to find available Perks is by using the GrubHub app. There is a "Perks" tab on the app that only shows restaurants with active offers.
If you're signed in and entered your address, GrubHub will only show you the restaurants that deliver to your area.
Once you have found a Perk that you want to use, start ordering menu items from the restaurant.
Here are a couple of tips for ordering with GrubHub Perks:
Make sure your order subtotal meets the order minimum before any taxes or delivery fees are added.
If you use a Perk that offers a free menu item, pay extra attention to the offer's details. Some Perks may only be good for a specific size or flavor of a menu option.
You can check if the Perk has been applied to your order when you review it before checkout.
As you look through your order, you can scroll down toward the end and check the final order total.
Any rewards applied to the order will be listed in the green text next to the label "Reward credit."
If you don't see any rewards applied, go back to the Perk details or Terms and Conditions to make sure you meet all requirements.
What Does Cash Value Mean on GrubHub?
The cash value is the dollar equivalent of how much money you would save if you used all the GrubHub Perks available.
It includes the amount saved with discounts and a free delivery offer. You can see the cash value of Perks available to you in the "Perks" tab of the GrubHub app.
Cash value helps gauge how valuable GrubHub Perks are. It shows the earning potential if you meet the requirements for all the available rewards.
While it's unlikely that you would use all the Perks listed at any given point, it's still good to see how much money you could save.
Individual Perks have their cash value displayed if they equate to a specific amount.
For example, a Perk on GrubHub offering $5 off your first order of $15 or more has a cash value of $5.
Other types of Perks, like free delivery, don't have a specific cash value listed since their value can vary by location.
The cash value is equal to how much money is saved using the Perk.
A free delivery Perk at a restaurant that normally has a $3.99 delivery fee would have a cash value of $3.99.
Since Perks are redeemed at checkout, you cannot earn actual cash from them, but they are still valuable.
How to Use GrubHub Perks Cash Value
To use GrubHub Perks and earn their cash value, you simply need to place an order that meets the requirements for the Perk. You can only use a Perk at the restaurant offering that reward, and the cash value is applied as a discount at checkout.
GrubHub also offers its own Perks that can be used on any order.
All GrubHub Perks have some sort of cash value. Most rewards are in the form of a dollar amount discount, and these are applied directly to any eligible order.
A few restaurants offer special Perks for repeat customers. You must order multiple times to earn the cash value of the reward.
After completing the number of required orders with that restaurant, you will earn credit that will be applied to your next order.
Why Are GrubHub Perks Not Working?
GrubHub Perks do not work if the order does not meet the requirements listed in the Perk's details or if the Perk has expired.
The most common reason for GrubHub Perks not to work is the specific requirements for the Perk.
You can check the requirements by clicking "See details" and reviewing the Terms and Conditions listed.
Reading through this information before you order is the best way to avoid any problems.
When looking through the details of Perks, you may notice that some are for first-time customers only.
You will not be able to use these Perks if you have already placed an order from that restaurant.
Let's say you see a Perk that you want to use later. You may still use this Perk, but you will need to check its expiration date.
GrubHub Perks come and go, so a Perk you see one day may be gone the next.
If the Perk has expired, you will not be able to earn the reward even by placing an eligible order.
Sometimes system errors also occur, and the Perks may not work for no valid reason.
In that case, you can contact GrubHub customer service to get help with your order.
Thankfully, you can call or chat with a GrubHub customer service representative 24/7.
Conclusion
GrubHub Perks are an excellent way to save money on your food delivery. Both local and chain restaurants offer great deals through these Perks on GrubHub. Remember to check the "Perks" tab of the GrubHub app before placing your next order.
If you're looking for more tips about GrubHub, check out these articles below.
Related Articles:
GrubHub Gift Cards: Where to Buy and How to Use Them
Does GrubHub Take Cash? (Yes, Here's How to Pay)
How to Get a Refund on GrubHub (And Cancel an Order)
DoorDash vs. GrubHub: Which Food Delivery Service Is Better?