20 Best Cookie Flavors You Have to Try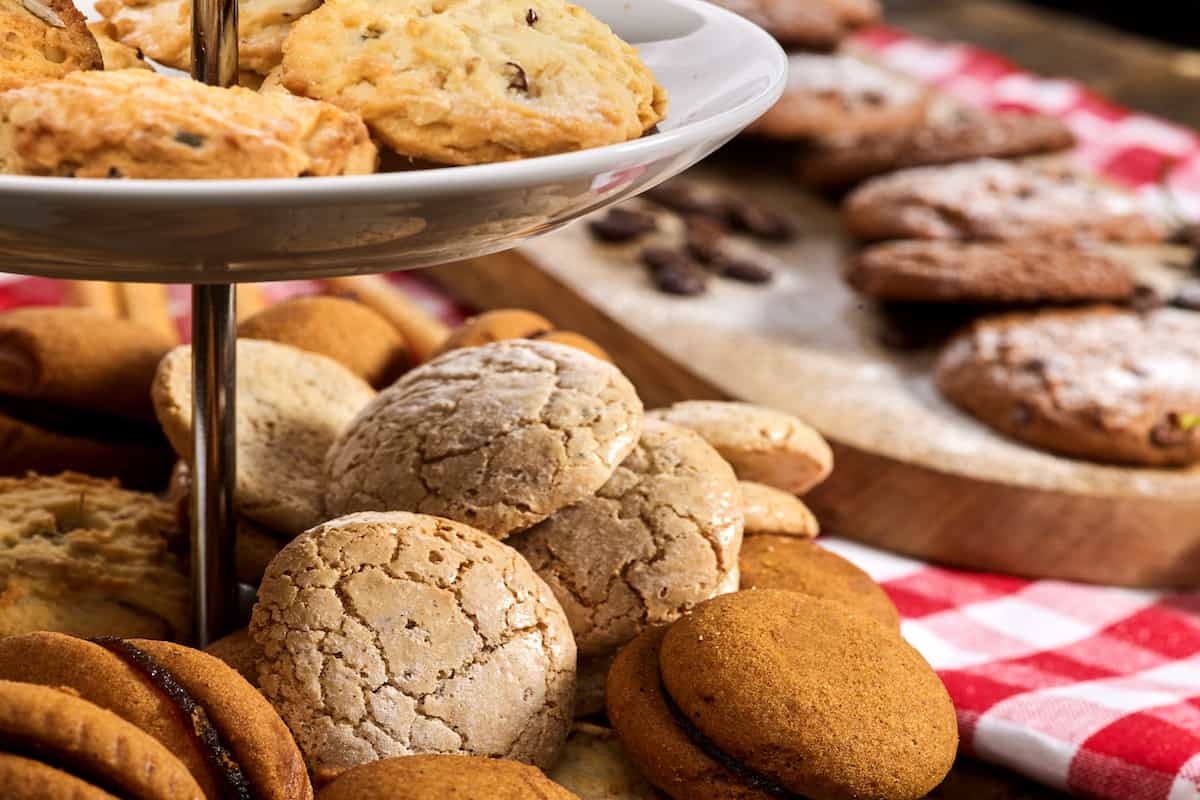 In the world of baking, cookies reign supreme. Their versatility is what makes them so admirable.
Whether you like your cookies warm and chewy with a cold glass of milk or buttery and crisp with your morning coffee, there are many cookie flavors you can enjoy.
Cookies can vary in their texture, flavor, add-ins, and shapes.
Their wide range of flavors can be observed through chewy cookies loaded with chocolate chips or soft snickerdoodles with notes of cinnamon.
There is a plethora of different cookies out there. However, the classic cookies always remain the most popular over time.
So now, prepare your tastebuds as we dive into the 20 most popular types of cookies!
20. Oatmeal Raisin Cookies
There's nothing like grandma making her infamous Oatmeal Raisin Cookies!
Some cookie lovers may hope to find chocolate chips instead of raisins, but many love the unique flavor raisins bring to the table.
These cookies have a hearty, chewy texture from the oats, a hint of cinnamon, and a burst of raisin flavor.
They were first recorded in 1896. Fannie Merritt Farmer featured a recipe for "oatmeal cookies" (no raisins) in her "Boston Cooking-School Cookbook."
Many consider oatmeal raisin cookies a healthier snack choice than other types of cookies because whole-grain oats and raisins are good fiber sources.
Did I say healthy cookies? I sure did! Grab another from the cookie jar!
19. Shortbread Cookies
Shortbread Cookies are simple and delicious and are made with just butter, flour, and sugar.
This quick cookie recipe delivers a crisp texture with an amazing buttery flavor.
According to British Food: A History, Shortbread cookies date back to 12th century Scotland and was known as "biscuit bread."
These "biscuits" were to be enjoyed with the afternoon tea.
The term "short" in baking refers to the gluten strands present being short, resulting in a more crumbly texture.
Hence, when fat is added to pastries, it is referred to as shortening.
Whether you like to dunk your shortbread cookie in your coffee or prefer it dusted with powdered sugar, these lightly sweet cookies will surely delight.
18. Linzer Cookies
Linzer Cookies are buttery, jam-filled sandwich cookies.
These cookies are traditionally filled with raspberry jam, and the dough contains finely ground almonds and hazelnuts.
They can have many shapes cut into the top cookie called "Linzer eyes."
A popular option is a heart which can make them perfect for Valentine's Day.
Linzer cookies are a take on the Linzer torte, which originated in Linz, Austria.
Yale University reports the Linzer torte as one of the oldest tortes in the world. However, it was introduced to the US around the 1850s.
The Linzer torte was transformed into what we now know as Linzer cookies.
These delicious nutty, and jammy sandwich cookies are perfect for any holiday!
17. Gingerbread Cookies
Gingerbread Cookies remain a winter holiday staple. The traditional man-shaped is the most popular, but other festive shapes are also utilized.
These cookies exude a warm aroma of molasses and spices like ginger, cinnamon, cloves, and nutmeg.
They are sure to trigger your Christmas palate!
Gingerbread houses originated in 16th-century Germany as a Christmas tradition.
The popularity of building gingerbread houses grew when the Brothers Grimm wrote Hansel and Gretel, in which the main characters find a house made completely out of treats in the forest.
Queen Elizabeth I is credited with creating the first gingerbread man.
According to the PBS article "The History of Gingerbread," Queen Elizabeth I had gingerbread cookies made to resemble the dignitaries visiting her court.
Thus, the gingerbread man was born.
16. Mexican Wedding Cookies
Mexican Wedding Cookies are crunchy, nut-filled, and dusted with a generous amount of powdered sugar.
They are part of the shortbread family, so they are buttery and have a melt-in-your-mouth texture.
Surprisingly, these cookies did not originate in Mexico despite their name.
The Institute of Culinary Education states that the recipe originated in Medieval Arab baking.
They spread to Europe and were thought to have immigrated to Mexico by Spanish conquistadors in the 16th century.
The popularity of these cookies across different cultures has earned them many names.
On the East Coast of the United States, some people call them snowballs or pecan sandies. Many also refer to them as Russian Tea Cakes.
Mexican wedding cookies are typically made with pecans. These nutty cookies are sure to be a hit at any gathering.
15. Thumbprint Cookies
Thumbprint Cookies are small, jam-filled cookies enjoyed during the holidays or any time of year.
The origins of this cookie remain unclear, but they are believed to be created in the 19th century.
They are also known to go by the name Hallongrotta, which means "raspberry cave" in Swedish.
Thumbprint cookies are typically filled with raspberry jam, but other fillings like lemon curd or apricot jam can be used.
Their namesake depicts how these cookies are made. Before baking, place your thumb in the center of each portioned dough, and fill each hole with jam.
I always add a little almond extract to the dough because it pairs great with raspberry jam!
14. White Chocolate Macadamia Nut Cookies
These cookies are the perfect balance of sweet and salty. They are soft cookies packed with roasted macadamia nuts and sweet white chocolate chips.
White chocolate chips were first produced in 1937; however, macadamia nuts did not become widely available until 1975, says Otto's Naturals.
Macadamia nuts are deemed a luxury good in the world of nuts, so these cookies have a sense of exclusivity to them.
White chocolate has a slightly sweeter taste, comparable to sweetened condensed milk.
This contrast of sweetness to the earthiness of the macadamia nuts makes these cookies irresistible.
13. Chocolate Crinkle Cookies
Chocolate Crinkle Cookies are soft and fudgy with a beautiful crinkle exterior.
The texture of these cookies is reminiscent of a brownie.
The chocolatey center of crinkle cookies with their slightly crisp outside makes it taste like a corner-piece brownie!
Chilling these cookies is vital to get that crackly top. Once the dough is chilled, it's best to roll them twice in powdered sugar.
This ensures that the powdered sugar does not melt into the dark cocoa cookies.
Chocolate crinkle cookies are sure to appeal to chocolate lovers everywhere!
12. French Macarons
French Macaron is a sweet meringue-based almond sandwich cookie filled with French buttercream, curds, ganache, or jam.
These pretty confections are loved for their vibrant colors that coincide with their respective flavors.
Flavors can range from strawberry, salted caramel, lavender, rose, lemon, and chocolate.
One of the most well-known tea rooms is the Ladurée in Paris, which sells around 15,000 macarons daily!
Ladurée opened in 1862, but the modern-day macaron was not invented until 1930.
According to Paris Insider Guide, Ladurée's grandson, Pierre Desfontaines, created the first macaron sandwich cookie filled with a flavored center.
These tiny French cookies have swept the world with their popularity since then!
11. Macaroons
Macaroons are toasted coconut cookies with a chewy center. These are sometimes dipped or drizzled in chocolate.
Many confuse French Macarons with these coconut ones, given the pronunciation!
Macaroons are made of shredded coconut, sugar, and egg whites.
They are scooped into mounds and baked in the oven until the tops are slightly toasted.
I like to dip the bottoms of these cookies into chocolate and drizzle the top as well. They will taste just like the Mounds candy bars!
10. Whoopie Pies
These sandwich cookies are made of soft cake-like and fluffy frosting.
The Whoopie Pie's origin is claimed by Maine, Massachusetts, and Pennsylvania. Each place claims its own legend, so its history is disputed.
Maine made the whoopie pie their official state treat in 2011, per Maine.gov, which also reports the treat dating back to 1925 in Maine.
Tasting Table reports in "The Disputed History Of Whoopie Pies" that the Pennsylvania Amish community believes whoopie pies may have earned their name when children exclaimed joyfully, "whoopie!" after finding the treat in their lunch.
Whoopie is right! This soft cake-like cookie sandwich is sure to delight any time.
9. Biscotti
Biscotti is a long and crisp Italian cookie perfect for dunking in coffee.
NPR states that the first biscotti was created in 14th century Tuscany in Prato.
These were typically made of almonds which were plentiful in the region.
The word biscotti is derived from the Latin biscotus, which translates to twice baked. This is exactly what is done to achieve that extra crisp cookie.
The biscotti logs are backed, cooled, sliced, then baked again.
Biscotti can be found in many flavors today, such as chocolate, gingerbread, cranberry, pistachio, and more.
8. Gingersnap Cookies
Gingersnaps are crisp cookies with a generous amount of molasses and spices.
Using molasses and brown sugar retains the cookie's moisture, so the outside gets that snap while the center remains chewy.
The cookies are similar to their relative gingerbread in their flavor profile.
Gingerbread is a rolled and sliced cookie, resulting in a softer cookie.
Gingersnaps, however, are rolled (in sugar for an extra crunch) and baked for a little longer to get more of the crispness.
In the United States, Gingersnaps became associated with Muster Day or Militia Day, a military training event enjoyed by the whole town.
After the new recruits were signed up, they were celebrated with rum, gingersnaps, and festivities!
7. Icebox Cookies
Icebox Cookies are made into a log, chilled, and then sliced when ready to bake.
The term "icebox" refers to pre-refrigerator days (icebox cakes may also ring a bell).
Taste Cooking recalls the influence of depression-era cooking on the icebox cookie.
The combination of rations and refrigeration helped to birth the idea of using what was on hand in the kitchen and preserving it for later.
This mentality still holds up in modern-day cooking.
A cook on the go can always have cookies ready to bake after preparing icebox cookies.
6. Peanut Butter Blossom
Peanut Butter Blossom Cookies are essentially peanut butter thumbprint cookies with a Hershey's Kiss in the center.
The creation of these cookies is credited to Freda Smith when she entered them in an annual national bake-off in 1957.
She did not win first prize, but since she was a popular runner-up, it was published in many cookbooks in years to come.
These cookies are now deemed a holiday favorite.
The classic combination of peanut butter and chocolate and the adorable Hershey's Kiss can be seen as why they remain so popular over time.
5. Cowboy Cookies
Cowboy Cookies are loaded with oats, chocolate chips, pecans, and sweetened flake coconuts.
According to a discussion thread on Civil War Talk, cowboy cookies were the first "power bar" of the plains.
These cookies were supposed to energize cowboys for their work in the Old West.
However these cookies came to be, their flavor is the perfect combination of nutty, chocolatey, and hearty.
I might have to start eating one for energy right now!
4. Snickerdoodle Cookies
Snickerdoodle Cookies are soft and loaded with a warm cinnamon flavor.
The addition of cream of tartar helps these cookies have that chewy texture.
They are delectably soft and rolled in cinnamon sugar before baking.
The cinnamon sugar coating gives another element of mouthfeel to these cookies.
Snickerdoodles are fluffy pillows of cookies with the perfect cinnamon accent.
3. Peanut Butter Cookies
Peanut Butter Cookies are classic with crisp edges, chewy centers, and rich peanut butter flavor.
According to Days Of The Year, they have been popular since the early 1900s.
In 1913, the wife of US President Woodrow Wilson published a list of her cookie recipes which included these cookies.
The United States' love for them is shown on National Peanut Butter Cookie Day, June 12!
Peanut butter cookies are one of my favorites. I like to roll mine in granulated sugar and make the traditional crisscross fork pattern before baking.
2. Sugar Cookies
Sugar Cookies are soft, buttery, and sweet. These vanilla cookies are loved for their simplicity and versatility.
They are said to be first made by 17th-century Protestant settlers in Nazareth County, Pennsylvania (known as "Nazareth Cookies).
They were also called gemmels, crybabies, gimblettes, cimbellines, jumbles, and plunkets.
Sugar cookies can be rolled and sliced into various shapes. This makes them one of the best holiday cookies.
Whether you like them frosted, sprinkled, or plain, sugar cookies are a delicious classic treat.
1. Chocolate Chip Cookies
Chocolate Chip Cookies are chewy, gooey, and loaded with chocolate chips. They are the most popular type of cookies, and for good reason!
New York Times states that Ruth Wakefield created these confections, which were originally called "Toll House Chocolate Crunch Cookies," after the Toll House Inn, the restaurant she ran with her husband in Eastern Massachusetts.
The story goes that she chopped up a Nestle chocolate bar and placed it into the brown sugar dough.
The chocolate did not melt into the cookie, but it remained solid, and the rest is history.
Chocolate chip cookie recipes have many variations today. You can bake them thin and crispy or thick and chewy.
My favorite chocolate chip cookie recipe browns the butter.
This adds a new toffee-like flavor that pairs great with the brown sugar chocolate chip cookie dough.
And extra points if you top it with flakey salt!
Conclusion
Some like cookies rich and fudgy, while others prefer a light and crisp option. Their versatility has attracted the world for centuries.
Chocolate chip cookies are my favorite with a glass of milk!
However, you can find comfort in knowing that biscotti is made to be dipped into your cappuccino, gingerbread men will always be around during Christmas, and sugar cookies can be shaped into whatever your heart desires.
The world of cookies is vast and yours to explore!
So next time you're craving a sweet treat, try one (or more) of the cookie types on our list to expand your palate.