What Exactly Are Chick-fil-A Fries and How Are They Made?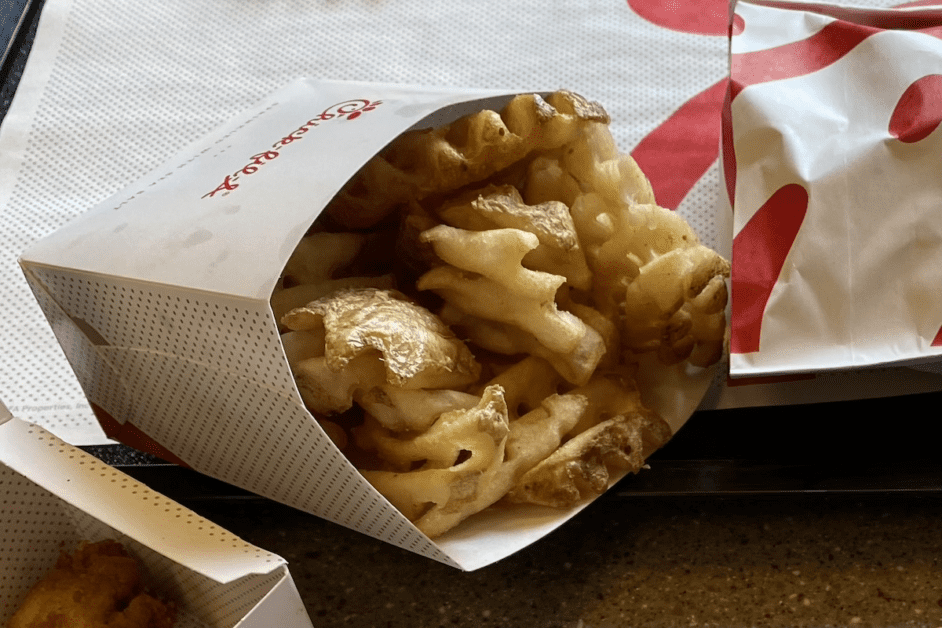 If you're a Chick-fil-A fan, you probably love their waffle fries. It's one of the most popular items on the menu and pairs perfectly with their tender chicken. There's a lot to love about Chick-fil-A fries, but have you ever wondered what's in them and how they're made? Read on to find out what makes them so good.
Chick-fil-A's Potatoes Come From Two Suppliers
According to Chick-fil-A's website, Idaho-based potato company Lamb Weston has provided the potatoes for waffle fries and hash browns for almost 40 years. The company was founded by Gilbert Lamb in Weston, OR, in 1950. They're known for implementing sustainability practices on potato growing and sharing that knowledge with other farmers in the area.
Since waffle fries became so popular over the years, the need for more potatoes emerged, and Chick-fil-A added another potato supplier called J.R. Simplot Company. They're also based in Idaho and have been around for more than 90 years.
How Chick-fil-A Fries Are Made
Chick-fil-A fries are made from real, farm-grown potatoes. You can even see the proof in that occasional potato skin on your fry. After being harvested, the potatoes are sent to a processing plant, cut into waffle shape, flash-frozen, and packaged to be delivered to restaurants across the country. When they arrive at the restaurants, Chick-fil-A associates fry them in canola oil and season them with sea salt before serving.
The ingredients in Chick-fil-A's waffle fries include potatoes, canola oil, sea salt, and food preservatives. The fries are treated with preservatives before being frozen to maintain their golden color. According to Mashed, the canola oil is mixed with Dimethylpolysiloxane to prevent splashing while deep frying.
Waffle Fries are always cooked separately from chicken or other menu items at Chick-fil-A restaurants, so vegetarians and vegans can enjoy this tasty side.
The Reason Chick-fil-A Fries Are So Good
For starters, waffle fries are made with real potatoes supplied by two well-known companies. They're also served fresh at restaurants and always taste hot and crispy.
Another reason they're so good is that they're shaped perfectly to dip into your favorite sauce. The waffle shape gives the fries that crispy exterior while remaining soft and fluffy inside.
Chick-fil-A offers eight dipping sauces to pair with your waffle fries. My favorite is their creamy, tangy signature Chick-fil-A sauce.
You May Be Able to Get Waffle Fries in the Morning
Chick-fil-A restaurants serve breakfast from 6:30 a.m. to 10:30 a.m. every day except Sundays when they're closed. Waffle fries are one of the most popular items at Chick-fil-A, so even though they're not part of the breakfast menu, some restaurants may allow you to order them in the morning.
The best way to find out is to ask the staff at your local restaurant! If they accommodate your request, be prepared to wait a little longer, though.