I Tried All Chick-fil-A Sauces and Ranked Them From Worst to Best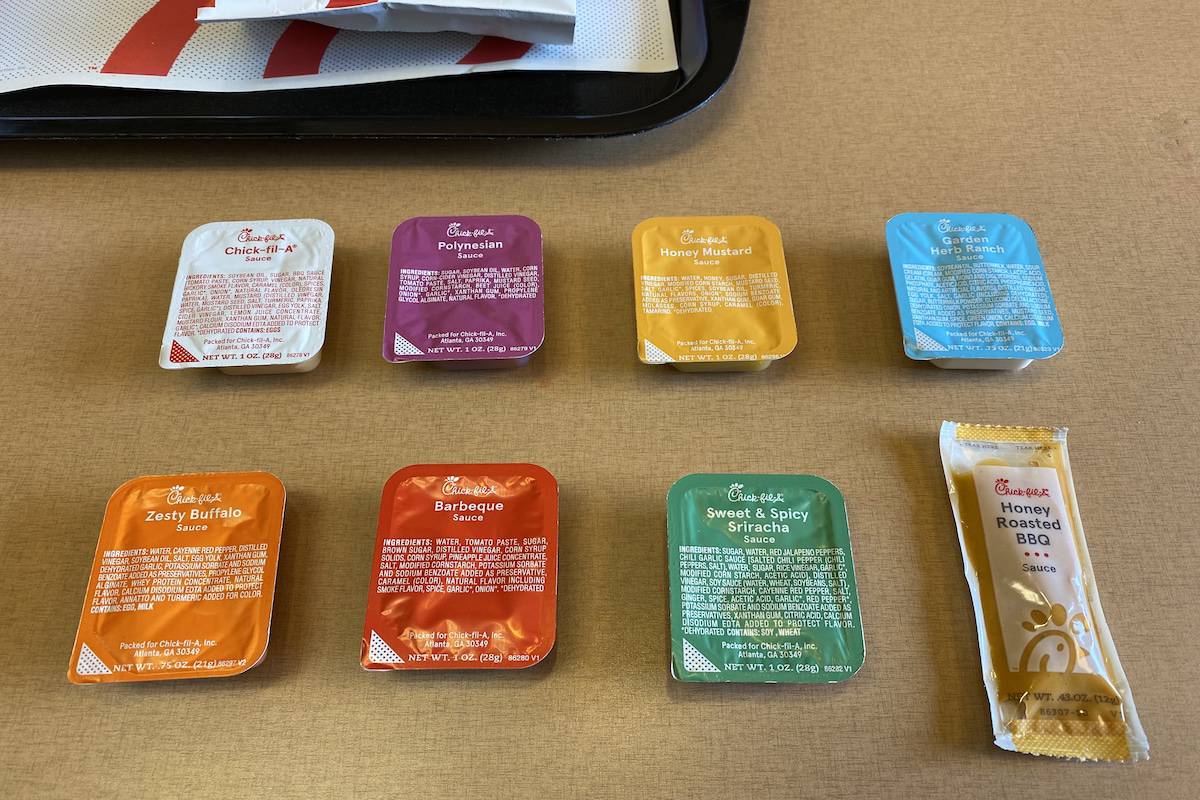 Great chicken tastes even better when it's paired with the perfect sauce. Since Chick-fil-A knows how to do chicken right, there's no surprise that they offer a delicious and diverse assortment of dipping sauces. Whether you prefer something sweet, savory, or spicy, they have a condiment that will make your taste buds sing.
Chick-fil-A offers eight dipping sauces to complement your favorite meals. These sauces include unique takes on classic flavors and a few signature creations. Some of their popular sauces are also available in 8 oz or 16 oz containers to purchase at grocery stores. I tried every Chick-fil-A sauce on the menu and ranked them according to their flavor, versatility, and overall enjoyment. Keep reading for all the "saucy" details!
8. Zesty Buffalo Sauce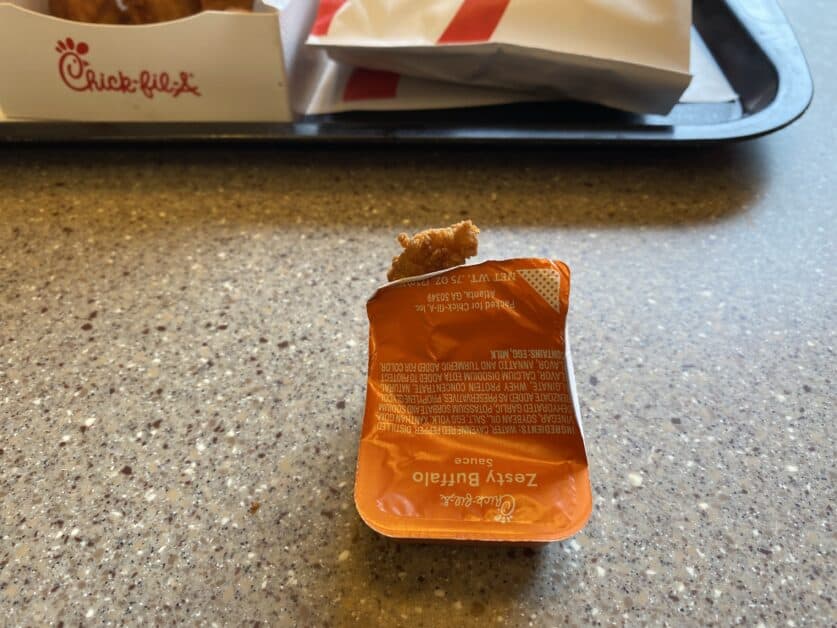 If you're a fan of Buffalo sauce, you'll probably like Chick-fil-A's version. The Zesty Buffalo sauce has a bold flavor that those who enjoy some spice will appreciate. It's also smooth and pairs well with chicken nuggets.
While this sauce is tasty, it's not as versatile as some of their other sauces. The heat may not be well suited for everyone, but anyone who likes regular Buffalo sauce will likely enjoy this version.
7. Garden Herb Ranch Sauce
Chick-fil-A's take on a classic ranch sauce adds fresh flavors to the mix. I noticed that what started as a creamy buttermilk sauce was accentuated with the flavors of garlic, onion, and herbs. If you love regular ranch, I'd recommend trying their Garden Herb Ranch sauce for a more amped-up flavor experience.
6. Honey Roasted BBQ
The Honey Roasted BBQ sauce is specially made for their grilled chicken, but it really goes well with any menu item. It has a sweet and smoky taste, which is a delicious take on barbeque. This sauce has been most closely compared to their signature Chick-fil-A sauce, but I found its smoky flavor shines through more without buttermilk.
5. Sweet and Spicy Sriracha Sauce
When it comes to the Sweet and Spicy Sriracha sauce, the name says it all. It has heat and a tasty sweetness, which are perfectly offset by a rice vinegar tang. This sauce pairs well with their nuggets and can be used to add a fun accent to your chicken sandwich. I loved the versatility of this sauce, which makes it a great choice for anyone who likes trying something new.
4. Barbeque Sauce
You can't go wrong with dipping your chicken in BBQ sauce, and Chick-fil-A made sure that their version was up to par. Seasoned with spices, onion, and garlic, this sauce has a rich and bold flavor that pairs great with chicken nuggets, chicken sandwiches, and pretty much anything on Chick-fil-A's menu.
Although the Barbeque sauce has all the classic staples, its unique flavor comes from the rich brown sugar and the fruity pineapple juice concentrate, which I was able to taste. It has a perfect balance of sweetness, smokiness, and spiciness to pair with your favorite meal.
3. Polynesian Sauce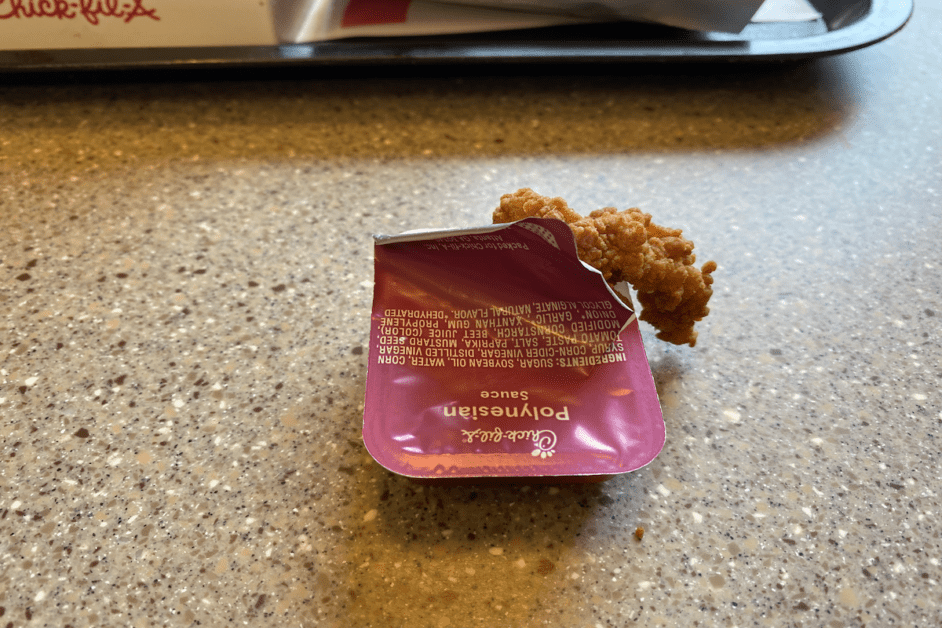 The Polynesian sauce is one of Chick-fil-A's most popular dipping sauces. It has a sweet and sour flavor that pairs wonderfully with any chicken item on their menu. I especially loved it with my chicken nuggets, but you can pair it with waffle fries or a chicken sandwich.
A combination of sugar and vinegar is used to create the unique flavor of this sauce. Although it's similar to other sweet and sour sauces, I found that it has a richness reminiscent of molasses.
It's also sold in 8 oz and 16 oz bottles at many grocery stores, making it a great option for pairing with shrimp, fish, or pork when cooking at home.
2. Honey Mustard Sauce
Honey Mustard has a way of enhancing the taste of any chicken dish, and I'm all about Chick-fil-A's Honey Mustard sauce. It has a forward flavor with a perfect balance of vinegar, spices, and sweet honey. If you're like me, you'll want to stash several packets of this sauce to dip your nuggets, waffle fries, and just about anything else you order from Chick-fil-A.
1. Chick-fil-A Sauce
The restaurant's signature sauce (and my favorite sauce at Chick-fil-A) is a combination of three popular flavors – Honey Mustard, Barbeque, and Ranch. A favorite since the 1980s, the recipe for the Chick-fil-A sauce was created accidentally and then reworked several times to get it right.
This sauce is creamy and sweet but also smoky with a bit of vinegar tang. It's unconventional yet tasty, and it pairs great with their chicken nuggets and waffle fries. When it comes to versatility, I just can't get enough of dipping my chicken nuggets and waffle fries in their creamy, signature Chick-fil-A sauce! If there's one dipping sauce you must try at Chick-fil-A, this is it!