Do Food Delivery Services Accept Cash?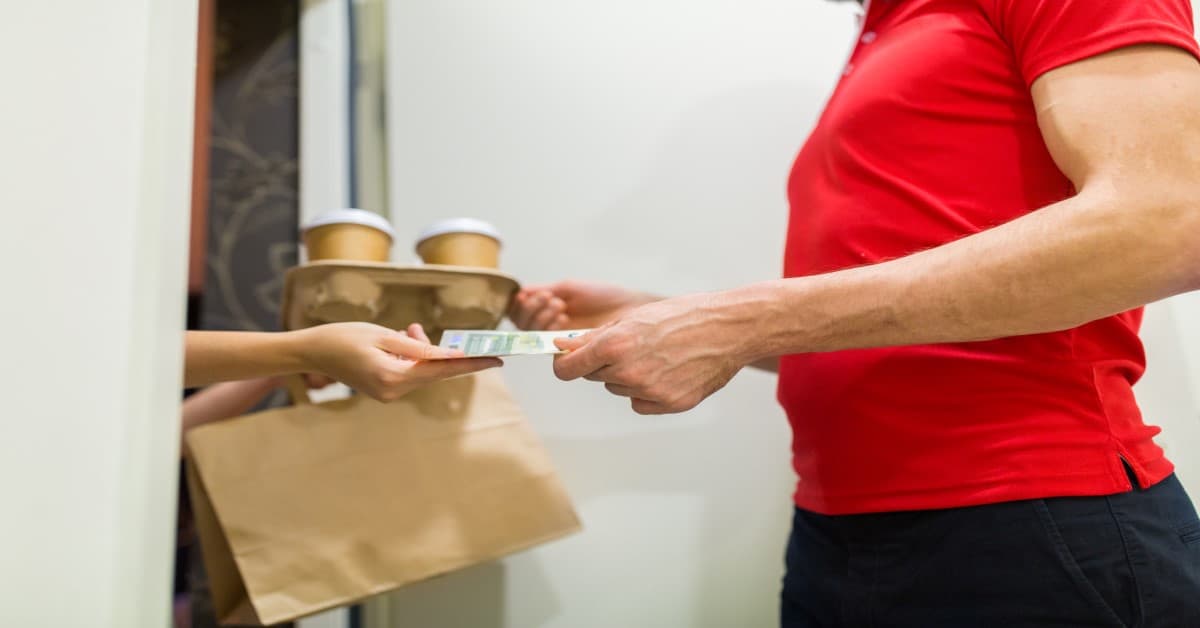 With food delivery services becoming wildly popular even before the COVID-19 pandemic, now more people than ever are signing on to use these convenient apps. Cash on delivery is a question of importance for many new customers and shoppers.
We have examined some of the most popular delivery services and can help put the question to rest. So, do food delivery services accept cash?
Not all food delivery services accept cash and, if they do, these provisions are based on the location or agreement with the restaurant. The cash payment acceptance depends on the food delivery service used, where it is used, and which restaurant you order from.
Below are the food delivery services we researched to find out if they accept cash payments.
Does DoorDash Accept Cash?
DoorDash accepts cash on delivery payments in addition to credit and debit cards. The delivery must meet the minimum order amount of $7.00. If the restaurant refuses cash payment, the customer will be notified that the order is rejected. Otherwise, DoorDash will notify drivers if the transaction is to be cash on delivery.
As the delivery driver, if you are uncomfortable with accepting a cash-only order, you have the option to refuse the delivery without being penalized. It is understood that many people are uncomfortable carrying cash, especially at night.
If you're a DoorDash driver and decide to accept a cash delivery, then the amount of cash received, minus the tip, will be deducted from your scheduled deposit. This process allows you to have cash on hand ahead of your next payment date.
Some restaurants do have the option to pay with cash, but not all of them do. If you don't see cash as a payment option is because the restaurant doesn't take cash payments and you will have to place the order using a credit or debit card.

— Grubhub Care (@Grubhub_Care) February 27, 2020
Does GrubHub Accept Cash?
GrubHub is one of the services that explicitly allows orders to be paid in cash. The app is free to use, unlike other membership-based apps.
Again, the cash-on-delivery feature depends on the restaurant's and driver's willingness to participate in a cash order. But this feature makes it an attractive option for many customers, if not necessarily for the delivery driver.
The reason most delivery services don't accept cash is that the restaurants they work with are leery of cash on delivery transactions.
In a similar fashion to most delivery services, the delivery driver can opt not to take the order if it is to be cash on delivery.  Again, this is for the driver's safety.  GrubHub accepts many alternative payment methods that you can check on their website.
Does Uber Eats Accept Cash?
Uber Eats is a branch of the ride-hailing service Uber and also has a cash-on-delivery option.  Of course, completing the transaction with cash depends on the restaurant and the driver. 
This did not use to be the case, however. Uber Eats' first test case began in other countries and then slowly branched out. The United States was one of the last regions to incorporate cash on delivery.
It's also worth mentioning that Uber Eats started delivering groceries in select locations. We covered this topic in a separate article, so if you'd like to find out more about Uber Eats grocery delivery, you should check out that article.
We are a cashless service, so sorry!

— Postmates Support (@Postmates_Help) March 20, 2019
Does Postmates Accept Cash?
Postmates does not accept cash on delivery from customers. Also, Postmates does not allow cash-only merchants into their system.
If an order to a cash-only merchant should slip through the system, their advice to drivers is to cancel the delivery via the "Support" screen.
Postmates doesn't recommend drivers accepting the order and paying with their own funds as that will entail going through the reimbursement process, which must be made within 48 hours of the transaction.
If you're a driver and the merchant demands cash payment, make sure to contact Postmates directly and let them know the merchant's name.
Does Seamless Accept Cash?
Seamless is another food delivery app that accepts a wide range of payment methods, including cash. As part of the GrubHub app, they run off the same system. Drivers may turn down a cash-only delivery if they feel it is unsafe to make the delivery.
The overall flexibility in accepted payment methods makes Seamless and GrubHub two popular delivery services.
Does Instacart Accept Cash?
Instacart does not accept cash payments from customers but will take many other payment methods, such as credit and debit cards.
Even though you can't pay for Instacart orders in cash at delivery time, you can still tip your driver in cash, which is always appreciated by drivers.
Does Shipt Accept Cash?
Shipt is another delivery service that does not accept cash-on-delivery. However, you can use cash to tip Shipt drivers to recognize their efforts.
Shipt monitors the retailers that require cash upfront and works around them. Similar to other delivery services, Shipt doesn't reimburse for gas or wear and tear to drivers.
Also, Shipt drivers are responsible for putting money aside for tax purposes since Shipt doesn't withhold any wages.
What Are the Benefits of Food Delivery Services?
We covered just a few of the many food delivery services that exist in this industry. As we have seen, the services vary in style and methods, yet all are very popular with drivers and customers.
In the world of COVID-19, having a personal shopper and getting food delivered is an essential perk for many people on many different levels.
After all, what is the service being sold here? It's simply convenience. And people are willing to pay a premium for a service that saves them valuable time, not to mention frustration.
With the ever-more efficient food delivery platforms, the ordering and delivery process will continue to become more efficient.
Millennials are by far the biggest market for food delivery services, with many ordering directly from their mobile phones or laptops.  This is followed closely by a growing number of non-tech-savvy older people who have heard about such services and find them extremely useful.
What Are the Benefits of Food Delivery Services for Drivers?
Many drivers who work for these delivery services find that the flexibility of the job is a great benefit.  It allows them to manage other responsibilities without having to work around a nine-to-five job. 
Another benefit described by many drivers is that it allows them to get out into the community and meet their neighbors.
Tips and freedom are also other major benefits for drivers. Though freedom may sound similar to flexibility, it actually means something quite different – that you can take time off at will to focus on other important things in your life or just relax and spend more time with loved ones.
Tips can be quite generous, and they are for drivers to keep. Granted that sometimes a customer may be somewhat ungenerous when it comes to tips, but most are fair.
Future of Food Delivery Services
There is no worry that food delivery services will disappear anytime soon. In fact, they are steadily gaining in popularity for several different reasons.
As mentioned previously, many people want to stay in their house or at least nearby. Other people find that not having to deal with traffic, inclement weather, or big crowds is definitely worth the price.
Restaurants are also finding out about the great benefits of partnering with food delivery services. One main benefit is being able to reach out to more customers and achieving brand recognition.
All of this means that with more satisfied customers, more new customers will be jumping on board and, not to be ignored, more opportunities for anyone willing to work as an on-demand delivery driver.
We might see advancements in technology on food delivery apps in the future to streamline the ordering process, such as voice recognition like Amazon's Alexa.
These apps might also integrate with customers' social media accounts and other smart devices like TVs or cars for a broader reach. In the end, the closer they are to customers, the more orders will flow in.
Summary
In this article, we covered the most popular food delivery services and if they accepted cash payments on delivery. We also explored the benefits of food delivery services for customers and drivers.
As the market grows, the payment and delivery options will surely adjust to meet the new requirements. And one reason that more food delivery services are entering the market is that the demand continues to grow over time. More customers and businesses are joining up every day to use online food delivery services.
If you are interested in finding out more about online food shopping, check out the related articles below:
Related Articles:
Can You Order Food With PayPal? (Yes, Here's How)
Can You Order Food With Venmo? (Yes, Here's How)
Does Uber Eats Deliver Groceries? (Yes, Here's Where)
DoorDash vs. GrubHub: Which Food Delivery Service Is Better?
Postmates Gift Cards: What to Know About Buying and Using Them