15 Best Trader Joe's Ice Creams, Ranked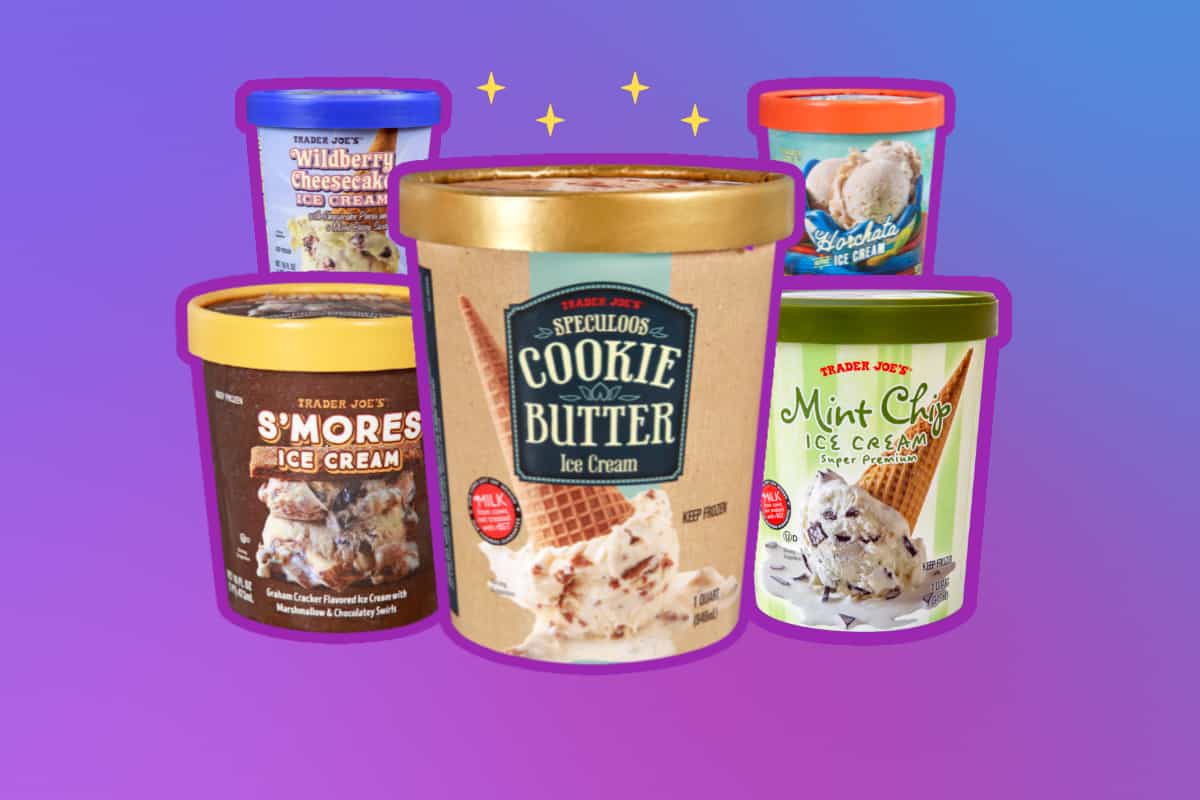 Mention grocery store frozen desserts and Trader Joe's ice cream is one of the first to pop into my mind. When it comes to incredibly rich, velvety texture and fun combinations, Trader Joe's ice cream flavors are hard to top.
Dozens of ice creams have come and gone from the Trader Joe's frozen desserts section, and almost all are delicious. But some flavors have stood the test of time and developed a cult following.
Here are the fifteen best Trader Joe's ice cream flavors I've tried and love the most. From vegan options to seasonal favorites, there's a lot to get through, so let's jump into it!
15. Black Tea and Boba Coconut Non-Dairy Frozen Dessert
The Black Tea and Boba Coconut ice cream is essentially boba tea in a frozen pint. From the refreshing, bold flavor of milky tea to the little pieces of chewy boba, the only difference between this treat and the real thing is the creamy texture of the ice cream base.
The base of this non-dairy dessert is coconut milk, which is responsible for that creamy texture that makes this stuff taste almost identical to real ice cream. There's a hint of coconut flavor in the base, of course, but also plenty of bold black tea and hints of brown sugar.
The amount of boba pearls added to this pint is generous, and each one has that super chewy, poppy texture and mildly sweet flavor that all boba fans (myself included) know and love.
14. Vegan Cookies & Cream Vanilla Bean Bon Bons
When it comes to dessert, I prefer the real deal with full dairy and all that jazz. But the boba dessert I just mentioned and this Trader Joe's ice cream are exceptions. They're incredibly creamy and rich without containing a drop of dairy.
The Cookies & Cream Vanilla Bean Bon Bons are little bonbons of ice cream surrounded by a chocolate coating.
The "ice cream" here is actually a non-dairy dessert made with frozen coconut milk and bits of chocolate and vanilla sandwich cookies to round off the cookies and cream flavor. So, if you love Trader Joe's famous Joe-Joe cookies, you need to give this dessert a try.
The chocolate enrobing the ice cream has a rich chocolate flavor and a satisfying crack as you bite into it. Despite being made with coconut milk, there's not a strong coconut flavor from these bon bons, and they do taste and feel very similar to regular ice cream.
13. Salted Maple Ice Cream
Nothing good lasts forever, which is probably why Trader Joe's Salted Maple ice cream is only available during the autumn/winter season. But that means we have to stock up while we can so that this salty and sweet combo can be enjoyed year-round.
Real maple syrup is the main ingredient in this ice cream, and it has a complex flavor profile with vanilla and caramel notes. This translates beautifully into the thick, decadent texture of the ice cream itself.
There's also a dash of sea salt to bring out that sweet maple flavor and round out the sweet and salty profile everyone loves around the holiday season.
You will also taste salted maple swirl throughout this pint, which is similar to salted caramel but with a bit more complexity. Think of this entire flavor as a newer, hipped version of the classic salted caramel ice cream.
12. Fudgy Cookie Dough Ice Cream
Another Trader Joe's ice cream only available during certain times of the year, the Fudgy Cookie Dough, is your classic cookie dough ice cream but kicked up a notch.
It starts with a rich, creamy vanilla base studded with chunks of chocolate chip cookie dough and plenty of chocolate chips.
This would be a great combination on its own, but what really brings this ice cream to the next level is the sea salt fudge swirl. It's a super rich, thick ripple of chocolate that's only amplified by the dash of sea salt.
For a classic ice cream flavor with a slightly salty twist, TJ's Fudgy Cookie Dough is the way to go. Fingers crossed, it's available again soon!
11. Mint Chip Ice Cream
Trader Joe's Mint Chip ice cream is part of their "super premium" line. What exactly does this mean besides that the ice cream is, well, super premium?
According to Trader Joe's, their super premium ice cream contains less than 50% overrun, or the amount of air mixed into the ice cream at the end of production.
Accompanying the super creamy, velvety texture of this pint is a cool, natural peppermint flavor and chunks of chocolate chip.
There's no fake food coloring here to give the ice cream its iconic green hue, and I don't miss it at all. There's only a handful of non-sketchy ingredients in this pint.
10. Coffee Bean Blast Ice Cream
Like the Mint Chip ice cream, Trader Joe's Coffee Bean Blast flavor contains less than 50% overrun and is considered super premium ice cream. This makes for a super thick, creamy, and dense (in a good way) pint of ice cream.
The flavor here is coffee, but it's real coffee. The bold, intense, and strong coffee flavor comes from the brewed Colombian coffee and bits of ground French Roast Colombian coffee beans in the ingredient list.
So, instead of a vanilla ice cream with just a weak hint of coffee flavor, this ice cream tastes like an iced latte in ice cream form.
9. Caramel Apple Mochi
If you've never tried mochi, it's a Japanese dessert made with little orbs of ice cream that are wrapped in chewy pounded rice dough. Trader Joe's has come out with many versions of this treat over the years, from chocolate peanut butter to ube to green tea.
One of their newer seasonal flavors, and my personal favorite of all their mochi offerings, is the Caramel Apple Mochi.
The ice cream inside the rice dough has a sweet caramel flavor that features apple puree, apple juice concentrate, and natural caramel and apple flavors. The rice dough around it has a sweet, simple flavor and a perfectly chewy texture.
Pro tip: Allow your mochi to defrost on the counter for a few minutes before eating. I know it's tempting to eat them straight out of the freezer, but the texture is much better after just a couple of minutes of defrosting.
8. Chocolate Chip Hold the Cone
Whether you're a frequent Trader Joe's shopper or only visit occasionally, chances are you've heard of their "Hold the Cone" desserts. These are mini ice cream cones that can be eaten in three to five bites, depending on how ambitious you're feeling.
All "Hold the Cone " flavors feature a sugar cone lined with chocolate, ice cream, and a chocolate topping enveloping the ice cream scoop on top.
Just like mochi, Trader Joe's has released several Hold the Cone flavors, from seasonal favorites like peppermint and pumpkin ginger to classics like vanilla and chocolate.
My personal favorite is the Chocolate Chip. These cones feature a chocolate cone with chocolate lining, a vanilla ice cream studded with chocolate chips, and the same chocolate coating on top of said vanilla ice cream.
It's a simple, sweet treat with lots of chocolate vanilla flavor and tons of texture. I've yet to come across someone that doesn't love this dessert!
7. Pumpkin Ice Cream
Pumpkin is another Trader Joe's ice cream that earned the "super premium" title thanks to its impressive 25% overrun, which is the amount of air whipped into the ice cream. This makes for an incredibly rich and dense ice cream.
The pumpkin flavor here is front and center. It's made with plenty of pumpkin puree for that natural pumpkin flavor, along with a blend of warming spices from cinnamon and nutmeg to clove and ginger.
There's no shortage of spices in this ice cream, and the pumpkin flavor is genuine, which makes it different from most other pumpkin ice creams on the market.
6. Sublime Ice Cream Sandwiches
Most of us are lucky enough to call Chipwiches a staple dessert of our childhood. Two chocolate chip cookies with a scoop of vanilla ice cream inside, whose sides are then rolled in mini chocolate chips. What more can a child (or adult, for that matter) ask for?

Of course, Trader Joe's has their own delicious take on this classic dessert. Theirs is made with two chewy chocolate chip cookies, a generous scoop of vanilla ice cream, and tons of mini semisweet chocolate chips lining the vanilla ice cream.
This Trader Joe's ice cream is just like the Chipwiches of decades past, but a little bit better. The cookies are fresher and chewier, the ice cream is creamier, and the chocolate chips are delightfully crunchy and chocolatey without being overly sweet.
5. Wildberry Cheesecake Ice Cream
Berries and cream are a combination made in flavor heaven. Make that cream a tangy, rich cream cheese, and make the berries fresh, juicy summer berries – now we're talking!
The Wildberry Cheesecake is one of the best Trader Joe's ice creams of all time. It has a velvety, sweet cream flavored ice cream base with a tart mixed berry swirl and chunks of cheesecake sprinkled throughout.
The mixed berry swirl is made with strawberry, blueberry, elderberry, raspberry, and blackberry, meaning you're in for sweet, tart, and incredibly fresh flavors.
My favorite part of this ice cream is those little chunks of cheesecake, and there are a lot of them, which I appreciate. They add a little extra richness and bring some tang to cut through the sweet cream ice cream and berry swirl.
Heartbreakingly, this is another one of those Trader Joe's ice creams only available during certain times of the year. In this case, it's only available during the summer months.
4. Horchata Ice Cream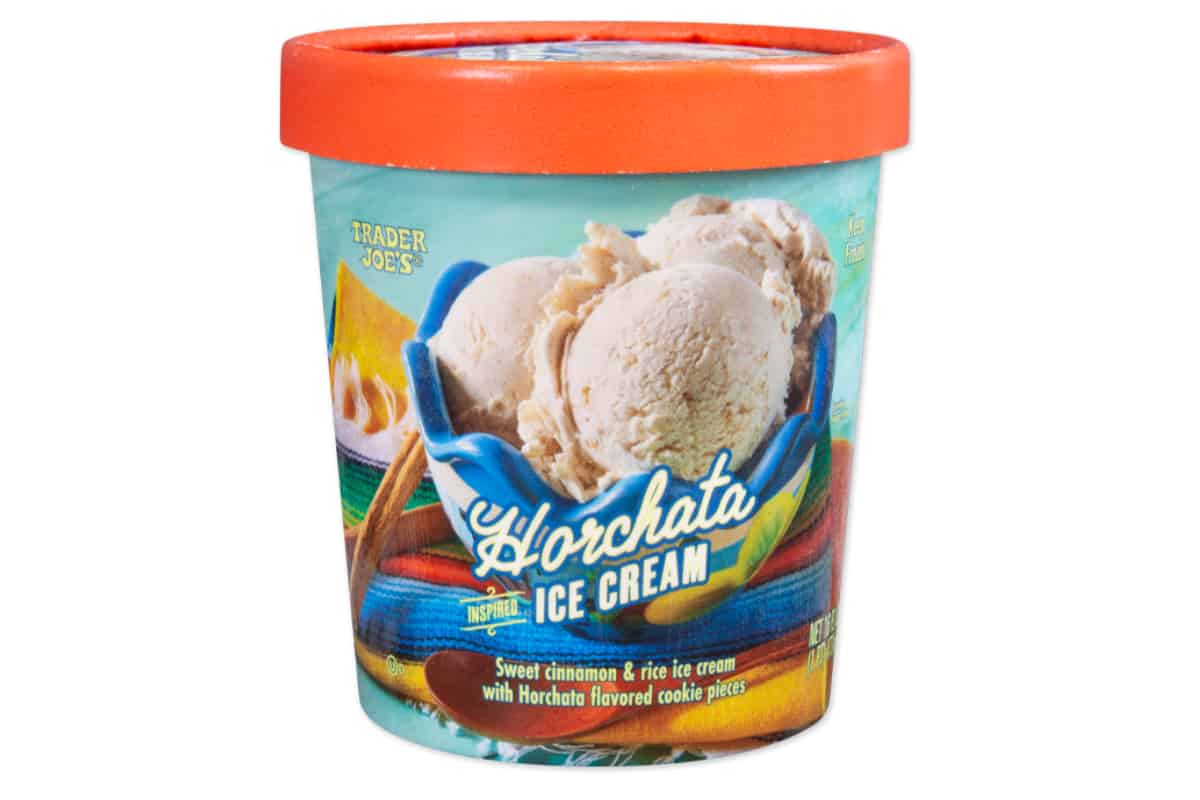 Another summer exclusive, Trader Joe's Horchata ice cream, exploded onto the scene in the summer of 2022, garnering a cult following pretty much instantly. Try just a bite of this flavor, and you'll see why.
Horchata is a Latin American beverage made with rice, cinnamon, and milk for a creamy, comforting drink that can be served hot or cold. Trader Joe's took the treat one step further by turning it into ice cream.
Its base includes cinnamon and brown rice flour to bring in that classic horchata flavor. There are little pieces of horchata-flavored cookie swirled throughout, adding a nice little crunch and bringing in just a smidge more horchata-y, cinnamony goodness.
3. Ube Ice Cream
Ube is a purple yam that hails from the Philippines. It has been a popular dessert flavor for a while in the Philippines, but its popularity has exploded worldwide.
Besides its gorgeous hue, ube's flavor is unforgettable and lends itself beautifully to a creamy, velvety ice cream base. To me, it tastes like a more complex version of vanilla. It also has the tiniest bit of coconut flavor, but it's mostly a nutty vanilla.
Even if you're not the most adventurous eater, there's a good chance you'll enjoy this pint. Ube is one of Trader Joe's ice cream flavors only released during the summer, so you won't find this pint in stores year-round.
2. S'Mores Ice Cream
Of course, this is yet another Trader Joe's ice cream only available in the summer. But don't despair – I promise it's worth the wait!
While most s'mores ice creams have a marshmallow flavored base, this one has a graham cracker base, which is unique and utterly delicious.
The graham ice cream would be perfectly fine on its own, but we all know Trader Joe's can never stop at "perfectly fine." The ante is upped with swirls of chocolate, gobs of marshmallows, and just a dash of sea salt to round out all that sweetness.
The toasty graham cracker base is such a fun and different flavor than I'm used to. I've also had good luck with the amount of mix-ins I got every time I've bought a pint of this ice cream.
The marshmallow flavor comes from a swirl rather than from bits of marshmallow, which I think is much better for the texture of the pint overall. The chocolate swirl is fudgy and rich, adding just enough chocolate to make this flavor taste pretty much identical to a s'more.
1. Speculoos Cookie Butter Ice Cream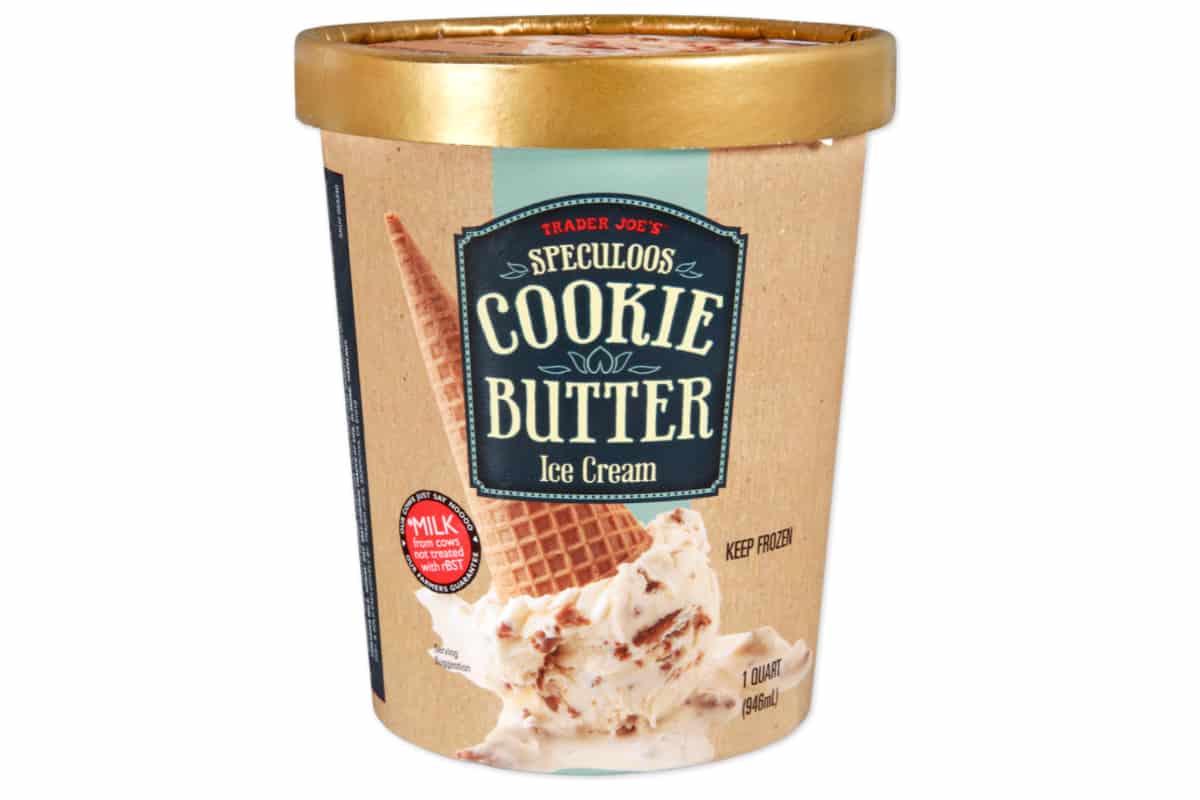 Finally! A really good Trader Joe's ice cream that's available all year round. It's not just good ice cream, though; I find it to be the best Trader Joe's ice cream!
The Speculoos Cookie Butter ice cream is made with and inspired by Speculoos cookies. These cookies originate from Belgium and are spiced shortbread cookies that contain warming spices like cinnamon, nutmeg, and clove. If you love gingerbread or pumpkin spice, these cookies will be right up your alley.
The base of this dessert is an ultra-creamy vanilla, which is truly one of the most velvety, smooth ice creams I've ever tried.
There are bits of cookies throughout, which add a nice crunch and some grainy texture. The grainy texture might not sound the most appealing, but it works with this combination of flavors and textures.
The best part of the pint, though, is the cookie butter swirl. It's the same cookie butter that Trader Joe's is famous for, so you know you're in for an incredibly rich, creamy spread. It has a crunch to it when you first bite since it's frozen, but it immediately melts in your mouth afterward.
A little crunch, a lot of smoothness, classic vanilla flavors, and some cozy, warm spices. There's nothing more I could want in an ice cream.
This is truly the best of the best ice cream at Trader Joe's, along with being one of my favorite ice creams of all time.