Trader Joe's Dessert Nirvana: 15 Must-Try Sweet Treats for Every Mood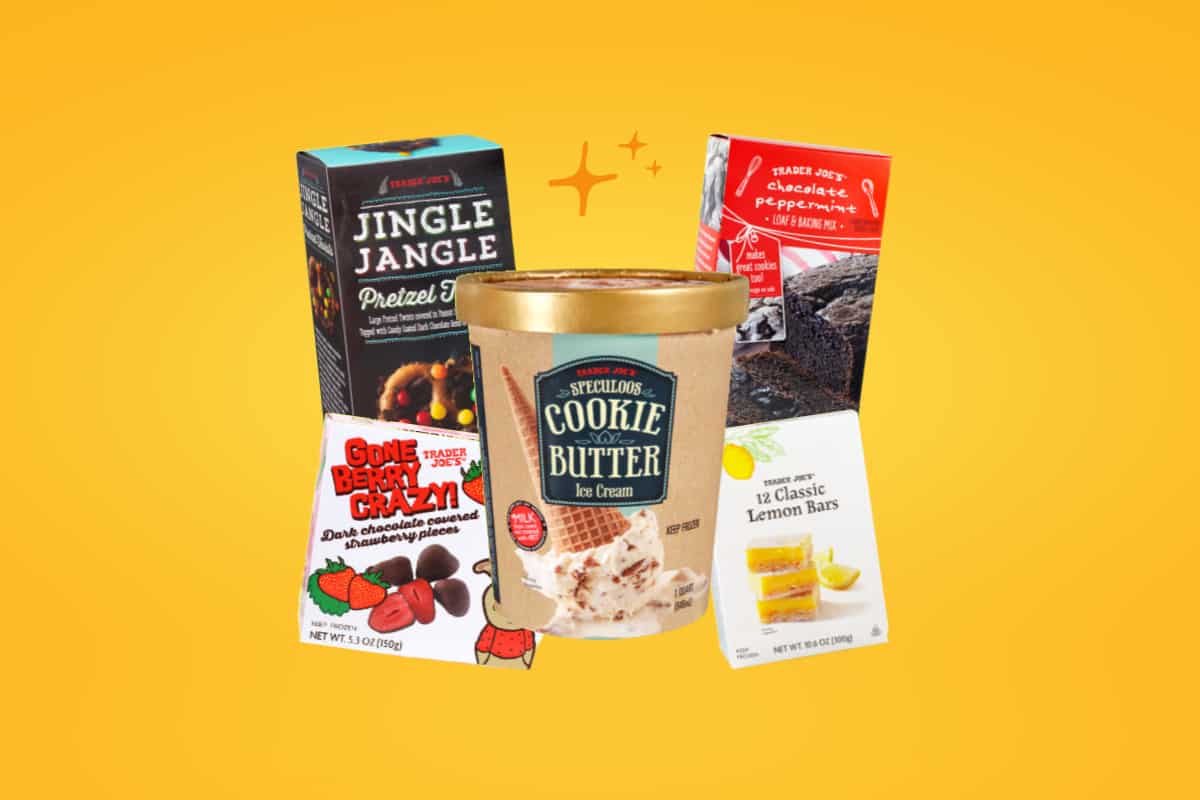 Whether you're happy, sad, angry, or exhausted, I'm of the firm belief that there's a Trader Joe's dessert for every mood. A quick peruse of their frozen aisle or bakery section will reveal plenty of sweet treats that will only improve your situation.
Which Trader Joe's desserts do I recommend? Well, it really depends on how you're feeling. So, I've compiled the best Trader Joe's desserts for every mood you may find yourself in. Let's dig in!
1. When You Need Coziness: Pumpkin Sticky Toffee Cakes
The Pumpkin Sticky Toffee Cakes are a seasonal Trader Joe's dessert only available in fall and winter. These cakes are the ultimate cozy treats that pair really well with a chunky blanket and a candle.
Each mini Bundt cake boasts a super pumpkin-y flavor, along with notes of sweet dates and brown sugar. The cake is then covered in a sticky caramel sauce that soaks into the cake for an incredibly moist bite.
The cake itself is seasoned with autumnal spices like cinnamon and clove, significantly upping the coziness factor. Pop one of these in the microwave, and you'll have what tastes like a fresh-from-the-oven cake within seconds.
2. When You Want Some Variety: A Dozen Sweet Bites
When dessert time rolls around, there are so many fun flavors to choose from, and it may be hard to decide which to go with. Luckily, you don't have to choose with this Trader Joe's dessert.

"A Dozen Sweet Bites" is a variety of miniature bite-sized cakes. There are three different flavors, each with unique elements and textures.
The first flavor is Chocolate and Coffee "Opera" Cake, which is a sponge cake soaked in coffee flavor along with layers of ganache and a thin layer of chocolate on top.
The second cake is a Raspberry Macaron Aux Framboises Cake, which has a creamy vanilla center with macaron-like pieces on the outside and raspberry jelly inside.
Finally, there's a Caramel and Chocolate Cake with a mousse-like caramel layer on top and a brownie-esque chocolate cake below.
Having one of these will give you a little kick of caffeine, a little chocolate, and even a bit of fruit flavor. Variety is the spice of life, as they say!
3. When You're in the Mood for Summertime: Lemon Bars
When it's the dead of winter, and you're craving some sunshine, look no further than the Trader Joe's dessert aisle. The Lemon Bars will transport you to warmer, brighter days with their zesty, citrus-forward flavor.
There are twelve lemon bars in each box, and each bar has two main components – a creamy, soft lemon layer with quite a pucker to it and a buttery, crumbly shortbread base.
The vanilla flavor brings some sweetness to mellow out the sour lemon flavor, so it's not overpowering. The velvety, creamy top layer perfectly contrasts the crumbly, tender shortbread below.
4. When You Want Something Light: Gone Berry Crazy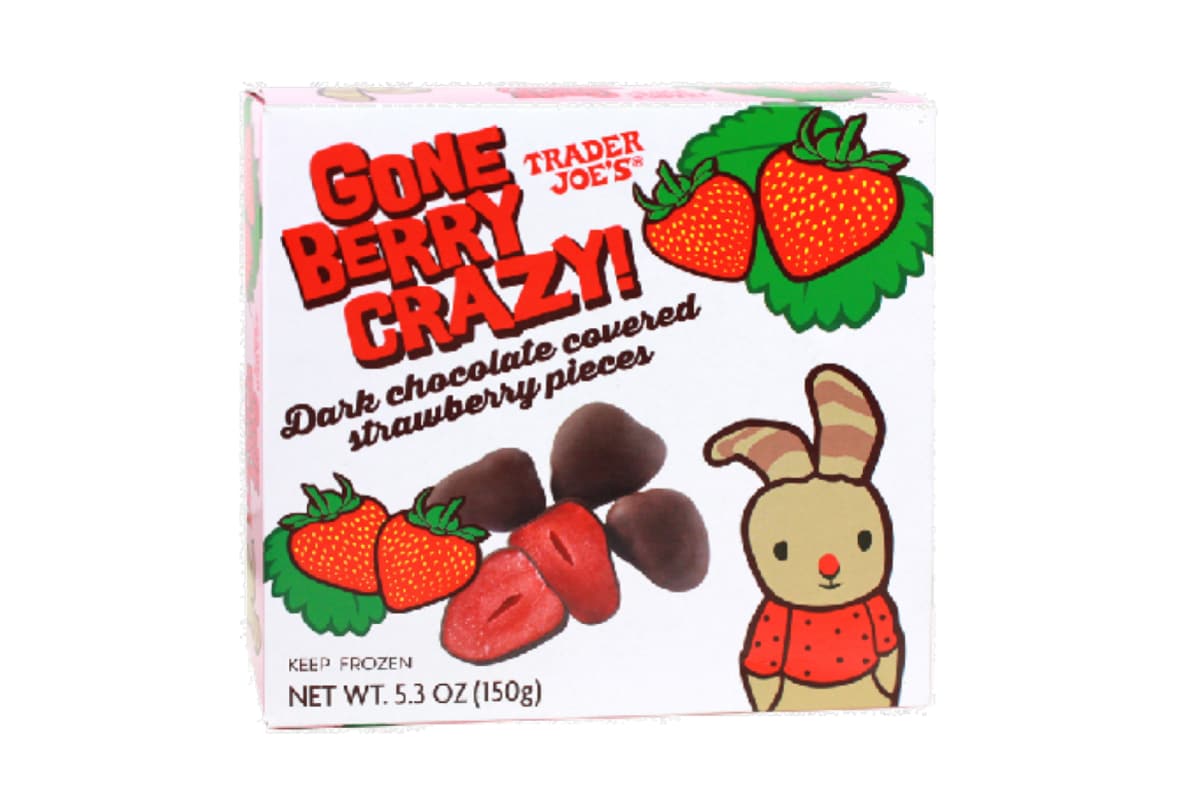 The Gone Berry Crazy is one of the tastiest desserts at Trader Joe's. It's as simple as it can be – just strawberries covered in dark chocolate. But the simplicity and lightness is what makes this dessert so outstanding.
I've probably bought dozens of boxes throughout the years, and the strawberries are consistently fresh, juicy, and super sweet.
The dark chocolate isn't very sweet, which creates the perfect contrast to the strawberry it envelops. The chocolate also gives this dessert a nice crunch as you bite into it.
5. When You're Feeling Indecisive: Brookie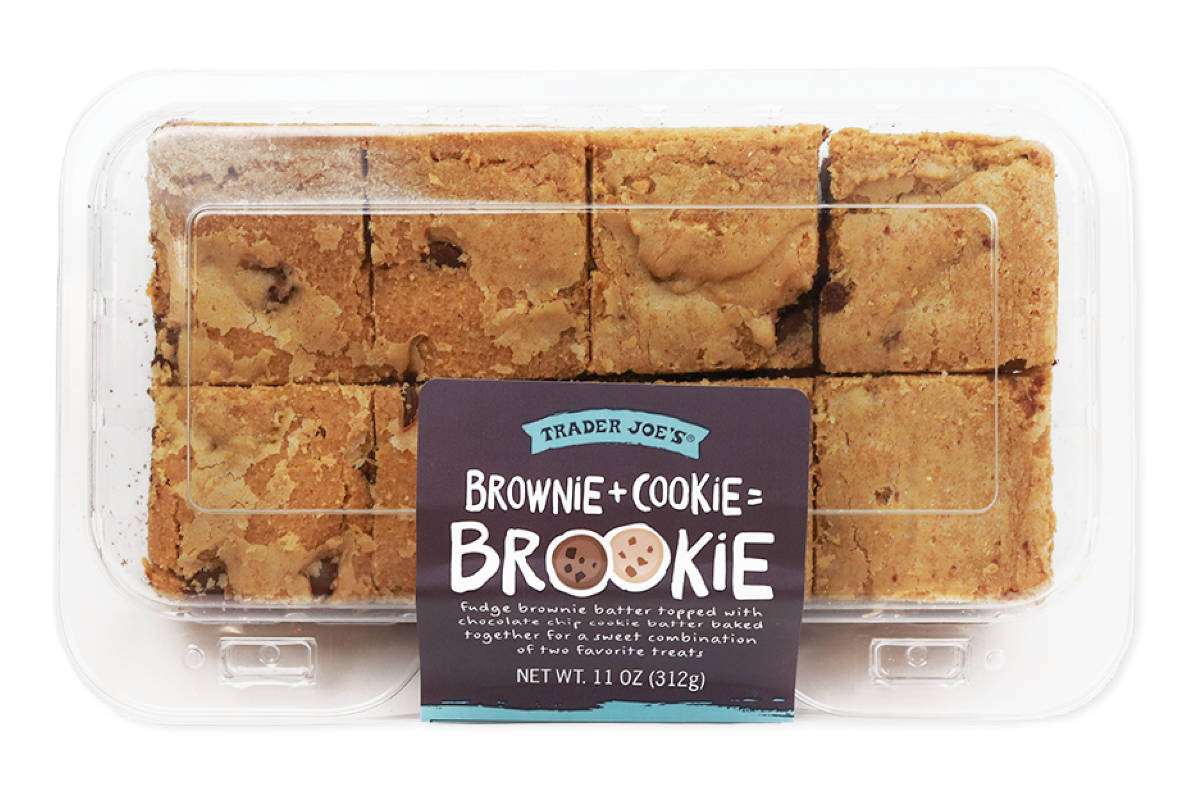 Brownies and cookies are two of the most popular baked goods of all time, so combining the two can only bring delicious results, right? The mix of chocolatey, fudgy brownies and buttery chocolate chip cookies is a match made in dessert heaven.
Trader Joe's Brookies are perfect when you can't decide which sweet you're in the mood for. The top is a chewy, brown sugar-heavy chocolate chip cookie, and the bottom is a fudgy brownie.
Pull it apart and eat each half separately, or eat them together – your choice! Either way, you're in for a double whammy of classic dessert decadence.
6. When You're in the Mood for Something Homemade: Apple Blossoms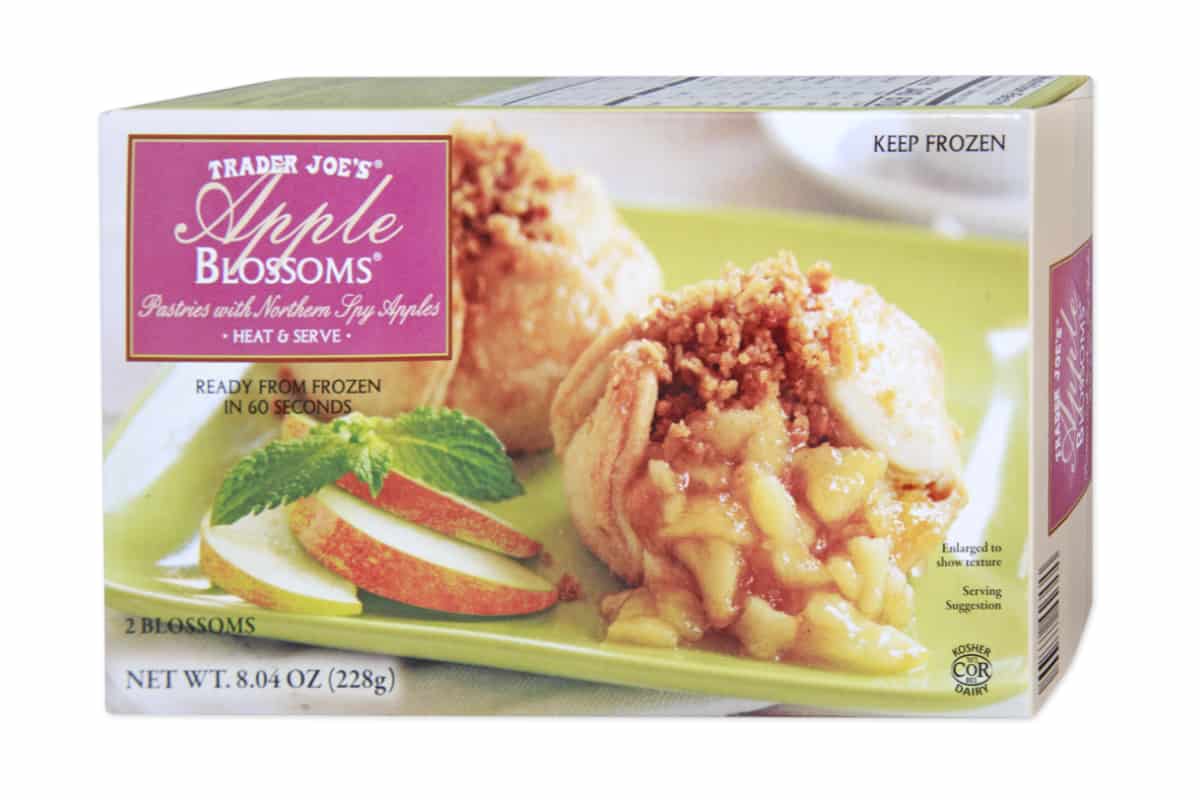 Nothing beats a homemade dessert. But sometimes, you simply don't have the time to gather ingredients, measure them, mix them together, and wait for your creation to bake. That's when you need something "almost" homemade, and when that homemade craving strikes, look no further than Trader Joe's Apple Blossoms.
Each pastry is made with a flaky dough reminiscent of pie crust, which is filled with gooey cooked apples and topped with a cinnamon crumble. The contrast between the soft apple mixture inside and the crispy, crunchy pastry dough on the outside makes for a satisfying bite.
This is the type of dessert that could easily pass as homemade, thanks to its rustic looks and cozy flavors.
7. When You're Looking for Something Quick: Milk Chocolate Peanut Butter Cups
There's always room for dessert, but unfortunately, there's not always time for it. When you're in the mood for something sweet but also in a pinch for time, grab a handful of Trader Joe's Milk Chocolate Peanut Butter Cups.
These little guys are just as delicious as Reese's Cups, with super rich milk chocolate on the outside and creamy peanut butter inside. The peanut butter has a surprisingly natural taste, with just enough salt to bring out that milk chocolate flavor even more.
I love putting these in the fridge and eating them chilled for dessert, but they're also ideal for throwing a few in a baggie and eating them as you run errands.
8. When You're Craving a Sweet & Salty Combo: Jingle Jangle Pretzel Twists
There's nothing I love more in a dessert than a few dashes of salt. It amplifies all the other flavors and brings a lovely contrast to whatever sugary dessert you're eating. If you also love a salty-sweet combo, Trader Joe's Jingle Jangle Pretzel Twists are a must-try.
These seasonal treats are mini pretzels covered in a handful of sweet treats. There's a peanut butter candy coating around each pretzel, which is then covered in mini rainbow chocolate candies and pieces of crushed Joe-Joe's cookies.
Besides the crunchy textures you'll experience with every bite, this dessert strikes the perfect balance between salty and sweet. The pretzels and peanut butter bring the salt, while the cookies and chocolate candies even things out in the sugar department.
9. When You're in the Holiday Spirit: Chocolate Peppermint Loaf & Baking Mix
No flavor screams, "The holidays are here!" quite like peppermint does. Of course, a close runner-up is the dark chocolate flavor, so it's a no-brainer for Trader Joe's to come up with the Chocolate Peppermint Loaf & Baking Mix. This is one of the only desserts on our list that isn't completely premade, but it's worth the extra effort.
Once you've mixed your minimal ingredients and popped your loaf in the oven, you'll get a moist, super chocolatey cake that's rich and fluffy at the same time. There's the perfect amount of peppermint flavor in this loaf. It's similar to a Thin Mint, with just enough mint to taste like the holidays but not so much that it overpowers the chocolate.
When I've baked this in the past, I've made it into a loaf and muffins. I recommend making the loaf and topping it with a light sprinkle of powdered sugar. Eating a slice in the wintertime always puts me in the holiday spirit!
10. When You're Feeling Adventurous: Ube Ice Cream
Trader Joe's Ube Ice Cream has a cult following, but its purple hue can seem a bit shocking if you've never tried something ube-flavored before. If you're up for a switch away from popular ice cream flavors like vanilla and chocolate, ube ice cream won't disappoint.
Despite its super bright coloring, ube is a purple yam with the same sweet flavor as orange yams. This ice cream is super creamy, rich, and velvety, but the flavor is where it really stands out. It's similar to vanilla but with some nutty notes and a hint of coconut.
If you enjoy the flavor of vanilla and sweet potatoes, there's a good chance you'll enjoy the Ube ice cream. This is a Trader Joe's seasonal dessert, so unfortunately, it's only available in the summertime.
11. When You're Feeling Nostalgic: S'Mores Ice Cream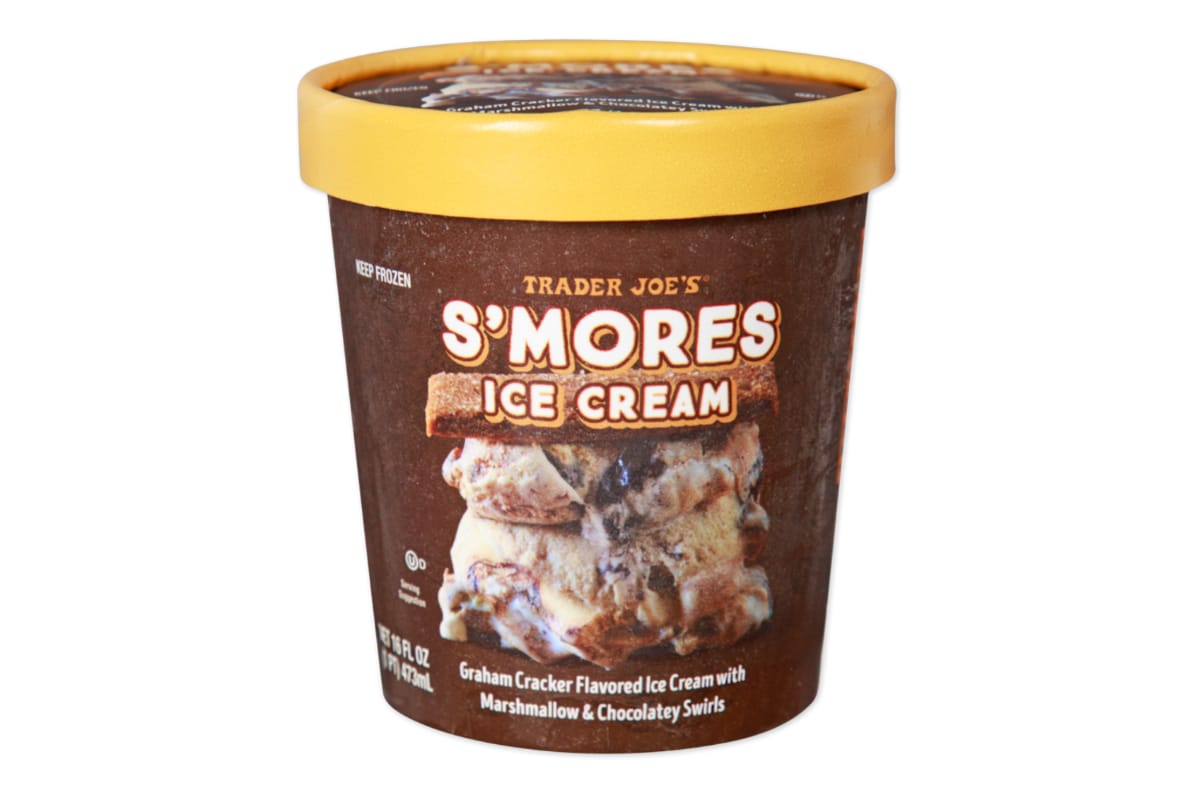 When I think of my favorite childhood desserts, s'mores are one of the first to come to mind. The mix of toasty, crunchy graham crackers with rich chocolate and sweet, gooey marshmallow is a combination I'll never be too old for.

When you're craving something from childhood but don't have a bonfire on hand to roast marshmallows, I recommend turning to one of Trader Joe's ice cream flavors – specifically, their S'Mores Ice Cream.
This ice cream has a toasty graham cracker base with swirls of chocolate and marshmallow. There's also just a dash of salt added to the mixture, which brings out the fudgy chocolate and sweet marshmallow even more. This is one of my favorite Trader Joe's ice creams of all time!
12. When You're Feeling Indulgent: Chocolate & Peanut Butter Joe-Joe's
The best word to describe this Trader Joe's dessert is "indulgent." The Chocolate & Peanut Butter Joe-Joe's begin with two cocoa-flavored cookies. Inside, you'll find a creamy peanut butter filling. But, of course, it doesn't stop there.
Each Joe-Joe is dipped in a creamy, rich peanut butter coating before being drizzled with chocolate. So, there's peanut butter coming at you from all angles here, and there's plenty of chocolate, too. The darker cocoa flavor mixed with salty, creamy peanut butter makes for a cookie that's crunchy, creamy, and indulgent.
13. When You're in the Mood for a Classic Dessert: Super Chocolatey Chocolate Chunk Cookie Dough
Sometimes, you just need to go back to basics. Trader Joe's take on the classic cookie is everything you love about chocolate chip cookies but taken to a whole new level.
According to Trader Joe's, chocolate makes up over 25% of this recipe, so each cookie is jam-packed with semisweet chocolate chunks.
The dough has a beautiful brown sugar buttery flavor, and the dash of sea salt brings out the butter and sugar even more. These cookies only require a quick trip to the oven and come out with crisp edges and a delightfully gooey center.
14. When You Need a Pick-Me-Up: Sea Salt Brownie Bites
Sometimes, a sweet treat can help clear your mind and lift your spirit. Next time you need a pick-me-up, try one of Trader Joe's Sea Salt Brownie Bites.
These brownies taste really good. They have a rich, fudgy flavor and are filled with chocolate chips for some crunch. Each brownie is topped with a dash of sea salt, which amplifies the rich, dark cocoa flavor. If you love a chewy, dense brownie, pick up a pack of these and have one to boost your mood.
15. When You Want the Best of the Best: Speculoos Cookie Butter Ice Cream
Not only is this my favorite ice cream at Trader Joe's, but I also think it's the best Trader Joe's dessert of all time! If you want to taste the best of the best, look no further than the Speculoos Cookie Butter Ice Cream.
This ice cream is inspired by Speculoos cookies, which are a crunchy shortbread that features warm spices like clove, cinnamon, and nutmeg. They have a flavor profile similar to gingerbread, and the spices bring a holiday feel to the cookies.
The base of the ice cream is a smooth, ultra-creamy vanilla. The pint is packed with bits of Speculoos cookies and a rich cookie butter swirl. The swirl is made with Trader Joe's famous cookie butter, which is incredibly creamy with a peanut butter-like consistency but with that classic, warm Speculoos cookie flavor.
From the cookie butter to the ice cream itself, the vast majority of this dessert is incredibly creamy, but the bits of cookies provide the perfect little crunch to finish what I think is a perfect dessert.