The 20 Best Trader Joe's Snacks for Every Occasion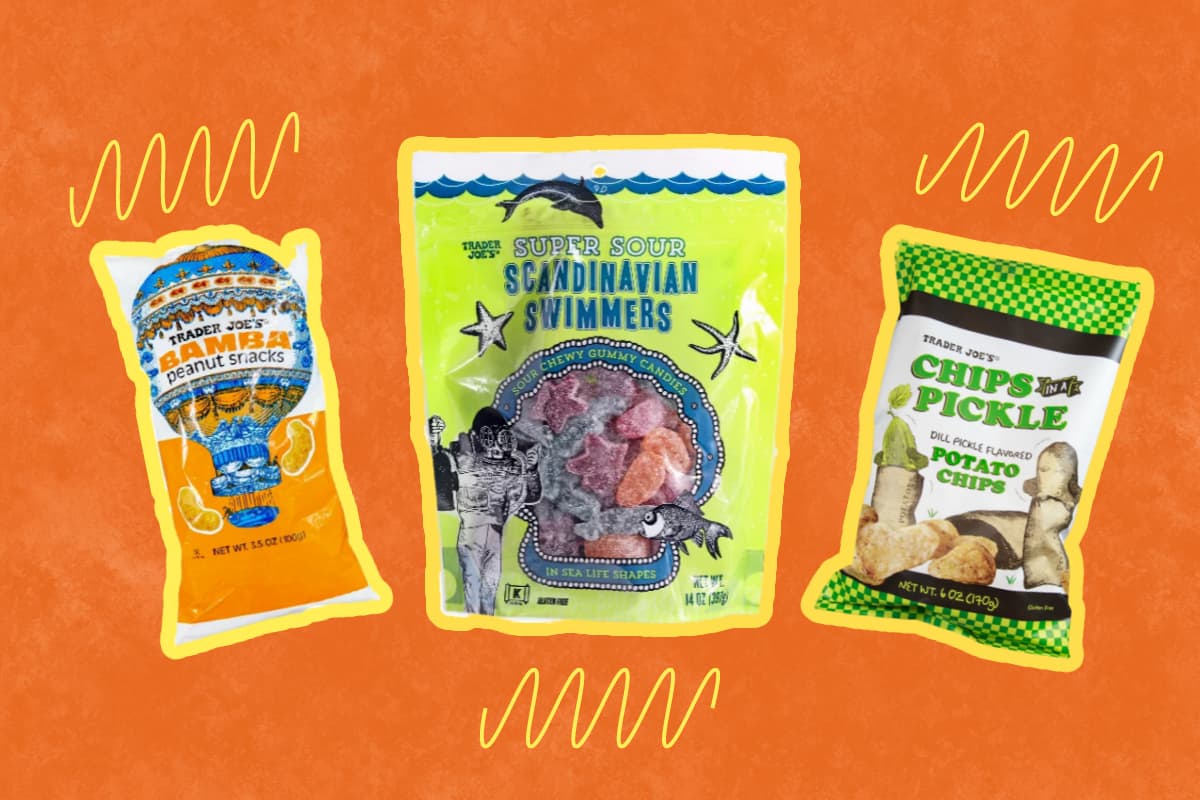 Trader Joe's is known for its huge assortment of delicious snack items. From pretzels and tortilla chips to cult-favorite Mac and Cheese Bites, Trader Joe's snacks are perfect for any occasion.
There are so many great options on the shelves, and TJ's releases new snacks every season. Let's be honest, it's hard to keep up with it all. That's why I compiled a list of the best Trader Joe's snacks I've tried for pretty much every occasion.
From camping to hiking to date nights, use this guide as a shopping list for all the events that life throws your way.
1. For Parties: Organic Elote Corn Chip Dippers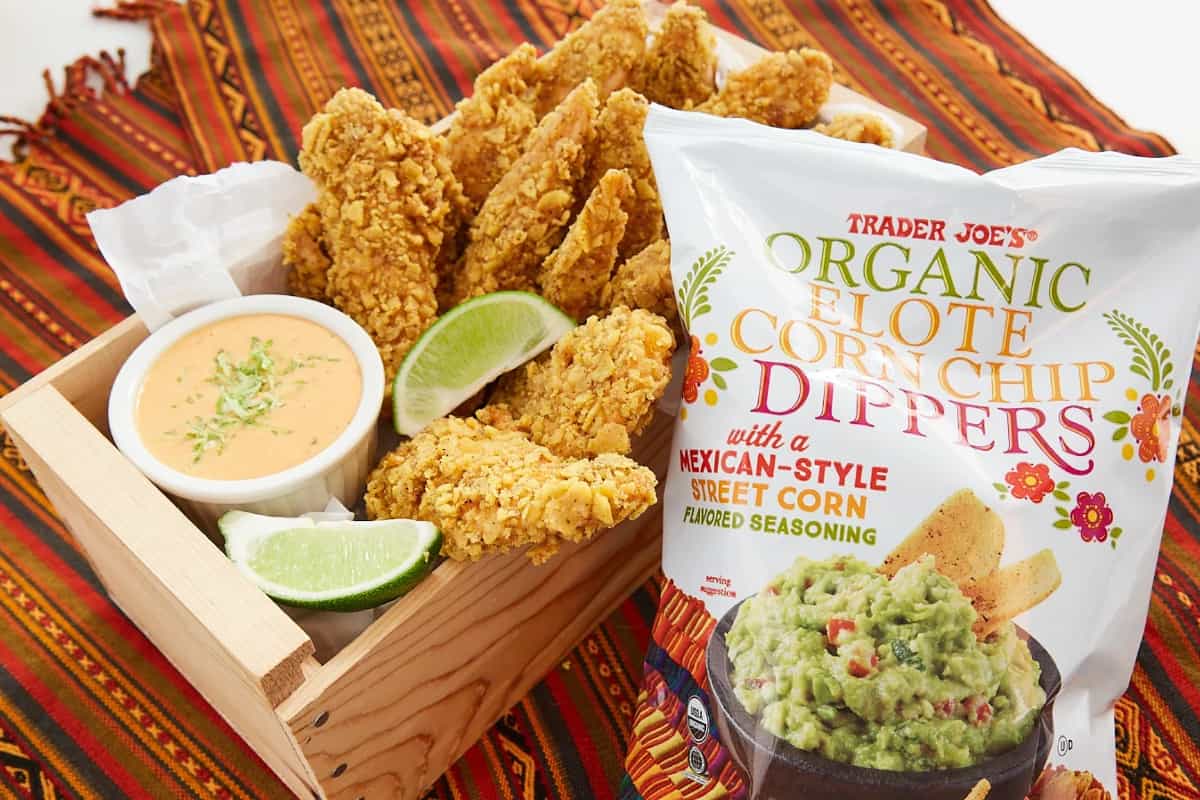 Party snacks need to be three things: portable, delicious, and not too messy. Trader Joe's Organic Elote Corn Chip Dippers fit the bill in all three categories (especially the "delicious" one).
These chips are thicker than your average tortilla chip and have a curved shape for optimal scooping. Not that you need to use dip on these bad boys – they're just as good as is.
With chipotle, salt, sugar, buttermilk, and a dash of habanero, they have enough flavor to stand on their own.
Thanks to the chipotle and habanero, these chips are just spicy enough but not so spicy that the spice-averse guests at your party won't enjoy them.
Everyone knows that chips and dip are the ultimate party food, and Trader Joe's Elote Corn Chip Dippers pretty much eliminate the need for the dip thanks to their bold, zesty flavor.
Plus, no dip equals less spills to clean up after the party is over. It's a win-win!
2. For Camping: Mini (Almost) Everything Bagel Sandwich Crackers
Choosing a s'mores-inspired snack would be too obvious for this occasion. Sure, they're one of the first foods I think of eating when I go camping, but what I really crave when I'm out in those woods after a long day of hiking and setting up a tent is something salty.
That's where Trader Joe's Mini (Almost) Everything Bagel Sandwich Crackers come in. These tiny little sandwich crackers are similar to those Ritz cheese cracker sandwiches from years past.
They have a creamy and tangy cream cheese filling sandwiched between two crackers dotted with poppy seeds, dried garlic, onion, and salt. These don't taste identical to an everything bagel, but TJ's gets pretty darn close.
The tang from the cream cheese filling and the nutty, savory flavor from the cracker make for a satisfying, salty bite.
Throw these in your bag with the rest of your camping equipment, and pull them out when you need something salty in the great outdoors.
Just be sure to keep these far away from your tent when you sleep, just in case bears enjoy everything bagel seasoning. (Could you blame 'em if they do?)
3. For College: Super Sour Scandinavian Swimmers
This Trader Joe's snack is extra nostalgic for me. I started shopping at Trader Joe's in college, and their Scandinavian Swimmers were one of my first finds, and I've loved them ever since.
Scandinavian Swimmers are basically Swedish Fish but in different shapes, colors, and flavors. As you probably can guess from the name, the Super Sour Scandinavian Swimmers are like their predecessors but have a sour coating on the outside.
The four sea creatures inside each bag are starfish (red berry flavored), dolphins (huckleberry flavored), tang fish (orange flavored), and clam shells (strawberry flavored).
This is the perfect snack to pack in a baggie and eat on your walk to your next class or to keep by your desk to treat yourself as you study for the big exam.
4. For Hiking: Chewy Chocolate & Peanut Butter Protein Bars
I hate classic protein bars. So many of them are gritty, artificial tasting, and downright hard to get down. However, in recent years, Trader Joe's has made the most palatable, satisfying protein bar.
The Chewy Chocolate & Peanut Butter Protein Bar is one of the best Trader Joe's snacks and also happens to be the perfect snack to throw in your bag before hiking.
These cereal bars are made with peanuts, soy protein crisps, peanut butter, and semisweet chocolate. They're so good that I would still eat these bars if they had zero grams of protein (but don't worry, there's 10g per bar).
The protein comes from soy and brown rice, which manages to pack a punch without leaving that gritty texture in your mouth that sometimes comes with the territory of protein bars.
These bars are as close to candy as it gets, but they're not overly sweet. The salty peanuts and semisweet chocolate do well to balance out any sweetness.
This snack is portable and the perfect reward to pep you up throughout your next hiking adventure.
5. For an After-School Snack: Bamba Peanut Snacks
I remember getting home from school as a kid, not quite ready for dinner but wanting something to tide me over as I did homework or played.
I didn't frequent Trader Joe's as a child, but if I had, their Bamba Peanut Snacks would've fit the bill for the perfect post-school snack.
These are made with only four ingredients: peanut butter, corn grits, salt, and sunflower oil. They have the texture of a cheese puff but the flavor of a million peanuts.
For kids who eat peanuts, this snack is a sure hit. The puffs are light, airy, and super crunchy, with a big peanut flavor.
They're filling enough to tide you over until dinner, but a bowl or two won't spoil your appetite.
6. For Movie Nights: Chips in a Pickle
Popcorn is most people's go-to for movie night, and I respect that. But in my opinion, chips are just as solid of an option. If you can be swayed to swap out your popcorn for chips, I suggest you do so with Trader Joe's Chips in a Pickle.
These kettle chips are insanely crunchy and perfectly crispy. Besides the flawless texture, there's the flavor. These chips have a true dill pickle flavor to them.
They're incredibly tangy, almost like a salt and vinegar chip, but with that unmistakable pickle taste. If you love (or even casually like) pickles, these chips are a must-try.
They pair perfectly with a Netflix binge and cozy PJs (just be sure you don't crunch too loud during the good parts of the movie).
7. For Traveling: Peanut Butter Filled Pretzel Nuggets
This Trader Joe's snack is the perfect portable treat to bring on planes, trains, cars, and buses. Many brands make peanut butter filled pretzels, but most don't do it right. Trader Joe's makes a stellar peanut butter pretzel, both inside and out.
The inside of these pretzel nuggets is filled with real peanut butter. It's that creamy, salty peanut butter you find in a jar, not the dried-up stuff you may find inside some other brands' pretzel nuggets.
The outside of this snack is a Pennsylvania-made pretzel that's coated in coarse salt and baked to golden brown pretzel perfection.
Trader Joe's Peanut Butter Pretzels are salty, sweet, and crunchy. They have that perfect balance to keep you level-headed as you face whatever hurdle your travels will inevitably throw at you.
8. For Picnics: Chili & Lime Flavored Rolled Corn Tortilla Chips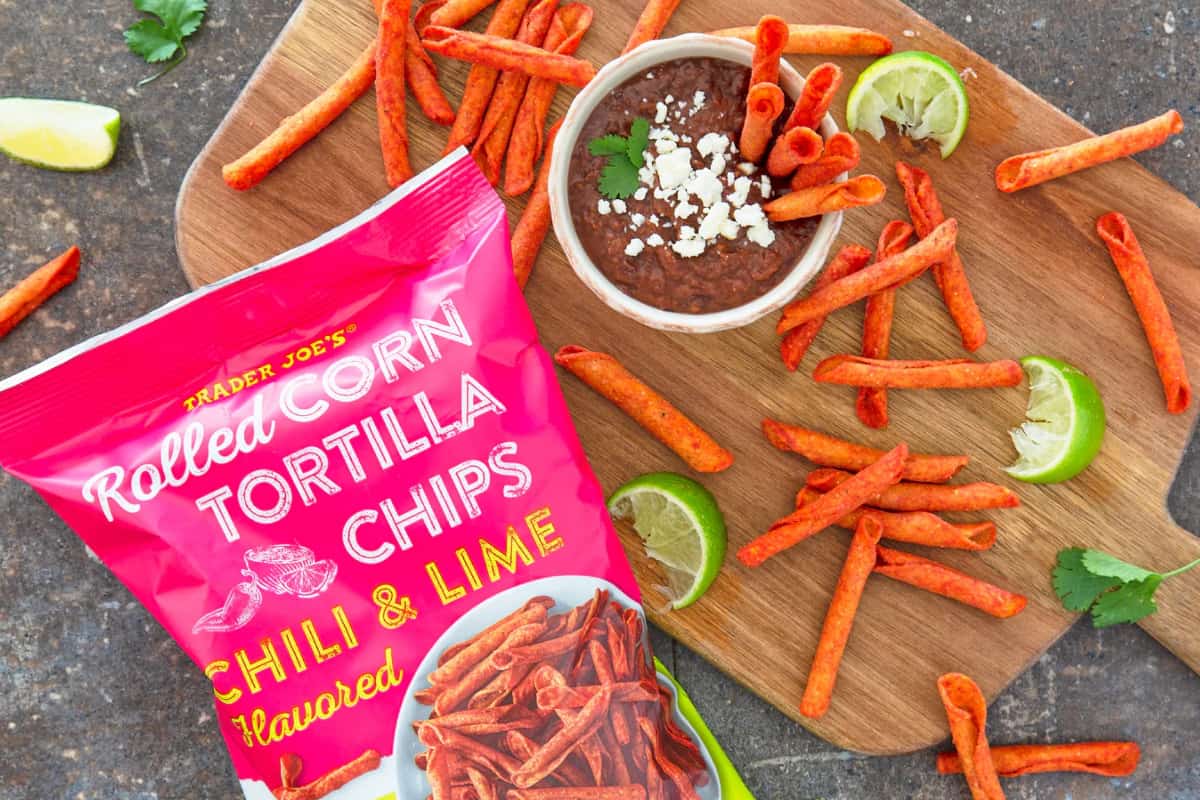 Remember how I mentioned that some Trader Joe's snacks have a bit of a cult following? Well, their Chili & Lime Flavored Rolled Corn Tortilla Chips are one of those products.
These rolled corn tortilla chips pack a fair punch in both the spice and zest department, thanks to the two main ingredients of hot chili and lime juice.
These chips are cut thick and rolled up for maximum crunch. Are they spicy? Yes, but not so spicy that you won't keep going back for more. For reference, my spice tolerance is fairly low, and I can eat these just fine.
Trader Joe's Chili Lime Tortilla Chips are the ultimate picnic food. They're easily transported, don't need to be heated or chilled, and have multiple functions.
You can crush some and toss them on your salad, pile some on your sandwich for an extra zesty crunch, or, my personal favorite, eat them by themselves.
9. For When You're Sick: Triple Ginger Snaps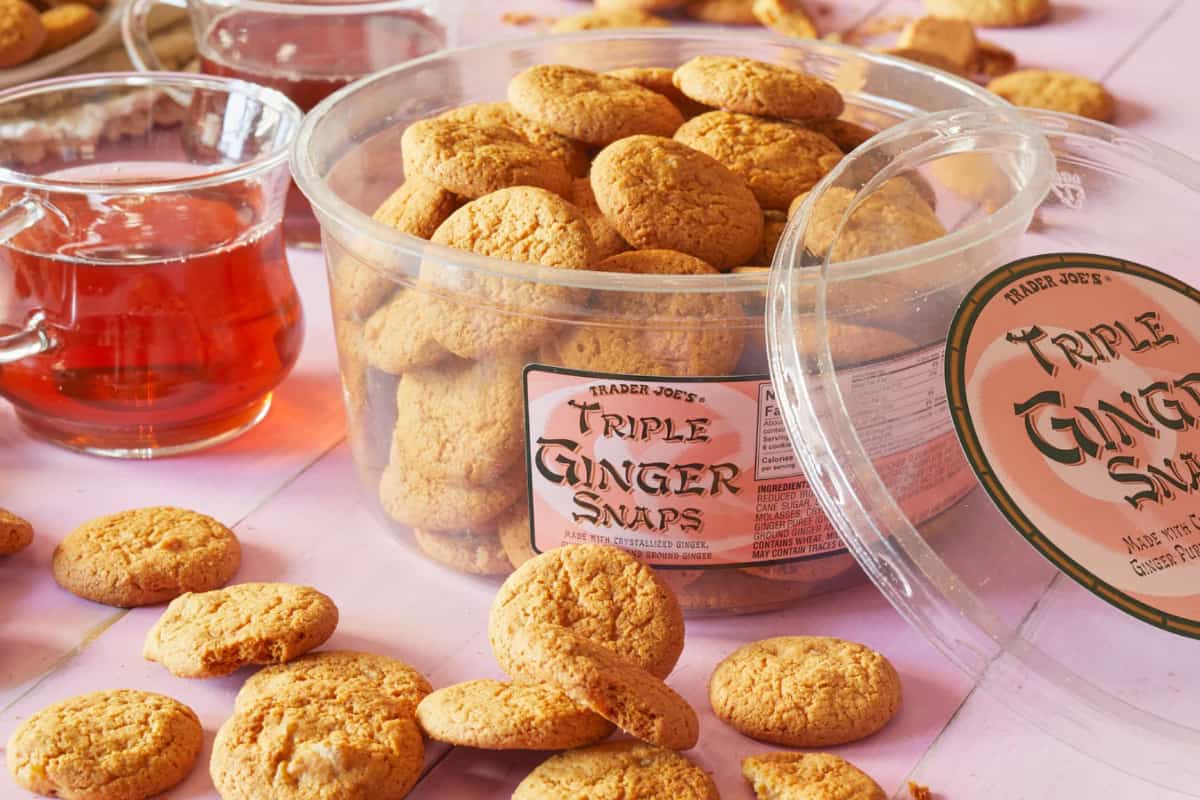 These ginger snaps are the real deal. As you may have gathered from their name, they contain three different forms of ginger: ground, crystallized, and fresh. This means you're in for an intensely warm and fiery cookie with a comforting kick.
There's a good amount of ginger in these snaps. The good news is that ginger not only helps with nausea, but it's also said to help improve sore throat, colds, and infections.
Trader Joe's Triple Ginger Snap cookies have the most satisfying crunch and a comforting, warm flavor profile. At the very least, they're the perfect bedside companion as you fight off whatever sickness you've got going on.
10. For Holiday Parties: Pastry Bites With Feta Cheese and Caramelized Onions
Holiday parties are generally just a bit fancier than regular parties. They have an air of anticipation and excitement to them. A fancy party calls for fancy appetizers or finger foods, which means it's time for Trader Joe's Pastry Bites to shine.
These pastry bites are everything you could want in a party snack. They're easy to eat, taste delicious, and look super sophisticated.
They are made with a buttery, flaky dough, which holds a feta and creamy cheese mixture and bits of caramelized onion. This makes for the ultimate sweet, savory, crispy, and creamy bite.
And yes, these can be easily devoured in one bite, so you don't have to worry about that awkward "Am I supposed to eat this in one or two bites" moment as you're making conversation with your boss at the holiday party.
11. For Morning Meetings: Mini Maple Walnut Biscotti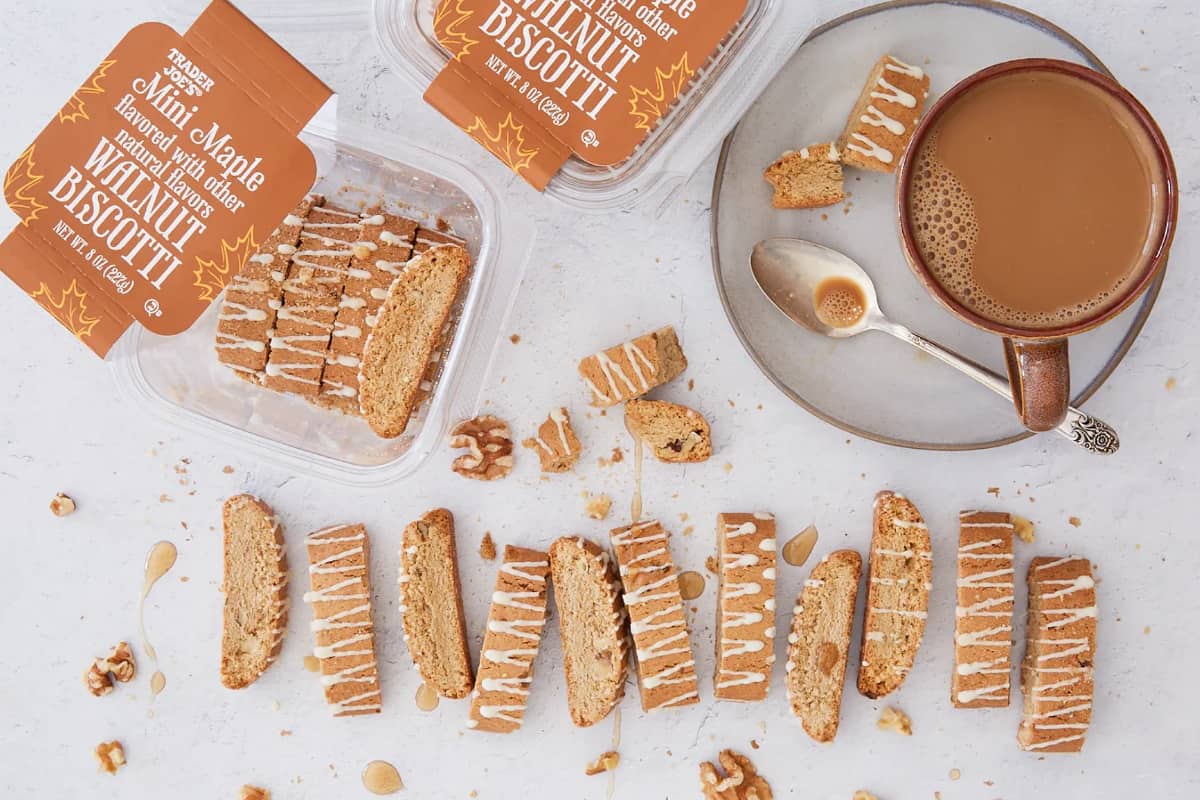 I've yet to meet someone who enjoys morning meetings. That being said, being the coworker to bring in a fun morning snack might make that dreaded meeting a bit more bearable. I recommend Trader Joe's Mini Maple Walnut Biscotti.
These mini twice-baked cookies are sturdy and ideal for dunking into your morning coffee or tea. They have a buttery brown sugar and maple flavor, with bits of chopped walnuts inside for an extra crunch and a hint of nuttiness.
Each biscotti is also drizzled with white icing to bring more sweetness to your morning.
12. For Wine Pairing: Fancy Cheese Crunchies
I know what you're thinking – cheese crunchies to pair with wine? But don't worry, these are 'fancy'cheese crunchies, and their umami, truffle-y flavor makes them perfect to pair with a bright or aged wine.
Trader Joe's Fancy Cheese Crunchies have a baked heirloom corn base, which gives them that crunchy texture they're named for. The base is dusted in a mix of cheddar, parmesan, and black truffle salt.
These easy-to-eat, bite-size snacks are just a bit more sophisticated in taste than your typical cheese curl or potato chip, thanks to that black truffle oil and the umami parmesan.
Everyone wants to feel like they know what they're doing when they're tasting wine, and let's face it: these cheese crunchies will taste good no matter what they're paired with.
13. For Hangovers: Mac and Cheese Bites
MasterChef judge Monica Galetti told The Guardian that her favorite hangover food is mac and cheese. And if it's good enough for a master chef, it's good enough for me.
Pasta can help a hangover by soaking everything up and making you feel a little more human. But, of course, the last thing you want to do with a hangover is whip up some mac and cheese. My solution is Trader Joe's Mac and Cheese Bites.
Throw these bites in the oven for a couple of minutes, and you've got yourself the crispiest, cheesiest snack on the market.
Each bite is made with a blend of Cheddar, Swiss, Gouda, Havarti, Monterey Jack, Pecorino Romano, and Cream Cheese. Yes, you read that correctly – these mac and cheese bites have seven different kinds of cheese inside.
The panko breading on the outside brings just enough crispiness to the equation while allowing the macaroni pasta and the cheeses to shine through.
Pop these bites in the oven, grab a Gatorade, and you'll eventually feel fine.
14. For Late-Night Munchies: Sour Cream & Onion Flavored Rings
The late-night munchies are a force that cannot be controlled. When you wake up in the middle of the night and have a hankering for a treat before going back to bed, Trader Joe's Sour Cream & Onion Rings will do.
These beautifully crispy, crunchy rings are made with baked red lentils and rice meal. Despite that, they taste uncannily similar to a super crispy fried onion ring.
Each ring is sprinkled with sour cream and onion seasoning made with onion and sour cream powders, yeast extract, and buttermilk solids.
These rings are the perfect late-night snack, and thanks to their fairly wholesome ingredients, you won't regret your snack of choice when you wake up in the morning.
15. For School Lunches: PB & J Snack Duo
I'd venture to say that peanut butter and jelly sandwiches were one of, if not the most, common additions to lunchboxes as a kid. Everyone loves a sweet-and-salty combination, after all.
That's what inspired this Trader Joe's snack, which also happens to be perfect for packing in school lunches.
The PB & J Snack Duos are made with rolled wafer sticks that are filled with salty peanut butter. These crispy wafers are meant to be dipped into the side of the raspberry fruit dip that comes with them.
The raspberry jam is the real deal – it even has little raspberry seeds in it! The bright, tart jam pairs beautifully with the peanut butter-filled wafer, making for a snack that could easily pass as a dessert.
And if it can pass as a dessert, chances are that any kid would be psyched to find this in their lunchbox.
16. For Study Sessions: Slightly Coated Dark Chocolate Almonds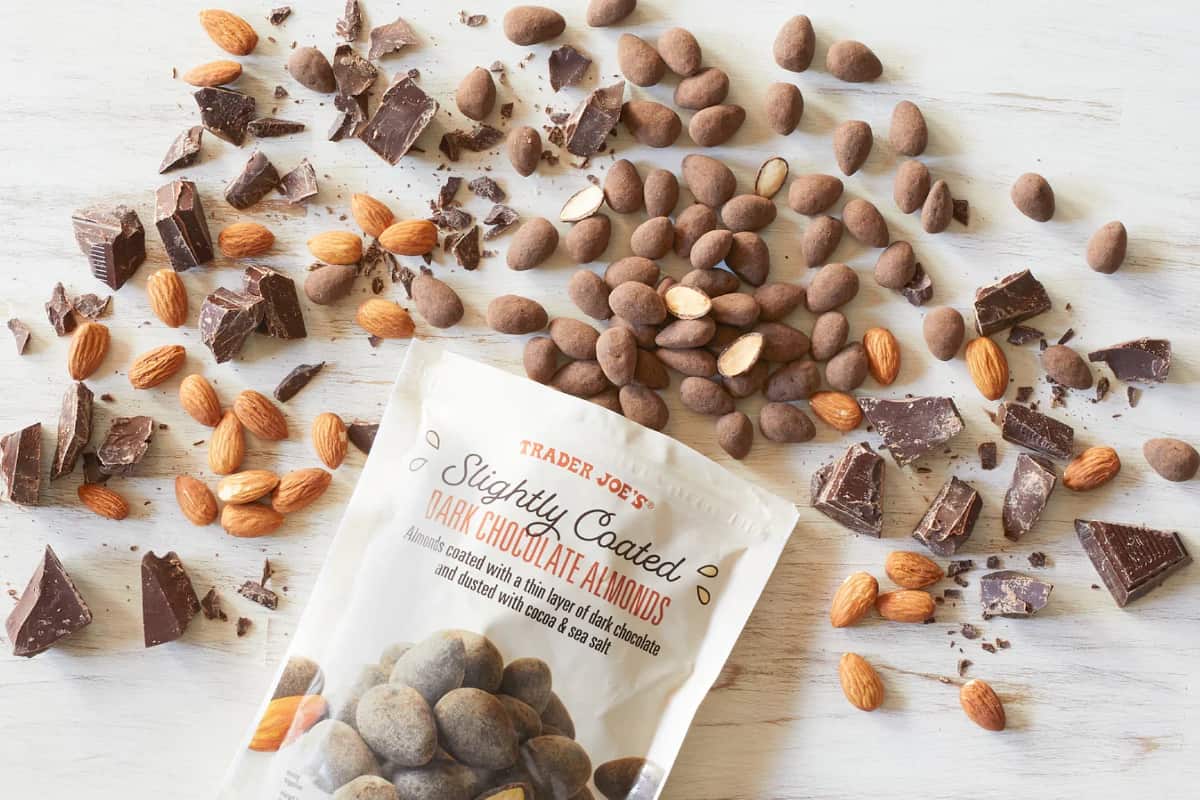 I never loved studying when I was in school, but having a fun snack to eat along the way always made the process a bit more enjoyable for me. If you're the same way, let me introduce you to this Trader Joe's snack: Slightly Coated Dark Chocolate Almonds.
According to Trader Joe's, most chocolate-covered nuts are about ⅔ chocolate and ⅓ nut. These, however, are about ¼ chocolate and ¾ nut. So, you're getting all the benefits of almonds and the sweetness of chocolate withoutessentially eating a candy bar.
These nuts are made by dry roasting almonds, tumbling them in a barrel with chocolate to coat them, and finishing with a dash of cocoa powder and sea salt. Sweet, salty simplicity.
17. For Date Nights: Gone Berry Crazy
Some of the best date nights are spent at home, ordering takeout and watching a movie. But when you want to kick up the fancy factor on date night just a tad, you know Trader Joe's can make it happen.
The Gone Berry Crazy chocolate-covered strawberries are the ultimate date night snack. Each strawberry half is perfectly bite-sized, ripe, and covered in a rich dark chocolate coating.
The semisweet, luxurious dark chocolate pairs perfectly with the bright, fruity strawberry and makes for a snack or dessert just as good as the chocolate strawberries you'd find at a candy shop.
Disclaimer: This is a stellar date night snack, but I have, on many occasions, eaten an entire box of these on my own. They're that good!
18. For Housewarming Gift: A Dozen Macarons Variés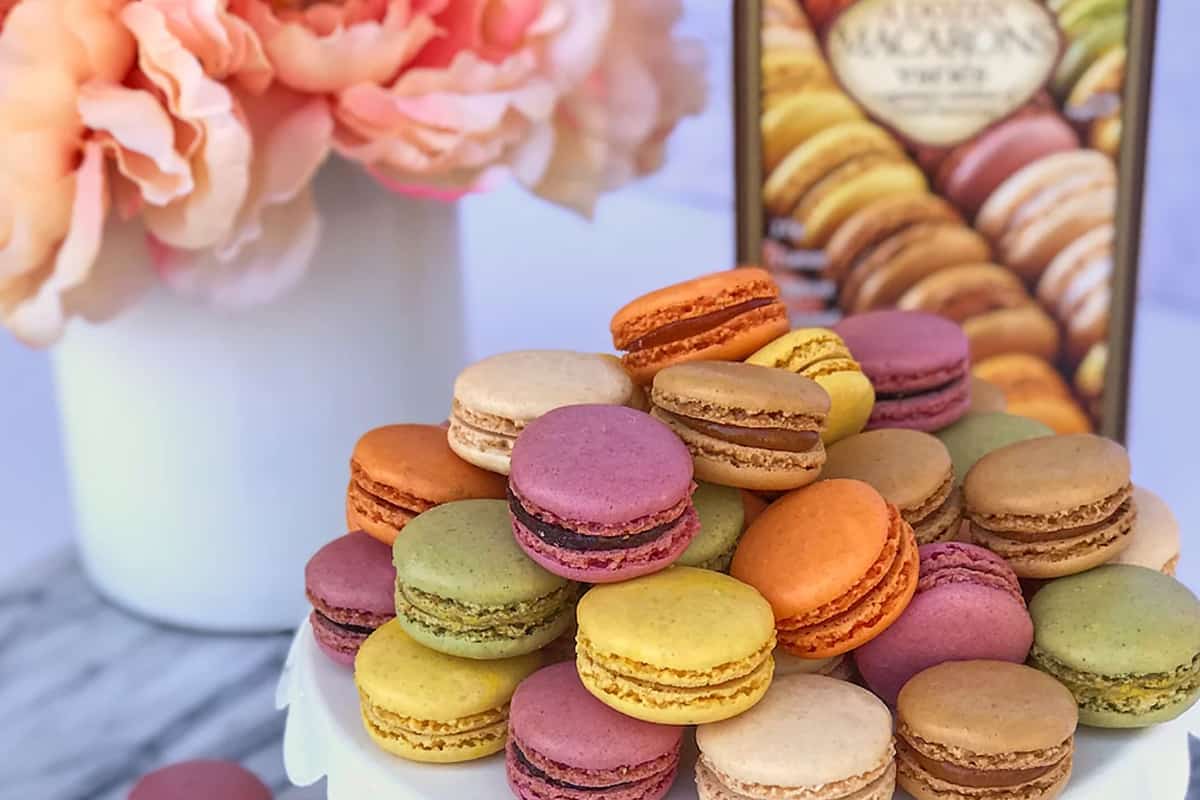 Few things in this world are more embarrassing than accidentally showing up to a housewarming party empty-handed.
Now, picture this – you're doing a quick grocery run at Trader Joe's before heading to your friend's first party at her new house, and you realize you forgot to get her something. Fear not! Simply grab a box of A Dozen Macarons, and you're all set.
Each box comes with 12 macarons and 6 flavor varieties: apricot, coconut, fig, salted caramel, lemon, and pistachio (coconut is my personal favorite).
These macarons are also made in France, which only adds to the air of legitimacy. The cookies are crisp on the outside and chewy on the inside, and each macaron has a unique, flavorful filling.
Bonus points if you display these on a nice tray to bring to your friend's housewarming party to give that full French-bakery-display-case effect. People might even think you made them (I won't tell if you won't!)
19. For Pre-Workout: Super Seedy Cheese Snack Bites
The base of Trader Joe's Super Seedy Cheese Snack Bites is parmesan cheese, so right away, this snack hits you with some serious umami flavor.
Then, there are sunflower seeds, pumpkin seeds, puffed quinoa, and black sesame seeds added to the mix. All those seeds (plus the baked parmesan) make one of the crunchiest snacks on Trader Joe's shelves.
This snack is unique because it also features whole black peppercorns throughout the crackers, which bring a kick of heat every few bites and keep you on your toes.
Seeds are also packed with protein, making them a great option to graze on before you hit the gym.
20. For Quick Indulgence: Peanut Butter Caramel Coated Popcorn
Trader Joe's makes so many delicious varieties of popcorn, so I simply couldn't create this list without including at least one.
If you're looking for an indulgent snack that takes zero seconds to whip up and is guaranteed to hit the spot every time, look no further than the Peanut Butter Caramel Coated Popcorn.
Each piece of popcorn is first coated in tapioca and cane sugar syrup to give it that sweet caramel flavoring. Then, it's given a second coat, which is a peanut butter mixture that fills every nook and cranny with a delicious salty peanut butter.
The popcorn somehow isn't lost under these two thick coatings and maintains its sometimes fluffy, sometimes crunchy texture.
Even just eating a handful of these pieces of popcorn feels like a special treat. They're perfect for grabbing and snacking on when you need a quick moment from yourself in the middle of a busy day.