13 Best Trader Joe's Cookie Flavors, Ranked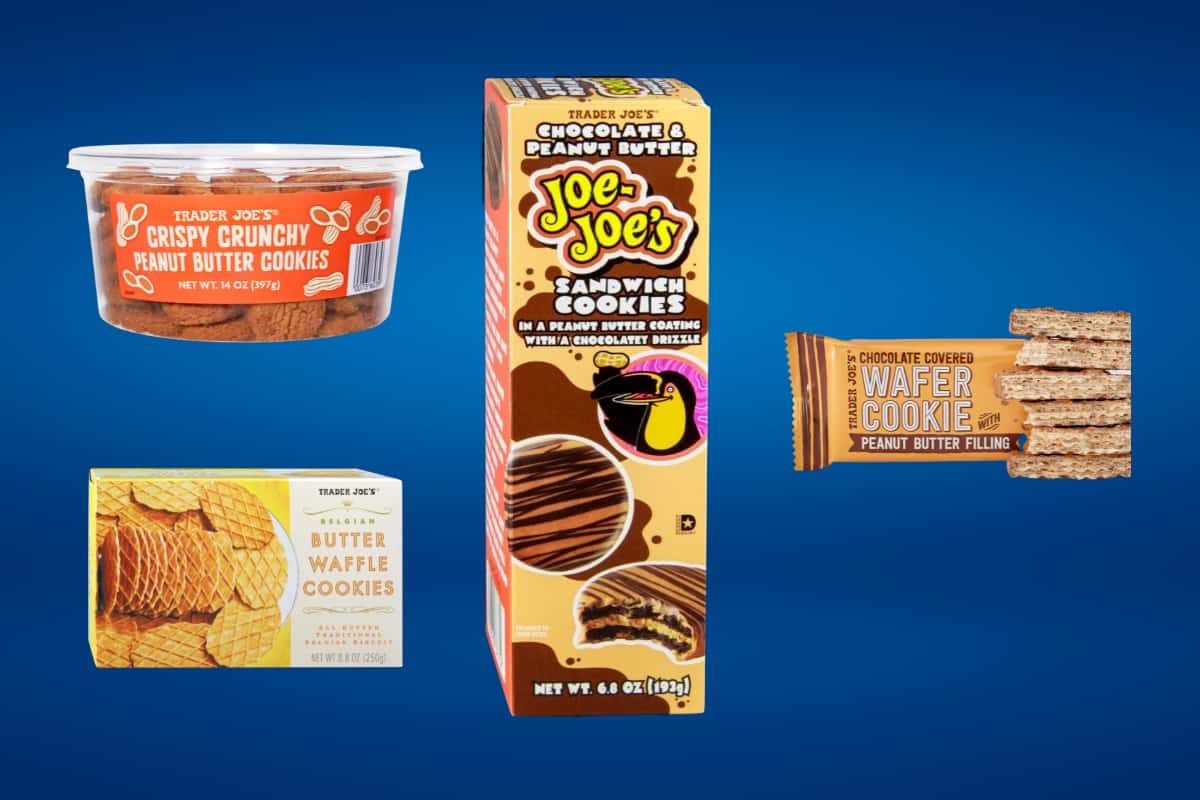 I consider myself fairly loyal to Trader Joe's, as I visit them at least once a month. When it comes to sweet treats, especially cookies, the grocery chain can't be beat.
Trader Joe's has plenty of cookies to choose from when you have a hankering for something sweet. They also offer unique seasonal flavors, which can be quite delicious. Here are my favorite cookies from Trader Joe's to ever hit the shelves. Grab a glass of milk to go with these cookies, and let's get into it!
13. Fig Cookies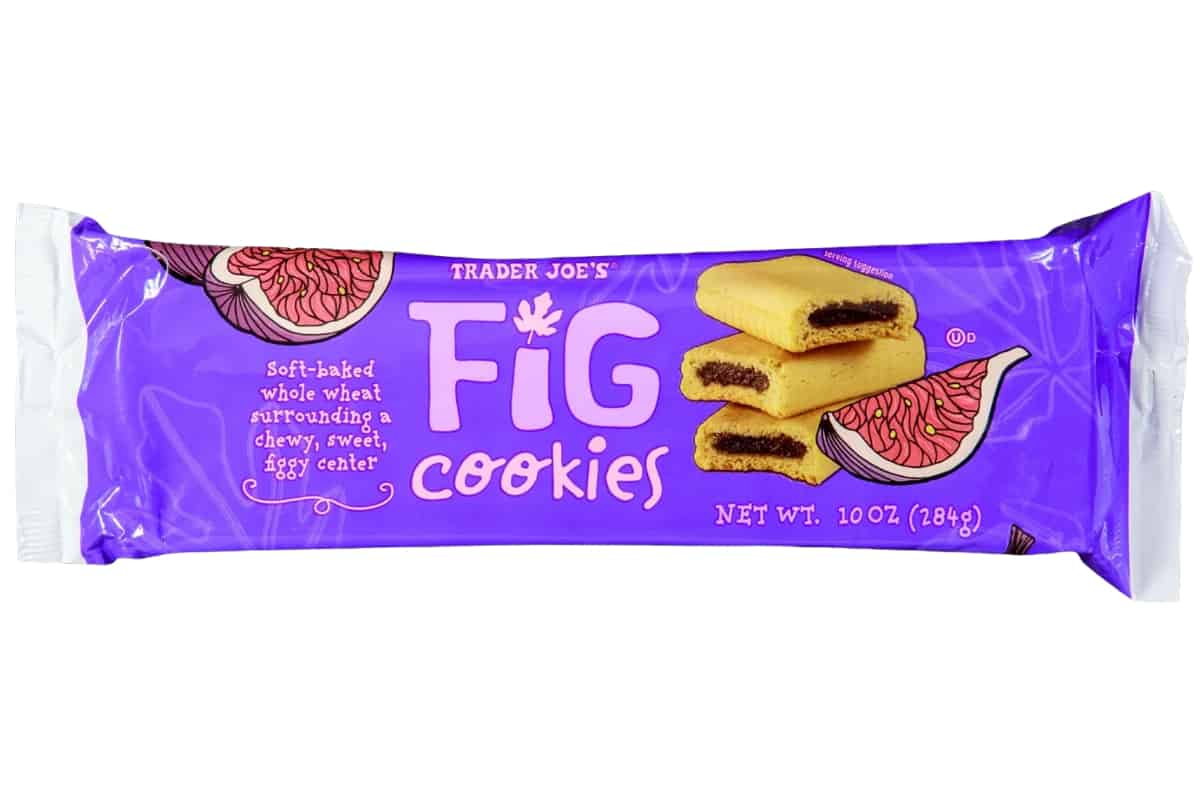 Admittedly, fig cookies aren't one of the first cookies I reach for, but Trader Joe's take on it is simple and delicious.
With a tender, chewy outer cookie and a sticky fig jam inside, these are a super sweet yet natural-tasting treat.
The fig jam inside these cookies has that true, honey-like sweetness that you find in a real fig, along with notes of date and strawberry.
If you're a fan of Fig Newtons, you'll probably enjoy Trader Joe's generic version. They taste virtually the same to me.
12. Twisted Cookie Sticks
This is the most savory-leaning Trader Joe's cookie on my list, so it might be an acquired taste for some, but I love these.
The Twisted Cookies Sticks are long and skinny, similar in shape to Pocky.
The dough itself is made with wheat flour and has just a whisper of sweetness but is fairly plain-tasting and biscuit-like.
The cookie is dipped in dark chocolate, which adds a rich, luxurious note to the otherwise simple flavors.
These seem to be a fresh take on the whole chocolate-dipped pretzel thing but have a less salty, subtler flavor to them.
11. Molasses Cookies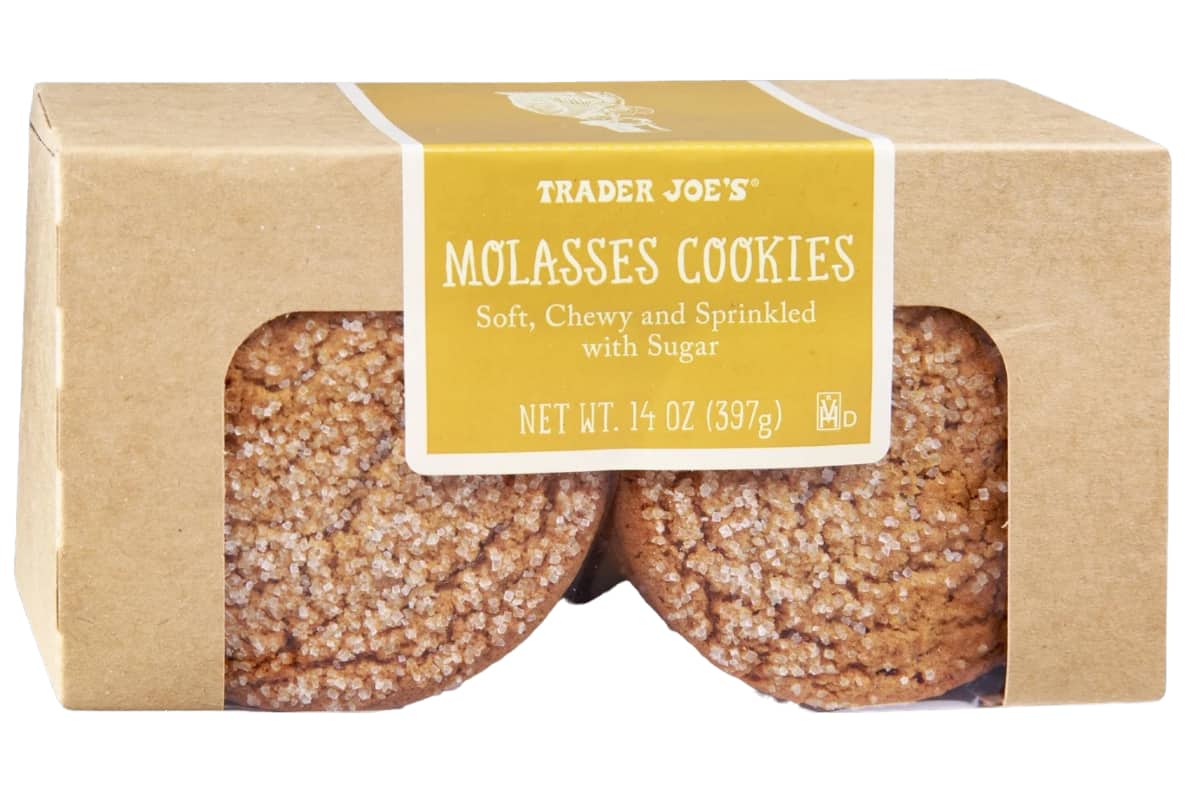 Trader Joe's Molasses Cookies are freshly baked and can be found in the bakery section. They have a rich, deep molasses flavor and a soft, chewy texture.
The cookies have a syrupy, gingerbread-like flavor. There's even some burnt caramel flavoring going on. As you can tell, there's a whole lot of flavor packed into each of these cookies.
The texture remains super chewy unless you leave them out in the open air, so they maintain that just-baked texture.
These are the perfect cookies to dip in your coffee or use as the sides of an ice cream sandwich.
10. Speculoos Cookies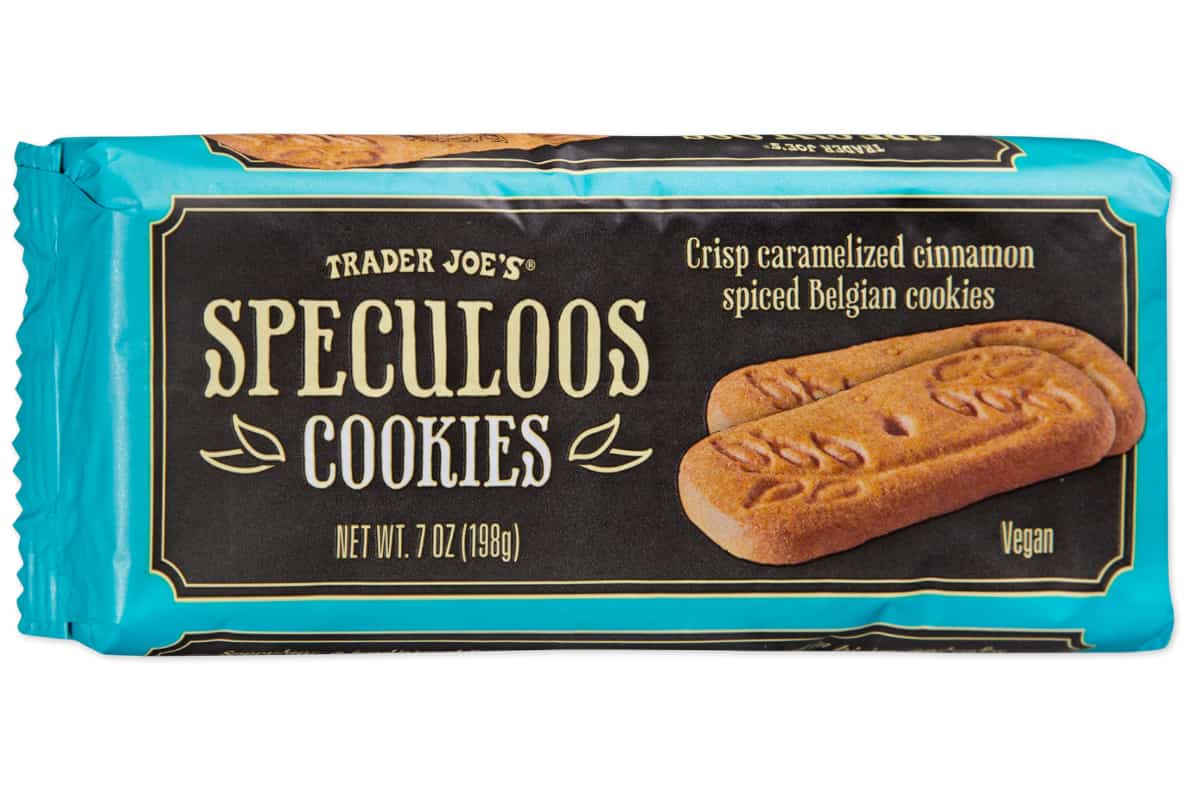 Speculoos cookies are from Europe and feature a cinnamony, warm flavor reminiscent of the holidays. Trader Joe's take on the classic cookie is thin, crispy, and perfectly sweet with a warm spiced flavor.
If you've ever had cookie butter and enjoyed it, definitely give these cookies a try. They're actually the main ingredient in cookie butter.
I love a soft, moist cookie, but something about these super crunchy, crispy cookies is so satisfying to bite into, and you're guaranteed the perfect crunch every time.
9. Maple Leaf Cookies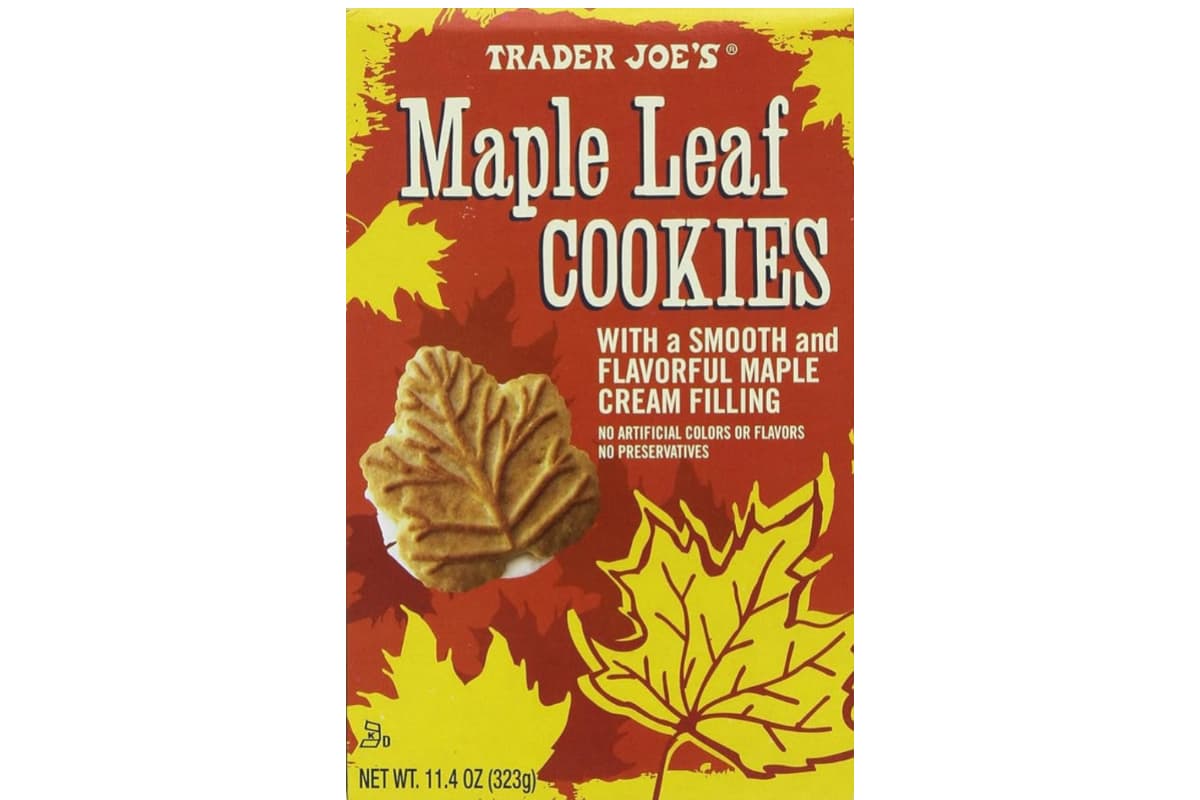 The Maple Leaf Cookies are made with two very different elements: crunchy shortbread cookies and rich, creamy maple creme filling.
The crunchy shortbread on either end holds in that sweet, toffee-like creme, which has a pillowy, soft texture.
Pumpkin spice is all the rage, but I also measure autumn through these cookies hitting Trader Joe's shelves every year.
They have that syrupy, nostalgic flavor, and the shortbread is super buttery and rich, striking the perfect balance between sweet, buttery, and just a tiny bit salty.
Bonus points for the unbe-leaf-ably cute maple cookie shape!
8. Petite Pumpkin Spice Cookies
The Petite Pumpkin Spice Cookies are reminiscent of the frosted circus animal cookies of your childhood but with a festive holiday twist.
The dough here is a pumpkin shortbread, which has a crunchy, crumbly consistency and the warm, sweet spices you'd expect to go with it.
Each pumpkin-shaped cookie is covered in a thin layer of creamy icing.
The white icing has a tangy yogurt flavor, and the orange is pumpkin flavored, but they taste pretty much the same to me. All the cookies are topped with tiny crunchy nonpareils.
Besides the adorable look of these cookies, they pack just the right amount of pumpkin spice flavor, and the icing adds just enough creaminess to make it feel like a real dessert.
7. Chocolate Covered Wafer Cookie With Peanut Butter Filling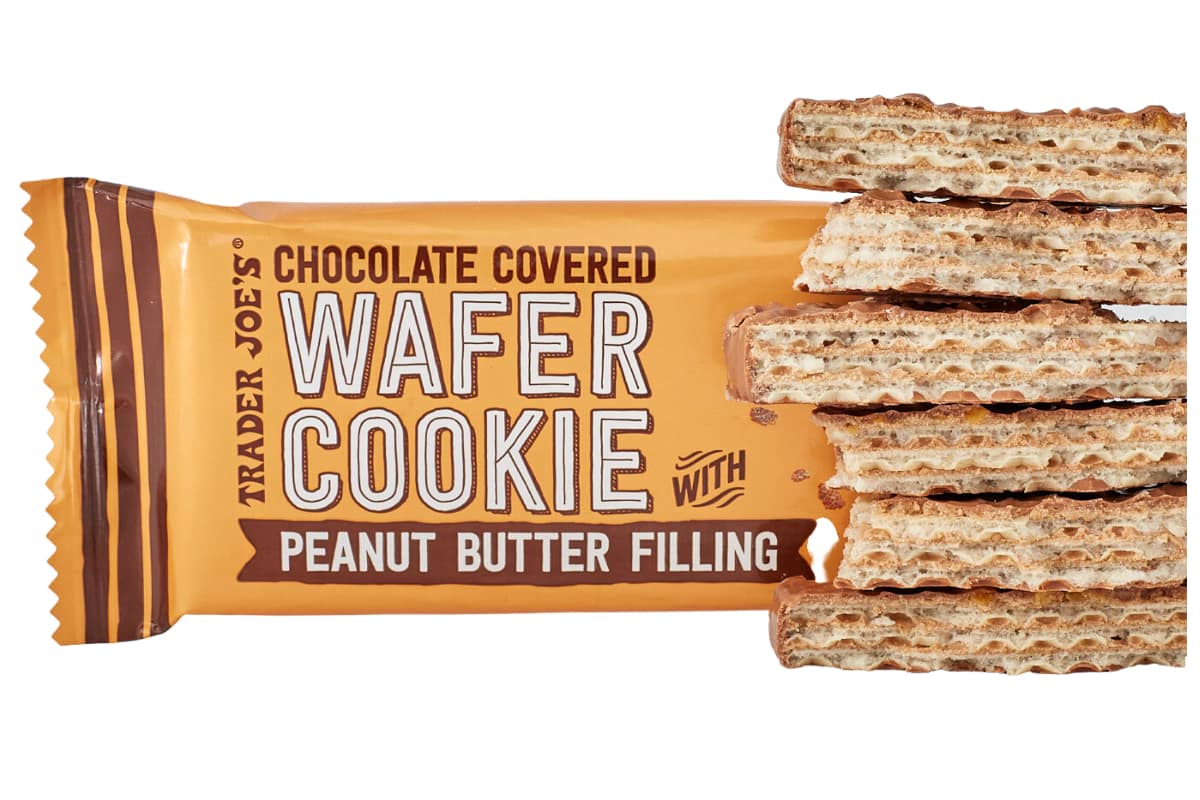 Milk chocolate, creamy peanut butter, and crispy wafer layers – what more can you ask for in a singular cookie? This Trader Joe's cookie has a little bit of everything for peanut butter chocolate lovers.
It begins with a light, airy wafer cookie in the middle. Enveloping this is a thin layer of salty peanut butter.
These two elements are stacked on top of each other a handful of times before being dipped into creamy milk chocolate to finish it off.
The texture is my favorite part of this cookie. It's insanely crunchy yet incredibly smooth and creamy all at once.
I also love that the chocolate and peanut butter are perfectly balanced here, with neither flavor overpowering the other.
6. Chocolate Vanilla Creme Joe-Joe's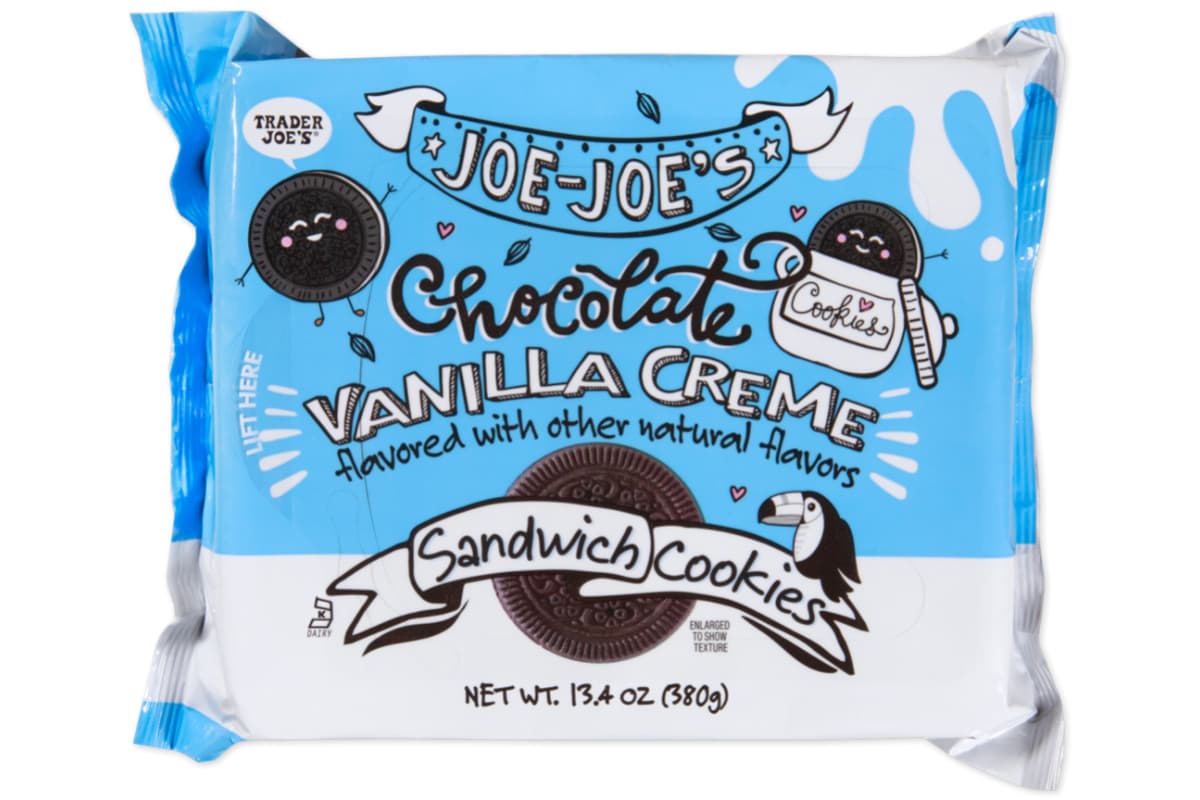 If you've ever been to Trader Joe's, chances are you've tried (or at least laid eyes on) a box of Joe-Joe's. These are the store's take on an Oreo.
They're made with two crunchy chocolate cookies and a sweet vanilla creme filling.
When it comes to chocolate sandwich cookies, I rarely, if ever, go for anything besides Oreos. However, Joe-Joe's are the only exception because they're just as delicious and high quality as the name-brand cookie.
The chocolate cookies have a rich cocoa taste, and the creme filling is super creamy with plenty of vanilla flavor.
There's nothing to dislike about these cookies, and they absolutely give Oreos a run for their money.
5. Pumpkin Joe-Joe's Cookies
I know, I know, another pumpkin-flavored cookie, but Trader Joe's really knows their audience. Their Pumpkin Joe-Joe's are just as popular as their original chocolate-vanilla flavor.
These cookies have a simple yet delicious vanilla wafer cookie on either end, which is just as crispy and crunchy as the original chocolate cookie.
The creme inside is pumpkin-flavored with warm, spiced notes of cinnamon and nutmeg.
There's just enough sugar in this cookie, and it's far from cloyingly sweet. In fact, it has a surprisingly sophisticated flavor profile.
4. Chocolatey Coated Chocolate Chip Cookie Dunkers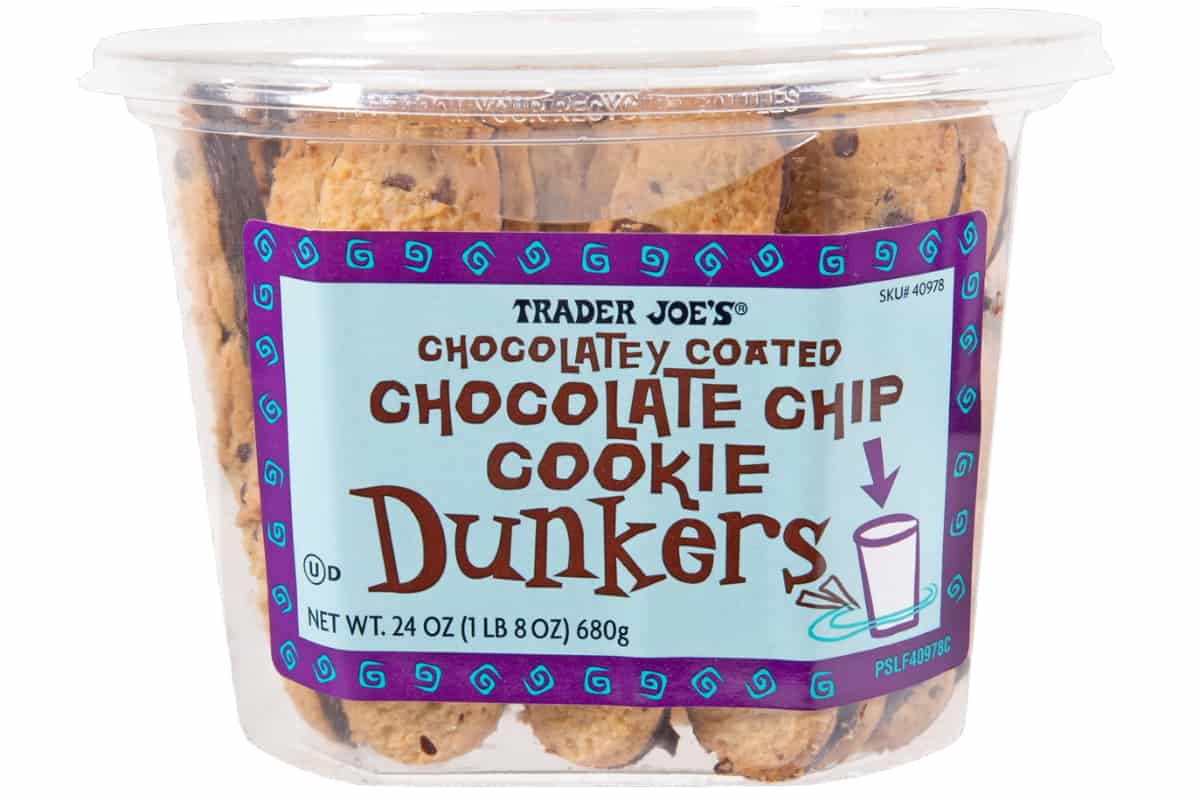 As you may be able to tell from the name, this Trader Joe's cookie was made to be dunked into your coffee, milk, or whatever beverage you desire.
The Chocolatey Coated Chocolate Chip Cookie Dunkers are crispy, crunchy, and able to absorb the ideal amount of liquid without breaking apart into your cup.
The cookie itself tastes like your classic, sweet, buttery chocolate chip cookie.
This cookie's oval shape is perfect for dunking, of course, but it also brings a large surface into the equation that's covered in a thin layer of chocolate.
3. Belgian Butter Waffle Cookies
Trader Joe's Belgian Butter Waffle cookies are small, circular, thin cookies that are baked until golden brown.
They're full of buttery flavor and are reminiscent of a shortbread cookie but far thinner and crispier.
If you've ever had a stroopwafel, these have a similar flavor to the outside cookie on that treat.
These are one of the best Trader Joe's cookies because of their simplicity.
They have a mild vanilla flavor and are the perfect accompaniment to any hot beverage or other dessert. You can serve them on the side of your coffee or crush them and sprinkle over your ice cream.
2. Crispy Crunchy Peanut Butter Cookies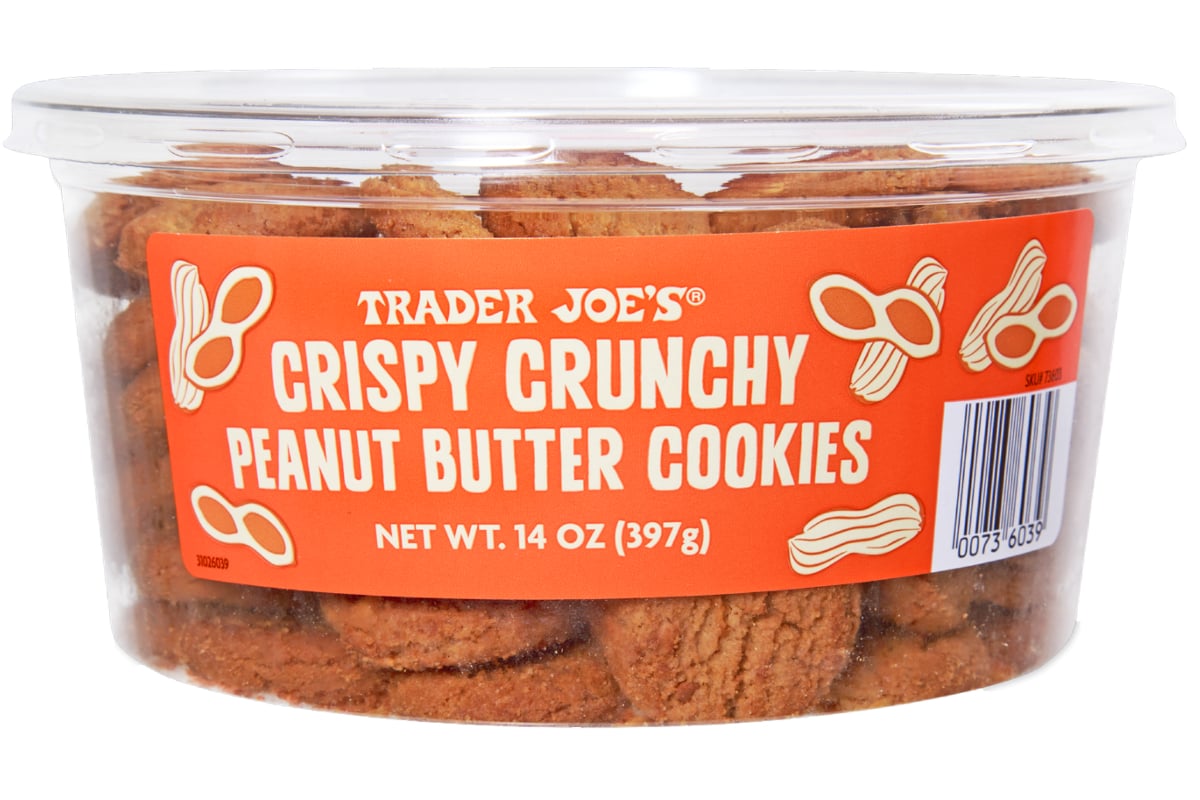 Trader Joe's doesn't mess around when it comes to peanut butter cookies.
Their Crispy Crunchy Peanut Butter Cookies contain three (count 'em, three) forms of peanut to create this salty, ultra-nutty cookie – blanched peanuts, dry roasted peanuts, and peanut butter.
The result is a smooth and buttery yet incredibly crunchy cookie that's the perfect size for popping in your mouth.
I truly think these are the most peanut buttery cookies I've ever come across, and I eat a lot of peanut butter cookies.
There's also a strong salty element to these cookies, which only brings out the natural sweetness from the peanut butter all the more.
1. Chocolate & Peanut Butter Joe-Joe's
I'll gladly take regular and Pumpkin Spice Joe-Joe's any day of the week, but if we're talking the absolute best of the best, the Chocolate & Peanut Butter is the flavor to beat.
This Trader Joe's cookie is made with two cocoa-flavored cookies, which house a creamy peanut butter filling. It's made even more heavenly when dipped in a peanut butter coating and then drizzled with chocolate for that perfect sweet and salty bite.
These cookies have so much going on. There's the creamy peanut butter filling and coating, the crunchy cookies, the rich chocolate, and the salty peanut butter flavor.
Each element works together in harmony to create the best Trader Joe's cookies, in my opinion, and dare I say, one of the best cookies of all time!
Honorable Mention: Super Chocolatey Chocolate Chunk Cookie Dough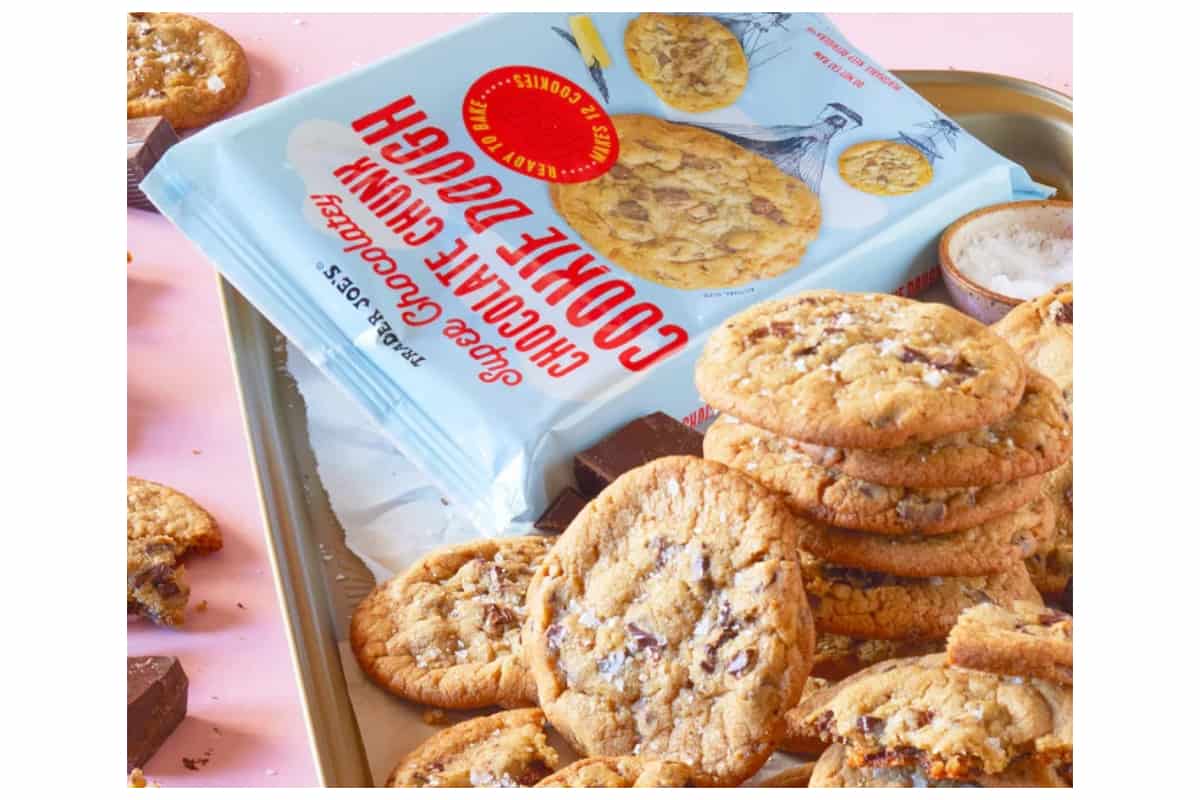 These are not technically ready-to-eat cookies because you have to bake them, but I had to mention them on my list if we're talking about Trader Joe's cookies.
I will never forget the first time I tried their Super Chocolatey Chocolate Chunk Cookies.
It was late at night, and I was craving something sweet, so I popped these in my oven. Less than 15 minutes later, I was enjoying some of the best cookies I've ever tasted.
Within an hour or so, one other person and I had completely polished off every last cookie.
While I don't necessarily recommend this route (I had a stomach ache for the rest of the night, but it was worth it), I definitely recommend trying these cookies for yourself.
These are loaded with semisweet chocolate chunks. In fact, chocolate makes up over 25% of this recipe, according to Trader Joe's.
Any time I make these cookies, people can't believe they're not homemade. They require minimal effort and are ridiculously chewy, buttery, and chocolatey, This is one of the best store-bought cookie doughs on the market.