17 Best Frozen Appetizers From Trader Joe's
If there's one thing I truly believe, a party is only as good as its appetizers because they set the tone. Are they fancy? Are they pretty? Are they stale? Maybe I'm being a bit dramatic, but I believe that apps can make or break a social gathering.
After all the time and money spent making sure your party goes off without a hitch, you don't want subpar snacks bringing down the mood of your shindig. That's where Trader Joe's comes in with plenty of frozen appetizers that can be ready at a moment's notice.
There's really a Trader Joe's appetizer for every type of party you can think of. Here are the best appetizers to grab from Trader Joe's to make sure your event is everything you want it to be and more!
1. For a Tea Party: 8 Mini Croissants
Besides the tea itself, tea parties are best known for their dainty, bite-sized food selections. These appetizers can range from scones to finger sandwiches and macarons. Trader Joe's Mini Croissants will fit in perfectly with your teatime spread.
These Trader Joe's appetizers are as tasty as they are convenient. Each croissant is flakey, fluffy, and packed with buttery flavor. You can put them straight into the oven from the freezer – no defrosting or proofing required.
Everyone knows that part of the fun at teatime is the assortment of jams you can mix and match with bite-sized snacks. Trader Joe's Mini Croissants provide a neutral, buttery base and make the perfect vessel for savory and sweet jams and toppings.
2. For a Cocktail Party: Kibbeh
A cocktail party isn't a cocktail party (or at least, it isn't a good one anyway) without a bunch of small, bite-sized appetizers.
Cocktail parties are also the perfect opportunity to go out of your culinary comfort zone and try something new. That's why Trader Joe's Kibbeh makes the perfect cocktail party appetizer.
If you've never had kibbeh, it's a Middle Eastern family of dishes based on spiced ground meat, onions, and grain. Trader Joe's take on the dish is like a more flavorful, unique meatball.
The inside is a mix of sauteed ground beef, onions, cumin, and coriander. The filling is wrapped in a breading made with cracked bulgur wheat, farina wheat, and ground beef and then fried to perfection.
This Trader Joe's appetizer is incredibly fragrant and flavorful thanks to the allspice, cumin, and coriander in the mixture. These are flavors that I don't have super often, so this appetizer feels like a special treat to me, making it ideal for a cocktail party.
Bonus: These are perfect for skewering with a toothpick or grabbing with a napkin, eliminating any potential messes the host will have to clean up later.
3. For a Dinner Party: Vegetable Spring Rolls
The main event at any dinner party is, well, dinner. That means any appetizers served or passed around should be filling enough to tide you over but not so much so that you're no longer hungry when dinner is served. Trader Joe's Vegetable Spring Rolls fill both requirements to a T.
These little veggie bites are similar to your classic spring roll but with just a few extra ingredients. Inside each thin, crispy pastry wrapper is a mix of cabbage, onion, carrots, kale, tofu, edamame, mushrooms, ginger, and garlic.
I'll never understand how Trader Joe's manages to fit all those fillings in a small, delicate roll. But the result is a crunchy and light appetizer with a fresh flavor that will appeal to everyone at your dinner party.
4. For a Holiday Party: Gnocchi Alla Romana
The holidays are all about warm, cozy, rich foods. As such, no holiday party is complete without a few belly-warming appetizers. The Gnocchi Alla Romana, one of Trader Joe's frozen appetizers, fits the bill.
Each gnocchi in this appetizer is about the size of a cupcake, with a rich, cheesy flavor and that chewy and silky gnocchi texture we all know and love.
The gnocchi is made with butter and Grana Padano cheese, which has a nutty, savory flavor. There's also a sprinkle of sage and nutmeg inside, bringing those comforting holiday flavors full circle.
Each Gnocchi Alla Romana is the perfect size for one person and can be easily passed around the holiday table or eaten as you mingle with your fellow party-goers.
5. For a Morning Party: Maple Poffertjes
When I think of parties, I automatically picture them being held at night, but some of the best parties are held in the morning. Think baby showers, engagement parties, Easter celebrations – you get it.
For parties that begin before the clock strikes noon, Trader Joe's Maple Poffertjes are the appetizer to go with. Originally from the Netherlands, these are basically miniature bite-sized pancakes.
Trader Joe's makes theirs with maple sugar, giving that syrupy pancake flavor without any actual syrup. They can be topped with anything you'd top a pancake with, but my personal favorite is a bit of butter with a sprinkling of powdered sugar.
These pair perfectly with whatever main breakfast-y course you plan to serve at your party and can even be served afterward as a dessert rather than an appetizer.
6. For a Kid's Party: Mac and Cheese Bites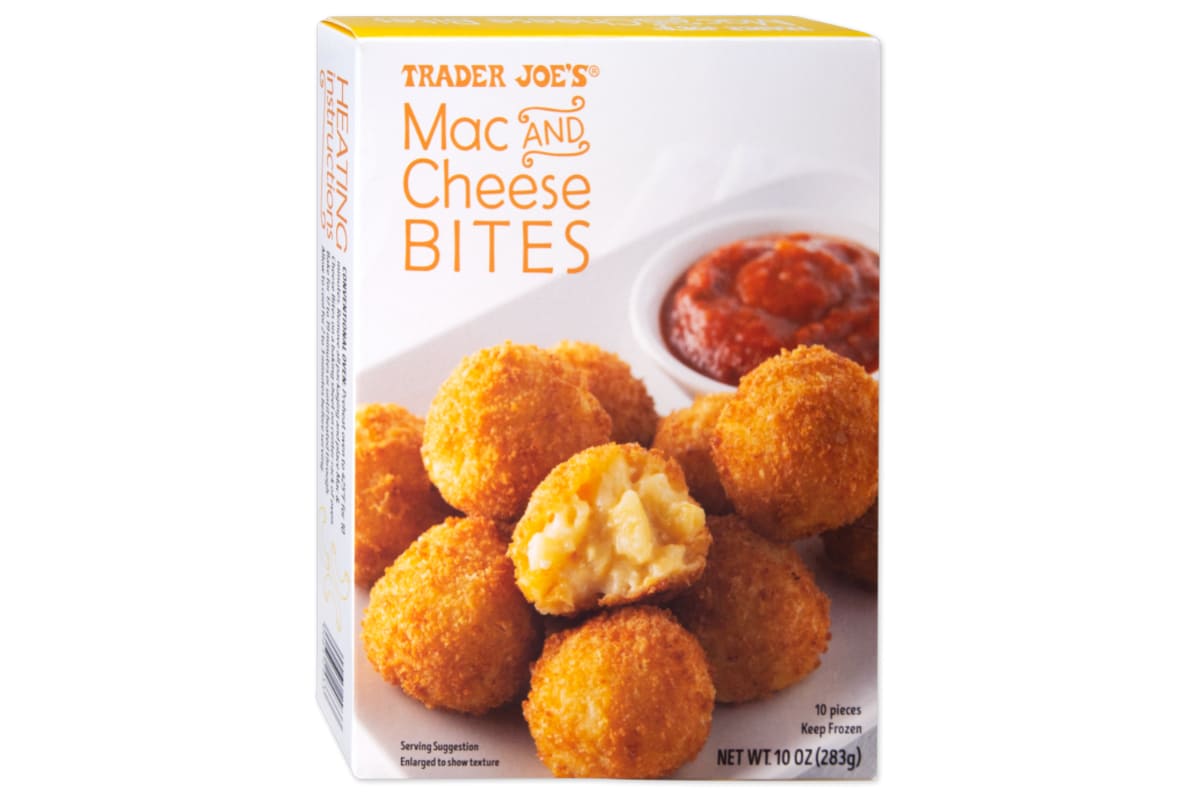 I think we can all agree that kids love mac and cheese. The chances that Trader Joe's Mac and Cheese Bites will be a hit at your kid's birthday party are pretty much guaranteed.
Each bite-sized breaded ball is filled with mac and cheese, which is made with a blend of seven different cheeses – cheddar, havarti, Swiss, gouda, cream cheese, Monterey Jack, and Pecorino Romano.
The breading is a thin, crispy panko-style, contrasting beautifully with that creamy, gooey interior. These are the perfect bite-sized appetizers to fuel the kids for a fun-filled day and keep them full until (it's time for cake, of course).
Bonus: These only take around 20 minutes to cook in the oven, making what's sure to be a chaotic day just a bit more manageable.
7. For a Fancy Party: Pastry Bites with Feta Cheese & Caramelized Onions
Nothing says fancy like a bite-sized appetizer that looks like a teeny-tiny pie. And that's where Trader Joe's Pastry Bites with Feta Cheese & Caramelized Onions come in.
These are made with a thin, flaky dough packed with buttery flavor. Each little cup of dough holds a feta-cream cheese mixture with caramelized onions to top it all off.
The caramelized onion has a complex, sweet flavor, which contrasts beautifully with the salty feta below. Besides the sophisticated flavor profile of this Trader Joe's app, it also has a lot going for it in the looks department.
Each dainty pastry is beautifully golden brown, with the onions providing a bright pop of caramelized color.
My only word of advice: get one or two boxes more of these than you think you'll need. They're always the first appetizer to go when I host a party, and I always wish I had gotten just one more box.
8. For a Casual Get-Together: Tandoori Naan
Tandoori Naan is an East Indian flatbread with a chewy, doughy texture that so many people (myself included) can't get enough of.
Trader Joe's version of naan bread is delicious and has a bready, fresh flavor that makes it hard to believe it was once frozen for however long.
It's the ultimate appetizer for your casual get-together with family or friends. Set out some naan along with some butter, hummus, yogurt dip, or homemade fixings so that everyone can customize their naan appetizer to their liking.
9. For a Rager: Perfectly Pickled Pups
When you're throwing a truly unruly party at your house, you need some out-there apps to get everyone pumped up. Trader Joe's Perfectly Pickled Pups are just the appetizer for that.
Each mini uncured beef hot dog is pickled with classic dill flavors, including salt, onion, garlic, vinegar, and, of course, dill. It's then covered in a breadcrumb batter that has even more pickle-inspired ingredients. This adds a crunch to each bite and another punch of dill flavoring.
The smokey, meaty flavor you'd expect from a hot dog is there, too, and it pairs perfectly with the sour tang of pickles.
Pop these puppies in the oven and serve them at the beginning of the night to fuel you up for whatever shenanigans are about to go down.
10. For an After-Party: Breaded Fried Ravioli
So the rager is over, everyone's getting ready to sleep, and you need something quick and easy to settle your stomach after a long night of partying. Look no further than Trader Joe's Breaded Fried Raviolis.
Each ravioli is cheesy, crispy, crunchy, and gooey. It's everything you could want and need after a long, chaotic night.
The pasta is filled with five different types of cheese: ricotta, Monterey Jack, mozzarella, asiago, and parmesan. The ravioli is battered and deep fried until golden brown, and once reheated in your oven, reveals the gooiest, most mouth-watering interior known to man.
Pizza and mozzarella sticks are two classic drunk foods, and Trader Joe's Breaded Fried Ravioli is basically both of those foods in a convenient, snackable form.
11. For a New Year's Eve Party: Mini Vegetable Samosas
New Year's Eve parties are all about saying goodbye to the old year and hello to a new one. They're also equally about champagne and tons of fun little appetizers. My pick for a New Year's party is Trader Joe's Mini Vegetable Samosas.
Each samosa can be eaten in a bite or two, meaning you won't accidentally spill all over your expensive New Year's outfit.
These are made with flakey, crispy dough, and you'll find carrots, peas, potatoes, lentils, and onions inside, all cooked with warm and slightly spicy Indian spices. These samosas are just spicy enough to have a little kick but will still appeal to most guests at your party. Plus, with four samosas at only 160 calories, you can feel good knowing your guests are having a fairly healthy start to their New Year.
12. For a Game Day Party: Buffalo Style Chicken Poppers
Game days are associated with flavorful comfort food like wings, pizza, and dips. Trader Joe's has many of the above, but my favorite appetizer to serve during a game day party is their Buffalo Style Chicken Poppers.
Each of these bite-sized snacks is made with crispy phyllo dough stuffed with grilled chicken, cheese, and hot sauce. To get into specifics, the cheeses we're working with here are cream cheese, cheddar, fontina, and Monterey Jack.
This makes for an ultra-cheesy bite that's fried until golden brown for just the right amount of crisp. This appetizer has a bit of a kick, just like a buffalo wing, but it's kept from getting overly spicy thanks to that cream cheese mixture. Plus, these are a whole lot easier to eat than chicken wings!
13. For a Wine Tasting Party: Mini Spicy Pumpkin Samosas
Chocolate and cheese tend to get all the glory when it comes to wine and food pairings, but spicy foods are a surprisingly good (and more exciting) option for a wine-tasting party.
That being said, the perfect Trader Joe's appetizer to pair with wine is their Mini Spicy Pumpkin Samosas.
If you've never had a samosa before, it's a fried pastry filled with a savory (and usually spicy) filling, originally from South Asia. Trader Joe's take on the classic finger food is slightly different.
Instead of the usual potatoes, onions, or meat that are usually inside, these are filled with chunks of pumpkin, paneer cheese, and plenty of warm spices for a spicy kick. The inside of each samosa is gooey and warm, while the outside has the most satisfying crispiness.
Roses, champagnes, California Chardonnays, and pinot noirs are recommended for pairing with spicy food. Wines like Merlot and Cabernet Sauvignon are known for pairing well with pumpkin-based dishes.
So, no matter which wines you'll try at your party, Trader Joe's pumpkin samosas are pretty much guaranteed to go well with them!
14. For a Girls'-Night-In Party: Spicy Thai Shrimp Fried Rice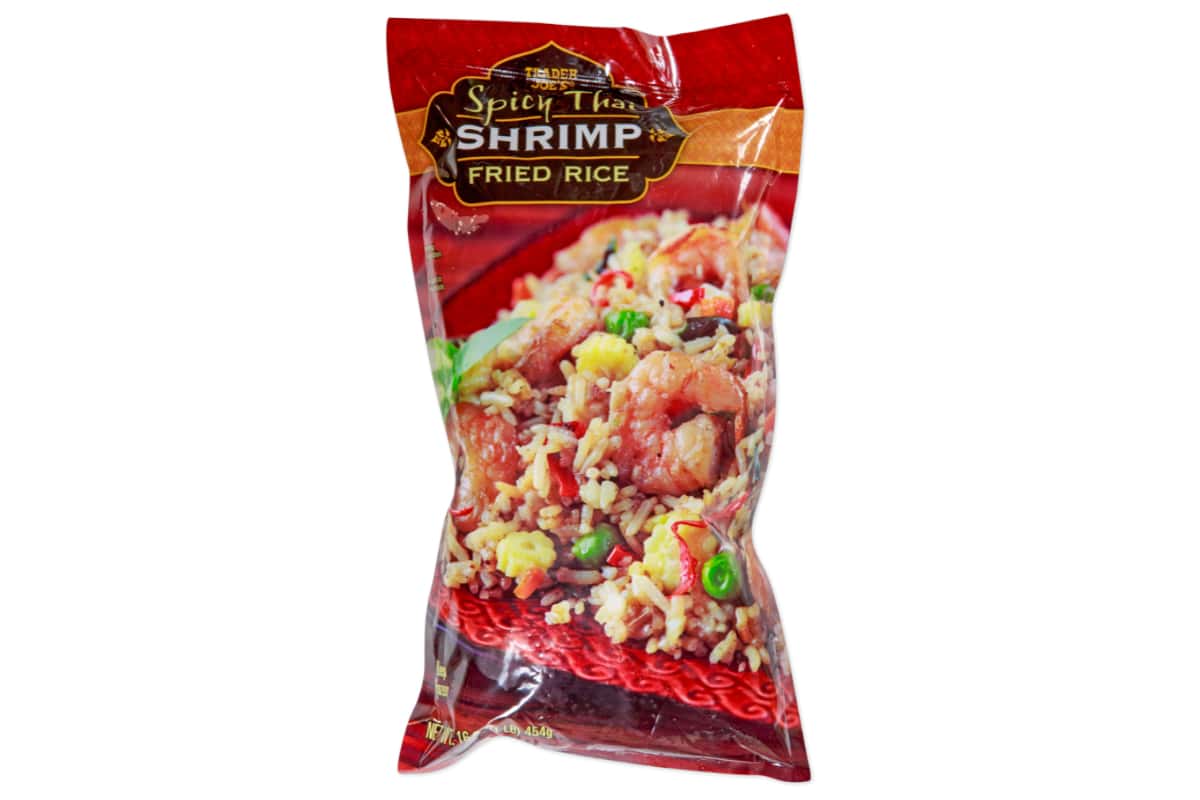 Spicy fried rice might sound like a random appetizer to serve at a girls' night-in, but let me explain. For starters, I've never met someone who doesn't love Trader Joe's fried rice, so it's a safe bet in terms of everyone enjoying it.
Trader Joe's Spicy Thai Shrimp Fried Rice is super light yet flavorful at the same time. When I'm having a girls' night, you can bet there will be lots of comfort food and desserts throughout the event, so I want to start my night off with something that won't completely fill me up. This veggie-filled appetizer fits the bill.
There are carrots, baby corn, peas, sliced Thai red chilis, and mini shrimp mixed into each bite, so this app is lighter and more refreshing than anything else. It has a bit of a kick, but not so much that it will scare off your guests who prefer a mild appetizer.
15. For an Office Party: Chicken Spring Rolls
In any kind of office event, it's best to stick with simple foods that everyone will like. Nothing too spicy or exotic since most of us don't know all our coworkers' likes and dislikes. This Trader Joe's appetizer is a safe bet.
Inside each crispy shell, you'll find a blend of white meat chicken, cabbage, carrots, and green onion. There's also a sprinkling of basil, garlic, and ginger, along with a few dashes of soy sauce, sesame oil, chili paste, and rice wine.
These remind me of the classic spring rolls you get with Chinese takeout, and who doesn't love those?
16. For a Banquet, Ball, or Formal Party: Mini French Baguettes
I know what you're probably thinking: "Frozen appetizers at a formal event?" Trust me, no one will be able to tell these are from Trader Joe's. That's because these baguettes are baked to around 80% doneness and then frozen so you can finish cooking them at home.
You're getting all the benefits of freshly baked bread without the hassle of making the dough, kneading, or proofing.
These baguettes have a crunchy, thick crust and a fluffy, chewy interior. They're smaller than your average baguette, making them perfect for cutting into slices and slathering with butter or jam before passing around to guests.
With a buttery, mild flavor, pretty much any topping will pair well with a slice of crust baguette.
Adding to the fancy feel of these baguettes is the fact that they're made in France and then shipped to your neighborhood Trader Joe's.
17. For Any Party (Best Overall): Greek Spanakopita
If all else fails, run to the Trader Joe's frozen appetizers aisle and pick up a box of their Greek Spanakopita before your party, no matter what the theme or vibe is.
This pie starts with a crispy, buttery phyllo dough filled with a mix of cheese, onion, leek, and plenty of spinach. It's also seasoned with classic Greek flavors like olive oil, dill, and parsley.
This appetizer has tons of salty feta and fresh veggie flavors, which will appeal to pretty much everyone. It's just light enough to ensure your appetite won't be spoiled, but the cheese and veggie mix is hearty enough to give you some energy for the night of socializing ahead.
I love how cheesy this pie is, but my favorite part is that flakey crust. Trader Joe's Greek Spanakopita is ideal for cutting into slices and serving to your guests fresh from the oven.
Bonus: Since this is a meat-free appetizer, vegetarians and carnivores alike can dig into this pie.