15 Best Frozen Pizzas From Trader Joe's, Ranked
Trader Joe's is famous for its seemingly endless frozen products, so you can bet your bottom dollar that they've got plenty of frozen pizzas to offer. Although items are often switched out, retired, or brought back throughout the year, there are usually around a dozen or so pizzas available at Trader Joe's at any given time.
These come in pretty handy when you're craving takeout. Pop them in the oven, and you'll have something just as good, if not better, in a few minutes. Here are my favorite Trader Joe's frozen pizzas ranked from good to must-tries. Make sure to add a few of these to your list on your next TJ's run!
15. Spizzico di Pizza
I think I speak for the majority when I say that the bigger the pizza, the better. Sometimes, though, nothing hits the spot more than an adorably miniature version of a dish. That's essentially what the first pizza on our list is.
Trader Joe's Spizzico di Pizza is a pack of 12 mini pizzas, each of which can be devoured in just a couple of bites. These have that classic pizza bagel-esque flavor that will transport you back to your childhood, and there's a fair amount of cheese on them.
While these Trader Joe's frozen pizzas get the job done and are fairly tasty, they got the last place because the ratio of each pizza ingredient is off. I'd say it's about 70% bread, 20% cheese, and 10% sauce.
14. Burrata, Prosciutto, and Arugula Flatbread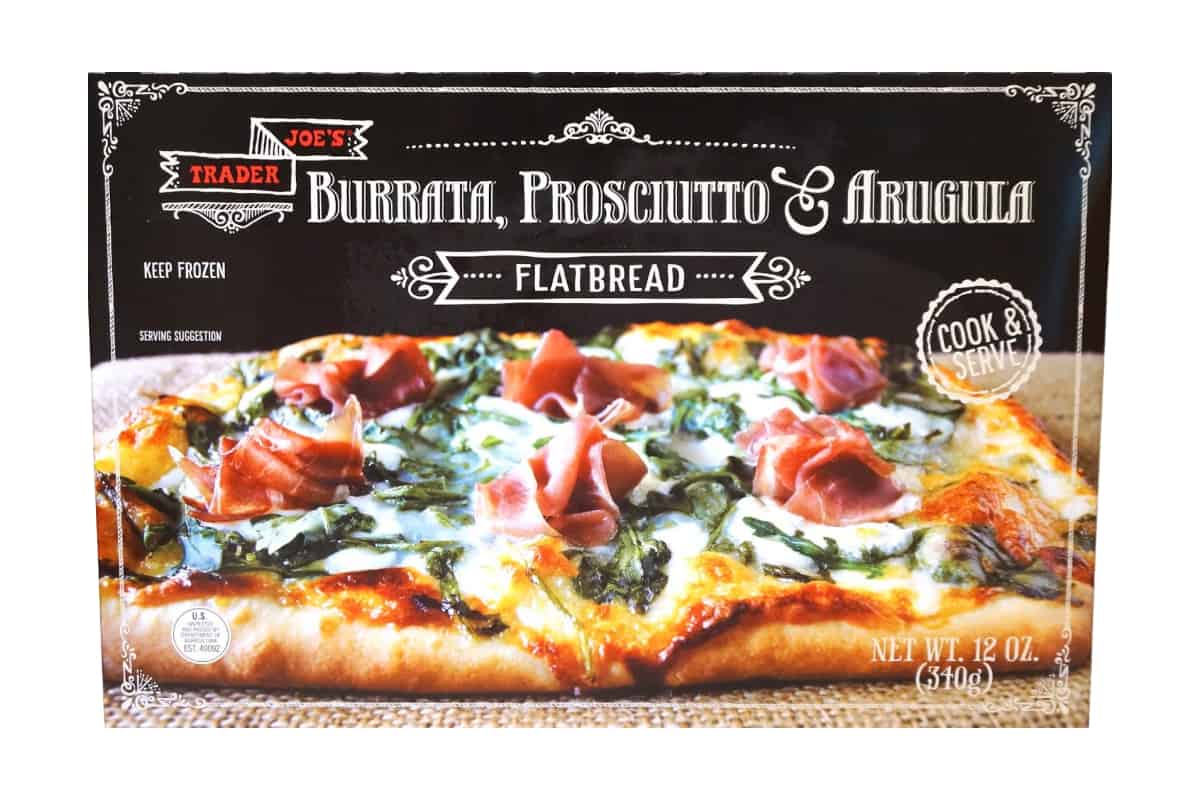 Every time I've tried this flatbread, I've been pleasantly surprised by the sophisticated flavors. It tastes like something you'd order as an appetizer at an upscale Italian restaurant (I'm sure all the Italians are cringing as they read that sentence – I'm sorry, but this Trader Joe's frozen pizza is that good!).
I'm not a big fan of pork, so I didn't rank it any higher, but all the flavors here are bright, bold, and fresh. The burrata cheese is incredibly creamy and buttery, offset by the salty prosciutto and fresh, sharp arugula.
Overall, it's a well-balanced pizza that can easily be eaten in one sitting by yourself or can be cut up and served as a sophisticated appetizer.
13. Gluten-Free Uncured Pepperoni Pizza
As Trader Joe's puts it on their website, "A pizza is only as good as its crust." I wholeheartedly subscribe to this belief. That's why I was very relieved when I finally got to try their Gluten-Free Uncured Pepperoni Pizza.
I'm not gluten-free, but one of my family members is, so whenever I visit, I end up eating a lot of gluten-free food. And let me tell you, it's rare to find a gluten-free pizza that tastes as good as the regular. This Trader Joe's frozen pizza has been the closest to the real thing I've found so far.
The crust is made with cauliflower, rice flour, chickpea flour, and cornstarch. The mix of these ingredients makes for a crust similar in taste and texture to the real thing.
On top of the crust, there's an herb tomato sauce, mozzarella cheese, bell peppers, red onion, black olives, and uncured pepperoni. All those toppings successfully cover up any lingering cauliflower flavor and are packed atop the crust without getting it soggy.
12. Vegan Meatless Meat Eater's Pizza
If you're skeptical when you hear the phrase "meatless meat eater's pizza," you're not alone. It sounds counterintuitive, to say the very least. But I have to admit that while this pizza doesn't taste like it's packed with authentic meat, it's still one of the best Trader Joe's pizzas.
The aforementioned "meats" are inspired by pepperoni, Italian sausage crumbles, and chorizo crumbles. They don't taste exactly like the real thing but have a pleasant smokey and salty taste.
The texture, on the other hand, is surprisingly close to the real deal. The cheese on this pizza is also vegan, meaning every aspect of this pizza can be eaten by those on a plant-based diet.
I wouldn't pick this up over most regular pizzas, but it's a solid option for those looking to have a vegan pizza.
11. Tarte aux Champignons
This is technically marketed as a tart, but I'll go ahead and call this a pizza because that's basically what it is. Trader Joe's Tarte aux Champignons is made with a super thin, crispy crust with lots of buttery flavor in it.
The crust is topped with a blend of cheeses, including Parmigiano Reggiano, which brings in a punch of salty goodness. It's also topped with oyster mushrooms, white mushrooms, and a generous sprinkling of parsley flakes.
This is a simple yet elegant pizza whose main event is the cheese. My only gripe is that it's really hard to get a crispy bottom crust. Every time I've bought this tart and put it in the oven, the sides are perfectly crisp, but the bottom is always soggy.
Since the crust is so thin, this pizza is super easy to eat by yourself in one sitting. Maybe a little too easy!
10. BBQ Chicken Pizza
I've always been a fan of California Pizza Kitchen's iconic BBQ chicken pizza, and I have to admit that this Trader Joe's frozen pizza comes pretty close to the original.
Like the CPK version, it has a tangy BBQ sauce, chicken, red onions, gouda, and mozzarella. The BBQ sauce has a great balance of tang and smoke, with just a hint of spice. There's a generous helping of chicken on each slice, too.
My favorite part of this pizza is the red onion, which adds a bit of freshness and sweetness to the pie.
The crust here is a bit thicker than most of their other frozen pizzas. While I love a thick crust, this one is a bit bland, so I couldn't rank it any higher than number 10.
9. Organic Roasted Vegetable Pizza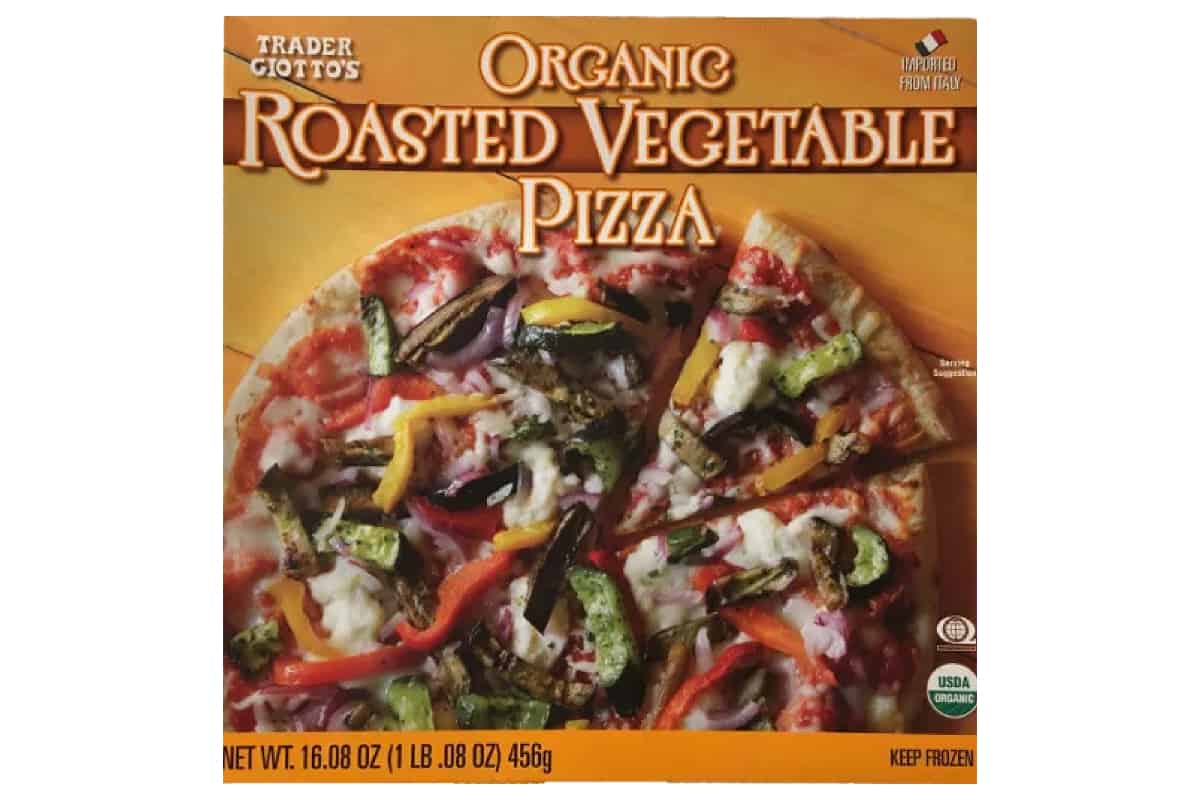 I feel like meat lovers always get the best creations when it comes to pizza. What about us veggie lovers? Trader Joe's heard our cries and responded with their Organic Roasted Vegetable Pizza.
This pie is packed with eggplant, zucchini, peppers, and red onions. The veggies are roasted, which gives them a sweeter note and makes them nice and soft. Eggplants and zucchinis aren't your typical pizza toppings, so I'm glad Trader Joe's thought outside the box when creating their veggie pizza.
The crust here is a crisp sourdough, which is also unique and adds a depth of flavor and a nice crunch.
8. Pizza Parlanno
Of all the pizzas on our list, the Pizza Parlanno tastes the most like a takeout pizza. It has a stone-baked crust that's incredibly crunchy and strong. It's perfect for holding a bunch of toppings.
Speaking of toppings, there's an impressive amount stacked on here. Veggie-wise, there's roasted bell peppers and onions, and meat-wise, there's Italian sausage crumbles and uncured pepperoni slices.
The cheese featured is a blend of mozzarella, parmesan, and Romano. All those flavors are pulled together with a zesty tomato sauce.
From crust to sauce to cheese and toppings, this is an all-around well-done pizza from Trader Joe's that could easily pass as takeout.
7. Shrimp & Garlic Flatbread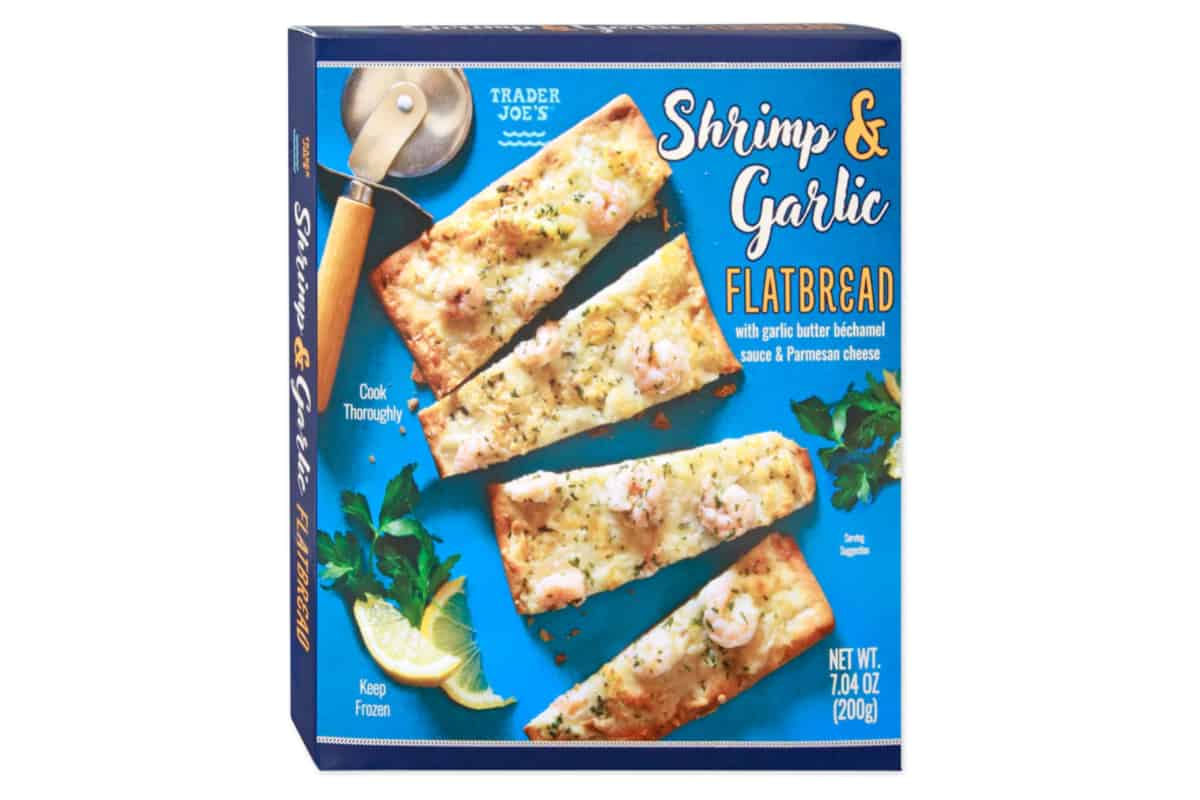 If shrimp, garlic, and cheese work so well together in a pasta dish, they should work just as well (if not better) on top of a pizza, right? I believe that's what inspired Trader Joe's on this product.
The Shrimp & Garlic Flatbread has a thin rectangular crust topped with a garlic butter béchamel sauce. Then, there's a sprinkling of parmesan put down before the main event. The main event is, of course, the shrimp, which is the perfect size to top the pizza without weighing it down and making the thin crust soggy.
This Trader Joe's frozen pizza has all the elements you'd find in a shrimp alfredo dish, but it's unique because of the flavors used in the base sauce. There are chives and parsley, white pepper, curry powder, and even some citrus zest in there. While you can't always taste each of these ingredients individually, they come together to make a perfectly balanced creamy sauce.
6. Mushroom & Black Truffle Flatbread
This may be slightly controversial, but I think mushrooms are one of the best pizza toppings. From taste to texture, I can't get enough, and I order them every time I customize my pizza.
That's probably why the Mushroom & Black Truffle Flatbread is so high on my list of the best Trader Joe's pizzas. After all, it's packed with wild mushrooms and truffles. The flavor is only amplified by a super creamy, intense truffle sauce.
The cheese used here is a rich, fresh mozzarella, which is mild enough to let the truffle and mushroom flavors take center stage.
Every time I popped one of these into the oven, it always came out perfectly crisp and golden brown with bubbly cheese. I'll be seriously perturbed if Trader Joe's ever discontinues this flatbread.
5. Pizza Margherita
This is Trader Joe's version of a classic Margherita pie, and the brand captures the simplicity of an authentic Italian pizza. It has a short list of ingredients, each of which is high-quality and fresh.
Instead of shredded mozzarella or a blend of cheeses, this pie features mozzarella slices that are melted in a circle around the pizza. The sliced mozzarella is creamier than the shredded version, which is a big plus for me.
The sauce here is good, too. It's bright and fresh-tasting, with just enough salt and Italian herbs.
The pizza is topped with dried basil, which doesn't have a ton of flavor but adds a nice touch in the aesthetic department. Trader Joe's Pizza Margherita is simple and basic in the best way possible.
4. Organic Cheese and Tomato Pizza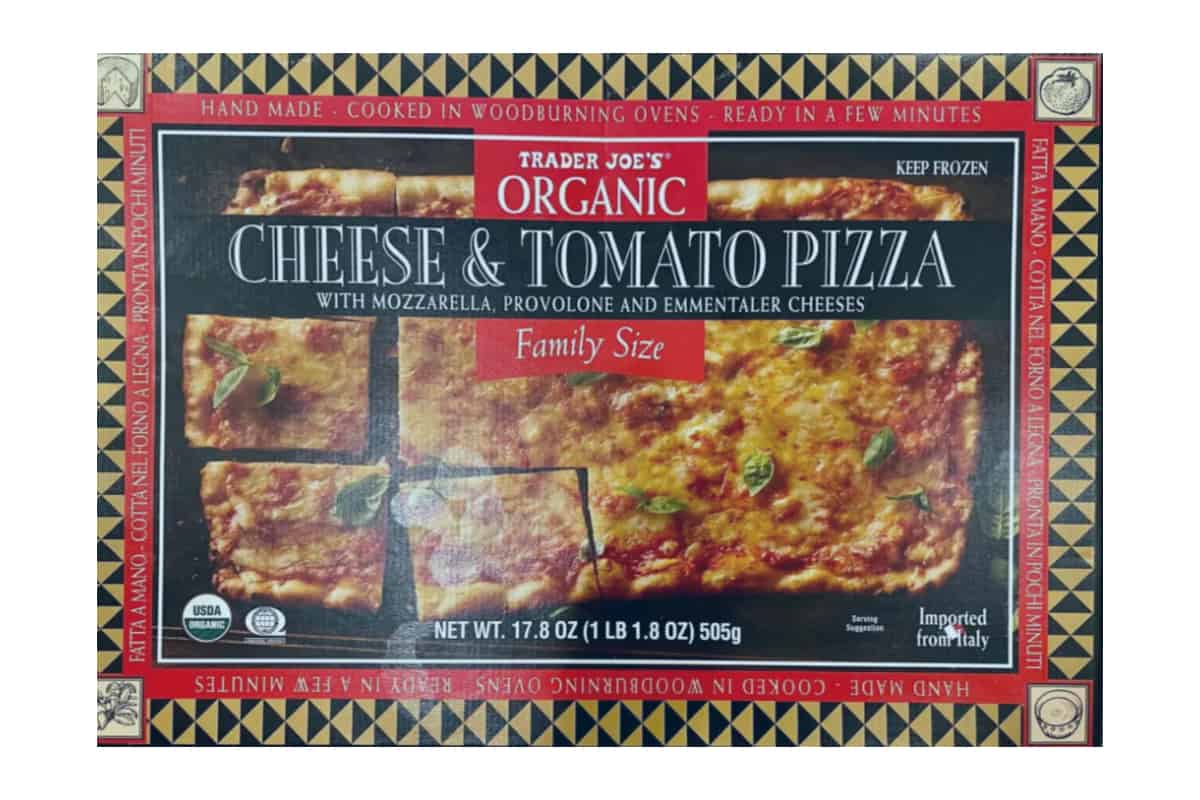 The Organic Cheese and Tomato Pizza is another simple yet delicious option. It's made with three types of cheese: mozzarella, provolone, and Emmentaler.
Provolone and Emmentaler are less commonly found on pizzas than cheeses like mozzarella or parmesan, so this Trader Joe's pizza has a unique, classy flavor.
The tomato sauce here is very tomato-heavy, which brings in a ton of freshness. I usually prefer a more traditional marinara, but I like the punchy tomato flavor paired with the milder cheeses here.
This pizza is pretty wide (it's marketed as family-size), but it's also super thin and crispy, so it can be easily split between two people.
3. Uncured Pepperoni Pizza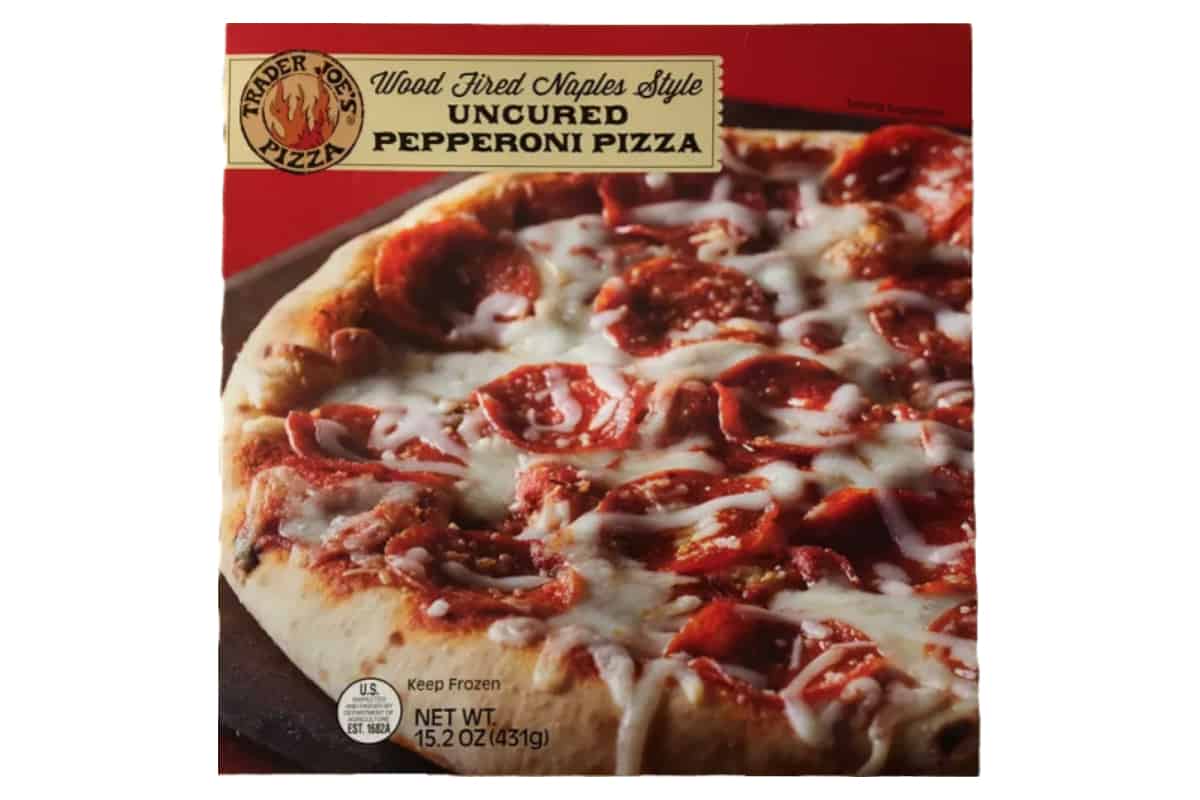 What can I say about Trader Joe's Uncured Pepperoni Pizza that hasn't already been said? It's a fan favorite, with rave reviews all over the internet. And if you've ever tried a slice of this pizza, you understand why.
Let's start with the crust – it's thicker than most Trader Joe's pizza crusts, with a chewy and fluffy texture. That just happens to be my favorite type of pizza crust.
Then, there's the cheese, which is a mix of provolone, fontina, and Monterey Jack. The sauce here is a bright, herby tomato sauce.
Lastly, there's the uncured pepperoni, which is salty, smokey, spicy, and made with real pork (you'd be surprised how many popular frozen pizza brands mix different meats to form their pepperoni and sausage toppings).
If I had to pick one Trader Joe's pizza to feed to a big group of people, it would be their Uncured Pepperoni. That's because every element of this pizza is well-done and a sure crowd-pleaser. After all, who can hate a well-made pepperoni pizza?
2. Vegetarian Meatless Cheeseburger Pizza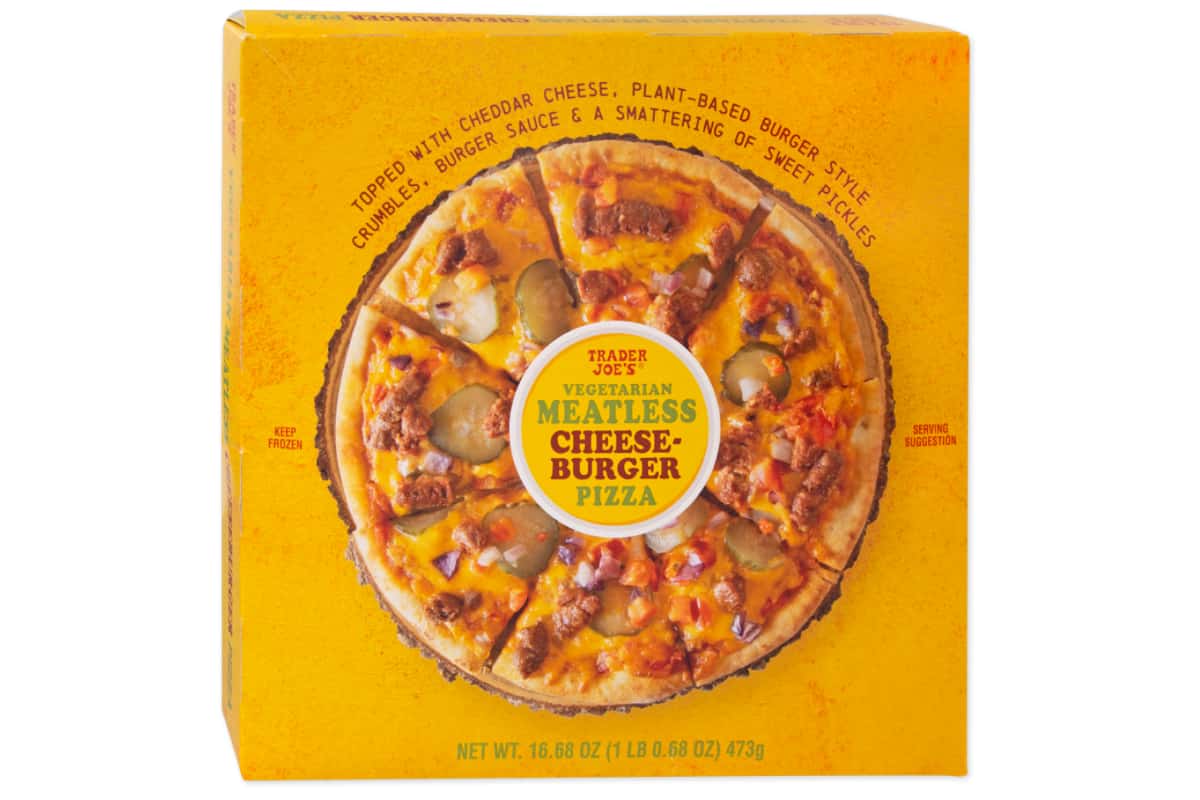 Ranking the Vegetarian Meatless Cheeseburger Pizza second on the list may sound like a bit of an abomination, but I promise it'll surprise you.
This pizza is made with plant-based "burger meat," which doesn't taste like the real thing, but there are so many other amazing things going on here that I don't care.
There's a tangy, creamy burger sauce (reminiscent of Big Mac sauce), diced red onions and tomatoes, and tons of sharp cheddar cheese.
If that's not enough burger flavor for you, there are also slices of sweet pickles and crumbles of that plant-based "burger meat" I mentioned earlier. It doesn't taste like real beef, but the flavor itself isn't bad. It's salty and savory and blends in with all the other toppings with a stronger flavor.
Trader Joe's loves to take it to the next level with its fusion foods, and this cheeseburger pizza is a huge success, in my opinion.
1. Roasted Garlic & Pesto Pizza With Deep Fried Crust
You're probably thinking, "Pizza is perfectly delicious on its own, so why would it need to be fried?" My response to you is that I was once like you until I tried Trader Joe's Roasted Garlic & Pesto Pizza.
For starters, fried pizza (or pizza fritta, as the Italians call it) is an Italian street food staple, so Americans didn't dream up this dish. You might think the crust would be dripping with oil, but it's not. The quick fry ensures a crispy, crunchy exterior and pillowy, chewy interior.
The deep-fried crust is the highlight of this pizza, but I also need to tell you about the toppings because they're one of a kind. Seriously, I've never found another pizza with this particular combination.
There's mozzarella, provolone, and Parmigiano Reggiano. There are also dollops of burrata, fresh pesto, and chunks of roasted garlic.
The garlic and pesto bring some zing to an otherwise creamy, mild pizza and keep everything feeling fresh. The burrata is incredibly milky and lush, which contrasts beautifully with that super crispy fried crust.
I've eaten a lot of pizza in my day, and this is easily my favorite Trader Joe's pizza of all time. If you've never had it, I'm telling you that you need to give it a try!