20 Best Frozen Foods at Trader Joe's, Ranked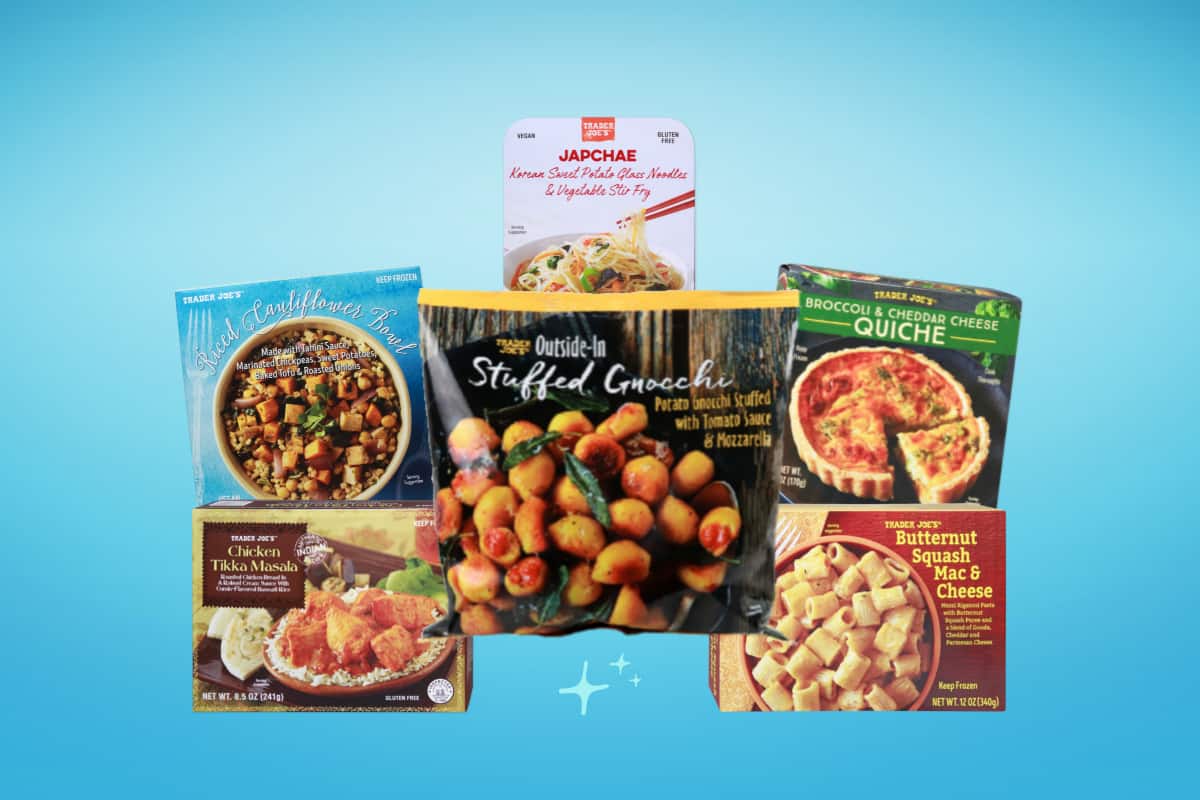 We often find ourselves having to choose between quality or convenience when it comes to food. Trader Joe's seems to think you shouldn't have to choose between the two and offers plenty of frozen foods that are dependably delicious and easy to make.
Trader Joe's frozen dinners saved me from questionable dining hall food countless times in college, and even today, I keep a handful of their frozen entrees in my freezer in case I need a quick, easy dinner. Here are my favorite frozen meals at Trader Joe's with a variety of flavors, from pastas to Asian dishes.
20. Chipotle Vegetable Quesadilla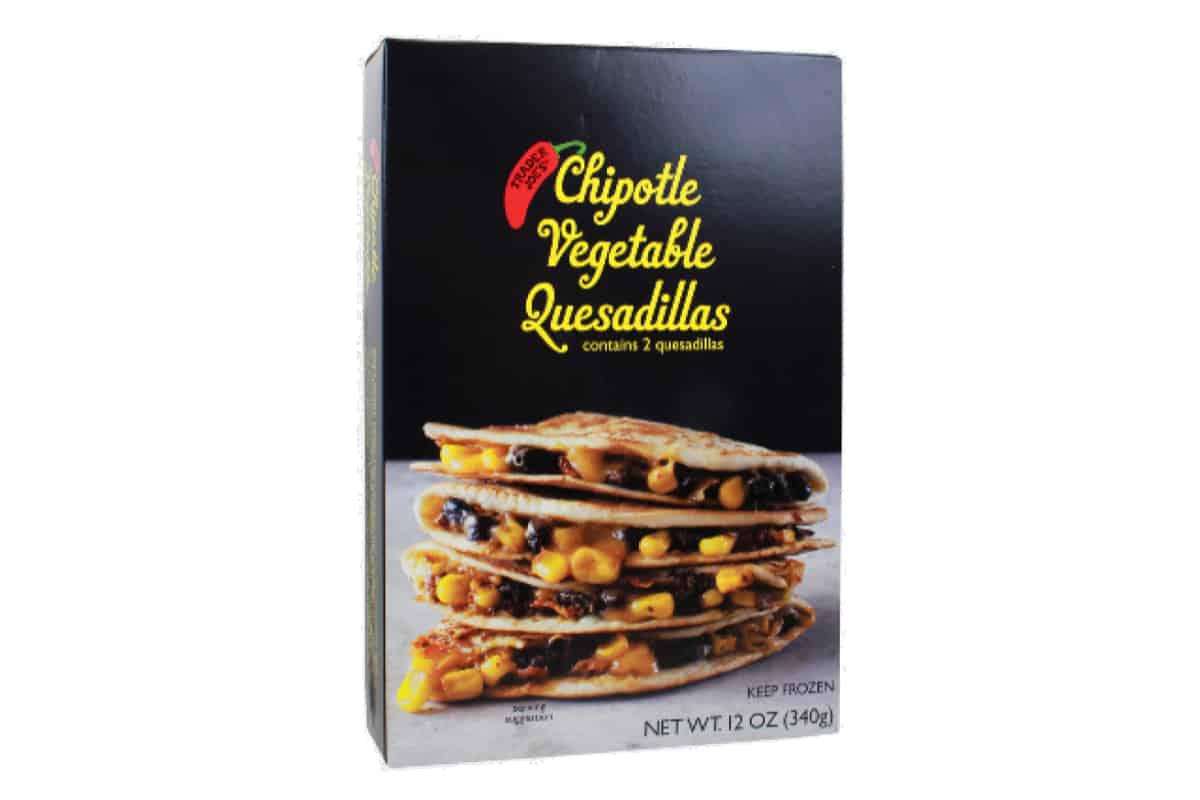 Some foods are undoubtedly better when made fresh, but that doesn't mean the frozen version can't taste good. That's the case with Trader Joe's Chipotle Vegetable Quesadillas. Nothing beats a fresh, crispy quesadilla, but these come impressively close.
There are two quesadillas in each package. Each quesadilla starts with a flour tortilla loaded with two types of cheese – Monterey Jack and cheddar. Then, there are smoked jalapenos, onions, black beans, and bits of sweet corn. All that is finished off with a smokey sauce that has a little kick to it.
There's so much going on in this quesadilla, and every element is great. Creamy, gooey cheese? Check. Smokey, spicy flavor from the jalapenos and sauce? Check. Fresh veggie flavor? You bet. Can this quesadilla get a "little" soggy in the microwave? Yes. But having a quality quesadilla in less than five minutes makes it worth it.
19. Spaghetti Cacio e Pepe
Cacio e pepe is a traditional Italian dish that translates to "cheese and pepper." This Trader Joe's pasta dish has a cheesy sauce with a super peppery kick. It's incredibly simple to make since you just need to transfer it to a plate and click a button on your microwave.
It's made with spaghetti pasta mixed in a creamy sauce with Pecorino Romano cheese and black pepper. I've ordered cacio e pepe a few times at Italian restaurants. While Trader Joe's version isn't quite as silky or creamy, it's really good, considering you're buying it at the grocery store for a few bucks.
I love how Trader Joe's doesn't shy away from the "pepe" part of this dish. The black pepper flavor is prominent and adds the perfect little kick to each bite.
18. Yellow Jackfruit Curry with Jasmine Rice
Jackfruit is an increasingly popular meat substitute, and it seems like Trader Joe's is fully on board with the craze. If you've never had it before, it has a sweet and mild flavor, almost like a mix between mango and banana. But if you eat it before it's ripe, it doesn't have much flavor and has a texture pretty close to shredded meat. That's the type of jackfruit used in this Trader Joe's frozen dish.
The young jackfruit is shredded and paired with jasmine rice and chunks of eggplant and bell pepper. This combination is covered in a yellow curry sauce made with coconut and herbs like lemongrass and turmeric.
The yellow curry sauce is the star here. It's super creamy and coconutty but also has some complex notes, thanks to the fresh herbs added to the sauce. The jackfruit soaks up all the flavor of that sauce and brings in a pulled pork-like texture.
17. Cuban Style Citrus Garlic Bowl
Trader Joe's Cuban Style Citrus Garlic Bowl is made with yellow turmeric rice, marinated chicken thighs, plenty of veggies, and a citrus-garlic mojo sauce.
The non-meat components in this dish include red bell pepper, onions, black beans, plantains, and cilantro. The chicken is super juicy and flavorful, but the stand-out element of the meal is the mojo criollo sauce.
Made with orange juice, lime juice, and ginger, this sauce has a bright, zesty flavor that completely transforms the dish from good to mouth-watering.
I used to dislike the taste of cilantro, but I'm starting to warm up to it, especially in this Trader Joe's frozen meal, because it pairs so well with the citrus, ginger, and plantains.
16. Broccoli & Cheddar Quiche
Quiches are traditionally eaten as a breakfast food, but I've had Trader Joe's Broccoli & Cheddar Quiche for lunch and dinner on many occasions. It's incredibly easy to whip up in a couple of minutes and comes packed with veggies and a crust to die for.
I think of quiches as an omelet-pie hybrid. This one has a fluffy, savory egg filling made with broccoli and tons of cheddar cheese. The crust is super flaky and buttery, providing a satisfying crispiness against that soft, fluffy interior.
Trader Joe's seasoned this frozen meal with the basic ingredients to enhance veggie and cheese flavors – onion, garlic, salt, and black pepper. I've tried out plenty of frozen grocery store quiches, and this is by far my favorite.
15. Thai Vegetable Gyoza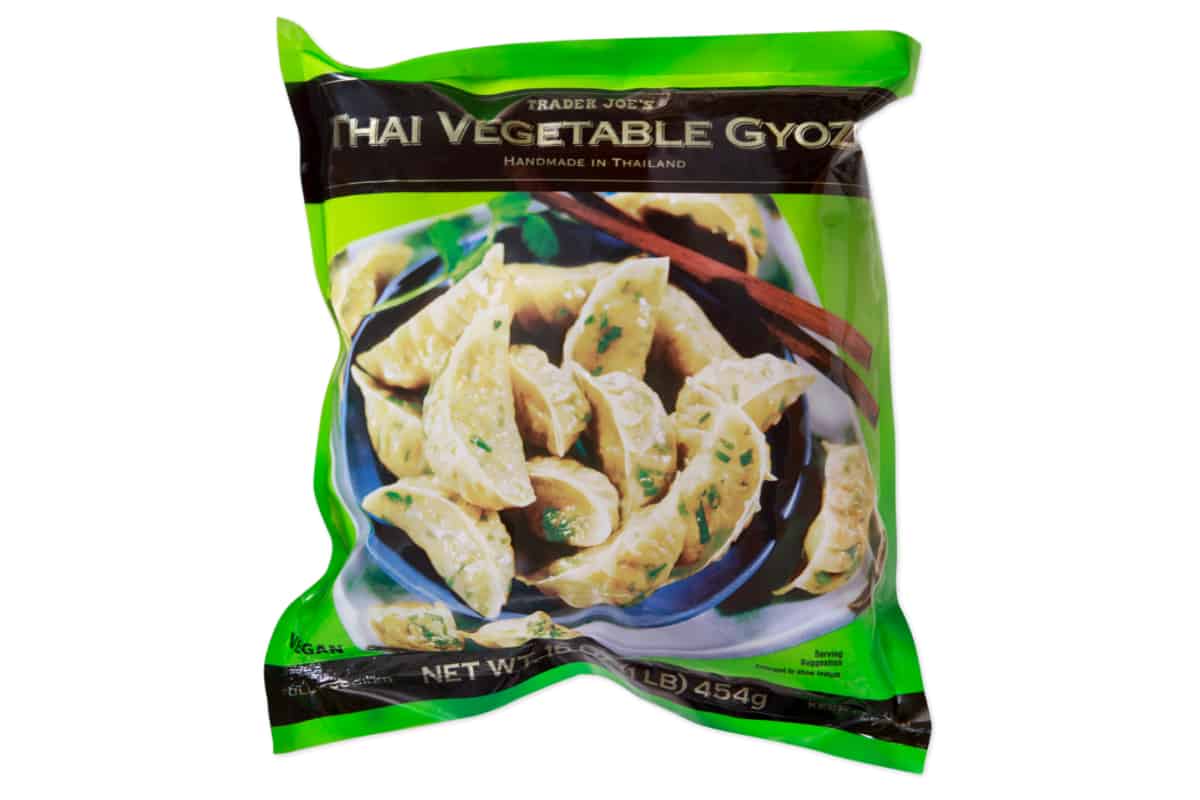 Trader Joe's Thai Vegetable Gyoza is one of those frozen meals that, even if you've never tried it before, you've probably heard someone talk about it. These veggie-filled crescent dumplings pack so much flavor into every little pouch and are very easy to make.
If you have extra time, throwing these in a pan with some oil will produce crispy dumplings. But I usually put these straight into the microwave, and they still come out delicious.
Inside each dumpling is a mix of white cabbage, carrot, onion, chive, and white radish. There's also some ginger, garlic, and soy sauce to amp up the flavor. Each pack comes with Gyoza Dipping Sauce, which tastes like soy sauce but is a bit sweeter.
14. Vegetable Fried Rice
As we continue through the list of the best Trader Joe's frozen meals, you'll start to notice a pattern. TJ's has mastered the art of frozen Asian meals, in my opinion. Their Vegetable Fried Rice has all the usual suspects, including carrots, edamame, corn, green peas, leeks, and red bell peppers.
The seasoning here is what you'd expect from a fried rice dish. It includes soy sauce, rice wine, and seaweed for a salty note, some sugar for sweetness, and sesame oil for that signature nutty flavor.
Unlike most fried rice, this one doesn't include any egg in the mixture, so you'll have to BYO-egg. If you're craving crispier rice, put the contents of the bag into a frying pan, but I usually pop the bag in the microwave for a fluffy, soft bite.
13. Philly Cheesesteak Bao Buns
The Philly Cheesesteak Bao Buns have mixed reviews among TJ's fans, but personally, I enjoy them. As you can tell from the name, this Trader Joe's meal is a mix between a bao bun and cheesesteak. Bao buns have a fluffy, slightly sweet bread on the outside and are filled with veggies or meat.
These bao buns are filled with ingredients you'd find in a Philly cheesesteak – shredded beef, onion, and bell peppers. The ingredient list says there's American cheese in there, too, but I've never been able to taste it whenever I've bought these.
Even though the cheesesteak part is somewhat cheeseless, the bao buns are still delicious. The meat is seasoned well, and the bun itself is super fluffy and has a hint of sweetness. Be warned, this doesn't taste like a real cheesesteak, but it still has a great flavor.
12. Mandarin Orange Chicken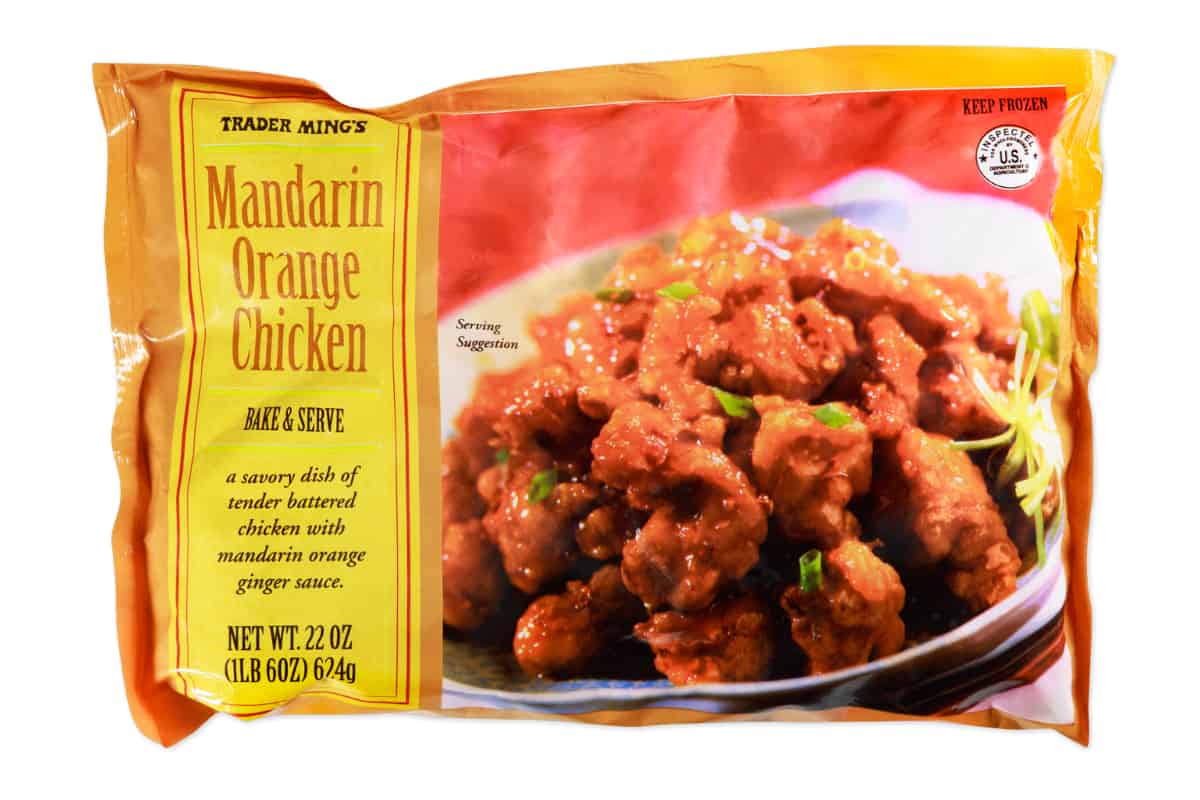 I'd venture to say that one of the most popular Trader Joe's products of all time is their Mandarin Orange Chicken. Many people love it, and I am one of those people. Each pack comes with a helping of juicy dark-meat chicken breaded in a crispy batter.
The chicken comes out incredibly crispy and crunchy when cooked in the oven. Trader Joe's recommends cooking the chicken and then placing it in a skillet with the orange sauce to ensure it's evenly coated in sauce and caramelized to perfection.
The sauce is really what makes this dish irresistible. It has an in-your-face orange flavor along with prominent ginger notes. It also has the perfect spicy kick to it, thanks to the addition of red chile.
The only reason I couldn't rate this cult favorite any higher is because it doesn't come with rice like so many of the other Trader Joe's frozen meals do. It's just one extra step that's easy enough to do myself, but premade rice included in the bag makes all the difference in a pinch.
11. Seafood Paella
I'll start by addressing the elephant in the room: no, this Trader Joe's frozen meal will not taste like the paella you'd get at a Spanish restaurant. And no, the seafood isn't going to blow you away with its freshness and quality. However, it's pretty tasty for what it is (a frozen meal from the grocery that costs around $5).
The seafood in this dish includes mussels, shrimp, and calamari, along with plenty of colored bell peppers. The rice is soft and velvety without getting mushy, providing a nice texture to pair with the seafood.
The sauce featured here is a mild tomato-y one, which allows the seafood flavor to shine through. Like I said before, if you are picky with your paella, you might not be impressed with it, but if you're a seafood lover who isn't too particular, I think you'll be pleasantly surprised by Trader Joe's Seafood Paella.
10. Vegetable Biryani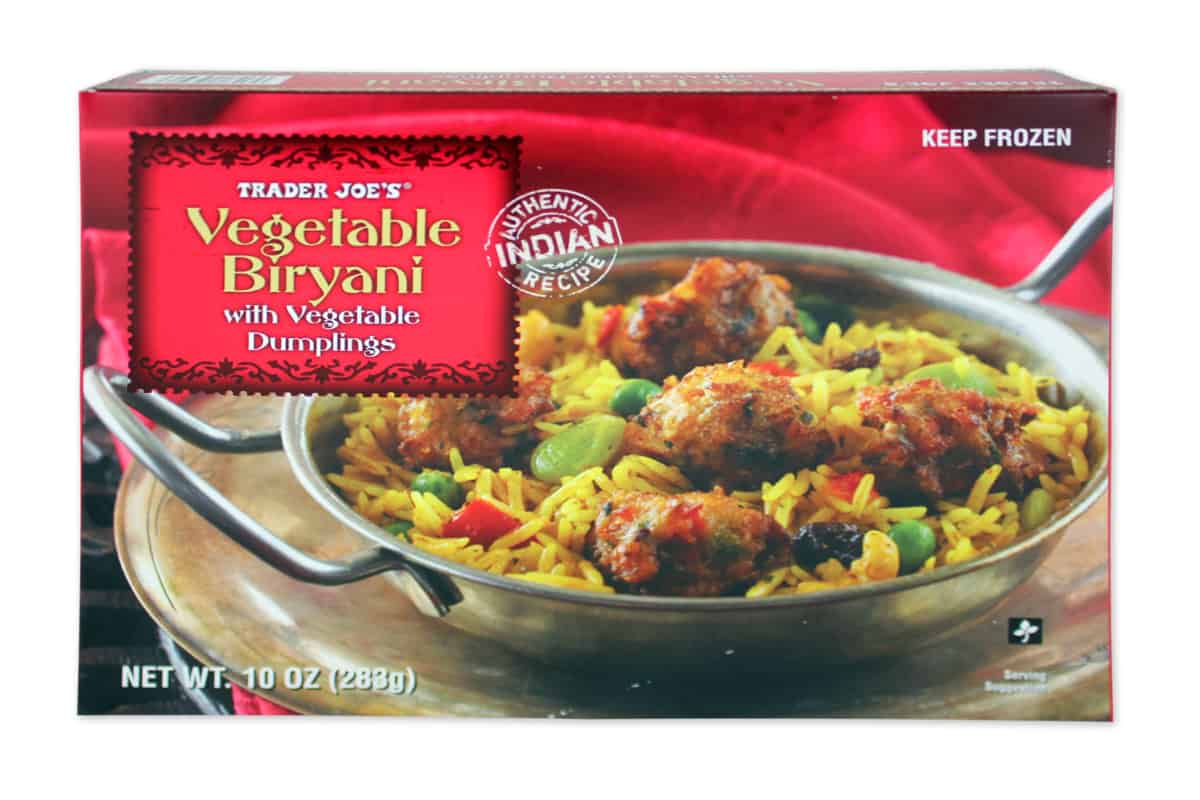 Trader Joe's was my introduction to the world of biryani, which is a South Asian dish that reminds me of fried rice because it typically includes veggies, rice, and meat, all mixed together in each bite.
Trader Joe's Vegetable Biryani features vegetarian dumplings instead of meat, which are super soft, fluffy, and full of savory flavor. The dumplings are my favorite part of this dish, but the basmati rice is also delicious. It comes with tons of veggies, including carrots, lima beans, cabbage, and red bell peppers.
The meal also has slivers of cashews and raisins, which are traditionally included in the dish. Raisins aren't my favorite (especially in savory food), but they do provide a unique salty-sweet contrast.
9. Riced Cauliflower Bowl
The Riced Cauliflower Bowl is one of the most delicious Trader Joe's frozen dinners. The "rice" here is cauliflower, which has been cut to have a similar shape and texture to rice.
This dish features marinated chickpeas, tahini sauce, and cubes of tofu. There are also roasted sweet potatoes and red onions throughout. I love the bold Mediterranean flavors in this bowl, plus that bit of sweetness from the sweet potato.
Cauliflower rice can easily get mushy or have a strong flavor, but the kind Trader Joe's used in this frozen meal has a neutral taste and keeps its rice-like consistency.
8. Turkey Sausage Stuffing Fried Rice
The Turkey Sausage Stuffing Fried Rice is a seasonal item that I look forward to every year. It's similar to a classic fried rice dish but features some Thanksgiving-inspired ingredients that work surprisingly well in this format.
Veggie-wise, there are slivered green beans, corn, carrots, onion, and celery. There are also breadcrumbs with herbs like thyme and rosemary, which bring in that classic holiday flavor. Lastly, there are bits of turkey sausage to bring everything full circle in the Thanksgiving department.
I love this frozen meal because it's an interesting combination of foods I'd never thought to pair. I highly recommend cooking this in a pan with some butter. Whenever I warmed it up in the microwave, I noticed the herb flavors weren't as prominent.
7. Chicken Tikka Masala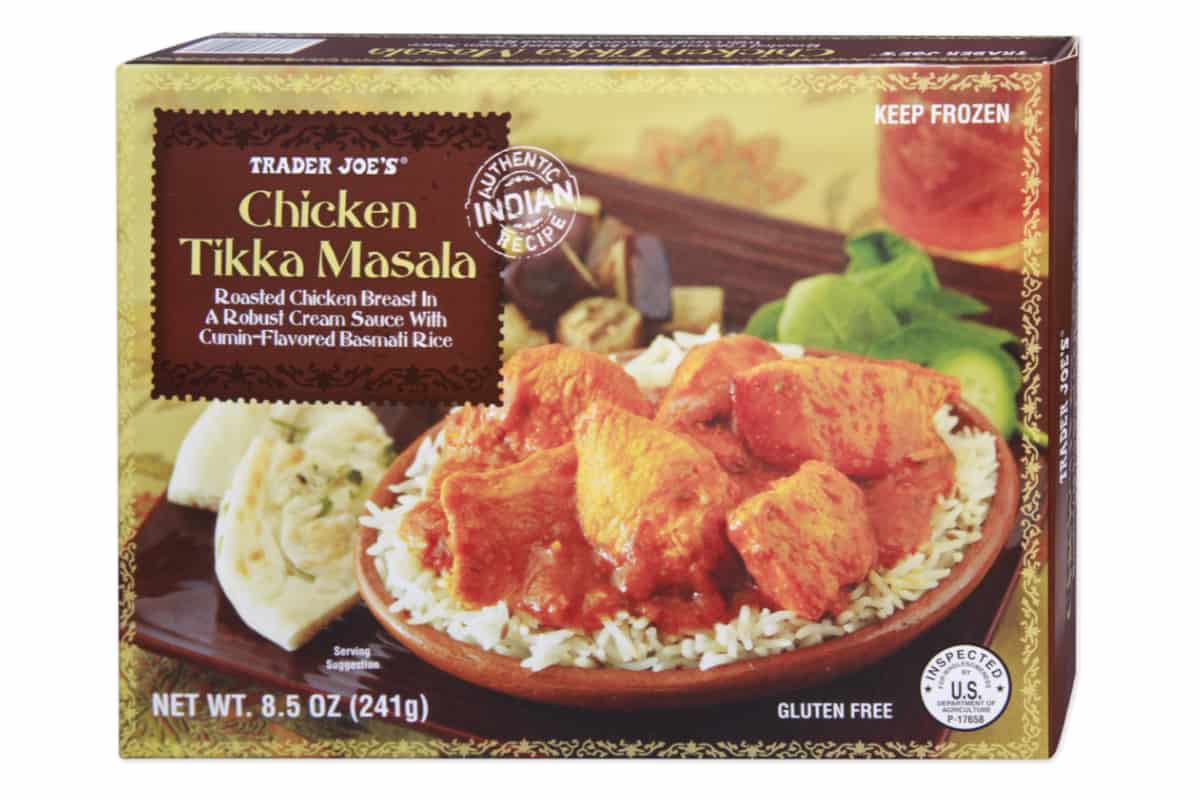 There's something special about frozen chicken dinners at Trader Joe's, right? Their Chicken Tikka Masala features chunks of white meat chicken, cumin basmati rice, and one of the most delicious sauces of all time.
The sauce I'm talking about is their Tikka Masala, which is a tomato-based curry sauce that's creamy, silky, and just a little bit spicy. It also has a bit of sweetness and some earthiness to it.
The white meat chicken in this dish is plentiful and juicy, while the cumin rice has warm, nutty notes only brought out by that Tikka Masala sauce.
The fact that the chicken, rice, and sauce all come in one convenient packet is another reason this is one of the best Trader Joe's frozen meals of all time.
6. Cheese & Green Chile Tamales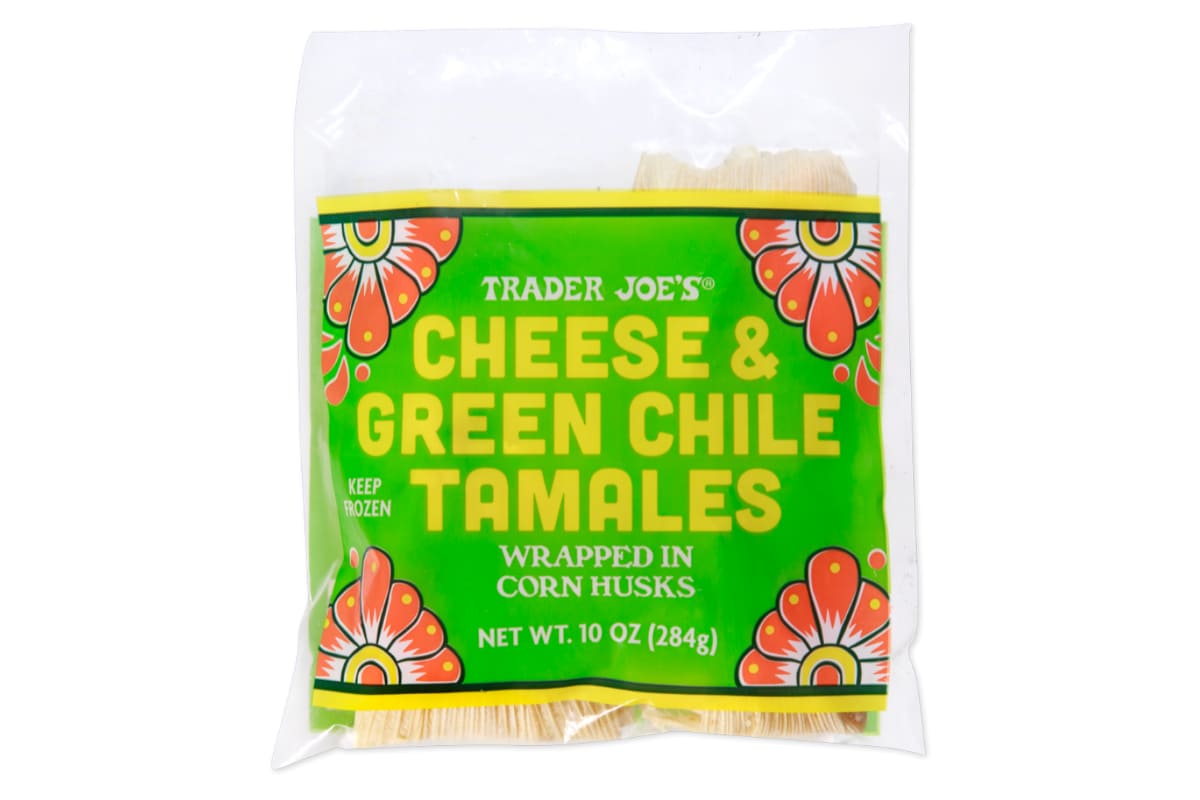 The Cheese & Green Chile Tamales are my favorite frozen Mexican dish from Trader Joe's. Each package comes with two tamales, which are filled with Monterey Jack cheese, green chiles, and red chile puree.
The outside of the tamales are made with a corn dough that's soft and tender, and each tamale is wrapped in a corn husk. These are ready to go after three minutes in the microwave, but I wouldn't think twice if they were served to me at a nice Mexican restaurant.
The corn dough has an earthy, sweet flavor that pairs beautifully with the slightly spicy and cheesy inside of the tamale. The green chiles and red chile puree add a nice kick, but the cheese tames down the flavor, so it isn't too spicy. I love eating these with a side of sour cream, black beans, and avocado.
5. Butter Chicken With Basmati Rice
There's no better chicken dinner available at Trader Joe's than their iconic Butter Chicken with Basmati Rice. This is a meal I could never get sick of.
In this dish, each tender piece of chicken is covered in a creamy, buttery tomato sauce, which is jam-packed with flavors from onion and garlic to ginger and paprika.
There's a serving of basmati rice to go with your chicken, which happily soaks up any extra sauce. This iteration of the classic Indian dish is very similar to the butter chicken I've gotten at Indian restaurants in the past. It has just the right amount of spice to it, and the buttery, creamy sauce makes this meal feel like a treat.
4. Vegetable Pad Thai
Throw this in the microwave, put it in a takeout box, and deliver it to my door. I honestly don't think I'd be able to tell the difference between Trader Joe's Vegetable Pad Thai and takeout from an authentic Thai restaurant.
Pad Thai is one of my favorite noodle dishes of all time, and I remember being blown away by how good Trader Joe's take on the dish was when I first tried it. The noodles here are chewy with a nice stretch to them, and the sauce coats each strand perfectly.
Speaking of sauce, the one featured here is made with tamarind and soy sauce and has a sweet-spicy thing going on. Besides the rice noodles, there are bean sprouts, scallions, and pieces of tofu throughout the dish. The tofu is slightly crispy on the outside with a nice chew inside, and it also sucks up all that yummy flavor from the sauce.
Veggie Pad Thai is one of the simplest options among Trader Joe's frozen meals, but the flavors and textures are so well done that it's also one of the most delicious.
3. Butternut Squash Mac and Cheese
The Butternut Squash Mac and Cheese definitely made a splash when it was first released. It seemed like everyone loved it, but it can be hard to get your hands on it. It also doesn't help that it's a seasonal item available only in the fall and winter. But this dish is so good that I'll let it slide.
This frozen meal from TJ's is made with short, ridged tubes of rigatoni. Each piece of pasta is enrobed in a creamy béchamel sauce made up of cheddar, gouda, and parmesan cheeses, plus butternut squash pureé and a dash of warming spices.
Thanks to its ridges, rigatoni is ideal for holding onto the sauce, so every bite of this mac and cheese will give you a generous portion of that cheesy béchamel blend. The nutmeg and sage in the sauce really shine through, pairing beautifully with the naturally sweet butternut squash and bringing that holiday flavor.
2. Japchae Korean Glass Noodles & Vegetable Stir Fry
As you may be able to tell from our extensive list, plenty of Trader Joe's frozen entrees have huge fan bases behind them. My number two pick, though, doesn't seem to get the hype it deserves.
The Japchae Korean Glass Noodles & Vegetable Stir Fry is flavorful, packed with veggies, and features the coolest see-through noodles I've ever seen. Cool noodles aside, this dish has so much going for it in the flavor department.
The veggies in this meal include onions, spinach, bell peppers, and carrots. The glass noodles are made with sweet potato and have a satisfyingly chewy texture. Both the noodles and the veggies are tossed with a sweet and salty sauce made with brown sugar, sesame oil, and soy sauce.
All these elements combined make for a dish that tastes fresh and light yet comforting at the same time. If you love Asian noodle dishes, there's a very high chance you'll enjoy Trader Joe's Korean Glass Noodles.
1. Outside In Stuffed Gnocchi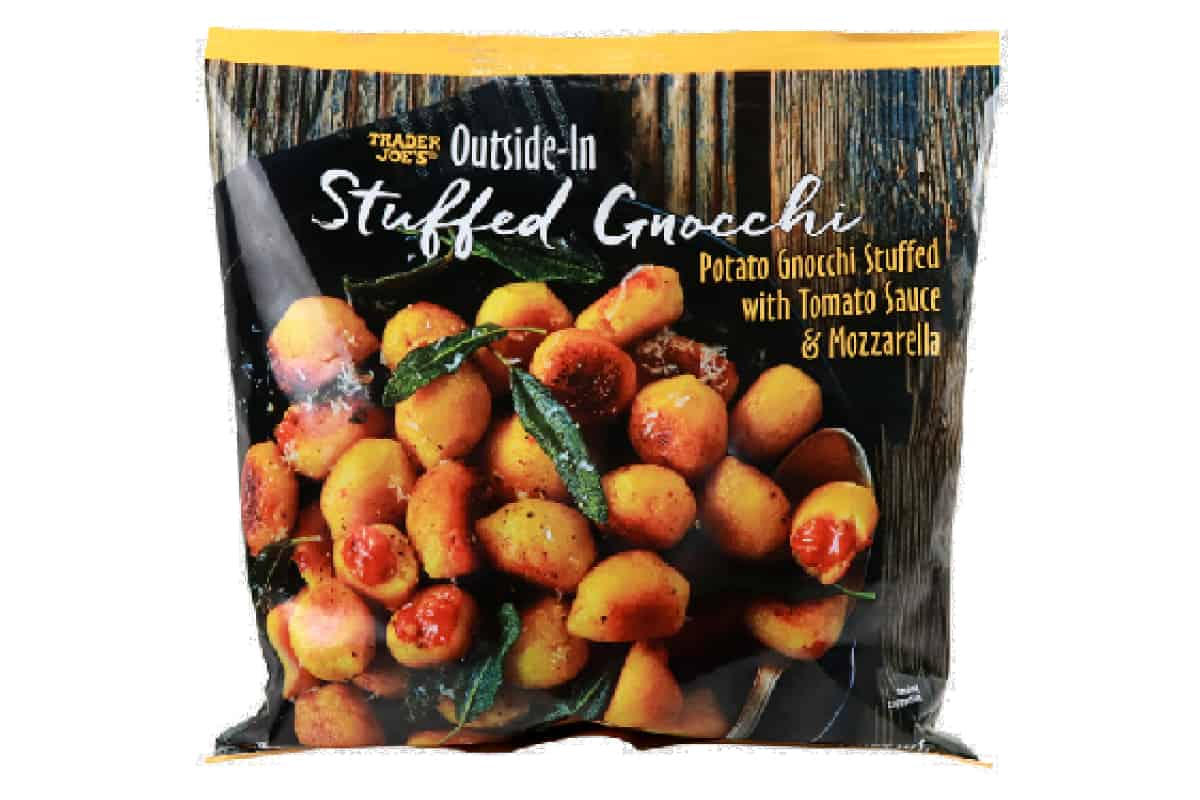 I could not even begin to guess the number of times I've purchased and consumed the Outside In Stuffed Gnocchi, and frankly, I don't want to know. This product is, by far, the best Trader Joe's frozen meal of all time.
If you love gnocchi or any classic Italian dishes, I think you'll enjoy this meal, even if it's a bit untraditional. But that's what makes this dish so fun!

The gnocchis are made with wheat flour and potato for that classic gnocchi chewiness. They're filled with tomato sauce and mozzarella cheese, so you get a bit of pasta, cheese, and sauce with each bite.
The tomato sauce here is bright and savory, and the mozzarella is creamy and gooey. The gnocchis aren't jam-packed with sauce and cheese, so they're still the star of the show. That being said, I always add some marinara and a sprinkle of parmesan to the mix before popping them in the microwave.
These little gnocchis have the perfect combination of Italian flavors, so chances are most of you will love this frozen meal. They're almost sinfully easy to make, and having the sauce and cheese inside the gnocchi is such a fun experience.